! >
Broadway To Vegas
  SHOW REVIEWS  CELEBRITY INTERVIEWS  GOSSIP NEWS 
| | |
| --- | --- |
| | |
TOMMY TUNE ON BROADWAY BUT NEW YEARS IS NEVADA - - LOPEZ/AFFLECK VEGAS SHOPPING SPREE - - DOROTHY LOUDON OFF BALANCE - - SEN HATCH LAUDS KDSTAR - - JACK O'BRIEN HONORED - -MAMMA MIA! SETS RECORD - - PHANTOM OF THE OPERA CD - - BONO TOPS GORBACHEV - - DONATE . . . Scroll Down


Copyright: December 1, 2002
By: Laura Deni

CLICK HERE FOR COMMENT SECTION
TOMMY TUNE WHITE TIE AND TAILS IN THE BIG APPLE BUT NEW YEARS IS IN NEVADA
Tommy Tune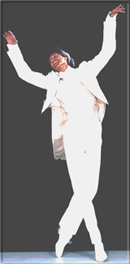 If you're planning on spending New Year's Eve in Nevada, you're in luck. So is Tommy Tune - and you can share a room with him. That would be the showroom at the Eldorado Hotel in Reno.

Tune and The Rhythm Kings will be entertaining in two New Year's Eve shows. Tickets are even modestly priced, beginning at $75.00 with the best seats topping out at $115.50.

In the meantime, Tune has returned to the bright lights of Broadway - an arena he had already conquered. After all, the nine time Tony Award winner is the only person to have carted home Tony Awards in four different categories - Best Director of a Musical, Best Choreography, Best Actor in a Musical, and Best Featured Actor in a Musical. He is also the only person to win the same two Tony Awards two years in a row. That doesn't mean this toe taper is a guy who rests on his laurels.

While his last appearance on Broadway as a performer was in the mid-1980s in My One and Only, he spent a year in Las Vegas starring in EFX at the MGM-Grand Hotel.

The anxiously awaited production Tommy Tune White Tie and Tails - his "all-singing-all-dancing tuneful big band show" - has finally arrived in New York.

The show features Tune, joined by the Manhattan Rhythm Kings, backed by a 16-piece band, performing song and dance numbers set to the music of Fred Astaire, Irving Berlin, Cole Porter, George Gershwin, The Beatles, Johnny Mercer, Howard Dietz & Arthur Schwartz, Peter Allen & Carol Bayer Sager, John Kander & Fred Ebb, Meredith Willson, Cole Porter, Walter Donaldson, Al Dubin & Harry Warren, Hoagy Carmichael & Mitchell Paris, John Lennon & Paul McCartney, Gordon Jenkins, and Jerry Herman.

This is also the first production to be staged at the brand-new 499 seat Little Shubert Theatre on 42nd Street.

Tommy Tune White Tie and Tails has musical direction by Michael Biagi with arrangements by Wally Harper. The orchestrations are by Randall Biagi, Larry Blank, the late Peter Matz, Don Sebesky, Andy Stein and Jonathan Tunick. Lighting is by Natasha Katz, projections are by Wendell K. Harrington, with sound design by Peter Fitzgerald.

Currently in previews the show officially opens on December 18.

Born in Texas, the 6-foot 6-inch Tune has been invited to sing and dance for three U.S. presidents, the Queen of England and the Royal Family of Monaco. In 1991, he was inducted by Gwen Verdon into the Theatre Hall of Fame. The guy who started his Broadway career as a chorus boy in the 1965 production of Baker Street was honored in 1994 with his own star on the Hollywood Walk of Fame located, appropriately enough, directly in front of Capezio's.


COMMUNICATING SELF ESTEEM


All you big time broadcasters watch out.

They want your jobs.

They are members of KdSTAR and they mean business. Kids producing radio programs. We're don't mean announcing the lunch menu over the loud speaker. These upstarts are interviewing political leaders and celebrities. The interviews are heard, not just in schools, but aired on radio stations across the country. KdSTAR has been commended on the floor of the Senate as the brainchild of Phoenix, Arizona radio personality, Perry Damone, son of Vic Damone.

Damone spoke with Broadway To Vegas about this program and the positive influence it is having on the participants - as well as perhaps being the breeding ground for the next group of interview superstars.



Perry Damone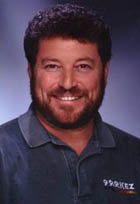 "It's the largest children's network in the world," related Damone. Now in its second decade, Damone started the program with long-time Phoenix area teacher, Linda Tuttle. They began in Tuttle's own Shumway Elementary School in Chandler, Arizona. Taking it one interview at a time and one station at a time, KdSTAR is currently aired on 32 radio stations nationwide, with more affiliates expected in the coming year.

"Everybody is like in sixth grade. They are all into news and sports," continued Damone. "We take their hobbies and turn then into radio shows. The kids become so interested in this and feel so good about themselves that they don't join the gangs. The program keeps them off the streets. It's their salvation."

Radio was also the lifeline for young Damone.

"I was born in Los Angeles. But, from a baby until I was ten-and-a-half I lived in Rome, Italy," said Damone referring to his mother, the late actress Pier Angeli, taking Perry to live with her in Italy. (See Broadway To Vegas column of October 20, 2002)

When his mother returned to America, young Perry was emotionally displaced and found his rock in radio and television.



Cal Worthington's auto commercials became world famous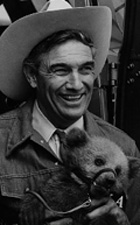 "Interestingly enough television fascinated me," recalled Perry who was named after Perry Como. "I guess I'd been traveling all night and all day for two days. The first thing I did was to turn on the television. Cal Worthington and his dog Spot came on," he said referring to the infamous commercials. "That was the first thing I saw when I saw American television and the second thing was Sky King right after that."

"I knew how to say - please, hello, how are you? and thank you - but that was about it," he recalled.

"There is a station in LA called 93 KHJ. When I first came back to this country I hooked onto that radio station like it was ..." paused Damone his voice taking on a sad tone as he finished his sentence. "... it was comfort to me."

Then Damone's conversation took on new energy as he remembered the guys who inspired him.

"Robert W Morgan, the Real Don Steel, Charlie Tuna, Machine Gun Kelly, all those guys were all on that station. I listened and listened and listened. I was trying to imitate what they were doing, thinking that is what I want to do in life - a radio show. Those people were so influential to me in learning how to speak English and in keeping me going. Those are the people, other than military school, who are responsible for really teaching me how to speak English."

He speaks it very well, void of any accent.

Damone realized his radio goal. He's been with Clear Channel Communications owned KEZ radio since 1988.



Perry and Nancy Damone with Frank Sinclair
Recently his wife, Nancy, joined him on air in a weekly Monday evening program with Frank Sinclair called The Other Side, on KFXH on the air at 1620 AM located in Fountain Hills, Arizona or on the web at www. kfxh.org

The unique concept features selection of music from what can be recalled as the B side of records or albums with popular songs.

Nancy, Perry and Frank are also joined by guests - like the famous Damone dogs - that would be "two Australian Blue Heelers and one "wacky" dog. It's like a Dingo. Those are our kids," Damone explained as the dogs chortled in the background.

If the canines are his kids, KdSTAR is his life force.

"We're going to be up to 32 radio stations by the end of the year," he said rattling off stations in states such as Michigan, Florida and New Jersey.

The success of KdSTAR reached the ears of Sen. Orrin Hatch of Utah, who talked about the program on the floor of the Senate. It was May 14, 2001. Damone was in the middle of his radio show when he received a phone call from a friend saying - "You've got to turn on C-SPAN. You're not going to believe this, but they are talking about you!"

"So, I ran to the news room and they turned it on," Damone related.

Damone heard Hatch go on the record signaling out The Police Athletic League in Ogden, Utah, The Hispanic Cultural Youth Program in Utah and KdSTAR.



Sen. Orrin Hatch of Utah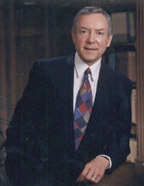 "I want my colleagues to be aware of an excellent program in Arizona that gives juveniles positive alternatives to the destructive activities that contribute to juvenile crime," said Hatch

"KdSTAR Radio 590 AM in Phoenix, allows children to produce, broadcast and promote their own radio shows. Perry Damone, son of my good friend, Vic Damone, has founded this program that places radio stations in the public schools and allows the children to control the broadcasts. The kids run the entire program and have phenomenal success with it. Over 3,000 students throughout Arizona have participated in the program."

"Individual schools report an almost immediate improvement in over-all student responsibility, and better written and oral skills."

"Under this program, the students have conducted numerous interviews with prominent individuals including country singer Garth Brooks, comedian Jay Leno, and my esteemed colleague Senator John McCain. Children have emerged from this program with a better-self esteem, greater maturity and life skills," lauded Hatch.



Jay Leno an interviewer who got interviewed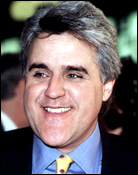 "In S.254, The Violent and Repeat Juvenile Offender Accountability and Rehabilitation Act of 1999, the Federal Government is required to disseminate facts on prevention programs that are successful. Programs like the Police Athletic League, the Hispanic Cultural Youth Program and KdSTAR should receive our special attention and be encouraged to continue the good work that they do," declared Hatch.

While those favorable words put Damone "riding on Cloud 20," the verbiage didn't mean the money wagon rolled up to the door.

"I don't have lobbyists or professional grand writers," explained Damone. "I write my own grants and we get shoved to the side all the time," he complained about the non-profit KdSTAR. "We are not a big medical research center. We are a front line educational program."

"One time I tried to get funds through grants. There was one grant that I think was up through Intel. I wanted to get a feeling of what you needed to do. I did the whole process - including going to the presentation meeting at a conference hall," elaborated Damone. "There were people presenting their grants from California. And, they are all professionals. They are all lobbyists. They get the funds. What you are looking at with KdSTAR is - we get shoved. A lot of people think that our program is a toy. And it is not."



Perry Damone, one of the founders of the KdSTAR Radio 590 AM Corporation and on-air personality, with some of the reporters in the KdSTAR program, at the studios of KESZ 99.9 FM in Phoenix.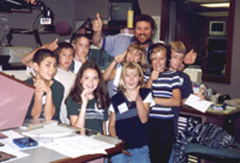 In times like these, when more and more parents and teachers and others search for ways to help children to get involved in productive, life-enriching activities, KdSTAR has emerged as a proven and powerful way to do just that. Responsibility is a major part of maturity. So is pride in a job well done.

When a child joins the KdSTAR program, he or she learns more than responsibility. They learn how team work produces a finished product that reflects well on all those involved. Radio is a medium that requires the talents of numerous team members in order to work. The KiDSTAR teams include program, newscaster, dee-jay, sports, and art teams.

The broadcasts are aired in two ways - within the school and then on 32 radio stations located across the country.



Perry Damone listening to some of the original KdSTAR reporters rehearse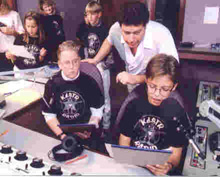 Daily school broadcasts are scheduled at the beginning of the school year to coordinate with the school-wide instructional schedule. The station transmits as a low-powered communication station, operating with a 30-watt LPB transmitter, set at a level of 15 watts. This level of operation provides just enough power to so that all classrooms on the campus can tune in to these broadcasts.

The 32 national radio stations "are fully functional radio stations," stressed Damone. "KdSTAR has done over 120 high profile interviews. It changes kids lives. Think how great it is to shake hands with your hero and interview him and not feel uncomfortable. We teach them how to do it. A sixth grader can shake hands and do an incredible job of interviewing people. It changes their lives on the spot."

Damone recalled one particular incident. "We ask them - who in the world do you want to interview? Many years ago at the Royal Palms School out here there was a whinny kid who was going - I don't think I can do anything. I can't do this."

Damone asked him who he'd like to interview and received the smart aleck reply of - the president. "I said - Why don't you try to do it? He goes aaaah forget it'"

Undaunted Damone shot back. "I said, that's your assignment. He said there's noooo way. I said if that is who you want to interview. Then that is who you are going to go after. And - he got the interview - with the President of the United States. That was George Bush, Sr."



Linda Lavin, currently starring on Broadway in Hollywood Arms, has been interviewed by KdSTAR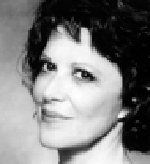 Other notables who have had a sixth grader shove a microphone in their face have included; Hugh Downs, Linda Lavin, Gil Gerard, Ben Murphy, Erik Estrada, Rick Springfield, Doug McClure, Phylicia Rashad,Cliff Robertson, Ben Johnson, Beau Bridges, Robert Loggia, Chuck Norris, Reba McEntire, Kenny Rogers, Roy Clark, Glen Campbell, Ricky Skaggs, Pat Boone, Hank Thompson and Rudy Gatlin.

Olympic gold medallists Bob Seagren, Kathy Johnson, and Dr. Sammy Lee. Football Hall of Famers "Crazylegs" Hirsch and George Blanda and Baseball Hall of Famers Don Larsen and Enos Slaughter are a few of the sports personalities that have been interviewed by KdSTAR reporters.

"It's a lot of work that goes into this, but we don't give up," emphasized Damone. "A lot of these kids have gone on to college."



Broadway To Vegas is supported through advertising and donations. Priority consideration is given to interview suggestions, news, press releases, etc from paid supporters. However, no paid supporters control, alter, edit, or in any way manipulate the content of this site. Your donation is appreciated. We accept PAYPAL. Thank you for your interest.


WORLD AIDS AWARENESS DAY RECORD SELLOUT BEATS GORBACHEV


Ashley Judd joins U2's Bono today at a World AIDS Day awareness program in Lincoln, Nebraska.

The line for tickets started forming at 3 a.m., eight hours before the box office opened. Then it took exactly 17 minutes for all of the free tickets to be picked up, besting the 40 minutes for all the Lied Center seats to be claimed when Former Soviet leader Mikhail Gorbachev appeared last March.

STAGE DIRECTORS AND CHOREOGRAPHERS FOUNDATION HONORS JACK O'BRIEN

Jack O'Brien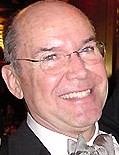 the director of Hairspray and Imaginary Friends, receives the coveted Mr. Abbott award, the only lifetime achievement honor given to one of their own.

Co-Chairs are Bill Haber, Margo Lion, Jerry Mitchell and Tom Viertel. Vice-Chairs include New Line Cinema and The Shubert Organization, Inc.

The event - festive attire - takes place tomorrow night at Chelsea Piers, Pier 60. Moments from Jack's productions will be performed by Harvey Fierstein, Marc Shaiman, Scott Whitman, Patti LuPone, Christine Ebersole, among others.

Expect the A list to attend. Honorary vice-chairs include enough bold type names to impress the most jaded; Christine Baranski, Stockard Channing, Frances Conroy, Graciela Daniele, John DeLuca, Christine Ebersole, Nora Ephron, George Faison, Harvey Fierstein,

Harvey Fierstein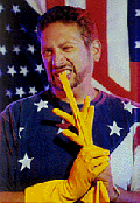 Kelsey Grammar, Michael Greif, Harry Groener, John Guare, Thomas Hall, Marvin Hamlisch, Margot Harley, Linda Hart, Michael Hartman, Hal Holbrook, Tina Howe, Cherry Jones, Richard Kornberg, Swoosie Kurtz, Lindsay Law, Michael Learned, Matt Lenz, Jerry Lewis, Patti LuPone, William Ivey Long, Rebecca Luker, Kathleen Marshall, Rob Marshall, Mel Marvin, Marshall W. Mason, Terrence McNally, Thomas Meehan, Stephen Metcalfe, Kathy Najimy, Richard Nelson, Mark O'Donnell, John Rando, John Rubinstein, Tara Rubin, Neil Simon, Marc Shaiman, Tom Stoppard, Susan Stroman, Christopher Walken, Phyllis Wender, Patrick Wilson, Scott Wittman and David Yazbek

VIP Cocktail Reception followed by a dinner and the star studded awards show directed by Jerry Mitchell.

Proceeds benefit the educational programs of the Stage Directors and Choreographers Foundation.

CAROL CHANNING known for her starring roles in Hello, Dolly! and Gentlemen Prefer Blondes, will be honored for her work as a stage performer. Channing is the recipient of the second annual Sarah Applebaum Nederlander Award for Excellence in Professional Theatre. The award will be presented December 4 at the Fisher Theatre in Detroit.

The Apple Award is named for Sarah Applebaum Nederlander, or "Apple" as she was known, to honor her dedication to the Nederlander family and the performing arts. Channing's selection highlights her connections to Detroit, Wayne State University said. Hello, Dolly! was the first production shown at the Fisher Theatre under Nederlander ownership.

NATIONAL TOUR PHANTOM OF THE OPERA has been on the road for 10 years and recently celebrated their 4,000th performance. Two members have been with the touring production since show number one. Ballet dancer Kristi Patricia and David Cryer, who has played Monsieur Firmin, the show's droll opera-company impresario, the entire time.


SWEET CHARITY


JAMIE DEROY & FRIENDS

Jamie DeRoy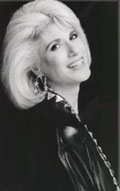 headline two benefits this week. On December 2 DeRoy, winner of seven MAC Awards, will host a party at the West Bank Caf''s Laurie Beechman Theater, NYC. The party, a benefit for the New York City Police Foundation, Inc., will feature performances by Tovah Feldshuh, Daisy Eagan, Penny Fuller, Liz Larsen, Anne Runolfsson, Melanie Vaughan, Sal Viviano, Jonathan Dokuchitz. Highlights include a duet featuring Anne Runolfsson and Jonathan Dokuchitz singing Billy Joel's Lullabye. Loni Ackerman and David Shire will perform Stop Time, as well as It Goes As It Goes, Shire's Academy Award-nominated song from the film Norma Rae.

The musical merriment continues on Sunday, December 8 when de Roy and friends share the spotlight at Don't Tell Mama, in a special Kids Show. Rondi Charleston, her five-year-old daughter Emma Ruchefsky, Scott Coulter, Professor Putter, twelve-year-old tap dancer Devin Orroyo, and members of The Young People Theater Project, are among the performers joining the talented deRoy in this lively musical event celebrating the joys of childhood. Jamie deRoy & friends is directed by Barry Kleinbort. Rod Hausen is the musical director.


OTHER PEOPLE'S MONEY


MAMMA MIA! a perfect match for Las Vegas, is already setting records - and the production doesn't even open until February 3 at Mandalay Bay Resort. The first hour tickets were on sale 500 were snapped up.


THE MUSIC GOES ROUND AND ROUND


PHANTOM OF THE OPERA million have enjoy the stage production. Now Decca Broadway has released the Andrew Lloyd Webber award-winning Original Canadian Cast Highlights in a CD which hit the stores last week - just in time for Santa to tuck into those Christmas stockings.

Countless people have listened to the complete original cast record but, as in all original cast albums, there are always a few special selections that people wish they could bunch together for repeated play.

This new CD has accomplished just that.

However, the 17-track disc has been crafted so the listener, who has seen the musical, loses none of the plotline.

With an orchestra conducted by Jeffrey Huard, highlights from Andrew Lloyd Webber's The Phantom of the Opera Original Canadian Cast, features Colm Wilkinson and Peter Cormican on select numbers of the beloved musical including Think of Me, The Music of the Night and All I Ask of You.

Rebecca Caine as Christine Daa' and Byron Nease as Raoul are outstanding. Other selections include The Phantom of the Opera, Wishing You Were Somehow Here Again and The Point of No Return.

A rich sounding effort, additional violins, violas, cellos, bass, oboe and English horn were brought in for this recording. Engineered and mixed by Martin Levan, who also teamed with David Caddick as producers.


IT'S BEGINNING TO LOOK A LOT LIKE...


MOSCOW BALLET'S GREAT RUSSIAN NUTCRACKER today at Shea's Performing Arts Center in Buffalo, New York. Also, a company performs in Jackson, Mississippi at the Thalia Mara Hall. On Tuesday and Wednesday this family delight has shows at the Mahaffey Theatre in St. Petersburg, Florida. Another company is on their toes Tuesday in Wheeling, West Virginia at the Capitol Music Hall. Wednesday finds a performance in Youngstown, Ohio at the Youngstown State University Power Auditorium.

The classic can be enjoyed in Melbourne, Florida at the King Center for the Performing Arts on December 6 and 7th. On Thursday this wonder can be enjoyed in Punta Gorda, Florida at the Charlotte County Memorial Hall. On Friday the production is in Rochester, Minnesota at the Mayo Civic Center Theatre.

On Saturday the production is in Bismark, North Dakota at the Bismark Civic Center. Next Sunday the curtain will rise in Panama City, Florida at the Marina Civic Center. Another company performs in Rapid City, South Dakota at the Rushmore Plaza Civic Center.

APPALACHIAN CHRISTMAS HOMECOMING In a small North Carolina town, a twenty-year-old young man returns home and remembers the story of his parents' first meeting. Filled with traditional holiday carols as well as authentic Appalachian music, the story flows easily and sentimentally through the Christmas memories which provide the foundation for his strong family circle. To December 15, at the Flat Rock Playhouse in Flat Rock. North Carolina.

KENNY ROGERS CHRISTMAS FROM THE HEART Monday, December 2, Bi-Lo Center, Greenville, S.C.

JULIE ANDREWS AND CHRISTOPHER PLUMMER bring their Christmas show to the USB Arena in Cincinnati, Ohio on December 3. The following night they are at the Van Andel Arena in Grand Rapids, Michigan. On December 5 the production is at the Mellon Arena in Pittsburgh, PA December 7 the place is the Joe Louis Arena in Detroit, MI and on December 8 the can be enjoyed at the Nationwide Arena in Columbus, Ohio.

A CHRISTMAS CAROL 27th annual production of the beloved Christmas story by Charles Dickens adapted by Charles Jones. Back for the 27th year is Dick Boyd as Scrooge. Omaha Community Playhouse, Omaha, Nebraska.

THE COLORS OF CHRISTMAS Peabo Bryson, Jon Secada, Jody Watley and Oleta Adams backed, by a 21-piece Gospel Choir and Professional Orchestra, performs tonight in Jacksonville, Florida at the Florida Theatre. On Monday the show is at the Van Wezel Performing Arts Hall in Sarasota, Florida. On Tuesday they begin a two night stand at the Ordwar Music Theatre in St Paul, Minnesota. Friday the production opens a three night engagement in Detroit at the Detroit Orchestra Hall.

SMOOTH JAZZ CHRISTMAS FESTIVAL starring Brenda Russell, Dave Koz, David Benoit, Peter White, and Rick Braun, perform Tuesday in Tacoma, Washington at the Temple Theatre. On Wednesday the musical sounds will come from the William Saroyan Theatre in Fresno, California. Thursday finds the group in San Diego at the Speckles Theatre. On Friday the show is at the E County Performing Arts Center in El Cajon, California. They close out the week - Saturday - at the Terrace Theater in the Long Beach Performing Arts Center in Long Beach, California.

THE NUTCRACKER presented by the Boulder City Ballet Company, under the direction of Amy Arnaz, known to her pupils as Miss Amy and to others as Mrs. Desi Arnaz, Jr. Six performances Friday, December 6, Saturday, December 7, Friday, December 13 and Saturday, December 14. Boulder City, NV.

MANNHEIM STEAMROLLER celebrating the holidays with their wonderful music tomorrow in Oklahoma City at the Ford Center. On Wednesday the joyful noise comes from the Savvis Center in St. Louis, Missouri. Friday the show is in Memphis, Tenn at The Pyramid and next Sunday they are on stage in Nashville at the Gaylord Entertainment Center.

MICHAEL W SMITH, POINT OF GRACE AND KARA performing this evening in Cleveland, Ohio at the CSU Convocation Center. Tomorrow the show is at the Gaylord Center in Nashville. Tuesday they are in the spotlight in North Little Rock at Alltel Arena. Thursday they perform in Champaign, Illinois in Assembly Hall. Friday finds them in St. Paul, Minnesota at the Xcel Energy Center and they close out the week, Saturday, in Chicago's Arie Crown Theater.

A CHRISTMAS CAROL In celebration of its 25th anniversary of promoting arts for children and adults with disabilities, VSA Arts of Maine is a presenting a benefit performance of Portland Stage Co.'s A Christmas Carol on Dec. 6. Reception followed by the performance which will be interpreted for American Sign Language. Portland, Maine.

THE RADIO CITY CHRISTMAS SPECTACULAR starring the Rockettes, continues through December 29 at the Grand Ole Opry House, Nashville.

MICHAEL MARTIN MURPHEY Cowboy Christmas Concert tomorrow in Riverton, Wyoming at the Central Wyoming College. On Tuesday the festivities are in Denver, Colorado at the Paramount Theatre. On December 4 the location is Abravanel Hall in Salt Lake City, Utah. Thursday finds the show in Rock Springs, Wyoming at the Civic Center. On Friday he is on stage in Craig, Colorado at the School Auditorium and the week ends, Saturday, in Fort Collins, Colorado at Lincoln Center.



TARTUFFE by Moliere, translated by Richard Wilbur, starring Brian Bedford, Henry Goodman and J. Smith-Cameron. Directed by Joe Dowling.

If it's hypocrisy, greed and seduction you're looking for, look no further than MoliŠre's most famous farce, Tartuffe. Under the religious cloak of piety, the lecherous, menacing, arch-hypocrite title character schemes to marry his benefactor's daughter, seduce his wife, then defraud him of all he possesses. Does the scoundrel succeed?

This revival of one of the world's greatest comedies opens December 6 at the American Airlines Theatre, NYC.

DINNER AT EIGHT at Lincoln Center's at Vivian Beaumont Theatre, welcomes Marian Seldes to the cast in the role of Carlotta Vance. She replaces Dorothy Loudon who had to leave the production after one performance due to chronic labyrinthitis, a viral infection of the inner ear which affects the person's balance. Dinner At Eight continues to January 26.

GREASE has Frankie Avalon once again the Teen Angel, the role he played in the 1978 film. Dec. 10-12 and Dec 13-15 at the Atwood Concert Hall, in Anchorage, Alaska.

MISS SAIGON December 3-8 The Oakdale Theatre in Wallingford, Conn.

JESUS CHRIST SUPERSTAR December 3-8 at the San Diego Civic Theatre, San Diego, California. This production will be followed by The Producers January 1-12, which the season brochure sent to Broadway/San Diego subscribers calls a coup in staging a West Coast premiere, the hit of the century - with a top Broadway ticket price of $480 - will have ticket prices at the Civic topping out at $78 for Saturday nights; some tickets are priced as low as $34.50.

THE LION KING Tony-award winning Broadway production of the Disney classic, includes a musical score by Elton John and Tim Rice. Broward Center for the Performing Arts, Fort Lauderdale, Florida through December 8.

BARTENDERS written and starring Lou Mustillo. There are 1,259,874 bartenders working in the United States today -even more on New Year's Eve. This is a show about 6 of them starring Mustillo as all six. The off-Broadway show has moved to the John Houseman Theater for an open-ended run.

THE ROAR OF THE GREASEPAINT-THE SMELL OF THE CROWD with book, music and lyrics by Leslie Bricusse & Anthony Newley. Part of the 14th Street Y Musical Tonight program which offers concert presentations of unfamiliar musicals.

This Bricusse & Newley' effort was originally produced on Broadway in 1965, as their follow-up to the smash hit Stop the World, I Want to Get Off.

It's an allegorical work in which the irrepressible everyman Cocky and the imperious Sir play the "game of life" in a small arena-like area. Cocky always plays by the rules, while Sir simply ignores them and goes on his own way.

Songs include: Who Can I Turn To?, On A Wonderful Day Like Today, Nothing Can Stop Me Now, and Where Would You Be Without Me?

Thomas Mills directs the cast which includes; George S. Irving, David Edwards, Leslie Ann Hendricks, Mamie Parris, Drake Andrew, Jimmy Rivers, Amy Epstein, Lauren Lebowitz, Adrienne Pisoni, Sandie Ross, Jennifer Rose, Margie Stokley and Heather Stone.

Musical director is Barbara Anselmi with lighting by Shih-hui Wu. Opens December 4 with performances through December 22.


WHO'S WHERE


SHAKIRA on her first world tour, dubbed Tour of the Mongoose, encompasses 30 countries and 50 cities this year and next. On December 2 she's performing in Miami, Florida at the American Airlines Arena. She'll play Mandalay Bay in Las Vegas in January.

BRIAN SETZER ORCHESTRA Thursday at the Westbury Music Fair in Westbury, New York.

BRENDA LEE performs Friday in Sheboygan, Wisconsin at the Sheboygan Theatre and is back on stage next Sunday in Osceola, Iowa at the Lakeside Casino.

LINDA EDER on stage this evening December 1 at the Bass Hall in Austin, Texas.

MICHAEL FEINSTEIN continues to be the star of his own Feinstein's at the Regency, New York City through December 28.

JOHN McDERMOTT entertaining Tuesday at the Royal Theatre in Victoria, BC. On Wednesday the show is at the Port Theatre in Nanaimo, BC. Friday finds him on stage in Vancouver, BC at the Orpheum Theatre and he closes out the week, Saturday, in Vernon, BC at the Vernon Performing Arts Centre.

PAUL ANKA who doesn' t know how to put on a bad show is at the Mirage Hotel Las Vegas through December 7.

SHIRLEY JONES at the Hoyt Sherman Auditorium in Des Moines, Iowa on December 3.

JUDY COLLINS is in the spotlight this evening at Symphony Hall in Boston.

ARLO GUTHRIE performs tomorrow night at Lincoln Center in New York City.

OAK RIDGE BOYS on stage tomorrow at the Convention enter in Greenville, North Carolina. On Wednesday the guys sing in Kalamazoo, Michigan at the Miller Auditorium. On Thursday the performances takes place in Davenport, Iowa at the Adler Theatre. Friday finds the group in Owensboro, Kentucky at the Executive Inn. On Saturday they open a two nighter at the Crystal Grand Theatre in Wisconsin Dells, Wisconsin.

GEORGE WINSTON performs this evening at the Sunoco Theatre at the Whitaker Center in Harrisburg, Penn. On Tuesday the show is at the Palace theatre in Stamford, Conn. Thursday finds the entertainer at the Lincoln Theatre in West Hartford, Conn and on Saturday the show is at the Berklee Performance Center in Boston, Mass.

SWEET HONEY IN THE ROCK in the spotlight Friday at the Municipal Auditorium in Riverside, California. On Saturday they perform at the Wilshire Ebell Theatre in Los Angeles.

JOHN TESCH at the Earle Chiles Center in Portland, Oregon on Thursday. On Friday the composer/performer is at the Spokane Opera House in Spokane, Washington. Saturday finds him in Tacoma, Washington at the Church for all Nations.

PAULA POUNDSTONE on stage Friday at Sunset Station, Las Vegas.

HOWIE MANDEL getting laughs Thursday in Milwaukee, Wisconsin at the Potawatomi Casino.

JOHN PIZZARELLI Saturday in Rahway, New Jersey at the Union County Arts Center.

LARRY GATLIN tonight in Cleveland, Mississippi at the Bologna Arts Center. On Tuesday he returns to Branson, MO for an 11 night engagement at the MGH Performing Arts Center.

THE BEACH BOYS December 1 in Stamford, Conn at the Palace Theatre.

ELTON JOHN performs tonight in London at the Royal Opera House. On Tuesday he is in Manchester, England for a show at the Manchester Evening News Arena.On Thursday the performer takes to the stage in the Odyssey Arena in Belfast, Ireland and he closes out the week, Saturday, in Glasgow at the S.E.C.C.

WAYNE NEWTON having returned from another USO tour heads out to entertain some civilians. He performs December 5 in Tulsa, Oklahoma at the Brady Theatre. On Saturday he is on stage in Grand Ronde, Oregon at the Spirit Mountain Casino.

GEORGE CARLIN discussing words Thursday on San Antonio, Texas at the Majestic Theatre and on Saturday in Tulsa, Oklahoma at the Brady Theatre.

KEELY SMITH in the spotlight Thursday in San Francisco at the Nob Hill Masonic Auditorium.

ITZHAC PERLMAN performs Wednesday at the Robert Ferst Center for the Arts in Atlanta, GA.

BRUCE SPRINGSTEEN AND THE E STREET BAND perform tomorrow in Atlanta, Georgia at the Philips Arena. On Wednesday they'll be performing to another sell out crowd in Pittsburgh at the Mellon Arena. On Thursday the show is in Toronto in the Air Canada Centre. Next Sunday they can be enjoyed in Charlotte, North Carolina at the Charlotte Coliseum.

PIFFLE AND PROFUNDITIES


SHOP A LOT Jennifer Lopez and Ben Affleck spent Thanksgiving in Las Vegas where they took advantage of the Turkey Day sales. The couple caused quite a crowd scene when they went shopping at The Forum Shops Mall. Word spread, crowds gathered and camera caught the pair and their entourage going into the Verace Store. Gucci closed down to let them privately pick and choose.













Next Column: December 8, 2002
Copyright: December 1, 2002. All Rights Reserved. Reviews, Interviews, Commentary, Photographs or Graphics from any Broadway To Vegas (TM) columns may not be published, broadcast, rewritten, utilized as leads, or used in any manner without permission, compensation and/or credit.
Link to Main Page
---
Laura Deni


CLICK HERE FOR COMMENT SECTION