! >
Broadway To Vegas
  
  REVIEWS INTERVIEWS COMMENTARY NEWS

| | |
| --- | --- |
| | |
2015 NATIONAL PUPPETRY FESTIVAL - - THE OLD GLOBE HONORS ITS FOUNDER CRAIG NOEL - - DEE DEE'S FEATHERS CD REVIEW - - PENN & TELLER'S BROADWAY SHOW RECOUPS - - THE BEST OF LERNER AND LOEWE: WOULDN'T IT BE LOVERLY - - DOWNTON ABBEY RECEIVES BAFTA TRIBUTE - - 2015 DIRTY DANCING FESTIVAL - - CASTIGLIONE: LOST GENIUS - - DONATE . . . Scroll Down
















Copyright: August 9, 2015
By: Laura Deni
CLICK HERE FOR COMMENT SECTION


STRING PULLERS CONVERGE: 2015 NATIONAL PUPPETRY FESTIVAL


Besides being hit shows, what do Avenue Q, Lion King and Little Shop of Horrors have in common? Answer: They were either built or performed by alumni from the University of Connecticut's Puppet Arts Program.

During the week of August 10-16 puppeteers from 12 nations on five continents and from 40 U.S. states will converge on the campus of the University of Connecticut for the 2015 National Puppetry Festival, a whirlwind week of puppet-related activities including workshops, master classes and performances.

The festival is presented by Puppeteers of America and is expected to be the largest and most extensive gathering of its kind that will also mark the 50th year of the internationally renowned UConn Puppet Arts Program, which was founded by the legendary Frank W. Ballard. The last time the festival was hosted by UConn was in 1970. Highlights of the festival will include 20 public performances by more than 25 national and international puppeteers, 30 professional workshops, six visual art exhibitions, "Puppetry in Film" series, a giant puppet parade and nightly Festival Pub Showcase.

Four master puppeteers also will be honored: Caroll and Debbie Spinney of Sesame Street, Peter Schumann of the politically radical Bread & Puppet Theater and Chuck McCann, the New York children's television star and voice actor.

Among the performances that will showcase the innumerable approaches to the art of puppetry will be:

Shadow puppets by Drama of Works of Brooklyn, NY;

Bunraku and shadow styles of award-winning Bulgarian-born puppeteer Margarita Blush of the UConn faculty;

Brazilian hand-puppets by Chico Simões;

Classic rod puppetry by Chinese Theatre Works of Queens, NY;



Caroll Spinney with Oscar the Grouch. Spinney is the voice of Big Bird and Oscar. At the 2006 Daytime Emmy Awards, Spinney received the National Academy of Television Arts and Sciences' Lifetime Achievement Award. Photo: Caroll Spinney.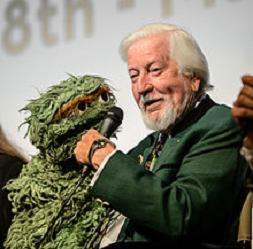 Late Night with Eugene O'Neill, a variety show that is based on a late night talk show format.

There will also be new interpretations of The Wizard of Oz by The Frisch Marionettes of Cincinnati, Ohio, and productions of The Pirate, the Princess and the Pea by Crabgrass Puppet Theatre and White Like Me: a Honky Dory Puppet Show by Paul Zaloom of Los Angeles.

Puppeteers of America was created in 1937 not long after the success of its first annual gathering of puppetry practitioners in 1936. The national non-profit organization has produced over 160 national and regional festivals to celebrate and share the art of puppetry.

UConn's Puppet Arts Program is a unique subdivision of the school's Department of Dramatic Arts. The program was founded in 1965 by Professor Frank W. Ballard, who had joined the faculty of the theater department as a set designer and technical director eight years earlier. After three years, the demand for these courses had grown so drastically that the department had to limit enrollment in puppetry classes. In 1990, Bart P. Roccoberton, Jr. succeeded Frank Ballard as Director of the Puppet Arts Program, which now offers BFA, MA, & MFA degrees in the puppet art form. Over 500 student puppet productions have been presented since 1964.

The Ballard Institute & Museum of Puppetry was created through the efforts of UConn Puppet Arts Program alumni and community supporters of Professor Frank W. Ballard, beginning in 1987, to preserve Professor Ballard's work and create a national home for puppetry in the United States. The Institute received its name in 1992, and in 1996 established a museum, archives, and storage facility on the University of Connecticut's Depot Campus. In March 2014, the Ballard Institute moved into a brand-new location in Storrs Center, where it offers exhibitions, workshops, museum tours, lectures, forums, performances, and other programs that promote the global arts of puppetry.

The Ballard Institute and Museum houses more than 2,700 puppets, made by Mr. Ballard and others.

Ballard died Jun 4, 2010 of Parkinson's Disease. The NY Times called him "a master puller of strings who helped bring the study of puppetry into the university curriculum and in so doing trained a generation of lively, manipulative disciples."

They can indeed, studying all aspects of the art form, from the making and manipulation of puppets, to play-writing, set and costume design, music and movement. Today the program's graduates, who come from all over the world, are sought-after masters who ply their trade in film, theater and television.

"The program that Frank started has contributed some of the finest puppeteers in the country for the past 30 years," Roccoberton said. "Shows like Avenue Q and Lion King and Little Shop of Horrors were either built or performed by our alumni."

In 1980, Ballard produced a puppet version of Wagner's Ring cycle at the Kennedy Center in Washington.



Broadway To Vegas is supported through advertising and donations. Priority consideration is given to interview suggestions, news, press releases, etc from paid supporters. However, no paid supporters control, alter, edit, or in any way manipulate the content of this site. Your donation is appreciated. We accept PAYPAL. Thank you for your interest.





ART AND ABOUT


CASTIGLIONE: LOST GENIUS

Giovanni Benedetto Castiglione, A presumed self-portrait, 1640s. Etching, platemark; overall: 188 x 138 mm. Royal Collection Trust / © Her Majesty Queen Elizabeth II 2015.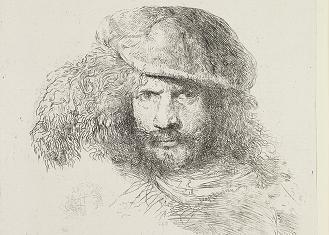 features 90 of the finest examples of drawings, etchings, and monotypes of the master Genoese draftsman, painter, and printmaker Giovanni Benedetto Castiglione.

A forgotten master from the Italian baroque, Castiglione was a self-proclaimed genius, whose artworks entered the Royal Collection in 1762. The exhibition explores Castiglione's mastery of art and how he produced brilliant works despite his turbulent private life that prevented him from becoming more widely known.

Castiglione was not only a painter and draftsman, he was the revolutionary inventor of the monotype in the 1640s, experimenting with the medium centuries before subsequent artists such as Degas and Gauguin would in the late 1800s. This print method allowed Castiglione to make a print from one-off designs, allowing him to combine the brio and dash of his draftsmanship with his interest in printmaking.

This exhibition is co-curated by Timothy Standring, Gates Foundation Curator of Painting and Sculpture at the DAM, who has been captivated by the artist since his graduate studies more than 30 years ago. Standring is now one of the world's foremost authorities on Castiglione.

Castiglione: Lost Genius is organized by the Royal Collection Trust and the Denver Art Museum.

August 9, 2015 – November 8, 2015 at the Denver Art Museum.









THE MUSIC GOES ROUND AND ROUND
DEE DEE'S FEATHERS released by Masterworks Broadway. From the first beat of the drum and the sound of a muffled horn, you know this is a class act recording. Dee Dee Bridgewater is a class act. A Tony and triple Grammy winner, the jazz singer and songwriter was born with a beat. At the age of sixteen she was a member of a rock and rhythm'n'blues trio, singing in clubs in Michigan. At 18, she studied at the Michigan State University before she went to the University of Illinois at Urbana-Champaign. With their jazz band, she toured the Soviet Union in 1969.

She has a legend of fans, all of whom will be enthralled by this album. For the up and coming generation, Bridgewater is the one to both enjoy and musically study. From smooth to sassy, Bridgewater can take a song, stamp it with her essence, then convince each listener that she is singing only for them. As in the diamond cut, she is brilliant.

Bridgewater called this CD a 'history of New Orleans as told through song.' Indeed it is. The Crescent City is full of contradictions, hidden secrets, promises, intrigue and outrageous swagger.

Backed by a select group of musicians who know how to deliver both red hot and cool smooth jazz, they are augmented by the New Orleans Jazz Orchestra.

Bridgewater's performance is faultless. One Fine Thing kicks off the musical selections, with a horn that implies hopeful and long-legged perfumed women, followed by the soft, soulful What a Wonderful World. Bridgewater sassy and Dr. John superb in delivering his classic anthem, Big Chief, with lyrics "Me got fire, can't put it out" turning into a rollicking rendition with the piano and drums speaking their piece.

St. James Infirmary, arranged by Victor Atkins, is a folk song supposedly penned by Irving Mills under the pseudonym Joe Primrose. Based on an 18th-century traditional English folk song about a soldier who uses his money on prostitutes, and then dies of a venereal disease. The number, made famous by Louis Armstrong, is not considered a woman's song. Bridgewater changes that perception. The horn section punctuates the meaning.

Dee Dee's Feathers arranged by Irving Mayfield, is lively. New Orleans by Hoagy Carmichael begins like dawn creeping up on a dark alley. The New Orleans underbelly is exposed, and then turns vibrant and exciting, if not violent. Bridgewater scats. The horns sass back.

Treme Song/Do Whatcha Wanna is a strong beat, statement making number.

The classic Come Sunday by Edward Kennedy Ellington, known to the world as Duke, is considered a hymn, even included in The Methodist Hymnal.

How this particular number came to be is interesting in itself:

Ellington was called "a deeply religious man who traveled with a rosary, a cross and a Bible. He studied the Scriptures closely, and was particularly fond of the Song of Solomon," according to Dr. Hawn, a professor of sacred music at Perkins School of Theology.

Come Sunday is a song derived from Ellington's instrumental jazz suite Black, Brown and Beige (1943), a musical history of African Americans that premiered at Carnegie Hall in 1944. In 1958, Ellington added text to this instrumental theme and the song became a standard of his sacred jazz concerts.

The first version of this song appeared in the collection Ecumenical Praise (1977), edited by The Rev. Carlton Young, editor of the UM Hymnal.

Rather than being written by Ellington in a set hymn form, the stanzas in the hymnal are excerpted from improvised performances found in recordings and personal statements.

"For example, an Ellington quotation, "Gray skies are just clouds passing over" becomes "I don't mind the gray skies, 'cause they're just clouds passing by.

"The song is ultimately about the providence of God in all our lives. The refrain addresses God directly, Lord, dear Lord above, God Almighty, God of love, and then makes a petition, please look down and see my people through. The stanzas point to hope and heaven, concluding that "With God's blessing we can make it through eternity."

Bridgewater sings it as Ellington intended.

Congo Square grabs you and holds on with that Congo beat, C'est Ici Que Je t'aime is a love song; the classic Do You Know What It Means is both dreamy as well as a lonely mournful recalling of memories made in that city. Whoopin' Blues is a jazz great and will blow you away.

Irvin Mayfield on Trumpet, and vocals; Adonis Rose on drums; Din Vappie on guitar and banjo; Victor Atkins on piano; Jasen Weaver on bass; Khari Allen Lee - lead alto; Rex Gregory 2nd alto clarinet and flute; Derek Douget lst tenor; Edward Peterson 2nd tenor; Jason W. Marshall, Sr. baritone sex and bass clarinet; Bernard (Barney) Floyd Lead Trumpet Ashlin Parker 2nd trumpet and vocals; Eric Lucero 3rd trumpet; Leon "Chocolate" Brown 4th trumpet and vocals; Michael Watson lead trombone and vocals; David L. Harris 2nd trombone; Emily Frederickson 3rd trombone; Glen David Andrews vocals; Peter Harris Bass (House of the Rising Sun); Bill Summers percussion; Branden Lewis 4th trumpet (Whoopin' Blues); Dr. John Special Guest Vocalist; Emily Welcker Coordinator New Orleans Jazz Orchestra.

Recorded on March 23-25, 2014 at at Esplanade Studios. Misha Kachkachishvili, Sound Engineer. Casey Contreary, sound engineer.

Arrangers Victor Atkins, Edward Peterson, Emily Frederickson, and Mike Esneault.


SWEET CHARITY


EAST HAMPTON ARTISTS & WRITERS SOFTBALL GAME takes place Friday, August 14, 2015.

Pre-game party at LTV Studio in Wainscott, featuring: Live and silent auctions - food from local restaurants - wine and beer.

67th Annual Game has batting practice at noon with the game beginning at two o'clock in Herrick Park, East Hampton, New York.

67 The East Hampton Artists & Writers Annual Softball Game and its events "are dedicated to building a community around the game and building a better game to serve the community. In the spirit of one of the longest-continuing traditions on the East End, artists, writers, supporters and volunteers come together for entertainment, competition and fun to benefit local charities that provide vital human services. We ask for your help in hitting it out of the park for the community we share and love."

THE OLD GLOBE HONORS ITS FOUNDER CRAIG NOEL born August 25, 1915 on this the 100th year anniversary of his birth.

Craig100 is an evening of memories and performances, on Monday, August 17, honoring the man who died April 3, 2010 at the age of 94.

The one-night-only event will support the Globe's artistic and educational programs.

Richard Seer, Director of Professional Training for the M.F.A. Program, directs the event. Old Globe Associate Artists Marion Ross and Robert Foxworth serve as Honorary Chairs for the business attire requested event.

Craig Noel was first appointed director of the Globe in 1939, directing 15 productions prior to World War II. In the years that followed he directed more than 200 plays of all styles and periods and produced an additional 270 productions.

His vision for The Old Globe resulted in the establishment of the Shakespeare Festival and San Diego Junior Theatre in the late '40s, the expansion to two theatres in the '50s, Globe Educational Tours in the '70s, and Teatro Meta and the Old Globe/University of San Diego Graduate Theatre Program in the '80s.

During the 1940s, Noel served as dialogue director for the 20th Century Fox Studios and was the director of the Ernie Pyle Theatre in Tokyo. In 2007, he received the National Medal of Arts - the nation's highest honor for artistic excellence - in a ceremony at the White House.

Performers at Craig100 will include Associate Artists Kandis Chappell, George DelHoyo, Deborah May, Jonathan McMurtry, Robin Pearson Rose, and Deborah Taylor; M.F.A. Program faculty member and director Ray Chambers; M.F.A. Program graduate Vivia Font; current students in the M.F.A. Program; young people from San Diego Junior Theatre; and more surprise guests.

A permanent plaque will also be dedicated in honor of Sister Sally Furay, RSCJ, a longtime friend of Noel with whom he founded the Old Globe/USD Graduate Theatre Program. Furay, who was a USD Provost and served on the Old Globe Board of Directors for decades, passed away on January 10, 2015 at the age of 88.

Following the presentation, guests will enjoy a hosted dessert reception under the stars on the Globe's Copley Plaza.


SPREADING THE WORD


2015 DIRTY DANCING FESTIVAL was founded in 2010 in Lake Lure North Carolina, where much of the classic film Dirty Dancing was filmed. The festival has the support of Lionsgate Films, the blessing of Eleanor Bergstein - the original writer of the film - and several of the film's cast and crew.

Founded by former dancer-turned-event producer Jo Beyersdorfer of JNB Marketing & Events, who serves as the Festival Director.

The festival kicked off with over 1,000 attendees in 2010. In 2011 JNB took over the direction of the festival, and still produces the event today.

In 2013, the Dirty Dancing Festival became an official event of the Pancreatic Cancer Action Network (PANCAN)! A percentage of all ticket sales as well as onsite fundraising efforts are donated to help find a cure for Pancreatic Cancer.

This year's festival takes place in Lake Lure, North Carolina August 14-15, 2015.

FAVORABLE SHOUT OUT TO STARBUCKS who has the best customer service department, probably on the entire planet. We've all have issues where we've contacted some company's customer service department, only to receive an email reply which looks like it was programmed through a computer; or a customer service person was using a response from ten possible company generated replies. Or, you try to call and are put on hold for an indeterminable length of time; or are told to call back later.

I had an occasion to contact Starbucks about two issues. I received two emails. One parroted back to me some of the information I had provided, indicating to me that they had actually read my email and understood what I was asking. I was also provided with a precise answer.

On the second issue their email also indicated they understood the issue and stated "we would like the opportunity to speak with you over the phone. Please call our customer contact center and have reference # XXXXXXX handy to provide to our representative." They also provided a toll free number. I called. They answered on the first ring. I spoke to a knowledgeable computer tech who did need to have a two way conversation to fix a glitch. They were prompt, efficient, and professional. Other companies should learn from them.




OTHER PEOPLE'S MONEY


PENN & TELLER the Las Vegas based magical duo who opened a six-week Broadway run at the Marquis Theatre have recouped their entire initital investment of $2.85 million. The show New Vaudeville plays through August 16. They'll then return to performing at The Rio in Las Vegas.



DOWNTON ABBEY the hit period drama which ends its storied career on television this year, having won 11 Emmy Awards, will receive a special Bafta tribute. Written by Oscar-winner Julian Fellowes (who has teamed with Andrew Lloyd-Webber to write the book for the upcoming Broadway musical School Of Rock) the costumed drama has never won a major Bafta award.

The cast and crew will be honored on August 11.

Bafta's chief executive Amanda Berry OBE said: "I am delighted that Bafta is paying tribute to Downton Abbey, an extraordinary series that has flown the flag for British drama since 2010. Our tribute will take us backstage with the cast and crew to reveal what's made it both a national treasure and a global phenomenon."


LOVE NOTES


SCARLETT BYRNE who played Pansy Parkinson in the Harry Potter series, and starred in television shows The Vampire Diaries and Falling Skies has accepted the marriage proposal of Cooper Hefner, the youngest son of Playboy emperor Hugh Hefner and his second wife Kimberley Conrad.

The engaged couple, who had dated for the past two years, announced they would wed on their Instagram accounts.

JENNIFER ANISTON AND JUSTIN THEROUX both actors, were married Wednesday, August 5, 2015, on the grounds of their Bel Air estate.

The couple began engaged August 10, 2012. It was the bride's second marriage.



NICE WORK IS YOU CAN GET IT welcomes Emmy winner and Tony Award nominee Brenda Vaccaro who has stepped into the role of Millicent Winter in the production now playing on the Ogunquit Playhouse stage through August 15. Valerie Harper, who had been performing in the role, continues to rest after falling ill on July 29.

"Valerie is feeling great right now and we want her to continue to rest and to enjoy her family. After discussing with them, we decided that we wanted to relieve her of any pressure of having to return to the show. With Valerie's blessing, the Ogunquit Playhouse is thrilled to announce that Brenda Vaccaro, star of film, television and stage, has arrived in Ogunquit to take over the role of Millicent Winter," stated Executive Artistic Director Bradford Kenney.

The Ogunquit Playhouse in located in Ogunquit, Maine.

ANIMAL CRACKERS book by George S. Kaufman and Morrie Ryskind; music and lyrics by Bert Kalmar and Harry Ruby.

Adapted and directed by Henry Wishcamper.

This new interpretation of the classic Marx Brothers' hit Broadway musical and beloved Hollywood film overflows with mirthful melodies, dynamic dancing and seriously silly slapstick. Get swept away when Captain Spaulding, the intrepid African explorer and womanizing society darling leads a screw-ball search for an art thief at a swanky high society soiree.

Choreographed by John Carrafa.

August 14- September 6 at Bucks County Playhouse in New Hope, PA.

CHEWING GUM DREAMS/AN INTERVENTION. Two American premieres of British playwrights.

Chewing Gum Dreams by Michaela Coel and An Intervention by Olivier Award-winning Mike Bartlett.

Directed by Lila Neugebauer.

Chewing Gum Dreams - "Fourteen-year-old Tracey Gordon is rude, crude, and riotous. Who can blame her? Every which way she turns, she's constantly failed by those who should be looking out for her. But beneath her tough exterior lies a very real fear that the future holds very little for her. Explosive, thoroughly honest, and devilishly funny, Chewing Gum Dreams recalls the last days of innocence before the onrush of adulthood for a girl from the rough part of a tough city."

An Intervention - "A whole lot of booze, a new girlfriend, and government involvement in a foreign war are just some of the factors that threaten to drive a massive wedge between two people. Can they close the ever-widening gap in their relationship, or have they reached a breaking point? Featuring rotating pairs of world-class actors, each performance of An Intervention will reveal new meaning inside this theatrical, mischievous, and engrossing two-hander from Olivier Award-winning playwright Mike Bartlett that puts personal and political intervention under a magnifying glass.

The two plays run simultaneously August 12 - August 23 on the Nikos Stage at the Williamstown Theatre Festival in Williamstown, MA.

MEMPHIS Book and Lyrics by Joe DiPietro Music and Lyrics by David Bryan Based on a Concept by George W. George.

Director and Choreographer: Todd Underwood.

Memphis is set in the places where rock and roll was born in the 1950s: the seedy nightclubs, radio stations and recording studios of Memphis, TN. With an original score, it tells the fictional story of DJ Huey Calhoun, a good ole' local boy with a passion for R&B music and Felicia Farrell, an up-and-coming black singer that he meets one fateful night on Beale Street. From the first notes of its electrifying opening number, right up to a rousing finale, Memphis delivers one energetic song after another. A rollicking new musical.

Stage Manager: Laura Gonzalez. Set Designer: Martin Marchitto. Lighting Designer: Doug Harry. Sound Designer: Tate Burmeister.

Wednesdays, August 12th, August 19th and August 26th. Part of the Summer 2015 The Events at the Ivoryton Playhouse in Ivoryton, CT.

THE BEST OF LERNER AND LOEWE: WOULDN'T IT BE LOVERLY A Musical Theatre Heritage of Kansas City original revue telling the story of the great songwriting team of Alan J. Lerner and Frederick Loewe and their creation of My Fair Lady, Camelot, Brigadoon, Paint Your Wagon, and Gigi. An evening featuring their most beloved songs, hosted by George Harter and performed by the Musical Theatre Heritage cast.

August 12-30 at the MTH in Kansas City.


WHO'S WHERE




IDINA MENZEL sings Tuesday, August 11, 2015 in Morrison, CO at the Red Rocks Amphitheatre. Wednesday's stop is in Kansas City, MO at the Starlight Theatre. Thursday the show is in Minneapolis, MN at the Northrop Auditorium. Saturday's gig is in Nashville, while next Sunday, August 16, she can be enjoyed in Chicago, IL at the Jay Pritzker Pavilion.

MAVIS STAPLES the Grammy Award Winner, Rock and Roll Hall of Famer performs Saturday, August 15, at Southampton Arts Center, Southampton, NY.

TAYLOR SWIFT opens a two night gig Friday, August 14, at Levi's Stadium in Santa Clara, CA.

BOB MARLEY BIRTHDAY CELEBRATION: ZIGGY MARLEY, STEPHEN MARLEY, INNER CIRCLE & THE SKATALITIES stage the party Sunday, August 16, at The Hollywood Bowl in Hollywood, CA.

IMAGINE DRAGONS performs Thursday, August 13, at Olympiuc Hall in Seoul, South Korea. On Saturday they are in the spotlight at the Summer Sonic Festival at the Maishima Outdoor Activities Center in Osake, Japan.

ARIANA GRANDE on stage tonight Sunday, August 9, at the Air Canada Centre in Toronto, Ontario. On Saturday she takes part in the Summer Sonic Festival at the QVC Marine Field in Chiba, Japan.

LINDA LAVIN: STARTING OVER the Tony and Golden Globe winner performs Broadway favorites, standards, and jazz. Sunday, August 16, at Southampton Arts Center, Southampton, NY.


FINAL OVATION


BILLY SHERRILL the famed Nashville based recording producer died on Tuesday, August 4, 2015. He was 78.

Sherrill was famous for his association with a number of country artists, most notably Tammy Wynette, George Jones and Charlie Rich. Sherrill and business partner Glenn Sutton are regarded as the defining influences of the countrypolitan sound, a smooth amalgamation of pop and country music that was popular during the late 1960s and throughout the 1970s.

In 2008, Billy Sherrill was inducted into the Musicians Hall of Fame and Museum in Nashville, TN. On February 23, 2010, Sherrill was selected for induction into the Country Music Hall of Fame along with Don Williams, Ferlin Husky, and Jimmy Dean.

In the 1981 made-for-television movie based on Wynette's book Stand By Your Man, Sherrill was portrayed by James Hampton.

Neil Portnow President/CEO of The Recording Academy issued the following statement: "Billy Sherrill was a pioneering figure in country music and a Nashville legend. A two-time GRAMMY® Award winner, Billy's contributions as a producer, arranger and songwriter were vast, and helped usher in the successful "countrypolitan" style. Chart-topping songs like Tammy Wynette's Stand By Your Man, Charlie Rich's Behind Closed Doors and George Jones' He Stopped Loving Her Today helped make Billy one of the most widely sought-after producers for more than three decades. We have lost a brilliant talent and our heartfelt condolences go out to his family, friends and all and all those who had the pleasure of working with him."

Sherrill is survived by Charlene, his wife of 54 years, and their daughter.

ARNOLD SCAASI famed fashion designed died Tuesday, August 4, 2015 in New York of cardiac arrest. He was 85.

He designed for first ladies from Mamie Eisenhower to Laura Bush. His film star clients included Elizabeth Taylor. He's the designer who created Barbra Streisand's see-through pajamas for the 1969 Oscars in which she accepted the best-actress Oscar for Funny Girl.

Scaasi - his surname, Isaacs, spelled backwards - trained both in Montreal and Paris and worked for designer Charles James - famed for his glamorous, sculptural gowns - in New York before opening his first ready-to-wear business in 1956. He closed his dress business in 2010.

In 1996 he received the lifetime achievement award from the Council of Fashion Designers of America.

He is survived by his husband Parker Ladd. The couple had been together 54 years and married in 2011.

















Next Column: August 16, 2015
Copyright: August 9, 2015 All Rights Reserved. Reviews, Interviews, Commentary, Photographs or Graphics from any Broadway To Vegas (TM) columns may not be published, broadcast, rewritten, utilized as leads, or used in any manner without permission, compensation and/or credit.
Link to Main Page
---
Laura Deni



For the snail mail address, please E-mail your request.
CLICK HERE FOR COMMENT SECTION