! >
Broadway To Vegas
  
 SHOW REVIEWS CELEBRITY INTERVIEWS GOSSIP NEWS

| | |
| --- | --- |
| | |
A NAKED AND COVERED UP DRACULA - - SINGING IN THE RAIN SHOW AND TAP LESSONS - - JOHN CULLUM STARS IN THE DRESSER AND IN - - LET'S PUT ON A SHOW WITH MICKEY ROONEY - - LITTLE SHOP OF HORRORS HUNGRY FOR NATIONAL TOUR - - THE BOY FROM OZ ACTORS' FUND BENEFIT AND RECEPTION WITH HUGH JACKMAN - - ED BEDLEY SPEAKS OUT ON DENNIS MILLER SHOW - - THE PLAY'S THE THING AIRS THE CRUCIBLE - - DONATE . . . Scroll Down


TWO TIME TONY WINNER DEFIES JOB DESCRIPTIONS
John Cullum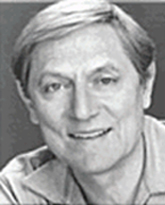 He's won two Tony Awards for his roles in musicals Shenandoah and On The Twentieth Century, but confesses that he can't sing or dance very well.

A championship tennis player, he had to give up the sport after an injury caused him to go blind in one eye.

It's not your typical success story.

An amiable southern gentleman with a soothing drawl, John Cullum, who recently starred in Urinetown, spoke with Broadway To Vegas about his fascinating life and career - which includes opening this month in The Dresser followed by the high impact drama Sin: A Cardinal Deposed.

In college Cullum was a member of Tennessee University's championship tennis team. When asked if he still plays tennis, Cullum served up an unexpected answer.

"Not any more. I hurt my eye playing tennis when I was about 30 and over the next 20 years I gradually lost the vision in my left eye."

He was hit in the eye with a tennis ball.

"A very freak accident - stupid accident," he sighed. "I was just horsing around. I was warming up. I was at the net batting the ball around and it came off the edge of my racket and glanced into my eye," he recalled.

"It was devastating. It actually ruptured the eyeball slightly. I could still see out of it, except gradually it developed what they call pigmentary glaucoma which I didn't take care of as well as I should. Eventually, I lost the vision in it."

"I was playing tennis until about 10 years ago. I could still play, but it's not an advisable sport to play if you only have one good eye," Cullum warned.

With all of the advances in medical science, is there anything that can be done now to repair the damage?

"Not really, not unless ... stem cell...," and his voice trailed off.

"You see, glaucoma puts a lot of pressure on the central nerve on the eyes and eventually, if you can't keep that under control, it will press against that nerve until it finally deteriorates."

Cullum is adamant that people should realize how easily serious sports injuries can occur and stresses that no injury to the eye is insignificant.

"I get nervous about other people who don't take care of their eyes," he emphasized.

In watching him on television, or live on stage, the audience doesn't realize he is blind in one eye.

"Hopefully the audience doesn't notice," he said admitting that he is self conscious about the eye, which has hindered a portion of his career.



David Bowie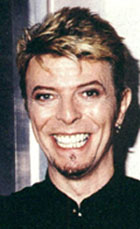 "It kept me out of film. I was uncomfortable doing film because I have to wear a contact lens to make the eye blue again. I originally had two blue eyes, but pigmentary glaucoma also palralyzing the muscles that contract the pupil, so the pupil stays large."

"I have the David Bowie complex," he said about the ever-changing chameleon of the rock world who, as a teenager, got into a fight over a girl which resulted in a blow to the eye that left his left eye paralyzed. Bowie's eye remained permanently dilated, leaving him with two different colored eyes. "Bowie's eyes are like mine - two different colored eyes and a large pupil, which makes the eye look very dark," Cullum explained.

"I don't have to wear the lens on stage, but I would have to on film," he added.

If the larger than life medium became a closed door, the exposure he received on the television hit Northern Exposure garnered him a world wide fan club.



The cast of Northern Exposure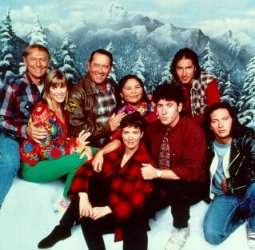 For five years he was French-Canadian immigrant Holling Vincouer, a retired adventurer, who owned and managed the Cicely watering hole, The Brick. He is madly in love with Shelly, his assistant, an ex-beauty queen, who is old enough to be his granddaughter.

When Cullum joined the case of Northern Exposure none of his fellow actors on that series were aware of the veteran actor's stage résumé, or that he had won two Tony Awards.

He got the part the same way the rest of the cast did - by auditioning.

"I just auditioned like everyone else - put it on tape. I was out in California and I had to go meet with the guys who wrote it. Then I had to meet with the network people. So, I went through the regular process. I had no idea I would get it."

He's glad he did.

"Very much so. I like that part of the country, Seattle is a nice town and has a lot of good theatre," he said of the place where the indoor scenes were filmed. "Actually, in Bellevue," he clarified. "The exteriors were shot in the Cascade Mountains in a little town called Roslyn. I lived in Seattle while shooting, but we had to commute 90 miles to do the outdoor scenes. We did an average of about three outdoor days each episode. So, it was very involved - a big deal."

Cullum's entire life has been involved and unusual.



George C. Scott and John Cullum starred in Boys In Autumn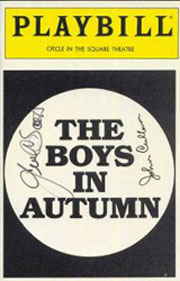 "Of course, I've made my living in musicals," said the performer who admits he can neither sing nor dance.

Would you say your singing is natural?

"I'd say it's unnatural," came the fast retort. "I was a church singer at Knoxville, but I wasn't any good. I got fired from two big jobs. I was a baritone singer, what they call the second bass, at a Methodist Church. They fired me."

Was that a charitable thing for them to do? Fire you?

"They put up with me longer than they should," he confessed. "After they heard me sing they wanted to fire me but they said - listen if you'll take the money we pay you and go and study with this teacher, Mrs. Leslie, then we'll keep you on for awhile. So, they kept me and I started studying. Finally they fired me and I got hired by the First Baptist Church. I knew the choir director. He should have known better than to hire me. I would get so nervous that I couldn't hold the music steady and I would sing about a quarter of a note sharp."

"Even though I had trained - trained - they got rid of me," he lamented.

"The first musical I ever did was Up in Central Park in Knoxville. I was the headline dancer. I was with the Knoxville Ballet Company for awhile. If they had had any good dancers they would have fired me."

You don't know how to dance, either?

"That's right. But, they needed somebody to lift the girl and I was interested in the girl. Susan Moore was the gal and she was good looking and she was a good dancer, too."

You just wanted to get your arms around her.

"That's probably the truth," admitted Cullum who is happily married to modern dancer, novelist and playwright, Emily Frankel.



Original cast of Camelot. Arrow points to Cullum. Front row is Julie Andrews and Robert Goulet behind the dog.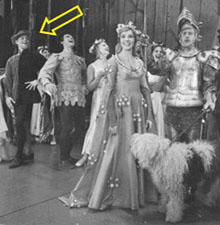 "My first musical in New York was Camelot. They took me into the production because they saw me doing Shakespeare in the Park and they needed an understudy for Richard Burton. So, it was not my singing but my acting that got me into my first musical. When they found out that I couldn't sing very well they sent me to a teacher. I studied with him for 30 years, but it didn't do a lot of good."

In addition to being a hit musical, Camelot was the crash pad for many a good drinking bout between Burton and Robert Goulet, the guy who played Lancelot.

"It was a drinking company," remembered Cullum. "That's true and I did my share. In fact, I drank enough for the first 40 years of my life in that year - enough to last me a lifetime, so I quit. I was a Southern Baptist, so drinking was a sin right from the very beginning. So, once I sinned I felt like I was going to hell anyway so I just kept drinking. But, then I quit."

It was while in grammar school that Cullum first exhibited an interest in the stage, continuing through college even though his major was "working on a business degree."

"I was not interested in business. I was sort of forced into it," he divulged. "My dad had a business and that's why I was doing that. He was in insurance, real estate mortgage, loans, trusts. He was the financial manager for Knoxville, Tenn. for awhile. I wasn't any good at business. That's why I went into the theatre. I never was very good at business," Cullum said then predicted, "I would have been had I stayed with it."

"They didn't even have a theatre department at the University of Tennessee when I was there, " he bemoaned. "I took a major in speech and a minor in English. They had a wonderful theatre program but they did not offer a degree. We would rehearse in a classroom. Some of the plays we did at a Jr-High School and the other ones we did in a legitimate house called the Bijou which is a very, fine legitimate house that is just like Broadway."

"We would rehearse for six weeks and perform for two nights at the Bijou. Talk about pressure - that was really it! So, it was good preparation for professional theatre."

Now Cullum has returned to his hometown, Knoxville, and to the Clarence Brown Theatre at his alma mater, the University of Tennessee at Knoxville, to star in Ronald Harwood's award-winning drama The Dresser. It's a moving story of an aging, vain British Shakespearean stage trouper 'Sir' clinging to humanity as World War II rages around him. Cullum will play opposite his son, actor JD Cullum, as his long-suffering and resourceful dresser 'Norman'. Directed by Gerald Freedman, the cast also includes Carol Mayo Jenkins as well as Bonnie Gould, Alecia White, J.T. Waite, Robin Chadwick, Anthony Marotta and David Brian Alley.

It's not the first time father and so have worked together.

"I've worked with him on Broadway in You Never Can Tell. He was in the original company. When Phil Bosco left and they asked me to do it and I jumped at the opportunity. When he was younger he was in the chorus of Shenandoah, said Cullum about the production that garnered him a Tony award.



John Cullum and son JD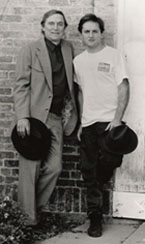 Referring to his son following in his footsteps Cullum commented; "It is a really tough business and he's good at it. I'm very proud of what he's done. He was doing very well in New York, which is where he was born, and then he went to California. He's done a lot of stage work out there. He wants to come back to New York, so I wanted to see if there was a vehicle that he could get that would be really worth his while to come back."

Along came The Dresser. "It really is a fun play and it's a terrific part for him. Absolutely fun working off of each other. And, the father son relationship."

It's also an opportunity for Cullum to go home again.

"I've never gone back and done a show. I've done benefits but never a show. And, I've never worked at the Clarence Brown Theatre. It's a wonderful theatre."

"I would love for something to happen with The Dresser, but you can't ever tell. I'm getting ready to do a play call Sin about Cardinal Law. It's like a deposition between two lawyers and Cardinal Law. I just got the script last week (end of July)."

In the production Cullum stars as Cardinal Bernard Law. Carl Forsman directs.

Sin: A Cardinal Deposed first staged by the Bailiwick Repertory Company in Chicago, has been called a searing play that offers a vivid look at how Cardinal Bernard Law of Boston reacted to the sex abuse scandal in his archdiocese.

California playwright Michael Murphy constructed his script from the 11,000 pages of Cardinal Law's depositions and from hundreds of newspaper articles, letters and public statements by Roman Catholic priests, doctors, victims of abuse and their parents. He took some dramatic liberties, like condensing the dozen lawyers who questioned Cardinal Law into just two, but did not add any dialogue.

"I'll be through with The Dresser down there on the 11th (Sept) and then there is a benefit on the 12th. and I start rehearsal for Sin on the 13th back in New York," Cullum continued.

If The Dresser has legs and Sin continues to captivate, Cullum could be in an interesting position of making choices.

"I just like to keep working, that's all."


WHO IS?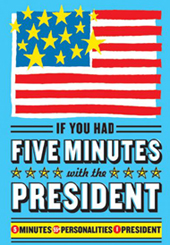 He was formally educated at Yale, danced with the Joffrey Ballet, including a performance at the University of Nevada in Las Vegas. When he hosted Saturday Night Live he skipped around in contour-hugging ballet tights.

He is a member of the nonprofit Creative Coalition, which promotes arts advocacy in Washington.

On August 10 the Creative Coalition is releasing a book called If You Had Five Minutes With the President, which is a collection of 55 people such as: Joey Pantaleano, Minnie Driver, Patty Duke, Tucker Carlson, Margaret Carlson - actors, journalists and business people - writing about what they would do under those circumstances.

He spent three years hosting dog shows for Discovery's Animal Planet but at home he had three cats. For over 20 years he's be married to a clinical psychologist. They live in Seattle with those felines.

Answer at the bottom.



Broadway To Vegas is supported through advertising and donations. Priority consideration is given to interview suggestions, news, press releases, etc from paid supporters. However, no paid supporters control, alter, edit, or in any way manipulate the content of this site. Your donation is appreciated. We accept PAYPAL. Thank you for your interest.



2004 CHICAGO TRIBUNE LITERARY PRIZE FOR LIFETIME ACHIEVEMENT has been awarded to Pulitzer-winning playwright August Wilson. The 59-year-old Pittsburgh native who currently lives in Seattle, created a cycle of nine plays which focus on the black American experience in the 20th century. The first was Jitney, set in a Pittsburgh taxi station in the 1970s. Eight other plays followed, including Ma Rainey's Black Bottom, Joe Turner's Come and Gone, Fences, and The Piano Lesson.


SPREADING THE WORD


THE PLAY'S THE THING will air The Crucible by Arthur Miller, starring Richard Dreyfuss and Stacy Keach. Arthur Miller's classic play about the witch-hunts and trials in 17th century Salem is a searing portrait of a community engulfed by hysteria. Written in 1952, The Crucible famously mirrors the anti-communist hysteria that held the United States in its grip.

Saturday, August 7 from 10 PM - midnight on 89.3 KPCC. The Play's the Thing is streamed live on the KPCC website for one week following each broadcast so that people worldwide can hear the show.

ED BEGLEY, JR. getting rave reviews for his discussion, Friday, August 6th, on the Dennis Miller CNBC Show.


SWEET CHARITY


THE BOY FROM OZ stages a special performance to benefit the Actors' Fund on Monday, August 16.

Very limited V-V-VIP tickets - only 10 available - at $5,000 each includes seat of your choice, post performance meet and greet with Hugh Jackman, Polaroid photo of you and Hugh and post-performance VIP party hosted by Isabel Keating and Stephanie J. Block.

A limited number of $500 each tickets includes prime seats and post-performance VIP party hosted by Stephanie J. Block and Isabel Keating.

All other tickets are regular prices $61.25-$101.25 while available.

All proceeds will benefit The Actors' Fund of America's programs and services, helping everyone in the entertainment industry, nationwide.

ACTORS' FUND BENEFIT SHOW on August 15 the company of Movin Out, will be giving a Special Benefit Performance for The Actors' Fund at the Golden Gate Theatre in San Francisco, CA.

FRANKIE VALLI AND THE FOUR SEASONS inducted into the Rock and Roll Hall of Fame in 1990 and has sold more than 100 million records worldwide - takes to the stage at Miami's Radisson Mart Plaza Hotel & Convention Center Aug. 13 to benefit the Majic Children's Fund, directed by Rick Shaw, one of Majic 102.7 FM's morning show hosts. All the money raised will go directly to South Florida kids in need.

General admission tickets ($50) include dinner and an opportunity to meet members of the NFL alumni, Miami Heat players, Heat dancers and Burnie the mascot.

For $100, you bump up to a seat inside the VIP viewing area nearest the stage and admission to a private meet-and-greet cocktail reception with Frankie Valli.


STOWE MUSIC FESTIVAL TO LIGHT UP SKY
David Cassidy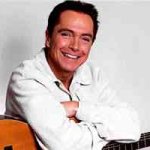 Four headline acts featured each night at the Stowe Music Festival - all culminate with a gigantic fireworks presentation.

Held on the grounds of the elegant English 18th century Stowe House in Buckingham, the entertainers include Michael Ball, David Cassidy, Lovely Will Young and Dionne Warwick, all accompanied by the Royal Philharmonic Orchestra with special guest artists Amici Forever, Duel, The Opera Babes, & Paul Carrack.

The event opens on August 12 with Michael Ball in his repertoire of favorites from Broadway musicals. David Cassidy follows on August 13. Will Young toplines on August 13 and Dionne Warwick closes the festival on Sunday, August 15.


DOUBLE STANDARD DRESS CODE


Las Vegas has been accused of going Broadway. Now the Great White Way is copying some long standing Vegas attributes - or covering them up - depending upon the show. Bare breasts sell tickets. However, there are times when you want to pander the ticket sales to the younger crowd. For decades Vegas shows, which paraded lines of topless showgirls, would offer some "family" shows - where the showgirls would be covered.

Now Broadway has copied Vegas.

Dracula, that bloodsucking new musical wants to suck in audiences of all ages. To do so means a dual marketing plan.

As of August 25 - Dracula will offer two versions. In the adult version, Melissa Errico's character Mina is a willing victim of Count Dracula played by Tom Hewitt. She pulls down her corset for her vampire lover, baring her breasts onstage for a full minute. Kelli O'Hara as Lucy is totally in the buff as she is caught minus her nightgown when the vampire enters her bedchamber. In the family friendly version - nudity becomes a theatrical illusion thanks to nude colored body stockings.

Last week ticket sales agents were notified how to correctly inform ticket buyers about their options - "there will be no nudity at all for Wednesday and Saturday matinees only. All other performances will include female nudity. Please be sure all clients booking Dracula are made aware of this at the time of booking."

Telecharge told Broadway To Vegas that they have been instructed to tell potential buyers "There is brief nudity in the evening shows. During the matinee shows on Wednesday and Saturdays the performers will wear a body stocking."

There is still time to get an afternoon delight. Previews ticket prices for matinee shows range from $26.25 to $61.25, plus taxes and service charges. After the show officially opens the matinee prices jump from $36.25 to $101.25. The body stockings get pulled on beginning August 25.

Directed by Des MacAnuff, with a book by Christopher Hampton, music by Frank Wildhorn, and lyrics by Don Black. The production is in previews intending to open on August 19th at The Belasco.


CURTAIN DOWN


FROZENdespite rave reviews, a Tony award - has a million dollar and gets iced Sunday, August 22nd having played six previews and 128 regular performances. The production stars Swoosie Kurtz, Laila Robins and Brian O'Byrne, who won a Tony Award for his performance.

The play will be make its West Coast debut at San Francisco's Curran Theater. Doug Hughes, who directed the New York production will be in charge. The play, with no cast announced, has booking dates at Studio Theatre in St. Louis and Alley Theatre in Houston.



TWO ON THE AISLE AND TAP DANCING IN THE LOBBY It's a clever theatrical promotion. Theatergoers attending the new adaptation of Singing In The Rain, Stanley Donen's glorious, feel good movie about a screen idol who falls in love with a chorus girl, set in silent-era Hollywood on the cusp of the talkies, currently being staged at in London, can participate in free tap dance lessons.

While the show is guaranteed to lift your spirits, the company also wants you to lift your feet. "We're here to help you become the star of your own show - straight after our show," says the promo.

They also don't want you to worry if the last time you had on tap shoes was in an elementary school program. "Don't worry, tap expert Junior Laniyan, who teaches at Pineapple Studios, is on hand with some personal tuition."

"Our free tap classes start straight after the show on the Mezzanine foyer level. Just come along - no special shoes or equipment required. Go on - you know you want to!"

To take part, make your way to the Mezzanine foyer level after the show.

"Unfortunately, we can't accommodate tap shoes on the wooden floor, but - and we've tried this- you'll be able to make a great noise in ordinary shoes."

Open to ticket holders only. Numbers for the classes are limited, first come first served. Tap class from 10:00 - 11:00 PM on Wednesday August 11, 18, 25 and September 1.

Singing in the Rain is perhaps the best loved and celebrated musical of all time. In this brand new stage adaptation, based on the MGM film, and directed by Paul Kerryson, Adam Cooper stars as Don Lockwood, the all singing and all dancing role immortalized by Gene Kelly in the original MGM movie.

Cooper is a former principal dancer with the Royal Ballet and star of Matthew Bourne's legendary all-male Swan Lake, The girl-next-door with a beautiful voice - Debbie Reynolds in the movie - is played by Josefina Gabrielle, who starred in The Royal National Theatre and Broadway productions of Oklahoma. and as Roxie Hart in the West End production Chicago.

Co-staring as Lina Lamont, the silent movie star with great looks but a grating voice to match, is award winning comedy actress Ronni Ancona who is famous as Posh Spice in Posh & Beck's Big Impression with Alistair McGowan.

Opened July 29 running through September 4 at the Leicester Haymarket Theatre Main House in London.

THE GLASS MENDACITY Chicago's Illegitimate Players star in this satire of the Kennedy Center's Tennessee Williams Explored series, blending the plots of A Streetcar Named Desire, Cat on a Hot Tin Roof and The Glass Menagerie. Presented by the Landless Theatre Company. Fridays and Saturdays, through Aug. 28 at the D.C. Arts Centre Theatre in Washington, D.C.

GREASE starring Scott Napier as Danny Zuko, Ellyn Marsh as Betty Rizzo and Penny Larsen as Miss Lynch. Directed by Stephen Casey. August 11 thru August 29 on the Main Stage of the Bucks County Playhouse, the State Theatre on Pennsylvania in New Hope, PA.

LET'S PUT ON A SHOW starring 83-year -old Mickey Rooney is a musical look at a legendary life. With music, humor, and video, Hollywood legend Mickey Rooney relates the story of a life lived large. Mickey, who has starred in more than 300 films, regales with tales of studios, movies, and, of course, the women in his life. He offers tributes to Ava Gardner, Judy Garland, and culminates with his wife of over 25 years, Jan Rooney. Jan offers her own tribute to Patsy Cline. The show includes original music by Mickey, interspersed with standards from the films of MGM.

Music director is Sam Kriger. Opens August 10 at the Irish Repertory Theatre in Manhattan with performances through September 12.

ONCE ON THIS ISLAND By Lynn Ahrens & Stephen Flaherty.

Directed by Marcia Milgrom Dodge.

Starring; Carey Brown, Dylan Collins, Kena Dorsey, Alan H. Green, Monique Midgette, Kenita Miller, Kevyn Morrow, Soara-Joye Ross, Joshua Tower, Raven Turner, Dathan B. Williams.

A mythical, magical island in the Caribbean sets the scene for this jubilant musical treasure from the award-winning creators of Ragtime.

Transcendent and life-affirming, this Broadway hit was the recipient of 8 Tony nominations.

Tuesday, August 10 - Sunday, September 5 at the Bay Street Theatre in Sag Harbor, NY.

VINCENT IN BRIXTON By Nicholas Wright. Directed by Elina de Santos. Winner of the 2003 Olivier Award for Best Play.

Every person has a past; Vincent Van Gogh's famous works tell only a small part of it. What of his misunderstood childhood, first love, and blossoming genius? At once a love story, comedy and biographical drama, this spellbinding production explores the lesser-known side of the legendary artist. The show draws from his surviving correspondence and creates a subtle and charming romance - reaching beyond Van Gogh's life and art - and bringing great relevance to all those who experience it. This is a must-see for art-lovers and anyone interested in the universal themes of love, loss, and laughter.

August 13 - September 19 at The Pasenda Playhouse in Pasadena, CA.

LITTLE SHOP OF HORRORS kicks off its national tour in Dallas as part of the Dallas Summer Musicals season. Features book and lyrics by the late Howard Ashman and music by Alan Menken and includes such well-known musical numbers as Somewhere That's Green, Suddenly Seymour and the title song.

Little Shop of Horrors is the story of Seymour Krelbourn, a meek Skid Row florist who makes a Faustian pact with a tiny plant in order to win the heart of Audrey, the girl he loves. While Audrey doesn't notice the romance blooming between them, she does recognize the moneymaking potential of the exotic little plant. Soon money pours in and Seymour becomes a celebrity, but behind the glamour.

While the human actors are on target the real star is a spectacular, planet-panicking plant designed by The Jim Henson Workshop and Martin P. Robinson who previously designed the plant used in the original 1982 Off-Broadway production. Audrey II, as the bloodthirsty puppet is called, features a main pod the size of a Mini Cooper and has the ability to rise 23 feet into the air. Orchids are the inspiration for Audrey II's color scheme, more specifically, a Venus Ladyslipper.

Little Shop of Horrors features scenic design by Scott Pask, costume design by William Ivey Long, lighting design by Donald Holder, sound design by T. Richard Fitzgerald, music supervision by Michael Kosarin and music direction by Henry Aronson.

August 10-21 Music Hall at Fair Park in Dallas, Texas.

DEATH OF A SALESMAN by Arthur Miller. This Pulitzer Prize-winning drama was first presented at the Guthrie as part of its inaugural season in 1963. Few American plays of the 20th century hold as prominent and enduring a place in our collective imagination as this work. Artistic Director Joe Dowling reunites with Guthrie favorites Peter Michael Goetz and Helen Carey to bring the story of Willy Loman to life. Following its run on the thrust stage, this Guthrie production will be presented at the Dublin Theatre Festival. August 14 - September 19 at the Guthrie Theatre in Minneapolis.

CAMELOT Las Vegas resident Robert Goulet will star as King Arthur in this all-new lavish production of the Tony Award-winning musical. Lerner and Loewe's celebrated re-telling of the Arthurian legend features a magnificent score.

Aug 10-15. The Orpheum Theatre in Memphis.

THE LOVES OF SHAKESPEARE'S WOMEN conceived, adapted and starring Susannah York, who was inspired by John Gielgud's one-man show, The Ages of Man. This one woman show will be staged at the Santa Barbara Shakespeare Festival August 11 & 12 followed by Ann Arbor, Michigan at The Ark August 14, It then opens off-Broadway at the Blue Heron Arts Center on August 18.

BETRAYAL a Harold Pinter's drama about the love triangle formed by a woman, her husband and his best friend, returns to its stage roots with a production by the Fountainhead and Keegan theaters. The high drama unfolds at Theatre on the Run Aug. 12-Sept. 11 in Washington, D.C.

KISS ME KATE August 11 thru August 15. A Pocono Playhouse production staged at Struthers Library Theatre located in Warren, Pennsylvania.

THE MUSIC MAN

Brian Wells as Prof. Harold Hill and Laurel Peterson-Wicke as Marian. Photo by; Ken Jacques Photography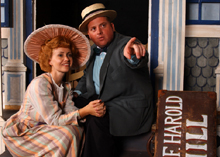 Meredith Willson's quintessential slice of Americana is the next offering in the 2004 Starlight Theatre Summer Season. Jack Tygett will direct, Joyce Schumaker will choreograph; with Laurel Peterson-Wicke as Marian Paroo and Brian Wells as Professor Harold Hill; Jeff Asch, Melinda Gilb, Ari Lerner, Linda Libby, Holly MacDonald, John Polhamus, Daniel Regas; barber shop quartet Tuesday Night Alibi, a boys band; and additional actors, youth and dance ensembles. Costume design by Kathy Auckland; set design by Wally Huntoon.

Pure Iowa corn with wonderful music, engaging characters, and an uplifting story that helps us all defy the passage of time - it's sentimental, nostalgic, gentle, and innocent; qualities we need in today's world. Opening on Broadway in 1957 The Music Man won the Tony Award for Best Musical, beating West Side Story and played 1,375 performances. The film with Robert Preston, Shirley Jones, Hermione Gingold and Ron Howard has been called "one of the best musicals Hollywood ever produced"; the 2000 Broadway revival directed by the very hot Susan Stroman won multiple awards. Thursday August 12 through Sunday, August 22 at the Starlight Bowl located in Balboa Park, adjacent to the Aerospace Museum in San Diego.


| | | |
| --- | --- | --- |
| | | |
WHO'S WHERE


SWEET HARMONY TRAVELING REVUE starring Emmylou Harris, Patty Griffin, Buddy Miller, Gillian Welch and David Rawlings performing together in a three-week tour, which will feature ensemble and solo performances. The event begins in Atlanta on Aug. 11 with stops in New York City, Boston, Philadelphia, Denver and other cities before ending Aug. 29 in Salt Lake City.

PHISH their final concert, in a career than spans more than 20 years takes place at the Coventry festival in Coventry, Vt., on the weekend of Aug. 15-16. The festival is expected to draw 70,000 people. No tickets will be sold at the gate, and that no one without a ticket would be allowed to enter.

BEACH BOYS brings their surf's up music to Casino Rama in Rama, Ohio on August 12. On Friday, August 13, the fun is at the Chautauqua Amphitheatre in Chautauqua, NY.

REBA McENTIRE brings her show to the Jackson County Fair in Jackson, Mississippi on Saturday, August 14.

PAULA POUNDSTONE in the spotlight Friday, August 13 through Sunday, August 15 at Funnybone in Richmond, VA.

BRAVO BROADWAY Join Ron Raines, Rebecca Luker and Debbie Gravitte as they perform the best music from today's Broadway stages. August 13-14 part of the San Diego Symphony Brave Series. San Diego, CA.

THE CORRS a pop rock quartet of siblings from Ireland perform August 11 at The Warfield Theatre in San Francisco.

CHRIS ISAAK in a two night gig August 12-13 at Humphrey's By the Bay in San Diego. On Saturday he's on stage at Pechanga Resort & Casino in Temecula, CA. Next Sunday finds him at the Santa Barbara Bowl in Santa Barbara, CA.

PATTI LuPONE: MATTERS OF THE HEART A brand new show starring Broadway legend Patti LuPone, Tony Award-winner of Evita and Anything Goes. Matters of the Heart is a memorable, intimate evening dealing with the affairs, the crimes and the mysteries of the heart At The Orpheum Theatre in Minneapolis October 5-10.

BRAD PAISLEY performs at Wente Vineyards in Livermore, CA on August 9.

NORAH JONES performs her jazz, pop vocal sections at the Verizon Wireless Music Center in Pelham, Alabama on Friday, August 13.

TONY BENNETT center stage Thursday, August 12, at the Mann Center in Philadelphia, PA. On Saturday he's in the spotlight at the Meadowbrook Farm Musical Arts Center in Gilford, NH.

BIG BAD VOODOO DADDY brings their toe tapping performance to the Oregon Zoo Amphitheatre in Portland, Oregon on Wednesday, August 11. On Thursday they are in the spotlight at River Rhythms in Albany, OR and they close out the week, Saturday, at Pavillion Park in Liberty Lake, WA.

HARRY CONNICK, JR performs at the Tennis Hall of Fame in Newport, RI on Friday, August 13. The next night it's the same city but a different venue. Harry will be appearing with JVC Jazz Festival at Fort Adams State Park.

HUEY LEWIS AND THE NEWS perform Thursday at Wolf Trap Filene Center in Vienna, Va. On Friday the show is at the Naval Base in Norfolk, VA.

PAUL ANKA has a two nighter at the Borgato Hotel in Atlantic City August 14-15.

LOUIE ANDERSON telling funny stories August 13-14 at John Ascuaga's Nugget in Sparks, NV.

JERRY SEINFELD in a two night gig August 13-14 at the San Diego Civic Theatre in San Diego, CA.


PIFFLE AND PROFUNDITIES


WHO IS? Ron Reagan.

WORLD'S LONGEST YARD SALE also called the 127 Corridor Sale because of the Route Number, began Saturday and continues through August 15.

Shoppers prowl for bargains along the 450 miles of back roads between Gadsden, Alabama and Cincinnati, Ohio searching for everything from toys to antiques to quilts.

What started as a small scheme 18-years-ago to pull a few travelers off the interstate onto old U.S. 127, using the irresistible lure of the yard sale, has mushroomed into the World's Longest Yard Sale.

With antique dealers, car collectors, farm machinery buffs, crafters and cooks and live performers getting into the act, the event grew from humble beginnings to more than 5,000 vendors lined along the 450-mile scenic yard sale route and the year 2004 promises to be even bigger - offering just about any collectible anyone could imagine.

This shop till you drop - or run out of gas - experience was created by tourism officials in Tennessee, Georgia and Alabama but rely on community support from each town and/or county tourism and chamber office to promote the events in their regions. The success of the sales depend on coordination from each community.
















Next Column: August 15, 2004
Copyright: August 8, 2004. All Rights Reserved. Reviews, Interviews, Commentary, Photographs or Graphics from any Broadway To Vegas (TM) columns may not be published, broadcast, rewritten, utilized as leads, or used in any manner without permission, compensation and/or credit.
Link to Main Page
---
Laura Deni


CLICK HERE FOR COMMENT SECTION