! >
Broadway To Vegas
 
 SHOW REVIEWS     CELEBRITY INTERVIEWS     GOSSIP     NEWS 
| | |
| --- | --- |
| | |
Copyright: August 8, 1999
By: Laura Deni
CLICK HERE FOR COMMENT SECTION

THE STRESS FREE CELEBRITY WAY

CONAN O'BRIEN plays the guitar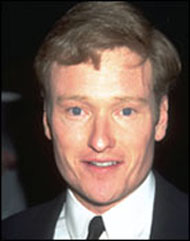 Just because they're rich and famous doesn't mean the world of celebrity is stress free.

Fretting over multi million dollar deals, wrangling over the size of your headline, carping at your press agent because you didn't get your name mentioned or - all uptight because that flash bulb caught you in an unnatural act - can up the tension.

So how do the seemingly have-it-alls of the entertainment business unload their stress?

The delightful GEORGE SEGAL, currently starring on Broadway in Art and in the successful TV series Just Shoot Me plucks the banjo.

Late night talk show host CONAN O'BRIEN strums on a guitar.

PETER MAC NICHOL, with acting credits from Sophie's Choice to Chicago Hope and Ally McBeal enjoys playing the bagpipes, although he had admitted that sometimes it's tough finding a place to practice. Another bagpipe aficionado is singer GLEN CAMPBELL. No report on the stress level of the people within hearing range.

DAISY FUENTES, JADA PINKETT, PAULA ABDUL and PAMELA ANDERSON - with or without the LEE - opts for bubble baths and massages.

DANNY GLOVER meditates.

ALYSSA MILANO prefers needles and gets another tattoo.

BRYAN WHITE puts cold spoons or cucumber slices on his eyes.



CHRIS O'DONNELL could watch Fletch over and over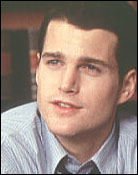 CHRIS O'DONNELL watches the movie Fletch, while SANDRA BULLOCK picks a Dr. Zeus video. PENTELOPE ANN MILLER watches old movies - her faves being Mr. Deeds Goes To Town, Some Like It Hot and Notorious.

SARAH FERGUSON, the Duchess of York, reduces stress through drawing and water color painting. ROBERT GOULET writes poetry and ROBIN WILLIAMS downloads his stress by surfing the Internet.

PETA WILSON lays foundation - literally - helping her father build a house. KEVIN SPACEY rearranges the furniture in his pad.

Shopping is the stress buster of choice for PENNY MARSHALL and LEE ANN RIMES.

Then there are the celebrities who take a more physical approach to a placid frame of mind.



CELINE DION
golf addict
TOBEY MAGUIRE practices yoga. CELINE DION golfs. DAVID CARRADINE is into Tai Chi, while MAGIC JOHNSON opts for Tae-Bo. LARRY WILSON, former co-star of ChiPS and now a high-tech computer guru, jogs.

WESLEY SNIPES is an expert in caporiera. That's an Africa-Brazilian fighting technique described as a mix of martial arts and dance.

MARY TYLER MOORE likes long walks and riding horses.

SARAH MICHELLE GELLER, who has a brown belt in Tae Kwon Do, enjoys kick boxing. CATHERINE BELL, Lt "Mac" MacKensie on JAG is into dirt biking and motorcycling, while MATT LE BLANC shoots paper targets with an 80-year old $1,000 handmade Winchester repeater.

A THEATER CONVERSION

Instead of dishing up dinner and productions what was the Burt Reynolds Dinner Theatre in Jupiter, Florida in Coral Gables, Florida is serving up scripture and passing the collection plate.

The nondenominational Christ Church of the Palm Beaches has been converting the entertainment arena into a house of god since the beginning of this year.

When Reynolds found himself financially beleaguered - as in bankruptcy - he sold his dinner theater to the church which is backed by Lowell Paxson, the founder of the Home Shopping Network, for $2.5 million. The building conversion is expected to be completed by the end of the year.

CULINARY CAPERS AND DATING DELIGHTS

The Clark County (Las Vegas) Gaming and Licensing Board meeting recently looked like a cross between a cook-off and a SAG meeting.




ROBERT DE NIRO a license and a date
Robert DeNiro ordered up a license as part owner of Norbu, the high brow Japanese eatery at the Hard Rock. Then the actor eyeballed an attractive blonde reporter who was covering the event and invited her out for drinks and dinner. So much for his desire to stay low profile.

Robert J. Johnson, founder and president of Black Entertainment Television was granted a license for his Tres Jazz restaurant in the new Paris Hotel. Tres Jazz will be a haven for jazz music - a welcome addition since many of the greatest jazz musicians already live in Las Vegas.

Then there was the distinguished but thoroughly embarrassed Emeril Lagasse, host of his own cooking show. He appeared at a disciplinary hearing telling the Clark County Commissioners he had barred Robin Leach from his Steakhouse at the Venetian after the Rich and Famous host attempted to cap off dinner by turning his female dining companions into dessert.

YOURS FOR A SONG

The American Master Series of PBS will pay tribute to the overlooked authors of the American songbook in Yours For a Song: The Women of Tin Pan Alley.


BETTY BUCKLEY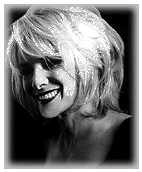 Betty Buckley will host and perform at The Supper Club in New York City, which will premiere Wednesday, August 18.

I'm in the Mood for Love, I Feel a Song Coming On, I'll Never Smile Again, If They Could See Me Now, Them There Eyes and scores of America's best-loved standards from the 1930's and 40's were written - music and/or lyrics - by women.

With original performances, interview, archival footage and movie clips, American Masters' Yours For A Song: The Women Of Tin Pan Alley focuses on the careers of four remarkable songwriters who wrote for Broadway and the movies, who shared the air with Gershwin, Porter and Berlin, and whose songs we hum and whistle every day - yet many of their names are virtually unknown.

The composer Kay Swift wrote the 1920 hit musical, Fine and Dandy and the timeless standard, Can't We Be Friends as well as Can This Be Love and the music for George Balanchine's first American ballet.


DOROTHY FIELDS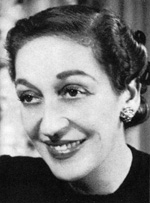 The lyricist Dorothy Fields, daughter of comedian Lew Fields of Weber and Fields fame, and younger sister of playwrights/screenwriters Herbert and Joseph Fields, wrote close to 500 songs, from On the Sunny Side of the Street to Big Spender and the rest of the words for Sweet Charity - as well as the current Broadway revival of Annie Get Your Gun - in a career that spanned six decades.

Fields collaborated with her brother Herbert for several Broadway musical hits that were later brought to the screen, including Let's Face It, Something For The Boys, Mexican Hayride, Annie Get Your Gun, and Up In Central Park. She appeared as herself in the 1943 film Stage Door Canteen.

Her last hit song was from a collaboration with Cy Coleman - the 1973 hit Seesaw. Fittingly, it was entitled It's Not Where You Start, It's Where You Finish.

Ann Ronnell gave us Willow Weep for Me and Who's Afraid of the Big Bad Wolf. And Dana Suesse penned You Oughta Be in Pictures.

Betty Buckley is the host and featured performer of this American Master's production, turning her famous vibrato to classics such as I Can't Give You Anything But Love [Baby] and The Way You Look Tonight, both with lyrics by Dorothy Fields. Michael Feinstein is also in the spotlight in interviews and performances align with early television clips of Frank Sinatra, Ella Fitzgerald, Perry Como, The Mills Brothers, The Hi-Los and Rosemary Clooney, singing hits that helped make them famous - songs written by the women of Tin Pan Alley.



Broadway To Vegas is supported through advertising and donations. Priority consideration is given to interview suggestions, news, press releases, etc from paid supporters. However, no paid supporters control, alter, edit, or in any way manipulate the content of this site. Your donation is appreciated. We accept PAYPAL. Thank you for your interest. Laura Deni P.O. Box 60538 Las Vegas, NV 89160


POPS AT THE PORTS OF CALL

The New York Pops led by Founder and Music Director Maestro Skitch Henderson will be in concert August 15 at the South Meadow Amphitheater of the Snug Harbor Cultural Center on Staten Island.


SKITCH HENDERSON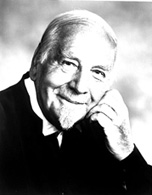 The free program will feature seasonal symphonic favorites of Hollywood and Broadway.

Skitch was born in England as Lyle Russell Cedric Henderson, but he was raised in America's heartland of the West and Midwest. It was there that he first began playing piano in the roadhouses of Montana and Minnesota. His big break came when he filled in as an accompanist for Judy Garland, while she was touring with Mickey Rooney.

After the tour. Skitch moved to Hollywood, where he accompanied a young vocalist named Delores Reed - the future Mrs. Bob Hope. Skitch joined the music department at MGM and played piano for Bob Hope and the Pepsodent Show. It was Paramount's Victor Young who advised Skitch to pursue classical training. Skitch obeyed, studying conducting under Fritz Reiner and Albert Coates, and theory with Arnold Schoenberg and Ernest Toch.

During World War II, Skitch flew for both the Royal Air Force. And - after becoming an American citizen - the US Army Air Corps. After the war, Henderson became the musical director for a touring Frank Sinatra, and later, for Sinatra's Lucky Strike Show on NBC Radio. He was Musical Director again for NBC Radio's The Philco Hour with Bing Crosby from whom he acquired the name "Skitch."

In his 80s, with no thoughts of slowing down, Skitch will strike up the band August 15 at Snug Harbor.

The 83-acre Snug Harbor Cultural Center, once the home for retired naval and merchant seamen, is a fast growing cultural attraction featuring 28 historic buildings, the Staten Island Institute of Arts & Sciences, the Staten Island Children's Museum, the Newhouse Center for Contemporary Art, the Staten Island Botanical Garden. There is an 800-seat Music Hall, a collection of works by celebrated maritime artist John A. Noble, a nationally acclaimed sculpture garden, plus a wide range of educational programs and workshops.

SWEET CHARITY


RALPH ENGELSTAD owner of the Imperial Palace Hotel in Las Vegas has donated the really big bucks to construct the Ralph Engelstad Arena, a new state-of-the-art hockey rink to be built at the University of North Dakota, North Campus. The $50 million plus arena will be designed by architect Schoen Association with an as yet unnamed program manager. It will be home to the North Dakota Fight Sioux Hockey Team as well as used for family shows and other special ice events. Years ago there was a fire storm of negative publicity when Engelstad was accused of allegedly tossing a politically incorrect birthday party.

TIGER WOODS said he wasn't comfortable wearing a suit - he prefers golf togs - but he got all gussied up anyway, hosting 1,000 celebrity and well-heeled folk who attended his charity bash last night, Saturday, Aug. 7, at the Rio Hotel, Las Vegas. The proceeds benefit Tiger Woods Childrens' Charities. Bruce Willis showed up showing off his new girl with her short black skirt and long black hair. Then there was singer Celine Dion who entertained. She radiated happiness. The reason? She was accompanied by her healthy looking husband, who has been undergoing cancer treatments.

THE LOS ANGELES CHAMBER ORCHESTRA has received a $100,000 grant to establish the William Randolph Hearst Endowment Fund for Educational Outreach Programs.

NORMAN LEAR is funding a scholarship for comedians with disabilities. Fern Field, co-founder and co-chair of the awards, announced that the first winner will be named at the 17th Media Access Disability Awards, on October 24. The scholarship will help pay for classes, demo reels, transportation, union dues and other expenses.



JULIE TAYMOR has canceled her national tour of Juan Darien: Carnival Mass

EGYPTIAN THEATRE COMPANY in Park City, Utah is presenting Pump Boys and Dinettes, through Sept. 4, in repertory with Side by Side by Sondheim, through Sept. 11.

MURDER AT THE JEWISH-ITALIAN WEDDING a murder mystery comedy dinner theatre experience. First see the wedding, then witness the murder. And cap the evening off with a nice dinner at the reception. Gulfstream Dinner Theatre, Boynton Beach, FL.

ROCK OPERA FOR THE DEAF Tonight's performance - Sunday, Aug. 8 - of the rock opera Tommy at The Lincoln Community Playhouse in Nebraska will be interpreted for the hearing-impaired. The production runs through Aug. 22.

MISTER ABBOTT: A BROADWAY LEGACY a highly entertaining musical revue that encapsulates in 31 musical numbers the nine-decade career of George Abbott has just closed a successful six week run at the Gable Stage at the Biltmore Hotel, Coral Gables, Florida.


WHO'S WHERE

ALVAREZ GUEDES The famed Cuban humorist offers his witty observations on life, traffic and Christmas trees. New Theatre Inc., Florida.

BILL COSBY Harvey's Casino Hotel August 14 Council Bluffs, Iowa.

JACKIE MASON honing his new Broadway Show at the MGM Grand, Las Vegas through Aug. 11.

CHUCK MANGIONE performs Aug. 12 at Arizona Charlie's in Las Vegas.


THIS AND THAT


MICHAEL JACKSON showed up at Fred Leighton's Jewelry Store in the Bellagio Hotel, Las Vegas. He purchased a diamond bracelet for himself and diamond bauble for Elizabeth Taylor.

SURF'S UP! THE GREAT AMERICAN WOODY The Peterson Automotive Museum in Los Angeles knows that synonymous with California, Woody's have come to symbolize the carefree lifestyle associated with coastal living. Their afford ability as used cars made them attractive to youthful drivers who lacked a great deal of their own discretionary income or parents with deep pockets. The distinctive vehicle was capable of carrying long surfboards and the gear that goes with the sport. During the 1970s, enthusiastic aficionados elevated the woody from utilitarian "used car" status to revered historical artifact - worthy of meticulous restoration and careful preservation. Today, Woodys are appreciated as much for their unique appearance and careful construction as they are for the fond memories they evoke. On display at the Petersen Automotive Museum, Los Angeles through January 17, 2000.

HAPPY BIRTHDAY Dick Please don't squeeze the Charmin Wilson celebrated his 83rd birthday by attending the Rich Little show at the Riviera Hotel, Las Vegas.



Mention BROADWAY TO VEGAS for Special Consideration
Call (800) 942-9027









Next Column: August 15, 1999
Copyright: August 8, 1999. All Rights Reserved. Reviews, Interviews, Commentary, Photographs or Graphics from any Broadway To Vegas (TM) columns may not be published, reprinted, broadcast, rewritten, utilized as leads, or used in any manner without permission, compensation and/or credit.
Link to Main Page
---
Laura Deni




For the snail mail address, please E-mail your request.
CLICK HERE FOR COMMENT SECTION