! >
Broadway To Vegas
  
 SHOW REVIEWS CELEBRITY INTERVIEWS GOSSIP NEWS

| | |
| --- | --- |
| | |
DR. DOLITTLE TAKES TO THE STAGE - - WAYNE NEWTON AND THE IRS - - THE LADY WITH ALL THE ANSWERS STARS RANDY GRAFF - - EXPLORING THE ROOTS OF MUSIC AND DANCE - - THE SCARLET LETTER STARRING MARISA TOMEI - - TIM MC GRAW'S MOUSTACHE WAX - - AMOUR - - THE TRAIL OF TEARS - - DONATE . . . Scroll Down


TRAIL OF TEARS


It was Indian Removal. The Trail of Tears - a trail which traverses nine states; Alabama, Arkansas, Georgia, Illinois, Kentucky, Missouri, North Carolina, Oklahoma, and Tennessee.

On August 15 the Execution Anniversary Program takes place at the Fort Smith National Historic Site Gallows.

On the anniversary dates of executions carried out by the federal court (1873-96) park rangers will present programs at the reconstructed gallows. This includes overview of 19th century federal court, federal law involving capital crimes, conditions in Indian Territory, and information about condemned individuals executed on that date and their victims.

At Fort Smith National Historic Site you can walk where soldiers drilled, pause along the Trail of Tears, and stand where justice was served. The park includes the remains of two frontier forts and the Federal Court for the Western District of Arkansas.

Exhibits in the visitor center focus on Fort Smith's military history from 1817 – 1871, western expansion, Judge Isaac C. Parker and the federal court's impact on Indian Territory, U.S. Deputy Marshals and outlaws, Federal Indian policy, and Indian Removal including the Trail of Tears.

Located on the grounds are the foundation remains of the first Fort Smith (1817-1824), the Commissary building (c. 1838) and a reconstruction of the gallows used by the federal court. A walking trail along the Arkansas River includes wayside exhibits on the Trail of Tears.

Designated as a national historic trail by Congress in 1987, the Trail commemorates the forced removal of the Cherokee people from their homelands in the southeastern United States to Indian Territory (present-day Oklahoma) in 1838 - 1839. In 1993, the Trail of Tears Association entered into a cooperative agreement with the National Park Service (NPS) to promote and engage in the protection and preservation of Trail of Tears National Historic Trail resources; to promote awareness of the Trail's legacy, including the effects of the U.S. Government's Indian Removal Policy on the Cherokees and other tribes - primarily the Chickasaw, Choctaw, Muscogee Creek, and Seminole.


OYEZ! OYEZ!


Recently the City of Alexandria, VA selected a new town crier. Awarded the coveted loud mouth position is William North-Rudin. He was one of five applicants who participated in a "cry off" in City Council Chambers in front of a City panel of judges.

North-Rudin is a twenty year resident of the City and lives in Delray with his wife. He works at the Alexandria Volunteer Bureau and is attending graduate school at Marymount University in Arlington to become a 3 rd grade teacher. North-Rudin replaces John I. Yagerline, the most recent town crier who passed away in April after having served since 1998.

Upon being selected, North-Rudin said he is "just thrilled at the prospect of serving in this capacity and am looking forward to performing my role at upcoming events."

North-Rudin was chosen based on several criteria: the quality of projected voice, content of prepared material, the ability to keep the judge's attention, and a pleasant, attractive, engaging personality.

"Mr. North-Rudin did a wonderful job in the 'cry off,'" said Mayor William D. Euille. "He was engaging, had a good command in front of a group and had a very pleasant personality. He will make a fine representative of the City of Alexandria ." The ceremonial duties of the new town crier will include reading proclamations, announcing upcoming events and acting as master of ceremonies at special events.

The role of the town crier has been that of a messenger throughout the ages -- from the Marathon runners in Greece to the Bellmen who spoke the news from under a street lamp. Town criers were one of our first public servants, responsible for reading proclamations, announcing news and when necessary, looking for a lost child. Before newspapers, television and the Internet, townspeople relied on town criers for information.



Broadway To Vegas is supported through advertising and donations. Priority consideration is given to interview suggestions, news, press releases, etc from paid supporters. However, no paid supporters control, alter, edit, or in any way manipulate the content of this site. Your donation is appreciated. We accept PAYPAL. Thank you for your interest.


SWEET CHARITY


GEORGE WINSTON returns to the WYO Theatre in Sheridan Wyoming on Monday, August 8, for a dual-purpose benefit performance to help raise funds for the recent refurbish of the WYO and the Volunteers of America Sheridan Homeless Shelter.

The WYO Theater's Baldwin grand piano was donated in 1999 by the Community Concert Association, which purchased the instrument in 1950. As a memento of the history of the piano, George Winston will be autographing the original piano hammers which will be available for purchase to further support the refurbish and maintenance of our grand instrument.


OTHER PEOPLE'S MONEY


TWO FERS Mama Mia! and Blue Man Group sending out two for one coupons to Las Vegas residents. Mamma Mia! has shows at Mandalay Bay while Blue Man Group performs at the adjoining Luxor Hotel.

WAYNE NEWTON singing same song second verse to the Internal Revenue Service. The tax man contends that Mr. Las Vegas owes them more than $1.8 million in taxes and penalties. The IRA says Newton and his wife, who is an attorney, failed to report all income and took improper deductions from 1997 through 2000. Newton counters that it is the IRS that owes him money.

In 1992 Newton was forced to file for Chapter 11 bankruptcy to reorganize an estimated $10 million in debts, including a $341,000 IRS lien for back taxes.

Newton appears Aug 16-20 at the Las Vegas Hilton.


SPREADING THE WORD
ACTORS DISCUSS ROLES IN FILM HEIGHTS Monday, August 8. Elizabeth Banks and Chandler Williams will discuss the film after the screening at Images Cinema in Williamstown, MA.

Both actors appear in the film alongside Glenn Close.

Directed by Chris Terriom this is the last movie completed by Merchant Ivory Productions before Merchant's untimely death.

Heights follows five characters over 24 hours in New York City. Isabel, a photographer, is having second thoughts about her upcoming marriage to Jonathan. Meanwhile, Isabel's mother, Diana, an actress of Lady MacBeth proportions, begins to re-think her open marriage. As the interrelated stories proceed, the connections between the lives of the five characters begin to reveal themselves and their stories unravel.

EXPLORING THE ROOTS OF MUSIC AND DANCE IN NEW MEXICO The multicultural influences on New Mexico Music and Dance. August 13-14 at El Rancho de Las Golondrinas - a living history museum in Santa Fe, NM.



DOCTOR DOLITTLE Leslie Bricusse (Book, Music and Lyrics. Glenn Casale directs.

Tony Award nominee Tom Hewitt stars as the good doctor in this new production.

Nancy Anderson is Emma Fairfax/Fox; Tony Yazbeck is Matthew Mugg; Ed Dixon is circus impresario Albert Blossom; Eric Michael Gillett is General Bellows/Straight Arrow; Shadoe Alan Brandt is Tommy Stubbins/Duck and Susan J. Jacks is Polynesia.

Journey to the far corners of the world with the incredible Doctor Dolittle – and a host of amazing animals – in this big, boisterous family musical. World-renowned veterinarian, Doctor Dolittle and his ability to "talk to the animals" takes audiences on one extraordinary adventure after another. Based on the Oscar-winning movie by Leslie Bricusse this fun and fanciful tale entertains children and adults alike with delightful melodies and impressive special effects. Michael Curry's animal designs are comprised of many different styles of puppetry, including actors playing fully realized animals, hand puppets, marionettes and enormous flying animals. The charming and witty score includes When I Look in Your Eyes, I've Never Seen Anything Like It and the Academy Award-winning song Talk to the Animals.

Rob Ashford Choreographer. Ann Hould-Ward Costume Designer. Kenneth Foy Scenic Designer, Ken Billington is Lighting Designer.Orchestrations by Kim Scharnberg. Michael Duff is music director. Sam Lutfiyya serves as music coordinator. David Chase dance arranger. Paul Rubin flying choreographer. David H. Lawrence is hair designer.

Continues at the Benedum Theatre in Pittsburgh, PA through August 14. Opens August 16 at the Ordway Theatre in St. Paul, MN.

THE SCARLET LETTER starring Marisa Tomei.

Carol Gilligan's contemporary look at Hawthorne's tale of a woman exposed, two men hidden, and a child whose eye for the truth shakes Puritan New England to its foundation.

The Culture Project, in association with Planned Parenthood of New York City and the Voice, is presenting a four-week festival of theatrical events that explore women's choices.

The Scarlet Letter, starring Marisa Tomei, Aug. 7-8.

HELLO, DOLLY! starring Michele Lee. Based on The Matchmaker by Thornton Wilder, this tale celebrates the joy of living with irresistible songs, clever comedy and the personality of one of the most unforgettable characters on the musical stage…Dolly! When the famous matchmaker Dolly Gallagher Levi decides her latest would-be groom - the well-known half-a-millionaire Mr. Horace Vandergelder - is better suited for herself, mayhem erupts. But with Dolly's varied skills and unstoppable energy, everything may just work out in the most unexpected way. August 8 - 14 at The Starlight Theatre in Kansas City.

AMOUR Music by Michel Legrand. French Libretto by Didier van Cauwelaert. Adapted from Le Passe-Muraille by Marcel Ayme. English Adaptation by Jeremy Sams.

Set in 1950s Paris, an unassuming civil servant finds he has the uncanny ability to walk through walls. With this magical discovery, he finally summons the courage to confess his feelings to his beautiful love-from-afar. Meanwhile, her husband has different plans for him. But how do you lock up a man who can simply slip away? A whimsical tale to buoy your spirits. A completely musical love story! Age

The Norma Terris Theatre Chester, CT August 11 – September 4.

KISS ME KATE Music and Lyrics by Cole Porter; Book by Bella and Samuel Spewack. To mark the 50th anniversary of the State College Community Theatre, all shows this season are theatre about theatre. Kiss Me Kate combines Shakespeare's Taming of the Shrew with Cole Porter's music and lyrics. This is a play-within-a-play, in which each cast member's onstage life is complicated by what is happening offstage. Fun, melodious, and sophisticated. Boal Barn Playhouse, Boalsburg, PA.

NUNSENSE The Little Sisters of Apache Junction are in a bind! Sister Julia, Child of God, has accidentally poisoned 52 Sisters with her tainted vichyssoise and some of the deceased are still in their freezer. The surviving Little Sisters must put on a show to raise funds to bury the last four "blue nuns" in the ice box! Nunsense is a madcap review full of wacky fun, sinfully good showstoppers and side-splitting jokes. If you haven't yet seen a nun en pointe or a kick line of Sisters, then come join in the fun with this hilarious "habit-forming" musical comedy!

Opened August 4 with performance through September 17 at The Broadway Palm Dinner Theatre. Located in West Mesa, Arizona, The Broadway Palm Dinner Theatre is the newest member of The Prather Family of Theatres. The theatre opened in October 2001 and seats 500

THE SOUND OF MUSIC

Victoria Strong center (Maria) from left to right back row Alex Foley (Kurt), Candice Nicole (Liesl), Henry Metcalf (Fredrich), Nicki Elledge (Luisa), bottom row Kara Keyes (Brigitta), MacKenzie Holmes (Gretl), & Emily Hoolihan (Marta)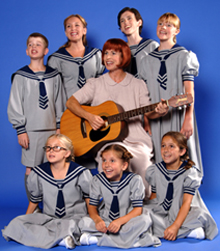 by Rodgers & Hammerstein.

Norman Large stars as Captain Von Trapp, with Victoria Strong as Maria and opera diva Patricia McAfee as Mother Abbess; April Fissell as Elsa, Chris Moad as Max, Joseph Glaser as Rolf, Candice Nicole as Leisl; von Trapp children: Henry Metcalf, Nicki Elledge, Alex Foley, Kara Keyes, Emily Hoolihan, MacKenzie Holmes.

With Jeannine Marquie, Melissa Cigainero, Lana Hartwell, Charlene Dibelka, Robert Stark, Devin Collins, Daniel Hall, Michel Napolitano; and Ilene Brown, Aimee Dotts, Maria Garcia, Phil Golden, Caitie Hannon, Richard Herring, Garney Johnson, Claire Kennelly, Kathleen MacNeil, Whitney Peskin, Jennifer Purviance, Tim Roberts, Lauren Stevens, Sharon Stevens and Sarah Sumner.

This timeless classic is directed by Dan Regas, with choreography by Christine Hall.

The creative team includes Trisha Schleicher ighting design, Mark Hartshorn sound design, Suzi Arnson & Margo Selensky costume coordination & design, and Parmer Fuller musical director & conductor.

The Sound of Music will play as part of the Starlight Theatre season in Balboa Park. Thursdays through Sundays, August 11-21. San Diego, CA.

THE LADY WITH ALL THE ANSWERS starring Tony Award winning Randy Graff.

David Rambo is the Playwright-adapter.

For decades, renowned advice columnist Ann Landers answered countless letters from lovelorn teens, confused couples, and a multitude of others in need of advice, regaling her readers with direct, insightful and often humorously honest columns. In an ironic twist of events, she suddenly finds herself with a deadline looming for a column on a new kind of heartbreak: her own. Drawn from Ms. Landers life and letters, The Lady with All the Answers is as much a look at ourselves as it is an entertaining visit with the wise, funny, no-nonsense woman who helped shape the social and sexual landscapes of the last half-century.

Scenic Design by Ralph Funicello. Costume Design by Robert Blackman. Lighting Design by Chris Rynne. Sound Design by Paul Peterson. Stage Manager is David John O'Brien.

Tom Moore directs this world premiere at the San Diego company's Cassius Carter Centre Stage which opens Aug. 11 for a run through Sept. 11.

REVOLUTION ROW a thought-provoking play about civil rights, will premiere at The Sande Shurin Theatre in NYC on August 18, and runs until September 11. Revolution Row was written by Edward Miller and is directed by Aaron Daniel Haber.

THE CONSTANT WIFE by W. Somerset Maugham. Directed by Mark Brokaw. Starring Kate Burton, Michael Cumpsty, John Dossett and Lynn Redgrave.

This deliciously biting comedy about marital high-jinx in high-society 1920s London stars two of the theatre's foremost actresses.

Kate Burton plays Constance Middleton, the perfect wife who happens upon the most imperfect of circumstances: her husband's affair - with her best friend! If she succumbs to emotions, she'll fuel the gossip of incorrigibly proper ladies who lunch, including her mother played by two-time Golden Globe winner Lynn Redgrave. But if she remains constant, Constance could turn bad luck, and the return of a handsome ex-beau, to her own fabulously improper advantage.

The cast also includes Enid Graham as "Martha", Kathryn Meisle as "Marie-Louise", Denis Holmes as "Bentley", John Ellison Conlee as "Mortimer Durham" and Kathleen McNenny as "Barbara Fawcett".

Performances through August 21 at American Airlines Theatre, NYC.

THE MIRACLE WORKER by William Gibson. Directed by Jim Petosa.

Opens Tuesday and runs through September 11 at the Olney Theatre Center for the Arts in Olney, MD.

CHILDREN OF EDEN Music Lyrics by Stephen Schwartz. Book by John Caird.

The excuse for the story is Genesis--both the first books and the story of Noah's ark. But audiences immediately experience that the relationships between Father, Adam, and Eve has more to do with earthly families, their immediate challenges and their generational legacies.

This show is now in the top 20 of musicals most frequently licensed by Music Theatre International, which is unusual for a show that never played on Broadway. It's popularity has spread by word of mouth. The score is a favorite of many Schwartz fans and includes a vast range of styles beyond "typical" Broadway. The love song In Whatever Time We Have is a popular song performed at weddings.

With performances through August 21 at the Flat Rock Playhouse in Flat Rock, NC.


| | | |
| --- | --- | --- |
| | | |
WHO'S WHERE


JERRY SEINFELD getting laughs August 12-13 at Caesars Palace in Las Vegas.

MERCY ME entertain Saturday, August 13, at Wild Adventures Theme Park in Valdosta, GA.

AMERICAN MUSICAL THEATRE SALUTES SERIES: THE PERSUASIVE PIZZAZZ OF JERRY HERMAN Hosted by Lee Davis. Starring Lee Roy Reams, KT Sullivan and Christine Pedi. Glorious musicals with music by Jerry Herman. Reams heads a cast that sing the jaunty Herman evergreens the way they should be. Sunday, August 14 Guild Hall in East Hampton, N.Y.

BLIND BOYS OF ALABAMA performs Thursday, August 11, at the Great Waters Music Festival in Wolfeboro, NH.

TONY BENNETT opens a two night stand Friday at the Hollywood Bowl in Los Angeles.

PAUL ANKA on stage Wednesday at the North Fork Theater at Westbury in Westbury, NY. On Saturday he's in the spotlight at the Mohegan Sun Casino in Uncasvillle, CT.

MICHAEL FEINSTEIN performs Thursday at the Bethlehem musikfest in Bethlehem, PA.

THE EAGLES entertain Thursday at Harvey's Lake Tahoe Outdoor Amphitheatre at Lake Tahoe, NV. On Saturday the show is at the Calaveras County Fairgrounds in Angels Camp, CA.

U2 on stage Tuesday at the Estadio de Anoeta in San Sebastian, Spain. On Thursday they can be enjoyed at the Estadio Vicente Calderon in Madrid, Spain.

COLDPLAY on stage Tuesday, August 8, at the Riverbend Music Center in Cincinnati, Ohio. On Thursday the show is at the Post-Gazette Pavilion at Star Lake in Burgettstown, PA. Friday finds the guys at the Verizon Wireless Music Center in Noblesville, IN and on Saturday they are on stage at the Alpine Valley Music Theatre in East Troy, WI.

DAVE MATTHEWS BAND in a two night stand Friday and Saturday at the SBC Park in San Francisco.

CLAY AIKEN performs Monday, August 8 at the Wolf Trap Filene Center in Vienna, VA.

CAROLE KING The Living Room Tour at Caesars Palace in Las Vegas on August 10.

BRAD GARRETT telling funny stories August 12 at the Mirage Hotel in Las Vegas.

JERRY SEINFELD getting laughs August 12-13 at Caesars Palace in Las Vegas.

BOYZ II MEN on stage August 13 at Mandalay Bay Hotel in Las Vegas.

LINDA ASHER kicks off the Trio series Saturday, August 13, at The Duplex Cabaret Theater in NYC. The idea behind Trio is to combine the efforts of three performers, giving audiences an exposure to three different styles during the course of one evening. Similar to the way in which The Duplex was booked in the 60's, with three different performers appearing nightly, each presenting their own "sets." Each performance of Trio will run between 60 and 90 minutes, and be hosted by an esteemed member of the cabaret community. Asher will be sharing the evening with Sarajean Davenport and MAC and Bistro Award Winner Brandon Cutrell. Asher will also be debuting some new material by songwriter Michael Peter Smith.


PIFFLE AND PROFUNDITIES


MUSTACHE WAX Queen Eye for the Straight Guy has educated viewers as to what the word product means. Celebrities traveling through Las Vegas in need of grooming aides have discovered The Art of Shaving located at Mandalay Place - the row of unique shops that connect Mandalay Bay to the Luxor Hotel. Those buying shaving products have included Robin Williams, Sylvester Stallone and Stanley Karnel, who plays the psychiatrist on Monk. Karnel, by the way, was a student of Sanford Meisner and got his start off-Broadway performing in plays such as Platinum, Laura, and The Poison Tree.

Tim Mc Graw telephoned in his grooming order. He needed moustache wax immediately. Since the store doesn't sell the sticky stuff, one of the barbers rushed his own personal supply over to the country singer so that his follicles stayed in star power alignment. Tonight McGraw performs at a private event at the Buffalo Chip Campground in Sturgis, ND. We hope he didn't forget to pack his moustache wax.

For those who haven't a clue about moustache wax, it's a pomade applied to a moustache as a grooming aid to hold the hairs in place. It can also have restorative properties, which are increasingly more important as the hair length increases. Usually it is made from beeswax, Coconut oil or shea nut butter - or any saturated vegetable oil, solid at room temperature, and not prone to rancidity - Gum arabic or pine resin and may contain scented oils.


















Next Column: August 14, 2005
Copyright: August 7, 2005. All Rights Reserved. Reviews, Interviews, Commentary, Photographs or Graphics from any Broadway To Vegas (TM) columns may not be published, broadcast, rewritten, utilized as leads, or used in any manner without permission, compensation and/or credit.
Link to Main Page
---
Laura Deni


CLICK HERE FOR COMMENT SECTION