! >
Broadway To Vegas
  
 SHOW REVIEWS CELEBRITY INTERVIEWS GOSSIP NEWS

| | |
| --- | --- |
| | |
TALK IS CHEAP; DREAMS ARE PRICELESS SPOTLIGHTS SANDY MEISNER - - JASON ALEXANDER TELLS ALL - - A CENTURY OF CHILDREN'S ILLUSTRATIONS - - THE BOY FROM OZ OPENS IN AUSTRALIA - - KIKI AND HERB BACK ON STAGE - -MAMMA MIA! IN LAS VEGAS MAY BE BEST BUY ON THE STRIP - - NEW YORK FRINGE FESTIVAL - - MODIGLIANI AND HIS MODELS - - DONATE . . . Scroll Down


TALK IS CHEAP, DREAMS ARE PRICELESS


"Take it from a director: if you get an actor that Sandy Meisner has trained, you've been blessed." - Elia Kazan

Sanford Meisner was one of the world's most influential and respected teachers of acting. For over fifty of his ninety-one years, Meisner was Director of the celebrated Neighborhood Playhouse School of Theater in New York City.

A short list of former students is testimony to his teaching brilliance: Gregory Peck, Geraldine Page, Grace Kelly, Joanne Woodward, Sandra Bullock, Robert Duvall, Steve McQueen, Diane Keaton, John Cassavettes, Eli Wallach, Jeff Goldblum, Mary Steenburgen, Susan Sarandon, Sydney Pollack, David Mamet.

Jim Jarrett was the last teacher Sanford Meisner personally trained to carry on the teachings.

On Wednesday, August 8, Talk Is Cheap...Dreams Are Priceless, opens at San Francisco's Magic Theatre. Written and performed by Jarrett, this is a one-man show about the irascible and entertaining Meisner. Next month Jarrett opens The Meisner Technique School of Acting in San Francisco with a satellite in Sun Valley, Idaho.

Jarrett spoke with Broadway To Vegas about Sandy Meisner.

"When I studied with Sandy he was 82," related Jarrett who filled fifteen notebooks with Sandy's teaching techniques during his four years under Meisner. "Physically, Sandy was ravaged. He had already lost his voice box due to throat cancer. He had been hit by a delivery truck in New York, five years earlier and dragged two blocks underneath the truck. By all accounts he should have been dead. But, mentally he was razor sharp. In fact, that is what kept him alive - his ability to continue to teach."



Sandy Meisner and Jim Jarrett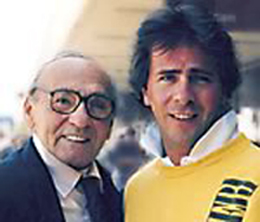 Jarrett had met Meisner during a summer retreat on the island of Bequia about 18 years ago. Meisner had developed a series of acting classes for 20 actors per month over a period of three months to intensely study his method. After the tutelage of the 60 actors, Meisner selected one third of the group to continue privately in his two-year professional class. Jarrett was one of those students.

Later Jarrett acted as Meisner's assistant - being groomed to teach the Meisner way.

At around the same time, Jarrett founded the Artists Theater Group – an ensemble of actors, directors and writers dedicated to the standards Meisner believed in.

"Life beats down and crushes our souls and theater reminds us that we have one," - Sandy Meisner.

Meisner who had received commendations from Presidents Clinton, Bush and Reagan was born and raised in Brooklyn, New York. He attended The Damrash Institute of Music - now known as Juilliard.

In 1931, a fervent group of young actors, including Meisner, Stella Adler, Lee Strasberg, and Harold Clurman, among others, joined together to establish the Group Theatre. It was the first permanent theatre company that brought Method acting, rooted in the methods of Konstantin Stanislavsky, to practice and prominence in America. Meisner appeared in twelve Group productions, including the first, The House of Connelly, and all of Clifford Odets' plays, including Waiting for Lefty, which Meisner co-directed with Odets in 1935.



Jim Jarrett as Sandy Meisner at age 50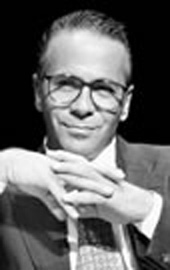 In 1933 Meisner became disenchanted with pure Method acting. He wrote; "Actors are not guinea pigs to be manipulated, dissected, let alone in a purely negative way. Our approach was not organic, that is to say not healthy."

Meisner had ongoing discussions about technique with Adler, who worked with Stanislavsky in Paris, and Clurman, who took a deep interest in the American character. Eventually Meisner realized that if American actors were ever going to achieve the goal of "living truthfully under imaginary circumstances," an American approach was needed. The Neighborhood Playhouse provided him with a venue to develop that approach on his own.

Meisner left The Playhouse in 1958 to become director of the New Talent Division of Twentieth Century Fox. He returned to the Neighborhood Playhouse as head of the Drama Department from 1964-1990. In 1985 Meisner and Jimmy Carville co-founded The Meisner/Carville School of Acting on the Island of Bequia in the West Indies.

"One of the things that so impressed me with Sandy was his humility," continued Jarrett. "So many great acting teachers often were little dictators in that they said their way was the only way. Sandy would often say - my way is not for everyone. You are not all pianos. You are not all the same instrument. Your instrument is your soul. Your humanity, your sensitivity and there is no one or right way to get to that instrument. If my way works for you, great. If not, go find a way where it does work."



Jim Jarrett as Sandy Meisner at age 80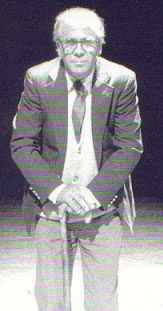 Arthur Miller once said of Meisner, "He has been the most principled teacher of acting in this country for decades now, and every time I am reading actors I can pretty well tell which ones have studied with Meisner. It is because they are honest and simple and don't lay on complications that aren't necessary."

"Sandy's way was - don't act, don't fake, don't pretend," explained Jarrett. "Don't give more than you've got. Be authentic. He challenged us to get us out of our heads and to listen - to truly listen,"emphasized Jarrett.

"Most people are such horrible listeners, we don't even remember people's names when we are introduced to them," Jarrett complained. "Our habits as human beings are so ingrained and poor. When somebody else is talking most people aren't listening. They can't wait for you to finished so they can tell you what they want to tell you. And, that's just in life."

"Now, go on stage, or be on a film set, with all of the distractions that entails, the lack of ability to focus, to concentrate. It's a distraction to listen to your partner, listen to someone you're working off of. That's quite a challenge. It's why so often so much of the work is not believable. Or, certainly not very deep."

"No, Sandy never put a copyright on his steps," answered Jarrett. "But, any serious student of acting knows of the Meisner Technique."



Sandra Bullock bartended and waitressed between auditions and acting classes under the tutelage of dramatician Sanford Meisner. Her breakthrough came after receiving rave reviews in the off-Broadway play No Time Flat.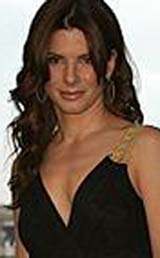 "I am one of only a handful of people who were trained by Sandy to be a teacher of his way. Truly, there are only a handful on the planet," Jarrett reiterated. "But, I also have his personal blessing to do so. I was the last student ever bestowed that honor. So, my place in Sandy's life, especially at the end of his life, was quite established."

When Jarrett decided to open a Meisner school he sought out Meisner's long time companion and business partner, James Carville.

"Out of respect for Sandy I flew down to the Caribbean to Beckley, this little island where Sandy's ashes were spread, which is where he lived and where Jimmy lives. I paid my respects and explained to Jimmy what it is that I'm doing and why. I was able to secure his blessing as well."

"Sandy's estate and Jimmy know that I am not trying to exploit anything, but truly trying to educate future theatergoers, as well as aspiring actors, to what Sandy stood for and what he believed acting could be."

"Actors have the opportunity to literally impact the lives of people if they work on material that has integrity. But today, most actors simply want to be famous. Well, being an actor was never supposed to be about fame and money. Being an actor is a calling and you've been given the gift, the ability, to inspire humanity." - Sandy Meisner.

"There is nothing more common in Hollywood than talented, out of work actors," continued Jarrett. "You can never teach an actor to be successful, because it's a crap shoot. There is also nothing more common than untalented actors who are working. Hence, no odds."

So why bother to teach people to become the talented unemployed?

"You can absolutely take someone - an instrument - as a teacher of acting - and help that instrument become more authentic, present, instinctive, more impulsive, which are keys to being a talented actor," Jarrett replied. "The other talents for a talented actor are a vivid, childlike imagination. It's all make believe. You're not really my wife. We're not really robbing this bank. It's all make believe."

"That's why Sandy felt the most important ingredient for an actor was a highly developed imagination, as well as being an extremely sensitive, human being."

"You can absolutely stretch an instrument towards these qualities. Will they then parlay that into a career? Who knows? As I said, there as so many talented actors who don't work."

"I've had students who were cold, not very feeling, self conscious which is a bad quality for an actor. When your focus is on yourself, you get nervous and self aware. The freer you are the more your talent can really fly. So that's person, as a piano, is going to have limited keys. Through Sandy's way, which is all designed to get an actor out of his own head, the student will grow - by degrees. Other students will fly out of the room, whereas that student will walk out of the room. Yet, that said, he might very well be the one who gets the commercial. They could have needed a certain look."

The school will officially open in mid September.

"A new class starts September 15 and we only accept 20 students per class," explained Jarrett. "The school will have two sections per year. There is no audition - that's the way Sandy did it. It's the answer to one simple question. Why do you really want to me an actor. From there you watch and trust your instinct in terms of their sincerity and their authenticity."

"You can't teach a person to have talent but you can teach people how to an actor."

Jarrett didn't grow up intending to become an actor. Quite the contrary.

He started his acting career at the advanced age of 29.

"I'd never acted in anything prior," he divulged. "I started a business in college with my best friend. I was going to be a lawyer. Then I found out that my father was no longer going to pay for the fun I was having in college. If I wanted to go to law school, I had to secure scholarship money. In that process I discovered that there was a lot of money out there in the private sector. The more we did our research the more we stopped wanting to go to law school. We started a business in 1979 called The National Scholarship Research Service. This was well before the internet and word searches. It was designed to help people link up with the information. To help them learn that there is money out there, that they may be eligible for and to get them in contact with the proper people."

"Again, back in '79 there wasn't a centralized data base. So, we were first. We stumbled upon prosperity. That service ended up being quite successful. "

"The old Greek tragedy of - don't go into business with your best friend and get everything in writing - unfortunately came true for us," continued Jarrett. "The business became very successful, but the money aspect took down a great friendship. In the process, at age 25, I was suing my partner for what I thought was mine. Eventually, once that settled, I started picking up the pieces to try to figure out what I wanted to do with my life. That is how I eventually came to acting."

A traumatic business experience wasn't lost upon the acting profession.

"That business experience really did help me go about my acting career," stressed Jarrett. "Sandy used to say to me, you don't have a choice. You to do this and you are about to enter a profession with very little standards for the craft of acting. So, you are going to feel quite alone in the pursuit of this. So, you'd better figure out how to find a way to have an outlet for your work. "

Between his business background and the acting foundation Meisner put in place for him, has come Vincent, this new, one man show about Meisner and the opening of the school.

Vincent is the moving portrait of Vincent Van Gogh penned by none other than Dr. Spock - Leonard Nimoy. Jarrett has starred in the production for 10 years.

"The anniversary is up coming of where I first gave birth to that," elaborated Jarrrett. "It was in Hawaii, which is where I was living at the time. Vincent has literally taken me, 10 years later, all over the world."

"It has been a life changing career gift from both Mr. Nimoy and Vincent Van Gogh. It has opened up so many doors and opportunities and relationships. I will never be able to express by gratitude to either one of them."

A profound statement coming from a man who admits he never liked Star Trek and the only thing he knew about Vincent Van Gogh was "the typical sound bite - he cut off his ear."

"The emotional power of the play overwhelmed me," continued Jarrett about Vincent. "What Mr. Nimoy captured was the story of someone who had a dream and the courage to pursue it. Someone who believed what they were doing was not for a dollar, but rather because they were fulfilling their God given calling and gift. And, someone who had sacrificed mightily in pursuit of that dream - from ridicule of family and friends to personal financial sacrifice. He struggled to find his voice."

"The piece on Sandy is not going to book like Vincent," speculated Jarrett. "Small towns have never heard of Meisner and they don't know me. So, that isn't going to happen. This need to be in major markets. I first flew to New York to see if that is where it should start and got high up on the food chain of people who know. But, the entry fee in New York now for off-off Broadway is a quarter of a million dollars. That is what I was told would be needed - from the publicist to the advertising, the theater, the business manager - all of the components - you're looking at $250,000. That said, I was advised to take it to a regional market - San Francisco, Seattle, Chicago. You can open there for a fifth, if not less than that. If it is good and well reviewed, it can pipeline to New York."

Originally from the Bay area, this is an opportunity for Jarrett to return home.

"The Magic is one of the most respected regional theaters in the country, " he declared. "It's the world premiere, before going to other regional markets. And, the opportunity to expose a man who many theater goers have never heard of - Sandy has a way of impacting just about everyone. I did not want to do a show for actors only. It's not a piece filled with heavy acting jargon. I wanted Sandy at his brilliant best - which is someone who was so full of passion and integrity that he literally changed your life. So, it's an evening that inspires people. Forget whatever your life calling is. Especially, if you don't know what your life calling is. It's an inspiring call to not have a mediocre life."


10TH ANNUAL NEW YORK INTERNATIONAL FRINGE FESTIVAL


This event has turned into a playwright launching pad.

The New York International Fringe Festival (FringeNYC), a production of The Present Company, is the largest multi-arts festival in North America, with more than 200 companies from all over the world performing for 16 days in more than 20 venues - that's a total of more than 1,300 performances.

Here's a sampling of just a few that are hoping to catch lightening in a bottle.

THE FARTISTE

Cast of The Fartiste. Photo by Monique Carboni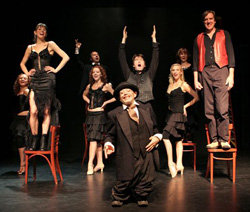 is the strange but very true, story of Joseph Pujol. ( See Broadway To Vegas column of August 19, 2001 ) Pujol was an ordinary French baker with a case of ambition and an unusual and ass-tonishing talent - the ability to manipulate a limitless supply of odorless gas from his rectum - fashioning an amazing assortment of musical numbers, imitations, and ass-tounding tricks. With focused determination, Pujol took his talent to the famous Moulin Rouge where he put his bakers hat behind him as his derriere soon catapulted him to stardom.

Story and book by Charlie Schulman. Music and lyrics by Michael Roberts. Directed by John Gould Rubin. Choreography by Richard Move.

The cast is lead by Kevin Kraft (The Fartiste, Joseph Pujol), Mark Baker (Toulouse Lautrec), Jim Corti (Charles Zidler), Lyn Philistine (La Goulue) and Nick Wyman (Aristide Bruant) and the cast also includes, Molly Curry, Leslie Frankel , Rachel Kopf, Rebecca Kupka, Charly Seamon and Steven Scott providing all the live sound effects. Creative team includes Clint Ramos (Sets), Nicole Pearce (Lights), Melinda Basaca (Costumes), and Betsey Rhodes (Sound).

Fartiste will perform at the Harry DeJur Playhouse beginning August 11.

OBLIVIOUS TO EVERYONE a seriocomic one-woman show written and performed by Jessica Lynn Johnson, and directed by Christopher Sorensen. Oblivious To Everyone explores the media's portrayal of and influence on the style and psyche of the modern woman. The play centers around the character of Carrie, a self-proclaimed smut-aholic and avid talk show watcher, who is seeking psychiatric evaluation after repeated complaints from friends and family about her alleged multiple 'personalities'. Rapidly flipping identities like TV stations, the audience will discover just how oblivious this Paris Hilton wannabe really is.

Performances will run from August 12 to August 19 at the Manhattan Children's Theatre in NYC as part of the festival's 10th season. Side note - this is not a show for kids!

ONLY A LAD a musical comedy based on the songs of the 80's rock band Olingo Boingo. Opening August 12th and playing thru August 24th at the Harry DeJur Playhouse.

Only a Lad is the story of Johnny, a punk teenager living in 1984 America. He lives in a world of black, white and wild imagination. When Johnny is accused of murder, he must not only prove his innocence, but also his worth. Like the music that inspired it, Only a Lad challenges the audience to face difficult themes such as alienation, rage, youthful angst, love and lust, all the while maintaining a dark camp and sharp wit.

Book by Andrew Loschert. Rob Seitelman directs and Jason Summers choreographs a young cast of breakout talent. The 15-member cast includes: Barrett Hall, Joey Calven, Victoria Dicce, Todd Lawson, Tessa Faye, Jenny Weaver, Jon Rosen, Stephen Wilde, Rachel Eve Moses, Jennifer Hallie Rosen, Matthew Skrincosky, John Halbach, Thom Miller, Eric Shelley and Alan Shaw.

Mary Ann Ivan is the Music Director. Although the music in the show is used with permission, Only a Lad is not affiliated with Oingo Boingo or Danny Elfman.

DON'T ASK by Bill Quigley is about a dangerous sexual affair between a reckless young U.S. Army Private and his superior. It grows truly perilous as the horrifying truth about one of them comes to light in this dark sexually-charged drama set in the Iraq war. Don't Ask is an intense two-character drama dealing with power and conscience on a U.S. Army base in Iraq, set against prisoner abuse scandals.

Performances begin August 12 at the Henry Street Settlement Experimental Theatre.

PERFECT HARMONY

Left to right: Scott Janes, Marina Squerciati, Jeffrey Binder, Autumn Dornfield, and David Barlow. Photo by Carol Rosegg.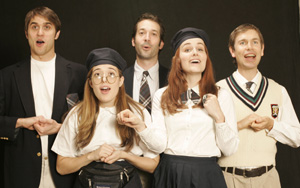 conceived and directed by Andrew Grosso, written by Grosso and The Essentials.

theatrical mockumentary Perfect Harmony is about a championship high school a cappella group. Examining their lives, hopes and feelings, the audience learns not just about the members of the group but also about the true nature of Harmony.

The play tracks the rise and fall and rise of perennial high school a cappella powerhouse, The Acafellas and their classmates and female counterparts, The Ladies in Red, as both strive to win Acapalooza: The National High School A Cappella Championship Jam.

The cast (and collaborating writers) includes: Jeffrey Binder, Noah Weisberg, Autumn Dornfeld, Jeanine Serralles, Maria Elena Ramirez, David Barlow, Marina Squerciati, Margie Stokley, Scott Janes and Blake Whyte.

The set design will be by Eliza Brown, the costume design by Becky Lasky, and the lighting design by Driscoll Otto. There will be original music and musical direction provided by Alec Duffy.

Performances begin August 15 at the Harry DeJur Playhouse.


ART AND ABOUT


DRAW ME A STORY: A CENTURY OF CHILDREN'S BOOK ILLUSTRATIONS All children love to draw, and many carry this enthusiasm into adulthood to become book illustrators or cartoonists. Draw Me A Story: A Century of Children's Book Illustration exhibits enchanting works by both types of artists, as well as unique cases where illustrator and cartoonist become one.

The Cartoon Art Museum presents a parade of children's book art ranging from 19th century illustrators Kate Greenaway and Randolph Caldecott to contemporary artists such as Trina Schart Hyman, Renee French, Patrick McDonnell, Elizabeth Miles, Daniel San Souci and Rosemary Wells.

Draw Me A Story offers a fascinating glimpse into the variety of art styles from different decades as printing techniques improve and teacher, parent, librarian and publisher dictate change.

This 100-year celebration not only covers themes that adults thought should interest children, such as nature stories, nursery rhymes, folk lore, the alphabet, and kids at play, but also displays the original drawings and paintings by the artists who brought those subjects to life, including Edward Ardizonne, Palmer Cox, Tomie DePaola, Edward Gorey, Johnny Gruelle, Ruth Heller, Walt Kelly, Maurice Sendak, Ernest Shepard, William Steig and Lawson Wood among the scores of additional artists on exhibit.

These beloved individuals employed their vast talents and incredible imaginations to create some of the most memorable moments in our young lives. To see their art in its original form makes the experience all the more moving.

Through January 14, 2007 at the Cartoon Art Museum in San Francisco.

MODIGLIANI AND HIS MODELS his reputation overshadowed his art. The riveting story of the handsome and dissolute young bohemian's life in the French capital. A tortured artist who ran up huge bar and brothel bills which he never paid, developing an addiction to opium and scandalizing society with his various affairs. Nothing was more dramatic than his sudden death at the age of 35 followed swiftly by the suicide of his pregnant girlfriend.

With their latest exhibition, The Royal Academy in London is attempting to reclaim Modigliani's reputation from those who've wallowed in his dark life for too long and put the emphasis back where it belongs, on his painting.

Amedeo Modigliani painted people. In many ways this concise statement sums up the artist's entire output during his short career in Paris in the first two decades of the twentieth century. No other modern artist concentrated so absolutely on the representation of people. Because it is clear from the 50 collected works in this exhibition that Modigliani's love of women extended beyond his private life. His first solo exhibition was closed down for being too shocking, although today it would seem quite tame, but his nudes were still the talk of the art world. He painted women with love, keen to show the curve of a foot as much as the curve of a breast.

Moreover, in a period when avant-garde art was experimenting with the breakdown of forms, Modigliani steadfastly retained his integrity. Always individual and idiosyncratic, he drew on a variety of sources – Renaissance to Rococo painting, the art of Toulouse-Lautrec, Cézanne and Brancusi, ancient Greek, African and Asian sculpture – to create his own highly original and modern signature style.

Apart from a handful of landscapes painted in the south of France in 1918, Modigliani's paintings are restricted to portraits and nudes, most of which were painted in the last six years of his career, between 1913 and 1919.

Exhibition through October 15 at the Royal Academy in London.


SPREADING THE WORD


JASON ALEXANDER

Jason Alexander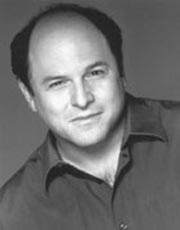 Perhaps best known as George on the hit television show Seinfeld, Alexander is also a Tony-winning stage actor who has both written and directed award-winning works of art.

Be at Geffen Playhouse on Wednesday, August 16, for an in-depth conversation with the actor/writer/director as he delves into insights from his 20 years in the entertainment industry.

Alexander recently directed the Sam Shepard penned The God of Hell in a successful month long run at the Geffen.

At this special event, hosted by Geffen Producing Director and frequent Oscars producer Gil Cates, Alexander relaxes, unwinds, shares some of his favorite stories, and takes questions from the audience.

Wednesday, August 16 at the Geffen Playhouse in Los Angeles.



Broadway To Vegas is supported through advertising and donations. Priority consideration is given to interview suggestions, news, press releases, etc from paid supporters. However, no paid supporters control, alter, edit, or in any way manipulate the content of this site. Your donation is appreciated. We accept PAYPAL. Thank you for your interest.


SWEET CHARITY


ONE NIGHT ONLY a benefit for YouTHeatre-American stages a one night revival of Jesus Christ Superstar, the Tim Rice-Andrew Lloyd Webber musical. The event stars Yvonne Elliman, who originated the role of Mary Magdalene on Broadway in 1971, Barry Dennen as Pontius Pilate and Ted Neeley, who has played the role of Jesus more than 1,700 times. Also featured are the talents of Ben Vereen as Judas Iscariot, Las Vegan Clint Holmes as Simon Zealotes and screen star Jack Black as King Herod.

All proceeds will benefit Youtheatre America, an organization devoted to encouraging creative skills and artistic expression in people ages 12 to 21,.and The Ricardo Montalban Foundation.

VIP seats include a cocktail reception and cast meet and greet after the show.

August 13 at the Ricardo Montalban Theater in Hollywood.


OTHER PEOPLE'S MONEY


MAMMA MIA!

Carol Linnea Johnson stars as Donna Sheridan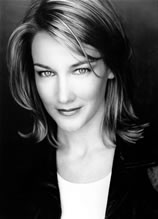 the mega hit musical may be the best entertainment bargain in Las Vegas. In a return visit to the show at Mandalay Bay Resort last week, it was discovered that half price tickets can be obtained. That means a person can enjoy the show for as little as $25.

In snooping about to discover how a person can take advantage of those tickets - Broadway To Vegas learned there is a downside. After first purchasing what one thinks is a ticket the customer is informed that they have paid for a voucher, which then has to be redeemed at the hotel. The half price ticket sellers encourage patrons to immediately go to the theater because the sooner you get to the hotel the better seats you'll be given. That takes up a lot of time and is an annoyance - something that doesn't happen in New York City where half price ticket booths actually sell you a seat assigned ticket.

On the plus side, the person I was with suggested that $25 seats make it affordable for a high school date.

An extremely strong Vegas cast stars Carol Linnea Johnson as Donna Sheridan a role she also played on Broadway, Kelly Anise Daniells in the role of Sophie Sheridan; Vicki Van Tassell as Tanya, Elizabeth Share as Ali, Joel Rene as Lisa; Robin Baxter who comes directly from the Broadway Company plays Rosie, Patrick Sarb as Sky; Lysander O Abadia as Pepper; Timothy Ware as Eddie, Andy Taylor as Harry Bright, Jefferson Slinkard as Bill Austin, Rick Negron as Sam Carmichael and Tim Tucker as Father Alexander.

The ensemble includes;Ryan Appleby, Armi Arabe, Don Burroughs, Jennifer Cantorna, Ian Cullity, Danielle Ferretti, Amanda Flynn, Brad Gray, Erim Mosher, Rick Pessagno, Lisa Richard, Nadine Roden, Tim Tucker and J.R. Whittington.

The Swings are; Deanna Aguinaga, Greg Kata, Robin Levine and Josh Sassanella.

It's transparent story line which has been done better in the movies, and the sound is too loud, both in New York and in Las Vegas, but those bouncy, delightful Abba songs penned by Benny Andersson and Björn Ulvaeus make for a delightful, happy experience.

In Stuttgart, Germany Victoria Beckham visited Mamma Mia! with her sons, Brooklyn and Romeo. They also enjoyed a short meet and greet with the cast and managing director Dr. Berndt Schmidt, thanking everybody at the theatre for their hospitality. On August lst that production began its third year.



CIRQUE DU SOLEIL'S MYSTERE at Treasure Island Resort in Las Vegas marks it's 6,000 performance with today's show which will be followed by a party till you drop event. The show has been astounding audiences for 13- years, making it the longest running Cirque show in Las Vegas.

FOREVER PLAID celebrates it's 500th performance Thursday, August 10, at the Gold Coast in Las Vegas. A cocktail reception will be followed by the comedy and sweet sounds of those four returned to earth crooners.



THE BOY FROM OZ opened August 3 at the Sydney Entertainment Centre in Sydney, Australia. The production stars Hugh Jackman as Peter Allen.

The first Boy From Oz production was staged in Sydney in March 1998 and went on to become the most successful new Australian musical. In October 2003 Hugh Jackman starring in the title role launched the production on Broadway. The show played to capacity for a year; it was nominated for a Tony Award for Best Musical, and won a Tony Award for Hugh Jackman.

Hugh is joined on stage by Chrissy Amphlett and Angela Toohey, reprising their roles as Judy Garland and Liza Minnelli, and as Peter's mother, Marion, is Colleen Hewett, plus a support cast of 40 singer-dancers, a 25 piece orchestra, elaborate sets, state-of-the-art lighting and over 400 dazzling costumes.

More than 150 people work on-stage and behind-the-scenes in the current Australian production, which has cost around $10 million.

The tour will include more than 40 shows in Sydney, Melbourne, Adelaide, Brisbane and Perth, with each venue seating up to 10,000 people.

SEVEN BRIDES FOR SEVEN BROTHERS Set in Oregon circa 1850, Seven Brides for Seven Brothers is the story of Adam, the eldest of seven brothers, who goes to town to get a wife. Having convinced Milly to marry him, he brings her back to his backwoods cabin, where she discovers he has six live-in brothers. Milly sets out to reform the uncouth siblings, who are anxious to get wives of their own. After reading about the Roman capture of the Sabine women, Adam suggests his brothers kidnap the women they want.

The stage version is based on the 1954 Oscar-winning MGM musical, which starred Howard Keel as Adam and Jane Powell as Milly, the parts taken on stage now by Dave Willetts and Shona Lindsay.

Seven Brides for Seven Brothers has a book by David Landay, music by Gene De Paul and lyrics by Johnny Mercer. Featured songs include Bless Your Beautiful Hide, Sobbin' Women, Lonesome Polecat and Love Never Goes Away.

The UK production, directed by Maurice Lane, has been touring regionally on and off since 2001, when Sam Kane first played Adam. The current leg of the tour started in August 2005 and continues until 1 July 2006, when it concludes in Malvern. It's designed by Natalie Cole, choreographed by Adrian Allsop and presented by Martin Dodd and Peter Frosdick for UK Productions Ltd.

Opens August 10 at London West End's Theatre Royal. Haymarket Theatre.

MOTHER COURAGE AND HER CHILDREN starring Kevin Kline and Meryl Streep in the Brecht penned piece translated by Tony Kushner, Mother Courage begins performances August 8 playing through Sept. 3. Free tickets (two per person) are at Central Park's Delacorte Theater, NYC.

DER ROSENKABALIER gets Seattle Opera's 2006/07 season off to an elegant start. This beautiful revival production of the Viennese romance features gorgeous sets, opulent costumes, and the lush music of Richard Strauss. Renowned soprano Carol Vaness leads the talented cast, singing her first-ever Marschallin. English mezzo-soprano Alice Coote as Octavian, is making her Seattle Opera debut. Performances through August 26 at McCaw Hall in Seattle, WA.

AN ENEMY OF THE PEOPLE by Henrik Ibsen. Directed by Jim Petosa.

Featuring Bradlet Bowers, Julie-Ann Elliott, Tim Getman, Lindsey Haynes, Carter Jahncke, Christopher Lane, Sean McCoy, Kip Pierson, Richard Pilcher, James Slaughter, and Jeffries Thaiss.

Before Erin Brockovich, there was Dr. Stockmann. Shortly after discovering contamination in his hometown's water system, it seems everyone is pressuring him to keep quiet…even his brother. A play about integrity, money, power, family, and corruption, An Enemy of the People is timely and provoking.

In the Mulitz-Gudelsky Theatre Lab of the Olney Theatre Center in Washington, D.C. Performances through August 27.

THE LIGHT IN THE PIAZZA Direct from Broadway and the winner of 6 Tony Awards including Best Score, The Light in the Piazza is the romantic new musical that brings together the talents of Adam Guettel and Craig Lucas in an adaptation of Elizabeth Spencer's novella, directed by Bartlett Sher.

This lush, dreamy musical finds Margaret Johnson on vacation in the Tuscan countryside with her daughter, Clara, and Clara's unexpected encounter with a handsome Florentine named Fabrizio.

Starring Christine Andreas, Elena Shaddow, David Burnham, Laura Griffith, Jonathan Hammond, David Ledingham, Brian Sutherland, Diane Sutherland, Craig Bennett, Wendi Bergamini, Jane Brockman, Sean Hayden, Leslie Henstock, Prudence Wright Holmes, John Charles Kelly, Evangelia Kingsley, Michel Moinot and Adam Overett.

Set Design by: Michael Yeargan. Costume Design by: Catherine Zuber. Lighting Design by: Christopher Akerlind. Musical Staging: Jonathan Butterell. Orchestrations by: Ted Sperling, Adam Guettel and Bruce Coughlin.

Performances through August 27 at the Orpheum Theatre in San Francisco.

Be swept away to Italy where true love and marriage abound in this contemporary, witty and elegant production.

BUDDY takes you backstage at the recording studio and live on tour with the Big Bopper, Richie Valens and Buddy Holly.

Buddy highlights the brilliant musician who paved the way for the next generation of rock 'n' rollers. Follow Buddy Holly's meteoric rise to fame, from his humble country music roots to the top of the record charts until his untimely death. You'll be cheering for more with such rousing 50's favorites as Peggy Sue, Oh Boy!, Everyday, It's So Easy, Rave On, That'll Be the Day, True Loves Way, Maybe Baby, Chantilly Lace, La Bamba, and so many more!

Written by Alan Janes and Rob Bettinson.

August 10-September 16 at the Dutch Apple Dinner Theatre in Lancaster, PA.

FOREVER PLAID One of the most popular and successful musicals in recent memory, Forever Plaid showcases a quartet of lovable singers from the Fifties, called to heaven on the night of their first big show. The fabulous foursome, modeled on great boy groups like the Four Freshmen and the Four Aces, returns miraculously to earth for one last concert. Stirring four-part harmonies, hilarious comedy, and warm nostalgia abound as the Plaids (Justin Bouvier, Bill Carmichael, Leigh Guptill, and Harry McEnerny V) perform hits including Three Coins in a Fountain, Catch a Falling Star, and Love is a Many-Splendored Thing.

August 11-12 at the Flynn Center in Burlington, VT.

THE REAL THING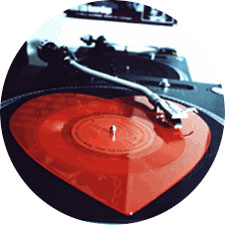 By Tom Stoppard. Directed by Joe Dowling.

How do you know if it's really love? A play within a play illustrates the confusion in Stoppard's razor-sharp take on marriage, art and the art of marriage. You're never sure what's real in this play until it hits you in the heart. Funny, sexy and right on target — an enormously entertaining commentary on the ironies of love.

Starring Jay Goede (Henry), Jonas Goslow (Billy), Kathryn Meisle (Annie), Lee Mark Nelson (Max), Mike Rasmussen (Brodie), Elizabeth Stahlmann (Debbie), Sally Wingert (Charlotte).

On the McGuire Proscenium Stage of the Guthrie in St. Paul, MN. Officially opens August 11 with performances through September 24.


| | | |
| --- | --- | --- |
| | | |
WHO'S WHERE


KIKI AND HERB who are actually Justin Bond and Kenny Mellman, will play for four weeks at the Helen Hayes Theater in Manhattan , starting Aug. 11.

JASON DANIELEY AND MARIN MAZZIE in Opposite You One night only - Sunday, August 13 at the Ford Amphitheatre in Los Angeles.

Three time Tony-nominee Marin Mazzie and her husband Jason Danieley sing the romantic songs of some of Broadway's most successful songwriters, including Irving Berlin, Harold Arlen, and Stephen Sondheim. You loved them in the Reprise! production of Brigadoon and also 110 in the Shade at the Pasadena Playhouse, now experience Marin Mazzie and Jason Danieley in their critically acclaimed evening of duets and solos. So pack a picnic basket and take part in the second intimate Reprise! evening under the stars at the Ford!

THE RIPPINGTONS featuring Russ Freeman, a pioneer of the smooth jazz genre format and award-winning leader in contemporary jazz, are celebrating 20 years of groundbreaking music. The band includes Russ Freeman on guitar, Dave Karasony on drums, Bill Heller on keyboards, Kim Stone on bass, Scott Breadman on percussion and Eric Marienthal on saxophone. Performance is Sunday, August, 13, at the King Center for the Performing Arts in Melbourne, Florida.

HOOTIE AND THE BLOWFISH appear for the first time at the North Shore Music Theatre on August 9, Beverly, MA.

JOHNNY MATHIS the two-time Grammy Hall of Fame inductee, will grace the stage with his silky melodies on August 8. North Shore Music Theatre in Beverly, MA.

MICHAEL FEINSTEIN brings his talents to the Mt. Laurel Center in Bushkill, PA on Saturday, August 12.

MARY J. BLIGE performs next Sunday, August 13, at the Starlight Theatre in Kansas City.

PETER FRAMPTON AND DICKIE BETTS in the spotlight Wednesday, August 8 at the North Shore Music Theatre in Beverly, MA. On Thursday the show is at Wolf Trap Filene Center in Vienna, VA. Friday finds them at the Naval Base in Norfolk, VA and on Saturday they can be enjoyed at the Chastain Park Amphitheatre in Atlanta, GA.

TONY BENNETT AND STEVE MARSH TORME performs Wednesday, August 9 at the Mann Center in Philadelphia. On Thursday he can be enjoyed at Heinz Hall in Pittsburgh. On Saturday the crooner takes to the stage at Freedom Hill in Sterling Heights, MI.

LYLE LOVETT entertains Saturday, August 12 at the Westhampton Beach Performing Arts Center in Westhampton Beach, NY.

BILLY IDOL on stage August 11 at Mandalay Bay in Las Vegas.

JAY LENO telling funny stories August 11-12 at The Mirage Hotel in Las Vegas.

BLIND BOYS OF ALABAMA on stage Wednesday, August 9 at the Botanical Garden in Atlanta, GA. On Friday they perform at the Bijou Theatre in Knoxville, TN.
















Next Column: August 13, 2006
Copyright: August 6, 2006. All Rights Reserved. Reviews, Interviews, Commentary, Photographs or Graphics from any Broadway To Vegas (TM) columns may not be published, broadcast, rewritten, utilized as leads, or used in any manner without permission, compensation and/or credit.
Link to Main Page
---
Laura Deni


CLICK HERE FOR COMMENT SECTION