Caetano Veloso at Umbria Jazz Festival in Perugia, Italy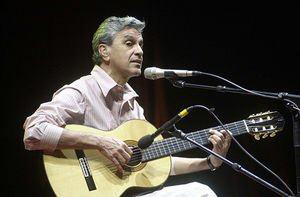 an eight-time Latin Grammy winner and two-time Grammy winner, will be celebrated as the 2012 Latin Recording Academy Person of the Year on Wednesday, November 14 in Las Vegas.

Gabriel Abaroa Jr., President/CEO of The Latin Recording Academy announced that songs from Veloso's catalog will be performed by an impressive array of notable artists and friends of the honoree. A portion of the net proceeds from the gala will benefit Veloso's chosen charity, Fundación Viva Cazuza in Brazil - a not-for-profit HIV prevention and treatment organization for children and young people - as well as The Latin Recording Academy's outreach and education programs.

The celebration will precede the XIII Annual Latin Grammy Awards, which will be held at the Mandalay Bay Events Center in Las Vegas and will be broadcast live on the Univision Network on Thursday, November 15.

A musician, producer, arranger, writer, painter, and political activist, Veloso is considered one of the most influential Brazilians since the '60s. He first became known for his participation in the Brazilian music movement Tropicalia, which signaled a new generation of politically outspoken artists who recreated the face of popular Brazilian music. Veloso was forced into exile in London from 1968-1972, and during this time he developed great musical sensitivity reaching unimaginable heights. It was then that Veloso became a citizen of the world. The '80s gave Veloso his largest audience and recognition as he began touring internationally.

As the 2012 Latin Recording Academy Person of the Year honoree, Veloso joins a list of past recipients that includes Plácido Domingo, Gloria Estefan, Julio Iglesias, Carlos Santana, and Shakira among many others.

THE NATIONAL ENDOWMENT FOR THE ARTS (NEA) has awarded the William Inge Center for the Arts, producer of the annual William Inge Theatre Festival, an Our Town grant of $150,000.00. With this grant, the Inge Center will launch a summer arts festival debuting in 2014 which will focus on the arts of rural America.

The multidisciplinary festival will present performances, arts workshops, exhibitions, and concerts in both traditional and nontraditional places. The festival's centerpiece will be a rotating, four-show repertory of plays that are evocative of rural American themes, both past and present.

The NEA granted 80 awards, totaling $4.995 million and reaching 44 states and the District of Columbia. The Inge Center is one of only four awardees to receive the maximum grant of $150,000.00, and the only top recipient that is primarily a theatre organization.

Through the "Our Town" program, the NEA supports projects that help transform communities into lively, beautiful, and sustainable places with the arts at their core. The projects will improve quality of life, encourage creative activity, create community identity and a sense of place, and help revitalize local economies.

Independence, Kansas, is the hometown of the renowned playwright William Inge. Independence is located in rural southeast Kansas, 90 miles north of Tulsa, Okla., and 120 miles south of Kansas City, Mo. The William Inge Center for the Arts is best known as sponsor of the annual William Inge Theatre Festival, which is the Official Theatre Festival of the State of Kansas. The 32nd annual Inge Festival takes place May 1-4, celebrating the 100th birthday of its namesake William Inge.



A WORD OR TWO

Christopher Plummer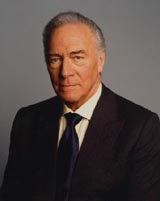 Christopher Plummer's solo show officially opened August 2 at the Stratford Festival in Canada.

Artistic director and Tony Award winner Des McAnuff directs.

The personal play, which is written and performed by Plummer, is about the actor's love of literature and how books shaped him.

Staged at the festival's Avon Theatre in Stratford, Ontario, the Tony and Oscar Award winning actor discusses his love of literature - A.A. Milne, the Bible, Shaw, Wilde, Coleridge, Marlowe, W.H. Auden, Nabokov, Rostand, MacLeish, Shakespeare, Byron, Nash and Leacock - and more.

Set design by Robert Brill, lighting designer Michael Walton, composer Michael Roth, video designer Sean Nieuwenhuis, sound designer Peter McBoyle and costume consultant Paul Tazewell.

Performances at the Avon run in rep to August 26.

BIG MAYBELLE: SOUL OF THE BLUES written and directed by Paul Levine.

A brand new musical about legendary blues singer Maybelle Smith. A big woman with even bigger talent, she took on all the challenges 1950's America had to give.

The sensational Tony Award-winning Lillias White will blow the roof off as she brings Big Maybelle to incandescent life.

The World Premiere takes place August 7-September 2 at the Bay Street Theatre in Sag Harbor, NY.

THE BIKINIS A new Musical Beach Party created and written by Ray Roderick and James Hindman. Music Arrangements by Joseph Baker. Additional Music and Lyrics by Joseph Baker and Ray Roderick. Directed and Choreographed by Ray Roderick.

"Back together again! The sixties girl group that everyone loves is bringing back the sun, fun and all the great songs they sang on the boardwalk at the Jersey Shore...all to raise money to save Sandy Shores Mobile Home Beach Resort. These Jersey Girls relive their heyday in a non-stop celebration of song with over 30 hits like It's In His Kiss, Yellow Polka Dot Bikini, Heat Wave, and Ain't No Mountain High Enough. The Bikinis are irresistible!"

August 9-September 2 at Goodspeed Musical The Norma Terris Theatre in East Haddam, CT.

THE GREAT GATSBY MUSICAL a musical adaptation, based on F. Scott Fitzgerald's iconic novel, adapted by Joe Evans and Linnie Reedman who also directs.

Jay Gatsby is the man who has everything. But one thing will always be out of his reach... Beneath the shimmering surface of his life he is hiding a secret: a silent longing that can never be fulfilled. Soon this destructive obsession will force his world to unravel. Set in sizzling heat of 1920s New York, discover the glitzy world of speakeasys, glamour and jazz - the Charleston, American tango, waltz, ragtime - in this brand new musical.

A world premiere presented by Ruby in the Dust with performances beginning August 7 at Kings Head Theatre in London.

REBECCA the new musical based on the classic novel by Daphne du Maurier novel has found its male and female leads: Jill Paice will play the role of "I" and Ryan Silverman the role of "Maxim de Winter." Rebecca will open on Broadway Sunday, November 18 at The Broadhurst Theatre in New York City.

DRIVING MISS DAISY has officially confirmed the worst kept secret within the theatrical community - that the production starring Angela Lansbury and James Earl Jones will play Australia. In particular, Brisbane's Playhouse Theatre at Queensland Performing Arts Center beginning February 5, 2013.

SPIDERMAN TURN OFF THE DARK has welcomed a new Green Goblin. Robert Cuccioli has taken on the role of the villain (and his alter ego, Norman Osborn) replacing Patrick Page, who departed the production at the Foxwoods Theatre in NYC on August 5. The Tony-nominated swings into the part August 7.

THE NUTTY PROFESSOR a re-imagined stage version by Las Vegas resident Jerry Lewis and Bill Richmond, of the popular movie, directed by Lewis, officially opened at the Tennessee Performing Arts Center in Nashville receiving over-the-top rave reviews.

Score by Marvin Hamlisch and book/lyrics by Rupert Holmes.

Michael Andrew stars in the title roles of Julius Kelp and Buddy Love. Marissa McGowan is Stella Purdy. Mark Jacoby plays Dr. Warfield, along with Murray the tailor, Maury the exercise guru, and Mikey the bartender. Klea Blackhurst who as one reviewer put it "nearly steals the show as Miss Lemon - the long-suffering secretary to stuffy university president, Dr. Warfield."

Scenic design by David Gallo, lights by David Weiner and sound by John Shivers and David Patridge. Ann Hould-Ward's costumes and Tom Watson in charge of hair/wig design.

JoAnn M. Hunter is the choreographer. Stephen Kummer conducts the orchestra.

If this production is only half a good as the reviews, then those venues which turned this show down could be feeling rejection remorse. Broadway can look forward to a wonderful new comedic musical and Nashville steps up as a place to springboard onto Broadway. Oh, then there's Jerry Lewis. He's 86. Becoming a successful stage director has been in his bucket list. Most people thought his bucket had a crack in it. He gets the last laugh.

ALLEGIANCE - A NEW AMERICAN MUSICAL an epic story of family, love and patriotism set during the Japanese American internment of World War II. Directed by Stafford Arima, with music and lyrics by Jay Kuo and book by Marc Acito, Kuo and Lorenzo Thione, the production features choreography by Andrew Palermo and music supervision, arrangements and orchestrations by Lynne Shankel.

On the 60th anniversary of Pearl Harbor, a meeting with a young journalist forces WWII veteran Sam Kimura to remember his family's relocation from their California farm to the Heart Mountain internment camp in Wyoming. As they struggle to adjust to their new home, Young Sam and his sister Kei find themselves torn between loyalty to their family and allegiance to their country. With its moving score, Allegiance – A New American Musical takes audiences on a journey into our nation's history through the eyes of one American family.

The production has announced the complete cast: television and film icon George Takei, Tony Award-winning actress Lea Salonga and Broadway favorite Telly Leung and Paolo Montalban.

The cast also features Michael K. Lee, Paul Nakauchi and Allie Trimm. There are 12 ensemble member with Jennifer Hubilla and Conrad Ricamora serving as swings.

Allegiance – A New American Musical will run on the Donald and Darlene Shiley Stage in the Old Globe Theatre, part of the Globe's Conrad Prebys Theatre Center in San Diego beginning September 7.

A MONTH IN THE COUNTRY by Ivan Turgenev. Translated by Richard Nelson, Richard Pevear and Larissa Volokhonsky Directed by Richard Nelson.

One week before her 30th birthday, the simple life of dutiful wife and mother Natalya is upended when the arrival of her son's charming new tutor unleashes a whirlwind of love, lust, and jealousy. Both psychologically compelling and emotionally raw, Turgenev's masterpiece reveals the disruptive nature of passion, intermixed with genuine loss and heartbreak, as Natalya and those around her are torn between moral responsibility and uncontrollable desire.

Jessica Collins stars as Natalya.

According to Williamstown Theatre Festival; "In a bold move to create a sense of intimacy and bridge the divide between audience and actors, the first four rows of the theater have been removed, placing the stage in the middle of the audience. Utilizing cutting-edge sound technology, this playing space is covered with a ceiling of tiny microphones, allowing the actors to speak naturally, immersing the audience almost cinematically in the action."

A world premiere on the Festival stage with performances through August 19.

On Friday, August 10 at before the production, Richard Pevear and Larissa Volokhonsky, considered the world's foremost contemporary translators of classic Russian literature including the best-selling Oprah's Book Club selection, Anna Karenina will talk about this first collaboration on a Russian drama.

HEARTLESS a world premiere from the Pulitzer Prize-winning Sam Shepard.

Sally lives with her mysterious family in a cavernous home overlooking Los Angeles. When a visitor arrives, Sally's dark secrets - and the secrets of those around her - threaten to come into the light.

Appearing as: Lucy - Jenny Bacon; Roscoe - Gary Cole; Elizabeth- Betty Gilpin; Sally- Julianne Nicholson; Mable- Lois Smith.

The Creative Team includes - Scenic Design: Eugene Lee. Costume Design: Kate Voyce. Lighting Design: Tyler Micoleau. Sound Design: Eric Shimelonis. Hair and Makeup: Ashley Ryan. Movement Specialist: J. David Brimmer. Production Stage Manager: Donald Fried.

August 7- September 16, 2012 at the Signature Theatre Company in New York City.

MARY POPPINS the wonderfully family friendly musical featuring the irresistible story and unforgettable songs from one of the most popular Disney films of all time, plus brand-new breathtaking dance numbers and spectacular stage-craft.

Original Music and Lyrics by Richard M. Sherman and Robert B. Sherman. Book by Julian Fellowes. New Songs and Additional Music and Lyrics by George Stiles and Anthony Drewe.

Co-direction and Choreography by Matthew Bourne. Directed by Richard Eyre.

With Marissa Ackerman, Benn Atkin, Danielle Benton, Elizabeth Ann Berg, Lindsey Bliven, Elizabeth Broadhurst, Ian Campayno, Ben Cherry, Keyy Conte, Emily Cramer, Sean Patrick Doyle, Nicolas Dromard, Elizabeth Earley, Andrew Eckert, Billy Griffin, Jordan Grubb, Ryan Hilliard, Kenway Hon Wai K. Kua, Zachary Mackiewicz, Michael Dean Morgan, Cherish Myers, James Patterson, Annie Petersmeyer, Stephen Roberts, Blake Segal, Tregoney Shepherd, Q. Smith, Zach Timson, Tonya Thompson, James Tolbert, Paige Williams, Rachel Wallace and Minami Yusui.

Music Supervisor David Caddick, Music Director Daniel Bowling, Orchestrations by William David Brohn, Sound Design Paul Groothuis, Dance and Vocal Arrangements George Stiles, Co-choreographer Stephen Mear, Lighting Design Natasha Katz, Tour Director Anthony Lyn, Associate Choreographer Geoffrey Garrett, Scenic and Costume Design by Bob Crowley.

Performances start August 8 at the Ahmanson Theatre in Los Angeles.


WHO'S WHERE


DIANA KRALL stars at the Vilar PAC in Beaver Creek, CO on Sunday, August 5. Wednesday finds her at Red Butte Garden in Salt Lake City. Friday's show is at the Starlight Theatre in Pala, CA.

NEIL DIAMOND on stage Tuesday, August 7, at the HP Pavilion in San Jose, CA. On Saturday he performs at the Greek Theatre in Los Angeles.

TERENCE BLANCHARD one of the most critically recognized players in jazz music today. A twelve-time Grammy nominee and five-time recipient, he performs Sunday, August 12, on the Main Stage of the San Jose Jazz Fest in San Jose, CA.

ENRIQUE IGLESIAS AND JENNIFER LOPEZ have a two night stand August 11-12 at the Honda Center in Anaheim, CA.

WILLIE NELSON brings his distinctive style to the TD Bank Arts Centre in Sewell, NJ for a performance on Wednesday, August 8. On Friday, August 10 he can be enjoyed at the Classic Center in Athens, GA. Saturday finds him singing his hits at the Wind Creek Casino in Atmore, AL.

GLADYS KNIGHT entertains Saturday, August 11, at the Silver Legacy Resort Casino in Reno, NV.

ROBERT KLEIN the Grammy and Tony award nominee will be entertaining audience Monday, August 13, in the Comedy Club of the Bay Street Theatre in Sag Harbor, NY.




FINAL OVATION


TONY MARTIN died of natural causes at his Los Angeles home on Friday, July 27, 2012. He was 98.

The debonair singer was known as the "butterscotch baritone" for his silky smooth voice.

He was best known for such romantic 1950s ballads as There's No Tomorrow, Stranger in Paradise, Walk Hand in Hand, and To Each His Own.

Martin was featured in 25 films, most of them made during the heyday of Hollywood musicals. His first singing role came in the 1936 film Sing Baby Sing, which starred Alice Faye - one of the Fox studio's biggest stars and Martin's future first wife .



Martin divorced Faye after two years before meeting rising dance star Charisse, whom he married in 1948. He and Charisse, who partnered Fred Astaire and Gene Kelly during her career, were together until her death in 2008.

Martin often made singing tours of Europe and had a yearly contract at the London Palladium.

Martin first performed in Las Vegas in 1947 at the Flamingo Hotel. His final Vegas gig was in 1988 at Vegas World (now the Stratosphere). He continued performing into his nineties.

Martin and Cyd Charisse had one son together, Tony Martin, Jr. (August 28, 1950 - April 10, 2011), who predeceased his father. Martin adopted Charisse's son, Nicky, from her first marriage.

GORE VIDAL died on Tuesday, July 31, 2012 at his home in the Hollywood Hills section of Los Angeles. He was 86. The cause was complications of pneumonia.

Vidal authored 25 novels, two memoirs and several volumes of stylish, magisterial essays. He also wrote plays, television dramas and screenplays.

His classic play The Best Man is currently running on Broadway.

The Broadway community mourns the loss of celebrated writer Gore Vidal, and on Friday, August 3, the marquees of Broadway theatres in New York were dimmed in his memory.

Charlotte St. Martin, Executive Director of The Broadway League, said, "For over six decades, Gore Vidal never stopped writing novels, memoirs, plays, essays and screenplays, and was a ubiquitous cultural commentator. His plays were timely and timeless, as evidenced by the current production of The Best Man now playing on Broadway. Our thoughts go out to his friends, family, and fans."

His best known Broadway plays were Visit to a Small Planet in 1957 and The Best Man in 1960. In The Best Man, about two contenders for the presidential nomination, Mr. Vidal exercised his lifelong fascination with politics. (He ran unsuccessfully for Congress in 1960.) It has proved among his most enduring works. It ran for 520 performances on Broadway before becoming a successful film, in 1964, with a cast headed by Henry Fonda and a screenplay by Mr. Vidal. It was revived on Broadway in 2000 and is now being revived again at the Gerald Schoenfeld Theatre as Gore Vidal's The Best Man. It was nominated for a 1960 Tony Award for Best Play and nominated for a 2012 Tony Award for Best Revival of a Play.

Other plays include Romulus (1962), based on one of his books, Weekend (1968) and the politically charged An Evening With Richard Nixon and. (1972).

He wrote for most of the television programs that presented hour-long original dramas in the 1950s, including Studio One, Philco Television Playhouse and Goodyear Playhouse. He was a contract writer for MGM, and also wrote the screenplay for the movie adaptation of his friend Tennessee Williams's play Suddenly, Last Summer.

Mr. Vidal was an occasional actor, appearing in animated form on The Simpsons and Family Guy, in the movie version of his own play The Best Man, and in the Tim Robbins movie Bob Roberts, in which he played a version of himself. He was a more than occasional guest on TV talk shows.

JOAN STEIN a Tony Award winning theatre and television producer died august 3, 2012 from appendceal cancer, a family spokesperson announced. She was 59.

She graduated in 1974 with a B.A. in Theater and English at the State University of New York at Albany. After graduating, she began her illustrious theatre career producing and/or general managing over 80 plays and musicals.

In 1980, she began producing Off-Broadway with James Lapine's Table Settings (1980), The Middle Ages (1983), The Miss Firecracker Contest (1984) and Tent Meeting (1987).

Joan Stein made her Broadway debut as a producer with Larry Shue's The Nerd in 1987. Additional Broadway productions include: Catch Me If You Can, Legally Blonde, Butley, Nine to Five.

In 1982, she began a five-year tenure as the Managing Director of the historic Berkshire Theatre Festival in Stockbridge, Massachusetts, where she partnered with Artistic Director Josie Abady. In 1990, she moved to Los Angeles, where she became the Executive Director of The Canon Theatre, producing and general managing productions that included Love Letters, Forever Plaid, Ruthless The Musical, Bermuda Avenue Triangle, Last Night At Ballyhoo and Nude, Nude Totally Nude starring Andrea Martin. Ms. Stein was also the theatre producer of the HBO Comedy Festival in Aspen.

In 1994, Ms. Stein partnered with producer Stephen Eich to present the Los Angeles premiere of Steve Martin's Award-winning Picasso at the Lapin Agile at the Westwood Playhouse. The production later moved to Off Broadway's Promenade Theatre and received the Outer Critics Circle Award for Best Production. Picasso then moved to San Francisco's Theatre on the Square and continued to play both nationally and internationally.

Ms. Stein also produced Warren Leight's Sideman on Broadway in 1998 and in 1999 she received the Tony Award for Best Play.

She partnered in 2002 with Steve Martin and created Martin/Stein Productions, a television company that developed and produced scripted and reality television programming for all broadcast networks, HBO and Showtime. Martin/Stein was a division of Carsey-Werner Productions.

Other television producing credits include: My Brother' Wife starring John Ritter and Mel Harris for ABC and Crazy in Love starring Holly Hunter, Gena Rowlands and Bill Pullman for TNT.

Joan Stein's most recent projects include Motherhood Out Loud with Susan Rose (Co-Conceivers/Producers), which opened at Primary Stages in New York City in September 2011; Standing On Ceremony - The Gay Marriage Plays; Mad Hot Ballroom, a new musical based on the Award winning documentary; and Baby It's You!

In addition to producing, she created and manages two theatrical investment funds, was a co-founder and served on the Board of Directors of New York Theatre Workshop, and Women in Film, helped launch Broadway Cares and was a member of The Broadway League for 22 years.

Joan Stein is survived numerous family members including her adoring husband of 35 years, director and landscape architect Ted Weiant.










Next Column: August 12, 2012
Copyright: August 5, 2012. All Rights Reserved. Reviews, Interviews, Commentary, Photographs or Graphics from any Broadway To Vegas (TM) columns may not be published, broadcast, rewritten, utilized as leads, or used in any manner without permission, compensation and/or credit.
Link to Main Page
---
Laura Deni



For the snail mail address, please E-mail your request.
CLICK HERE FOR COMMENT SECTION