! >
Broadway To Vegas
  
  REVIEWS INTERVIEWS COMMENTARY NEWS

| | |
| --- | --- |
| | |
AUGUST BRINGS COOL JAZZ FESTIVALS - - A NEW MARY POPPINS - - PRESIDENTIAL JOKE DAY - - STEPHEN SONDHEIM HONORED - - GRAMMY FOUNDATION AND MUSIC CARES FOUNDATION ANNOUNCE OFFICERS - - SOUNDINGS: A CONTEMPORARY SCORE - - NO MAN'S LAND AND WAITING FOR GODOT - - STOLEN STRADIVARIOUS FOUND - - DONATE . . . Scroll Down




Copyright: August 4, 2013
By: Laura Deni
CLICK HERE FOR COMMENT SECTION


AUGUST BRINGS COOL JAZZ FESTIVALS
Christine Ebersole & Aaron Weinstein Trio perform August 9.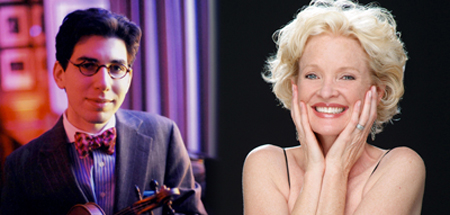 Sweltering August days got you down? Cool off with some jazz.

April may be Jazz Appreciation Month, but it's the eighth month that is jammed up with cool sound events.

In Connecticut it's the 18th Anniversary of the Litchfield Jazz Festival. The Opening Night Gala will have patrons enjoying fine foods, private reserve French wines, microbrews and music all night long. Gala attendees are advised to Dress fabulously! It's a party!

The Opening Night Gala benefits the ground breaking Litchfield Jazz Camp in their continuing effort to build a scholarship fund for students in financial need. Each year the organization awards 1/3 of their Jazz Campers need-based scholarhips.

Christine Ebersole & Aaron Weinstein Trio perform August 9.

Also lending their talents to the August 9-11 festival are artist-in-residence Gary Smulyan, Emmet Cohen Trio, the Val Ramos Flamenco Ensemble, Avery Sharpe Gospel Explosion & Sacred Songs, Gregory Porter and the Eddie Palmieri Latin Jazz Band.

The Long Beach Jazz Festival August 9-11 permits jazz sounds, picnic baskets, coolers up to 45 quarts, plastic utensils, plastic food containers and factory sealed plastic beverage containers. However, you do need to leave your blow-up girl friend at home. Also not permitted; 'Blow-up' furniture of any kind, wagons, alcoholic beverages, thermoses, cameras or video equipment, footstools and footrests, portable grills, tables, glass or metal containers, aluminum cans, metal utensils, sharp objects and coolers over 45 quarts.

The famed Oslo Jazz Fest is slated for August 12-17. Headlining will be Grammy award winner Hugh Masekela who plays at Rockefeller on Friday, August 16, in what is his only concert in Norway this year.

Nora Brockstedt is considered the definitive pop star and the veteran among Norwegian jazz vocalists. In January 2013 she celbrated her 90th birthday which will be celebrated during the Oslo Jazz Festival 2013.



A musical celebration of Wayne Shorter's 80th birthday.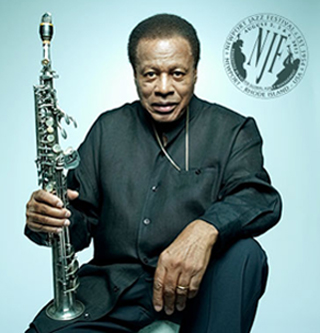 The festival has invited Come Shines Live Maria Roggen and Erlend Skomsvoll to put together a musical program in honor of Nora. Svante Thuresson, Tuva Syvertsen and the Jan Eggum quartet will perform selections Nora Brockstedt's repertoire.

The Newport Jazz Festival swings August 2-4. On Saturday, August 3, it's a major celebration of Wayne Shorter's 80th birthday with special guest Herbie Hancock.

Presents in the form of music will be gifted by the Wayne Shorter Quartet featuring Danilo Pérez, John Patitucci & Brian Blade, Esperanza Spalding - Radio Music Society, Marcus Miller, Michel Camilo Sextet, Terence Blanchard Quintet, Robert Glasper Experiment, Gregory Porter, the Bill Charlap Trio with special guests, Edmar Castañeda, and the Ray Anderson Pocket Brass Band.

Entertaining Sunday, August 4 at Fort Adams State Park will be: Chick Corea & The Vigil with Christian McBride, Tim Garland, Marcus Gilmore, & Charles Altura, Eddie Palmieri Salsa Orchestra, Dizzy Gillespie Big Band under the direction of Paquito D'Rivera, Hiromi: The Trio Project with Anthony Jackson & Steve Smith.

Also keeping the beat going are the Joshua Redman Quartet, Roy Haynes Fountain of Youth Band, Steve Coleman Projects: Five Elements, Talea Ensemble and Duo with Tyshawn Sorey, Jim Hall Quartet featuring Julian Lage, Jon Batiste & Stay Human, Dirty Dozen Brass Band, Dee Alexander, Lew Tabackin Quartet with Randy Brecker, Peter Washington & Lewis Nash, Donny McCaslin Group, David Gilmore & Numerology featuring Claudia Acuña, Miguel Zenón, Luis Perdomo, Christian McBride, Jeff "Tain" Watts & Mino Cinelu.

Founded in 1954, the Newport Jazz Festival was the first annual jazz festival in America. Referred to as the grandfather of all jazz festivals, the event draws thousands of people from all over the world to Newport, Rhode Island.

The San Jose Jazz Summer Fest takes place August 9-11 in San Jose, California.

Just a few of the performers include Pink Martini, Stacey Kent, Sons of Jubal, South Bay Big Band Jazz, Preservation Hall Jazz Band, Paula Harris & the Beasts of Blues featuring the big Ass Brass, Natalie Cressman, Miles Boney and B Lewis, Midnight River, Josh Jones Ensemble, Joel Behrman Sextet, Dave Koz and Friends, Dara Tucker, Derrick Hodge and Ben Vereen.

Sitting this one out is the Martha's Vineyard Jazz Festival. Festival founder and executive producer John Lee sadly posted that "the 2013 event is canceled. The Martha's Vineyard Jazz Festival will return in 2014." Blame a lack of funds.

"I had to inform our advisory board via conference call that we will not be producing the 3rd annual MVJF in 2013 and will focus on our 2014 festival production," his statement began.

"Although our efforts over the last two years have received phenomenal support from islanders as well as the islands seasonal visitors, our efforts have fallen short of raising the necessary resources to continue to produce the festival in 2013.

"We will instead focus on our 2014 production to continue what we think will still be one of the finest jazz festivals in the world. Our initial goal was to create a permanent presence of jazz on the island and I think we have been successful in that area, with our production as well as what other promoters have produced.

"So for now we will be " In The Shed" as they say, working on our 2014 production."







Broadway To Vegas is supported through advertising and donations. Priority consideration is given to interview suggestions, news, press releases, etc from paid supporters. However, no paid supporters control, alter, edit, or in any way manipulate the content of this site. Your donation is appreciated. We accept PAYPAL. Thank you for your interest.


ART AND ABOUT


SOUNDINGS: A CONTEMPORARY SCORE

Hong-Kai Wang. Still from Music While We Work. 2011. Multichannel sound and two channel video installation. Photo: MoMA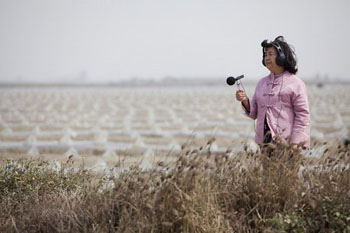 MoMA's first major exhibition of sound art presents work by 16 of the most innovative contemporary artists working in the genre today.

While these artists approach sound from a variety of disciplinary angles - the visual arts, architecture, performance, computer programming, and music - they share an interest in working with, rather than against or independent of, material realities and environments.

These artistic responses range from architectural interventions, to visualizations of otherwise inaudible sound, to an exploration of how sound ricochets within a gallery, to a range of field recordings - including echolocating bats, abandoned buildings in Chernobyl, 59 bells in New York City, and a sugar factory in Taiwan.

The diversity of these works reflects a complex and nuanced field. Yet the exhibition posits something specific: that how we listen determines what we hear. Indeed, the works provoke and evoke - both in the maker and the museumgoer - modes of active listening, and a heightened relationship between interior and exterior space.

At a time when personal listening devices and tailored playlists have become ubiquitous, shared aural spaces are increasingly rare. Many of the artists in the exhibition aim for such realities, and the sound they create is decidedly social, immersing visitors and connecting them in space. In many of the works, links are drawn between disparate topographies and subjects, giving rise to new understanding and experiences.

The artists in the exhibition are Luke Fowler (Scottish, b. 1978), Toshiya Tsunoda (Japanese, b. 1964), Marco Fusinato (Australian, b. 1964), Richard Garet (Uruguayan, b. 1972), Florian Hecker (German, b. 1975), Christine Sun Kim (American, b. 1980), Jacob Kirkegaard (Danish, b. 1975), Haroon Mirza (British, b. 1977), Carsten Nicolai (German, b. 1965), Camille Norment (American, b. 1970), Tristan Perich (American, b. 1982), Susan Philipsz (Scottish, b. 1965), Sergei Tcherepnin (American, b. 1981), Hong-Kai Wang (Taiwanese, b. 1971), Jana Winderen (Norwegian, b. 1965), and Stephen Vitiello (American, b. 1964).

Organized by Barbara London, Associate Curator, with Leora Morinis, Curatorial Assistant, Department of Media and Performance Art. August 10-November 3, 2013 at MoMA in New York City.

ICE CREAM MUSEUM "I scream, you scream we all scream for ice cream." Okay, it's August and it's hot. What many consider a necessity for surviving the summer is - ice cream!

A real honest-to-goodness Ice Cream Museum - Gelato Museum - opened a year ago in Anzola dell'Emilia, just outside the northern city of Bologna, Italy.

The 10,760 square foot ice cream museum is located at the headquarters of Carpigiani, a company that manufactures gelato-making machines. Brothers Bruto and Poerio Carpigiani founded the business in 1946. Two years ago a foundation was established in their names to promote the culture of artisan gelato as an important Italian culinary contribution.

The museum is dedicated to the history, culture and technology behind this divine delight, which started out in Mesopotamia as a sorbet.

In Mesopotamia, dispatch runners traveled one hundred kilometers on foot to get the snow and ice necessary to cool the drinks served during the royal banquets and religious ceremonies held at Mari Palace. During endless feasts, the Romans paraded their gold and silver colj nivarum, using them to filter the snow. The Arabs developed shrb (sugar syrup) and in Palermo they grew 400 different types of flowers to flavor their sorbets.

Caterina de' Medici and Cosimo Ruggieri, celebrated alchemist and astrologist, took the Florentine Renaissance to Paris, and they brought along the sorbet. The architect Bernardo Buontalenti is credited with the egg cream gelato, but Francesco Redi and Lorenzo Magalotti made it famous by singing its praises and describing its ingredients. Francesco Procopio Cutò, later known as François Procope des Couteaux, sold sorbets to Parisian intellectuals in his café. The Neapolitan doctor Filippo Baldini wrote that sorbet is good both for your body and your mood.

During the 1600s, gelato was very expensive to create. The natural ingredients used to make it were not easy to come by. According to Polliotti, it was confined to the very rich. For instance, Crema Italiana, is a gelato made using milk, orange peel, cocoa and vanilla. It was created in the 1800s by the chef to Italian King Charles Albert.

Improved freezing and storage methods over centuries made ice creams available to everyone. Making it even easier to enjoy was the first ice cream cone patented by an Italian in 1903.

Soon science and technology were harnessed in the service of gelato artisans, bringing innovation to gelato production. Machines from the automatic Motogelatiera to other more sophisticated post-war batch freezers were developed.

The Gelato Museum has more than 20 original ice cream machines, from bulky wooden barrels used to collect shaved ice to the automated ice-cream dispensers many are familiar with today. There are also thousands of historical photographs and documents. Boxes used to store and transport ice cream cones are on display as are vintage ice cream cups and trade magazines. Bringing the items to life in an u-to-date format are video interviews with gelato artisans and food technologists.

"To know the past, it also helps to feed the future," said Andrea Cocchi, CEO of Carpigiani, adding the ice cream museum was in the works for more than a decade. The project is part of a long-term investment to increase the awareness and production of Italian ice cream around the world, he said. Tuseum's curator is Luciana Polliotti, who is also a gelato historian.

Visitors can even take part in tasty gelato lessons after visiting the museum. The 'tasting lessons' are conducted by the instructors of Carpigiani Gelato University, the most prestigious gelato school in the world. Science and Nutrition Training Labs.


SWEET CHARITY


THE GRAMMY FOUNDATION AND MUSIC CARES FOUNDATION the affiliated charities of The Recording Academy. have announced that their respective Boards have elected new Officers and Directors.

Bill Silva, president, Bill Silva Entertainment, has been elected to serve as the Chair of the MusiCares Foundation; Alexandra Patsavas, owner of Chop Shop Music Supervision, was elected Vice Chair; and Arnold Herrmann, CPA, partner of Citrin Cooperman & Company, LLP, was elected Secretary/Treasurer. Scott Pascucci, managing director of Concord Music Group, is the new MusiCares Foundation Chair Emeritus.

For the Grammy Foundation, the Board leadership remains the same with Chair Rusty Rueff, venture startup investor and advisor; Vice Chair Tim Bucher, CEO, Black Pearl Systems, LLC.; Secretary/Treasurer Geoff Cottrill, chief marketing officer of Converse; and Chair Emeritus Beatriz R. Perez, chief sustainability officer of the Coca-Cola Company. Ryan Seacrest, TV and radio host/producer, continues in his role as Honorary Chair of the Grammy Foundation Board.

The newly elected Grammy Foundation Board Directors are Christine Albert, recording artist, co-owner of MoonHouse Studio, and Chair of The Recording Academy Board of Trustees; Rachna Bhasin, senior vice president of corporate strategy and business development at SiriusXM Radio; Troy Carter, founder, chairman and CEO of Atom Factory; David Dorn, worldwide director of catalog for iTunes; Ethiopia Habtemariam, executive vice president of creative affairs, head of urban music at Universal Music Publishing Group, and senior vice president of Motown Records; and John Hamm, president and CEO of PonoMusic.

Both Albert and Scott Powell, M.D., co-founder of Stetson Powell Orthopedics and Sports Medicine, are newly elected MusiCares Board Directors.


STOLEN STRADIVARIUS FOUND
Picture of the recovered Strad violin. Photo: British Transport Police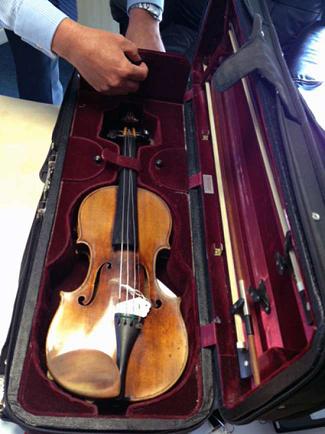 Blow the trumpets, the violin has been found.

Not any old violin, but a $1.83m Stradivarius. It was stolen three years ago from world renowned musician Min-Jin Kym while she ate a sandwich with her cellist boyfriend, in Pret a Manger cafe at Euston Station in London.

The violinist had placed the instrument on the floor of the eatery. The theft sparked an international police hunt. It was recovered by British Transport Police detectives. The violin, made in 1698, is one of only 400 in existence.

Even more remarkable, the rare instrument was found intact, with only minor damage. It was still in its case along with a two bows, a $94,733 Peccatte bow and a bow made by the School of Bazin, valued at over $7,600.

The violin was stolen on November 29, 2010. Irish traveler John Maughan, working with two teenage accomplices, who acted as distractions, snatched the violin while Ms Kym was making a phone call. Soon thereafter Maughan attempted to sell it for just $150.00 to a man sitting next to him at an internet cafe, but he was turned down.

Maughan was arrested in March 2011 and sentenced to four and a half years in jail at Blackfriars Crown Court. Even his own barrister had to admit that the violin was "priceless and irreplaceable". At the time of the trial, neither the violin nor the bows were recovered.

The instrument's insurers, Lark (Group) Ltd, offered a $23,000 reward in conjunction with several Lloyd's underwriters.

Ten years before the theft Ms Kym had purchased the violin for $1.5m.

Detective Chief Inspector Simon Taylor, who led the hunt, said: "We're absolutely delighted to have recovered the Stradivarius violin after a long and very complex investigation.

"Though it took some time to successfully locate and recover the violin, we were confident it had remained in the UK.

"I always maintained that its rarity and distinctiveness would make any attempt to sell it extremely difficult, if not futile, because established arts and antiques dealers would easily recognise it as stolen property.

"I'd like to pass my sincere thanks to those who have supported our investigation over the last three years, including colleagues from other police forces and Lark (Group) Ltd, as well as the many members of the antique business who helped us."

The British Transport Police said no further arrests had been made at this stage.

The instrument is now in the hands of the underwriters. Louise Deacon, the insurer's assistant manager of musical instruments, said that Ms Kym would have the option to buy back the instrument at the settlement price. "We are really happy to have such a valuable and treasured instrument back in the world of classical music where it belongs," she added.

"We are looking forward to the outcome of our experts' assessment on the condition of the instrument so we can then liaise with Ms Kym with regards to purchasing back the Stradivari."

A spokesperson from Lloyd's insurer, Canopius, said: "For Min-Jin Kym her violin is priceless and insuring it against theft can never reflect the emotional cost of her loss. It's great news that the violin has been found."

Total elation does not begin to describe Ms Kym's reaction to having the violin recovered.







SPREADING THE WORD


OLD GLOBE ARTISTIC DIRECTOR BARRY EDELSTEIN will offer an encore presentation of Thinking Shakespeare Live!, a 90-minute exploration of the language of Shakespeare, on Saturday, August 10, 2013 at The old Globe in San Diego, CA.

Assisted by three professional classical actors, this special program based on Edelstein's book, Thinking Shakespeare: A How-To Guide for Student Actors, Directors, and Anyone Else Who Wants to Feel More Comfortable with the Bard, reveals a performer's approach to Shakespearean language so audiences may easily understand the poetry of the Bard.

This encore presentation will also feature new material and insights designed especially for Globe audiences. Thinking Shakespeare Live! will take place on the Donald and Darlene Shiley Stage in the Old Globe Theatre, part of the Globe's Conrad Prebys Theatre Center in San Diego, CA.

Coinciding with The Old Globe's 2013 Shakespeare Festival and the upcoming World Premiere of the Romeo and Juliet-inspired musical The Last Goodbye, Thinking Shakespeare Live! is a fast-paced, funny and altogether fascinating guide to the language of the Bard. In this lively 90-minute program, Edelstein, called by NPR "one of the country's leading Shakespeareans," provides audiences a unique opportunity to learn the methods he imparts to professional actors in the rehearsal room. As Edelstein and three skilled actors demonstrate these techniques live on stage, this entertaining behind-the-scenes look at the creative process offers a primer on the tools used to hear and understand Shakespeare.

AUGUST 11th IS PRESIDENTIAL JOKE DAY and while some presidents are jokes, the official Presidential Joke Day was created on August 11, 1984 thanks to President Ronald Reagan who thought nobody was listening.

On August 11, 1984, just before his regular Saturday radio address, President Ronald Reagan was doing a voice test with the microphone. He thought the microphone and the feed was not live. He joked into the microphone: "My fellow Americans, I am pleased to tell you I just signed legislation which outlaws Russia forever. The bombing begins in five minutes." To his surprise, he was speaking to a live feed.

HOT AUGUST NIGHTS Every August, the Nevada streets of South Lake Tahoe, Reno and Sparks vibrate with the sound of muffled rumbles of rebuilt engines, rays of sunlight glinting off the polished chrome and heavy scents of Dapper Dan hair pomade fill the air. Droves of spectators line the sidewalks for a glimpse into the past, a time when a driver's license and a hot car were all anyone needed or wanted on a Saturday night.

It's cool cars, great entertainment and comfort foods.

Join in for a trip down memory lane or a new adventure. Whichever way you look at it, this always popular Nevada event has it all. Hot August Nights kicks off in South Lake Tahoe, Friday, August 2 and Saturday, August 3, then moves to Reno/Sparks beginning Tuesday, August 6 through Sunday, August 11.

DAMES MAGGIE SMITH AND JUDI DENCH last week attended the Sandringham Flower Show in Norfolk, England reportedly as the guests of Prince Charles and his wife Camilla who arrived and left by horse and cart, viewed competition entries including vegetables, fruit, flowers and floral art.



STEPHEN SONDHEIM the Tony Award and Pulitzer Prize-winning composer-lyricist named the 54th recipient of the MacDowell Medal for lifetime achievement, will receive the honor on August 11, 2013.

The MacDowell Medal is considered won one of the top honors in the arts world.

The award ceremony will feature welcoming remarks from MacDowell's Chairman, Michael Chabon, and an introduction of the Medalist by writer and critic Frank Rich.

This year marks the first time a luminary has been chosen from the realm of musical theatre. After the ceremony, Medal Day guests can then enjoy a picnic lunch on the grounds of the Colony, followed by open studios hosted by MacDowell artists-in-residence. Medal Day is free and open to the public, and takes place rain or shine.

The historic artists' colony in Peterborough, NH, named for musicians Edward and Marian MacDowell, presents the annual honor to an artist who has made an outstanding contribution to his or her field. The award is rotated among the seven artistic disciplines nurtured at the colony.

Sondheim is the first composer-lyricist whose work is dedicated to musical theatre to receive the honor. Leonard Bernstein received the MacDowell Medal in 1987. Additional theatre artists to receive the honor include Edward Albee, Thornton Wilder and Lillian Hellman.



FIRST DATE

Scene from First Date. Photo by Joan Marcus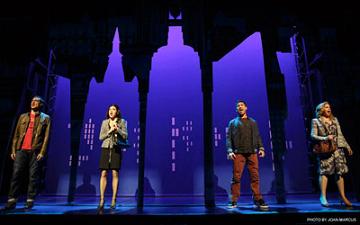 a new romantic musical comedy with a book by Austin Winsberg, music and lyrics by Alan Zachary and Michael Weiner and musical staging by Josh Rhodes.

First Date is directed by Bill Berry.

Starring Zachary Levi as Aaron and Krysta Rodriguez as Casey, features Sara Chase, Kristoffer Cusick, Blake Hammond, Kate Loprest and Bryce Ryness, and the cast also includes Eric Ankrim, Kevin Kern, Vicki Noon and Sydney Shepherd.

The production is described as: "When tightly wound Aaron (Zachary Levi) is set up with serial-dater Casey (Krysta Rodriguez) a quick drink at a busy New York restaurant turns into a hilarious, high-stakes dinner. As the date unfolds in real time, the couple quickly finds they are not alone on this date as Casey and Aaron's inner critics take on a life of their own when other restaurant patrons and the wait staff get into the act. Dinner is served with sides of Google background checks, fake emergency phone calls, supportive best friends, manipulative exes and protective parents, who sing and dance them through ice-breakers, appetizers and potential conversational land mines. . . .a musical about the chances we take to find love."

Scenic and media design by David Gallo, costume design by David C. Woolard, lighting design by Mike Baldassari, sound design by Kai Harada, Hair Design by Josh Marquette with orchestrations by August Eriksmoen and musical supervision, vocal and incidental arrangements by Dominick Amendum.

Officially opens Thursday, August 8, at the Longacre Theatre in NYC.

NO MAN'S LAND AND WAITING FOR GODOT the first by Harold Pinter and the later by Samuel Beckett are playing in repertory. Both are directed by Sean Mathias.

The productions star Ian McKellen, Patrick Stewart, Billy Crudup and Shuler Hensley.

Harold Pinter's No Man's Land, is described as: "we wonder if two writers, Hirst (Patrick Stewart) and Spooner (Ian McKellen) really know each other, or are they performing an elaborate charade? The ambiguity - and the comedy - intensify with the arrival of two other men, Briggs (Shuler Hensley) and Foster (Billy Crudup). Do all four inhabit a no-man's-land between the present and time remembered, between reality and fantasy?"

Samuel Beckett's Waiting for Godot "follows two consecutive days in the lives of Vladimir (Patrick Stewart) and Estragon (Ian McKellen), who divert themselves by clowning around, joking and arguing, while waiting expectantly and unsuccessfully for the mysterious Godot. While they are waiting, two strangers appear: Pozzo (Shuler Hensley) and Lucky (Billy Crudup)." The productions feature sets and costumes by Stephen Brimson Lewis, lighting by Peter Kaczorowski, sound by Rob Milburn and Michael Bodeen, projections by Zachary Borovay and hair by Tom Watson.

Performances at Berkeley Rep in Berkeley, California through August 31. This is a pre-Broadway mounting. The productions begin October 26 at Broadway's Cort Theatre, officially opening November 24.

WEST SIDE STORY by Leonard Bernstein and Stephen Sondheim. Directed by Marc Bruni.

Choreographed by Chris Bailey. The musical director is James Moore.

More than 50 years ago, West Side Story exploded the boundaries of what a musical could be, and today the greatest love story of all time remains as powerful and timely as ever. The Sharks and the Jets, Tony and Maria, the romance and the rumbles all combine to retell the timeless Romeo and Juliet story in a purely American way. The historic collaboration of Leonard Bernstein and Stephen Sondheim has created an enduring musical tragedy as sharp as a switchblade and as soft as new love.

August 5-11 at The Muny in St. Louis, MO.

HELLO DOLLY! with a book by Michael Stewart. Music & Lyrics by Jerry Herman. Based on The Matchmaker by Thornton Wilder.

Original Production Directed & Choreographed by Gower Champion.

This marks the first time the classic Jerry Herman musical has been performed at Cape Playhouse, which is celebrating its 86th year.

Cape Playhouse direction by Mark Martino.

Choreography by Michael Lichtefeld. Musical direction by Phil Reno.

Starring Tony Award winner Beth Leavel stars as matchmaker Dolly Levi, with playhouse regular Jen Cody as hat-making assistant Minnie Fay and frequent director Jimmy Brennan as Dolly's love interest, Horace Vandergelder.

Hello, Dolly! brings to life the tale of matchmaker Dolly Levi and celebrates the search for love. Playing matchmaker for herself this time, Dolly woos the resistant Mr. Horace Vandergelder, while also finding mates for two bumbling shopkeepers and persuading Horace to approve his niece's marriage - all in a day's work!

Hello, Dolly! is a delectable treat for the whole family featuring the hit songs Put On Your Sunday Clothes, Elegance, Before the Parade Passes By and of course, Hello, Dolly!

August 5 through August 17 at Cape Playhouse in Dennis Village, MA.

BIG RIVER book by William Hauptman and music and lyrics by Roger Miller. Director Michael Baron. Choreographer Ashley Wells.

Based on Mark Twain's classic 1994 novel Adventures of Huckleberry Finn, see the legendary journey of Huck and Jim in Big River.

The bluegrass and country style tunes will have you tapping your toes as they float down the Mississippi.

The Broadway production ran for over 1,000 performances.

August 6-10 in Oklahoma City at the Lyric Theatre of Oklahoma. Founded in 1963, Lyric Theatre of Oklahoma is the state's only professional, year-round theatre company.

A FUNNY THING HAPPENED ON THE WAY TO THE FORUM book by Burt Shevelove and Larry Gelbart. Music & Lyrics by Stephen Sondheim. Music Director Ethyl Will. Directed and Choreographed by Marcia Milgrom Dodge .

Starring Peter Scolari. Also starring Conrad John Schuck and Jackie Hoffman.

A Funny Thing Happened on the Way to the Forum is a musical that tells the bawdy story of a slave named Pseudolus and his attempts to win his freedom by helping his young master woo the girl next door.

August 6 - September 1 at the Bay Street Theatre in Sag Harbor, NY.

MARY POPPINS The Disney Company, in partnership with Cameron Mackintosh, has agreed to allow MTWichita to be one of the first theatres in the country to develop its own production of this all-family classic.

Thomas W. Douglas is the Musical Director/Conductor for this production. Wayne Bryan is the Producing Artistic Director.

Comprising the Female members of the 2013 resident company are: Kathryn Boswell, Kimberly Corbett, Eleanor Fishman, Hannah Freeman, Rebecca Gans, Claire Gerig, Catherine Helm, Emily Kelly, Brooke Lacy, Carolyn Anne Miller, Becca Petersen, Sarah Quinn, Riza Takahashi, Katie Wesler, Hayley Wilhelm and Sumire Yu.

The male company members are: Robert Ariza, Daniel Beeman, Daniel Bevins, Jacob Chancellor, Jordan De Leon, Caleb Dicke, Michael Hartung, Dan Horn, Elliott Mattox, Evan Mayer, Trevor McChristian, Alexander H. Miller, Chet Norment, Nicholas Palmquist, Benjamin Rivera, Sean Ronayne, Andy Tofa and Zack Wilhelm.

The performing interns are: Faith Northcutt and Maddie Razook.

The beloved songs from the film, including Chim Chim Cheree, Supercalifragilisticexpialidocious, Feed the Birds, and A Spoonful of Sugar, have been expanded and enhanced with new material from Stiles and Drewe of HONK! fame.

A Musical based on the stories of P.L. Travers and the Walt Disney Film Original Music and Lyrics by Richard M. Sherman and Robert B. Sherman. Book by Julian Fellowes.

The regional premiere of the Music Theatre of Wichita's production of Disney's & Cameron Mackintosh's Mary Poppins takes place August 9 – 11 & 14 – 18, Wichita, Kansas.

Children as young as 3 or 4 are welcome to attend the 2nd Saturday Matinee performance on August 17.


WHO'S WHERE




AN EVENING WITH DIANA ROSS Motown's supreme diva, with 14 consecutive No. 1 hit records, takes to The Filene Center at Wolf Trap stage in Vienna, VA on Wednesday, August 14.

PAULO SZOT brings his romantic voice to 54 Below in New York City for shows August 5-11.

HARRY CONNICK, JR opens a two night stand Friday, August 9, at the Chateau Ste. Michelle Winery in Woodinville, WA. Next Sunday, August 11, he'll perform at the Queen Elizabeth Theatre in Vancouver, BC.

JUSTIN BIEBER brings his tour to the Colonial Life Arena in Columbia, SC on Monday, August 5. On Wednesday he's in the spotlight at the Veterans Memorial Arena in Jacksonville, FL. Thursday he performs at the Times Forum in Tampa, FL. Saturday's shpe is at the Philips Arena in Atlanta.

PHISH performs at the Hollywood Bowl in Los Angeles on monday, August 5.

BLAKE SHELTON is in the spotlighrt Friday, August 9, at the Time Warner Cable Music Pavilion in Raleigh, NC. On Saturday he entertains at the Susquehanaa Bank Center in Camden, NJ. Next Sunday, August 11, the show is at the Center for the Arts in Bethal, NY.

TAYLOR SWIFT entertains Tuesday, August 6, at the Intrust Bank Arena in Wichita, KS. Wednesday's show is at the BOK Center in Tulsa, OK. On Saturday, she'll be singing her hits at Soldier Field in Chicago, IL.

PINK finishes her 8 show gig at the Sydney Entertainment Centre in Darling Harbour, Australia with four performances this week. The first is Tuesday, August 6 followed by shows on Wednesday, Friday and Saturday.

BRUNO MARS opens a two nighter Monday, August 5, at Red Rocks Amphitheatre in Morrison, CO. Thursday show is at the Scottrade Center in St. Louis. On Friday he's on stage at the Sprint Center in Kansas City. On Saturday the tour stops at the Chesapeake Energy Arena in Oklahoma City.

MERCYME entertain Saturday, August 10, at the Cleveland County Fairgrounds in Shelby, NC.


FINAL OVATION


ZHU NAIZHENG a professor and one of the most well- known oil painters in China died July 25, 2013 ina hospital in Beijing, China. He was 77.

A former vice president of the Central Academy of Fine Arts, more than 100 of his art works will be donated to the National Art Museum of China. His latest and last retrospective exhibition, Black and White, East and West, held at the CAFA Art Museum earlier this year, displayed his life-long exploration of renaissance Chinese aesthetics via the media of ink and wash, oil and canvas.

He was creditied with playing an important role in changing school systems attitudes towards art. He believed and advocated diversity in the academy and strongly supported the establishment and development of 4th Studio, to encourage students to seek new creative direction. Under his encouragement and supervision many artists of new generations, like Liu Xiaodong and Yu Hong, received international attention. As a member of the CPPCC (Chinese People's Political Consultative Conference) his opinions and suggestions influenced numerous policy reforms in art related fields in China.

He is survived by his wife An Yuying, a photographer.

EILEEN BRENNAN the Emmy, Obie and Golden Globe award winning actress died July 28, 2013. A breast cancer survivor, Brennan died at her home in Burbank, California of bladder cancer. She was 80.

Brennan appeared in plays with the Mask and Bauble Society at Georgetown University in Washington, D.C., where she was employed. She starred there in Arsenic and old Lace. Her exceptional comic skills and romantic soprano voice propelled her from unknown to star in the title role of Rick Besoyan's off-Broaday tongue-in-cheek musical/operettaLittle Mary Sunshine in 1959, earning Brennan an Obie Award, and its un-official sequel The Student Gypsy in 1963. She went on to create the role of Irene Malloy in the original Broadway production of Hello, Dolly! in 1964.

In 1980, Brennan received a best supporting actress Oscar nomination for her role as Goldie Hawn's nasty commanding officer in Private Benjamin. She reprised the role in the television adaptation (1981–1983), for which she won an Emmy (supporting actress) as well as a Golden Globe (lead actress). She has one additional Golden Globe nomination and six Emmy nominations.

After having dinner together one night in 1982, Brennan and Hawn left a restaurant. Brennan was hit by a passing car and was critically injured. She took three years off work to recover, and had to overcome a subsequent addiction to painkillers.

From 1968 to 1974, Brennan was married to David John Lampson, with whom she has two sons: Patrick,formerly a basketball player, now an actor, e.g., in NBC's The Black Donnellys and Sam who is a singer.













Next Column: August 11, 2013
Copyright: August 4, 2013. All Rights Reserved. Reviews, Interviews, Commentary, Photographs or Graphics from any Broadway To Vegas (TM) columns may not be published, broadcast, rewritten, utilized as leads, or used in any manner without permission, compensation and/or credit.
Link to Main Page
---
Laura Deni



For the snail mail address, please E-mail your request.
CLICK HERE FOR COMMENT SECTION