! >
Broadway To Vegas
   SHOW REVIEWS     CELEBRITY INTERVIEWS     GOSSIP     NEWS 
| | |
| --- | --- |
| | |
Copyright: August 31, 1998
By: Laura Deni
CLICK HERE FOR COMMENT SECTION

DODI'S DAD AND DIANA'S STEP-MUM UNITE IN VEGAS

It's one year this week since Diana, Princess of Wales and Dodi Al-Fayed were killed in that awful Paris auto crash and subsequently buried - hers was a world event, while his was virtually ignored.


Princess Diana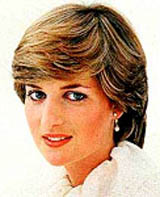 The anniversary is being remembered in various ways. The father of Dodi, Mohammed Al-Fayed, called Diana's father, Earl Spencer, his best friend. After Diana's mother ran off with another man, Spencer found comfort in the arms of Raine, the former Countess of Dartmouth and the daughter of romance novel queen Barbara Cartland. They married in l976.

It was Mohammed's friendship with Diana's father that resulted in her being introduced to Dodi, who romanced many, including Frank's daughter, Tina Sinatra.

Mohammed promised Spencer that if anything ever happened to him he'd look after his wife - that would be Diana's step-mum.

The guy is true to his word.



Barbara Cartland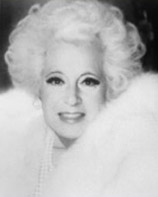 The royals always liked Cartland, thinking she's an okay Dame. Diana even had lunch with her step-grandmum only a few days before she died. Not so with Raine. Diana couldn't stand her. On the other hand, Mohammed never cared for Diana's mum and the teaming up of Mohammed and Raine may have more to do with getting back at the Palace than anything else.

And you thought your family was dysfunctional.

On Wednesday Mohammed Al-Fayed and Raine Spencer have announced they'll hold a press conference at the Rio Hotel in Las Vegas. That's the hotel that is a favorite of Larry Flynt, the Hustler publisher. Spencer and Al-Fayad are suppose to announce they have teamed up to launch a line of children's clothing.

Honest.



Raine Spencer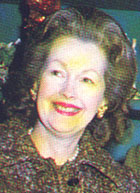 At approximately the same time Britains will be paying special tribute to the mother of the future King of England, and the spare heir, the father of their mother's boyfriend and their step-grandmum will be chatting up the benefits of buying their togs for little nippers.

Reports are the Palace is not amused, but can't do a bloody thing about it.

The timing and location coincide with the annual MAGIC show which calls Sin City home. No, they aren't going to learn how to make the royal family float in mid-air. MAGIC stands for Men's Apparel Guild In California. Several years ago the important and massive trade show expanded to include women's and then children's clothing lines.

This isn't the stuff that struts down runways in New York, Paris and Milan. This show is for the manufacturers and designers of mass produced off the rack merchandise. Ready to wear doesn't necessarily mean cheap.

MAGIC opens in Las Vegas Monday, August 31 and runs through Thursday. This is the closed trade convention where, a few years ago, Delta Burke announced she was entering the clothing business.

The apparel business may clothe children, but it's not child's play. With world money markets sounding grizzly, one might question if this is the time to launch a new business. One might even ponder what qualifications Mohammed Al-Fayed and Raine possess that make them think they'll snag a portion of the rag trade market. Of course, al-Fayed owning Harrods, his flag-ship high-brow London department store, helps. One of the most difficult hurdles for any new clothing manufacture to conquer is getting a store to stock the merchandise. The second obstacle is getting the store to promote the clothing line. Presumably, in those areas, they have a leg up on the competition.

Whether any portion of the clothing line proceeds will benefit a charity formed to honor Dodi is unclear. Mohammed al-Fayed is bitter that the press coverage centered around Diana's death. It's always stuck in his craw that his beloved son's passing received coat-tail attention.


PRINCESS DIANA OFF BROADWAY


Today, August 31, is the first anniversary of the death of Princess Diana. Tonight the first staged reading of the musical based on her life will be held at the Grove Street Playhouse.

In the starring role is 23-year-old Kendra Munger. Born and raised in Fairfield County, Conn., her mother is a former flight attendant and her father is an airline pilot.

Her previous experience includes Eliza Doolittle in My Fair Lady, in Florida and upstate New York dinner theatres. The auburn haired singer, a graduate of Skidmore College in Saratoga, N.Y., auditioned at the urging of her singing teacher.

James Walsh, who starred in the off-Broadway production Naked Enemy, is cast as Prince Charles.

The two act play, titled The Queen of Hearts opens Oct. 1 at the Grove Street Playhouse for a five-week run. The production is directed by Stephen Stahl who auditioned hundreds of hopefuls before casting Munger in the part.

Stahl also wrote the show's book and collaborated with composer-lyricist Claudia Perry on the musical. Stahl also penned Lady Day a musical that ran off-Broadway about Billie Holiday.


THEODORE BIKEL
Theodore Bikel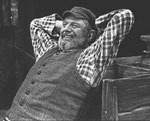 Theodore Bikel, by his own estimation, has sung If I Were A Rich Man more than 1600 times. Spending 32 years portraying Tevye has made Bikel if not rich, at least well off. While the versatile actor may be known for his role in Fiddler On The Roof he created the role of Baron Von Trapp in The Sound of Music and his performance as a Southern sheriff in The Defiant Ones earned him an Oscar nomination.

His venture as Tevye began on Christmas, 1967 in Las Vegas, Nevada. Harry Belafonte had recommended Bikel to the management of Caesars Palace. The resort was going to offer a truncated, 100-minute version of the popular musical. They needed a star to play Tevye and Bikel signed on. The show opened on Christmas, slated for a two month run. Held over, they stayed for six months.

"It was much harder than the full show, believe me," Bikel exclaimed. "I did it twice a night, seven nights a week," Bikel told me when he returned to Las Vegas, again as Tevye, when Fiddler played the Aladdin in l995. That was the full production in a theatrical setting. It seems that Bikel hasn't gotten off the road.

Bikel's assuming the burden of Tevye came after Bikel turned down an offer to join the Broadway production. Bikel gave the thumbs down because there had already been two Tevyes and Bikel thought If he was the third one nobody would notice. So he opted to be the first Tevye on tour, blazing new ground and making a lasting impression.

On July 12 he completed a successful run of Fiddler in Kansas City.

While many singers get sick of singing their hits and comedians find telling the same jokes repeatedly a chore, Bikel finds nothing stale about doing Fiddler, although he regularly appears in other shows.

Next month he performs a concert version of The Three Penny Opera at the University of California, Los Angeles.

Last May Bikel was part of the Carnegie Hall celebration in honor of the 50th anniversary of Folkway Records, whose titles are distributed under the auspices of the Smithsonian Institution. Among the performers at Carnegie Hall were Pete Seeger, Odetta, the New York City Ramblers and Ella Jenkins.

Ossie Davis and Bikel were the narrators and Bikel performed. He even turned the event into a family affair, including one of his sons, who performed with him.


JAMMING WITH DREW CAREY
Drew Carey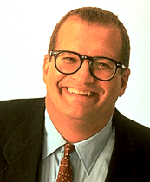 The Drew Carey Show is going to feature a band. Not just any band, but a band consisting of rock hall-of-famers. Also in the jam session will be former Clevelander Joe Walsh, of the Eagles and James Gang fame. Jim Fox and Dale Peters, two of Walsh's former James Gang members, who still live in Northeast Ohio, are also part of the group.

Walsh is good friends with Carey and has previously appeared on the hit series. Fox and Peters fly to Los Angeles for the taping and both are reported to be thrilled with the latest reunion of the band.

Real cool dude Drew will play accordion with the band. Insiders say he actually knows how to play the squeeze box.


SHOWING OFF THE UNDER APPRECIATED


The New York Theatre Company, under the leadership of Artistic Director James Morgan and Managing Director Joseph V. De Michele, announce the fifth season of Musicals In Mufti, staged concert versions of under appreciated musicals from Broadway's past.

The shows will be performed in their entirety, including all dialogue. Actors perform in mufti, or street clothes. Performances are Fridays and Saturdays and matinees Saturdays and Sundays. Audience discussions follow the matinees.

Darling of the Day - Music by Julie Styne, lyrics by E.Y. "Yip" Harburg and book by Nunnally Johnson opens the season. The production will be directed by Michael Montel.

Set in England in the first decade of this century, it tells the story of a renowned painter who escapes society's fawning acclaim by switching places and "becoming" his recently-deceased butler.

Two songs cut from the score will be restored for this version. Performances are September 11-13.

Kelly - Book and lyrics by Eddie Lawrence, music by Moose Charlap will be the second offering. The director is Donna Kaz. Set in New York City at the turn of the Century, it is about a brash teenager who decides to jump off the Brooklyn Bridge on a bet. This is the show as originally conceived and written, not as it appeared in its l967 Broadway production. Performances are September 18-20.



Adolph Green and Betty Comden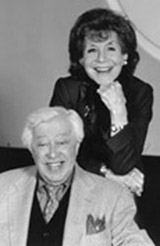 Billion Dollar Baby rounds out the season.

Book and lyrics by Betty Comden & Adolph Green, music by Morton Gould. Directed by B.T. McNicholl.

Set in the l920's world of mobsters, millionaires and chorines, this piece charts the rise of a golddigger who makes it to the top - man by man - only to get a rude awakening at the final curtain.

Comden and Green are making revisions to the book. Performances September 25-27.

"Broadway's history is full of so many treasures that, for one reason or another, didn't quite make it their first time out," said Artistic Director James Morgan. "And, musical theatre lovers might never get a chance to see some of these fascinating shows if not for our series."

Performances are at the company's home in The Theatre at Saint Peter's Church in the Citicorp Center. Tickets are $25.


AUGUST WILSON HONORED
August Wilson
Governor Tony Knowles of Alaska presented two time Pulitzer Prize winner August Wilson with the Edward Albee Last Frontier Playwright Award during the Edward Albee Theatre Conference, which took place in Valdez, Alaska.

The accolades also included a letter from the White House, signed by Bill Clinton in which the president praised Wilson's "truly pioneering career ... (using) the theater to foster understanding and unite people across the boundaries of race."

Joining Wilson in the seminar/discussion portion of the conference were actor Derrick Sanders, playwright Javon Johnson and television star Ella Joyce.


MONEY TALKS
Ella Joyce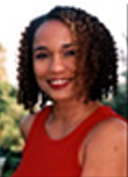 Ella Joyce, who stars on the television series Roc, confessed to the audience attending the Edward Albee Theatre Conference that she had the role of Risa in Two Trains Running. She modeled the part after a waitress she knew. The play went on the boards at Yale Repertory in 1990. The play and Ella received rave reviews. Ella was about to take the role to Broadway when she received a casting call for Roc.

Ella wanted to continue with Broadway, but her agent explained the big bucks television offered and dollar signs talk.



Two Trains Running
The role of Risa in the Broadway production was brilliantly acted by Cynthia Martells, who used this role to make her Broadway debut. Her performance garnered her numerous theater awards.

As for Ella ankling over to television, the money was a reward in itself.

"The money I made in television changed my life forever," she told the crowd. "But I found out why they pay so much. It's so we can afford psychiatrists and pay for vacations where we get away from everything."

She explained that television is grueling because only short term memory is involved. Scenes are shot and never performed again. Theater, on the other hand, requires an actor to develop a character by repeating the role.

To relieve the stress of television Ella gets down and dirty. She has a garden. "I love to get my hands in the dirt." she admitted.

Ella has just begun taking piano lessons. "You're never too old to learn something new if you put your mind and heart into it."

Ella is about to return to Los Angeles theater and she coaches one of Hollywood's hottest starlets, Vivian Fox.


ENSEMBLE STUDIO THEATRE RECEIVES MAJOR GRANT


The Ensemble Studio Theatre of New York City has received a $504,000 grant from the Alfred P. Sloan Foundation to foster new dramatic works related to scientific and technological issues. The three year grant is for play commissions and production expenses for an annual Festival. Chris Smith, Associate Artistic Director at E.S.T. will be Program Director.

The first step in the project will be to present selected playwrights with a series of informational events covering a broad range of scientific and technological history and cutting edge discoveries. Experts from various scientific and technological disciplines will act as consultants.

E.S.P. will draw on a pool of over 200 writers currently involved in the theatre's development programs. Submissions will also be accepted from agents, literary managers and artistic directors.

Play commissions range from $10,000 for full-lengths to $4,000 for one-acts.

The Ensemble Studio Theatre is the nation's foremost developmental theatre, with over 5,000 plays produced over its twenty-six year history. It has a core membership of over 400 professional theatre artists.


MDA TELETHON FEATURES LANCE BURTON
Lance Burton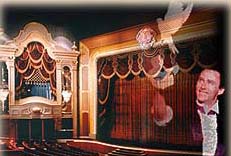 The twenty-one and one-half hour Jerry Lewis MDA Labor Day Telethon, which will air Sept. 6 on CBS, will feature a seven-minute segment with Master Magician Lance Burton live from his show at the Monte Carlo Hotel in Las Vegas.

Burton will perform as well as interact with Jerry Lewis. Burton will be the only Las Vegas headliner featured during the live telethon.

This marks the 33rd year of the most viewed telethon on American television. In light of the success of the telethon, the American Medical Association has honored Jerry Lewis and MDA with Lifetime Achievement Awards "for significant and lasting contributions to the health and welfare of humanity." The funds raised during the telethon will be used for research to help find cures for Muscular Dystrophy diseases.


BEST IN THE WEST RIBS


It's not every day that somebody sends you aluminum foil in the mail. But, that's what I received. John Ascuaga's Nugget Resort in Sparks, Nevada explained that aluminum (foil) is the traditional gift for a 10th anniversary. This was their creative way of announcing their Best In The West Rib Cook-Off Sept. 4-7 is celebrating its 10th anniversary.

This event is no small potatoes. Nearly 200,000 people are expected to gather for the event. Twenty-four barbecue cooks, from around the country, will vie for the title.

Among this year's participants are; Texas Longhorn Bar & Grill fronted by Mike Collins. They were the 1996 people's choice winner; Hubert Green of Sweet Meat Cooking Team, garnered 4th place last year; Jeff Erb of the Back Forty Texas BBQ won 5th place in 1996 and best sauce in the 1997 people's choice vote; Lee and Donna Rice of Cleveland, Ohio from the Desperado's BBQ and Rib Co. returned to Ohio with last year's 3rd place award; Tom and Betty Ferguson of Giovanni's in Berwyn, Ill., are back after winning fourth place in 96; Ed Latkowski and Rich Kafka of Howling Coyote SW BBQ of Chicago return after winning second place in 96; and Joe Alexander of Rasta Joe's B-B-Q, Inc. of Rochester, IN again competes. Last year he won fifth place and best sauce award.

Traveling the farthest is Paul Mackay of Aussom Aussie from Sydney, New South Wales, Australia.

To help the food digest, four free headliner concerts will take place. Billy Dean kicks it off Sept. 4th. His Somewhere in My Broken Heart, - his first No. 1 hit- won Song of the Year at the Academy of Country Music Awards, the same year he won Top New Male Vocalist and received a Grammy nomination in the Best Male Country Performance category.

Eddie Money steps into the spotlight on Sept. 6th. Growing up in Brooklyn he loved singing in the church choir and knew every song from Carousel and Oklahoma.

In high school he formed his own band called The Grapes of Wrath after the Steinbeck novel.

Unlike the characters in the book, Money has been raking it in for a long time. His new album is Shakin' With the Money Band.

The cook-off is produced by John Ascuaga's Nugget with a number of national corporate sponsors.

It is noticed that none of those sponsors manufacture an antacid.



Broadway To Vegas is supported through advertising and donations. Priority consideration is given to interview suggestions, news, press releases, etc from paid supporters. However, no paid supporters control, alter, edit, or in any way manipulate the content of this site. Your donation is appreciated. We accept PAYPAL. Thank you for your interest.


THIS AND THAT


HIGH SOCIETY the Broadway revival of the Cole Porter musical has closed. The $6 million production opened April 27. Investors took a bath.The production lost nearly the entire bankroll. The show played 28 previews and 144 regular performances at the St. James Theater.

THE PALM BEACH FLORIDA BROADWAY SERIES A Grand Tradition continues just that with Toni Tennille starring in Victor Victoria opening Nov. 24 in the Kravis Center for the Performing Arts. The drop-dead musical Chicago follows. Rounding out the Kravis Center shows will be Bring in Da Noise Bring In Da Funk. At the Royal Poinciana Playhouse Gavin MacLeod headlines Moon Over Buffalo opening Dec. 1. Next on the boards 2 Pianos 4 Hands and Julie Harris and Charles Durning close out the season in The Gin Game. For more information call 800-520-2324

MIKE BURSTYN who starred on Broadway as showman P.T. Barnum in Barnum and Mike Todd in Ain't Broadway Grand has been cast in the title role of legendary performer Al Jolson in Jolson: The Musical. The show opens October 6 in Cleveland, will tour before coming to Broadway in the spring.

THE RIO HOTEL in Las Vegas has signed with the William Morris talent agency to develop an entertainment concept for the resort.

COUNTRY BAND DIAMOND RIO came to Vegas for a 13 hour video shoot at the Special Memory Wedding Chapel. Script called for a series of mock weddings featuring a variety of couples interacting with the six member Diamond Rio group. All set to the tune of Unbelievable.

THE FLYING ELVI a Las Vegas based group of men who parachute from planes dressed as Elvis Presley.

Not to do out done Alaska has The Red Elvises.

Mix one guitarist with fluorescent red hair, a huge, triangular bass balalaika, one guy in a tie, suitcoat and boxer shorts - throw in Russian accents and you have The Red Elvises.

The Siberian group is a hot act in Alaska, frequently performing at the Sluicebox in Anchorage.

FOLLICULATING AWAY The Bald Is Beautiful convention takes place September 11-13 in Morehead City, N.C. Last year's convention drew 200 men. More are expected to attend this year because of the 40 million bald people in the nation, half are baby boomers who are at or approaching age 50. With hairs coming out by the comb stroke, potential members are a daily event. If you want to join the shiny pate participants call the club at (252) 726-1855 or call the Morehead City Hampton Inn at (252) 240-2300. Ask for the special "ba1d" rate.

Next column: September 7, 1998

Copyright August 31, 1998. All rights reserved. Reviews, Interviews, Commentary, Photographs or Graphics from any Broadway To Vegas (TM) columns may not be published, broadcast, rewritten, utilized as leads, or used in any manner without permission, compensation and/or credit.
Link to Main Page
---
Laura Deni




For the snail mail address, please E-mail your request.
CLICK HERE FOR COMMENT SECTION