! >
Broadway To Vegas
  
  REVIEWS INTERVIEWS COMMENTARY NEWS

| | |
| --- | --- |
| | |
GOO GOO DOLLS CLOSE PERSHING AUDITORIUM - - THE GREAT PLAINS THEATRE BURNS TO THE GROUND - - CAMILLA DUCHESS OF CORNWALL BUYS A BOY TOY - - NEVERLAND TO BE SOLD - - BROADWAY SHOWS RECOUP INVESTMENTS - - AN ENCHANTED EVENING WITH KELLI O'HARA - - THE OLD MAN AND THE OLD MOON - - NEW ASPEN ART MUSEUM - - DONATE . . . Scroll Down




Copyright: August 3, 2014
By: Laura Deni
CLICK HERE FOR COMMENT SECTION


GOO GOO DOLLS CLOSE PERSHING AUDITORIUM
The Goo Goo Dolls will bring down the Pershing curtain on Wednesday, August 6.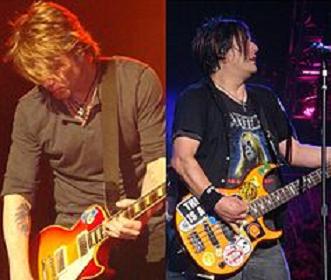 For 57 years the 4,526-seat multi-purpose arena at the Pershing Auditorium in Lincoln, Nebraska served as the performance stage for such names as Garth Brooks, Johnny Carson, Simon & Garfunkel, a stoned Ossie Osbourne and a soon to be dead Elvis Presley.

Outgrown by a city and technically past its prime, on Wednesday, August 6, the venue will play host to its final star attraction, the Goo Goo Dolls and Daugherty.

Pershing auditorium, named after General John J. Pershing was a mandatory stop for those on a Midwest or cross country tour. An important player in booking rock acts, during the 1970's I interviewed the manager for a Billboard article.

Owned by the city, and operated by SMG, a new arena - the 15,000 seat Pinnacle Bank Arena - is the new kid on the block. Pershing will fulfill its contract to host smaller events and be closed by the end of August.

The venue has the ghosts of past events: Garth Brooks, who played Pershing in October 1990, having jumped from opening act to headliner while on tour. That headliner promotion should have come with a pay increase, but Brooks didn't play the diva. Without complaint, he accepted the next to nothing pay he had agreed to as the opening act.

Another paid next to nothing opening act who went on to mega success was Johnny Carson, a hometown boy who, on March 10, 1957, opened the show for the world famous Roger Wagner Chorale.

Others who have played there include Simon & Garfunkel who had just released Mrs. Robinson, Ray Charles, James Brown, Johnny Cash, Bill Cosby, ZZ Top and the Beach Boys. A stoned Ossie Osbourne was reportedly booed off the stage.



The Pershing was one of Presley's last stops before his death. Both the Elvis Presley Concert special and album were broadcast and released on October 3, 1977. The soundtrack album was issued as a 2-LP package and, despite poor sound quality, peaked at #5 on the Billboard chart.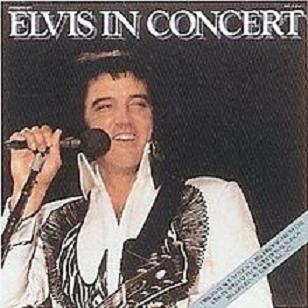 Other acts included Phish, Snoop Dogg, 50 Cent, Nelly and Ludacris. The Grateful Dead's performance, on February 26, 1973, was recorded and makes up half of their live album, entitled Dick's Picks Volume 28.

The soon to permanently leave the building Elvis Presley, who died August 16, 1977, played one of his final concerts at the Pershing on June 20, 1977. A sore point for the venue was that CBS didn't film any of that performance for their upcoming special on Presley. His shows the night before and the night after Pershing were filmed. Prior to Pershing, Presley performed at Omaha's Civic Auditorium, located about 60 miles away from Lincoln. That show was filmed, although most of the footage from the Omaha gig was considered unusable due to sound and performance problems. It was the filming of the June 21, 1977 performance in Rapid City, South Dakota that made it into the Elvis In Concert TV special, which aired posthumously on October 3, 1977.

The first ever Elvis memorabilia auction taking place at Graceland occurs August 14, coinciding with Elvis Week at Graceland, which commemorates the legend's death. All of the items in the auction will be offered from third-party collectors and none of the items included in the auction will come from the treasured Graceland Archives. Presley Enterprises stresses that the mansion and all artifacts in the Graceland Archives continue to be owned by Lisa Marie Presley and are not for sale.

No word on what is going to happen to any of the artifacts connected to the Pershing Auditorium - be they third parry or otherwise.





Broadway To Vegas is supported through advertising and donations. Priority consideration is given to interview suggestions, news, press releases, etc from paid supporters. However, no paid supporters control, alter, edit, or in any way manipulate the content of this site. Your donation is appreciated. We accept PAYPAL. Thank you for your interest.





ART AND ABOUT


NEW ASPEN ART MUSEUM

Architectural rendering of the main entrance of the new Aspen Art Museum. Photo: Aspen Art Museum and Shigeru Ban Architects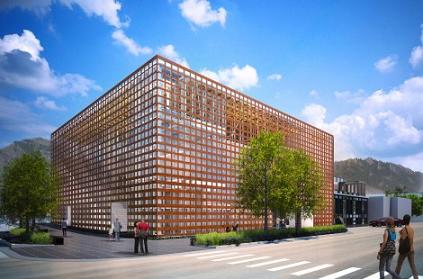 in Aspen, Colorado is set to open its new, 33,000 square-foot Shigeru Ban designed building on Saturday, August 9, 2014 with a free, 24-hour celebration.

The new world class four-story facility has 30,000 square feet of art and culture including a gallery space of 12,500 sq. ft. divided into six primary exhibit areas. There will be educational and family workshops, and a new Black Box Theatre Space.

The new building affords the museum three times its previous exhibition space. The galleries have a ceiling height of fourteen feet, most infused with natural light.

Visitors can reach the upper levels by using either Ban's "moving room" glass elevator, or the grand staircase which is a interstitial three-level passageway situated between the building's woven composite exterior grid and interior structure - intersected by a glass wall dividing the stairway into a ten-foot-wide exterior space, and a six-foot-wide interior space. The unique passage allows for the natural blending of outdoor and indoor spaces and will feature mobile pedestals where art will be exhibited.

Touted as an affordable destination attraction, there is free admission.

The building is environmentally sustainable and offers the only public rooftop view of Ajax "Aspen" Mountain. The roof deck will also be an activated exhibition and event space, with a café and bar and outdoor screening space.

Ban's vision for the new Museum is based on transparency and open view planes - inviting those outside to engage with the building's interior, and providing those within the opportunity to see their exterior surroundings as part of a uniquely Aspen Art Museum experience.

Inaugural exhibitions include work by Yves Klein and David Hammons, an exhibition focused on Shigeru Ban's humanitarian architecture that will feature full-scale examples of his designs, and an outdoor installation project by Jim Hodges on the museum's street-level plaza, entitled With Liberty and Justice For All.

Also on display will be a survey of Tomma Abts's drawing practice, a study of Rosemarie Trockel's work in ceramics, and a new project by Cai Guo-Qiang on the museum's roof deck sculpture garden.

Privately funded with an overall fundraising goal of $65 million, under the lead­er­ship of the AAM New Building Committee, itl was com­pleted within bud­get and on time.

THE FINE ARTS MUSEUM OF SAN FRANCISCO has named Esther Bell the new curator in charge of European paintings for their venues which also include the de Young Museum in Golden Gate Park and the Legion of Museum in Lincoln Park.

Bell, 34, possess a doctorate from the Institute of Fine Arts at New York University. A former Fulbright scholar, Bell assumes her San Francisco duties in September having served almost two years at the Cincinnati Art Museum, where she was curator of European painting, drawing and sculpture. She has also worked at the Metropolitan Museum of Art and the Morgan Library & Museum in New York, and the Sterling and Francine Clark Art Institute in Williamstown, Mass.

Bell also has an affiliation at the Musée du Louvre and was awarded a Theodore Rousseau fellowship by the Metropolitan Museum of Art.


SWEET CHARITY


AN ENCHANTED EVENING WITH KELLI O'HARA takes place Monday, August 11 on the Main Stage of the Williamstown Theatre Festival.

The magnetic five-time Tony Award nominee Kelli O'Hara returns to the Williamstown Theatre Festival to give an utterly unforgettable, one-night-only benefit concert. The luminous Broadway star will be joined on the WTF Main Stage by surprise guests, who will provide a sampling of songs from classic to contemporary musical theatre.

More than a just concert, the evening will trace her journey to becoming one of Broadway's most sought-after leading ladies and will include songs from musicals including The Light in the Piazza, The Pajama Game, South Pacific, Far From Heaven, The Bridges of Madison County, The King and I, and many more.


FROM THE ASHES THE GREAT PLAINS THEATRE VOWS TO RISE AGAIN
The Great Plains Theatre before the fire. Photo: Great Plains Theater.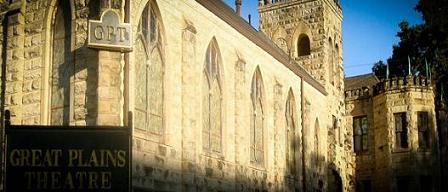 Not too many towns of 7,000 have an equity theatre. The Great Plaines Theatre in Abilene, Kansas was the only equity theatre between Overland Park and Denver. Abilene is also home to the Eisenhower Presidential Library & Museum. The Greyhound (dog) Hall of Fame - both drawing a divergent group of tourists who enjoy live theatre.

On opening night people came from all over.

On July 23, 2014 over 500 came - watching as the revered structure burned to the ground.

The Abilene Fire Department, under the command of Fire Chief Bob Sims, rushed to the scene as did 50 firefighters from at least five departments, but the valiant attempts couldn't save the structure which was built in 1882 as a Presbyterian church.

Dickinson County Emergency Management Director Chancy Smith reported that the theatre was a complete loss.

Known as a full service, well rounded theatre, there was a full season embracing drama, comedy and musicals. A summer camp and improv troup. The youth-group Plain Great Players put on their own shows.

Gina Dalton is the the board president and Maggie Hoffman serves as the theatre's executive director. Dorianne Rees is the education director, while Mary-Kate Luty is secretary for the GPT board of directors.

In the midst of celebrating its 20th season, the theatre's board of directors met the day following the fire and immediately determined that they will rebuild.

The building is covered by insurance. The theatre also had separate coverage for its cinema equipment. However, insurance never covers everything. A variety of fund raising events have been planned for to rebuild the building which was registered as a Historic Landmark.

Officials at The Great Plains immediately put into play the show must go on mantra, announcing that the remainder of the season will be mounted at various locations.

The production The Boys Next Door had wrapped three days before the fire. Up next Always ... Patsy Cline slated to open August 8th. The set was completly destoryed in the fire. Fortunately, this is a production that does not require elaborate staging.

Always ... Patsy Cline will now be staged at the Abilene High School. The play will open on schedule and run through August 17.

Productions set to be mounted this season will have performances at a variety of locations. Following Cline will be Moonlight and Magnolias, SHOUT, Driving Miss Daisy, and Irving Berlin's White Christmas.

Official cause of the fire is undetermined but speculation is that it was due to lightning, according to Rose Rozmiarek, chief of investigations for the Kansas Fire Marshal.








SPREADING THE WORD


ROYAL HOUSE GUESTS AND A BOY TOY

With Prince Charles directly behind his wife, Camilla, the Duchess of Cornwall buys a knitted chimney sweep doll for Prince George. Photo: PA/Clarence House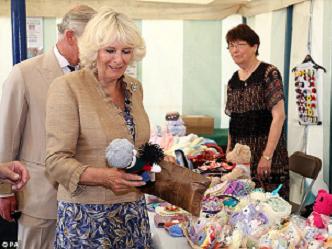 Prince Charles and his wife Duchess Camilla attended the Sandringham Flower Show last week with friends Dame Judi Dench and Dame Maggie Smith, who were also their house guests of the royal couple at their Sandringham estate.

Later the group attended a Music in Country Churches concert at the the Church of St Mary in Old Hunstanton.

While at the flower show the Duchess of Cornwall bought a chimney sweep knitted doll for her grandson Prince George.

Stopping at the Women's Institute stand at the event on the Queen's Norfolk estate, Camilla opened her purse to buy the doll. Inspecting her purchase, she commented: "Isn't he sweet?"

The profits from each show are donated to local charities and since 1977 the show has raised more than $750,000.

About 20,000 people attended the horticultural show, which mixes local village flower and produce competitions, trade stands, amateur and professional display gardens and a wealth of arena events.

25TH ANNIVERSARY OF THE SAN JOSE SUMMER JAZZ FEST takes place August 8-10, 2014.

Over 80 artists will be performing. Just a sampling of the powerhouse players include: 2014 Grammy winner Snarky Puppy, which had a banner 2013 with spectacular appearances at the Monterey and North Sea jazz festivals. Another 2014 Grammy winner headlines the Salsa Stage: the home-grown, Bay Area Latin big band Pacific Mambo Orchestra. New York Latin jazz powerhouse Pedrito Martinez. Bass legend Bootsy Collins, who rose to prominence playing with James Brown and Parliament-Funkadelic. Gypsy Allstars, who return to San Jose after a homecoming tour brought them all the way to India, the original homeland of their gypsy heritage; and the Otonowa Project, spearheaded by acclaimed jazz drummer Akira Tana, which re-imagines celebrated Japanese folk melodies through the lens of jazz.

August 8-10, 2014 in San Jose, CA.

OEDIPUS DOESN'T LIVE HERE ANYMORE by Daniel Evans has been named winner of the Queensland Premier's Drama Award 2014-15 presented by the Queensland Theatre Company in Brisbane, Australia.

Following a record 121 entries for the Queensland Premier's Drama Award 2014-2015 (QPDA), and three finalists selected earlier this year, Evans' work was selected as the winner following a public play reading which also showcased plays by fellow finalists; Megan Shorey for One In Seven, a music theatre piece about a couple's struggle for a baby and the tribulations every family faces in the early years of parenthood, and Tim Benzie for his work The Overflow, which is set in a house in Lowood three weeks after the 2010-11 floods and deals with the challenges faced by a retired couple who agree to take in neighbors who lost their home.

Oedipus Doesn't Live Here Anymore is a contemporary reimagining of the events leading to the implosion of the most talked-about family in the Ancient Greek myths of The Oedipus Cycle. Evans is a writer, director, and producer who has worked across Australia in theatre, festivals, print and television. His theatrical work is "about new mythologies for unreliable futures. Inspired by Pop culture, spurred on by the blur between performer-spectator, Daniel forges worlds that are ridiculously heightened, and strangely familiar, but not without heart," according to the official release.

The Queensland Premier's Drama Award is an award that develops, over a period of two years, a theatrical performance reflective of Queensland, culminating in a professional production.

MAE WEST IN BOHEMIA: GIN, SIN, CENSORSHIP & EUGENE O'NEILL with Mae West historian LnidaAnn Loschiavo. Wednesday, August 13, 2014 at the Jefferson Market Library in NYC.


OTHER PEOPLE'S MONEY


OF MICE AND MEN took in a good chunk of cheese. James Franco's play, an adaptation of the John Steinbeck novel, recouped its $3.8 million capitalization in just 12 weeks. It ended its 19-week run Sunday, July 27, reported the next day that it earned $1,038,106 for the closing week, setting a new eight-performance weekly record gross at the Longacre Theatre and marking the first time the theater ever housed a show that crossed the $1 million mark.

The show, co-starring Chris O'Dowd and Leighton Meester, is also the first American production chosen to be filmed by National Theatre Live.

LADY DAY AT EMERSON'S BAR AND GRILL the Lanie Robertson play with music which stars multiple Tony Award winner Audra McDonald, has recouped its initial investment of $2.6 million, producers announced this past week.

Directed by Tony Award nominee Lonny Price the succulent production can be enjoyed at Circle in the Square in New York City.

Performances were first extended through August 31, but will now continue September 9-21, following McDonald's previously scheduled September 1-7 vacation.

MICHAEL JACKSON'S Neverland Ranch in Santa Barbara, CA has been put on the market by Colony Capital, which acquired a primary stake in the property after buying out the late singer's $23 million mortgage to save the famed residence from foreclosure. To recoup, Colony Capital has put up a For Sale sign. The property is appraised at about $27 million, but as with anything touch by a mega-celebrity, the property could fetch more.

The Jackson Family issued a statement indicating they are not in support of a sale. "We are saddened at the prospect of the sale of Neverland which, under the agreement negotiated during Michael's lifetime, Colony has the right to sell. The estate will maintain Michael's family home in Encino, including its iconic recording studio there.

"We will] continue to build upon Michael's legacy as an artistic genius and humanitarian through his music and new projects such as the Michael Jackson ONE show in Las Vegas."

They added: "We hope and trust that any new owners of Neverland will respect the historical importance and special nature of this wonderful property. Michael's memory lives on in the hearts of his fans worldwide."

Michael bought the 3,000 acre property in 1988 and lived there until 2004 when he went to trial on child molestation charges.



A STREETCAR NAMED DESIRE by Tennessee Williams.

Directed by Benedict Andrews.

Starring Gillian Anderson - who is receiving spectacular reviews - as Blanche DuBois, Ben Foster as Stanley, and Vanessa Kirby as Stella.

With Clare Burt, Lachele Carl, Branwell Donaghey, Otto Farrant, Nicholas Gecks, Troy Glasgow, Stephanie Jacob, Corey Johnson as Mitch, and Claire Prempeh.

Design Magda Willi. Costumes Victoria Behr. Light Jon Clark. Sound Paul Arditti. Music Alex Baranowski. UK Casting Maggie Lunn CDG and Camilla Evans CDG. US Casting Jim Carnahan CSA.

Performances through September 19, 2014 at the Young Vic in London.

THE ALCHEMIST by Ben Jonson, adapted by Artistic Director Bonnie J. Monte who also directs.

This side-splitting but rarely-produced masterpiece is a The rowdy, bawdy comedy about con men in 1610, which demonstrates how little has changed about greed or gullibility in the affairs of mankind.

Portrayal of three tricky gullers and the parade of outrageous characters they gull exemplifies the satirical wit of one of Shakespeare's greatest contemporaries.

The Alchemist will begin August 6th on the mainstage of the The Shakespeare Theatre of New Jersey's, 308-seat F.M. Kirby Shakespeare Theatre in Madison, New Jersey.

THE OLD MAN AND THE OLD MOON a play with music by PigPen Theatre Co.

Directed by Stuart Carden and PigPen Theatre Co.

A fantastical, song-filled tale takes patrons to the end of the world where an old man whose duty is to collect spilled light to refill the leaky moon discovers that his wife has unexpectedly left home in pursuit of much-needed adventure, he abandons his post to follow her, throwing the world into chaos as he searches for his lost love, his fading memory and, ultimately, himself.

"With a rollicking array of over-changing characters, actor musicians transform the seemingly ordinary into sheer wonder," explains the Williamstoew Theatre Festival.

Alex Falberg, Ben Ferguson, Curtis Gillen, Ryan Melia, Matt Nuernberger, Arya Shahi and Dan Weschler are PigPen's troupe members, who "create atmospheric theatrical fables through a blend of original music, shadow puppetry, live action and clever lighting effects."

The creative team includes Lydia Fine (scenography, puppetry), Bart Cortright (scenography) and PigPen Theatre Co. (puppetry). The sound designer is Mikhail Fiksel.

PigPen Theatre Co. was formed at Carnegie Mellon School of Drama in 2008. PigPen has toured nationally and became the first company in history to win the top honor for a play at the New York City International Fringe Festival two years in a row: The Nightmare Story in 2010 and The Mountain Song in 2011.

An Off-Broadway production in 2012 received favorable reviews. A revised version played to rave reviews last September at the Writers Theatre in Glencoe, IL.

August 6-17 at the Williamstown Theatre Festival in Williamstown, MA.

THE MAIDS by Jean Genet. New English translation by Andrew Upton and Benedict Andrews

Director Benedict Andrews.

Starring Cate Blanchett, Elizabeth Debicki, Isabelle Huppert.

Based on the true story of the infamous Papin sisters who brutally killed their employer and her daughter, Genet's play delves into the rituals of the siblings Claire and Solange - played by Blanchett and Huppert - as they take turns playing both sides of the power divide and plot the demise of the domineering Madame (Debicki).

Sets and costumes by Alice Babidge. Lighting design by Nick Schlieper. Composer Oren Ambarchi. Video designer Sean Bacon. Sound designer Luke Smiles.

Presented August 6-16, 2014 in association with New York City Center by the Sydney Ausralia Theatre Company.

A LITTLE NIGHT MUSIC Music & Lyrics by Stephen Sondheim. Book by Hugh Wheeler.

Orchestrations by Jonathan Tunick.

Director Michael Baron.

Choreographer Jeremy Benton.

Music Director David Andrews Rogers.

In one of the most delightful musicals ever written, follow the romances of an oh-so- entertaining weekend jaunt in the countryside, featuring the classic song Send in the Clowns.

Tony nominee Dee Hoty stars opposite George Dvorsky as Fredrick Egerman with Emily Skinner as Charlotte Malcolm as well as Mateja Govich, Lexi Windsor and Charlotte Franklin.

Set Designer Adam Koch. Resident Costume Designer Jeffrey Meek. Sound Designer Toby Algya. Lighting Designer Helena Kuukka. Props Designer Courtney Strong. Hair Designer Cindy Ludwig. Production Stage Manager Julie Meyer.

Presented by the Lyric Theatre of Oklahoma August 5-9 at the Civic Center Music Hall in Oklahoma City.


WHO'S WHERE


BRUNO MARS performs Tuesday, August 5, at the Saddledome in Calgary, Alberta. On Saturday he's on stage at the Gorge Amphitheatre in Quincy. WA.

MIRANDA LAMBERT performs Friday, August 8, at the Sleep Train Amphitheatre in Wheatland, CA. On Saturday the show is at the Shoreline Amphitheatre in Mountain View, CA. Next Sunday, August 10, the show is at the Verizon Wireless Amphitheater in Irvine, CA.

JAY LENO will be getting laughs Friday, August 8, at the Terry Fator Theatre in Las Vegas.

ROD STEWART has a busy week with a show Monday, August 4, at the Scotiabank Saddledome in Calgary, AB. On Tuesday the tour stops at Rexall Place in Edmonton, AB. Friday's gig is at the MTS Centre in Winnipeg, MB. Next Sunday, August 10, he's in the spotlight at the Ncel Energy Center inSaint Paul, MN.

KISS AND DEF LEPPARD take to the stage August 5 in Saratoga Springs, New York's Saratoga Performing Arts Center. On Wednesday they'll rock Jones Beach Theater in Wantagh, New York. Friday's gig is in Virginia Beach, Virginia at the Farm Bureau Live at VA Beach. They close out the week Saturday in Scranton, Pennsylvania at The Pavilion at Montage Mountain.

MICHAEL BUBLE performs in Mexico this week. His Wednesday, August 6, show is at the Arena in Monterrey. On Friday he begins a two nighter at the Arena Ciudad in Mexico City.

AEROSMITH are in the spotlight Friday, August 8, at the Lake Tahoe Outdoor Arena at Harveys in Stateline, NV.

THE NATIONAL continue their European tour with a performance today, August 3, at the Stereo Plaza in Kiev, Ujraine. On Wednesday, August 6, they perform at the Ova Festival in Oslo, Norway. Thursday's stop is in Gothenburg, Sweden while the Friday show takes place at the Flow Festival in Helsinki, Finland.

MILEY CYRUS performs Monday, August 4, at the Consol Energy Center in Pittsburgh. Wednesday's show is at the Time Warner Cable Arena in Charlotte, NC. On Thursday she stars at the Bridgestone Arena in Nashville. Saturday's gig is at the KFC Yum! Center in Louisville, KY.


FINAL OVATION


KAREN WAITER GOODWIN theatrical producer died on June 30 in Annapolis, Md. The cause of death was complications of colon cancer surgery. She was 66.

Among the shows she helped finance were: Les Miserables, Phantom of the Opera and Miss Saigon.

Goodwin began her career as an industrial psychologist, working as an executive in the financial services arm of the Mutual Benefit Life Insurance Company.

A personal interest in the arts, plus her financial background, led her to conclude that corporate investors who were already backing the movies and arts could be expanded into investing stage productions.

Her first marriage ended in an annulment. Her second marriage, to Stephen Goodwin, a writer and teacher, ended in divorce. In addition to her son, Nicholas, she is survived by her father, Richard S. Walter; two brothers, Richard Walter Jr. and Michael Walter, and a sister, Donna Jeanne Walter.















Next Column: August 10, 2014
Copyright: August 3, 2014 All Rights Reserved. Reviews, Interviews, Commentary, Photographs or Graphics from any Broadway To Vegas (TM) columns may not be published, broadcast, rewritten, utilized as leads, or used in any manner without permission, compensation and/or credit.
Link to Main Page
---
Laura Deni



For the snail mail address, please E-mail your request.
CLICK HERE FOR COMMENT SECTION