! >
Broadway To Vegas
  
 SHOW REVIEWS CELEBRITY INTERVIEWS GOSSIP NEWS

| | |
| --- | --- |
| | |
ALL STAR CAST FOR LES MISERABLES IN CONCERT AT HOLLYWOOD BOWL - - NATIONAL MUSEUM OF AMERICAN HISTORY GETS X-FILES - - HELPMANN AWARDS - - ERIC IDLE ON BOARD FOR PRINCE CHARLES' 60th BIRTHDAY PARTY - - 2008 PRINCESS GRACE AWARDS - -WORLD PREMIERE OF LITTLE HOUSE ON THE PRAIRIE MUSICAL - - WORLD FAMOUS SOUND OF MUSIC CONDUCTOR ARRESTED - - KIRCHNER AND THE BERLIN STREET - - DONATE . . . Scroll Down


Copyright: August 3, 2008
By: Laura Deni

CLICK HERE FOR COMMENT SECTION
OLYMPIC OPENING CEREMONY - PIANIST LANG LANG EXPECTED TO BE ANOINTED SUPERSTAR
Lang Lang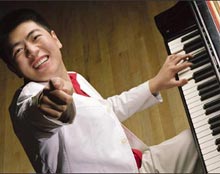 He has a rock star performance style and the keys he's tinkling are on a bright red Steinway. Lang Lang is going to be hard to miss when he plays for the Opening Ceremonies on August 8.

It has been promised that Lang Lang will be the first super-star to come out of the Olympics.

With flawless English and a vivacious personality, Lang Lang is larger than life. Although he prefers Armani rather than sequin jackets, his stage show is a cross between Elton John and Liberace. His musical ability is spellbinding - although there are a few highbrows who haven't yet understood that's it's okay to enjoy classical music.

Lang Lang engages in exaggerated mannerisms and facial expressions, resulting in him being called "vulgar" and "lacking sensitivity." He also sings along, and jumps around or pounds the keyboard - ala Jerry Lee Lewis.

He's transformed classical music into something that is both accessible and fun. He's been filmed playing Chopin using an orange.

Last year he told the Asian Society "I play piano like a multi-media website. You have the pictures, you have the scores, also you have the harmonies; it's like you're playing with computers, but obviously with heart."

He became fascinated with the eighty-eight after watching a Tom and Jerry cartoon on television. In that animation Tom plays the Hungarian Rhapsody No.2 in The Cat Concerto. Lang Lang was two. It was his first exposure to western music and inspired the toddler who began piano lessons at age three. Lang Lang's father spent half his yearly salary – $300 – and bought his son a piano. At the age of five, he won the Shenyang Piano Competition and played his first public recital.

In 1995, at 13 years of age, he played at the Beijing Concert Hall and, in the same year, won first place at the Tchaikovsky International Young Musicians' Competition in Japan playing with the Moscow Philharmonic Orchestra. At 14 he was a featured soloist at the China National Symphony's inaugural concert, which was attended by President Jiang Zemin. The following year he began studies at the Curtis Institute in Philadelphia where he'd won a music scholarship.

Lang Lang's breakthrough in the West came in 1999, when he was 17. Introduced by Isaac Stern, he was a last-minute substitution for an indisposed Andre Watts at the Ravinia Festival's Gala of the Century, in which he played with the Chicago Symphony Orchestra conducted by Christoph Eschenbach.

That event resulted in and outpouring of international engagements.

One concert that held personal significance was his solo debut at Carnegie Hall. Before the night was over, Lang Lang brought to the stage a special guest artist - his father. With his traditional Chinese fiddle, Lang Lang's father accompanied his son in a finale. The walls of Carnegie Hall vibrated from the applause.

The evening was as emotional for the performers as it was for the audience.

A single child of the one-child policy era, his parents suffered under the Cultural Revolution (1966-1976). Lang's father, Guo-ren, played the Chinese two-stringed violin known as the erhu and was head of the local traditional orchestra, but the reforms meant he became a police officer. Lang's mother, Zhou Xiulan, a former dancer and singer, became a telephone operator.

Guo-ren Lang quit his job and moved with his son to Beijing, twelve hours from their family home in Shenyang. His parents lived apart so he could attend the conservatory in Beijing. It was only when Lang Lang bought a house in downtown Philadelphia, after he became a star, that the family was reunited.

China refers to Lang Lang as "an obedient son who has bought several apartments for his parents and squeezes time to be with his parents as much as possible."

He has been favorably compared with Horowitz. In 2001 he made his sold-out Carnegie Hall debut with Yuri Temirkanov, traveled to Beijing with the Philadelphia Orchestra on a tour celebrating its 100th anniversary, during which he performed to an audience of 8,000 at the Great Hall of the People, and made an acclaimed BBC Proms debut, prompting a music critic of the British newspaper The Times to write, "Lang Lang took a sold-out Royal Albert Hall by storm... This could well be history in the making". In the summer of 2002, he became the first recipient of the Leonard Bernstein Award at the Schleswig-Holstein Festival, in recognition of his distinguished musical talent.

He was the first Chinese pianist to be engaged by the Berlin Philharmonic, performing with the British conductor Sir Simon Rattle, as well as the Vienna Philharmonic and all the leading US orchestras. Last year, at the Prince of Wales's invitation, Lang Lang was the soloist in the premiere of Nigel Ness' Piano Concert, commissioned by Prince Charles in memory of his grandmother, Queen Elizabeth, the Queen Mother. In February 2008, Lang Lang dueled pianos with Herbie Hancock to commemorate George Gershwin's Rhapsody in Blue.

Okay, so the kid is good.

He already working on brand endorsements with Adidas - a training shoe that has his name in Chinese written on the side, and a piano pedal graphic on the insole.

Now, about that piano. He's audtioning off that red Steinway to raise money for the victims of May's Sichuan earthquake.

From the Olympics Lang Lang returns to this side of the world for a tour which begins a three performance gig at the Roy Thompson Hall in Toronto on September 24.


GO FLY A CHINESE KITE
Staying on Good Terms with Everyone kite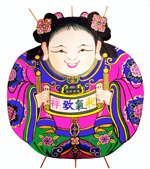 Happy Life In The Present kite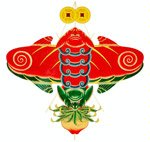 An exhibition of fifty Chinese kites by artist Sheng-li Gao will be on view for one month from August 8, 2008 in the Museum of Arts and Sciences in Daytona Beach, FL, in honor of the 2008 Olympic Games in Beijing, China. These elegant kites will be installed to float and flutter from the high ceiling transforming the Root Gallery into a dreamlike wonderland.

Varying in size from around three inches square to two feet by ten feet, the kites depict great soaring birds, forest animals and symbolic Chinese designs created in glorious color by the young master kite maker Sheng-li Gao, who will be an honored guest demonstrating the craft of kite making throughout the show.

Kites in China have a long history. It is said that, in Han Dynasty, General Han Xin used a kite as a survey tool. During the time of LiangwuDi Emperor, kites were used for sending messages instead of carrier pigeons. Unfortunately, that didn't work out too well. Some fool thought he was suppose to make like a bird and jumped off a high place while carrying a kite on his back. He survived. A soldier took advantage of the kite to send signals for help and found himself surrounded by the enemy.

Towards the end of the Tang Dynasty the use of Chinese kites was gradually changed from military to entertainment. With the innovation of papermaking, the raw material of Chinese kites changed from silk to paper. Chinese kites became popular among civilians with a richer variety of forms and reached the peak point in the Song Dynasty (960-1279). There were whistles made of wire or bamboo flutes on the kites, which responded in the wind.

By the time of Qing Dynasty, flying kites became a popular pastime. It is said that Cixi sent an eunuch to Tianjin for "Kite Wei" to make a kite named The God of Longevity on the back of the crane for her. Three big kites were collected in the Imperial Palace, which were flown by Fu Yi.

During the Song Dynasty and Tang Dynasty, Chinese kites were exported to other parts of the world - first to Japan, Korea, Malaysia, and then the countries of the Southeast Asia. Finally they became popular in Europe and America.

A Chinese kite is hung in the Washington Space Navigation Museum. The banner reads: The earliest spacecraft made by humans is China's kite.


ARREST OF CONDUCTOR SIMON LEE STRIKES A SOUR CHORD
Simon Lee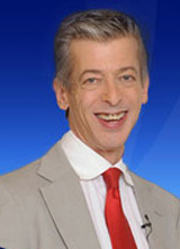 Simon Lee, 46, the longtime Andrew Lloyd Webber collaborator charged with assault and forcible confinement in Toronto last Sunday, July 27, has been dropped from the production of The Sound of Music.

Webber's production company Really Useful Group has terminated Lee's engagement as musical supervisor for the musical's Toronto run, slated to begin in October.

"Simon is a very talented person who is extremely important to us. However, on this occasion we felt it was necessary to seek the termination of his engagement on The Sound of Music in Toronto," said a statement issued by London-based communications firm Brown Lloyd James on behalf of Webber's group.

"The alleged events are subject to legal proceedings and, therefore, we can't comment further."

Toronto Police Const. Tony Vella said that Lee was arrested at his hotel after a man in his 20s complained he was assaulted in a room and prevented from leaving.

The veteran British conductor served as Musical Supervision on: The Woman in White (London); Tell Me on a Sunday (London); The Beautiful Game (London); Notre Dame de Paris (London); Jesus Christ Superstar (Broadway, UK and European tours); Romance, Romance (London). Film/DVD. His credits as music supervisor and conductor include: Andrew Lloyd Webber's The Phantom of the Opera (directed by Joel Schumacher), Bjork Live at the Royal Opera, Jesus Christ Superstar (International Emmy Award) and Cats. As conductor of recording include albums with; Sarah Chang, Julian Lloyd Webber, Michael Ball, Maria Friedman, Elaine Paige, Jose Carreras, Vincenzo La Scola, Bjork and Primal Scream as well as many soundtracks and original cast recordings. Simon has conducted many of the world's leading orchestras from the Tokyo Philharmonic to the orchestra of the Lyric Opera, Chicago. Earlier this year marked his debut at English National Opera, conducting Leonard Bernstein's On the Town.

Lee, listed as the musical supervisor for Webber's London production of The Sound of Music, was in Toronto for CBC-TV's reality competition How Do You Solve a Problem Like Maria? He was one of three judges and served as Webber's proxy for the televised contest. Because of the arrest Lee was absent for the final two episodes of the show in which 23-year-old actress Elicia MacKenzie won the title role of Maria von Trapp for the Toronto version of the stage musical.

Lee was released on bail and is scheduled to return to court on Aug. 27.


ART AND ABOUT


SMITHSONIAN WANTS TO BELIEVE! During a special ceremony, the National Museum of American History received a collection of objects from The X–Files, the television series and movie franchise.

Twentieth Century Fox together with Chris Carter, series and film writer, director and producer, and Frank Spotnitz, series and film director and producer, presented an annotated script from the series' pilot episode, FBI badges, posters and other objects to the Museum's entertainment collections.

The X–Files series quickly became one of the most popular science-fiction television series in entertainment history during its nine–year run on FOX Television (1993–2002).

The series featured 202 episodes and led to two feature films; the newest film opened July 25. The show earned acclaim and recognition: It was nominated for 141 awards and honored with 61, including a Peabody award in 1996 and several Emmys and Golden Globes in the acting, writing and technical categories.

"The series is a significant representation of science fiction in television drama," said Dwight Blocker Bowers, museum curator. "The X-Files captured the genre's penchant for the paranormal and cleverly used it to address such contemporary issues as governmental control, national and international conspiracy theories and the possibility of extraterrestrial life."

In the world created by Carter and Spotnitz, FBI agents Fox Mulder (David Duchovny) and Dana Scully (Gillian Anderson) are tasked with investigating the "X-Files": marginalized, unsolved cases involving paranormal phenomena. Mulder plays the role of the believer, having faith in the existence of aliens and the paranormal, while Scully is a skeptic, initially paired with Mulder by her superiors to debunk his unconventional work. The "X-Files" main characters and key phrases, including "The Truth Is Out There," "Trust No One" and "I Want to Believe," became pop-culture touchstones.

Science fiction has been a vital narrative strand in nearly every aspect of popular culture, from comic books to radio, theater, television and movies, as evidenced in such wide-ranging works as The Teenage Mutant Ninja Turtles, and Star Trek, which also are represented in the museum's collections.

The National Museum of American History part of the Smithsonian - located in Washington, DC. - collects, preserves and displays items of American heritage in the areas of social, political, cultural, scientific and military history. Documenting the American experience from Colonial times to the present, the museum looks at growth and change in the United States. Currently closed for major renovations the museum will re-open its doors to the public on Friday, November 21, 2008. The opening will mark the completion of a two-year renovation of the building's central spaces. The renovation project focused on three areas: architectural enhancements to the Museum's interior, including a grand staircase and a skylight; construction of a new permanent home for the Star-Spangled Banner; and updates to the 44-year-old building's infrastructure.

KIRCHNER AND THE BERLIN STREET an exhibition which brings together German Expressionist Ernst Ludwig Kirchner's renowned Street Scenes series, created between 1913 and 1915.

Considered by many to be the highpoint of Kirchner's career as a whole, this series of seven to nine paintings is showcased with forty to fifty related prints and drawings.

This series dates from Kirchner's Berlin period, when the effect of life in the metropolis brought about a dramatic change in his work.

Known as the co-founder of the early Expressionist group Brücke, established in Dresden in 1905, Kirchner moved to Berlin in 1911. Here his sense of rebellion against the confining principles of academic painting and the stifling rules of bourgeois society took a new turn, as the charged atmosphere and energy of the city was felt in an expression of acute perspectives, jagged strokes, dense angular forms, and caustic color. The street life in Berlin, in particular the familiar presence of prostitutes, identified by their elaborate plumed hats, captured Kirchner's eye and inspired this spectacular series.

Shown together for the first time in New York, these works exude the vitality, decadence, and underlying mood of imminent danger that characterized Berlin on the eve of World War I. Organized by Deborah Wye, The Abby Aldrich Rockefeller Chief Curator of Prints and Illustrated Books, The Museum of Modern Ar (MoMA) New York City August 3–November 10, 2008.



Broadway To Vegas is supported through advertising and donations. Priority consideration is given to interview suggestions, news, press releases, etc from paid supporters. However, no paid supporters control, alter, edit, or in any way manipulate the content of this site. Your donation is appreciated. We accept PAYPAL. Thank you for your interest.



THE EIGHTH ANNUAL HELPMANN AWARDS

The Helpmann Trophy designed by silversmith Hendrik Forster.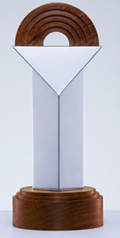 the Australian equivalent to London's Olivier Awards and Broadway's Tony Awards were presented July 27 held at the Lyric Theatre at Star City Sydney and hosted by Jonathan Biggins and Julia Zemiro.

Stars of theatre and film, including the Sydney Theatre Company directors Cate Blanchett and Andrew Upton, presented the awards, named in honor of the late Australian dancer, actor, director and choreographer Sir Robert Helpmann. They recognize "distinguished artistic achievement and excellence in the many disciplines of Australia's vibrant live performance sectors, including musical theatre, contemporary music, comedy, opera, classical music, dance and physical theatre."

According to the organization, "the unique design of the Helpmann Trophy encapsulates the essential relationship of the theatre: the message communicated through the stage between the performer and audience. The stepped base of the Helpmann Trophy symbolizes the stage. The square column represents the performer, and the four sides each of the temperaments he or she can express: choleric (anger); phlegmatic (cool, self-possessed, even of temper); sanguine (courageous, hopeful and amorous); and melancholic (sadness, depression of spirit). The triangular form suggests the face mask used in classical Greek theatre, and the crown the amphitheatre and audience. Finally, the hierarchical design fittingly portrays the audience sitting at the apex of the piece."

The Helpmann Awards also incorporates the JC Williamson award (formerly the James Cassius Award) for outstanding contribution to the Australian entertainment industry.

Elton John's musical adaptation of the Oscar-winning film Billy Elliot the Musical took home seven of its 11 nominations - including best musical and best male actor in a musical, an award shared between the production's four teenage stars and established a new record for the Youngest Helpmann Award Recipients. Billy Eliot the Musical is on the fast track to becoming the must see musical of next year's Broadway season.

The Elton John-Lee Hall musical will arrive at Broadway's Imperial Theatre Oct. 1 with an official opening scheduled for Nov. 13.

( For a list of the 2008 Helpmann Award winners click here)

PRINCESS GRACE FOUNDATION-USA ANNOUNCES 2008 AWARDS WINNERS FOR THEATER, DANCE & FILM

Rose Bond, School of the Art Institute of Chicago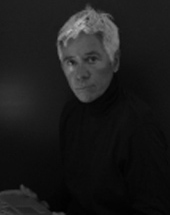 Alexander T. Hammond, Yale School of Drama
The Princess Grace Foundation-USA, a public charity, was formed after the death of Princess Grace in 1982. They award scholarships, apprenticeships, and fellowships to assist artists with career development.

Each year, the Foundation announces a select group of Princess Grace Awards for distinction in the areas of theater, dance, and film. Students are eligible for scholarships; emerging artists working in companies qualify for apprenticeships and fellowships. A playwriting fellowship is available for individual artists through a residency at New Dramatists in New York City. In addition to these, the Foundation also gives honorable mention grants to applicants through Honoraria.

This year, the Princess Grace Foundation-USA Arts Advisory Board announced a partnership with the Baryshnikov Arts Center (BAC) to provide further support for Princess Grace Awards winners. The aim of this alliance is to provide previous Awards winners the opportunity for creative experimentation without the pressure to produce a final, finished product. This aligns seamlessly with the mission of BAC, which serves as "an international center for artistic experimentation and collaboration, providing unique opportunities for the professional development of emerging and mid career artists from around the world and across disciplines."

In addition to the Awards, the Princess Grace Foundation-USA supports the nominating organizations' fund raising efforts by extending general operating monies to companies hosting a recipient.

The 2008 Princess Grace Awards winners represent various colleges, universities, and not-for-profit theater and dance companies throughout the United States. This year's winners hail from 16 states and represent twelve organizations that are new to partnering with the Foundation. The Awards winners exemplify both classical and alternative artistic disciplines and, while still considered emerging talent, they are already distinguished in their areas of expertise. All of this year's Awards winners will travel to New York City as guests of the Princess Grace Foundation-USA, where they will receive their Awards at a black-tie Gala, held in the presence of HSH Prince Albert II of Monaco on October 15, 2008 at Cipriani.

The Foundation cultivates a diverse group of nearly 500 artists to date who continue to advance the spectrum of performing arts with innovative, cutting-edge, vibrant theater, dance, film, playwriting and design. Among some notable Princess Grace Awards recipients in Theater are 2008 Tony Award winner for Best Direction of a Play, Anna D. Shapiro; Pulitzer and Tony Award winning playwright Tony Kushner and Academy Award winner Eric Simonson. Film recipients include Stephen Hillenburg, creator of SpongeBob SquarePants; Eric Darnell, director of Madagascar 1 and 2 and Antz and Greg Mottola, director of Superbad. Recipients of Princess Grace Dance Awards include ballet dancers Maria Kowroski and Ethan Stiefel, and choreographers Robert Battle and Dawn Stoppiello.

Past winners of the Awards who distinguish themselves in their artistic disciplines since receiving their initial Princess Grace Awards are eligible to win the coveted Princess Grace Statue. It includes a $25,000 unrestricted cash gift and a special Bronze Statue of Princess Grace created by Monegasque artist Kees Verkade. The 2008 Statue Awards winners are Rose Bond and Alexander (Alec) T. Hammond.

( For a list of the 2008 Award winners click here)


SWEET CHARITY


DAYTONA'S GOTTA DANCE a starlit night of ballroom dancing to benefit the Seaside Music Theater in Daytona, FL.

Seven local celebs will be paired with professional dancers and attempt to out-Fox Trot the competition. The cast boasts a Mayor, a Magazine Publisher, an Orthopaedic Surgeon, a Realtor, and several other Professionals in the Volusia County area. Saturday, August 9 at the News-Journal Center in Daytona.

Emceed by Dave Laing from WNDB Radio. Judges are; Betty Jane France from the Daytona International Speedway, Jeffrey Swendsen from La Crepe en Haut, Bonnie Meyers who is a recognized adjudicator for professional/amateur and medal certifications, and Alberto and Selena Hoyos with Rhythmic Harmony International and US representatives to the World Argentine Tango will be on hand as expert commentators to dissect the performances and artistic content.

Viewers will be asked to vote on the overall performance: dancing, choreography, costume and choice of music. Votes will be sold at $5 per or five for $20.


OTHER PEOPLE'S MONEY


FOR COLORED GIRLS WHO HAVE CONSIDERED SUICIDE WHEN THE RAINBOW IS ENUF the Broadway bound revival of Ntozake Shange's acclaimed play is being delayed, producers Whoopi Goldberg and DreamTeam Entertainment Group announced jointly on July 30. According to the official announcement "The temporary delay is the result of the recent loss of one of the production's key backers." Previews were initially slated to begin on Tuesday, August 19, at Broadway's Circle in the Square Theatre, in preparation for an official opening on Monday, September 8.

Directed by Shirley Jo Finney and choreographed by Hinton Battle, this revival would have marked the Broadway stage debut of two-time Grammy Award winner India.Arie.



CALLING ALL CHORUS LINE CAST MEMBERS Broadway/San Diego and the National touring company of A Chorus Line are looking for any cast members who appeared in the original Broadway production of A Chorus Line at the Shubert Theatre in New York between 1975 and 1990. "We would love to have local veterans of those fabulous gold sequined top hats join us at San Diego's Civic Theatre for Opening Night on Wednesday, August 13," states the release.

The 30th Anniversary Production of A Chorus Line comes to San Diego Civic Theatre, August 13 - 17. Winner of nine Tony Awards and the Pulitzer Prize for Drama, A Chorus Line showcases a group of working dancers auditioning for a Broadway musical while revealing their individual stories, personal joys and disappointments. A Chorus Line is the longest-running American musical in Broadway history.

AUGUST: OSAGE COUNTY the fabulous Tony Award winning play has welcomed the equally fabulous Estelle Parsons to the cast. Last month the Oscar-winning actress, who turns 81 on November 20, stepped into the physically demanding role of Violet Weston, the drug-ravaged matriarch. A reason to venture out in the August heat - see this production at The Music Box Theatre, NYC.

FIRST BREEZE OF SUMMER written by Leslie Lee. Directed by Ruben Santiago-Hudson. The revival stars Leslie Uggams and will be staged by the Signature Theatre Company as the initial offering in the theater's season-long salute to the Negro Ensemble Company.

Uggams will portray Gremmar, a family matriarch looking back on her past and how it will affect her children and grandchildren.

First Breeze played off-Broadway in 1975 and then moved to Broadway where it was nominated for a best-play Tony.

The First Breeze of Summer opens Aug. 21 at the Signature's Peter Norton Space in New York City. Preview performances begin Aug. 5, for a run through Sept. 28.

CHINA-THE WHOLE ENCHILADA a musical comedy SensASIAN. Music and lyrics by Mark Brown. Arrangements and additional music by the Paul Mirkovich. Directed by Jim Helsinger.

As the opening night of the 2008 Beijing Olympics approaches, a night considered to be the global celebration of unity and sportsmanship, the world keeps a close eye on it host - China. Since it won the bid to host this event, China has been under scrutiny from the media and global human rights organizations alike. On that very same night, on the other side of the globe, Big Boy Strut Entertainment and The NY International Fringe Festival will kick off the global celebration of unity, theatre and the invention of air conditioning with this new musical by Mark Brown.

China- The Whole Enchilada is three men singing, dancing, and irreverently marching their way through four thousand years of Chinese history - in less than two hours with an intermission. Enchilada dares to tackle racism, human rights, genocide, and the birth of the fortune cookie.

Workshopped at Orlando Shakespeare, China-The Whole Enchilada is a tricky, but fascinating balancing act, walking the fine line between sheer, ridiculous insanity and some serious truths. The cast includes: Philip Nolen, Brad DePlanche & Eric Hissom.

World premiere at the 2008 New York International Fringe Festival; Michael Schimmel Center for the performing Arts at Pace University August 8 - 24.

TRYST by Karoline Leach. Directed by Joe Brancato, who also helmed the 2006 Off-Broadway production.

Set in Edwardian London, England, Tryst is a wonderfully dark thriller.

George Love has a habit of marrying simple, well off women who become inexplicably poor and husbandless the day after their honeymoons. In London to con his next bride, he happens upon Adelaide, a milliner's assistant who is sitting on a small nest egg. He convinces her to get married, but once they get to the honeymoon, this simple girl will try anything to get what she wants.

Featuring Mark Shanahan.

The production, which contains brief nudity, is staged August 5 - August 23 at the Westport Country Playhouse in Westport, CT.

LITTLE HOUSE ON THE PRAIRIE

Melissa Gilbert who made the role of Laura famous on television takes to the stage as Ma.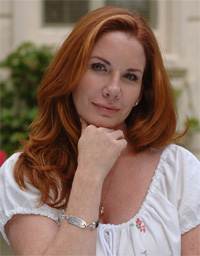 the new musical based on the beloved "Little House" books by Laura Ingalls Wilder. Internationally recognized opera and theater director Francesca Zambello helms the production.

The book for the musical was written by Rachel Sheinkin, who in 2005 won the Tony for best book of a musical for Broadway's 25th Annual Putnam County Spelling Bee. Rachel Portman, an Academy Award winner for her score of Emma, has composed the music with lyrics by Donna DiNovelli.

Wilder's Little House books present a fictionalized version of her years growing up on the Midwestern frontier in the 1870s and 1880s, when the Ingalls family lived in Wisconsin, Kansas, Minnesota and South Dakota.

Starring Kara Lindsay - a recent Carnegie Mellon grad - as Laura Ingalls Wilder. That role was made famous on the Little House on the Prairie television series by Melissa Gilbert who is featured in the musical as Ma. Steve Blanchard is cast as Pa; Jenn Gambatese plays older sister Mary, Maeve Moynihan is Carrie, Sara Jean Ford takes the role of Nellie and Kevin Massey is Laura's eventual husband, Almanzo Wilder.

The cast includes; Tori Adams, Mathias Anderson, Lexy Armour, Robert O. Berdahl, Kurt Engh, Shawn Hamilton, Caroline Innerbichler, Norah Long, Ryan McCartan, Addi McDaniel, Mary Jo Mecca, Patricia Noonan, Prince Michael Okolie, James Ramlet, David L. Ruffin, Gayle Samuels, Amy Schroeder, Tony Vierling and Jordan Young.

Ben Sprecher, who heads a team of commercial producers attached to the project, is credited with approaching and bringing Gilbert on board. Gilbert appeared in a developmental workshop presentation of the musical April 16-17, 2007, with Patrick Swayze - who is battling pancreatic cancer - co-starring as Pa.

The creative team also includes Michelle Lynch (choreography), Kristen Blodgette (music director/supervisor), Adrianne Lobel (sets) and Martin Pakledinaz (costumes).

In a statement Guthrie artistic director Joe Dowling said, "The work of Laura Ingalls Wilder has a deep and powerful connection to the people of the Midwest. This musical fits perfectly within the Guthrie's goal to develop new work that speaks directly to this community. I'm particularly proud to welcome Francesca Zambello and a world-class artistic team to the Guthrie. Francesca's work has been seen on stages around the world and we're thrilled to have her here."

"Obviously we're hoping that if it's a success, it will have a future life," continued Dowling said. "We're looking at, in conjunction with our national partners, a national tour."

Director Zambello added, "There is no better place to develop this musical than the Guthrie in Minneapolis. I wanted to make a musical from these poignant stories the moment I rediscovered them as an adult. Reading of the exuberance of these characters as they encountered the immense power and force of the Prairie speaks to our history as a country and a people. It did in the 1880's and it does now. Our musical focuses on the independent spirit of the teenager, Laura Ingalls Wilder and her struggles to become an adult; along side the story of the land – as it becomes the American West. The Guthrie allows us to fuse together an integral part of American culture with unique theater writers of today in the heartlands where the Little House began its life."

Currently in previews, Little House on the Prairie will open Friday, August 15 in Minneapolis on the McGuire Proscenium Stage, with performances first slated to continue only through Sunday, October 5. Even before the first preview there was such a ticket demand, that the show was extended for two weeks until October 19.

ZOMBIE a novella by Joyce Carol Oates, adapted for the stage and performed by Bill Connington, and directed by Thomas Caruso who is the resident director of Mamma Mia!

What happens when outwardly "normal" people snap? Joyce Carol Oates' Zombie sheds insight into this question by taking you inside the mind of a sexual psychopath.

In Zombie, a Jeffrey Dahmer-esque serial killer by the name of "Quentin P__" describes the murder, torture and rape of his young male victims. A sexual psychopath, he aspires to create zombie slaves to meet his every need.

Zombie received the Bram Stoker Award for Best Novel and was awarded the Lilla Risk Rand fiction prize by the Boston Book Review. Warning: Zombie contains sexually graphic and violent language - no one under 18 will be admitted.

"When people say there is too much violence in my books, what they are saying is there is too much reality in life." ~ Joyce Carol Oates in The New York Times.

Zombie includes an original score composed by Deirdre Broderick. The design/production team consists of Joel E. Silver (Lighting Design), Josh Zangen (Scenic Design) and Naomi Anhorn (Stage Manager).

Part of the 12th annual New York International Fringe Festival - FringeNYC. Performances will run from August 9 to 21 at The Players Theatre Loft Space in Manhattan.

LES MISERABLES IN CONCERT Hear the People Sing! The world's longest running musical comes to the Hollywood Bowl in a staged concert adaptation August 8-10.

Boublil and Schönberg's brilliant realization of Victor Hugo's Les Misérables. Winner of eight Tony Awards, this timeless masterpiece will transport you to post-revolutionary France where you will be moved by its power and magic. An all-star cast and the Hollywood Bowl Orchestra will perform this sweeping story of love, passion and redemption.

The Hollywood Bowl Orchestra conducted by Kevin Stiles. Directed by Richard Jay-Alexander. Featuring Melora Hardin as Fantine; Maddie Levy as Young Cosette; Michele Maika as Cosette; Michael McCormick as Thenardier; J. Mark McVey as Jean Valjean; Lea Michele as Eponine; Tom Lowe as Enjoras; Brian Stokes Mitchell as Javert; Ruth Williamson, Madame Thenardier. She replaces the previously announced Rosie O'Donnell who had to suddenly withdrew due to her eldest son breaking his wrist. Sage Ryan performs the role of Gavroche; John Lloyd Young is Marius.

The Les Miz ensemble will include Barbara Chiofalo, Natalie Daradich, Travis Davidson, Joshua Finkel, Stephen Full, Julie Garnye, Joel Gelman, Sue Goodman, Daniel Guzman, Jennifer Naimo, Steve Mazurek, Lesley McKinnel, Weston Wells Olson, Ethan Le Phong, Patrick Reese, Eddy Rioseco, Tristan Rumery, Allyson Tucker and Darlene Williams.

August 8-10 at the Hollywood Bowl in Hollywood, CA.

DRAGON LADY: BEING ANNA MAY WONG

Alice Lee stars as Anna May Wong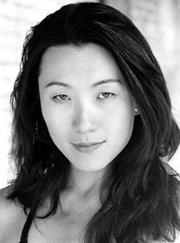 has opened at the Edinburgh Fringe Festival. Performed by Alice Lee and directed by Sarah Galton, the production continues through August 25.

In the late 20s and 30s, beautiful Anna May Wong wowed Britain and the US with her talent. She would have been one of the biggest stars in the world except for one thing - she was Chinese.

She spent the first half of the 1930's traveling between the U.S. and Europe for film and stage appearances but in 1935, Wong was dealt the bitterest disappointment of her career, when Metro-Goldwyn-Mayer refused to consider her for the leading role in its film version of Pearl S. Buck's The Good Earth, choosing instead the European actress Luise Rainer to play the leading role in "yellow face."

For decades after her death, Wong was remembered principally for the stereotypical Dragon Lady and demure Butterfly roles that she was often given. But her life and career were re-evaluated in the years around the centennial of her birth, with three major literary works and film retrospectives.

( See Broadway To Vegas column of January 16, 2005 ) The battles this breakthrough actress fought and the sacrifices the woman made are crafted into an inspirational story - vividly brought back to life with Alice Lee in Dragon Lady: Being Anna May Wong. In conjunction with the Olympics being presented in Beijing the producers feel "this is the perfect time to examine, recreate and celebrate the like of this non-white American woman who came so close to breaking down the barriers many years ago but, ultimately, could not."




WHO'S WHERE


PETER FRAMPTON performs Tuesday, August 5, at the Celeste Center in Columbus, OH. On Wednesday the show is at the Riverbend Music Center in Cincinnati, OH. He then appears with Jethro Tull for appearances Friday at the Mann Center for Performing Arts in Philadelphia and at Jones Beach Theater in Wantagh, NY.

EDDIE VEDDER opens a two night gig Monday, August 4 at the United Palace in NYC. On Thursday the show is at the New Jersey Performing Arts Center in Newark. On Saturday he begins a two nighter at the Salle Wilfrid-Pelletier in Montreal.

KATHY GRIFFIN brings her pithy comments to Massey Hall in Toronto on Friday, August 8. On Saturday she'll be getting laughs at the Seneca Niagara Casino in Niagara Falls.

DONNA LYNN CHAMPLIN a Princess Grace Awards winner, who critics have described as a "Kathy Griffin with show tunes" brings her show, Finishing The Hat, to the Laurie Beechman Theatre in NYC on Monday, August 11. Champlin appeared in the Broadway production of Hollywood Arms and the recent Sweeney Todd revival and this summer played Gooch in the Pittsburgh CLO production of Mame.

BIG BAD VOODOO DADDY on stage Wednesday, August 6 at the Napa Valley Opera House in Napa, CA. On Thursday they'll be at the Lake Tahoe Music Festival at Donner Lake in Truckee, CA. On Friday they are part of the San Jose Jazz Festival in San Jose, CA.

LYLE LOVETT on stage August 5 at Humphrey's Concerts by the Bay in San Diego. Wednesday finds him at the Dodge Theatre in Phoenix. On Thursday the performance is at the Anselmo Valencia Tori Amphitheatre in Tuscon. On Friday he is in the spotlight at The Plaza Theatre in El Paso. On Saturday he brings his show to the Paolo Soleri Amphitheatre in Sante Fe, NM.

CHRIS BOTTI blowing his own horn Friday, August 8, at the Tennis Hall of Fame in Newport, RI. On Saturday he'll make music in the same city at the Fort Adams State Park.

FRANKI VALLI AND THE FOUR SEASONS singing their hits Monday, August 4, at The concerts at Wente Vineyards at Livermore, CA.

GOOD CHARLOTTE stops at the White River State Park in Indianapolis on Wednesday, August 6. On Thursday the show is at The Fillmore in Detroit. Friday the performance takes place at the Time Warner Cable Amphitheatre in Cleveland.

CHERRY POPPIN' DADDIES on stage Saturday, August 9, at Stampede Casino in Calgary, Alberta.

COLDPLAY on stage Monday, August 4, at the TB Banknorth Garden in Boston. On Saturday they appear at Summer Sonic at the Festival Grounds in Osaka, Japan.

NEIL DIAMOND in the spotlight Tuesday, August 5, at the Verizon Center in Washington, DC. On Thursday he'll be singing his hits at the XL Center in Hartford, CT. Saturday finds him at the Wachovia Center in Philadelphia.

ERIC CLAPTON in Europe performing Wednesday, August 6, at Koengen in Bergan, Norway. On Friday the show is at Egils Hollin in Reykjavik, Iceland.

ROD STEWART center stage Tuesday, August 5, at the Sears Centre Arena in Hoffman Estates, IL. On Wednesday he's in the spotlight at the DTE Energy Music theatre in Clarkston,. MI. Friday finds him at Riverbend Music Center in Cincinnati. On Saturday he'll be delighting fans at the Blossom Music Center in Cuyahoga Falls, Ohio.

MANHATTAN TRANSFER performs at the Napa Town & Country Fair in Napa, CA on August 6. On August 7 they'll bring their harmonies to Meadow Brook in Rochester Hills, MI. The following evening they'll be on stage at the Interlochen Center for the Arts in Interlochen, MI. Next Sunday, August 10, they take to the Main Stage of the San Jose Jazz Festival in San Jose, CA.

BOB DYLAN at the Electric Factory in Philadelphia on Friday, August 8. On Saturday he'll be appearing at the New American Music Union at Southside Works in Pittsburgh.

BACKSTREET BOYS brings their show to the Scotiabank Place in Ottawa on Monday, August 4. On Thursday the performance takes place at the Bell Centre at Montreal. Thursday finds them at The Molson Amphitheatre in Toronto. On Friday they are on stage at the DTE Energy Music Theatre in Clarkston, MI. Saturday they are in the spotlight at the Fraze Pavilion in Kettering, OH.

DAVE SANBORN who turned 63 on July 30, has created a body of work that spans the genres of rock 'n' roll, R&B, pop, and jazz. Sanborn will be leading a 12 piece band performing the music of Ray Charles and Hank Crawford. Saturday , August 9, Main Stage, San Jose Jazz Festival in Sa Jose, CA.

DIANE KRALL appears at Jazz in Marciac on Thursday, August 7 in Marciac, France. On Saturday she can be enjoyed at Kenwood in London.


PIFFLE AND PROFUNDITIES


ERIC IDLE

Eric Idle to sing at birthday party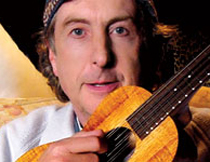 Princes Harry, Charles and William. A birthday party is in the works.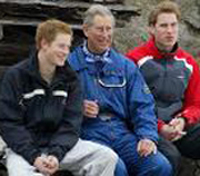 telling friends that the Princes William and Harry have asked him to sing Always Look on the Bright Side of Life at the upcoming 60th birthday party they are throwing for their father, Prince Charles.

Last Friday and Saturday Idle joined his Spamalot Grammy and Tony award-winning co-composer John Du Prez and a cast of thousands - well, an audience of thousands at the Hollywood Bowl - plus the LA Phil, chorus, soloists, bagpipers and a sheep - in Not the Messiah (He's a very Naughty Boy) - which tells the tragic-comic story of a man mistaken for the Messiah, inspired by Handel's famous oratorio Messiah and Monty Python's hilarious Life of Brian. Idle – singing baritone-ish – reprised some of his best-loved roles from the legendary movie that reminds you to "Always Look on the Bright Side of Life."

Prince Charles, the heir to the British throne, who will turn 60 on November 14 has agreed to celebrate the occasion with a massive concert. The birthday boy will be honored by a variety of musical superstars. It has been reported that the concert will be "studio-based" rather than a large outdoor event and will be broadcast on UK TV network ITV

Sir Peter Maxwell Davies, Master of the Queen's Music, has been reported to be working on a piece to be performed on the big day. "I did ask if the Prince would like to perform in it, but he joked that he gave up the cello when he joined the Navy."

Next Column: August 10, 2008
Copyright: August 3, 2008. All Rights Reserved. Reviews, Interviews, Commentary, Photographs or Graphics from any Broadway To Vegas columns may not be published, broadcast, rewritten, utilized as leads, or used in any manner without permission, compensation/credit.
Link to Main Page
---
Laura Deni


CLICK HERE FOR COMMENT SECTION