! >
Broadway To Vegas
  
 SHOW REVIEWS CELEBRITY INTERVIEWS GOSSIP NEWS

| | |
| --- | --- |
| | |
RESEARCH PROJECT FOCUSES ON LAP DANCING - -JIMI HENDRIX IN BRITAIN EXHIBIT - - LOVE LEADS MANAGING DIRECTOR TO THEATER - - KENNEDY CENTER PAGE TO STAGE FESTIVAL - - ROCK HALL BALL - - LAS VEGAS FOUNDER'S DAUGHTER CENTER OF CRIMINAL INVESTIGATION - - KIM ZIMMER STARS IN LOST BOY FOUND IN WHOLE FOODS - - PARIS HILTON'S COCAINE ARREST IN LAS VEGAS - - DONATE . . . Scroll Down


ACADEMIC RESEARCH PROJECT FOCUSES ON LAP DANCING
A major year long research study on lap dancing, headed up by Dr Teela Sanders and Kate Hardy, found the vast majority of dancers reported high rates of job satisfaction.

Hardy is a researcher in sex work, a member of the activist group Feminist Fightback, and served as key note speaker at a February 18, 2009 seminar held at Queen Mary, University of London. She believes that "the location of sex work is central to debates about the safety and human rights of workers in the industry and the appropriate legislative structures which can ensure these."

Dr. Teela Sanders received her degree from Oxford University. She is a "Senior Lecturer in the Sociology of Crime and Deviance at the School of Sociology and Social Policy, University of Leeds. My work sits between the disciplines of criminology, social policy and sociology. Before coming to Leeds, I was a social worker in child protection. My research interests have largely focused on various aspects of the British sex industry, represented in two monographs and a textbook."

The two women conducted interviews with 300 lap dancers and found that one in four dancers holds a post secondary degree and was attracted into the profession by the money.

After expenses, including paying commission and fees to the club, dancers in the survey averaged take home pay per shift of $360. Most worked two to four shifts a week. That translates into an annual incomes of between $37,000 and $74,000 a year.

The report stated that 87 per cent had completed one post high school course, while one in four had an undergraduate degree. Just over one in three dancers were currently enrolled in some type of an educational program, with 13.9 per cent using dancing to help fund an undergraduate degree, 6.3 per cent to help fund a postgraduate degree, and 3.8 per cent using it to fund further educational courses.

The researchers claimed they found no evidence of trafficking in the industry, and concluded that career and economic choices were motivations for becoming a lap dancer rather than drug use or coercion.

If you're wondering what parallel universe was studied, the researchers also reported that dancers' welfare was often disregarded. The study called for better regulation to improve dancers' safety and security, including the banning of private booths in clubs, arguing that women could be in danger when alone with customers or that standards could be lowered by women offering more than a legal definition of a lap dance. Dancers were also open to financial exploitation by the clubs who could impose charges and fines. Unemployed new graduates – mainly with arts degrees – were also dancing because they could not find graduate jobs and found that lap dancing paid much better than bar work.

In published reports Dr Sanders is quoted as saying she "had been surprised at the endless supply of women wanting to be lap dancers." She said: "These women are incredibly body confident. I think there is something of a generational cultural difference. These young women do not buy the line that they are being exploited, because they are the ones making the money out of a three-minute dance and a bit of a chat. You have got to have a certain way about you to do it. They say 80 per cent of the job is talking. These women do work hard for their money – you don't just turn up and wiggle your bum."

"But there is an issue about whether these women become trapped in the job because of the money. I think people often stay longer than they want."



Broadway To Vegas is supported through advertising and donations. Priority consideration is given to interview suggestions, news, press releases, etc from paid supporters. However, no paid supporters control, alter, edit, or in any way manipulate the content of this site. Your donation is appreciated. We accept PAYPAL. Thank you for your interest.


ART AND ABOUT


JIMI HENDRIX IN BRITAIN EXHIBIT exploring the London life, music, performances and enduring legacy of Jimi Hendrix opened last week at Handel House Museum in London.

Hendrix in Britain commemorates the 40th anniversary of Hendrix's death on September 18, 1970 and runs to November 7, 2010.

The exhibition takes place at the Mayfair townhouse in which composer George Frideric Handel lived and worked for 36 years. He wrote his most popular and enduring music, including Messiah, in the house and died there in 1759.

In 1968, Jimi Hendrix moved into the top floor flat of 23 Brook Street, with his English girlfriend Kathy Etchingham, and it became his home during long periods of playing in many venues across town.

The 23 Brook Street flat is now used as the administrative offices of Handel House Museum. But, to mark the anniversary, it will be opened to the public for a 12-day stretch during the run of the exhibition, including the September 18 anniversary date. Previously, the flat has only been open for guided tours on specific dates.

To accommodate the special opening, Museum staff will move out temporarily, taking their office furniture and equipment with them, to allow visitors to tour the rooms in which Hendrix lived, wrote, played and entertained many of his contemporaries during an important and prolific period in his life.



Jimi Hendrix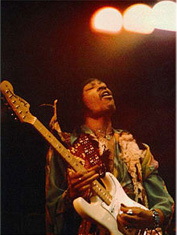 The exhibit explores several aspects of Hendrix's life and career. There are items rarely or never previously displayed in the UK, as well as a host of images, film clips and music. The exhibition traces his rise to fame, his songwriting craft, his extraordinary guitar playing and his lasting impact on music and popular culture.

Among the items on display are; his distinctive orange velvet jacket and cowboy hat, his British work permit, his handwritten lyrics to Love Or Confusion and a self-portrait sketch which he scribbled on notepaper from the Hyde Park Towers hotel.

There are numerous UK concert memorabilia; the Gibson Flying V guitar he performed on at the Isle of Wight Festival. That guitar is usually kept in the vault at London's Hard Rock Cafe. Also on display are Hendrix's scrawled travel directions to the Isle of Wight Festival which was the scene of his final performance in August 1970. Hendrix was 27 years old when he died, three weeks later.

Sarah Bardwell, Director of Handel House Museum, said; 'We are excited to be celebrating the life of Jimi Hendrix. After moving to Brook Street in 1968, Hendrix learned of the Handel connection with the building and headed to One Stop Records in South Molton Street and HMV in Oxford Street to pick up whichever records of Handel music he could find. Clearly he was intrigued by the connection and we're pleased to be celebrating his own legacy today. We are delighted to be opening up the flat which was a true home base to Hendrix during his seemingly endless schedule of touring in the UK and elsewhere.'

Brought to London by manager Chas Chandler in September 1966, Jimi Hendrix quickly established a reputation as a spectacular live performer, based on an intensive period of playing such London clubs as the Speakeasy, Bag o' Nails and Marquee, as well as venues across the UK, often delivering more than one set per night. The success of his first two single releases, Hey Joe (December 1966) and Purple Haze (March 1967), and his first album with the Jimi Hendrix Experience, Are You Experienced? (May 1967), coupled with the reputation established by his UK shows, led to fame; ensuring that when he returned to play shows in the USA, only nine months after he had arrived in London, he was already a European star.



Handel House Museum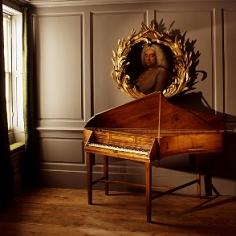 23 Brook Street, which carries an English Heritage Blue Plaque in memory of Hendrix (alongside the Blue Plaque for Handel), is the only Hendrix site anywhere in the world to be officially recognized. When he moved in with Kathy Etchingham in 1968, the rent charge was $46.55 per week; when Handel lived in the building next door he paid rent of $93.11 per year. Hendrix and Etchingham entertained many friends, musicians and contemporaries in the flat.

Hendrix in Britain also explores the particular contribution Hendrix made to the sound of the electric guitar, examining his personal style and use of technology on stage and in the studio.

And Hendrix's legacy will be discussed in interviews and personal reminiscences by some of the guitarists and songwriters he inspired, from his contemporaries to performers from successive generations.

The Museum will also host a series of special events to accompany the exhibition. These will include guitar workshops exploring Hendrix guitar effects, his particular use of amps and tips for playing guitar like Hendrix.



LOVE LEADS MANAGING DIRECTOR TO THEATER
Michael Barker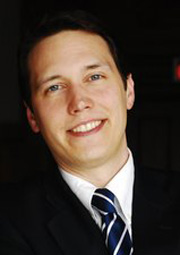 Numerous forces can lead one into a life in the theater. For Michael Barker, the new Managing Director of The Antaeus Company in Los Angeles, it was love and he makes so bones about it.

"Every major decision in my life, I've made for a woman," confessed the 30-year-old.

In this case the woman is costume designer Heidi Hanson whom Barker is about to marry.

"A week after our Gala. Our Gala is October 2, and then I get married the next week-end on October 9th."

"We met at Yale," Barker told Broadway To Vegas. "She was in the MFA for costume design and I was in the MFA program for theater management."

"Right now she works for a television movie called Judy Moody and the Not Bummer Summer," he said referring to a Smokewood Entertainment project, starring Heather Graham. Set for release next year, the program is based on the popular children's book by the same name, which chronicles the humorous adventures of third-grader Judy Moody.

"Before that she was with Entourage and the Coen Brothers movies. Big Love was her first job out here. The most she's not worked is two weeks. She's the best," he bragged.



Jeanie Hackett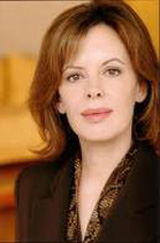 When he's not fixated on his bride-to be, he's concentrating on his new job - the first Managing Director ever hired by Antaeus which began in 1991 as a project of the prestigious Mark Taper Forum. The Artistic Director is Jeanie Hackett who, as an actress, played lead roles on Broadway, including Stella to Blythe Danner's Blanche in A Streetcar Named Desire.

"I've been here for two weeks and I haven't run screaming from the building," joked the man who came to Antaeus from Yale Repertory Theatre, where he served as Associate Managing Director.

"Budget, marketing development, the administrative function pretty much all live with me," he explained. "I'll be wrestling the stuff away from Jeanie that she doesn't want to be doing - like designing the post cards, or managing payroll. Then she can deal with things like season planning."

The relationship between an Artistic Director and a Managing Director is a lot like a marriage - it either works or it doesn't. The parties can be coming from two different points of view, but they need to be sharing the same goal. What happens if she wants to do something that is outside of the budget? How do you handle that?

"Two things," he replied. "One, you hope you never get to that point, because you've built a relationship that is based on communication. So, you don't get blindsided, because you have been talking. When the first inkling of something you'd absolutely have to say no to comes up, you're able to explain right then and there why that is not possible. How do we maintain the vision without breaking the budget. The great thing about Jeanie is that she isn't green to this. She's come up with the organization. She knows how it works," he said about Hackett who began as an ensemble member before moving up to co-artistic director in 2003 and then sole artistic director in 2009.



The Antaeus Company's next production, Lillian Hellman's The Autumn Garden, opens on October 28.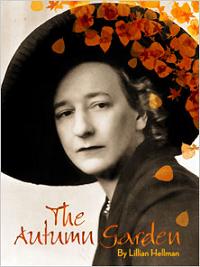 "She knows that we need to be able to pay the bills while we make the art."

"One of the things that I admire about TAC specifically and a lot of small, store-front theaters in Chicago, New York and those 99-seat houses out here, is that they don't rely on one big donor or three big donors to carry them. It's very much in the mold of the Obama campaign. For an organization of this size, to have hundreds of donors giving $25 is a new phenomenon. That means that if you lose a few it's not so hard to find a couple of $25 donors. But, if you lose that $50,000 donor, you can be in real trouble. I think relying on small donors is a model that has some legs. Spreading the risk across a larger set of donors. Time will tell."

In the theater there can be two secure jobs where some have remained for decades - the Artistic Director and the Managing Director. Other than the potential for job security why would anybody want to be you?

"I'm fond of saying theater management is not a calling," replied the man who has both an MSA and an MBA from Yale. "There is no society in the world where some three-year-old kid says; 'When I grow up, I want to be a theater manager.' They still want to be an actor or a director. I connected to this part of the work when I was in Chicago doing improvisation. I found myself adept at managing iterant groups. Then I got involved with a group of writers called Sansculottes and started to do communications for that group. I hated my day job, which was sales. I thought I might as well try to get a job with this non-profit theater. I interned at the Goodman, which is a great organization. I fell in love with creating spaces in which artistic magic can happen."

"Some people really get off in having their hands in the piece. To me, to create that space where there is no pressure and the ability to risk and fail and get right back up and risk again, is the magic for me."

Should actors know more about finance?

"That would be a huge service to any actor to know at least a little bit about contracts and finance, and not let their managers and agents do all of it for them," he suggested. "Honestly, some of the best ones do take the time to understand their business, because their business is themselves."

"I'm also fond of saying that if you dropped off the face of the planet as an actor, there is nobody but you that cares that you're gone. You have to work every day for yourself, because you are your business."

"It's too bad in a lot of way, but in MBA terms, we call it a glut in the market. There is a lot of supply and the supple outstrips the demand by a lot. There are a lot more actors than there are jobs."

Many theaters have branched out and started cabaret nights.

"Any artistic choice like that needs to come from the mission. As far as I can tell, that is not something that is the heart of what TAC is. I think reaching out to younger audience is absolutely something that we have to be doing. Every theater is going to be doing that in a different way. I think one of the big ways that we do it here is through The Academy and the Educational Programs that we have."

In 2002, Antaeus enlarged its reach by establishing The Antaeus Academy, a training program for early-career professional actors. In 2004, A2: The Academy Company, comprised of the crème de la crème of their Academy students was created to give younger actors the chance to present their own projects. In 2003 Arts Education programs were formalized, consisting of periodic Shakespeare monologue contests, open to high school students across Los Angeles; Shakes Alive! brings Antaeus artists directly into the classrooms in middle and high schools; and Project 29, a program for at-risk youth integrating creative writing and performance, influenced by a character in Shakespeare.

"Also, there is not much large theme, classic theater done in this part of the country," stressed Barker. "In the Los Angeles metro area, as far as I know, we are one of only two major producers of classic theater and we do different things."

"I think there is a way to speak to young people. You just have to let them know what is happening. It's amazing to me how many theaters that I've worked with in the past, particularly large regionals, will send out a bunch of post cards and then wonder why they don't get anyone under 21 coming through the doors. That's because they're not reading the mail. They are reading text messages. They are on Facebook and Twitter. You have to communicate to people where they are. You can't expect them to come to you," he emphasized.

First up is the annual Gala.

"It's going to be on October 2nd. David Gindler, who is our Chairman of the Board of Trustees, and his wife, Kiki, are hosting at their home. We are going to have a big, old party and raise some money to keep the good work going."

How important is the Board of Directors?

"Huge, particulary at this stage of growth," was his quick response. "TAC has doubled in growth, each of the past two years. We don't expect to double in size this year, but it will be close. The art has to remain center, but the administration has to function. That's why they hired me. We're looking down the line to adding box office personnel. The board needs to think strategically on how all that is going to happen. Staff comes and goes, but the Board is the fiduciary and the ultimate responsible body as to what happens in the organization."

Antaeus' board is composed of: Rhonda Aldrich, Bill Brochtrup, Anne Gee Byrd, Bob Craft, Dawn Didawick, Francia DiMase, David Gindler, Matthew W. Goldsby, Harry Groener, Arye Gross, Jeanie Hackett, Richard Loring, Jonathan Lynn, Mark Morris, Abby Gail Palanker, Armin Shimerman, Janellen Steininger, Kitty Swink, Reba Thomas, Peter Van Norden and Patty Woo.

The Artistic Advisory Board is chaired by Jonathan Lynn. Committee members are Blythe Danner, Olympia Dukakis and Alfred Molina.

"This upcoming season, at this point, is anybody's guess," he admitted. "Jeanie's got a lot in the hopper and I'm flattered and a little bit pleased, that she was waiting for the person - who is me - to get hired before she pulled the trigger on any big ideas. What I can almost guarantee you, is that this is not going to look identical to this past season. People will notice."



PARIS HILTON

Paris Hilton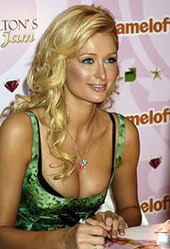 and her nightclub manager boyfriend Cy Waits, were arrested in Las Vegas Friday night, August 27, on drug charges. They were taken into custody after the 2009 Cadillac Escalade, in which Hilton was a passenger, was stopped after a motorcycle police officer noticed smoke coming from the vehicle and smelled what was identified as marijuana. Waits, 34, was arrested on suspicion of misdemeanor driving under the influence of alcohol or drugs.

As for Hilton, she might want to consider using a lipstick with a moisturizer. When she opened the purse she was carrying and pulled out a Chap Stick, something else fell out. Police determined that package was cocaine.

That discovery led her to be arrested for possession of cocaine. She was booked into the Clark County jail and released on her own recognizance while Waits was released after posting $2,000 bail.

According to TMZ Hilton "denies the offending purse belongs to her."

She has retained Las Vegas attorney David Chesnoff who released the following statement:

"This matter will be dealt with in the courts not in the media and I encourage people not to rush to judgment until all of the facts have been dealt with in a court of law. There will be no interviews and no more comments at this time."

UPDATE: September 2, 2010 - In an official statement from Wynn Las Vegas, Paris Hilton has been banned from two Wynn Las Vegas casinos. A statement from the Wynn Las Vegas and Encore gambling meccas was terse and to the point: the hotel heiress was no longer welcome and Cy Waits had been "separated" from his job as a managing partner at the properties' Tryst and XS nightclubs.


SWEET CHARITY


ROCK HALL BALL celebrates the 15th Anniversary of the Rock and Roll Hall of Fame and Museum. Channel your inner rock star, don your finest stage costume or rock attire and get ready to rock the Hall during the Rock and Roll Hall of Fame and Museum's 15th Anniversary Celebration Weekend.

The weekend will kick off at the Museum on Thursday, September 2 with the Leo M. Mintz Gallery dedication in the Architects of Rock and Roll exhibit, and culminate with the Rock Hall Ball, on Friday, September 3.

Live bands and DJs will perform throughout the Friday night event, including DJ Tommie Sunshine, alternative rock band Foxy Shazam and Eli "Paperboy" Reed. A special VIP pre-party will honor Ohio Senator George V. Voinovich for his efforts in bringing the Rock Hall to Cleveland and his continued support of the Museum. Guests will enjoy heavy hors d'oeuvres and cocktails and are invited to stay for the Rock Hall Ball. Proceeds will benefit the Rock and Roll Hall of Fame and Museum's mission programs. Exhibits will be open to tour during the event, including From Asbury Park to the Promised Land: The Life and Music of Bruce Springsteen, the world's first major artifact-driven exhibit about Springsteen's legendary career.

Other special exhibits include Great Music, No Limits, Celebrating 35 Year of Austin City Limits and the Hall of Fame's 2010 Inductees Exhibit.

'CAROL CHANNING' IN CONCERT STARRING RICHARD SKIPPER with Casey Sanderson on piano, Susan Goldberg on Percussion and Michael Gross on Bass. Produced and directed by Mark Robert Gordon. This will be Richard's only Provincetown appearance with this show this year. A portion of proceeds from each ticket benefits The Dr. Carol Channing & Harry Kullijian Foundation For The Arts. August 29-September 2 at The Madeira Room Vixen in Provincetown, MA.






SPREADING THE WORD


THE KENNEDY CENTER

Ken Lugwig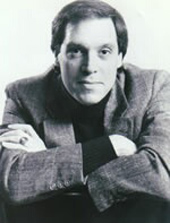 hosts its ninth annual Page-to-Stage Festival, featuring more than 40 D.C.-area theater companies in free readings and open rehearsals of works being developed by local, regional, and national playwrights, librettists, and composers.

September 4-6, 2010 at various Kennedy Center locations.

Among the offerings is one by Olivier Award winner and Tony nominee Ken Ludwig. Tony nominee Marc Kudisch and Nancy Robinette will star in the reading of the comedy-thriller, which is described as containing "double-crosses, triple-crosses, gunplay, murder, lies, deceit, disguise, and sex. What do you expect? They're actors." The reading will be presented as part of the Kennedy Center's Keenan Fellowship Program.

Another event is a reading of The Greenwood Tree, in which William Shakespeare's sonnets are set to music by Will Reynolds.

Page to stage creators include: Tammy Archibald, John Becker, Natalie Blank, Laura Brienza, Patrick Bussink, Nicole Burton Tom Block, Rachel Barclay, Bob Bartlett, Randy Baker, Bismillah Ba'th, Bari Biern, Mario Baldessari, Judith Brussell, Lamont Carey, Carla Ching, Timothy J. Guillot, Rose-Mary Harrington, Lori Fischer, Lucy Tyler, Monique LaForce, LA'Chris Jordan, Charles Coakley Jr., Matt Conner, Dwight Cook, Patricia Connelly, Susan Middaugh, Ken Greller, Laronika Thomas, Paul Down Colaizzo, Peter Davis, Kristin DeWulf, Brent Englar, Rich Espey, Timothy Eisman, Roc Lee, David Tannous, Anthony Gallo, Arthur H. Roach, Dennis Sobin, Carole Mumin, Dawn Jones, Jennifer Nelson, Robert McNamara. Chris McGriff, Nkosi Sharpe, Sam Forman, R. L. Nesvet, Ben Kingsland, Jim Landry, Ken Moss, Frances Rice, Shawn Northrip, Christian Imboden, Taffety Punk, Susanna Hamnett, Adam Gwon, Marisa Michelson, Chris Miller, Scott Davenport Richards, Joshua Goode, Chris Graybill, Mary Watters, George P. Tilson, Eric Peterson, Ben Kingsland, D.W. Gregory, Nandita Shenoy, Dominique Morisseau, Paco José Madden, Anna Ziegler, Lee August Praley, Ann Stingle, Darius Smith, Stephen Spotswood, Caridad Svich, Frank DiSalvo, Rebecca Gingrich-Jones Alex Webb, Alia Faith Williams, Jason Williamson, Kim Yaged and H.R. Zurich.

Participating theaters include: ABG Playwrights, Active Cultures, Adventure Theatre, African Continuum Theatre Company, Artists' Bloc, The Audible Group, Baltimore Playwrights Festival, Bouncing Ball Theatrical Productions, Bowie State University Theatre Department, Bright Alchemy Theatre, Calliope Arts and Theater, Capital Fringe Festival, Catholic University Benjamin T. Rome School of Music, Catholic University of America (MFA Playwrights), Charter Theater/First Draft, ClassiqueNouveau, Didactic Theatre Company, Doorway Arts Ensemble, The Essential Theatre, Faction of Fools Theatre, Company, Inc., Factory 449, Folger Theatre, Forum Theatre, Ganymede Arts, The Georgetown Theatre Company, Georgetown University Theater and Performance Studies Program, Howard University Department of Theater Arts, The Hub Theatre, The Inkwell, Kennedy Center Theater for Young Audiences, Northern VA Community College Theater, The Playwrights Forum, The Playwright's Group of Baltimore, Playwrights Zone, Rorschach Theatre Company, Run of the Mill/Dramatic Adventure Theatre, Safe Streets Arts Foundation, Scena Theatre, Seventh Street Playhouse, Signature Theatre, Synetic Theater, Taffety Punk Theatre Company, Theater J, Theater of the First Amendment, the Hegira, Venus Theater Company, Washington Improv Theater, Washington Shakespeare Company, Washington Stage Guild, Wanderlust Theater Lab and Y.O.U.R. Productions and OFT/ON.






OTHER PEOPLE'S MONEY


HUGUETTE CLARK

Clark with his daughters Huguette Clark (right) and Andrée (left) c. 1917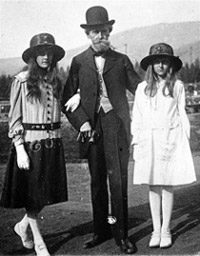 the 104-year-old daughter of William A. Clark (January 8, 1839 – March 2, 1925) inherited his $500 million mining fortune, only to spend the last 20 years in New York City hospitals. Now, she is the center of a criminal investigation into how her wealth - as well as her welfare - are being handled.

The city of Las Vegas was established as a maintenance stop for her father's San Pedro, Los Angeles and Salt Lake Railroad. The Las Vegas area was organized as Clark County, Nevada, in Clark's honor. Clark is considered one of the 50 richest Americans ever. Not everyone liked him.

In a 1907 essay entitled Senator Clark of Montana, Mark Twain portrayed Clark as the very embodiment of Gilded Age excess and corruption. Wrote Twain:

"He is as rotten a human being as can be found anywhere under the flag; he is a shame to the American nation, and no one has helped to send him to the Senate who did not know that his proper place was the penitentiary, with a ball and chain on his legs. To my mind he is the most disgusting creature that the republic has produced since Tweed's time."


CURTAIN DOWN


COME FLY AWAY will conclude its Broadway run on Sunday, September 5 at the Marquis Theatre after 26 previews and 187 regular performances. Conceived, choreographed, and directed by Tony Award-winner Twyla Tharp and featuring vocals by Frank Sinatra, Come Fly away will launch a national tour in May, 2011 in Chicago.





GET WELL SOON TO . . .


WHOOPI GOLDBERG'S MOTHER Emma, who suffered a stroke. At the time of the incident Goldberg was in London appearing as the Mother Superior in Sister Act. Goldberg had been slated to appear under the end of the month, but immediately flew home.

Producers issued a statement saying "the thoughts and sincere best wishes of the producers and the entire Sister Act company are with her at this difficult time."

Goldberg is a producer of the stage version of her hit 1992 movie. The musical is due to transfer to Broadway next year.



TWIST with a book by Tony nominee William F. Brown and a score by Tena Clark and Gary Prim, the musical resets Charles Dickens' Oliver Twist in New Orleans in 1928, where, against a backdrop of the Roaring 20s, an orphan in search of home finds family in unexpected places.

Debbie Allen will direct and choreograph the production, which has musical direction by James Sampliner.

The cast will feature Paul Aguirre (Potlatch/Ensemble), E. Wade Benson (Mr. Prudhomme), Alaman Diadhiou (Twist0, Duane Asanté Ervin (Pistol), Kyle Garvin (Skillet/Ensemble), Jared Grimes (Roosevelt/Ensemble), Shawna M. Hamic (Miss Cotton/Ensemble), Matthew Johnson (Boston), Olivia-Diane Joseph (Della), Tracy Kennedy (Crazah Chesterfield), Aijia Lise (Angela/Ensemble), Pat McRoberts (Lucius Thatcher), and Melissa Lola Youngblood (Naomi/Ensemble).

The adult ensemble will consist of John Fisher, Chantel Heath, Jamie Katz, Rikki McKinney, Malaiyka Reid, Brett Sturgis, and Dougie Styles, and Zaire Adams, Trey Best, Sabrina Cmelak, Nikolas Eibler, Michael George, Beau Harmon, Chandler Kinney, Chase Maxwell, and Madison Minniti will be featured in the children's ensemble.

The Alliance Theatre stages the production which runs September 1 – October 3.

ACCOMPLICE by Tom Salamon. This European premiere is being produced by stage and screen star Neil Patrick Harris.

Part game, part theatre, part tour, Accomplice takes audiences on a walking discovery of theatre and mystery. Armed with basic information and aided by clues and cast members at various locations en route, each group of 10 participants will be sent on a mission on the streets of SE1 to piece together a meticulously crafted plot.

The Menier Chocolate Factory promises "Trust us - the fun is in the surprises."

Beginning September 4. at The Menier Chocolate Factory in London.

TINY KUSHER The Tricycle presents in its British Premiere the Guthrie Theater/Berkeley Repertory Theatre Production of Tiny Kushner a collection of five one-act plays written by Pulitzer Prize winning playwright Tony Kushner, directed by Berkeley Repertory Theatre's Artistic Director Tony Taccone.

See five one-act plays present the humorous and bizarre, including Laura Bush reading to ghosts of dead Iraqi children; Richard Nixon's therapist telling stories from the after-life; Lucia Pamela, the American pianist who claimed to have made an album on the moon, in conversation with the Queen of Albania; and a host of real-life tax evaders, all adrift in an increasingly fragile world.

September 1-25 at the Tricycle in London.

STATE FAIR the classic by Rodgers and Hammerstein.

Michael Hamilton will direct the production, which will have choreography by Dana Lewis and musical direction by Lisa Campbell-Albert.

The company will feature Kari Ely (Melissa Frake), Hollie Howard (Emily Arden), Jim Newman (Pat Gilbert), Christopher Vettel (Abel Frank), Julie Hanson (Margy Frake), Preston Ellis (Wayne Frake), Lani Corson (Eleanore/Fairgoer), Mike Dowdy (Hank Munson/Fairgoer), Zak Edwards (Uncle Sam/Charlie), John Flack (Lem), Zoe Vonder Haar (Mrs. Edwin Metcalf), Abigail Isom (Violet), Colin Israel (Harry), Andrew Laudel (Fairtone/Fairgoer), Taylor Pietz (Vivian/Fairgoer), Lisa M. Ramey (Jeanne/Fairgoer), Whit Reichert (Dave Miller/Judge Heppenstahl), Mark Roland (Gus/Fairtone/Roustabout), Shaun Sheley (Stralenko/The Chief of Police), Nic Thompson (Fairtone/Fairgoer/Roustabout), Joseph Torello (Clay), Matthew Winnegge (Fairtone/Fairgoer), and Darin Wood (The Hoop-La Barker/Fairgoer), along with Stephanie Brown, Laura Ernst, and Lisa Christine Fahey.

James Wolk is the scenic designer. Costume design by Lou Bird. Matthew McCarthy is the lighting designer. Stuart M. Elmore is in charge of Orchestral Realization.

Stages St. Louis presentation runs September 3 – October 3 at The Robert G. Reim Theatre in St. Louis, MO.

DEATH OF A SALESMAN by Arthur Miller. Directed by Steve Stettler.

Starring Christopher Lloyd as the ill-fated Willy Loman. The cast also features Nathan Darrow as Happy, Markus Potter as Biff, Matt R. Harrington as Bernard, Munson Hicks as Charley, Philip Kerr as Uncle Ben, David Bonanno as Howard/Stanley, Amy Van Nostrand as Linda Loman, Brandy Zarle as The Woman, Elizabeth Morton as Jenny/Letta and Beth Hylton as Miss Forsythe.

The production has scenic design by Timothy R. Mackabee, lighting design by Stuart Duke and costume design by Kirche Leigh Zeile.

Performances through September 11 at the Weston Playhouse on Weston, Vermont.

LOST BOY FOUND IN WHOLE FOODS

Kim Zimmer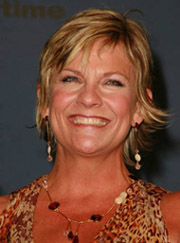 by Tammy Ryan. John Pietrowski directs.

Four Time Emmy Award winner Kim Zimmer, known to millions as Reva on the soap Guiding Light, leads the cast that includes David Farrington, Jamil Mangan, Trish McCall Warner Miller and Alexandra Rivera.

In the early 90's in Sudan after civil war destroyed their villages, an exodus of boys trekked eight hundred miles across Africa before making it to refugee camps in Kenya where they lived on a bowl of grain a day for ten years. In 2001, the U.S. resettled 3,600 of these "Lost Boys" in cities across America.

Lost Boy Found In Whole Foods tells the story of Christine, a middle-aged, middle class white woman who meets Gabriel, a former "Lost Boy" working in the produce section of Whole Foods in Pittsburgh. Moved by the story of the trauma he survived as a child, she invites him to live with her and her teenage daughter. The play explores what can happen when we open up ourselves to help another human being.

Artistic Directors John Wooten and John Pietrowski have partnered to develop the play over the past eighteen months through a series of readings and workshops, as assisted by Dramaturg Erica Nagel. Presented by Playwrights Theatre in collaboration with Premiere Stages at Kean University. Performances September 2-19 in the Zella Fry Theatre on the Kean University campus in Union, NJ.

Thanks to a generous grant from the Kean University Quality First Initiative, this production of Lost Boy Found in Whole Foods will include multiple community events featuring scholars and leaders in the field of Human Rights.


WHO'S WHERE


SALLY KELLERMAN will present two performances of Sally Kellerman - Hot Lips To Cool Blues! at Manhattan's Metropolitan Room, on Sunday, September 5 and Thursday, September 9.

JONAS BROTHERS perform Tuesday, August 31, at the Quicken Arena in Cleveland. On Wednesday the show is at the DTE Energy Music theatre in Clarkston, MI. ON Thursday they open a two night gig at the Molson Canadian Amphitheatre in Toronto. Saturday finds them at the Bell Centre in Montreal. Next Sunday, September 5, they can be enjoyed at the Ocean Center in Daytona Beach, FL.

JOHN MAYER is in the spotlight Tuesday, August 31, at the Usana Amphitheatre in Salt Lake City. Wednesday he's on stage at Red Rocks in Morrison, CO. On Friday he performs at the BOK Center in Tulsa, OK. Saturday's show is at Superpages,com Center in Dallas.

WEDNESDAY NIGHT AT THE IGUANA hosted by Dana Lorge. Barry Levitt on keyboard & Saddi Zain on bass. Wednesday's guests include: Elizabeth!, Steven Fales, Tonia Moberly, George Stella. Wednesday, September 1 at the Iguana VIP Lounge in NYC.

FOREIGNER brings their tour to the Whitewater Amphitheatre in New Braufels, TX on Thursday, September 2. On Friday they perform at the Coushatta Caino in Kinder, LA. On Saturday the show is at the IP Showroom in Biloxi, MS.

STING performs Friday, September 3, at the Konsertus in Oslo, Norway.

STEVEN FALES the actor and writer of the Off-Broadway hit Confessions of a Mormon Boy comes to the Iguana with his cabaret confection, Mormon American Princess. September 2 at The Iguana in NYC.

BRET MICHAELS performs tonight, Sunday, August 29, at the Buffalo Run Casino Hotel in Miami, OK. On Wednesday he's at the Maryland State Fair in Timonium, MD. Thursday finds him at the Memorial Stadium in Joliet, IL. On Friday he appears at the Rib America Festival in Indianapolis, IN. On Saturday the show is at Heinz field in Pittsburgh.

ABBEY ROAD ON THE RIVER a three-day Beatles extravaganza celebrating one of the most famous bands in history, takes place September 2-6 at the Gaylord National Resort in National Harbor, MD.




FINAL OVATION


NANCY DOLMAN SHORT wife of Martin Short passed away August 21 from natural causes at the couple's home in Pacific Palisades, CA. She was 58.

Dolman was diagnosed with cancer in 2007.

Known as a devoted couple, they met in 1972 and had been married for 30 years. Dolman was a Canadian actress who met Short during the 1972 Toronto production of Godspell. she also appeared on stage in Jesus Christ Superstar and later appeared on the TV series Soap. She retired from acting in 1985 to become a full-time mother to the couple's three children Katherine, 27, Oliver, 24, and Henry, 20, who survive her as does her husband, Martin.

GEORGE DAVID WEISS prolific songwriter died Monday, August 23, 2010 at his home in Oldwick, N.J. He was 89.

Among his most famous numbers were Can't Help Falling in Love, recorded by Elvis Presley; The Lion Sleeps Tonight, recorded by the Tokens; and What a Wonderful World, recorded by Louis Armstrong.

His other standards include Lullaby of Birdland (1952), the vocal version of George Shearing's jazz standard, and many songs with his frequent collaborator Bennie Benjamin, among them Surrender (1946), recorded by Perry Como; Confess (1948), recorded by Patti Page; and Wheel of Fortune (1952), recorded by Kay Starr.

He collaborated on several Broadway musicals, the best known of which is Mr. Wonderful (1956), starring Sammy Davis Jr., for which Mr. Weiss contributed original music and lyrics with Jerry Bock and Larry Holofcener.

His other Broadway credits include First Impressions (1959), an adaptation of Jane Austen's Pride and Prejudice starring Polly Bergen, Hermione Gingold and Farley Granger, for which Mr. Weiss wrote music and lyrics with Robert Goldman and Glenn Paxton; and Maggie Flynn (1968), starring Shirley Jones and Jack Cassidy, with book, music and lyrics by Mr. Weiss, Mr. Peretti and Mr. Creatore.

Weiss was inducted into the Songwriters Hall of Fame in 1984. As president of the Songwriters Guild of America from 1982 to 2000, he spoke widely about copyright issues and testified before government bodies.

George David Weiss was born in Manhattan on April 9, 1921. He was awarded a bachelor's degree in music theory from the Juilliard School and afterward served as a military bandleader in World War II before beginning his songwriting career.

His first marriage, to Bea Foster, ended in divorce, as did his second, to Rosalyn Marks. In addition to his wife, the former Claire Nicholson, whom he married in 1976, he is survived by a sister, Harriet Harbus; two sons, Barry and Jeffrey, and a daughter, Peggy Self, from his first marriage; a son, Robert, from his second marriage; and eight grandchildren.

SUZANNE GROSSMANN actress, writer, translator, died Thursday, August 19, at her home in Los Angeles, following a protracted battle with chronic obstructive pulmonary disorder. She was 72.

Grossmann's works were performed at the Mark Taper Forum in Los Angeles, the Old Globe in San Diego and several other theaters in the United States, Canada and England. Working with actor-director Paxton Whitehead, Grossman translated and adapted La Main Passe by French playwright Georges Feydeau, which opened as The Chemmy Circle at the Shaw Festival in Canada in 1968 and at the Mark Taper in 1969. They also translated and adapted another Feydeau play, Le Dindon, into There's One In Every Marriage, which reached Broadway in 1972.

Her stage adaptations included Number Our Days for the Mark Taper in 1982.

As an actress, Grossmann made her Broadway debut in 1966 in The Lion in Winter. Other credits included Cyrano de Bergerac and The Show Off in 1968 and Private Lives in 1969.

Born in Basel, Switzerland, Grossmann also wrote more than 100 episodes of the television soap opera "Ryan's Hope" and several works for Canadian television.




Next Column: September 5, 2010
Copyright: August 29, 2010. All Rights Reserved. Reviews, Interviews, Commentary, Photographs or Graphics from any Broadway To Vegas (TM) columns may not be published, broadcast, rewritten, utilized as leads, or used in any manner without permission, compensation and/or credit.
Link to Main Page
---
Laura Deni



For the snail mail address, please E-mail your request.
CLICK HERE FOR COMMENT SECTION