! >
Broadway To Vegas
  
 SHOW REVIEWS CELEBRITY INTERVIEWS GOSSIP NEWS

| | |
| --- | --- |
| | |
THE CORN PALACE WORLD'S LARGEST BIRDFEEDER - -DAME EDNA BACK WITH A VENGEANCE - - LETTING GO OF GOD? - - HAROLD AND MAUDE - - JON SECADA IN JOSEPH - - WORLD CHAMPIONSHIP GOAT COOKOFF - - PURLIE HAS EUROPEAN PREMIERE - - LOUISIANA SHRIMP & PETROLEUM FESTIVAL - - DONATE . . . Scroll Down


THE WORLD'S LARGEST BIRD FEEDER
The Corn Palace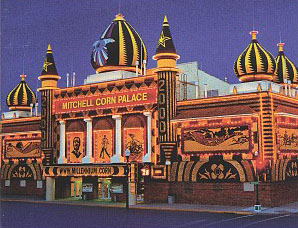 It's been dubbed The World Largest Bird Feeder.

Located in Mitchell, S.D. - as the crow flies - about 75 miles west of Sioux Falls and 310 miles east of Mount Rushmore

It's as close to being an American one-of-a-kind thing than anything else in the world. It's the Corn Palace.

The Corn Palace's annual festival takes place Sept. 1-6, featuring performances by Glen Campbell, Brad Paisley and REO Speedwagon. While popular, the live entertainers could be considered the opening act for the ears of corn.

Over a half million people a year find their way off the beaten path to gape and enjoy a palace made from something belonging to a food group.



Mark Schilling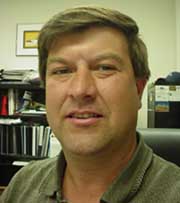 Mark Schilling, Director of the Corn Palace, spoke with Broadway To Vegas about the venue - with its agricultural artwork and stately yellow and green onion-shaped domes and orange minarets jutting skyward.

Each year the exterior decorations are completely stripped down and new murals, reflecting the annual theme, are created. New materials are applied to the building with each mural depicting an important facet of the lifestyle of South Dakota.

These murals require thousands of bushels of corn, grain, grasses, wild oats, brome grass, blue grass, rye, straw and wheat each year.

The 2004 Corn Palace murals represent the journey of Lewis and Clark, which took place 200 years ago.

Silhouettes of Meriwether Lewis, William Clark and Sakakawea were created with different natural colors of corn.

Two murals represent the Native Americans.

While Lewis and Clark were the first Americans to see much of what would become the western United States, those same lands had long been occupied by native peoples.



Cherie Ramsdell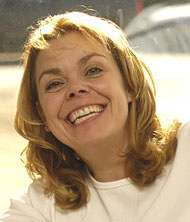 Cherie Ramsdell is the current panel designer. The Dakota Weslyn University assistant professor of art has a bachelor's degree from South Dakota State University and a master's degree from Northern State University.

"Working with the medium of corn is a little bit different than what most artists are typically working with when you are trying to do three dimensional," said Schilling.

When Ramsdell isn't playing with corn she works primarily in antler, bone, rawhide, and raku fired clay.

Project workers tear off the murals in June and July and start putting new designs up.

"She draws out the murals on paper first, blows them up onto large tar paper the size of the murals themselves," explained Schilling. "We have some that are about 10x 30 and some are 10x12 feet."

That is covered with "paint" - grains and grasses go on first, and the corn is put on later, after it ripens.

To get the ears wall friendly, first they are cut in half with a saw. Then the ends are squared off with a hatchet - object being to have them butt up tight.

"Then it becomes a corn-by-number, we call it," quipped Schilling.

In constructing the murals Schilling explained that working in corn has it's own set of artistic rules.



The Corn Palace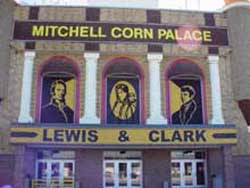 "The artist has to do things you don't realize. Parts have to be large because it has to be one ear of corn. We can't go up there and just put up a kernel of corn for an eyeball. We have to figure out ways to create these pictures, give the murals enough detail, but not go extravagant in the detail of work because we can't make real, real small, delicate cuts in there."

"As they are putting the ears up we use a hand axe to actually shape them into form," he continued. "So, they will put the ear up there, and if they see it is over the line a little bit they will take the hand axe and just cut it off. And, it can't be something where we try tapping around, because the kernels will start to fall off. So, you get one chance. If you cut it too short you pull the ear off and you put on another one."

Not just any old corn - but extremely rare corn grown exclusively by Dean Strand, who has been raising the corn, sorghum and rye for the city-owned Corn Palace on his family farm since 1982.

If your knowledge of corn comes from a can - either yellow or white - lend an ear.

Corn comes in colors.

"It's actually all open pollinated corn rather than the hybrid. We do use a little bit of the hybrid yellow, but everything else is what we would refer to as Indian Corn," Schilling elaborated. "We sort out the ears every year to get the best seed. The best ears are held back for seed."

Part of Strand's job is to make sure the right colors are growing in the right field, far enough away from each other so they don't pollinate and make a funny colored corn.

Strand is proud of his corn - so perfect that when visitors look at the Corn Palace they see rows that are "nice and straight, plus every kernel is the same color."



Corn Palace silhouette picture of Clark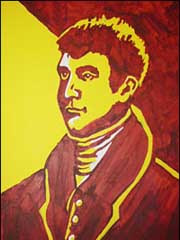 Corn Palace silhouette picture of Lewis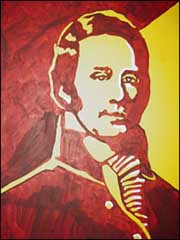 Highlight of the annual Corn Palace Festival is watching the murals going up.

So, why go to the trouble and expense of changing the murals each year?

Answer: To keep that fresh look and because if you get a real real bad winter, the birds will eat half of it.

"We're dealing with corn. We're dealing with growing crops and trying to get it on the building in a specific time frame," stressed Schilling.

"Two years ago we had our designs all ready to go and we had a drought. There was very little corn. It's not like you could go to the neighbors and say - do you have some of this? No, you don't do that."

"And, it's not easy," he stressed. "Even if somebody had it (Indian Corn) you couldn't ship it in because we need it with such a moisture content that we can cut the ears in half, put them on the building without them shelling and falling apart. So, it can't be as dry as what most farmers would harvest their corn."

"Everything is picked by hand in the field because it is too wet to go through the regular corn pickers. So, Act of God does play a real part and we just adjust. We said okay, we'll have enough for about half of our new murals. The other half (last year's murals) will just have to stay up another year," he said referring to handling the drought situation.

While the Corn Palace is unique it is nothing new.

Grain palaces were popular in the late 1800s. The original Corn Palace, called The Corn Belt Exposition was established in 1892. Officials built a wooden palace, covered it with grains and grasses and topped it with wooden minarets. Early settlers displayed the fruits of their harvest on the building exterior in order to prove the fertility of South Dakota soil.

It was so successful that another, larger wooden palace was put up in 1905. In 1921, workers built a new steel and brick community center, which they is still faithfully covered with corn and grasses every year.

But this time, there were no domes. "They said they were going to build this new, sleek building," said Schilling, adding "And that's what they got: a regular building covered in corn."

By the 1930s, domes were again atop the palace. And they've been there, in some form or another, ever since.

"Domes have been a big part of the Corn Palace ever since it was built," Schilling declared.

That's why Mitchell paid attention after an aging dome and minaret slid off the roof in 2001. Officials spent $1.4 million on a new large dome, two smaller domes, two minarets, a new gym floor and other improvements.

All of this costs money.



Glen Campbell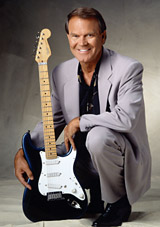 Brad Paisley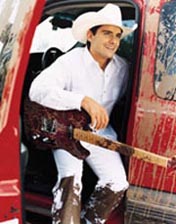 "Yes, there is a million dollar budget for the operation of the building and for the festival," Schilling answered. "The city allocates a dollar amount for Festival and with that we are able to bring in headliner entertainment - Glen Campbell, Brad Paisley, everybody else that we can possibly afford."

Most of the entertainers are easy to work with.

"For the post part we deal with - these are the people who have been around or are just starting out. They are saying - give us a hot meal. You pick it out. Give us some towels and a dressing room and maybe some candy bars. Some of them get into a lot of demands," he admitted. "We do get into some of those who say they want this served at this time, cooked over an open flame. Some of those you just deal with."

Schilling, who thoroughly enjoys the position he had held for the past three years, credits his background for helping him cope with the sometimes unusual job demands.

"Growing up on a farm was definitely a positive to it," he laughed. "Having worked and taught at the Dakota Weslyn University and coached volleyball and girl's basketball for nine years was a plus. Dakota Weslyn, where I coached, played all of their basketball games at the Corn Palace, so I had coached many games in the Corn Palace. We have over 200 basketball games played here each year. State and district tournaments are held here, banquets, proms, graduations - that is all revenue producing."



This mural depicts that keelboats were the best transportation for traveling into unknown territory in the time of Lewis and Clark

Is the Corn Festival profitable?

Schilling answered with a laugh. "It may not be direct profit, but for the Festival, we try to break even. We know that by bringing in people that come through the Corn Palace every year, having them stay in the hotel rooms, having them eat in the restaurants, and the tax base goes up, the city can afford then to allocate funds back for the general operations of the building, since it is a city owned building, as well."

In addition to watching what is the equivalent of filling the bird feeder, you can also buy something corny from the gift shop across the street and take guided tours.

While the Corn Palace does attract plenty of tourists, local residents benefit from it as well. The Corn Palace is a multi-use center for Mitchell and the region, hosting stage shows, basketball games, farm machinery shows, polka parties and other events. It seats 3,100 people.

While it may appear that locals take the Corn Palace for granted, Schilling frequently hears about the memories. "People who come back, and they might not have been here for 30 years, and they say - I can remember coming here as a child."

The Corn Palace is open all year, free of charge.


WHO IS?


This Massachusetts born man was musically inclined since childhood. An expert drummer, he was awarded a "full scholarship of music at the conservatory."

Although a percussion major, he wrote music and "played a lot of instruments besides percussion." He taught himself to play "a lot of wind instruments."

When his life came to a cross roads and he left music, his parents were devastated.

Who is: answer at bottom



Broadway To Vegas is supported through advertising and donations. Priority consideration is given to interview suggestions, news, press releases, etc from paid supporters. However, no paid supporters control, alter, edit, or in any way manipulate the content of this site. Your donation is appreciated. We accept PAYPAL. Thank you for your interest.


CURTAIN DOWN


CAROLINE, OR CHANGE will total the books at the Eugene O'Neill Theatre on August 29. When the curtain drops the musical will have played 23 previews and 136 regular performances.



DAME EDNA BACK WITH A VENGEANCE! will play at the historic Curran Theatre with its famously comfortable seats and spotless non-segregated bathrooms in San Francisco beginning August 31 through October 10. Dame Edna then returns to Broadway with performances beginning November 5 at the Music Box Theatre in Manhattan Official Opening Night is November 21. The limited engagement runs through March 31.

Following the national success of her previous life-enhancing and much loved shows, Dame Edna returned to her private estate in her native Australia to review the state of the world from her unique point of view. During that time she crafted her latest offering, which is set in an all-new theatrical infrastructure. "Edna will glow from the stage in a series of never-before-seen gowns. She will sing, dance, give psychic readings to astonished audience members, offer marriage counseling and perhaps even heal," promises Tony Award-winning production designer Brian Thomson of this brand new show.

Dame Edna: Back With a Vengeance! will include Dame Edna's version of a "reality show."

Joining Dame Edna onstage will be The Gorgeous Ednaettes, scrumptious girl dancers in stunning costumes that the men folk will really appreciate if they can ever take their eyes off the Dame, as well as The Equally Gorgeous TestEdnarones, a dishy duo of boy dancers. Also on stage is the unconventionally handsome Master of the Dame's Musick, Wayne Barker, manipulating keyboard instruments.

Created by Australian actor, author, painter and composer and racing car driver, Barry Humphries as Dame Edna received the 2000 Special Tony Award for a Live Theatrical Event for her Broadway debut in Dame Edna: Thr Royal Tour, which also won a Drama Desk Award and an Outer Critics Circle Special Achievement Award.

LETTING GO OF GOD? Breaking up is hard to do… Written, directed and performed by Julia Sweeney who returns to the stage with the third chapter in her extraordinary trilogy which began with the inspiring story of her brother in God, Said Ha followed up by the hilarious details of the adoption of her daughter in China, In The Family Way and now by writing, directing and starring in the world premiere of her all-new show, Letting Go Of God?

This is Julia's most personal work to date. It chronicles her unexpected and hilarious journey when two Mormon missionary boys arrive on her doorstep. They inadvertently challenge her way of thinking about religion, God, and the nature of self. She ultimately leaves the Catholic church in which she was raised and which she loves deeply, and tentatively and reluctantly journeys down her own spiritual path and comes to conclusions which surprise almost everyone, especially herself.

Letting Go Of God will be produced by Pamela Keller. The sound design is by Drew Dalzell. The lighting design is by Steven Young.

Previews begin Friday, September 3 and will open on Friday, September 17 and run for six weeks through Sunday, October 24 at the Hudson Backstage Theatre, in Hollywood.

HAROLD & MAUDE by Colin Higgins, directed by Rhonda Clark, is the stage version of the cult classic film of the 1970s, which proves once and for all that love and devotion know no boundaries. The story follows Harold, a 19-year-old with a death wish, and Maude, an octogenarian high on life. Through the delightfully wacky Maude, he learns how to truly live and love. A dark comedy, a love story and a social satire all wrapped into one unforgettable tale.

An Oklahoma City premiere. Performs September 3-25 at the Carpenter Square Theater.

SWEET CHARITY September 1 thru September 12 on the Main Stage of the Bucks County Playhouse, the State Theatre on Pennsylvania in New Hope, PA.

A YEAR WITH FROG AND TOAD Friendship is the secret to a happy life in this 2003 Tony-nominated musical that celebrates our differences with fun, flair and ... amphibians. Adapted from the books by Arnold Lobel - Music by Robert Reale - Book & lyrics by Willie Reale Meet Frog and Toad: best friends and complete opposites in just about every way. How does their friendship work? Spend a year with them and their not-so-quick friend Snail as they sing, dance and laugh their way through the seasons. Frog & Toad is a spectacular production with delightful and memorable, but more importantly, it is a charming story that celebrates diversity and what it takes for true friendship.

A co-production with Seattle Children's Theatre. Produced by Childsplay - A resident company of the Herberger Theater Center. At Center Stage in Phoenix September 4 - October 3.

NUNSENSE II: THE SECOND COMING September 1 thru September 5. A Pocono Playhouse production staged at Struthers Library Theatre located in Warren, Pennsylvania.

PURLIE a musical that won two Tonys in 1970, with music by Gary Geld, based on Ossie Davis's play Purlie Victorious will premiere in Europe opening at the Bridewell Theater in London on Sept. 2.

MACBETH Kelly McGillis stars as Lady Macbeth in this production of Shakespeare's murderous drama. Directed by Shakespeare Theatre's Artistic Director Michael Kahn. Aug. 31-Oct. 24 at The Shakespeare Theatre in Washington, D.C.

THE KING AND I starring Sandy Duncan. A brand new production of the Rodgers & Hammerstein classic, which hasn't been seen at Wolf Trap since 1972. The original 1952 production won five Tony awards. This new show will include the musical theater standards: Shall We Dance?, I Whistle a Happy Tune, Hello Young Lovers, and Getting to Know You. Filene Center at Wolf Trap in Vienna, Virginia August 31-September 5.

THE GLASS MENDACITY Chicago's Illegitimate Players star in this satire of the Kennedy Center's Tennessee Williams Explored series, blending the plots of A Streetcar Named Desire, Cat on a Hot Tin Roof and The Glass Menagerie. Presented by the Landless Theatre Company. Fridays and Saturdays, extended through September 4 at the D.C. Arts Centre Theatre in Washington, D.C.

JOSEPH AND THE AMAZING TECHNICOLOR DREAMCOAT starring Jon Secada who appeared on Broadway in 1995 playing the lead role of Danny Zuko in the musical Grease, and last summer he portrayed the Emcee in Cabaret.

This biblical joyride was the first musical by Andrew Lloyd Webber and Tim Rice, and the diverse and exhilarating score combines elements of pop, country, calypso and rock. The musical is suitable for audiences of all ages.

Taken from the last 13 chapters of the Book of Genesis in the Bible, Joseph and the Amazing Technicolor Dreamcoat, tells the story of Joseph's rise to power. Joseph, Jacob's favorite son, is given a "coat of many colors" by his father, which infuriates his 11 brothers, who already resent him for be ing favored. They don't understand him because Joseph is a dreamer and he's different from them. When he sees in a dream that his family will bow down to him it's the last straw, and his brothers sell him into slavery in Egypt. There his gift of dream interpretation comes to the attention of the Pharaoh when he successfully predicts seven years of bountiful harvests followed by seven years of famine and saves the people from starvation. Away for many years, he eventually returns home and reconciles with his family.

Presented by Dallas Summer Musicals at the Music Hall at Fair Park Aug. 31-Sept. 12.


| | | |
| --- | --- | --- |
| | | |
WHO'S WHERE


DAVID CASSIDY performs Wednesday, September 1 at SCERA Shell in Orem, Utah.

BB KING BLUES FEST WITH DR. JOHN takes place Tuesday, August 31 at the Cape Cod Melody Tent in Hyannis, Mass.

GLORIA ESTEFAN performs Tuesday, August 31, at Palace of Auburn Hills in Auburn Hills, MI. On Wednesday the show is at Gund Arena in Cleveland and on Saturday she is center stage at Philips Arena in Atlanta,GA.

HARRY CONNICK, JR opens a two nighter Saturday, September 4 at Tanglewood in Lenox, MA.

LINDA EDER stars at the Lenape Reg. Performing Arts Center in Marlton, New Jersey on September 4th.

PAUL ANKA opens a three night engagement Friday, September 3 at Casino Niagara in Niagara Falls, ON.

BIG BAD VOODOO DADDY perform Wednesday, September 1, at Summer Pops at Navy Pier in San Diego. On Saturday they can be enjoyed at Octoberfest in Avon, Colorado and next Sunday they keep the place jumpin' at Taste of Colorado in Denver.

DAVE MATTHEWS BAND center stage Tuesday, August 31, at the Sleep Train Amphitheatre in Maryville, CA. On Friday they start a three night gig at The Gorge in George, WA.

FRANK SINATRA, JR performs for a party August 31 as part of the Republican Convention at the Rainbow Room in NYC.

JERRY SEINFELD on stage September 3 at the Landmark Theatre in Richard, VA.

KEVIN JAMES on stage Saturday, September 4 at the Cape Cod Melody Tent in Hyannis, Mass.

HUEY LEWIS & THE NEWS center stage September 2 at Wente Vineyards in Livermore, CA.

ROD STEWART on stage Monday, August 30 at the Hollywood Bowl in Hollywood, CA.

JOURNEY the bombastic rockers perform Friday, September 3 at the Saratoga Performing Arts Center, New York.


PIFFLE AND PROFUNDITIES


31st ANNUAL WORLD CHAMPIONSHIP GOAT COOKOFF takes place in Brady/McCulloch County, Texas September 3-4.

The event is a celebration - for everyone except the goat.

The event features 125 teams assembled from all over Texas and the United States, cooking goat each in their own way.

Cooking teams have traveled from as far as England to participate.

The top three teams get prizes and a Super Bowl winner is also announced from entrants of previous winners.

LOUISIANA SHRIMP & PETROLEUM FESTIVAL This is Louisiana's oldest chartered harvest festival and has for several years been named as a Top 20 Event in North America by the Southeast Tourism Society. Look for the historic blessing of the fleet, a music stage, children's village, shrimp cook-off, Cajun culinary classic and a fireworks display. Free in Morgan City, Louisiana August 29-September 2.

WHO IS Emeril Lagasse.
















Next Column: September 5, 2004
Copyright: August 29, 2004. All Rights Reserved. Reviews, Interviews, Commentary, Photographs or Graphics from any Broadway To Vegas (TM) columns may not be published, broadcast, rewritten, utilized as leads, or used in any manner without permission, compensation and/or credit.
Link to Main Page
---
Laura Deni


CLICK HERE FOR COMMENT SECTION