! >
Broadway To Vegas
  
 SHOW REVIEWS CELEBRITY INTERVIEWS GOSSIP NEWS

| | |
| --- | --- |
| | |
DIRECTOR OF PASSION PLAY, A CYCLE DENIES THE PLAY IS ANTI-SEMITIC - - THE DISPUTATION STARS THEODORE BIKEL - - IS KATE WINSLET NERVOUS AND HARD TO HANDLE? - - NIGHTINGALE BY LYNN REDGRAVE - - A TRIBUTE TO ARTHUR MILLER - - NEW YORK CITY OPERA OPERA'S FOR ALL FESTIVAL - - SELDOM STAGED DEAD END IS AT THE AHMANSON - - KENNEDY CENTER PAGE TO STAGE FESTIVAL - - DONATE . . . Scroll Down


THE 4TH ANNUAL PAGE-TO-STAGE NEW PLAY FESTIVAL AT KENNEDY CENTER
Ken Lugwig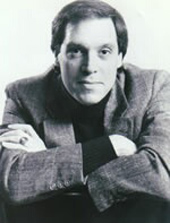 During this three-day event, the Kennedy Center welcomes more than 25 theaters from the D.C. metropolitan area with the goal of producing and supporting the success of new plays and musicals. Featuring free readings, special events, and panel discussions, the festival lets you catch a glimpse of upcoming Washington premieres in the 2005–2006 theater season. This year will include new works by Ken Ludwig, Stephen Massicotte, Horton Foote, Qian Yi, and many more.

Saturday-Monday, September 3-5 at Various venues throughout the Kennedy Center. Free, no tickets required. Limited seating available on a first-come, first-served basis.

A highlight of the festival includes the mounting of Treasure Island by Ken Ludwig, adapted from the novel by Robert Louis Stevenson. With Michael Ray Escamilla, Daniel Frith, Rick Foucheux, Jennifer Mendenhall, Karl Miller, Paul Morella, Hugh Nees, Holly Twyford, Michael Anthony Williams, and Geraint Wyn Davies

The Kennedy Center's Kenan Apprentice Program in association with The Alley Theatre Tony Award-nominated playwright Ken Ludwig's work has been translated into 16 languages and been performed in more than 30 countries around the world. This adaptation of Robert Louis Stevenson's Treasure Island is a work of dazzling artistry and creativity for all ages.

Among other participating companies are:

The Actors' Theatre of Washington | Accokeek Creek Theatre Company | African Continuum Theatre Company | Black Women Playwrights' Group | Catalyst Theater Company | The Catholic University of America | Charter Theatre | DC Cabaret Network | Firebelly Productions | Journeymen Theatre Company | MetroStage | Olney Theatre Center for the Arts | PlayGround Playwrights Group | The Playwright's Forum | Quotidian Theatre Company | Rorschach Theatre Company | Round House Theatre | Scena Theatre | The Shakespeare Academy for Classical Acting | Signature Theatre | Smallbeer Theater Company | Synetic Theater Company | Theater of the First Amendment | Theatre Alliance | Theatre J | Trumpet Vine Theater Company | Tsunami Theatre Company | Washington Improv Theater | Washington Shakespeare Company | Washington Women in Theatre | Woolly Mammoth Theatre Company | Young Playwrights' Theater.

( For a list of productions click here )


THE 22ND ANNUAL ROOTS OF AMERICAN MUSIC FESTIVAL


One free concert after another will be offered on Sept. 3 and 4 when Lincoln Center in New York City presents its 22nd annual Roots of American Music Festival.

On Sept 3 the attraction will be the Canadian singer and songwriter David Francey, followed by Hats Off to the Grand Ole Opry! - an 80th-anniversary tribute. They'll be performances by the Nashville Bluegrass Band, Georgia-born blues guitarist Larry Johnson, Rosemary Woods, the bluegrass group Dave Peterson & 1946 and Robbie O'Connell and mountain-music icon Doc Watson.

Next Sunday's attractions include Si Kahn, sea chanteys, a reunion of the 1960's folk group the Highwaymen, Suzy Bogguss, master picker Ricky Skaggs and Kentucky Thunder.


CORN PALACE MURALS HONOR THE FARMER


It been called the world's biggest bird feeder. It's the Corn Palace in Mitchell, South Dakota.

Each year several panels on the exterior of the Corn Palace are decorated with locally grown corn.

The process usually starts in early spring and is completed by late summer. A different theme is chosen each year, and murals are designed to reflect that theme. ( See Broadway To Vegas column of August 29, 2004 )



Panel 1 - Weather. "A farmer kneels down to inspect his crops. A storm is brewing in the background. Weather is integral to our existence and success. Even though we cannot control Mother Nature, we pray for her cooperation," commented Ramsdell.

Cherie Ramsdell is the current panel designer.

Life on the Farm was selected as the theme for the 2005 Corn Palace decorating. "Farming and ranching have always seemed to me a hard working, independent and admirable lifestyle," Ransdell stated.

"Farmers and ranchers are the core of our community and country. Many of my experiences and family come from a farming background." It is these experiences on which she based her designs.



Panel 2 - Woman with Produce. "A woman shows her basket of produce. This farm wife works hard to carry on the tradition of home grown fruits and vegetables. She is smiling and showing the fruits of her labors," said Ramsdell.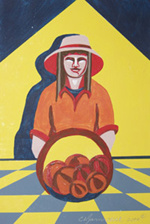 As abundant as corn is the entertainment. This year Big and Rich will kick off the celebration. Cowboy Troy will be opening for Big and Rich on Wednesday, August 31. On Thursday, September 1, American Country Music nominee for Top Female Vocalist and Music Video of the Year Awards, Terri Clark will team up with rising star Dierks Bentley to shake the Corn Palace.

The classic group STYX will keep the Corn Palace rocking on Friday, September 2. Fans will be doing the twist with music legends Chubby Checker and the Wildcats with special guest Grass Roots starring Rob Grill on Saturday, September 3.

Chubby Checker continues 40 years of live performances. He is the only artist to have 5 albums in the Top 12 all at once; the only artist to have a song to be #1 twice – The Twist and the only artist to have 9 Double-Sided Hits.

The pop group Bowling for Soup rounds out the entertainment on Sunday, September 4. Being nominated for a Grammy in 2003 in the Best Performance Pop by a Duo or Group category for their power-pop sing-a-long Girl All the Bad Guys Want opened a lot of doors for this talented group admits Jaret Reddick, the frontman for Bowling for Soup. "Now we're no longer known as the fat guys from Texas. Now we're the Grammy-nominated fat guys from Texas ."

The Corn Palace Festival runs Wednesday, August 31, through Labor Day, Monday, September 5.


FOOD FOR THOUGHT


The fourth annual National Buffalo Wing Festival celebrates the national food icon that the world has accepted as a meal and snack staple. This fun-filled family weekend will feature live music, twenty five of the best Buffalo Wing Restaurants, the United States Chicken Wing Eating championship, and the crowning of the fourth annual Miss Buffalo Wing.

The three-day Labor Day weekend salute to Buffalo wings, which promises to serve its one-millionth wing this year, takes place Friday through Sunday at Dunn Tire Park in downtown Buffalo. On Saturday, Sept. 3, Sonya Thomas, America's top-ranked competitive eater, returns to defend her title in the United States Chicken Wing Eating Championship.

Last year 66,000 people attended, consuming 400,000 wings with a total wing weight of 20 tons.



Broadway To Vegas is supported through advertising and donations. Priority consideration is given to interview suggestions, news, press releases, etc from paid supporters. However, no paid supporters control, alter, edit, or in any way manipulate the content of this site. Your donation is appreciated. We accept PAYPAL. Thank you for your interest.


SWEET CHARITY


NEW YORK CITY OPERA'S OPENING NIGHT GALA Opening 2005-2006 season on with a gala dinner and performance of Capriccio by Richard Strauss followed by dinner and dancing to the Peter Duchin Orchestra on the Grand Promenade of the New York State Theater.

Performance stars Pamela Armstrong as the countess and celebrates General & Artistic Director, Paul Kellogg's 10th anniversary.

Music by Richard Strauss Libretto by Clemens Krauss and the composer.

What element rules supreme? Words or music? The question preoccupied Richard Strauss throughout his life. And it lies at the heart of his 15th and final opera, Capriccio, where the question is charmingly personified in the form of a lively love triangle, featuring a beautiful Countess and her two suitors—one a poet, the other a composer.

A delightful and affecting masterpiece, Capriccio is also a witty parable about backstage life. The artists and their muse-like Countess are joined by a philandering aristocrat, a legendary actress, a pair of Italian singers, a director, dancers, and even a prompter, all of whom add comic spirit to the words-versus-music debate.

Sung in German with English supertitles.

In addition to Pamela Anderson the cast includes; Claire Powell, Ryan MacPherson, Mel Ulrich, George Mosley, Eric Halfvarson, Lisa Saffer, Barry Banks, Jonathan Green and Brian McIntosh.

Conductor:is George Manahan. Directed by Stephen Lawless. Set and Costume Designer Ashley Martin-Davis. Lighting Designer is Pat Collins.Choreographer Seán Curran. Chorus Master is Gary Thor Wedow. Supertitles by Cori Ellison.

Cocktails followed by the performance and then the dinner. Individual tickets available for $1,000


SPREADING THE WORD


AUGUST WILSON ILL

August Wilson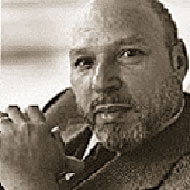 The theatre community was shocked and dismayed to learned that the 60-year-old Pulitzer Prize-winning playwright has untreatable liver cancer.

Wilson, a native of Pittsburgh who has lived in Seattle since 1990 told The Pittsburgh Post-Gazette, that doctors at the University of Washington Medical Center discovered the cancer in June and recommended drug therapy followed by a liver transplant, but that the disease proved to be too far advanced.

Wilson recently completed a cycle of 10 plays about African-American life in the 20th century, one for each decade. Two of those plays, Fences and The Piano Lesson, won the Pulitzer. The final play in the series, Radio Golf, is now playing at the Mark Taper Forum in Los Angeles.

PLAYREADING: A TRIBUTE TO ARTHUR MILLER--TWO ONE-ACT PLAYS presented by Playwrights' Theatre of East Hampton. Play readings of 2 one-act plays: I Can't Remember Anything and Elegy For A Lady. Introduced by Martin Gottfried and starring Joan Copeland, Laila Robins Sunday, September 4 at Guild Hall in East Hampton, NY.

NEW YORK CITY OPERA'S OPERA FOR ALL FESTIVAL Music Director George Manahan and City Opera's Orchestra, Chorus and featured artists from the 2005-2006 season will present musical highlights in an informal concert designed to showcase the 2005-06 season including selections from Strauss' Capriccio, Sullivan's Patience, Rossini's Il barbiere di Siviglia, Puccini's Turandot, Portman's The Little Prince, Loesser's The Most Happy Fella, Adamo's Lysistrata, Mozart's Don Giovanni, Bizet's Carmen and Handel's Acis & Galatea.

Pop icon and opera lover Rufus Wainwright will also appear in a special guest performance. John Goberman directs the concert with lighting by Jeff Harris.

All seats will be $25 and sold on a first-come, first-served basis. The September 8 concert will begin at 7:30 p.m. and last approximately 1 hour and 20 minutes, without intermission. After the concert, City Opera will host the entire audience in a festive celebration while the East Village Opera Company plays on the New York State Theater's Promenade overlooking Lincoln Center Plaza.

New York City Opera was founded in 1943 to provide financially accessible opera performances to a wide audience.

EVERYTHING OLD IS NEW AGAIN hosted by David Kenney today, August 28, features an in studio interview with Sylvia McNair prior to her Lincoln Center Outdoors performance. Everything Old is New Again can be heard every Sunday 9-11 PM (ET-USA) over WBAI 99.5 FM.


OTHER PEOPLE'S MONEY


MAGIC SHOW that's the Men's Apparel Guild in California trade show, opens in Las Vegas on Monday. It's expected to draw 100,000 style conscious bodies who'll generate $145.4 million in nongaming spending. Among the runway celebs in town - Nicky Hilton who stages a midnight fashion show for her Chick fashion line. That takes place Tuesday at Pure nightclub, located in Caesars Palace.



DEAD END By Sidney Kingsley. Directed by Nicholas Martin.

Sidney Kingsley's stirring drama, a popular hit on Broadway in 1935, returns to the stage in this ambitious production featuring 42 actors and one of the largest sets ever created for the Ahmanson, including an orchestra pit filled with 10,000 gallons of water to simulate New York's East River.

Against a brilliant New York skyline, a gathering of tenements and a magnificent luxury apartment building stand side by side along the East River overlooking the Queensboro Bridge. Today the area is Sutton Place. But in the early '30s it was home to the Dead End Kids, a group of scruffy teenage boys whose lives were the streets - playing cards on the stoop, roasting potatoes in a can, and swimming in the river.

Dead End is the play that literally changed American history by inspiring Congress to pass a housing bill. First Lady Eleanor Roosevelt saw the original production of Dead End three times and requested the first-ever command performance at the White House. President Roosevelt subsequently created a commission on slum housing, ultimately crediting Dead End for the passage of the Wagner Housing Bill, which ensured the development of safe, sanitary low-income housing.

The cast includes (in alphabetical order) Carol Androsky, Ian Barford, Walter Beery, Beck Bennett, Scott Burman, Dennis Cockrum, Nick Dazé, Ryan Eggold, Wyatt Fenner, Ben Giroux, Shiloh Goodin, Pamela Gray, Kathryn Hahn, Megan Marie Harvey, Sarah Hudnut, Jeffrey Hutchinson, Charley Lang, Clay Larsen, Geoffrey E. Lind, Jr., Melanie Lora, Leo Marks, Luce Morgan, Cole Morgen, Sam Murphy, Dohn Norwood, Trevor Peterson, Donna Pieroni, Benjamin Platt, Greg Roman, Adam Rose, Tom Everett Scott, Jeremy Sisto, Ed Sorrell, Barry Squitieri, Josh Sussman, Juliana Long Tyson, Ricky Ullman, Danielle Van Beest, Joyce Van Patten, Teddy Vincent, Craig Vogeley and Ryan Wilkins.

The scenic design is by James Noone, costume design by Michael Krass, lighting design by Kenneth Posner and sound design by Kurt B. Kellenberger. The music is composed by Mark Bennett and fight direction is by Rick Sordelet. Grayson Merritt is the production stage manager.

Aug 28 – Oct 16 at the Ahmanson Theatre in Los Angeles.

THE INTELLIGENT DESIGN OF JENNY CHOW by Rolin Jones. Starring Michael Cullen, Linda Gehringer, Julienne Hanzelka Kim, Ryan King, Matthew Rauch and Eunice Wong.

Directed by Jackson Gay.

Jennifer is a computer wiz who re-engineers obsolete missile components for the U.S. Army from her bedroom. She suffers from compulsive obsessive disorder perhaps as a response to having been abandoned as a baby in her native China and adopted by a success addicted mother and her laid back husband. Afraid to leave her house, yet desperate to find her birth mother in China, she uses her technological genius to devise a new form of human contact - an intelligent robot to travel around the globe on her behalf. The birth family doesn't exactly welcome the mechanical daughter-surrogate however.

Eunice Wong, who won praise for her leading role as the computer wonk who builds the robotic Jenny Chow during the run at Potomac Stages, will switch and perform as the robot in the New York version. Playing the computer wiz will be Broadway veteran Julienne Hanzelka Kim.

The production is scheduled for a limited run at the Atlantic Theater Company. Previews begin August 31 for an opening night of September 19 with performances through October 16.

The world premiere was staged at South Coast Rep in Costa Mesa, CA in April, 2003.

LITTLE WOMEN-THE MUSICAL

Maureen McGovern (right) as Marmee surrounded by members of the original Broadway cast Photo Credit: Joan Marcus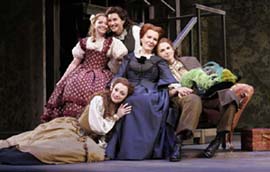 starring Maureen McGovern who reprises her role as Marmee. The 30-city tour debuts at the Civic Theatre in San Diego.

However, The Civic Theatre stage fire on August 18 resulted in more damage to the set of Little Women - The Broadway Musical than originally discovered. ( See Broadway To Vegas columns of August 21, 2005 )

As a result, the national tour debut is now slated for Friday, September 2 at the Civic, with the remaining performances still set for Saturday, September 3 and Sunday, September 4. The performances scheduled for August 30 & 31, and September 1 have been cancelled. The show will still continue to the remaining 31 cities on the tour as previously announced.

"Hundreds of people worked behind the scenes to restore the Civic Theatre and Little Women to 'performance readiness'," remarked Joe Kobryner, Broadway/San Diego General Manager. "They worked diligently around-the-clock to try and meet the original August 30 opening, but ran out of time. It was important to the producers of the show, and to us, that our patrons see this beautifully realized national tour production, rather than a compromised version," Kobryner said.

Little Women-The Musical is adapted from the Louisa May Alcott classic novel about the four remarkable March sisters who come of age during the Civil War era. This timeless tale about the power of family, friendship and romance is capturing the hearts of a new generation and captivating audiences of all ages.

The show features a book by Allan Knee, music by Jason Howland and lyrics by Mindi Dickstein. Directed by Susan H. Schulman, it features choreography by Michael Lichtefeld.

Little Women-The Musical opened on Broadway on January 23rd at the Virginia Theatre where it continues to play. Following the San Diego run this national tour makes stops in San Jose, Columbus, Chicago, Ft. Lauderdale and Washington D.C.'s Kennedy Center among other cities.

NIGHTINGALE written and performed by Lynn Redgrave. Inspired by memories of Lynn Redgrave's maternal grandmother, Nightingale is the story of a woman whose voice, like the small brown bird of the title, can only be heard in the dark. August 30 at The Culture Project in New York City.

FRAN'S BED The New York premiere of a play written and directed by James Lapine. He is the Tony and Pulitzer Prize-winning author of Twelve Dreams and bookwriter of Falsettos and Sunday in the Park with George.

The production stars Mia Farrow as an incapacitated woman surrounded by her family and using the past to understand her present. Playing her husband will be Harris Yulin and as her daughters will be played by Heather Burns and Julia Stiles.

What constitutes a life? Incapacitated, surrounded by her family, Fran guides us on an unpredictable journey into her past in an effort to help understand her present situation. An offbeat, colorful tale of a woman at a midlife crossroads; a delicate portrait of a family in crisis, told with ironic humor and unexpected feeling.

Previews begins August 30 with the official opening set for September 25. Performance through October 9 at Playwrights Horizons' Mainstage in NYC.

THE CAUCASIAN CHALK CIRCLE by Bertolt Brecht. Directed by Kate Whoriskey.

This masterwork from one of the world's most renowned playwrights resonates with themes of morality, justice and the effects of war on individuals through the centuries.

Grusha is a maid caught holding a baby in the middle of a revolution.

Her mistress has fled, taking the fancy dresses but forgetting the child, and Grusha is off to the mountains with the soldiers of the insurgent Fat Prince hot on her heels.

Even when the war ends, she's not out of the woods. Now the law is after her, but luckily for Grusha, one of Brecht's greatest characters, the boozing, amusing—and accidental—Judge Azdak, is on the bench.

September 2 - October 9 on the Segerstrom Stage of South Coast Repertory in Costa Mesa, CA.

ROMANCE the courtroom farce by David Mamet receives its European premiere at the Almeida Theater in London from Sept. 2 to Oct. 22. Directed by Lindsay Posner, it is the first Mamet play to be produced at the Almeida.

SPRING-METRO BOULOT DODO London's National Theatre continues their outside season with Spring an installation based in Theatre Square. The square will be transformed into a gaudy garden complete with talking flowers, April showers and grumbling gnomes and many sunny surprises.

Co-commissioned by The National Theatre, Phoenix Arts, Arts Fresco and Stockton International Riverside Festival. September 1-2.

THE DISPUTATION by Hyam Maccoby. Directed by Nick Olcott. Starring Theodore Bikel.

Featuring Edward Gero, Naomi Jacobson, John Lescault, Andrew Long, with Field Blauvelt, Tymberlee Chanel, Rahaleh Nassri, Matthew Gottlieb and John-Michael MacDonald

A powerful reconstruction of one of the most fascinating encounters between Jews and Christians in history. A philandering King James of Aragon is ordered by the Pope to convert the Jews of Spain. Defending his people is Rabbi Moses Ben Nachman, played by Broadway legend Theodore Bikel.

Set in 13th Century Barcelona, a morally compromised King James of Aragon is compelled by the Pope to convert the Jews of Spain by way of a historic series of debates. Defending the Jews is Bikel's Reb Moses Ben Nachman (Nachmanides), the brilliant renaissance man of letters. But the more Reb Nachman succeeds in confounding his inquisitionist, the more in peril he puts the Jewish people. A heroic portrait emerges from this deft and surprisingly witty British play that recreates a time when faith-based missionary zeal challenged the existence of a questioning, non-conformist community.

August 31-October 2 at Theater J in Washington, D.C.

THE UNDERPANTS a farcical comedy by Steve Martin. Adapted from Carl Sternheim's 1910 farce. Oklahoma City premiere September 2-24 at Carpenter Square Theatre.

In Steve Martin's comic, sophisticated literary style, The Underpants is a hilarious, believable look at gender roles and the power of fame and bigotry. A scandal lies at the heart of it. Louise was waving to the king during a parade when her drawers dropped. Her priggish husband is sure that the mishap will jeopardize his government job, ruin their chances of renting the spare room and ultimately ruin them. Soon, Louise is something of a celebrity, and several men are eager to have the room - and the lady of the house. While her self-centered husband worries about losing money and his job, he should be worrying about losing his wife.

THE WOMAN IN WHITE welcomes Simon Callow to the cast. Callow, the English actor famous for Four Weddings and a Funeral and stage productions including The Mystery of Charles Dickens, will make his first appearance in a West End musical on Aug. 29, when he takes over from Anthony Andrews as the comically malicious Count Fosco in the London production of the Andrew Lloyd Webber musical The Woman in White. The role was originated by Michael Crawford, who left because of illness.

MUM'S CHOIR by Alison Quigan. directed by Ross Gumbley.

Starring Yvonne Martin, Rima Te Wiata & Lynda Milligan, this comedy is a beautiful, heart-warming play about family that celebrates life, laughter, love and music.

The O'Reilly Family were famous for their sing-alongs with a house full of noise, outrageous parties, cricket on the lawn and exuberant people singing in fierce harmony.

The children are grown now and the old house has been silent for years, but with the death of Molly, the matriarch, the family returns to the old homestead to celebrate her life and rekindle memories and music.

Opened last night, August 27, at the Court Theatre in Christchurch, New Zealand with performances through October 15.

A YEAR WITH FROG AND TOAD conceived by Adrianne Lobel (the author's daughter) and brothers Willie Reale (book and lyrics) and Robert Reale (music),

The lovable characters from Arnold Lobel's popular series of books jump from the page to the stage in the Tony Award-nominated Broadway musical, A Year With Frog And Toad at International City Theatre in Long Beach, CA.

A Year with Frog and Toad is directed and choreographed by Kay Cole and stars Elizabeth Brackenbury, Gary Cearlock, Jennifer Clinton, Jeffrey Landman and Danny Stiles.

Musical direction by by Daniel Thomas; set design is by Dan Wheeler; lighting design is by Jeremy Pivnick; costumes are by Nadine Parkos; and casting is by Michael Donovan Casting. Shashin Desai produces.

International City Theatre is the Resident Professional Theater at the Long Beach Performing Arts Center, and the recipient of the Margaret Harford Award from the Los Angeles Drama Critics' Circle for "Sustained Excellence in Theater." A Year with Frog and Toad gets its Southern California premiere as part of ICT's 20th Anniversary Season. Begins previews August 30 with a five-week run continuing through October 2.

PASSION PLAY, A CYCLE

Sarah Ruhl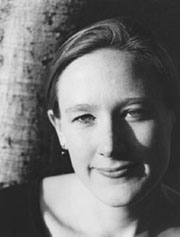 Molly Smith directs the world premiere of a play by Sarah Ruhl.

Smith addressed questions about the play's intent. "Many have raised concerns that our production will be anti-Semitic, as the traditional Passion has a complicated and sometimes discriminatory history. But nothing could be further from the truth," she declared. "Sarah's play argues for tolerance, not against it. This is especially evident in the play's moving second act, which takes place in Nazi Germany and demonstrates in no uncertain terms the disastrous effects on the Jewish people of Hitler's rise to power."

"Sarah's play does raise difficult questions, and I am thrilled that so many have already reacted to news of its premiere. We will be hosting post-show discussions throughout the run of the show to facilitate the challenging but necessary conversations the show is sure to engender. "

In this cycle of three plays, three historic tellings of the Passion Play are the backdrop for up-and-coming playwright Sarah Ruhl's bold examination of truth, love, loyalty and belief through the ages.

Across performances in Elizabethan England, Nazi Germany and post-Vietnam America, each community of actors finds itself facing unexpected tests of faith and courage as their parts in the Passion seep into their daily lives.

Ruhl's exquisitely layered narrative reveals a world in which the lines between identity and performance have increasingly blurred – and the differences between ideology and fact are in danger of disappearing altogether.

With all three combined into a single performance, the shows will start earlier than usual.

September 2 - October 16 at Arena Stage in Washington, D.C.


| | | |
| --- | --- | --- |
| | | |
WHO'S WHERE


ELTON JOHN will take the stage just outside the Colosseum in Rome on September 3. The free concert will take place on the Via dei Fori Imperiali, the large boulevard that leads to the Colosseum and is lined with ancient Roman relics.

NEIL DIAMOND singing his hits Monday, August 29, at the Bradley Center in Milwaukee. On Wednesday he opens a two nighter at the Target Center in Minneapolis.

DONNA SUMMER on stage September 3-4 at the Hilton Hotel in Las Vegas.

THE ROLLING STONES perform tonight, August 28, at Frank Clair Stadium in Ottawa, ON. On Wednesday they'll be outrageous at Comerica Park in Detroit. Saturday finds them rolling into the Magnetic Hill Concert Center in Moncton, NB.

JOHN WILLIAMS: THE MASTER OF CINEMA No contemporary film composer has had a more profound impact on symphonic music than the great John Williams. In his annual visit to the Bowl, Williams leads the Los Angeles Philharmonic in selections from some of his most memorable scores – music that has truly changed the way we "hear" the movies. Friday, September 2, and Saturday, September 3 at the Hollywood Bowl, Hollywood, CA.

PETULA CLARK the delightful singer/actress opens a five night engagement at the Mohegan Sun Casino in Uncasville, CT on August 31.

MERCY ME on stage Friday, September 2 at the Starlight Theatre in Kansas City, MO. On September 3 they perform at the Pepsi Center in Denver.

COLDPLAY entertains Tuesday, August 30, at the DTE Energy Music Theatre in Clarkston, MI. Wednesday finds the guys at the Germain Amphitheater in Columbus, OH. On Thursday they are in the spotlight at the Darien Lake Six Flags Performing Arts Center in Darien Center, NY. On Saturday you'll find them at the P.N.C. Bank Arts Center in Holmdel, NJ.

30th ANNUAL OLD-TIME COUNTRY MUSIC CONTEST Traditional acoustic music festival with hundreds of performers on 10 stages. Pioneer exposition of arts and crafts. Aug. 29 through Sept. 4 at the Harrison County Fairgrounds, Missouri Valley, Iowa.

PAUL ANKA entertains Thursday, September 1, at the Mountaineer Race Track and Resort in Chester, WV. On Saturday, September 3, he beings a three night gig at the Niagara Fallsview Casino in Niagara Falls, ON.

MAROON 5 appearing with The Rolling Stones Wednesday, August 31, at Comerica Park in Detroit. They stay on the bill for the gig Saturday, September 3, at Magnetic Hill Concert Center in Moncton, NB.

FOREIGNER perform Tuesday August 30, at the Nebraska State Fair in Lincoln. Band members include Mick Jones, Jason Bonham, Kelly Hansen, Jeff Jacobs, Jeff Pilson and Thom Gimbel.

ENGELBERT HUMPERDINCK on stage Tuesday, August 30 and Wednesday, August 31, at the Cerritos Center for the Performing Arts in Cerritos, CA.

LYLE LOVETT performs Thursday, September 1 at the Memorial Civic Center in Lubbock, TX. On Friday he's at Pala Duro State Park in Canyon, Texas and then performs at the Santa Fe Opera in Santa Fe, NM on Saturday, September 3.


PIFFLE AND PROFUNDITIES


KATE WINSLET DESCRIBED AS "She's a real nervous filly and she came from Europe with a reputation that she's hard to handle," said a person who has helped train her.

Could they really be that catty about actress Kate Elizabeth Winslet, who was born in Berkshire, England?

Of course not.

Those comments were made about Kate Winslet the horse from Team Valor Stable. Last week the four legged Winslet won the $83,050 second division of the Yaddo Handicap for New York-bred fillies. The two legged Kate Winslet - that would be the actress - celebrates her 30th birthday on October 5.
















Next Column: September 4, 2005
Copyright: August 28, 2005. All Rights Reserved. Reviews, Interviews, Commentary, Photographs or Graphics from any Broadway To Vegas (TM) columns may not be published, broadcast, rewritten, utilized as leads, or used in any manner without permission, compensation and/or credit.
Link to Main Page
---
Laura Deni


CLICK HERE FOR COMMENT SECTION