! >
Broadway To Vegas
  
 SHOW REVIEWS CELEBRITY INTERVIEWS GOSSIP NEWS

| | |
| --- | --- |
| | |
ENTERTAINER HARRY ANDERSON FORCED OUT OF NEW ORLEANS BY KATRINA AFTERMATH - - FREE TICKETS AT CARNEGIE HALL - - PAGE TO STAGE AT THE KENNEDY CENTER - - PHANTOM OF THE OPERA ALTERS LAS VEGAS SCHEDULE - - HOUSTON THEATER DISTRICT OPEN HOUSE - - THE GODDESS DURGA - - IS MATTHEW BRODERICK OKAY? - - SEE CANNIBAL THE MUSICAL AND WIN FREE MEAT - - DONATE . . . Scroll Down


ACTOR/MAGICIAN HARRY ANDERSON FALLS VICTIM TO KATRINA
Harry Anderson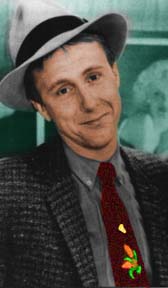 Decades ago actor/magician Harry Anderson delighted Las Vegas audiences with his nightclub act. He then went on to captivate television audiences as Judge Harry T. Stone, who presided over eight seasons of Night Court (1984-92) followed by his portrayal of Dave Barry in the sitcom Dave's World, (1993-97). Now Anderson could use some magic of his own.

Harry and his wife, Elizabeth, who owned and operated two businesses in New Orleans - Sideshow: The Old Curiosity Shop and Oswald's Speakeasy - have been forced to close. This week they are moving to North Carolina.

"The business are closed," Elizabeth Anderson told Broadway To Vegas on Saturday August 26, as she was packing to move. "We are moving to Asheville, North Carolina. "We are just trying to pack now and move."

"No, we don't have any plans to open the businesses there," she replied her soft, southern accent unable to hide the sadness. "We don't know what we are going to be doing."

After retiring from the grueling schedule of a weekly television series, Harry sold his Pasadena home and moved back to New Orleans, where he had lived from 1974 until 1976, subsisting as a street performer.

During Thanksgiving of '99, Anderson had a gig at Harrah's Casino in New Orleans, and he noticed there were condos for sale, so he bought one. He started moving his magic collection to the Crescent City and soon was spending more time in New Orleans than he was in California. In 2001 he made the move permanent. About that time he met his second wife, a beautiful blonde named Elizabeth Morgan who was tending bar at Marie Laveau's Voodoo Bar in New Orleans. Together they dedicated themselves to their two interesting and fun French Quarter establishments - Sideshow and Speakeasy. They also lived above Sideshow with a macaw named Spencer. They were a happy family and the future seemed bright.

Then Katrina took it's toll. Add Harry and Elizabeth Anderson to the list of victims.

If Harry Anderson, who had a bank load of cash from his performing career, was destroyed by Katrina, why would anyone think any of the other survivors, who depend upon the tourist industry, are doing any better?



Before Katrina, Oswald's Speakeasy presented Wise Guy starring Harry Anderson.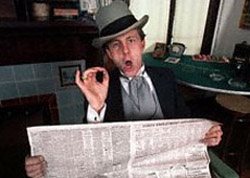 Harry and Elizabeth valiantly tried to make it and couldn't. They've sold the building, which was also their home. Harry lost his money and more importantly, his dream.

Sideshow which was located just off Jackson Square was a unique shopping experience in the French Quarter. The shop advertised that they were a "retailer of fine conjuring tools, carnival ephemera and obscure oddities." Run by Elizabeth, it was a curiosity shop that critics raved about saying it "evoked another age - a dark and mysterious treasure shop, the kind you might find on a twisting street in foggy London, exotic Paris, or 19th century New Orleans."

Oswald's Speakeasy, operated by Harry, was a bar unlike any other and Harry in the post-Katrina French Quarter permitted the venue be used both for entertainment and community events. "We first started the town hall meetings for personal reasons - to find out what was happening. Soon it grew into a weekly Wednesday night meeting," Anderson had told the press after the hurricane hit.

People came to the Speakeasy meetings and talked about the sense of betrayal on so many levels, from government to family. The discussions were honest, as the community confronted the grief, the rage, the sense of marginalization.

Harry expanded the Speakeasy schedule to include a magic night on Tuesdays, when visitors were entertained by local magicians. "It's an opportunity for the local magicians to work, play to an audience, trade stories, maybe make a few tips, and it gives visitors a chance to experience something a little different as well," said Anderson.

Anderson also took his one man show back on the road, performing in venues such as the Cerritos Center for the Performing Arts in California where publicity about the show also promoted New Orleans.

"I love New Orleans. It's the most unique and enjoyable place in America," Anderson declared.

The area is still in shambles. While the tourist trade saw a decline, those who were trying to rebuild their lives saw expenses soar.

"There were the exorbitant electric bills sent by the local utility for apartments in the building that had no electricity for months, water leaking into the streets from underground damage to water mains and the piles of debris that seemed to keep reappearing," Anderson said. "After a while you have to ask yourself, 'how am I doing? What about my peace of mind? What about quality of life?'"

Harry and Elizabeth love New Orleans and were devoted to their businesses. Nobody could have tried harder to keep going. The aftermath of Katrina has proved that for those in its path - giving your all isn't enough.


JUST ASKING


IS MATTHEW BRODERICK OKAY? We sure hope so. Lately, there have been too many tongues wagging about the talented performer. On August 23 in a piece about "Broadway's most beloved buddy act - Nathan Lane and Matthew Broderick - is going solo" the New York Post, referring to the revival of The Odd Couple, stated: The Post's Michael Riedel reported Lane was "cranky" in previews because Broderick was slow to learn his lines. A script girl was planted in the front row in case Broderick needed prompting. "

On August 21 Cindy Adams, also of The Post wrote about the opening of Martin Short's Fame Becomes Me. In listing the celebrities attending the show Adams wrote: "Sarah Jessica Parker actually helped husband Matthew Broderick step up from the gutter to the curb."

For almost two decades the delightfully charming Broderick has been a quick witted, bundle of energy who has carted home two Tony Awards, one for How To Succeed in Business and the other in 1983 for Brighton Beach Memoirs.

On August 5, 1987 Broderick was driving a rented BMW 316 down a rain-slicked road on the outskirts of Enniskillen in Northern Ireland. Broderick drove head-on into another car carrying 63-year-old Margaret Doherty and her 30-year-old daughter Anna Gallagher; both women were killed. Broderick had to be cut out of the car. While he did suffer facial laceration and a broken thigh, no mention was ever mentioned of a head injury although Broderick had no memory of the event.


ART AND ABOUT


DURGA, CREATING THE IMAGE OF THE GODDESS The Great Court The Great Court of the British Museum is the venue for the creation by West Bengali craftsmen of a spectacular image of the goddess Durga killing the buffalo-headed demon Mahisha. The image will be created using straw, clay and paint, and visitors will be able to view the whole process, from the construction of the initial wooden structure, to the painting of the giant figures on the tableau. This is a chance to witness the incredible skills of the West Bengali craftsmen creating the Durga; a site rarely seen outside of Bengal.

Every year, Hindu Bengali communities worldwide make similar sculptures for the Durga Puja festival, the most important event in their social and religious calendar.

This is a rare chance to witness the incredible skills of the Bengali craftsmen, before the image transfers to the Camden Centre for worship, ending with its immersion in the Thames.

The construction takes place until September 27 in preparation for the worship of the goddess during the Puja festival, which will happen at the Camden Centre. The image will then be immersed and destroyed in the Thames at the beginning of October. Images of the Goddess, in a tableau with her four children (also significant Hindu gods and goddesses) are worshipped in brightly adorned marquees. On the last day of the festival, the idols are carried in procession and immersed in the river. The next day the potters return to the river bank to collect clay which is reserved to make the goddess image the following year. The construction project is organized by the British Museum, the London Durga Puja Dusserah Committee and the Crafts Council of West Bengal. This exhibition is free at the British Museum in London.


SPREADING THE WORD


HOUSTON THEATER DISTRICT OPEN HOUSE The thirtieth annual Open House takes place Sunday, August 27. The free, family-friendly Theater District Open House will take place in the heart of the Theater District at the Alley Theatre, Hobby Center for the Performing Arts, Wortham Theater Center, Angelika Film Center, and Jones Hall.

This year's Open House features interactive and informative events including: backstage tours; live performances by professional and community entertainers; sneak previews of the 2006-2007 Theater District seasons; question and answer sessions with performers; activities for the kids such as costume trunks and an instrument petting zoo; free refreshments and season ticket information booths.

Guests also can register to win exciting prizes by participating in the Theater District Open House Scavenger Hunt, a fun way to learn interesting facts about the Houston Theater District. Scavenger Hunt questions pertaining to Theater District performing arts groups and organizations are in the event program available at each of the five event venues. Guests must visit each member's information table to obtain answers. After completing the Scavenger Hunt with correctly answered questions, guests turn in their entries at a specified location in each venue to be entered in a drawing for a chance to win prizes such as free tickets to Theater District performances and complimentary stays at Theater District member hotels.

The Houston Theater District is ranked second in the nation for the number of theater seats in a concentrated downtown area and is one of only five cities with permanent professional resident companies in all of the major performing arts disciplines of opera, ballet, music, and theater.

Home to Houston's nine world-class performing arts organizations, the 130,000 square foot Bayou Place entertainment complex, houses restaurants, movies, plazas, and parks.

PAGE-TO-STAGE KENNEDY CENTER NEW PLAY FESTIVAL During this three-day event, the Kennedy Center welcomes more than 35 theaters from the D.C. metropolitan area with the goal of producing and supporting the success of new plays and musicals. Featuring free readings, special events, and panel discussions, the festival lets you catch a glimpse of upcoming Washington premieres in the 2006–2007 theater season. This year will include new works by Norman Allen, Joe Calarco, Richard Dresser, Thomas Keneally, Jon Klein, James Magruder, and more. Sep 2 - 4, at The Kennedy Center in Washington, D. C.

TIME OUT PARK NIGHT AT THE SERPENTINE GALLERY will start with Lali Chetwynd, Delirious, 2006, a performance based on Rem Koolhaas' book Delirious New York, 1978. Chetwynd will stage a surreal dancing dinner with people dressed as buildings, to which audience members will be invited to attend and become delirious themselves.

A screening of the interview (English subtitles) between Hans Ulrich Obrist and legendary filmmaker Alejandro Jodorowsky, co-founder of avant-garde theatre group 'The Panic Movement' and director of El Topo, 1970 and The Holy Mountain, 1972. Friday, September 1 at The Pavilion The Serpentine Gallery in London.



Broadway To Vegas is supported through advertising and donations. Priority consideration is given to interview suggestions, news, press releases, etc from paid supporters. However, no paid supporters control, alter, edit, or in any way manipulate the content of this site. Your donation is appreciated. We accept PAYPAL. Thank you for your interest.


OTHER PEOPLE'S MONEY


THE TIMES THEY ARE A CHANGIN' for Phantom of the Opera The Las Vegas Spectacular as it is billed in Las Vegas. ( See Broadway To Vegas column of June 25, 2006. ) Too many empty seats has resulted in a Sin City take on the matinee - offering Sunday performances starting at 5 p.m. The 95-minute version of Broadway's Phantom of the Opera, which is staged in the 1,800-seat, $40 million theater at the Venetian hotel, will vanish the number of 10 p.m. weekday performances from four to two and alter the times of Saturday shows to 6 and 9 p.m., instead of 7 and 10. Some Sunday shows will start at 5 and 8 p.m., instead of 7. There will be 10 shows a week.

WE ARE HAVING A HANGING set for Sunday, September 10, brags the Orpheum Theatre in Memphis.

They are on the look out for those who deserve to be hung.

The 11th annual Art Auction is held to support local artists and galleries. The auction gives them a chance to sell their work and keep 65% of the price set by the artist.

If interested contact the Orpheum Theatre in Memphis.

FREE TICKETS for From the Top: Live from Carnegie Hall Just like the radio program, the television show will feature outstanding musical performances as well as interviews with talented young musicians, along with games, special guests, and more! Among the guest artists at this group of tapings will be Dawn Upshaw, Joshua Bell, and Béla Fleck.

Tapings begin September 26.



IN EXTREMIS: THE STORY OF ABELARD & HELOISE World Premiere of Howard Brenton's new work.

Forbidden Love. Dangerous Devotion.

Romantic, anarchic and violent, In Extremis is a story of passion and intellectual rebellion. In twelfth-century Paris a new spirit of philosophical and religious enquiry is growing. In its vanguard is the brilliant Peter Abelard, a man of great learning, independence of mind, and sensuality. When he starts an affair with his equally brilliant but disastrously connected student Heloise, his conservative enemies find just the pretext they need to discredit him. In so doing they start a war of ideas that can only involve that arch-priest of medieval mysticism and austerity, Abbot and Popemaker, Bernard of Clairvaux.

Through the joy and suffering of one of the greatest love stories of the middle ages, Howard Brenton explores the relationships between logic and religion, humanism and fundamentalism, faith and power.

The production stars Oliver Boot and Sally Bretton who will be directed by John Dove - previously Associate Director at Hampstead Theatre.

In Extremis will be designed by Michael Taylor, with music by William Lyons.

Opens August 27 - 15 performances only at Shakespeare's Globe Theatre in London.

THE FULL MONTY Music and Lyrics by David Yazbek. Book by Terrence McNally.

The Full Monty, based on the movie of the same name, is a funny and bittersweet story about unemployed steelworkers. After seeing how much their wives enjoy watching male strippers during their Girls' Night Out, the boys come up with a bold way to make some quick cash – a male striptease act!

Opened August 25 with performances through September 24 in Omaha, Nebraska at the Omaha Community Playhouse which is the largest community theater in the nation.

NATIONAL BALLET COMPANY OF CUBA renowned for its unparalleled technique, taking classic Western ballets and invigorating them with the vivid passion at the heart of Cuba, performs in England September 1-10 at Sadler's Wells in London.

They will perform two programs, both accompanied by a live orchestra. The UK premiere of Don Quixote, sees the classic Russian ballet danced with added drama and style; Magia de la Danza is a mixed bill which brings together extracts from seven of the Company's most famous ballets including the Nutcracker, Coppélia and Swan Lake.

CANNIBAL, THE MUSICAL South Park creators Matt Stone and Trey Parker have created a musical based on the story of the only person ever convicted of cannibalism in America, a gold prospector in Colorado.

All Singing! All Dancing! All Flesh Eating! Cannibal! The Musical the true story of the only person convicted of cannibalism in America - Alfred Packer (according to Colorado lore.) While searching for gold and love in the Colorado Territory, he and his companions lost their way and resorted to unthinkable horrors, including toe-tapping songs!

Those who attend have the opportunity to win free meat.

Opened August 25 with performances through September 16 at the Landless Theatre Company in Washington, D.C.

THREE-WAYS a comedic look at three people's distinct view of the same incident, written and directed by Matthew Barton. Featuring beer, brownies, narcotics and a rude chicken,

Ted (R.J. Foster) and Lisa (Monica Cortez) return from a weekend away only to find out "It's gone!" Ted's friend, Runner (Vince Lombardi) watched the apartment while they were gone, he is "the only one that could have done anything with it." Lisa believes Runner is a disgusting pervert. Ted thinks Lisa over-reacts. Runner imagines something entirely different.

Presented by Alamo Theatre Company, Three-Ways opened August 24 at Altered Stages Theatre, in New York City and runs through September 2.

MERCURY: THE AFTERLIFE AND TIMES OF A ROCK GOD

Amir Darvish as Freddie Mercury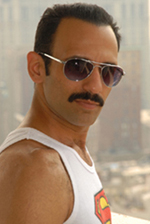 the one-man drama about the life of the late Freddie Mercury, lead singer of the legendary rock group Queen.

His tragic death of AIDS in 1991 had a tremendous worldwide impact since he was the first rock star to publicly acknowledge his illness.

In the play, which was hailed by Billboard Magazine as "heartfelt, moving and entertaining," the late Freddie Mercury seeks redemption before a god unimpressed by his celebrity.

Mercury is directed by playwright Charles Messina.

The production stars Amir Darvish who grew up in Boston and went to Brandeis University and Brookline High.

The show will be making its Massachusetts premiere on August 30 in Provincetown at the new 120-seat Art House Theater.


| | | |
| --- | --- | --- |
| | | |
WHO'S WHERE


FOR ELLA FEATURING PATTI AUSTIN Cynthia Woods Mitchell Pops at Jones Hall in Houston, Texas. Michael Krajewski, conductor. Patti Austin, guest vocalist. Austin will present an evening of song in tribute to the great Ella Fitzgerald, based on Ms. Austin's Grammy-nominated album. Enjoy classics such as How High the Moon, Our Love Is Here To Stay, The Man I Love, and more. September 1-3.

RAMSEY LEWIS TRIO performs Saturday, September 2, at Brewster Academy in Wolfeboro, NH. Next Sunday, September 3, they can be enjoyed at the Country Club Hills theatre in Country Club Hills, IL.

ARLO GUTHRIE continues his European tour with a gig Friday, September 1, at Schillertheater in Berlin, Germany.

THE OAK RIDGE BOYS on the fair circuit this week with shows Thursday, August 31 at the Minnesota State Fair in Saint Paul and Saturday at the Wisconsin State Fair in Marshfield.

CHRIS ISSAK on stage Tuesday, August 29, at the Chastain Park Amphitheatre in Atlanta, Ga. On Wednesday the show is at the Peace Center in Greenville, SC. Friday finds the show at Ruth Eckerd Hall in Clearwater, FL. On Saturday they shift to the Mizner Park Amphitheatre in Boca Raton, FL. Next Sunday the show is at Hard Rock Live in Orlando.

CROSBY, STILLS NASH AND YOUNG on stage Tuesday, August 29 at the German Amphitheater in Columbus, Ohio. On Thursday the guys are center stage at the Palace of Auburn Hills in Auburn Hills, MI. Saturday finds them at Verizon Wireless Music Center in Noblesville, Indiana. On Sunday, September 3, they can be enjoyed at First Midwest Bank Amphitheatre in Tinley Park, IL.

PAUL ANKA opens a three night engagement Saturday, September 2, at Niagara Fallsview Casino in Niagara Falls, Ontario.

BIG BAD VOODOO DADDY participates in A Taste of Colorado next Sunday, September 3 in Denver, CO.

ARETHA FRANKLIN on stage Friday, September 1, at Disney World in Lake Buena Vista, FL.

PETER FRAMPTON on stage Saturday, September 2 at the Champlain Valley Expo in Essex Junction, VT.

BOB DYLAN on stage Tuesday, August 29 at New Britain Stadium in New Britain, CT. On Wednesday the show is at Frontier Field in Rochester, NY. Friday the performance takes place at Dutchess Stadium in Wappingers Falls, NY. Friday he's on stage at Doubleday Field in Cooperstown, NY and next Sunday, September 3, the gig is at Medlar Field in University Park, PA.

PEARL JAM on tour overseas with stops Tuesday, August 28 at the Gelredome in Arnheim, Netherlands. On Wednesday they perform at Sportpaleis Antwerpen in Antwerp, Belgium. Friday the show is at Badalona in Barcelona, Spain and on Saturday they are in the spotlight a the Azkena Festival in Vitoria, Spain.


FINAL OVATION


MAYNARD FERGUSON trumpet player extraordinaire died Wednesday in Ventura, Calif. He was 78. The cause was kidney and liver failure. He performed last month at the Blue Note in New York - a sold out gig which ended July 23. He was set to begin a cross country tour. Flo, his wife of 53 year years, preceded him in death. He is survived by four daughters, Kim, Lisa, Corby and Wilder, and two grandchildren.
















Next Column: September 3, 2006
Copyright: August 27, 2006. All Rights Reserved. Reviews, Interviews, Commentary, Photographs or Graphics from any Broadway To Vegas (TM) columns may not be published, broadcast, rewritten, utilized as leads, or used in any manner without permission, compensation and/or credit.
Link to Main Page
---
Laura Deni


CLICK HERE FOR COMMENT SECTION