! >
Broadway To Vegas
  
  REVIEWS INTERVIEWS COMMENTARY NEWS



| | |
| --- | --- |
| | |
2014 KENNEDY CENTER PAGE TO STAGE FESTIVAL HONORS WOMEN - - ROSLYN KIND: GIVE ME YOU/THIS IS ROSLYN KIND MASTERWORKS BROADWAY CD REIVEW - - IN THE WORLD OF OPERA: ILLNESS AND ROMANCE - - WORLD PREMIERE OF THE SHOPLIFTERS - - GOOD GRIEF BY KEITH WATERHOUSE - - IT'S ONLY A PLAY BEGINS PREVIEWS - - MICHAEL JACKSON BETWIXT/BETWEEN - - WIVES OF WORLD LEADERS VISIT NANJING MUSEUM - - DONATE . . . Scroll Down




Copyright: August 24, 2014
By: Laura Deni
CLICK HERE FOR COMMENT SECTION


2014 KENNEDY CENTER PAGE TO STAGE FESTIVAL HONORS WOMEN - DOING LUNCH RESULTS IN WOMEN'S VOICES
Beloved childrens' author Walter Dean Myers died July 1, 2014, following a brief illness. He was 76 years old. Photo: Rutgers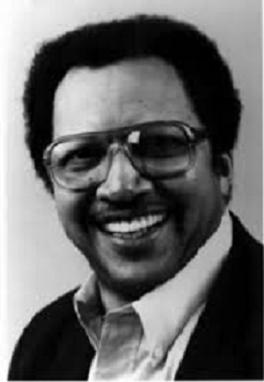 'Let's do lunch,' is frequently a meaningless phrase which trips off the tongue to politely make an exit from somebody you'd wouldn't care to dine with if you were starving.

Then there was that brunch which Eric Scharffer, Artistic Director of Signature Theatre, held in his home for fellow area artistic directors. While breaking bread, Molly Smith of Arena Stage, Paul Tetreault of Ford's Theatre, Michael Kahn of Shakespeare Theatre Company, Howard Shalwitz of Woolly Mammoth Theatre, David Muse of Studio Theatre, and Ryan Rilette of Round House Theatre came up with the idea of staging a Women's Voices Theater Festival.

With the exception of Smith, a bunch of rarified men secure in what has long been a good ole boys network, actively encouraging women.

Pass the smelling salts.

Rather than chowing down on lip service, the artistic directors sallied forth and in Fall 2015 forty-four Washington, DC area theatres will each produce a world-premiere play written by a woman.

Each company has agreed to select one premiere and to produce it during September or October 2015. The pallet is broad: musicals, one-person plays, devised theatre pieces, simple storytelling shows, dramas, comedies productions.

In anticipation of this innovative event, this year's Kennedy Center Page to Stage festival, taking place August 30-September 1, will host more than 40 Washington DC area theater companies in a series of free readings and open rehearsals of plays, in preparation for the 2015 Women's Voices Theater Festival.

The entirely free Page-to-Stage festival allows area companies to workshop their plays one year before they present them in fully staged world premiere productions - in this case - as part of the Women's Voices Theater Festival.

On Saturday, August 30, The Kennedy Center, in collaboration with the University of Maryland presents In His Own Words: A Concert in Tribute to Walter Dean Myers, directed by Scott Reese.

During a career spanning more than 45 years, Walter Dean Myers wrote more than 100 books for children of all ages, including 2 Newbery Honor Books, 3 National Book Award Finalists, and 6 Coretta Scott King Award/Honor–winning books. In 2012, he was appointed the National Ambassador for Young People's Literature, serving a two-year term in the position.

This theatrical tribute to Myers combines music, dance, and spoken word with text from some of his most famous books, including excerpts from picture books like Harlem, We Are America, and Blues Journey to his gritty teen novel Monster and his memoir Bad Boy.

"This one-night-only celebration of Walter Dean Myers is a fitting tribute to a man who changed the face of young adult literature and touched so many with his eloquent and unflinching portrayal of young African American lives," states The Kennedy Center.

Two production creating buzz are Margherita and Lincoln and God.

On the Millennium Stage North Margherita by Anthony Gallo will be mounted by Seventh Street Playhouse.

Margherita, a play about the relationship between Benito Mussolini and his Jewish mistress of 25 years is based on the Book of Judith.

Margherita Sarfatti and Benito Mussolini, who were lovers for 25 years, meet after a three-year separation. Il Duce suddenly appears at her door as she attempts to leave the country. What does he want? What does she want? The play takes place during a three-day encounter in 1939. A number of bizarre incidents follow. She is well aware of what he wants - all of the letters he sent her during their 25-year affair. He isn't beneath playing with her mind.

Lincoln and God: The Folk Opera composed by John Ward, lyrics by Anthony Gallo will be presented with actors and singers performing selected pieces from this newly written folk opera Lincoln and God, based on the stage play of the same name. This performance will be the opera's premiere and will include songs Love is eternal, I am an American, This is America, and God Chooses. The opera traces the 16th President's spiritual and moral struggle during the Civil War.

Participating theatres in the Page To Stage include:

1st Stage Theater, ABG Playwrights, Actors Repertory Theatre, Adventure Theatre MTC, African Continuum Theatre Company, African-American Collective Theater, American Ensemble Theater, Arts on the Horizon, Baltimore Playwrights Festival, Catholic University of America, City Theatre Group, Crash of Rhinos.

Day Dreamers International, dog & pony dc, The Essential Theatre, Federal Theatre Project, First Draft, Fuse Productions, Gallaudet University, Georgetown University Theater and Performance Studies, Guillotine Theatre.

The Indian Ocean Theatre Company, The Kennedy Center and University of Maryland, MetroStage, My Creative Spirit, New Musical Foundation, Pinky Swear Productions, Playwrights Collaborative, Playwrights Group of Baltimore, The Playwright's Gymnasium. Safe Streets Arts Foundation. Scena Theatre . Seventh Street Playhouse. Synetic Theater.

Taffety Punk, Theater Alliance, Theater J, Timeless Visual Works, LLC, Tonic Theater Company, The Venus Theatre, VSA Playwrights, The Washington Rogues, The Welders.





Broadway To Vegas is supported through advertising and donations. Priority consideration is given to interview suggestions, news, press releases, etc from paid supporters. However, no paid supporters control, alter, edit, or in any way manipulate the content of this site. Your donation is appreciated. We accept PAYPAL. Thank you for your interest.





ART AND ABOUT


THE NANJING MUSEUM

Jade burial suit at the Museum of the Mausoleum of the Nanyue King, in Guangzhou.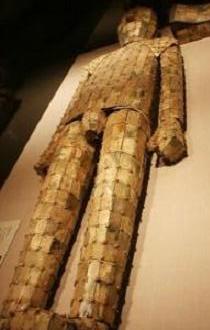 currently holds some 400,000 objects in its collections, among which include the only complete set of 'jade suits sewed with silver thread' in China, which are world renowned.

In 1982, a Warring States period Chu State tomb was excavated from which stellar pieces were retrieved that also form some of the extraordinary treasures in this museum.

Jade suits sewn with golden, silver or copper threats were funerla clothing for imperial families. This became a practice during the Warring States Period (476-221BC) and prevailed in the Han Dynasty (206BC-AD220) .

The color of the thread designated the class.

In the official Chinese historical text known as the History of the Later Han, it was described that the thread used was dependent on the status of the person buried. Meaning that the jade suits of emperors used gold thread; princes, princesses, dukes and marquises used silver; and sons or daughters of those who got silver threaded suits received copper thread.

People of the Han Dynasty believed jade had absorbed the essence of mountains, carrying in them the power to keep a body from decaying. Therefore, during the Han Dynasty, a jade burial suit was an indispensable funerary object.

Making a garment out of the mineral jade is no easy sewing task.

Crucial was that the shape of the suit fit the human body being covered. That meant that thousands of small jade pieces of various shapes and sizes had to be obtained. When the jade pieces were arrived, they were polished and drilled, with the shapes and sizes of the holes undergoing special scrutiny before specially made gold, silver, or copper threads were used to join the pieces together.

This took time. Muich like a pre need funeral plan, jade suits were constructed in advance of the person's death, with the hope that the important person didn't gain weight.

The jade suits of Liu Sheng and Dou Wan consisted of 2,498 plates of solid jade connected with two and a half pounds of gold wires. it took 100 craftsmen over two years to complete the burial garments.

Once the suits were finished, depending on the type of thread used in them, the suit would be called, "gold thread sewn jade burial suit," "silver thread sewn jade burial suit" or "copper thread sewn jade burial suit".

It was only in 1968, that these rare treasures were unearthed and since then, there have been a total of 18 tombs with jade burial suits of the Western Han Dynasty discovered in China, with only eight tombs holding gold thread sewn suits.

The calligraphy and paintings collections in The Nanjing Museum are also considered extraordinary. Among the 100,000 objects that have officially entered the collections, most are Ming-and Qing-dynasty works of artists who lived in the Jiangsu area.

Among these, the most special are the Wu Men painting school, Yangzhou painting school, Jinling painting school, as well as a small number of Song and Yuan-dynasty works. Most of the representative works of the modem Chinese painter Fu Baoshi (1904-1965, painter, art historian), and Chen Zhifo (1896-1962, modern arts educator) are stored here.

The Nanjing Museum holds the objects excavated by archaeologists in the early part of the twentieth century that were moved to Nanjing when the Palace Museum moved southward. These include excavations in Heilongjiang, Xinjiang, Yunnan, Sichuan, Gansu and other places. Collections also include artifacts from the southwest parts of China of the Naxi tribe, the Yi tribe, the Miao tribe, and other national minorities.

The Museum applies modern scientific methods of conservation, and is active in displaying its holdings, having mounted some 236 exhibitions.

Located inside the Zhongshan Gate of Nanjing City, the complex of buildings represents an amalgamation of east and west, with the great hall copying the style of a Liao-dynasty palace.

Peng Liyuan, wife of Chinese President Xi Jinping invited the wives of foreign leaders who were in the city attending the opening ceremony of Nanjuing 2014 Youth Olympic Games to visit the Nanjing Museum. During their August 16, 2024 visit the women sat down together and worked on a piece of Suzhou embroidery.

THE PORTLAND MUSEUM OF ART in Portland, Maine has announced that Dr. Andrew Eschelbacher has been appointed as the Susan Donnell and Harry W. Konkel Assistant Curator of European Art.

A specialist in 19th- and early 20th-century European art, Eschelbacher will be responsible for overseeing the PMA's collection of European art, including long-term loans from the Isabelle and Scott Black Collection and the Albert Otten Collection, as well as developing special exhibitions and other projects. He will start on September 2, 2014.


SWEET CHARITY


2014 SONOMA WINE COUNTRY WEEKEND with two hundred wineries and chefs. One unforgettable Sonoma Experience - all benefitting charities.

Established in 2008, Sonoma Wine Country Weekend combined the previously separate Sonoma County Showcase of Wine & Food with the Sonoma Valley Harvest Wine Auction into one weekend and joined the forces of their two sponsoring organizations, Sonoma County Vintners and Sonoma Valley Vintners and Growers Alliance to create a full weekend of additional events.

Sonoma Wine Country Weekend is Sonoma County's largest charity event and premier wine and food event, celebrating the region's incredible bounty of food, wine, and fun while raising much needed funds for Sonoma's local charities.

Participants experience first-hand the diversity and world-class quality of the region's artisanal wine and food and distinctive epicurean experiences. Three main events, Sonoma Starlight at Francis Ford Coppola Winery, Taste of Sonoma at MacMurray Ranch, and the Sonoma Harvest Wine Auction at Chateau St. Jean, are the signature attractions, supplemented by intimate Winery Luncheons, Dinner Parties, and Barbecues taking place throughout the weekend. August 29 - 31, 2014 in Sonoma, CA.


THE MUSIC GOES ROUND AND ROUND


ROSLYN KIND: GIVE ME YOU/THIS IS ROSLYN KIND a remastered re-release of two albums by Masterworks Broadway. There are many reasons to add this CD to your collection.

In describing Kind, the official release states: "On a late spring morning in 1968, seventeen-year-old Roslyn Kind graduated from high school in Brooklyn and immediately began a new job later the same day. 'I graduated to 'Pomp and Circumstance' in the morning," she recalls, "and that evening I was in RCA Studio B, down around 23rd Street in Manhattan, making my first recording.'"

This new CD features her first two albums - recorded when she was a teenager.

Talent at a young age runs in the family. Her half sister, Barbra Streisand, is 11 years older and took command of the spotlight when Kind was just a kid.

Having a superstar as a close relative is a dynamic with its own coping structure. For Kind there has always been the comparison to her big sis. Their voices sound remarkably alike. Plucky and talented I met Kind in Las Vegas. As she recalls in her bio: "It was 1973 at the Hilton. I was a baby. Elvis Presley was in the main room and on the side marquee it said "Introducing a new star to Las Vegas, Roslyn Kind." We had just moved to Los Angeles then. We just drove across country to move to L.A. on the 23rd of June and I opened in Vegas on the 26th. I shared a bill with Louis Prima and Sam Butera and The Witnesses and when Prima left I shared the bill with Bill Medley."

Kind is both an excellent singer, and compared to Streisand, a more personable performer. Off stage Roslyn Kind is a caring, decent, delightful human being.

Along with her recording career, Kind performed on Broadway, starring in the musical revue 3 from Brooklyn. Additional theatrical credits include the Off-Broadway production of Show Me Where the Good Times Are, Leader of the Pack and Ferguson the Tailor. She also received rave reviews in the Los Angeles production of William Finn's Elegies.

She took a decade out of her career to look after their mother. Barbra and Roslyn's mother died in 2002. While financially her care could simply have been farmed out to others, Roslyn oversaw the constant attention that their mother needed. It's a decision she never regretted.

Both Streisand and Kind are blessed with genetic hearing and vocal cord placement that offers a potential for greatness. The few who possess a real ability to sing can develop clarity and quality more easily than others. Many have wasted genetic gifts - but not Streisand or Kind.

This CD is a wonderful listening experience. Hopefully, for some, it will be an introduction to Kind who has performed several times in Las Vegas including singing with her sister at the MGM Grand in November 2012. That stop was part of Barbra Streisand's eight city US/Canadian tour and a six city International tour, which brought Steisand and Kind to the Hollywood Bowl, The 02 Arena in London and Rogers Arena in Vancouver.

Her most recent Vegas gig was last March at the Smith Center.

It would be wonderful if someday there was a Streisand/Kind duet album. Their voices blend and compliment. It could be a dynamic CD.

This re-release Give Me You and This Is Roslyn Kind by Masterworks Broadway - a combining of the initial Kind RCA albums - demonstrates that Kind's vocal delivery can be dynamic, dazzling or smooth. Some of the selections such as It's a Beautiful Day feature backup singers.

With the exception of one track, Give Me You, was helmed by Haitian-born, American composer and orchestrator Lee Holdridge, who would go on to collaborate on several Neil Diamond projects including the Grammy Award winning film score for Jonathan Livingston Seagull. Holdridge's orchestrations permit Kind to wrap her voice around a variety of styles.

Some of the selections have turned into standards such as Lennon and McCartney's The Fool on a Hill, from their 1968 Magical Mystery Tour, which Kind delivers in a more vibrant version than is normally heard from singers.

The inclusion of The Fool on a Hill is significant. Both the Beatles Magical Mystery Tour and Kind's Give Me You which includes The Fool on a Hill were released in 1968. That makes the Kind CD cutting edge. Her delivery of the tune is also more in line with the way the composers intended it to be sung.

Another statement that Kind was a participate in the cutting edge curve is the inclusion of I Only Wanna Laugh from her This Is Roslyn Kind album. The song by Bill Jacob and Patti Jacob from the Broadway musical Jimmy, in which the estranged wife of Mayor Jimmy Walker sings about her husband's infidelity. In this case, delivered by a teenager who didn't know of such things, but gives a convincing delivery. Jimmy didn't even open on Broadway until October 23, 1969. Back then Broadway composers would take songs from soon to open shows and want radio air play in order to sell tickets. They got that play by having singers, who received middle of the road station play to record the song. That Kind was given this song to include on her second CD indicates that, even as teen, her team was in the loop. Also on this CD is the chart maker (I Guess) The Lord Must Be in New York City penned by Harry Nilsson.

Her rendition of the pensive Can I Stop the Rain? is hypnotically intriguing. There is the powerful The Shape of Things by Barry Mann and Cynthia Weill and a hard charged Taximan by Rick Evans.

Who Am I? is regretful longing, again performed by a kid who was too long to be wistful about much of anything. Her ability to convey the meaning of lyrics beyond her years is also an anthem to the future as she bursts forth with a determined I Own the World and the self-confidence Mantra from Mann and Weill, Make Your Own Kind of Music.

Give Me You recorded when she was 18-years-old in 1968 was produced by Ernie Altschuler and Pierre Maheu. The recording engineers were Jim Crotty, Paul Goodman, and John Woram.

This Is Roslyn Kind, produced by Andy Wiswell was recorded in 1969. Ernie Oelrich was the recording engineer.

Today, Kind is a concert draw, recently performing at New York's 54 Below. Tonight, Sunday, August 24, 2014, she's one of the performers who will entertain at the 29th Anniversary Help Is On the Way Concert & Gala at the Palace of Fine Arts in San Francisco. The evening benefits the Abzyme Research Foundation, Aguilas, AIDS Legal Referral Panel and Postive Resource Center.








IN THE WORLD OF OPERA: ILLNESS AND ROMANCE


PLACIDO DOMINGO was forced to drop out of three performances of Il Trovatore (The Troubadour) at the Salzburg Festival due to fever caused by Domingo was replaced by Polish tenor Arthur Rucinski in performance on Augut 18, 21 and 24.

This sold out mounting of Il trovatore is a new interpretation of the piece of Guiseppe Verdi and was one of the most anticipated events in the Austrian premieres this year.
Domingo was also replaced in an August 21 recital of the West-Eastern Divan Orchestra, directed by Argentine-Israeli conductor Daniel Barenboim.

THE NEXT BRIAN TERFEL has been replaced by - Brian Terfel, according to reports circulating in Europe. Hannah Stone, 27, the Prince of Wales' official harpist has left her husband of two years, Gary Griffiths, a young Welsh singer, ironically dubbed 'the next Bryn Terfel' - for the original.

Considered Britain's biggest opera star, Terfel was reported to be on holiday in Spain with Stone.

Friends have told The Mail that the couple is 'very happy' and planning a future together.

Terfel has a worldwide following, performing repertoire from Wagner to Rogers and Hammerstein. He divorced his wife of 25 years in 2012 after she left him for an unemployed father of one, Ian Pleming, 27.

Stone was appointed by Prince Charles in 2011 as Royal Harpist and in that capacity and regularly performs for royalty and at other high-profile occasions.


SPREADING THE WORD


MICHAEL JACKSON BETWIXT/BETWEEN: ILLUSTRATED PRESENTATION AND MICHAEL JACKSON KARAOKE BIRTHDAY PARTY

Bubbles the Chimp (L) and Michael Jackson. (R) Photo: Morbid Anatomy Museum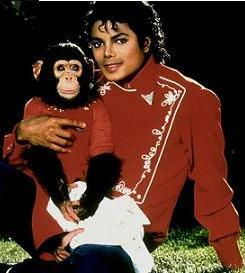 presented by The Morbid Anatomy Museum in Brooklyn, NY. They invite everyone to "join us to celebrate the birthday of Michael Jackson with a very special night of drinks, music videos, and karaoke sponsored by Hendrick's Gin and featuring a talk by Shannon Taggart on "the curious afterlife of Michael Jackson."

Taggart began to contemplate the curious life and afterlife of Michael Jackson after photographing a number of Spiritualist mediums who reported channeling the spirit of the King of Pop.

Her presentation will consider Michael's ambiguous dead/alive status and explore him as the ultimate luminal figure, one who blurs a number of binary oppositions. Materials drawn from popular culture will be used to demonstrate his status as a contemporary mythical figure and reveal his clear parallels with the gods, saints and shamans of the past.

Shannon Taggart is a photographer based in Brooklyn, NY. Her photographs have been exhibited and featured internationally including the publications TIME, the New York Times Magazine and Newsweek.

She is a programmer in residence at the Morbid Anatomy Museum.

This event takes place August 29, 2014 at the Morbid Anatomy Museum in Brooklyn, NY.

NIGHT WITH OSCAR by Eugene Pack had a staged reading last Thursday, August 21, at Guild Hall in The Hamptons. The successful event was introduced by Dick Cavett. Starring Tony Danza, Gina Gershon, Anita Gillette, Lucy DeVito, Tate Donova, John Magaro, and Dayle Reyfel, the new comedy takes place on awards night in Seaford, Long Island.

CONSTELLATIONS by British playwright Nick Payne, has - again - received rave reviews. This mounting is at the Eternity Playhouse in Darlinghurst NSW Australia until September 7. In 2012 Constellations was lauded in the UK. In January, 2015 Jake Gyllenhaal will star in a Broadway production of the two-hander.

Marianne is a vivacious physicist interested in the multiverse theory. Roland is a laid-back beekeeper. They meet at a barbecue. She goes over to chat but he snubs her, saying he's married. End of story. Or is it?

One relationship. Infinite possibilities.



YOU CAN'T TAKE IT WITH YOU by Moss Hart and George S. Kaufman.

Directed by six-time Tony nominee Scott Ellis.

Tony Award winner Jason Robert Brown will pen original music for the production.

Starring Tony winner James Earl Jones as Grandpa Vanderhof, Tony nominee Kristine Nielsen as Penelope Sycamore, Tony Award nominee Annaleigh Ashford as Essie Sycamore, Golden Globe nominee Rose Byrne in her Broadway debut as Alice Sycamore.

Cast members also include Mark Linn-Baker, Crystal A. Dickinson, Julie Halston, Marc Damon Johnson, Patrick Kerr and Tony nominee Reg Rogers.

The revival will have set design by David Rockwell, costume design by Jane Greenwood, lighting design by Donald Holder, hair and wig design by Tom Watson and sound design by Jon Weston.

An explanation of the revival states: "Family can do crazy things to people. And the Sycamore family is a little crazy to begin with. James Earl Jones plays wily Grandpa Vanderhof, leader of a happily eccentric gang of snake collectors, cunning revolutionaries, ballet dancers and skyrocket makers. But when the youngest daughter brings her fiancé and his buttoned-up parents over for dinner, that's when the real fireworks start to fly."

Previews begin August 26 at the Longacre Theatre in New York City.. The revival will officially open September 28. 2014.

GOOD GRIEF by Keith Waterhouse, adapted by Keith Waterhouse from his own best-selling comic novel.

Directed by Jez Jones.

Good Grief tells the story of June Pepper, the recently bereaved widow of the editor of a tabloid newspaper, who discovers there is far more to life than death. Following her late husband's instructions to keep a journal of her feelings, June finds that grieving is not the straight forward process she had imagined, especially when she finds herself surprisingly drawn to a stranger she sees wearing her husband's suit!

From August 27, 2014 to September 13, 2014 at the 16th Avenue Theatre, Tauranga, Bay of Plenty, New Zealand.

THE SHOPLIFTERS a world premiere by Morris Panych who also directs.

Starring Tony Award nominee Jayne Houdyshell and Helen Hayes Award winner Jenna Sokolowski as Alma and Phyllis, a career shoplifter and her nervous protégé who pick the wrong deli counter to steal from.

Caught red-handed by Dom, an overzealous rookie security guard, and his ambivalent mentor, Otto, these unlikely shoplifters must wheedle their way out of arrest by whatever means necessary. Adi Stein and Delaney Williams round out the cast.

The promo calls this a "biting, world-premiere comedy about society's haves and have-nots and how much they might actually have in common."

Performances begin September 5 at Arena Stage in Washington, DC.

IT'S ONLY A PLAY written by Terrence McNally.

Directed by Jack O'Brien.

Starring Oscar winner F. Murray Abraham, Tony nominated Matthew Broderick, Emmy winner Stockard Channing, Rupert Grint, Tony winner Nathan Lane, Emmy winner Megan Mullally and introducing Micah Stock.

Beginning August 28 at the he Gerald Schoenfeld Theatre. New York City.


WHO'S WHERE


SAVION GLOVER'S SOLO IN TIME Improvography by Gregory Hines and Jimmy Slyde, this production is a continuation of the HooFeRzCLuB tradition at attributing music through tap dancing's percussiveness - using tap as sound, and sound as dance. Accompanied by Bare Soundz company member Marshall Davis Jr., live flamenco vibes, and his own acclaimed Hooferz style, Savion Glover and company tributes the percussive medley of flamenco through the relationship between flamenco music and tap dancing as song. Friday, August 29, at the Performing Arts Center in Westhampton Beach, NY.

ADAM PASCAL Broadway star and Long lsland native Adam Pascal (Roger Davis in the 1996 original cast of Rent on Broadway, the 2005 movie version, and the Broadway Tour in 2009) brings his blend of rearranged and re-imagined Broadway classics, pop/rock hits and original music to the Southampton Arts Center, NY for one night only on Labor Day weekend, August 30. A concert evening featuring Musical Director Larry Edoff.

BRUNO MARS appears at the Curacao North Sea Jazz Festival on Saturday, August 30, Curacao Island.

MIRANDA LAMBERT appears at the Xfinity Theatre in Hartford, CT on Saturday, August 30. Next Sunday, August 31, she's at the Bethel Woods Center For The Arts in Bethel, NY.

AEROSMITH can be enjoyed at The Cynthis Woods Mitchell Pavilion at The Woodlands, Texas on Monday, August 25. On Thursday they perform at the Philips Arena in Atlanta. Next Sunday, August 31, they star at the Broadway Walk Hall in Atlantic City, NJ.

CHRIS ISSAK on stage Wednesday, August 27, at Massey Hall in Toronto, ON. Friday's gig is at the Casino Ballroom in Hampton Beach, NH. On Saturday he can be enjoyed at the PAC in Westhampton Beach, NY.















Next Column: August 31, 2014
Copyright: August 24, 2014 All Rights Reserved. Reviews, Interviews, Commentary, Photographs or Graphics from any Broadway To Vegas (TM) columns may not be published, broadcast, rewritten, utilized as leads, or used in any manner without permission, compensation and/or credit.
Link to Main Page
---
Laura Deni



For the snail mail address, please E-mail your request.
CLICK HERE FOR COMMENT SECTION