! >
Broadway To Vegas
  
 SHOW REVIEWS CELEBRITY INTERVIEWS GOSSIP NEWS

| | |
| --- | --- |
| | |
THE ART OF THE BRICK LEGO EXHIBIT - - PATTI LuPONE GYPSY 2008 BROADWAY CAST CD - - JUDITH IVEY DIRECTS VANITIES - - THE NEW ORLEANS ALL-STAR JAM BALAYA HEATS UP POLITICAL CONVENTIONS - - FORMER OLYMPIC ATHLETES FIND WORK IN LAS VEGAS - - FREE TICKETS - - SPRING AWAKENING LAUNCHES WEST COAST TOUR - - WEST COAST PREMIERE FOR GREY GARDENS - - DONATE . . . Scroll Down


Copyright: August 24, 2008
By: Laura Deni

CLICK HERE FOR COMMENT SECTION
MUSIC CARRIES A BI-PARTISAN TUNE


Hard as it may be to comprehend, the Democrats and the Republican agree on a couple of things - music and food.

The New Orleans All-Star Jam-Balaya - musical and culinary fundraising events to benefit recovery and rebuilding efforts in Katrina-ravaged New Orleans through the Friends of New Orleans charitable organization - will kick off both the Democratic and Republican national conventions. Both events will feature jazz musicians and cuisine from well-known New Orleans restaurants.

Musicians who have trekked to the Mile High City from the Crescent City include; George Porter Jr., Cyril Neville, Terence Blanchard, Big Chief Monk Boudreaux, Johnny Vidacovich, Anders Osborne, Waylon Thibodeaux, Jumpin' Johnny Sansone, Meters drummer Zigaboo Modeliste and guitarist Leo Nocentelli as well as Henry Butler and special guest Randy Newman.



Randy Newman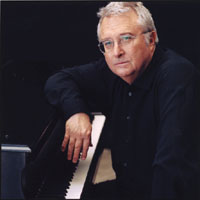 Tonight - Sunday, August 24 - guitarist Tab Benoit's Voice of the Wetlands All-stars anchors a Louisiana krewe performing at the Democratic Convention's delegate welcoming party and a private event sponsored by Friends of New Orleans, (FONO) a Washington, D.C.- based private, non-profit, non-partisan, membership organization for people in the U.S. and abroad who advocate on behalf of Louisiana's post-hurricane recovery.

The delegate event, financially supported by the Denver 2008 Convention Host Committee, will be a preview of the New Orleans All-Star Jam-Balaya, to be held later this at evening the Fillmore.

Both events pair well known jazz musicians and world famous Louisiana cuisine hoping to generate financial support for charities and organizations that have been working to rebuild communities in the Gulf Coast region.

"The spirit of the many unsung Heroes of the Storm, people who have unselfishly given of themselves to help others, is something for our entire nation to recognize and celebrate," said Donna Brazile, Board Member of FONO. "There could not be a better time than the Democratic National Convention to showcase the unity of our country and power of our collective efforts for such a great cause."

FONO spokesman Rob Jennings added. "Anything we do in Denver, we're doing the same in Minneapolis."



Tab Benoit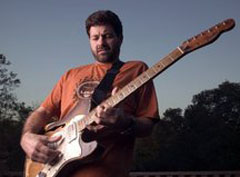 The event at the Republican National Convention in Minneapolis, Minn., will be held on Monday, September 1, at the First Avenue Nightclub and will be hosted by former Louisiana U.S. Rep. Billy Tauzin, former Wisconsin Gov. Tommy Thompson and nationally-known political operative Mary Matalin.

The FONO fundraisers had been scheduled since last year because both political parties wanted to mark the third anniversary of Hurricane Katrina.

FONO agreed to kick the fundraiser up a notch with a battery of New Orleans and Cajun-style musicians.

Tonight's New Orleans All-Star Jam-Balaya will be hosted by Louisiana Senator Mary Landrieu, Lt. Governor Mitch Landrieu, nationally-known, Louisiana-reared political operatives Donna Brazile, James Carville, who is a regular on CNN and married to Republican Mary Matalin, and comedian Harry Shearer.

More than 40 musicians from New Orleans will perform at the concert, which the event's organizers hope will bring attention to the ongoing Gulf Coast rebuilding effort and the immediate need to prevent further loss of Louisiana's coastal wetlands.

Ralph Brennan, president of Ralph Brennan Restaurant Group, LLC and former National Restaurant Association chairman, and the chefs at his four New Orleans restaurants have volunteered their time and expertise.

"Restaurants, food and music are central to New Orleans culture, so what better way to raise awareness of the ongoing need for rebuilding the city and its surroundings after Hurricane Katrina in 2005 than to celebrate all three in one venue," said Dawn Sweeney, President and CEO of the Association.



James Carville was born in fort Benning, Ga. Married in New Orleans in 1993, this year Carville and Matlin relocated to New Orleans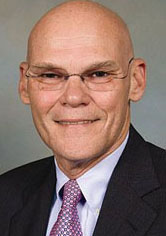 Born in Kenner, Louisiana, Donna Brazile is a weekly contributor and political commentator on CNN's Inside Politics and American Morning.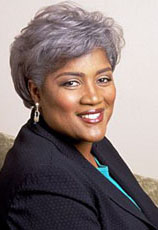 The National Restaurant Association, the Colorado Restaurant Association, Minnesota Restaurant Association and the Louisiana Restaurant Association collaborated to organize the chefs and restaurateurs featured at the events. The Louisiana seafood industry, also hit hard by Hurricane Katrina, is providing local seafood for a special New Orleans-style menu.

Event catering specialist Harry Spivak is overseeing the staffing and production in both cities.

The world-famous French Quarter watering hole Pat O'Brien's has sent one of its top bartenders to mix Hurricane cocktails for the guests.

"This anniversary is too important to pass by unnoticed. We are one country, and we stand together in good times and bad," said Democratic National Committee (DNC) Chairman Governor Howard Dean. "Nearly three years after Katrina, we want the nation to know that rebuilding New Orleans and the Gulf Region is not just a local issue but a national one. The voices of those who were affected by Hurricane Katrina have not gone silent, and it is critical to make sure those who live there and those who were displaced are not forgotten."


TURNING CHILD'S PLAY INTO MUSEUM CREATIONS - LEGO
Black and white self-portrait by LEGO artist Nathan Sawaya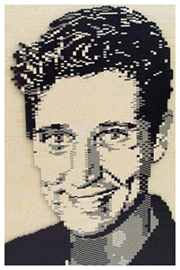 At the June 1990 press opening for the Excalibur hotel in Las Vegas, I ruffled some feathers when responding to a question as to what I thought of the outside. I answered that I thought it looked like the architect was getting even with his mother for throwing away his LEGO blocks.

While the Vegas hotel is built from normal building materials, a new exhibit focuses on amazing creations from those childhood building toys.

The Art of the Brick brings to museum quality what you (maybe) could have done if only your mother hadn't made you clean your room.

This museum show created by Nathan Sawaya is currently touring the U.S.

It is the first major museum exhibition in the United States to focus exclusively on the use of the popular LEGO building block as an art medium and artist Nathan Sawaya takes it to new heights.

This 35-year-old New York artist creates artwork solely from standard LEGO brick and has created several new works specifically for the exhibit featured at the American Swedish Historical Museum.

Nearly one million colorful LEGO pieces transformed into whimsical and awe-inspiring images are on display at the museum in South Philadelphia through Thanksgiving weekend.

According to the artist, "The museum exhibit is accessible because it engages the child in all of us…"

Sawaya's ability to transform these popular toy building blocks into something meaningful, his devotion to spatial perfection and the way he conceptualizes action enables him to elevate a toy for children into art.

"I really love this group of sculptures and portraits because it mixes whimsy with thought-provoking" said Sawaya. "My hope is that families will come to see the art, and then leave with discussions of complex concepts."

Sawaya also said that he believes his job as an artist is to "captivate you for as long as I can keep your attention."

In addition to the viewing of Sawaya's exhibit, the American Swedish Historical Museum will attempt to captivate and keep the attention of museum goers with a special interactive room that will be available during the run of the exhibition for children of all ages to build with fun materials.



The artist said he was "honored to be commissioned to build a replica of the flag raising at Iwo Jima for permanent installation at the National Museum of the Marine Corps. Using Joe Rosenthal's famous photograph as inspiration, the sculpture used over 100,000 LEGO bricks.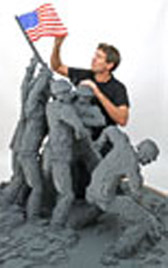 Born in Colville, Washington and raised in Veneta, Oregon, Sawaya's childhood dreams were always fun. He drew cartoons, wrote stories and perfected magic tricks.

Of course much of his playtime centered on the emerging LEGO City he created in his parent's living room. For more than twelve years the LEGO City flourished. And this is where Sawaya's imagination soared, and consequently fine-tuned his future art form.

With more than 1.5 million colored bricks in his New York studio, Sawaya's sculptures take many forms.

A 7-foot-long replica of the Brooklyn Bridge, a life-size tyrannosaurus rex skeleton, and Stephen Colbert are all now immortalized in plastic - thanks to Sawaya.

His work is obsessively and painstakingly crafted and is both beautiful and playful. Sawaya's ability to transform LEGO bricks into something new, his devotion to scale and color perfection, the way he conceptualizes the action of the subject matter, enables him to elevate an ordinary toy to the status of art.

Sawaya's art form takes shape primarily in 3-dimensional sculptures and oversized mosaic portraits.

Some of his favorite pieces include a huge black and white self-portrait and a tribute to the rebirth of New Orleans.

The Art of the Brick opened at the American Swedish Historical Museum in South Philadelphia yesterday, August 23, 2008 and will be on view through November 30, 2008.

The exhibition then travels to;

TELUS World of Science Edmonton, Edmonton, Alberta - December 15, 2008 - May 3, 2009. Turtle Bay Exploration Park and Museum, Redding, CA – May 16, 2009 - January 3, 2010. Crown Center, Kansas City, MO - May 23, 2009 - September 7, 2009. Everhart Museum, Scranton, PA - February 4, 2010 - May 2, 2010. Lakeview Museum of Arts and Sciences, Peoria, IL - April 2, 2010 - September 6, 2010.


THE MUSIC GOES ROUND AND ROUND


PATTI LuPONE GYPSY There is precious little that can be said about the voice of Patti LuPone that has already not been said. She entered the rarified strata when she starred in Evita and subsequently has become her own galaxy.

On August 26 Time Life will release the 2008 Broadway Cast Recording of Gypsy.

Winner of three Tony Awards - for Best Leading Actress, Best Featured Actor, and Best Featured Actress - this 2008 Broadway revival of Gypsy stars the great Patti LuPone as Mama Rose, with fellow Tony winners Boyd Gaines and Laura Benanti as Herbie and Gypsy Rose Lee, respectively.

One of the many wonderful attributes about this CD is that there is more than one great voice on the recording.



Laura Benanti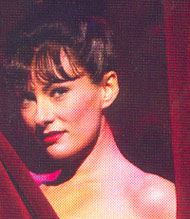 Laura Benanti sings the socks off a song.

The ensemble features Beckley Andrews, Nancy Renée Braun, Mindy Dougherty, Kyrian Friedenberg, Sarah Marie Hicks, Steve Konopelski, Matthew Lobenhofer, Nicole Mangi, Katie Micha, Matty Price, Andy Richardson, Jessica Rush, Alicia Sable, John Scacchetti, Geo Seery, Rider Quentin Stanton, Pearce Wegener, Andrew Boyer, Matt Gibson and Lisa Rohinsky.

While there are other recordings of Gypsy, this CD features seven never before recorded songs that were cut from the original Broadway production including Three Wishes For Christmas; Mama's Talkin' Soft; Nice She Ain't; Mother's Day; Smile, Girls; Who Needs Him? and an alternate version of Mother's Day.

Additionally, award winning Hollywood and Broadway orchestrator Jonathan Tunick has created new orchestrations for the additional musical numbers. Tunick, a longtime collaborator with Stephen Sondheim, is one of the few artists who has won all four major American performing awards; Tony Award, Academy Award, Emmy and Grammy Award.

Conducted by Patrick Vaccariello.

Violins: Marilyn Reynolds (Concert Mistress), Fritz Krakowski, Eric Degioia, Dana Iaculovici, Amy Kimball, Robert Zubrycki, Lisa Seinberg, Mary Whitaker, Christoph Franzgrote, Katherine Livolsi, Paul Woodiel.

Violas: Crystal Garner, Sally Shumway, Claire Bergman; Celli: Peter Prosser Vivian Israel, Roger Shell; Bass; Brian Cassier; Woodwinds: Edward Salkin, Scott Shacter, Dennis Anderson, Ralph Olson, John Winder; Trumpets: Tony Kadleck, James Delagarza, John Chudoba, Tino Gagliardi; Trombones: Bruce Eidem, Wayne Goodman, Robert Fournier; French Horn: Nancy Billman; Harp: Susan Jolles; Keyboards: Jeffrey Harris, Joseph Thalken; Drums: Paul Pizzuti; Percussion: Thad Wheeler. Music Coordinator: Seymour Red Press.

Recorded at Clinton Recording Studio in NYC on May 5-6, 2008. Adam Long served as chief recording engineer and then joined Robert Sher for editing in St. Louis, Mo. Mastered by Darrell McClanahan.



Broadway To Vegas is supported through advertising and donations. Priority consideration is given to interview suggestions, news, press releases, etc from paid supporters. However, no paid supporters control, alter, edit, or in any way manipulate the content of this site. Your donation is appreciated. We accept PAYPAL. Thank you for your interest.


SPREADING THE WORD


GOLDEN BOY by Clifford Odets. Directed by Joanne Woodward. Starring Marisa Tomei.

Joe Bonaparte dreams of becoming a world-famous violinist: "When I play music, nothing is closed to me. I'm not afraid of the people or what they say. There's no war in music. It's not like the streets." He has discovered, however, that he can make easy money by prize fighting. As he wins match after match, he finds himself losing his musical aspirations and becoming consumed by the easy money, the fame and the glorious violence. From the award-winning playwright Clifford Odets, Golden Boy is the story of a young man who finds himself at the crossroads of his life. If you make the wrong choice, though, can you ever find your way back?

Monday, August 25. This one-night-only event is part of Westport's The Classical Series, which brings together professional actors to read the works of master playwrights.

THE UNITED STATES CHAPTER OF ASSITEJ the International Association of Theatre for Children and Young People, Theatre for Young Audiences/USA (TYA/USA) has announced the election of a new slate of officers for its Board of Trustees.

Serving as the new Board President will be Lenora Inez Brown who is on the faculty of the Theatre School at DePaul University in Chicago. Joette Pelster, Executive Director of The Coterie Theatre in Kansas City, Missouri has been named Co-Vice President along with Susan Hyatt, Director of Education for Florida Stage in Manalapan, Florida. Ruth C. Mercado, Director of Education at The Citi Performing Arts Center in Boston will serve as Treasurer and David A. Miller, a respected theatrical director, will serve as Secretary.

Theatre for Young Audiences/USA is the national service organization promoting the power of professional theatre for young audiences through excellence, collaboration and innovation across cultural and international boundaries. Founded in 1965, TYA/USA (as ASSITEJ/USA) is the only theater organization in the U.S. which has the development of professional theater for young audiences and international exchange as its primary mandates.

PASADENA PLAYHOUSE Board Chairman Kerry McCluggage and Artistic Director Sheldon Epps announced that Playhouse Managing Director Brian Colburn will leave his post after 11 years at the Playhouse to assume the Managing Directorship at Seattle's Tony Award-winning Intiman Theatre.

Artistic Director Sheldon Epps commented on Colburn's move, "For the past several years Brian and I have shared a partnership that has brought rich rewards to the Playhouse in every area. Thanks to his energy and dedication, he leaves our theatre in a strong and much to be admired place. The emergence of our theatre into a leadership position in the Los Angeles and national theatre community is largely due to the skill and insight that he has brought to the administrative operation of our company. I am sure that he will bring the same intelligence and passion for the art on the stage to his new position at Intiman Theatre. I forecast with great certainty that this new partnership that will have wonderful mutual rewards. I wish him well as he begins his new journey in a much admired and dynamic theatre community."

Colburn who will take his new post late this year stated, "Eleven years ago, when I was an administrative assistant at Pasadena Playhouse, Sheldon Epps became artistic director and brought a seemingly improbable dream that we could become a leading theatre in this nation. Wonderfully, with Sheldon's leadership and tremendous support from our Board and community, we achieved virtually every goal we set for ourselves more than a decade ago. Somehow, during that time, I had the good fortune to become Managing Director."

"Now is the time for Pasadena Playhouse to dream new dreams, and it is also the time for me to take on new challenges. I was not seeking a change, but when the Intiman opportunity presented itself, I instantly recognized a very special American theatre with a tremendous sense of community among its artists and supporters. Intiman has always been an innovative institution, and it has accomplished so much in the last decade under the leadership of Bart Sher. Its challenge, as presented to me by its board and staff leaders, is to not to sit back and enjoy recent successes, but to keep moving forward and to propel all of its artistry and creativity into the future."


OTHER PEOPLE'S MONEY


FREE TICKETS The Star of the Desert Arena at Primm, Nevada - located on the California.Nevada border - about 40 miles from downtown Las Vegas - has an entertainment roster that includes Liza Minnelli, Bill Cosby, Hootie & the Blowfish, Brian Wilson, Al Green, Foreigner, The Beach Boys, Wyonna, Patti LaBelle and a host of other talented people. To counter-act the high cost of gasoline, the venue is giving away - as in free - 500 tickets to all of their concerts through the end of the year with a four ticket per show limit. The freebee throw out was begun with Liza Minnelli's performance last week. Last night some lucky customers got in on the cheap to enjoy Hootie & The Blowfish. On August 30 the star is Bill Cosby. By the way, the Star of the Desert is an excellent 6,500 seat arena.



GREY GARDENS Book by Doug Wright. Music by Scott Frankel. Lyrics by Michael Korie. Based on the film Grey Gardens by David Maysles, Albert Maysles, Ellen Hovde, Muffie Meyer, and Susan Froemke.

Starring Beth Glover and Dayle Soules as the infamous Beales. In this West Coast premiere, Glover stars as Big Edie for the 1941-set first act and as the iconic Little Edie in the musical's 1973-set second act. Soules, who performed the role of Big Edith Bouvier Beale during Tony winner Mary Louise Wilson's absence from Grey Gardens on Broadway, portrays the elder Beale in the second act of the musical.

The company also features Elisa Van Duyne as the 1941 version of Little Edie, as well as Nicholas Galbraith as Joe Kennedy/Jerry, Michael Winther, Michael LeRoy Brown, Kathryn Foley, Carolyn Di Loreto, Isabella Wilcox and Paul Myrvold.

Nominated for ten Tony Awards, this hilarious but heartbreaking Broadway hit chronicles the fall of American royalty: Jacqueline Kennedy's notorious relatives, Edith and Edie Bouvier Beale. Edith ('Big Edie') Ewing Bouvier Beale and her daughter Edith ('Little Edie') Bouvier Beale were once the toast of the New York social circle of the 1940s. In a scandalously beguiling musical about love, loss, and eccentricity at the heights of society, Pulitzer Prize-winning playwright Doug Wright chronicles their journey from giddy fortune in the '40s to seclusion in the '70s, becoming East Hampton's most notorious recluses. A bittersweet saga of roads not taken and dreams left unfulfilled.

Presented by Theatreworks, the production officially opened last night with performances through Sept. 14 at the Mountain View Center for the Performing Arts in Mountain View, CA.

SPRING AWAKENING the 8-time Tony Award winning Broadway musical launches their West Coast tour from the newly restored Balboa Theatre in San Diego.

Kyle Riabko and Blake Bashoff lead the cast. Joining Riabko at the center of the story is Christy Altomare as Wendla, with Steffi D opposite Bashoff as Ilse. Canadian singer/song writer Kyle Riabko, who made his Broadway debut in Spring Awakening in May 2008, reprises the pivotal role of Melchior Gabor, the thoughtful and soul-searching young man who dares to defy the conventional principles in repressive 19th century Germany. Television and film actor Blake Bashoff, who debuted on B'way in December 2007, continues as the ill-fated best friend Moritz Stiefel who valiantly struggles to measure up to his father's and his very own high expectations.

The entire cast is comprised of Krystina Alabado, Christy Altomare, Blake Bashoff, Julie Benko, Todd Cerveris, Steffi D, Chase Davidson, Kate Fuglei, Gabrielle Garza, Kimiko Glenn, Sarah Hunt, Anthony Lee Medina, Andy Mientus, Ben Moss, Angela Reed, Kyle Riabko, Perry Sherman, Matt Shingledecker, Claire Sparks, Henry Stram and Lucas A. Wells.

Set against the backdrop of a repressive and provincial late 19th century Germany, this rock-infused, taboo-testing show is based on the infamous 1891 Frank Wedekind play and features an electrifying score by Duncan Sheik and Steven Sater, direction by Michael Mayer, choreography by award-winning Bill T. Jones and book by Steven Sater.

Hailed as the Best Musical of the Year by the NY Drama Critics Circle, the Drama Desk and the Outer Critics Circle, this brave new musical tells the timeless story of teenage self discovery and budding sexuality as seen through the eyes of three teenagers.

Officially opened last night with performances through August 31 with the American Sign Language Service is offered at the Saturday, August 30 matinee performance.

THE PRODUCERS based on the hilarious Mel Brooks film. Directed by Larry Ravon.

The cast stars Michael Kostroff (Max), Adam Wylie (Leo), Christine Cherry (Ulla), David Edwards (Roger Debris), Stephen Ted Becklar (Franz), Garth Kravits (Carmen Ghia), with Anne Bloemendal, Sarah Burns, Will Cohen, William James Daniels, Erik Floor, Abeku Hayes, Patrick Oliver Jones, Denis Molnar, Kevin Murnane, Linda Neel, John O'Malley, Candice Pennefather, Jessica Sheridan, Elizabeth Sousek, and Lindsay O. Travis.

Choreographed by Matthew Vargo; Jeff Buchsbaum is musical director; lighting design by Paul Miller; with original scenic design by Robin Wagner and original costume design by William Ivey Long.

Gateway Playhouse, Long Island's premiere professional Equity musical theatre, presents this award winning hit musical at the Patchogue Theatre, August 27 – September 13. 2008 marks Gateway Playhouse's 59th year of producing first class entertainment. The state-of-the-art facility surrounded by a beautifully landscaped rustic exterior creates a unique theater going experience; one of the top ten summer theaters in the nation. The seven acres of wooded, grassy land encompass the 500 seat Mainstage theatre.

FRANKIE AND JOHNNY IN THE CLAIR DE LUNE

Libby West and Thomas Fiscella. Photo by Shashin Desai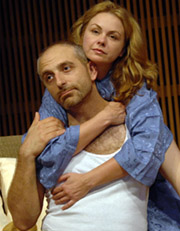 written by Terrence McNally. Directed by Todd Nielsen. Starring Libby West and Thomas Fiscella.

A bittersweet comedy that combines poignancy with laughter as it traces the unlikely romance that develops between two middle-aged "losers."

In a cramped walkup on Manhattan's West Side, Frankie, a waitress, and Johnny, a short order cook, have fallen into bed together at the end of their first date.

This comedy for adults about a one-night stand asks all the questions we are afraid to ask ourselves about love.

Set Design by Stephen Gifford. Lighting and Sound Design by Chris Kittrell. Production Stage Manager Michael Alan Ankney.

Previews begin August 26 towards the official opening of August 29. Performances through September 21 at the International City Theatre in Long Beach, CA.

THE SUBJECT WAS ROSES written by Frank Gilroy directed by Claudia Jaffee.

A classic of American theater, Frank Gilroy's Pulitzer Prize-winning The Subject Was Roses is an unblinking exploration of domestic warfare. After serving on active duty in the Army, Timmy Cleary returns home to find his parents are strangers to him and to each other. Long-hidden resentments surface as the tenuous ties that hold the family together begin to unravel and doubt and mistrust threaten to sever any hope for reconciliation.

The cast features Danny Araujo, Peter Karlin and Ferrell Marshall. The set design is by Stephen Gifford. The lighting design is by Lisa D. Katz. The Production Stage Manager is Amy E. Stoddard. The play is produced for WCE by Kimberly Bailey.

Opening Tuesday, August 26, 2008 and will continue through Thursday, September 18 at The El Centro Theater, Hollywood, CA.

MARIA/STUART by Jason Grote. Directed by Pam MacKinnon. A world premiere featuring company members Naomi Jacobson and Sarah Marshall, with Meghan Grady, Eli James, Amy McWilliams and Emily Townley.

Stuart fights to keep the lid on his mother's and aunts' simmering angst. But the family's secrets channel themselves into a bizarre shapeshifter that guzzles soda and chatters German verse. Friedrich Schiller's classic tale of warring queens inspires a macabre romp into all that suburban America tries to repress.

Performances through September 14 at Woolly Mammoth Theatre Company in Washington, DC.

VANITIES By Jack Heifner. Music and Lyrics by David Kirshenbaum. Based on the Original Play Vanities by Jack Heifner. Musical staging by Dan Knechtges.

Directed by Judith Ivey.

Starring (in alphabetical order): Lauren Kennedy as Mary. Sarah Stiles as Joanne. Anneliese van der Pol as Kathy.

Chronicling the comic journey of three vivacious Texas teens from cheerleaders to sorority sisters to housewives, liberated women and beyond, this tangy tale of coming-of-age in the '60s and '70s is a musical scrapbook of an era that had to be lived to be believed.

With a tunefully evocative score by David Kirshenbaum and Jack Heifner's hilarious adaptation of his Vanities, A New Musical, which ran for five years in New York and became one of the longest running plays in Off-Broadway history. The production offers a snapshot-sharp portrait of the lives, loves, disappointments, and dreams of best friends caught up in times that are a-changin'.

Opened August 22 with performances through September 26 at the Pasadena Playhouse in Pasadena, CA.




WHO'S WHERE


FOREIGNER perform Friday, August 29 at the Shenandoah County Fair in Woodstock VA. On Saturday they are on stage at the Trump Taj Mahal Casino in Atlantic City.

BACKSTREET BOYS are in Canada this week where they will be in the spotlight Tuesday, August 26, at Sudbury Arena in Sudbury, On. On Wednesday the show is at Steelback Centre in Sault Ste. Marie in Ontario. Saturday finds them in Regina, SK at the Brandt Centre and next Sunday they take to the stage at the Rexall Place in Edmonton, Alberta.

BOB DYLAN in the spotlight Tuesday, August 26, at Riverfest Amphitheatre in Little Rock. On Wednesday he performs at the Brady theater in Tulsa. On Thursday the show is at the Uptown Theater in Kansas City. Dyland will be appearing at Jazz Aspen Snowmass on Saturday, August 30, in Snowmass, CO. Next Sunday finds him at the Deer Valley Resort Snow Park in Park City, UT.

ROD STEWART is in the spotlight Wednesday, August 27, at Verizon Wireless Amphitheater in Alpharetta, GA. On Thursday he can be enjoyed at the Ford Amphitheatre in Tampa, FL. Then he heads to Puerto Rica for a performance at the Coliseo de Puerto Rico on Saturday, August 30.

BIG BAD VOODOO DADDY on Friday, August 29, opens a three night gig at Hones Hall in Houston, TX.

MARILYN McCOO AND BILLY DAVIS, JR have received 7 Grammy Awards. Married to each other for 39 years, they are currently celebrating 40 years in the entertainment business. Marilyn's numerous stage appearances included starring as Julie on Broadway in the revival of Showboat. The delightful duo, who were part of the original 5th Dimension, will be singing their hits Aug. 29-31 at the Suncoast in Las Vegas.

DAVID SPADE getting laughs August 30-31 at Planet Hollywood in Las Vegas.

CHRIS ROCK brings eagerly awaited his No Apologies Tour to The Colosseum at Caesars Palace in Las Vegas August 29-30.


PIFFLE AND PROFUNDITIES


LIFE AFTER THE OLYMPICS MEANS LAS VEGAS Former Olympic athletes relocated to Las Vegas isn't exactly being sent to the stud farm - although many may think otherwise. If you've even wondered what happens to the athletes after their Olympic days are over - many head to Sin City. More than 25 former Olympic Athletes have found work with Cirque du Soleil.

Next Column: August 31, 2008
Copyright: August 24, 2008. All Rights Reserved. Reviews, Interviews, Commentary, Photographs or Graphics from any Broadway To Vegas (TM) columns may not be published, broadcast, rewritten, utilized as leads, or used in any manner without permission, compensation/credit.
Link to Main Page
---
Laura Deni


CLICK HERE FOR COMMENT SECTION