! >
Broadway To Vegas
 
  SHOW REVIEWS CELEBRITY INTERVIEWS GOSSIP NEWS

| | |
| --- | --- |
| | |
DAVID CASSIDY IS HORSING AROUND - - CAMP MOVIE CD SPEAKS TO HOPEFULS - - LITTLE MERMAID STATUE TURNS 90 - - WILLIAM SHATNER'S PAINTBALL PARTY - - SHIRLEY JONES ON A CRUISE - - CHIPPENDALES FLY TO VEGAS - - A SAINT FOR EVERY MOOD SWING - - BETTING ON CHICKEN DROPPINGS ILLEGAL - - DONATE . . . Scroll Down


DAVID CASSIDY IS HORSING AROUND


Former Las Vegas resident David Cassidy, who pulled up stakes to plant some roots in Florida, is horsing around in upstate New York.

Last week Cassidy was seen consoling Marylou Whitney and her husband John Hendickson, after their beloved horse Bird Town fell from the pack and lost a grueling mile and a quarter race at Saratoga Springs. Also trying to buck up Marylou's spirits were former New York City Mayor Rudy Giuliani. Future plans for the filly are to use her as a brood mare - the horse, not Marylou.

Cassidy and his wife, Sue, own and race their horse, Zelig.

David's wife was kept racing on her own track. Sue and Eileen Cornacchia, co-owner of Kentucky Derby winner Go for Gin, co-chaired the Old Bags Luncheon at the Canfield Casino.

Hand me down hand bags from the super rich were auctioned for charity. Marylou Whitney donated several.

New items, which could be purchased, included jewelry from Tony White's collection.

The Duchess of Windsor was one of his best customers. His signature opal and black pearl necklaces runs about $100,000.

10 percent of anything purchased was donated to the Grayson-Jockey Club Research Foundation. Marylou Whitney went on a buying spree.


THE MUSIC GOES ROUND AND ROUND


CAMP soundtrack for the film released on Decca/UMG

When listening to the CD the first thought that comes to mind is Fame, probably because Camp was written and directed by Michael Gore, who took home an Academy Award for Fame. Featuring original music from Lynn Ahrens, who wrote the lyrics for Ragtime and Gore, the disc also includes tracks from Oasis, The Replacements, The Rolling Stones, Todd Rundgren, Burt Bacharach/Hal David and Stephen Sondheim, who was even persuaded to do a cameo in the movie.

Camp is Todd Graff's semi autobiographical movie on real-life camp Stagedoor Manor, the summer camp for aspiring actors, dancers and musicians, located in upstate New York, where he attended and worked for a couple of years as a musical director.

Performing diverse musical numbers in a variety of genres including pop, R&B and Broadway the talented young cast shines on this inspiring, poignant, yet feel-good musical.

The ensemble cast of newcomers includes Daniel Letterle (Vlad), Joanne Chilcoat (Ellen), Robin de Jesus (Michael), Sasha Allen (Dee), Tiffany Taylor (Jenna), Alana Allen (Jill) and Tony Award nominee Anna Kendricks (Fritzi).

The disc opens up with Sasha Allen (Dee) leading the R&B- gospel number How Shall I See You Through My Tears, followed by Tiffany Taylor's dynamic, intense delivery on Here's Where I Stand, which deserves to be a showstopper.

Lead actor Daniel Letterle (Vlad) turns in a moving rendition of The Rolling Stones ballad Wild Horses.

Century Plant, written by lyricist Victoria Williams and The Want Of A Nail, written by Todd Rundgren are rousing group numbers, while the dippy Turkey Lurkey Time, (Burt Bacharach/Hal David) is theatrical.

The listener is stopped dead in their tracks when Sondheim's The Ladies Who Lunch comes up. Usually reserved for performances by women of a certain age, the rendition by youthful, major-star in the making Anna Kendrick, is a poignantly here-and-now interpretation.

Musicians on the CD include:

Kenny Brescia, Tony Conniff, Jeff Potter, Tim Weil, Daniel A. Weiss, Arthur Fiacco, Richard Rosenberg, Mark Pender and Jerry Vivino.

The tracks are:

How Shall I See You Through My Tears, Written by Robert Telson and Lee Breuer. Performed by Sasha Allen, Steven Cutts and the Company.

Century Planet, Written by Victoria Williams. Performed by the Company.

Here's Where I Stand, written by Michael Gore and Lynn Ahrens. Performed by Tiffany Taylor and the Company.

I Sing for You, written by Michael Gore and Lynn Ahrens. Performed by Daniel Letterle.

The Want of a Nail, written by Todd Rundgren. Performed by the Company.

Wild Horses, written by Mick Jagger and Keith Richards. Performed by Daniel Letterle.

The Ladies Who Lunch, written by Stephen Sondheim. Performed by Alana Allen and Anna Kendrick.

Turkey Lurkey Time, written by Burt Bacharach and Hal David. Performed by Alana Allen, Dequina Moore, Tracee Beazer and the Company.

Skyway, written by Paul Westerberg. Performed by The Replacements.

The Size of a Cow, written by Malcolm Treece, Martin Gilks, Miles Hunt, Robert Jones, Martin Bell and Paul Clifford. Performed by The Wonder Stuff.

On/Off, written by Gary Lightbody, Mark McClelland and John Quinn. Performed by Snow Patrol.

Right on Be Free, written by Chuck Griffin. Performed by The Voices of East Harlem.

I Believe in Us, written by Jon Lind, Wendy Waldman and Phil Galdston. Performed by Warren Wiebe.

Round Are Way, written by Noel Gallagher. Performed by Oasis.

The CD was produced by Tim Weill. Album Mastered by Greg Calbi. Recording Engineer Keith Shortreed. The CD includes the film's original soundtrack as well as the movie trailer, cast photos and biographies and behind-the-scenes footage.



Broadway To Vegas is supported through advertising and donations. Priority consideration is given to interview suggestions, news, press releases, etc from paid supporters. However, no paid supporters control, alter, edit, or in any way manipulate the content of this site. Your donation is appreciated. We accept PAYPAL. Thank you for your interest.


LENSING AROUND


THE CHIPPENDALES MEN that would be; Charles Sera, Steve Kim, Matt Kennedy, Nathan Minor, Kevin Cornell, John Rivera, Billy Jeffry, Kevin Ford, Dillon Starr, Koey Wilcox, John Brice, Bryan Cheatam, Jeff Beech, Kyle Hunter, Jeff Kosinski, Garrett Plante, Dan Banion, Dan Skellan, Carl Thomas and Dexter Smith were flown to Las Vegas from all over the world to shoot their 2005 Chippendales Calendar. The shoot took place on Wednesday at the Rio Hotel with Dan Peterson behind the camera.

RADIO CITY ROCKETTES kicked off the 2003 Christmas Season on Thursday when tickets went on sale for their annual Christmas Spectacular. First they high kicked their way on the Today Show then they ankled back to the Radio City Music Hall box office where they, Santa Claus and even two camels posed for pictures with those wishing to buy tickets.


SWEET CHARITY


SPLAT ATTACK II William Shatner, who attended a Star Trek convention in Las Vegas and was in Toronto filming commercials and putting together a syndicated radio show, has been touting this paintball event for months.

"Once again itís Spplat Attack (Society of Paintball Players and Teams) time! On Labor Day weekend, in New Milford, PA, all the forces are gathering to make this an even bigger and better event than last yearís success," promises the actor, although Shatner is quick to brag that last year's inaugural competition near Chicago was the largest paintball contest ever staged. "We had three teams of 500 people each."

Shatner takes these events personally.

"Of course, Iíll be there to lead my team of enthusiasts into the fray o≠nce more in order to win the coveted flag. There will be other celebrities as well, so itís sure to be a fun, action packed event. There is also going to be a Star Trek Convention in Binghamton, NY the Saturday night before the big Spplat Attack event o≠n Sunday."

Join William Shatner, Mancow, Tom Kaye and Glenn Palmer playing the roll of Omar Tartan and with the help of Boss Tweed (aka Jerry Braun) leading the Raiders. The Raiders have allies in Tom Kaye's Cyborg and will certainly need them as they take on the 7th Cavalry, led by William Shatner and the local Posse led by Mancow.

SPPLAT Attack II will be held at EMR Paintball in New Milford, PA on the Labor Day weekend 29-31 August. This is the home of the famous Castle Quest series of scenario games. Open play will begin on August 29th to include night play that evening. The 30th will see open play continue early in the day with a Star-Trek mini-convention hosted by Creation Entertainment at the Binghamton Forum that evening. The game starts early on the 31st and concludes before dark to allow time for a post game celebration, charity auction and award of prizes.

Profits will go to benefit William Shatner's Hollywood Charity Horseshow, which supports various charities to include Ahead With Horses, LA's Best and more.


OTHER PEOPLE'S MONEY


ALASKA CRACKS DOWN ON GAMBLING An Alaska assistant attorney general's opinion, now under review, is cracking down on gambling. This is a no nonsense, we're coming down hard opinion. The Soldotna Veterans of Foreign Wars, after 13 years, has been told to knock off the chicken scat game - the object of which is to bet on the spot a chicken will use as its bathroom.

The Elks have also been informed they can't have their rat race booth at the State Fair. For decades fairgoers have been able to bet on which hole a gerbil will enter.

The Alaska AG's office says all that amounts to illegal gambling which must stop - or face dire consequences.


LITTLE MERMAID CELEBRATES 90th BIRTHDAY


Hans Christian Andersen wrote a fairy tale about her; Disney produced the movie; and Copenhagen maintains a statue in her honor, which continues to be the largest tourist attraction in Denmark and the most photographed statue in the world. There is even a Little Mermaid Statue and Lake at Forest Lawn Cemetery in Glendale, California.

Yesterday The Little Mermaid celebrated her 90th birthday.

Copenhagen officials threw a party for the statute - which sits at Langelinie in Copenhagen.

The Royal Ballet and a Danish Navy band performed. Obligatory speeches - of course. Fire brigade boats offered a salute with water cannons and 90 mermaids swam in the water behind the statue.



Hans Christian Andersen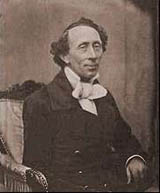 The Danish poet, Hans Christian Andersen (1805-75) went to Copenhagen in 1819 intent upon becoming a theatrical performer. In Copenhagen he spent two years as a pupil at the Royal Theatre. His love for the theatre, resulted in several plays, but he gained fame through his writing - a number of pamphlets known as "Fairytales told for children" published in 1835-72.

Carl Jacobsen, founder of Denmark's Carlsberg breweries and an arts patron, was interested in ballet and regularly attended Det Kongelige Teater (The Royal Theatre) becoming friends with some of the most famous dancers of that time.



Carl Jacobsen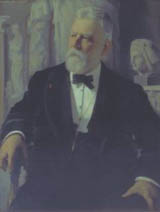 Jacobsen, together with artist Edvard Eriksen, got the idea to grant the Danish corps de ballet some kind of monument. At first it was supposed to be a fountain.

Then the ballet The Little Mermaid, a stage version of the Hans Christian Andersen fairy tale, published in 1837, was to open in Copenhagen.

It is the story about a mythical sea king's mermaid daughter, who saves the life of a shipwrecked prince and sets off on a perilous quest to win his love. The price she pays is dear: to become human she must give up her lovely voice as well as her mermaidís tail, and if the prince should wed another, she will turn into foam and disappear into the sea forever.

In 1909 Jacobsen attended a performance of ballet master Hans Beckís The Little Mermaid, at the Royal Theatre. He was so awestruck with the performance, by leading prima donna Ellen Price, that he commission Eriksen to create a four-foot high mermaid statue in honor of the story. Jacobsen wanted Price to model for the sculpture.

Eriksen created the topless, girl-sized bronze, but there are some uncertainties if Ellen Price really modeled for the sculpture. It is said, that she didn't want to pose naked, and Eriksen had to ask his own wife, who was also a ballet dancer, to model. However, it is agreed that the head is definitely that of Price.

The Little Mermaid went on display August 23, 1913. Like a real mermaid, she is half human half fish. With naked breasts and fish tail, she is sitting on a granite stone at Langelinie Pier, wistfully looking for her prince.

Over the years the statue - considered one of Denmark's biggest tourist attractions - has suffered through travails. It isn't easy being a mermaid.

September 1, 1961 the hair of the mermaid was painted red and she was dressed in bra.

On April 28, 1963, she was drenched with red paint.



The Little Mermaid sans head. Photo: exhibit from Danish Museum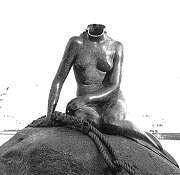 On April 24, 1964 the head was cut off for the first time. This head was never recovered and a new one had to be made. The Danish artist JÝrgen Nash confessed in his book in 1997 that he had committed the crime.

On July 15, 1976 she was drenched with paint again.

On July 22, 1984 she lost her right arm. The arm was returned the day after by two young men who admitted they had amputated the arm, after a drinking binge. The arm was restored.

On August 5, 1990 someone discovered that attempts had been made to cut off the head. The gash was welded shut.

On January 6, 1998 the mermaid had lost her head - again. A reward was offered by a local Copenhagen TV-station, and it didn't take long before the head was returned to the TV-station. The reward was never paid out, and the local authorities used the money for the restoration. On Wednesday, February 4, 1998 the Little Mermaid was intact again with added precautions installed to prevent another decapitation.



PUMP BOYS AND DINETTES will open the 2003-04 season for Charlotte Rep. Artistic director Michael Bush announced the new season.

The Rep is presenting the official 20th anniversary production of this grass-roots, smash-hit musical about life and love by the roadside September 6-October 12th.

Pump Boys and Dinettes will be directed by Bush and stars the original Broadway star and co-creator Jim Wann along with Cass Morgan, Debra Monk, John Foley, Mark Hardwick and John Schimmel.

To promote Pump Boys and Dinettes The Rep is staging a Southern-Style Karaoke Competition August 28, at Hartigan's Irish Pub.

Following Pump Boys and Dinettes, will be Cheryl West's Jar the Floor, directed by Ted Sod, starring Suzzanne Douglas from TV's The Parent 'Hood. October 18-November 9.

All of the People, All the Time, by Patrick Cook, Darwin Ortiz and David Roth. Michael Bush will direct the world premiere of this comical tale of childhood ambition that becomes reality for Ortiz and Roth, two of the world's most famous close-up musicians. November 15-December 14.

Shakespeare's Hamlet, directed by Robert Moss February 7-29. Neil Simon's Barefoot in the Park, April 17-May 9. In-the-Works, is the Rep's 18th annual new-play festival taking place in Spring 2004.

THE DAUGHTER-IN-LAW written in 1913 by D.H. Lawrence, while still a schoolteacher in Croydon, is set against the background of a pit strike, and tells the story of Luther Gascoigne, a young miner, and his new wife Minnie, a former governess. The tensions and misunderstandings they suffer as a result of their different backgrounds are exacerbated by the powerful influence of Luther's mother, and brought to open conflict when it is discovered that Luther, before his marriage, has made another woman pregnant.

The Daughter-in-Law was unknown to all but the most diligent of scholars until 1965, when a complete edition of Lawrence's okays was issued for the first time. This play was first production in London in 1968 by the Royal Court.

Martin L. Platt directs a cast that stars Mikel Sarah Lambert, Jodie Lynne McClintock, Angela Reed, Peter Russo and Gareth Saxe.

Sets by Bill Clarke. Lighting by Jeff Nellis, Costumes by Holly Poe Durbin. Opened ended run at the Drama Desk and Obie winning Mint Theatre in New York City.

MASTER AND MARGARITA by Mikhail Bulgakov, adapted for the theatre by Jean-Claude van Itallie from a translation by Sergei Kobiakoff receiving rave reviews in Washington, D.C.

Originally penned as a novel, the manuscript was suppressed by the author in the 1930s for fear of reprisal by Stalin's henchmen. When it was reconstruction and published in 1967 the work created a sensation in the Soviet Union.

It is springtime in Moscow and the devil has come to stage his annual ball and wreak havoc on a city that believes in neither Heaven nor Hell. Jean Claude Van Itallieís adaptation of Mikhail Bulgakovís metaphysical masterpiece combines elements of Faust, the Bible and Soviet Russia with the surreal romance of a writer driven mad by his own work and his loverís desperate attempt to save him.

Rorschach Theatre is a company that has received significant acclaim for its fierce performance style, its bold use of space and innovative production design and its dedication to challenging works that are at once relevant and timeless. Its aesthetic still evolving, play choices have tended toward works that help to reveal the contemporary relevance of fable, to find magic in rough spaces, to connect timeless works to a contemporary audience. Directed by Jenny McConnell, the cast features Tim Getman, Lindsay Allen, Scott McCormick and Grady Weatherford, Chris Davenport, Melissa-Leigh Douglass, Scott Graham, Jason Basinger Linkins, Melissa Schwartz, John Horn, Mark Sullivan

Design: Justine Light (Costumes and Set), David C. Ghatan (set), Matt Frederick (sound), Alex Cooper and Justin Thomas (lights) Stage manager is Jordan Sudermann. Assistant stage manager Patrich Crowley. Dramaturg is Andrew Getman.

Produced by Randy Baker the production at the Casa del Pueblo in the Calvary Methodist Church, Washington, D.C. runs through August 30th.

ANNA BELLA EEMA/belly:three shorts will be produced in tandem.

Anna Bella Eema written by Lisa D'Amour, directed by Katie Pearl, with music by Chris Sidorfsky, which enjoyed rave reviews in other parts of the country, will receive it's New York premiere next month.

belly:three shorts, written and composed by Alva Rogers, currently the MEA-TCG Playwright-in-Residence at The Joseph Papp Public Theatre, will be directed by Julia Whiteworth. The production will receive its world premiere when the two plays with music rotate in rep September 6-October 4.

Susan Bernfield is Artistic Director and Sarah Cameron Sunde is Managing Director of New Georges, the OBIE-winning theatre company founded in 1992 which produced highly theatrical new works by women. Both of these plays will be presented by New Georges at HERE Arts Center NYC.

DEATH AND HARRY HOUDINI Written and Directed by Nathan Allen. The House Theatre in Chicago remounts its unconventional tale about one of America's greatest legends. Magic, music, puppetry and film combine in a production which also promises "the most terrifying theatrical stunt of the season" - Dennis Watkins performing Houdini's world-famous water-torture cell trick. Opens Thursday, to October 4 at The Viaduct, Chicago.

THOROUGHLY MODERN MILLIE opened last night at the Filene Center at Wolf Trap with performances running through August 31st.

Winner of six 2002 Tony Awards including Best Musical, Thoroughly Modern Millie follows the title character as she leaves Kansas for the bright lights of New York City during the Roaring '20s. Based on the 1967 Oscar award-winning film, Millie takes audiences to the height of the Jazz Age as women entered the workforce and rewrote the rules of love.

You can learn the dances of the Jazz Age, featured in musical. Company members of Thoroughly Modern Millie will lead an intermediate level dance repertoire class on Wednesday, August 27 at Wolf Trap's Filene Center.


| | | |
| --- | --- | --- |
| | | |
WHO'S WHERE


DIANNE REEVES whose new CD he jazz vocalist's new CD, A Little Moonlight on the Blue Note label, arrived in stores last Tuesday, performs Wednesday, August 27, at the Hollywood Bowl in Los Angeles. On Saturday the jazz vocalist entertains in the 785 seat Salle Georges Beaulieu venue in Rimouski, Quebec.

SHIRLEY JONES is traveling to Alaska on Norwegian Cruise Lines, courtesy of Sports & Celebrity Tours. They sailed from Seattle yesterday, August 23rd, visiting Ketchikan, Juneau, Skagway & Victoria BC. Shirley will perform a private concert for all of her guests proceeded by a personal meet and greet cocktail reception.

LOUISE PITRE No Theme, No Life Story, No ABBA, No Jacket Required - reads her billing. The talented lady, who will leave her starring role in Mamma Mia! on October 19, performs Monday, August 25, at Joe's Pub in New York. Musical Director Diane Leah.

JARS OF CLAY Fresh from winning their fourth Grammy for best Pop/Contemporary Gospel Album for The Eleventh Hour, Jars of Clay performs August 27 at the Oregon State Fair.

AARON CARTER Even at the young age of 14, Carter has already made a name for himself with his singing, dancing and acting talents. His hit song I Want Candy, featured on The Lizzie McGuire Show garnered thousands of fans worldwide and he has just released his third album Another Earthquake. He takes the stage of the Oregon State Fair on Sauturday August 30th.

EDDIE IZZARD in a two nighter Friday and Saturday at the Vogue Theatre in Vancouver, BC.

PETER CINCOTTI begins a six night engagement, Tuesday, at Dimitriou's Jazz Alley in Seattle, Washington.

25th ANNUAL CHICAGO JAZZ FESTIVAL takes place August 28-31st. Jazz music blankets Grant Park, celebrating the 25th anniversary of the first ever Chicago lakefront musical festival. A grand variety of jazz will be showcased nightly at the Petrillo Music Shelf, the Jazz and Family Heritage stage and the Jazz on Jackson Stage The music continues when McCoy Tyner, who performed at the very first Chicago Jazz Festival performs at this year's event. Also performing is the Elvin Jones' Jazz Machine and the Dave Holland Band.

BRANFORD MARSALIS performs Wednesday at the Frederik Meijer Gardens in Grand Rapids, Michigan. On Thursday he entertains at the Chicago Jazz Festival and on Friday he's on stage at the Mattthaei Botanical Gardens in Ann Arbor, Michigan.

BILLY IDOL has a busy week. Today he's appearing at the Timberwolf Amphitheatre in Kings Island, Ohio. That is followed by a two nighter, Tuesday and Wednesday at the House of Blues in Chicago. On Friday he can be located at the PromoWest Pavilion in Columbus, Ohio and on Saturday he performs at Summerfest in Milwaukee.

STEELY DAN entertaining in the Events Center of the Borgata Resort in Atlantic City on August 30th.

BROOKS & DUNN on stage at the Casino Rama in Rama Ontario.

MARIAH CAREY on tour taking the stage Tuesday at Next Stage at Grand Prairie in Grand Prairie, Texas. On Thursday she is in the spotlight at the C.W. Mitchell Pavilion in The Woodlands, Texas. On Saturday she can be enjoyed at the Bob Carr Performing Arts Center in Orlando, Florida.

CHER singing her hits Monday at the Pengrowth Saddledome in Calgary, Alberta. On Wednesday she'll be all over the stage at Saskatchewan Place in Saskatoon. On Saturday she'll delight the crowds at the Hyandai Pavilion of Glen Helen in Devore, California. Next Sunday the superstar with one name is at the MGM Grand Garden Arena in Las Vegas.

MICHELLE BRANCH in the spotlight Friday, August 29, at the Allentown Fair in Allentown, PA. On Saturday she performs at the Champlain Valley Expo in Essex Junction, VT.

AN EVENING WITH CAROL CHANNING STARRING RICHARD SKIPPER returns to the Newfound Lake in his award winning tribute to Ms. Channing. Whether you're 19 or 92, you'll fall in love with Carol Channing all over again. Musical director Jim Beach. August 30th at Newfound Lake in Bridgewater, NH.

CROSBY, STILLS & NASH perform Monday at the Saratoga Performing Arts Center in Saratoga Springs, NY. On Tuesday they headline the New York State Fair at Syracuse. Thursday finds the guys at the Allentown Fair in Allentow, PA. They close out the week, Saturday, at Darien Lake Siz Flags Performing Arts Center in Dairen Center, NY.

OAK RIDGE BOYS entertaining at the Grand Palace in Branson on Wednesday. On Saturday they take center stage at the Lanierland Music Park in Cumming, Georgia.

LARRY GATLIN AND THE GATLIN BROTHERS in a two nighter Friday and Saturday at the Amerisat Casino St. Charles in Saint Charles, Missouri. On Sunday, August 31st they are on stage at Memorial Hall in Dayton, Ohio.

DIANE SCHUUR in a two nighter, Saturday and Sunday, Grand Hotel in Mackinac Island, Michigan.

BILL COSBY telling funny stories in the Music Box of the Borgata Resort in Atlantic City on August 30th.


LEAP OF FAITH


The 2003-2004 Theatre season is almost upon us and with that comes hope and tension. Looking for a support system? Be selective. Don't grab at any old statue. Hone in on the one earmarked for you and your need.

Actors - St. Genesus
Art Dealers - St. John the Evangelist
Artists - St. Catherine and St. Luke
Authors - St. Francis de Sales and St. Paul
Booksellers - St. John the Evangelist
Comedians - St. Genesius
Composers - St. Cecile
Dancers and Dancing Teachers - St. Genesius
Hairstylists - St. Martin de Porres
Journalists - St. Francis de Sales
Musicians - St. Cecile and St. Gregory
Painters - St. Luke
Press and Writers - St. Francis de Sales and St. Paul
Publishers - St. John the Evangelist and St. Paul
Scribes - St. Catherine
Sculptors - St. Luke
Singers - St. Gregory
Vocalists - St. Cecile.

Of course, there are those favorite standbys;
Frenzy - St. Peter
Fortitude - Holy Spirit
Doubt - St. Joseph
Desperation - St. Jude and St. Rita
Hopeless Cases - St. Jude
Vanity - St. Rose of Lima
Ulcers - St. Charles Borromeo.

















Next Column: August 31, 2003
Copyright: August 24, 2003. All Rights Reserved. Reviews, Interviews,Commentary, Original Photographs or graphics from any Broadway To Vegas (TM) columns may not be published, broadcast, rewritten, utilized as leads, or used in any manner without permission, compensation and/or credit.
Link to Main Page
---
Laura Deni


CLICK HERE FOR COMMENT SECTION