! >
Broadway To Vegas
  
  REVIEWS INTERVIEWS COMMENTARY NEWS

| | |
| --- | --- |
| | |
SCHOOLS NEED MUSICAL INSTRUMENTS - -OLD GLOBE STAGES HEAVYWEIGHT PREMIERE OF IN YOUR ARMS - - ART IN THE MAKING - - A DELICATE SHIP - - LOVE & MONEY - - ART IN CORRECTIONS - - GATHER (ONE MILLION) AND COLOR FIELD ART EXHIBIT - - PETFEST - - DONATE . . . Scroll Down
















Copyright: August 23, 2015
By: Laura Deni
CLICK HERE FOR COMMENT SECTION


START OF SCHOOL YEAR MEANS STRIKE UP THE BAND: MUSICAL INSTRUMENTS NEEDED
Michael Kamen the composer for Mr. Holland's Opus started the Mr. Holland's Opus Foundation. Kamen died in 2003 after suffering from multiple sclerosis for several years. He was 55.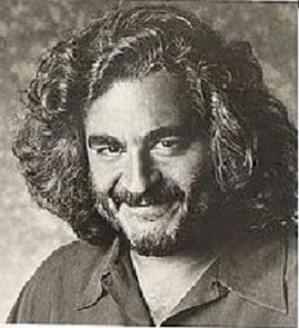 Ever since Mr. Holland's Opus starring Richard Dreyfus became a hit movie attention has been paid to the importance of music in schools. Being part of a band or orchestra helps prevent bullying and improves self esteem. Kids with music education also score higher on SAT's.

Nothing has changed, except there are more students and the cost of musical instruments has increased.

Several stars and organizations have stepped forward to help, but each year the need is greater.

The 1995 film Mr. Holland's Opus inspired an organization Mr. Holland's Opus Foundation, established in 1996 by Michael Kamen, the composer for the motion picture. The organization donates new and refurbished musical instruments to underserved schools, community music programs and individual students nationwide, in an effort to give youngsters the many benefits of music education, help them to be better students and inspire creativity and expression through playing music.

As far back as 2009 KISS teamed up with that organization to present 40 instruments to the Wilson Middle School in Tulsa.

Barry Manilow is one of the strongest proponents of music in schools forming the Manilow Music Project. The mission statement of the Manilow Music Project highlights the importance of music programs in our schools and donates instruments and materials to school music programs.

Schools in Nevada, California, Kentucky, New York, Wisconsin, Indiana, Ohio, Kansas, Missouri, Florida, Michigan and Washington are just a few of the states which have benefited from his generosity.

The legendary singer-songwriter who has hit the road on his One Last Time tour is using the road trip to promote music in schools. Wherever he stopped, be it Philadelphia, Charlotte, Boston, New York or Newark he donated a Yamaha Keyboard to launch a local instrument drive and offered two free tickets to his performance to anyone who donated a new or gently used musical instrument.

The Fender Music Foundation is "a music charity funded by people who want to strengthen the state of music education, people who believe music is an integral part of society and want to make music more accessible to everyone.

"The donations we receive allow us to provide instruments to school music classrooms, after school programs and music therapy programs. We select programs that are in-need, ongoing, sustainable and give more people the opportunity to make music.

"Our overhead expenses are covered by sales revenue, including authentic celebrity music memorabilia. Our program expenses are covered by donations large and small.



Fender Music Foundation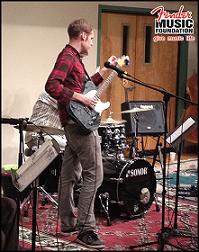 "The Foundation was founded in 2005 by Larry Thomas when he retired as CEO of Guitar Center, now as CEO of Fender Musical Instruments Corporation, we continue to give more people of all ages the chance to create, experience, and enjoy everything music has to offer."

Comments that organization posted include:

According to their February 2015 newsletter, their goal "is to place approximately 400 instruments each month into music education and therapy programs that we support across the country."

They are appreciated. Comments posted by the organization include:

"When I get angry music allows me to calm down and redirect my anger in a positive way."
- Student, 15, Achieving Recovery Through Creativity, St. Charles, MO.

"Thank you for the guitars, I think that everyone should play. It is one of my passions, and I couldn't live without it."
- Student, 8th Grade, Sacred Heart School, Lynn, MA.

The Foundation's donations "span a diverse array of equipment. Amps, stands, benches, gear bags, basses and keyboards are just a few examples. Yet it might surprise many to know that the Foundation recently provided 4 djembes in a rainbow of primary colors to Boston's Hyde Square Task Force. "What's a djembe? It's a hand drum that is one of West Africa's best-known instruments. When Hyde Square Task Force needed authentic instruments for their Music Clubhouse program, they turned to the Foundation for help."

The Hyde Square Task Force's Music Clubhouse serves more than 150 youth ages 10-18 every year who wouldn't otherwise have the opportunity to experience music. The services are provided for free.

The Texas Music Project is a 501(c)(3) that relies on your gifts to fund operations and music education programs in grades K-12. All proceeds will benefit TMP and music education in Texas schools.

VH1 Save The Music Foundation is a non-profit organization "committed to ensuring that music instruction is a core component to a complete education, giving children the tools and confidence to excel in academics and in life."

They have provided $52 Million in new musical instruments to 1,964 Public Schools in 233 districts benefiting 2.6 million children.

The Blue Star Connection Mission "is to provide access and ownership of musical instruments for children and young adults with cancer and other serious challenges. We also provide music therapy departments with instruments."

Since 2005, Blue Star Connection has been gifting children and young adults with not only their own personal instruments, but provided musical lessons and sending them to live music shows.

The organization explains how it started:

On August 14th 2005, the Grand County Blues Society was performing for the Shining Stars Foundation, a local group of children fighting cancer. After the show, John Catt struck up a conversation with 17-yr-old Colin Connors, a cancer patient from Denver, about playing guitar. When John asked Colin if he had a guitar of his own, his reply was, "Yeah, a beat-up, old acoustic." John asked him if he would play an electric guitar if he had one and Colin answered, "Anything to brighten my day."

"What color?" John asked. Colin looked at his mom, who smiled and said, "Baby blue, like his eyes." Less than a week could pass before someone donated a baby-blue Ibanez electric guitar and amp, meant for Colin – a good deed was that simple.

A few weeks later, John received an email from a doctor, Larry McCleary, who had worked with Colin and other children with cancer for decades. His message was profound; he had seen a dramatic change in Colin's outlook.

In the weeks ahead, John and the Grand County Blues Society received messages from Colin that he had found other kids his age interested in learning music. In a few months, we had 5 new kids. It was then that a community of people knew Blue Star Connection was born.

Little Kids Rock a national nonprofit that is "dedicated to building a world where kids can live rich, purposeful lives by ensuring that all public school children have the opportunity to unlock their inner music makers."

They accomplish this by "partnering with school districts, training public school teachers in our innovative curriculum, and donating all of the instruments and resources necessary to run rockin' music programs."

The organization lists that they have reached over 400,000 students in 29 cities.

Right now The San Jose Jazz Foundation needs instruments for their program called SJZ Progressions.

"Every year, thanks to San Jose Jazz, hundreds of underserved youth in San Jose are becoming part of a diverse, music-centered learning community. We encourage and empower them to develop resiliency, a critical attribute in the 21st century,' states the organization.

"We need to secure enough instruments to expand the program to Kennedy Elementary School in the Franklin-McKinley School District. That means 30 instruments by September 15, in order to launch Progressions at this new site. But, we can't do it alone. We need . . . your used instruments . . . now!"

Start out the school year on the right note. If you have a musical instrument that is no longer being played, donate it so that the music can keep on playing.




Broadway To Vegas is supported through advertising and donations. Priority consideration is given to interview suggestions, news, press releases, etc from paid supporters. However, no paid supporters control, alter, edit, or in any way manipulate the content of this site. Your donation is appreciated. We accept PAYPAL. Thank you for your interest.





ART AND ABOUT


GATHER (ONE MILLION) AND COLOR FIELD

Color Field, 2010 through 2013, glass beads, stainless steel, Perspex, 20 x 20 feet (dimensions variable). Courtesy the artist. © Liza Lou 2010-2013. Photo credit: Dean Eliot.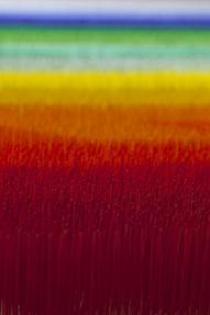 a beautiful and poetic installation by world-renowned artist Liza Lou. The exhibition includes Lou's Gather (one million), a shimmering 150-square-foot golden field.

To make the work, nine million beads in varying shades of gold were threaded onto cut wire to make one million blades of grass. Lou systematically counted, weighed, blended and divided the blades into equal wheat-like sheaves.

This work of art is presented along with Lou's newest series of work Color Field (2010-2013), a floor-bound sculpture, featuring an expansive prism of color. The gridded rainbow is composed of uniform lengths of wire, each threaded with a single shade of beads. The sheer expanse of the piece conveys exuberance, underscored by the work's bounty: its multitude of colors, beads, and touch - pulsing and pixelated.

Through September 13, 2015 at the Wichita Art Museum in Wichita, Kansas.

Wichita Art Museum is celebrating its 80th anniversary's proud history while looking toward a collective bright future.

"In her will, Louise Caldwell Murdock laid the foundation for the establishment of the museum. As a bequest following her death in 1915, funds could be used for the purchase of American art for the citizens of Wichita. As a challenge grant of sorts, the City of Wichita would receive the collection if it would build and maintain a museum. The collection would be named to honor Louise Murdock's husband in the Murdock newspaper family, Roland P. Murdock. Through changing structures, changing times, and changing leadership, WAM has continued an ardent commitment to its original purpose--that is, an art museum with prized collection in service to the citizens of Wichita.

"The dedication ceremonies to open the Wichita Art Museum were held at 3 pm on September 22, 1935. Following a brief concert from the American Legion Band and an invocation from a Rabbi Richmond, Wichita Park Board President Walter Vincent presented the museum as a gift to the citizens of Wichita. In its first week, WAM welcomed more than 13,000 visitors through its doors, a headcount equaling almost 10 percent of Wichita's population at the time.

ART IN THE MAKING follows works created by teachers and students of three New York City art institutions along with their counterparts from notable Pennsylvania and Washington D.C. schools of art.

In a time of constant change and advances in the methods of "making," this exhibition aims to provide a lens into time-honored art institutions. The exhibition marks, in part, the recent anniversaries of New York City art schools: the 50th anniversary of the New York Studio School, the 125th anniversary of the Pratt Institute, and the 140th anniversary of The Art Students League of New York. The exhibit explores approaches to teaching, learning and making art—as relevant today as in decades and centuries gone by.

Art in the Making includes works by many of the most recognizable painters who have studied or taught at these long-standing teaching institutions.

The artist alumni included in the exhibition are: Edna Andrade, Milton Avery, Thomas Hart Benton, Lee Bontecou, Peter Busa, Helen Frankenthaler, Stephen Greene, Chaim Gross, Hans Hofmann, John Marin, Reuben Nakian, Jackson Pollock, Richard Pousette-Dart, and Paul Reed, among others.

For those artists who continue to actively make art as well as commit to the teaching of it, the exhibition features works by Diane Burko, Bill Jensen, Knox Martin, Elizabeth Osborne, Larry Poons, William Scharf and Kit White, among others.

On display through October 15, 2015 at the Reading Public Museum in Reading, PA.


SWEET CHARITY


PETFEST in partnership with Fromm Pet Foods and Milwaukee World Festival, Inc., takes place August 29, 2015 at Henry Maier Festival Park in Milwaukee.

Bring your favorite four-legged friends to this free event.

Pet-focused attractions, vendors, non-profits and more. Mainstage events include presentations, training tips, and trick clinics.










OLD GLOBE THEATRE STAGES UNIQUE HEAVY WEIGHT PREMIERE


In Your Arms - now in rehearsals at the Old Globe in San Diego - is a collection of 10 dance vignettes, all revolving around the subject of love penned by an incredible and diverse lineup of theatre powerhouses, including Douglas Carter Beane, Nilo Cruz, Christopher Durang, Carrie Fisher, David Henry Hwang, Rajiv Joseph, Terrence McNally, Marsha Norman, Lynn Nottage, and Alfred Uhry.

The cast features Marija Juliette Abney, Stephen Bienskie, Henry Byalikov, Claire Camp, George Chakiris, Spencer Clark, Jeremy Davis, Jenn Harris, Glenda Sol Koeraus. Jess LeProtto, Donna McKechnie, Adesola Osakalumi, Karine Plantadit, Hayley Podschun, Jonathan Sharp, Ryan Steele, Brendon Stimson, Alex Michael Stoll, Samantha Sturm, Oscar Valero, Erica Wong and Lyrica Woodruff.

Among the 22 performers in the production, which opens next month are Oscar-winner George Chakiris of the West Side Story film adaptation, and Tony Award-winner Donna McKechnie of the original Broadway production of A Chorus Line.

The World Premiere dance-theatre musical features direction and choreography by Tony Award winner Christopher Gattelli and original music by Tony Award winner Stephen Flaherty. Co-conceived by Gattelli and Jennifer Manocherian, with lyrics by Tony and Emmy Award winner Lynn Ahrens.

According to the Globe, the show's writers can claim 18 Tony Awards, four Pulitzer Prizes, six Pulitzer-finalist designations, three Emmy Awards and two Academy Awards among them.

Not your typical show.

Jennifer Manocherian, a longtime Broadway producer, co-conceived In Your Arms with Gattelli and initially suggested the idea of the show to him, the Globe notes. The two have spent years developing the project.

The Old Globe answered some questions about this production for Broadway To Vegas.

"In Your Arms is one of the most romantic shows I've ever come across, and I am happy to bring it to San Diego audiences," said Artistic Director Barry Edelstein. "Its creators are a group of top-rank theatrical talent, and the Globe is honored to host them."

Question: "Does the Globe provide housing or food for the stars of this show"

Answer: "Yes," was emphatic reply. "We house each of the visiting artists for all fifteen of our shows year-round."

Question: "A workshop production of In Your Arms was presented by New York Stage and Film & Vassar at the Powerhouse Theater, summer 2014. Was anyone from the Globe at that workshop? How did the Globe learn about In Your Arms?"

Answer: "Several people from the Globe saw the workshop, including Artistic Director Barry Edelstein. He is an old friend of Christopher Gattelli and they immediately discussed having the world premiere of this amazing dance-theatre musical at the Globe."

Question: "As a World Premiere has anything about the show already been changed? Is it in the process of being changed before it opens? Do the performers have any input?"

Answer: "As a show is developed in downtime and then in rehearsals, things change constantly – usually up until the day it opens. Several of the dancers have been with the company since the first reading; others are new to the piece. As Christopher Gattelli works with the dancers, their individual and group dynamics are reflected in his choices."

Question: "Were the vignettes written especially for In Your Arms or taken from other material? Or, both?"

Answer: "This is all original material. Once Chris contacted the authors, they each wrote to their own strengths and unique universes about love – giving it a diversity of ages, dance styles, eras and locales."

The creative team includes Derek McLane (Scenic Design), Jess Goldstein (Costume Design), Donald Holder (Lighting Design), Peter Hylenski (Sound Design), Olivia Sebesky (Projection Design), Michael Starobin (Orchestrator), Steven Malone (Music Director), Larry Reed/ShadowLight (Shadow Sequence Design), Telsey + Company, Abbie Brady-Dalton, CSA (Casting), Mark Myars (Associate Choreographer), and Michael Domue (Production Stage Manager).

Taking a few hours off from rehearsal, Chakiris who won an Oscar for his breakout role of Bernardo in Jerome Robbins' West Side Story, will be the Guest of Honor at the Free Summer Shakespeare screening of the film on Monday, August 24 at The Old Globe in San Diego.

Chakiris will do a brief Q&A with Beth Accomando, author of the KPBS blog Cinema Junkie, at the top of the screening.

The Old Globe will open its 2015-2016 Season with In Your Arms, which begins performances September 16.



PROMISING WRITER IDRIS GOODWIN RECEIVING STAGE PRESENCE
Idris Goodwin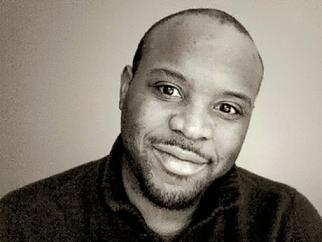 Not everyone in the world has heard of Idris Goodwin, a 38-year-old Detroit native whose day job is teaching writing at Colorado College. When he isn't teaching students how to put their words on paper, he's scribing his own thoughts. That effort has drawn some serious attention - and commissions.

This spring the Oregon Shakespeare Festival announced it had chosen Goodwin for one of its coveted commissions in its "American Revolutions: The United States History Cycle." The program's goal of creating 37 new plays dealing with moments of change in America's past has reached 24.

See Broadway To Vegas column of May 3, 2015.

For the OSF Goodwin, who is billed as an "award-winning playwright, essayist and spoken word artist," will explore a moment of change in the history of the U.S. environment. His jumping-off point will be a 12-volume set of writings and illustrations by teams of scientists and artists sent by the Department of War to identify potential routes for the transcontinental railroad between 1853 and 1855."

On his twitter account he describes himself as "spiritually, viscerally and instinctively black since 1977."

In January 2015 his play And in this Corner: Cassius Clay commissioned for StageOne Family Theatre in Louisville, KY opened. The plot revolves around "a teenage Muhammad Ali (before Islam, draft dodging, before Listen, Frazier and Zaire) growing up, learning the stance, getting over his fears and coming up in a racially segregated Louisville, KY."

February saw his play This is Modern Art, a commission by Steppenwolf in Chicago curtain up. It's based on a true story. Co-written with Louder Than A Bomber Founder Kevin Coval, it's about "a group of young street artists deal with repercussions of a high profile graffiti bombing on the city's beloved art museum."

This weekend B Street Theatre in Sacramento lifted the curtain on the world premiere of his play Bars and Measures, which the company commissioned. Directed by Jenny Koons, it's the real life tale of two musical brothers, one of whom is in jail. The play already has legs with mountings slated at regional theaters in Los Angeles, Chicago and Minneapolis.

Goodwin arrived in Sacramento to attend rehearsals of Bars and Measures. It's not the first time he's worked with the B Street Theatre. In 2013 the venue produced what has been called his breakthrough play, How We Got On, developed at the Eugene O'Neill Theatre, and premiered at Actors Theatre of Louisville's 2012 Humana Festival. It's about Midwestern teens discovering themselves through hip-hop.

Hip hop is Goodwin's specialty. He's currently writing a series of plays about hip-hop and America and race and culture.

This November he'll see the world premiere at Jackalope Theater in Chicago of his play The Raid, about John Brown's 1859 raid at Harper's Ferry, Va., with the aim of starting an armed slave revolt. In 2016, Goodwin's play The Realness, a hip-hop love story set in 1996, debuts at Merrimack Theatre in Massachusetts.


SPREADING THE WORD


THE BEVERLY HILLS HOME OF GENE SIMMONS the frontman bassist of the famed KISS rock band was search last Thursday by Los Angeles Police Department's Internet Crimes Against Children Task Force after serving a search warrant. The official search regarded a possible crime which was committed on the property while Simmons was away on tour. The police department stressed that neither Simmons nor any member of his family were persons of interest.

The rock icon's wife thanked fans for their support, and said the family is astounded.

"We couldn't be more horrified that someone used our residence for such heinous crimes," Shannon Tweed Simmons tweeted. "Law enforcement is on it."

Authorities requested Simmons and his family not to discuss the case to avoid undermining the investigation, publicist Cheyanne Baker said in a statement. The rocker's publicist said the police visit was connected with a crime that may have occurred on the property last year while Simmons was away touring with his band.

KATHIE LEE GIFFORD isn't throwing her stone far enough, to use her metaphor which she explained on the Kathie Lee and Hoda talker last Monday, the day she returned after the death of her beloved husband Frank Gifford.

Kathie Lee should have a faith based talk show on a Christian broadcast channel. She doesn't have to give up her day job - a weekly hour long show could be taped. No need for daily headline making chatter. Too many of the faith based shows ended up in hell, fire and brimstone thanks to financial and sexual scandals.

Kathie Lee could sing, interview celebrities about whatever they are promoting or have experienced, and everyday citizens who have witnessed life altering, faith based events. Kathie Lee has a wide following and those who watch religious channels respond to the type of fervor she projects. She needs to give her stone a bigger throw.

AMY DUNNING has been hired by Lionsgate to oversee the studio's film scores, songs and soundtracks for original productions and acquisitions.

The former 20th Century Fox executive replaces Carter Armstrong. At Fox she served as vice president of film music, overseeing music for Juno, 500 Days Of Summer, Water For Elephants, Chronicle, The Heat, The Wolverine and Life Of Pi. Dunning had also served as senior vice president at Downtown Music Publishing.



OTHER PEOPLE'S MONEY


A TWO-YEAR, $2.5 MILLION PILOT PROGRAM authorized by the California Legislature has reinstated Art in Corrections in California prisons.

In 1977 California pioneers the concept of art-as-rehabilitation. The program became a global gold standard. Research proved that arts programs reduced prison segregation, violence and recidivism.

The recession caused the program to be cut in 2000 and by 2010 the program had closed. Now, prison arts including, music, painting and theater are being offered through outreach programs provided by 10 organizations.

The California Arts Council administers the program.


HANG IN THERE


FORMER PRESIDENT JIMMY CARTER who at age 90, looks fabulous and is just as mentally sharp and good with a quip as ever, having his busy schedule interrupted due to battling a pesky bit of brain cancer.



MILLION DOLLAR QUARTET

Scott Moreau as Johnny Cash, Robert Britton Lyons as Carl Perkins, Jacob Rowley as Elvis Presley and Nat Zegree as Jerry Lee Lewis. Photography Jay Goldsmith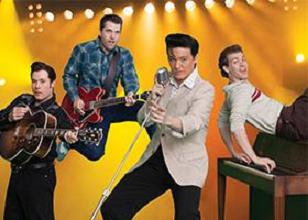 by Colin Escott, Co-Author and Floyd Mutrus, Co-Author, original concept and direction.

Directed by Hunter Foster.

The Tony Award-winning Broadway musical inspired by the electrifying true story of the famed recording session that brought together rock 'n' roll icons Elvis Presley, Johnny Cash, Jerry Lee Lewis and Carl Perkins for the first and only time.

On December 4, 1956, these four young musicians were gathered together by Sam Phillips, the "Father of Rock 'n' Roll," at Sun Records in Memphis for what would be one of the greatest jam sessions of all time. Million Dollar Quartet brings that legendary night to life with an irresistible tale of broken promises, secrets, friendships and celebrations, featuring timeless hits such as Blue Suede Shoes, Great Balls of Fire, I Walk the Line, Whole Lotta Shakin' Goin' On, Fever, Folsom Prison Blues, Hound Dog and more. This thrilling musical brings you inside the recording studio with four major talents who came together as a red-hot rock 'n' roll band for one unforgettable night. It was Rock and Roll's best kept secret...until now!

Starring as Johnny Cash is Scott Moreau who is reprising his role from the first National Tour. Robert Britton Lyons stars as Carl Perkins, in addition to being the Musical Supervisor for the Ogunquit production. he originated the role of Carl Perkins and has been with the show through all of the productions including Broadway, London's West End and Las Vegas. Starring as Jerry Lee Lewis is Nat Zegree and Jacob Rowley stars as Elvis Presley, reprising his role from the National Tour.

The role of Sam Phillips is played by Jason Loughlin. Bligh Voth plays Elvis' girlfriend Dyanne in the production. Sam Weber plays the bass and portrays Carl Perkins' brother Jay. David Sonneborn joins the cast as Fluke the drummer. He just completed his fourth year as an original cast member of the Million Dollar Quartet National Tour.

Jennifer Cody joins the Ogunquit creative team as the Associate Director. The original Broadway set is designed by Derek McLane Additional scenic elements are designed by Adam Koch.

Molly Walz (Costume Design). Richard Latta (Lighting Design). Kevin Heard (Sound Design). Britt E. Griffith (Hair and Makeup Design). Anthony C. Daniel (Casting Director). Karen Parlato (Production Stage Manager).

On stage to September 19, 2015 at the Ogunquit Playhouse in Ogunquit, Maine.

GREY GARDENS: THE MUSICAL by Doug Wright. Music by Scott Frankel. Lyrics by Michael Korie.

Directed by Michael Wilson.

Starring Betty Buckley and Rachel York. Featuring Matt Doyle, James Harkness, Sarah Hunt, Gracie Beardsley, Dakota Quackenbush. With Simon Jones and Howard McGillin.

Grey Gardens tells the story of Big Edie and Little Edie Bouvier Beale, the eccentric aunt and cousin of Jaqueline Kennedy Onassis. It is based on the 1975 documentary by Albert and David Maysles, which is celebrating its 40th anniversary in 2015. Set at the Bouvier mansion in East Hampton, this bold musical follows a mother and daughter on their hilarious and heartbreaking journey from glamorous aristocrats to notorious recluses in a crumbling house filled with memories and cats.

Andy Einhorn music director; scenic designer Jeff Cowie; Hope Clarke choreographer; lighting designer Robert Wierzel; costume designer Ilona Somogyi; properties designer Heather Urgina; assistant director Charles Swan; production stage manager Robert Bennet; assistant stage manager Denice Yaney.

Performances through August 30 a the 299-seatt Bay Street Theatre in Sag Harbor, NY.

LOVE & MONEY a world premiere of A.R. Gurney's new play.

Directed by Mark Lamos.

Determined to donate almost everything she owns before her life of grace and privilege ends, wealthy widow Cornelia Cunningham's plan hits a snag when an ambitious and ingratiating young man arrives to claim his alleged inheritance. Residency One playwright A.R. Gurney paints an incisive and hysterical portrait of the trials of class, family, legacy and race in this world premiere comedy.

The cast includes Maureen Anderman as Cornelia Cunningham, Gabriel Brown as Walker "Scott" Williams, Pamela Dunlap as Agnes Munger, Kahyun Kim as Jessica Worth and Joe Paulik as Harvey Abel.

The design team includes Michael Yeargan (Scenic Design), Jess Goldstein (Costume Design), Stephen Strawbridge (Lighting Design), John Gromada (Sound Design). Matthew Melchiorre is the Production Stage Manager. Casting by Telsey + Company, Will Cantler, CSA.

Running through October 4, 2015 with an August 24 opening night in The Alice Griffin Jewel Box Theatre at The Pershing Square Signature Center in New York City. Presented by Signature Theatre in co-production with Westport Country Playhouse.

JOHN written by Pulitzer Prize winner Annie Baker.

Directed by Tony Award winner Sam Gold.

The week after Thanksgiving. A Bed & Breakfast in Gettysburg, Pennsylvania. A cheerful innkeeper. A young couple struggling to stay together. Thousands of inanimate objects, watching. John is the first production of Signature's 2015-16 25th Anniversary Season, and marks the first show of Annie Baker's Signature residency.

The cast includes Christopher Abbott as Elias, Hong Chau as Jenny, five-time Emmy Award-nominee Georgia Engel as Mertis, and Tony Award-nominee Lois Smith as Genevieve.

The design team includes Mimi Lien (Scenic Design), Ásta Bennie Hostetter (Costume Design), Mark Barton (Lighting Design), Bray Poor (Sound Design). Amanda Michaels is the Production Stage Manager. Casting by Telsey + Company, Will Cantler and Karyn Casl, CSA.

The production runs through September 6, 2015 in The Irene Diamond Stage at The Pershing Square Signature Center in New York City.

A DELICATE SHIP by Anna Ziegler, an American and NY-based playwright, who is also represented in London's fall theatrical season with the West End debut of her play Photograph 51 directed by Tony Award winner Michael Grandage and starring Academy Award winner Nicole Kidman in her return to the stage..

Drected by Margot Bordelon.

A Delicate Ship features Matt Dellapina as Sam, Miriam Silverman as Sarah and Drama Desk Award winner Nick Westrate as Nate. Plot Description: It's Christmas Eve, and Sarah and Sam are celebrating like New Yorkers: flirting over wine and debating the nature of existential suffering. Then there is a knock on the door, and Sarah's childhood friend Nate stands at the threshold. And suddenly suffering becomes a whole lot less sexy. A kaleidoscopic look at one night in New York City that changes the lives of three people forever.

The production runs through Saturday, September 12, 2015 with a Thursday, August 27, 2015 opening at the Peter Jay Sharp Theater in New York City.

THE MUSIC MAN book, music and lyrics by Meredith Willson.

Story by Meredith Willson and Franklin Lacey.

Directed by John Miller-Stephany.

Musical director/conductor is Andrew Cooke.

Summer isn't complete without seeing a spectacular musical at the Guthrie. You know the story about the fast-talking salesman and his money-making scheme to form a boy's band in small-town Iowa. (We love when he falls head over heels for Marian the librarian, who transforms him into an honest man.) But you've never seen it here and there's no better time than the present to experience this all-American gem. Overflowing with heart and a parade of toe-tapping songs including Goodnight, My Someone, Gary, Indiana, Till There Was You and Seventy-Six Trombones, this Tony-winning classic is family entertainment at its best.

Starring Danny Binstockis as Harold Hill and Stacie Bono as Marian Paroo.

Winthrop Paroo is played by Seth Beil and Soren Thayne Miller. Robert O. Berdahl is cast as Ewart Dunlop Zaneeta Shinn is played by Shinah Brashears. Jen Burleigh-Bentz portrays Maud Dunlop. Caitlyn Carroll. and Ella Freeburg are cast as Gracie Shinn.

Carley Clover and Natalie Tran play Amaryllis. Charlie Cowell is played by J.C. Cutler. Mrs. Paroo is Margaret Daly. Jacey Squires is Robert DuSold. Oliver Hix is played by Joel Liestman. Eulalie Mackecknie Shinn is played by Barbara Marineau. Molly Sue McDonald is cast as Alma Hix. Mrs. Jacey Squires is played by Tinia Moulder. Olin Britt is played by James Ramlet.

Train Conductor/Constable Locke is played by Mark Rosenwinkel.

Richard Ruiz is Marcellus Washburn and Mayor George Shinn is played by Peter Thomson. Tommy Djilas is played by Brandon Timmons and Therese Walth is cast as Ethel Toffelmier.

Traveling Salesmen:Matthias Anderson, Robert O. Berdahl, Austen Fisher, Michael Gruber, Joel Liestman, Kasono Mwanza and Tony Vierling.

Residents of River City: Matthias Anderson, Ruthie Baker, Paul R. Coate, Michael Gruber, Renee Guittar, Katie Hahn, Sarah Lawrence, Wesley Mouri, Kasono Mwanza and Tony Vierling.

Children of River City: Henry Constable, Rush Benson, Meredith "Mimi" Kol-Balfour, Laura Kupper, Andrew Timm, Nate Turcotte, and Zel Weilandgruber.

Swings: Timmy Hays and Adam Moen.

Choreographer Joe Chvala; Set Designer Todd Rosenthal; Costume Designer Mathew J. LeFebvre; Lighting Designer David Lander; Sound Designer Scott W. Edwards; Dramaturg Jo Holcomb; Voice Coach Lucinda Holshue; Fight Director Annie Enneking; Stage Manager Chris A. Code; Assistant Stage Managers Alexandra Gowdy-Jaehnig and Justin Hossle; Assistant Director Adrian Balbontin.

Through August 30 at The Guthrie in Minneapolis.

25th ANNUAL PUTNAM COUNTY SPELLING BEE by William Finn and Rachel Sheinkin.

Directed by Jessica Stone.

The nine actors playing 14 roles are: Becca Ayers, Ryan Breslin, Colin Hanlon, Caitlin Houlahan, Katie Ladner, Maurice Murphy, Paul Pilczz, George Salazar, and Sumi Yu.

An eclectic group of six mid-pubescents vie for the spelling championship of a lifetime. While candidly disclosing hilarious and touching stories from their home life, the tweens spell their way through a series of [potentially made-up] words hoping to never hear the soul-crushing, pout-inducing, life un-affirming "ding" of the bell that signals a spelling mistake. Six spellers enter; one speller leaves! At least the losers get a juice box.

Performances through September 6 at the Bucks County Playhouse in New Hope, PA.

BEDROOM FARCE by Alan Ayckbourn.

Directed by John Tillinger.

The bedroom is the one room that sees the best, the worst, and the most of us. Over the course of one Saturday evening, in three separate bedrooms, the relationships of four couples (and one almost love triangle!) are hilariously laid bare.

Starring Scott Drummond as Malcolm, Carson Elrod as Trevor, Matthew Greer as Nick, Cecilia Hart as Delia, Claire Karpen as Kate, Nicole Lowrance as Jan, Sarah Manton as Susannah, and Paxton Whitehead as Ernest.

Marjorie Bradley Kellogg Scenic Design; Laura Churba Costume Design; John Demous Lighting Design; Scott Killian Sound Design. Shane Ann Younts Dialect Coach; Robert Westley Movement Choreography; Karin White Props Master; Tara Rubin Casting; Megan Smith Production Stage Manager; Shane Schnetzler Assistant Stage Manager. For This Production: Assistant Costume Designer – Hannah Collman; Assistant Lighting Designer – Andrew Scharwath; Assistant Sound Designer – Christopher Peifer.

August 25-September 13 at the Westport Country Playhouse in Westport, CT.


WHO'S WHERE




IDINA MENZEL entertains on Tuesday, August 25, 2015 in Pittsburgh, PA at the Benedum Center. Wednesday's show is in Norfolk, VA in Chrysler Hall. On Friday she's on stage in Boston, MA at the Blue Hills Bank Pavilion. Saturday's performance is in Lenox, MA at Tanglewood. Next Sunday, August 30, she's in Canadaigua, NY at the CMAC.

KRISTIN CHENOWETH this Tony and Emmy-winning star takes center stage, performing theatre and pop standards, as well as songs off her 2014 album, Coming Home August 28 at the Filene Center, Wolf Trap in Vienna, Virginia. Next Sunday, August 29, she entertains at Fraze Pavilion in Kettering, OH.

ONE DIRECTION performs Tuesday, August 25, at Miller Park in Milwaukee, WI. Thursday's show is at the Cleveland Brown Stadium in Cleveland, OH. On Saturday they entertain at Ford Field in Detroit.

TAYLOR SWIFT brings her show to the PETCO Park in San Diego, CA on Saturday, August 29.

CELINE DION returns to Caesars Palace in Las Vegas on August 27 in a new production show.

LENNY KRAVITZ the Grammy Award-winning, It Ain't Over 'Til It's Over rock idol performs Tuesday, September 1 at Wolf Trap in Vienna, VA.

JOY BEHAR brings her standup comedy to Guild Hall in The Hamptons, NY for a two night stand August 29-29.


FINAL OVATION


E'DENA HINES the 33-year-old actress step-granddaughter of actor Morgan Freeman, was stabbed to death early August 16, 2015 in front of her home at West 162nd Street in Manhattan.

Her would-be rapper boyfriend, Lamar Davenport, 30, was taken to Columbia Presbyterian Medical Center Sunday for psychiatric evaluation. Later he was charged with second degree murder. Several neighbors watched the murder from their apartment windows. Reports state he goes by the rapper name of 'Lyric' and has two children, and a history of at least six arrests and several convictions.

Hines and Freeman frequently appeared together at red carpet theatrical events. In a 2012 interview Freeman talked about mentoring her acting career. She appeared as a receptionist opposite him in the movie Five Flights Up.

Freeman issued a press statement saying, "The world will never know her artistry and talent, and how much she had to offer. Her friends and family were fortunate enough to have known what she meant as a person. Her star will continue to shine bright in our hearts, thoughts and prayers. May she rest in peace."

She studied acting at New York University's Tisch School of the Arts and taught underprivileged youth in Memphis. She moved back to New York in April after being cast in Landing Up, which is scheduled to be released next year.

Hines also appeared in the 1996 fillm Moll Flanders and on the stage as Beneatha Younger in a 2012 production of the play A Raisin in the Son at Westport Country Playhouse, directed by Phylicia Rachad.

BUD YORKIN prolific television producer, director and writer died August 18, 2015 in his home in Bel-Air, CA. He was 89.

His credits include producing All In The Family, Maude, The Jeffersons, Sanford and Sons and Different Strokes.

In 2002, the multiple Emmy Award winner was inducted into the Television Hall of Fame.

He is survived by his wife Cynthia Sikes; sons David and Michael; daughters Nicole and Jessica; and four grandchildren.

















Next Column: August 30, 2015
Copyright: August 23, 2015 All Rights Reserved. Reviews, Interviews, Commentary, Photographs or Graphics from any Broadway To Vegas (TM) columns may not be published, broadcast, rewritten, utilized as leads, or used in any manner without permission, compensation and/or credit.
Link to Main Page
---
Laura Deni



For the snail mail address, please E-mail your request.
CLICK HERE FOR COMMENT SECTION