! >
Broadway To Vegas
  
 SHOW REVIEWS CELEBRITY INTERVIEWS GOSSIP NEWS

| | |
| --- | --- |
| | |
TOM HANKS AND THOSE SAUSAGES - - DR. SEX - - HOLLYWOOD EXECUTIVE WILLS MONEY TO STARLIGHT THEATRE - - WESTPORT COUNTRY PLAYHOUSE BLOOD DRIVE - - MARIAN SELDES CELEBRATES BIRTHDAY WITH RAVE REVIEWS - - FIRE DOESN'T STOP LITTLE WOMEN THE MUSICAL - - ROD STEWART HEADED TO LAS VEGAS COURTROOM - - STEPHEN SONDHEIM DISCUSSES ANYONE CAN WHISTLE - - DONATE . . . Scroll Down


FILM HONCHO REMEMBERS STARLIGHT THEATRE IN WILL
Spending his teenage years working backstage at the Starlight Theatre in Kansas City meant a lot to Richard L. Berger, the man who is credited with starting Disney's Touchstone Films. He bequeathed $250,000 to the venue in memory of his father, Richard Hill Berger, who was the first director at Starlight, from 1951 to 1971.

The younger Berger had fond memories of his youth - watching his father direct and of his own teenage backstage employment.

"Personal life experience provides one with creative instincts. There is no doubt that my seven years at the Starlight Theater greatly influenced my creative decisions while working on such projects as Splash, Dallas, and even Porkies. Without the Starlight exposure I don't believe I would have had the same success in my career," Richard Berger had stated.

The younger Berger is listed by the Starlight as - alumni 1955-1961.

In 1951 the elder Berger, his wife Sherry and their young son Rich, moved to Kansas City from New York City when he accepted the Starlight job, a position he held until 1971.

Rich Berger grew up working "learning the theater business from the ground up as his father had done before him," according to author Kathleen Hegarty Thomas in The History of the Starlight Theatre.

According to her official history of the Starlight Theatre, during Berger's tenure;

"On June 25, 1951, all was in place for the opening of Starlight's first season with the performance of Desert Song. At this time, nearly 40 professional, self-producing outdoor theatres similar to Starlight existed, whereas today, only two remain, both of which are located in Missouri."



Early Starlight stage. Jerry Lewis paid for renovations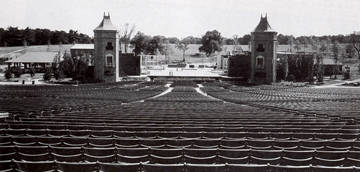 "In the early years, Starlight's seasons consisted of ten shows that included a mixture of operettas, light opera and new musical comedies recently written for the Broadway stage. Under the direction of the Association's first theatre manager, Richard Berger, the first opera, Carmen, the first variety show, Liberace and the world premiere of Tom Sawyer, were among favorites to theatergoers.

"During those (Berger) years, many unique events occurred that have made Starlight's history so interesting. One such story involved Jerry Lewis in 1958," the history states regarding the Las Vegas resident.

"After opening night of a performance, Jerry was unhappy about the distance between the stage and the audience. He proposed to theatre personnel that the stage be extended to cover the orchestra pit, which would in turn, bring the actors closer to the audience. Although a great idea, the cost of such an improvement was financially not possible. However, the stage was built and paid out of Jerry Lewis' own pocket. That theatre improvement was in place for 41 years, until current new stage construction in 2000."



New 10-story, 12,000-square-foot covered stage. Photo by Mark McDonald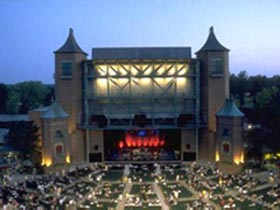 Berger, the executive who forged the Touchstone label as president of Walt Disney Pictures, died Sept. 29, 2004 at Cedars-Sinai Medical Center in Los Angeles of lung cancer.

His will was made public this past week.

The veteran of entertainment management was tapped by Disney in 1983 when the company formed a separate subsidiary to handle motion picture and television production. During his two-year presidency, Berger launched Touchstone Films, opening a new era of film production and marketing for Disney. Among his successful Touchstone projects was the film Splash, starring Daryl Hannah and Tom Hanks.

Born in Hillsdale, N.Y., to a former Ziegfeld girl and a theatrical producer, Berger attended Cornell University and graduated from the University of California at Los Angeles, where he was an All-America soccer player and team captain.

He worked as a certified public accountant before joining 20th Century Fox as a vice president for programs in 1973. In the middle of his 10 years at Fox, he took time out for a job as CBS vice president of programming, developing series such as Lou Grant and Dallas.

His first marriage was to actress Meredith MacRae. He is survived by his wife, the former Lisa Hornburg, and daughter Alexandra from a previous marriage to Sylvia Sands.

The theatrical bequest will go toward Starlight's $15.25 million fund-raising campaign.


ROD STEWART HAS GIG IN LAS VEGAS COURTROOM
Rod Stewart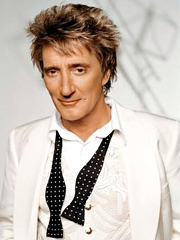 He has star billing, but it isn't your usual Las Vegas venue for Rod Stewart.

On Tuesday morning jury selection is set to begin in the courtroom of U.S. District Judge Larry Hicks in Las Vegas.

In the spotlight is a canceled concert dispute at Harrah's.

The Harrah's-owned Rio hotel-casino accuses Stewart of breach of contract, suing for the return of $2 million that Harrah's advanced to the singer to perform a December 30, 2000 concert.

Stewart underwent thyroid cancer surgery in May, 2000 and hadn't sufficiently recovered to perform. Court documents indicate that Stewart had temporarily lost his voice.

At about the same time Stewart also canceled a show at the New Orleans House of Blues.

Under terms of the Vegas contract, the rocker turned crooner is permitted to keep the fee by performing make-up concerts.

Court documents state that the Rio contends Stewart was hired to perform as part of a New Year's Eve weekend and, "the parties agreed to rescheduling only in narrow, specified circumstances not present here."

Stewart's lawyers intend to call the raspy-voiced British singer and Harrah's Chairman Gary Loveman as witnesses in the civil trial.

It is also expected that the Rio is going to try to establish a pattern of accepting payment and then failing to perform, telling jurors about a Los Angeles County Superior Court judgment in November ordering Stewart to repay $780,000 he received for a canceled 2002 Latin America concert tour. The Los Angeles jury also assessed $1.6 million in damages against Stewart's lawyers and agents for their roles in negotiating that contract.

Stewart is represented by the law firm of Christensen, Miller, Fink, Jacobs, Glaser, Weil & Shapiro, LLP, in Los Angeles, California with lead partners Skip Miller and Kerry Garvis Wright appearing for the 60-year-old Stewart. Harrah's is represented by Morris & Pickering of Las Vegas.

This case has been winding its way through the legal system for years.

Billed as Rio Properties v. Stewart Annoyances, Ltd., et al., Harrah's.

Originally, the trial court granted summary judgment in favor of Rio, rejecting Stewart's argument that the contract's force majeure provision allowed him to reschedule the concert.

Stewart's lawyers prevailed before the Ninth Circuit Court of Appeals, which reversed the trial court's summary judgment, finding that triable issues of material fact existed as to the applicability of the force majeure provision in the contract. Rio Properties v. Stewart Annoyances, Ltd., 94 Fed. Appx. 519, 2004 WL 614775 (9th Cir.).


AVENUE Q PARODIES STEVE WYNN


While not exactly biting the hand that feeds them the creators of Avenue Q presented themselves to Las Vegas with a Steve Wynn puppet and special lyrics.

"This show's hilarious and smart - It's a Broadway show with tons of heart! I saw it in New York and said 'I've gotta have this show!' They said they'd also like to tour but I said no! You're only in Vegas! And you're here exclusively! You wanna see it? You gotta go through me!"

Indeed.

Wynn controls every aspect of the production.

The cast arrived in Las Vegas on August 16 with Wynn front and center to greet both humans and their manufactured alter egos. Performances will begin at the Wynn Las Vegas on August 27th and open on September 8th. From September 3rd the show will play two-shows per night, 10 times a week with two dark nights.

Original Broadway stars John Tartaglia and Rick Lyon reprise their multiple roles, joined by Angela Ai, David Benoit, Steven Booth, Minglie Chen, Tonya Dixon, Rita Dolphin, Natalie Gray, Phyre Hawkins, Nicholas Kohn, Michelle Lane, Kevin Noonchester, Brynn O'Malley, Cole Porter, Jonathan Root, Kelli Sawyer, Sharon Wheatley and Haneefah Wood.

The show with the snappy patter and smart lyrics has music and lyrics by Robert Lopez and Jeff Marx with a book by Jeff Whitty.

Avenue Q is the story of Princeton, a bright-eyed college grad who comes to New York City with big dreams and a tiny bank account. He soon discovers that the only neighborhood in his price range is Avenue Q; still, the neighbors seem nice. Together, Princeton and his newfound friends struggle to find jobs, dates, and their ever-elusive purpose in life.

Avenue Q won the 2004 Tony Awards for Best Score, Best Book, and Best Musical. It's a delightfully, entertaining hoot. Don't miss it.

It will remain the new kid on the block until Harvey Fierstein shakes up the place. If everybody plays their cards correctly, Fierstein will own the Strip when he comes to Las Vegas to reprise his Tony award winning role as Edna Turnblad in the upcoming Vegas production of Hairspray, with a book by Mark O'Donnell and Thomas Meehan. Music by Marc Shaiman.

For 12-weeks he'll be starring in a 90-minute, intermissionless version of Hairspray at the Luxor hotel. The theatre at the Luxor is currently being renovated and will hold 1,550 people upon completion. The show has signed a four-year licensing agreement with options to extend with co-producers Michael Gill and Myron Martin.

Hairspray will begin rehearsals at the Luxor Las Vegas starting in late November. Fierstein is currently starring opposite Rosie O'Donnell on Broadway in Fiddler on the Roof. He is expected to join the Vegas Hairspray show in February.


ART AND ABOUT
Isamu Noguchi Coffee table, 1944 Manufactured by Herman Miller Glass and wood © Vitra Design Museum Photo: Thomas Dix
Isamu Noguchi (1904-1988) created groundbreaking works of fine art and decorative art - expanding the modern definition of sculpture, furniture and landscape architecture, as well as challenging ideas about the unique art object and the possibilities of mass-produced design.

This singular exhibition and installation was conceived and designed by internationally acclaimed theatre director and artist Rob Wilson as a tribute to a visionary modern sculptor whose work he first encountered on the sets of Merce Cunningham and Martha Graham.

For Isamu Noguchi--Sculptural Design, Wilson devised a series of tableaux in sound, light and form which echo Noguchi's concept of "a sculpture of spaces."

This Special Exhibition is on display through September 5 at the Seattle Art Museum Special Exhibition Gallery in Seattle, Washington.



Broadway To Vegas is supported through advertising and donations. Priority consideration is given to interview suggestions, news, press releases, etc from paid supporters. However, no paid supporters control, alter, edit, or in any way manipulate the content of this site. Your donation is appreciated. We accept PAYPAL. Thank you for your interest.


SPREADING THE WORD


ZHIVAGO Music by Lucy Simon. Lyrics by Michael Korie and Amy Powers. Book by Michael Weller. Directed by Des McAnuff.

Boris Pasternak's epic novel of love and passion, set against the turmoil of the Russian Revolution, is a celebrated modern classic, and David Lean's film transformation was one of the great Hollywood epics. Now, the sweeping story of surgeon-poet Yurii Zhivago and Lara, the love of his life, will begin a journey to the stage as a musical. The lush and soaring score captures the essence of forbidden romance in the time of revolution.

With the La Jolla Playhouse's Page To Stage program, audiences experience the "birth" of a play and take part in its shaping as playwright and direct make constant changes in response to audience reactions and feedback. Billy Crystal's Tony Award-winning hit 700 Sundays and the acclaimed I Am My Own Wife both began at the Playhouse as Page to Stage workshop productions.

Today, August 21, The Discovery Sunday series for Zhivago takes place. This is one of several options the La Jolla Playhouse offers to allow audiences to delve deeper into themes and ideas presented in each play. The event takes place immediately following the Sunday matinee performance, which happens to be the closing performance for this new production.

THE BOARD OF ARENA STAGE IN WASHINGTON, D.C. is reaching out to the rest of the Potomac Region theatrical community to broaden its own understanding of the incredibly vibrant theater community in the area.

Members have formed the Arena Stage Board Theater Club to attend shows at other major professional theaters including Ford's, The Shakespeare Theatre, Signature Theatre, Studio Theatre, Theatre Alliance, Theatre J and Woolly Mammoth.

In addition, when they buy their tickets to the shows, they are buying additional tickets in order to host high school and college students. The board and their guests meet with the artistic director of the theater they visit after the show to discuss the goals of the theater and the theater community in general.

First outing was last week when a group of twenty-three board members and eighteen guest teens attended a performance of The Clean House at Woolly Mammoth.


SWEET CHARITY


WILLIAMSTOWN THEATRE FESTIVAL

Christopher and Dana Reeve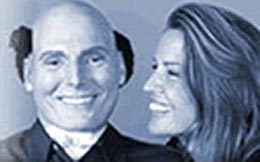 dedicates final performance of the season to Christopher Reeve.

To honor the life and work of late WTF actor and trustee Christopher Reeve, the final performance of every WTF season will be dedicated to his memory, beginning with this year's final show of Bus Stop on Sunday, August 28.

Following the performance, cast members will collect donations for the Christopher Reeve Paralysis Foundation.

In subsequent years a fund will be established at WTF to support artists with disabilities who wish to train or work at WTF. The proceeds of future final performances will be directed to this fund.

Reeve began his acting career at 15 as an apprentice at WTF and returned to the festival throughout his illustrious career. A few of the many productions that Reeve appeared in at WTF include: Love Letters, The Guardsman, Death Takes a Holiday, John Brown's Body, Summer and Smoke, The Royal Family, and Holiday.

Reeve met his wife, Dana, at WTF in 1987. Dana, who is currently battling lung cancer, serves as a member of WTF's Board of Trustees.

THE WESTPORT COUNTRY PLAYHOUSE in cooperation with the American Red Cross, will host a blood drive in the Sheffer Rehearsal Studio, adjacent to the theatre. Anyone donating blood on this day will receive a buy one, get one free ticket to Journey's End. Monday, August 29, 1-6 pm, Westport, CN.

I WANT TO KNOW WHAT LOVE IS BENEFIT CONCERT FEATURING FOREIGNER

Foreigner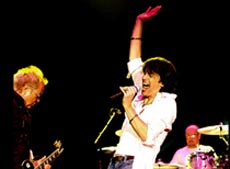 Legendary rock band, Foreigner, who took the world by storm with the hit I Want to Know What Love Is, will perform at a benefit concert by the same name on Tuesday, August 23rd at East Hampton High School. The benefit concert will also feature performances by Garland Jeffreys, Suzanne Vega and additional special guests.

Proceeds from the benefit concert will be shared among three organizations: Ellens Run a 5K race held each year by The Ellen P. Hermanson Foundation, established in 1997 by Julie Ratner to honor her sister. Ellens Run helps raise money for breast cancer educational outreach, psychosocial support services, and research initiatives.

Project Most is an after-school program at East Hamptons John M. Marshall Elementary School that provides children with academic assistance and enriched social activities such as swim instruction, karate, art activities, extra computer lab learning, and physical fitness in a safe environment.

East Hampton Day Care Center is a private, not-for-profit year-round organization that provides day care for over 150 preschool children of lower income working class parents. The Center is the only licensed NY State day care center in the East Hampton township.


CELEBRITIES HEAD OUT ON USO TOURS


Always a favorite, the leggy Dallas Cowboys Cheerleaders will be entertaining the troops stationed in Cubs September 26-October 1. Tito Puente, Jr. performing September 1-13 in a USO tour that takes him to Korea and Japan. Henry Rollins will be on stage August 23-September 1 in Egypt and Turkey.


OTHER PEOPLE'S MONEY


PLANO REPERTORY THEATER FOLDS was the surprise announcement issued by the Plano, Texas board of directors who "regretfully announces that it has voted unanimously to close and liquidate the theater, effective immediately. The remaining plays for the 2005 season will not be produced, and there will be no 2006 season."

"There are no funds to refund ticket sales for upcoming plays or to pay creditors," stated the official announcement.

"The board sincerely regrets this outcome. After twenty-nine years of performances for audiences from Plano and surrounding cities, the loss of PRT will be felt by many people and businesses," continued the release.

Since 1975, Plano Repertory Theatre had dedicated itself to producing quality theatre that entertains, challenges, and inspires. Through workshops, outreach programs, and volunteer opportunities, PRT serves its community not only as a place of entertainment, but also as a source of education. PRT is a 501(c)(3) non-profit organization and is funded in part by the Texas Commission on the Arts.

Problems began when the main stage of PRT moved to the Courtyard Theatre and the offices relocated to a much larger facility, the theater's operating costs grew faster than the corresponding revenues. Sources of revenue, other than ticket sales, remained low by financial comparison with other successful theaters, resulting in mounting debt over the past few years that hampered operations.

This year, the board took initiatives to reverse the financial difficulties: staff was reduced, offices and rehearsal space were consolidated, and every element of cost was carefully monitored. Efforts to increase nonticket revenues were initiated. A matching grant from a major foundation was sought, but ultimately delayed. Grants totaling $35,000 from the Plano Arts and Culture Endowment and an anonymous donor were used to raise a matching $35,000 from the audience during June. However, these actions were not adequate to generate sufficient continuing cash flow to complete the current season.

With half the season remaining to produce, it became apparent that fund raising efforts would not be successful; therefore, the Board recognized that it had no option but to cease operations. The next production Nine was scheduled to open on September 8.

THE KIMMEL CENTER FOR THE PERFORMING ARTS home to The Philadelphia Orchestra, has posted a $2.2 million operating deficit. The center recently froze salaries, eliminated 12 positions - about 11 percent of its staff - and canceled its Summer Solstice concert series which was to play through August.


HAPPY BIRTHDAY


Marian Seldes celebrates her 77th birthday on Tuesday.

She received early birthday presents in the form of rave reviews from everyone who has seen her in Terrence McNally's Dedication or the Stuff of Dreams.

Seldes also received the gift of two more weeks of work. Originally set to close on Sept. 18 at Primary Stages' 59E59 Theaters, the production has been extended through Oct. 2.


FIRE DOESN'T DETER LITTLE WOMEN THE MUSICAL


During the night Friday, August 19, a two-alarm fire broke out at the downtown Civic Theatre in San Diego where the set for Little Women - The Broadway Musical, starring Maureen McGovern is slated to open on Tuesday, August 30.

"They had just finished loading the set into the theater that day. No one was injured," according to Susan Chicoine, press consultant for the venue.

"They think it was an electrical short," Chicoine told Broadway To Vegas. "The sprinklers went off in the theater. When they go off Civic Theatre security is automatically notified. They called the fire department around 3:30 A.M."

"No one was in the building," continued Chicoine. "While the fire did some damage to several set pieces, water damage from the sprinklers is a bigger concern. The full extent of the damage is being assessed now. Most of it is water damage and the water ended up in the basement. Smoke and water."

They are mopping up and going on.

"Little Women is all about spirit, perseverance, and strength in the face of adversity. I think this minor setback has only made the production stronger," said Ken Gentry, Executive Producer/NETworks Presentations, which is producing the tour.

"We appreciate the immediate response from the San Diego Fire Department in containing the damage, and the great outpouring of support from the city that followed. The entire community pulled together to make sure the show could continue rehearsing and begin performances as scheduled. This support of our extraordinary company of actors made them feel even more in touch with the soul of the show, and we believe it will render a more poignant experience for everyone involved on stage and in the audience."



Little Women Photo of the Original Broadway Cast. Photo Credit: Joan Marcus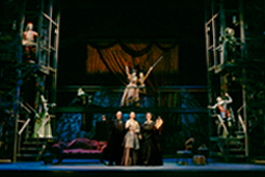 The show will open as scheduled in San Diego on Tuesday, August 30th; kicking off a 30-city National Tour of this production.

Little Women-The Musical is adapted from the Louisa May Alcott classic novel about the four remarkable March sisters who come of age during the Civil War era. This timeless tale about the power of family, friendship and romance is capturing the hearts of a new generation and captivating audiences of all ages.

The show features a book by Allan Knee, music by Jason Howland and lyrics by Mindi Dickstein. Directed by Susan H. Schulman, it features choreography by Michael Lichtefeld.



HONOUR Written by Joanna Murray-Smith. Produced by Joseph Stern. Directed by Andrew J. Robinson.

Limited Engagement of this Los Angeles premiere opens Saturday, August 27 at the Matrix Theatre in West Hollywood.

Susan Sullivan and Robert Foxworth. star in this production which explores what happens when a marriage of 32 years is derailed by a young and seductive female journalist who enters the lives of Honor and her husband Gus (Sullivan and Foxworth). Is marriage meant to last? Is it right to sacrifice your individuality for the good of a relationship? Is fidelity natural? How does one survive suddenly being thrust out of a long-term relationship?

Joanna Murray Smith's frank and honest play immerses us in an emotional world of love, betrayal and suffering – without destroying our sense of hope.

Robert Foxworth created the role of Gus in the original New York production and is joined in this Los Angeles premiere by his Falcon Crest co-star Susan Sullivan in a role recently played by Kathleen Chalfant at Berkeley Repertory.

ANNIE by Charles Strouse, Martin Charnin and Thomas Meehan. Based on the American strip cartoon Little Orphan Annie which began over seventy years ago in New York Winner of 7 Tony awards, this anniversary revival stars Conrad John Schuck as Daddy, Alene Robertson as Miss Hannigan, Mackenzie Phillips as Lily St. Regis, Elizabeth Broadhurst as Warbucks' faithful assistant, Grace, Scott Willis as Rooster and newcomer Marissa O'Donnell as Annie.

August 21-27 at the Paramount Theatre in Seattle, WA.

SWING Original Concept by Paul Kelly. Original Direction & Choreography by Lynn Taylor-Corbett.

All singing, all dancing extravaganza that brings alive the big band music of the 1930s and 40s with contemporary style. A mix of classic songs and over 30 tour de force eye popping dance numbers- some comic, some romantic, some nostalgic. August 16-September 25 at the Omaha Community Playhouse in Omaha, NE.

BEEHIVE Bring your can of Aqua Net for this fun-filled musical tribute to the girl groups and soloists of the 60's. You'll hear music from The Chiffons, The Supremes, Aretha Franklin, Connie Francis, Leslie Gore and more. The songs include The Name Game, It's My Party, You Don't Own Me, R-E-S-P-E-C-T, Where The Boys Are, I Hear A Symphony and many more. August 25-October 1 at the Broadway Palm Dinner Theatre in Fort Myers, FL.

Broadway Palm Dinner Theatre in Fort Myers, Florida, is now celebrating its 12th season. The theatre seats 448 and entertains over 150,000 guests annually.

MOBY DICK REHEARSED BY ORSON WELLES Tony, Emmy and Academy Award winning theater legend Tony Walton directs an ensemble of Broadway veterans in Orson Welles' thrilling adaptation of Herman Melville's classic tale of Mad Captain Ahab and his doomed hunt for the great white whale.

August 25-September 11. Guild Hall in East Hampton, NY.

ANYONE CAN WHISTLE Music by Stephen Sondheim. Book by Arthur Laurents.

Tony winners Patti LuPone, Audra McDonald and Michael Cerveris-acclaimed veterans of Ravinia's Sondheim 75 series-reunite in a unique concert performance of the rarity Anyone Can Whistle, the show that helped define Sondheim as a Broadway innovator. Ravinia Festival Orchestra Paul Gemignani, Conductor. Lonny Price, Director. Ravinia Festival in Highland Park, IL August 26-27.

On August 26 Stephen Sondheim will join Ravinia Festival President and CEO Welz Kauffman in a pre-concert discussion. The talk is free to either pavilion or lawn ticket-holders to the August 26 concert on a first-come, first-served basis. Because of anticipated demand, the discussion will be held in the pavilion and broadcast to the lawn.

TEA AT FIVE by Matthew Lombardo. Starring Kate Mulgrew as Katharine Hepburn.

Katharine Hepburn was undoubtedly the most famous and intriguing star in entertainment history. Now in an uncanny performance, Kate Mulgrew becomes the legendary actress from Hepburn's turbulent childhood to her 27-year love affair with Spencer Tracy. Follow Miss Hepburn's personal and professional journey in this poignant and often funny tour de force.

Southern California Premiere at the Pasadena Playhouse officially opens August 26 for a run through October 2.

DR. SEX a musical by Larry Bortniker (lyricist, composer, co-librettist) and Sally Deering (co-librettist). Pamela Hunt will direct, with choreography by Mark Esposito.

Brian Noonan will play Dr. Alfred Kinsey and Jennifer Simard is his devoted wife, Clara. Christopher Corts will play Wally, the Kinseys' boyfriend. Also featured in the cast are Jared Bradshaw, Linda Cameron, David Edwards, Christy Faber, Colleen Hawks and Benjie Randall.

It will be touted as "the cleanest show about sex in the history of musical comedy."

Set in the 1930s and '40s in Bloomington, Indiana, Dr. Sex explores the loving relationship between Dr. Alfred Kinsey, his wife, Clara...and their handsome boyfriend - and lab assistant - Wally Matthews. When Professor Kinsey, tired of cataloguing American gall wasps, discovers his life's work in human sexual research, Bloomington becomes a hotbed of science and sex.

Patrick Vaccariello will serve as musical supervisor. Designers are Rob Bissinger (set), John Carver Sullivan (costumes) and Mary Jo Dondlinger (lighting).

The New York premiere of the musical comedy Dr. Sex, beginning performances August 26 and continue through September 14 at Peter Norton Space in NYC.

A FUNNY THING HAPPENED ON THE WAY TO THE FORUM Directed By: Paul Durban. August 26-September 18 at the Lincoln Community Playhouse in Lincoln, NE.

LITTLE HOUSE ON THE PARODY pokes fun at 19th century Midwestern situations and morals as it follows the formative years of Laura Ingalls Wilder.

Her and her family strikes out to make a new life on the tough, cruel and wide prairie, struggling with both elements of nature - tornadoes, prairie fires, the dreaded grasshoppers - and humanity that would be Nellie Oleson and her family, the persnickety Miss Wilder, the boozing Mr. Edwards. Can the Ingalls stick it out on the harsh frontier?

The two act musical parody includes original songs and dances.

The show is a co-creation of Becky Eldridge and Amy Petersen, both lifelong friends and Laura Ingalls Wilder fanatics. Little House on the Parody, had it's world premier as a co-production of Single Box Turn Productions and the Playground Theatre in Chicago in the summer of 2003. The show also enjoyed a successful run at Theatre Building Chicago in the winter 2003/04.

Directed by Andy Eninger, co-founder of both the Chicago Comedy Company and GayCo Productions, Little House on the Parody is a look at simpler times that aren't always so simple.

The Lucille Lortel Theatre, NYC August 23-28.


| | | |
| --- | --- | --- |
| | | |
WHO'S WHERE


NEIL DIAMOND performs Monday, August 22, at the Pepsi Arena in Albany, NY. On Wednesday the show is at the HSBC Arena in Buffalo, NY. Friday finds him on stage at the Mellon Arena in Pittsburgh. On Saturday he can be enjoyed at the Schottenstein Center in Columbus, OH.

MERCY ME on August 26, perform at Charles Ives Concert Park in Danbury, CT.

CHICO HAMILTON The Parrish Art Museum presents an evening of blistering jazz with legendary percussionist and NEA 2004 Jazz Master Chico Hamilton.

A groundbreaking musician and East End resident who still lives in the house designed by his good friend architect Norman Jaffe, will perform this special "hometown" concert with his quartet, Euphoria, featuring Gary DeNigris, Paul Ramsey, Evan Schwam, and Karolina Strassmayer. Saturday, August 27, at The Parrish Art Museum, in Southampton, NY.

DAVE MATTHEWS BAND on stage Thursday, August 25, at the Coors Amphitheatre in Chula Vista, CA. On Saturday they begin a two night stand at HomeDepot Center in Carson, CA.

LA DOLCE VITA: ITALIAN COOL ON A HOT SUMMER NIGHT starring John Pizzarelli with Bruce Dukov on violin. Backed by the Hollywood Bowl Orchestra with John Mauceri, conductor. August 26 at The Hollywood Bowl in Los Angeles.

BIG BAD VOODOO DADDY swinging Friday, August 26 at Humphrey's By The Bay in San Diego, CA. On Saturday they are at Jazz in the Pines in Idyllwild, CA.

BLIND BOYS OF ALABAMA perform Tuesday, August 23 at Music on the Half Shell in Roseburg, OR. On Thursday they are on stage at Summer Nights at South Lake Union in Seattle. Friday finds the guys performing at the Oregon Zoo Amphitheatre in Portland and next Sunday they can be enjoyed at the Rodney Strong Vineyard in Healdsburgh, CA.

DIANNE REEVES opens a two nighter Friday at Newtown Music Hall in Johannesburg, South Africa.

TONY BENNETT in the spotlight Saturday, August 27, at the Historic Mountain Winery in Saratoga, CA.

PAUL ANKA performs this week in Michigan. On Saturday he is at the Jerome Duncan Ford Theatre in Sterling Heights. Next Sunday he stars at the Clio Amphitheater in Clio.

CHARLIE PARKER JAZZ FESTIVAL has a free performances scheduled for Aug. 27 in Marcus Garvey Park in Harlem and the next day in Tompkins Square Park in the East Village, NYC. The first day's lineup includes Bobby Watson & Horizon, the Odean Pope Saxophone Choir, Hiromi and Soweto Kinch. The second day's stars are Geri Allen, the Odean Pope Saxophone Choir, the pianist John Hicks with the saxophonist David "fathead" Newman and the Cindy Blackman Quartet.

JIMMY BUFFETT in a split two night engagement Thursday, August 25 and August 27 at the Citizens Bank Park in Philadelphia.

MICHAEL BUBLE performs Tuesday, August 23, at the Paramount Arts Center in Aurora, IL. On Friday he can be enjoyed at the Memphis Botanic Garden in Memphis, TN.

COLDPLAY perform tonight, Sunday, August 21, at the Verizon Wireless Amphitheatre in Irvine, CA. On Wednesday they are on stage at the Journal Pavilion in Albuquerque, NM. Thursday finds them on stage at the Cricket Pavilion in Phoenix, AZ. On Friday they entertain at the Coors Amphitheatre in Chula Vista, CA.

MAROON 5 on stage Tuesday, August 23 at the Vital Festival in Belfast, Ireland. On Wednesday they perform at Lansdowne Road in Dublin, Ireland. Then they cross the pond to appear Friday, August 26 at Rentschler Field in Hartford, CT as part of the bill with The Rolling Stones.

THE ROLLING STONES tonight, August 21, on stage at Fenway Park in Chicago. On Tuesday they do it again there before moving on for a Friday performance at Rentschler Field in Hartford, CT.

DOLLY PARTON the one and only with Last Train Home perform at Constitution Hall in Washington, D.C. on Tuesday, Aug. 23.


PIFFLE AND PROFUNDITIES


TOM HANKS filming Dan Brown's The Da Vinci Code Lincoln, England where the Lincoln Cathedral is substituting for Westminster Abbey. The town is in a tizzy with residents rubbernecking to catch a of glimpse of Hanks and his co-stars Audrey Tatou and Sir Ian McKellen.

With a cast and crew of 200 and 400 extras, somebody needs to feed the lot. The prized chuckwagon assignment was awarded to butcher Kenny Roberts.

Every day this past week he has supplied the set with 300 of his Lincolnshire sausages, along with 500 bacon rashers and 400 individually packed pork pies.
















Next Column: August 28, 2005
Copyright: August 21, 2005. All Rights Reserved. Reviews, Interviews, Commentary, Photographs or Graphics from any Broadway To Vegas (TM) columns may not be published, broadcast, rewritten, utilized as leads, or used in any manner without permission, compensation and/or credit.
Link to Main Page
---
Laura Deni


CLICK HERE FOR COMMENT SECTION