! >
Broadway To Vegas
  SHOW REVIEWS     CELEBRITY INTERVIEWS     GOSSIP     NEWS 
JERRY LEWIS MISSES DEAN, WRITES A BOOK, PLANS A FESTIVAL, INVENTS, PERFORMS AND DOESN'T ACT HIS AGE

It may have been a publicity stunt when Jerry Lewis called a press conference to announce that at the age of 74 he had accepted a 20-year performance contract with the Orleans Hotel in Las Vegas - but the ageless looking performer had an agenda.



JERRY LEWIS plans a film festival and a book. Photo By: Laura Deni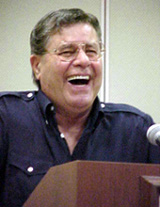 While most men his age with his background of health woes wouldn't be taken seriously, in the case of Jerry he tends to play by his own rules.

He admits he hated the press but now realizes he needs the fourth estate. He's got some things he wants to promote and he needs the press to help.

He is writing a tell all book

He intends to start a film festival in Las Vegas that will rival the Venice Film Festival. "I've been in talks with Mayor Oscar Goodman."

While others have attempted Las Vegas based film festivals problems have developed and the interest and intent becomes fragmented. Lewis stressed he has the drive, determination and contacts to maintain a viable festival that has serious merit.

He desperately misses Dean Martin. "The only thing missing in my act is Dean. That SOB died before me."



Lewis began his career as a nightclub performer.. Photo By: Laura Deni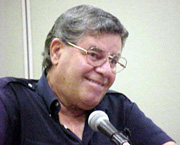 He wants people to see him perform at The Orleans and worries that people won't come see him in a nightclub because the customers fear he'll take up a collection for Muscular Dystrophy.

Those who fear that Lewis might deliver an emotional spiel about MD or pass the plate for a donation can leave their fears at the door.
Lewis is an excellent nightclub performer. I don't think anyone has ever left a showroom after watching Lewis put out over 100 percent and feel disappointed. The guy even has a CD called Jerry Lewis Just Sings His book will no doubt be interesting. After all he's one of the few who could get the mob angry and still stay working - or alive. When Martin and Lewis first appeared in Las Vegas the young, brass Lewis, who admits that he has a compulsive personality, couldn't let go of the Vegas gambling tables. He promptly lost $180,000 and was hauled into a back room by Mr. Seagal, known to some but never to the man to his face, as Bugsy. The soon to be murdered hotel mogul wanted to know what a wet behind the ears' kid was doing in the casino gambling, getting in debt to that kind of a marker. Lewis, who apparently was born arrogant and snappy, sassed back: "Why did you let me?"

Lewis and the "boys" came to an agreement which Lewis lived up to - he paid off the debt. It took him ten years, but he met his obligation. Lewis is a man of his word. That 20-year contract is a handshake deal. The entertainer doesn't believe in written contracts.

Unless of course it's with the U.S. Patent Office, which is where Jerry registered his inventions - important, lucrative inventions."



Lewis began his Vegas career by running up gambling debts, then sassed the hotel owner. Photo By: Laura Deni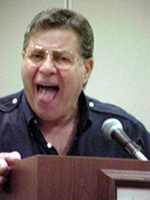 Jerry invented and holds the patent rights to video assist, which is currently used on virtually every movie and many television sets. Jerry created this closed circuit television system to facilitate motion picture and television production, and it was engineered and perfected by the Paramount Television Department under supervision of Bruce Denny.

As to what prompted him to invent such a gizmo Lewis answered, "I needed it to help me do what I wanted to do. It made my job easier and possible," he told us referring to an actor directing himself. When pressed as to whether he received royalties, owned the patent or whether he had sold any interest and whether he still invents the comedian went for the joke. "I'm inventing all the time," he answered without hesitation. "I've just invented something that causes a car to ride in complete silence. Total silence, no noise at all while you're driving the car. It's a muzzle that you put over your wife."

Rim shot.

Then he got serious. "I own the patent. And, let's just say my daughter will never have to go to a community college."

Jerry Lewis stars at the Orleans Hotel, Las Vegas Sept.7-10



Broadway To Vegas is supported through advertising and donations. Priority consideration is given to interview suggestions, news, press releases, etc from paid supporters. However, no paid supporters control, alter, edit, or in any way manipulate the content of this site. Your donation is appreciated. We accept PAYPAL. Thank you for your interest.


MAKING IT IN A CABARET WORLD

The only thing we can say to Sherry Eaker who edited The Cabaret Artist's Handbook is - what took you so long? We know she's busy as editor of Back Stage East but still - this book is a valuable tool that should have been available years ago. Fortunately for wannabes it's available now.

The Cabaret Artist's Handbook is an informative, well written, interesting read for anyone pursuing the performing aspect of the business.

Written by the late Bob Harrington and edited by Eaker, the tome is a self help guide that takes the performer by the hand and gently leads them through the maze than can make the difference between getting a contract, getting paid and getting the right kind of promotion.

From how to construct your act - for instance - altering lyrics - to how to handle the issue of who you comp into your show - is explained in an easily understood and right to the point format. There are instructions for auditioning, using space to maximum effect, computerized music and cabaret, how to record your first album, and even sections on etiquette and the press.

Also included in the book are the stories and suggestions from those who have made it; Sylvia Sims, Andrea Marcovicci, Michael Feinstein, Mary Cleere Hiren, Karen Mason, Phillip Officer, Sally Jane Dexter, Margaret Whiting, Tom Postilio, Ann Hampton Callaway, Hildregarde, Leigh Clark.

Author Bob Harrington was a cabaret writer for Back Stage from March 1984 until his death in October 1992. He was also the cabaret critic for The New York Post his series of educational articles on the business of cabaret in Back Stage garnered him a Manhattan Association of Cabarets and Clubs (MAC) Award in 1986. A Tony Award voter he was on the board of directors of MAC, the Outer Critics Circle, and the Society of Singers.

Eaker produces and hosts Back Stage's annual Bistro-Awards show and has been the editor of Back Stage, the national weekly trade publication geared to performing and creative artists since l977.

The Cabaret Artist's Handbook is published by Back Stage Books, an imprint of Watson-Guptill Publications. Buy the book for yourself. Buy the book for somebody you care about. After you've bought it then read it.
MAGIC GENIE FINALLY GOT IT OPEN

Not even that I Dream of Genie charmer Barbara Eden could command the Aladdin Hotel to open on time. Apparently those bottled up spells don't work on the Fire Department who perused the joint and determined that the codes weren't up to snuff. Since they didn't want anybody snuffed out in a blaze, decreed that the show couldn't go on until they said so.



BARBARA EDEN not even this Genie could open the hotel's doors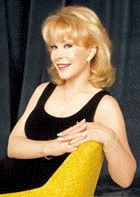 About 14 hours later the all clear was sounded and the great masses - some of whom had been standing outside for 12 hours - almost broke down the doors clamoring for the free temporary tattoos in the shape of the $1.4 billion hotel logo that were being plastered onto the humanity.

Since Eden had been paid the hotel brass trotted out the living symbol to stand where she would have stood to cut a nonexistent ribbon. A good sport Eden graciously gave more satellite interviews that a genie could wish for.

The Aladdin is the only hotel in Las Vegas to ever been imploded and re-open under the same name.

The original Aladdin is where Elvis Presley got married and Neil Diamond was the first performer to headline there. At one time even Wayne Newton owned a piece of the place.

The new Aladdin re-opened the 7,000 seat Theater For The Performing Arts - the only piece of the original Aladdin complex not imploded in 1998. The "new " theater has undergone a $25-million dollar floor to ceiling remodel.

First up was Enrique Iglesias who performed to SRO last night . Iglesias was making his only U.S. concert since his number one hit Be With You, ruled the U.S. charts. He frequently grabbed at his lower abdomen and moaned. Perhaps he needs to see a gastro-endocrinologist.


Broadway legend Cy Coleman, 71, and his wife Shelby have become parents. The couple has adopted a beautiful baby girl. The infant is destined for a show business career - she's already been to the Friars Club.


It's going to be a home made Valentine for Tony winner Audra McDonald, who is adding lullabies to her repertoire. On stage patter turned personal when the performer stunned and delighted concertgoers during last Wednesday's Chicago show. Audra announced onstage that she's expecting her first child on Valentine's Day. Audra and the expectant father, longtime love, bass player Peter Donovan say their vows next month.

Meanwhile Audra has flown to London to start filming Wit for director Mike Nichols. Audra plays the nurse to cancer patient Emma Thompson.



WYOMING a haunting psychological journey written by Catherine Gillet will have performances beginning August 31 at the 78th Street Theatre, LAB in NYC. Eric Nightengale will direct this New York premiere. Sheila, Jasmine and Annie escape from an institution and rive cross country. Their destination? The wide open skies of Wyoming.

The cast of four features 2000 Drama Desk Award winner Marylouise Burke as Sheila in her first New York stage appearance since receiving the Drama Desk for her role in Fuddy Mears. and Rosalyn Coleman as Jasmine. Her Broadway credits include Seven Guitars and The Piano Lesson. Camilla Enders who has been seen at MTC and Syracuse Stage appears as Annie. Gillet began working on Wyoming while a member of the Playwrights Project of Circle Repertory Company where she studied with Austin Pendleton and Lanford Wilson.

Wyoming was workshopped through a grant from the Jerome Foundation.

CABARET into the MGM-Grand in Las Vegas Aug 30-Sept 3.


WHO'S WHERE

BILL COSBY rapped up a Vegas engagement and heads to Harvey's Convention Center, Council Bluffs, Iowa. For an Aug 26 show.

PATRICK CASSIDY replaces Tom Wopat in Broadway's Annie Get Your Gun, beginning September 6, the same night Cheryl Ladd, steps in the Bernadette Peters' role as Annie Oakley.

BETTY BUCKLEY Aug 21-Sept 3 Donmar Warehouse in London, UK

PATTI LUPONE September 9 at the Valentine Theatre in Toledo, Ohio.

KAREN MASON Sept 6-Oct 15 Returns to Arci's Place, NYC.

RITA RUDNER has had her contract at Bally Hotel, Las Vegas extended through the end of the year. To celebrate the funny lady did some serious house hunting

LANCE BURTON who makes things appear and disappear at the Monte Carlo Hotel in Las Vegas will be appearing on The Late, Late Show with Craig Kilborn Monday, August 21 going into Tuesday

DAVID HASSELHOFF makes his Broadway debut doing double duty in the title roles in Jekyll & Hyde on Broadway, beginning October 17


THIS AND THAT

THE HARLEY DAVIDSON CAFE in Las Vegas has expanded its menu to include theme weddings. The cafe is offering one-stop wedding packages with themed wedding ranging from Elvis impersonators to a Harvey-Davidson biker wedding.




Mention BROADWAY TO VEGAS for Special Consideration
Call (800) 942-9027









Next Column: August 27, 2000
Copyright: August 20, 2000. All Rights Reserved. Reviews, Interviews, Commentary, Photographs or Graphics from any Broadway To Vegas (TM) columns may not be published, broadcast, rewritten, utilized as leads, or used in any manner without permission, compensation and/or credit.
Link to Main Page
---
Laura Deni


CLICK HERE FOR COMMENT SECTION