! >
Broadway To Vegas
  
  REVIEWS INTERVIEWS COMMENTARY NEWS

| | |
| --- | --- |
| | |
INVENTOR OF THE ROLLERCOASTER HAS AN EXHIBITION - - MAJOR SHOWS DECLARE THAT THE WORLD IS A STAGE - - SNICKERS BAR THERAPY - - FROM BASEBALL TO BROADWAY - - THE BLUE IRIS - - CALL ME MADAM CD REVIEW - - PAINTED ROOMS: AMERICAN HISTORIC INTERIORS - - A NIGHT UNDER THE STARS - - DONATE . . . Scroll Down


Copyright: August 19, 2012
By: Laura Deni
CLICK HERE FOR COMMENT SECTION

A BEVY OF MAJOR SHOWS DECLARE THAT THE WORLD IS A STAGE

Packing their bags and acting comfortable with a TSA patdown, more and more productions are calling the world their stage.


The Trans-Siberian Orchestra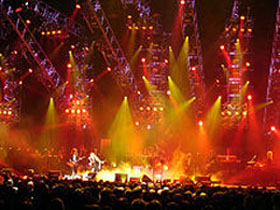 The Trans-Siberian Orchestra puts on one of the best arena shows you'll ever see. This is a group which respects their audience and realizes that many of the patrons have saved up to purchase tickets. The production delivers and showgoers have bought a bargain.

This year, for the first time ever, Trans-Siberian Orchestra will be performing their acclaimed rock opera, The Lost Christmas Eve, a heart-warming story of loss and redemption on a magical Christmas Eve in New York City.

Conceived by Paul O'Neill, Trans-Siberian Orchestra (TSO) is an American progressive metal band founded in 1993 by the producer, composer, and lyricist, who brought together Jon Oliva and Al Pitrelli - both members of Savatage - and keyboardist and co-producer Robert Kinkel to form the core of the creative team. Since then, TSO has sold more than 9 million concert tickets and over 8 million albums. The band's musical style incorporates classical, orchestral, symphonic, and progressive elements into hard rock and heavy metal and inspired generations of fans to rediscover the multi-dimensional art form of the rock opera.

The Trans-Siberian Orchestra has two identical tour groups, each covering a different section of the country. Their elaborate live shows employ lights, lasers and fog machines.

Since Trans-Siberian Orchestra began touring, the band has donated over $10 million to a combination of local and national charities. At every tour stop, the group donates one dollar or more from each ticket sold to a local charity in the city they are performing in.

The tour kicks off with shows Thursday, November 15, in Council Bluffs, Iowa and in Peoria, IL and brings down the curtains on Sunday, December 30 with shows in Columbus, Ohio and Milwaukee, Wisconsin.

The Who have announced they will embark on a 36-date Quadrophenia tour this fall, performing their 1973 rock opera in its entirety. This will be the group's first North American tour in four years. The tour kicks off November 1 in Sunrise, Fla., and will end in Providence, R.I., on February 26, 2013.

The double album Quadrophenia, released in 1973, was the Who's second acclaimed rock opera - Tommy being the first. Written by Townshend, Daltrey called it "Pete's pinnacle."

When the tour was announced Roger Daltrey said the band did not plan to have guest singers as they did on their previous tour.

The Tony-winning Best Musical Jersey Boys will be singing Oh, What a Night in South African, opening that premiere engagement April 3, 2013, at the Teatro at Montecasino.

The production will then transfer to Artscape, Cape Town on June 19, 2013.

There is also a movie in the works, and Frankie Valli is also in the spotlight.

As for the South African jaunt, Jersey Boys South African producer Hazel Feldman, of Showtime Management, announced the cast, which will be led by Grant Almirall as Frankie Valli; Daniel Buys as Tommy DeVito; Kenneth Meyer as Bob Gaudio; and television star Emanuel Castis as Nick Massi with Jaco van Rensberg playing Frankie Valli at certain performances.



Jersey Boys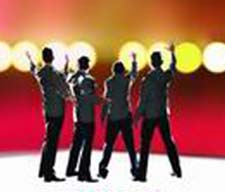 The company will also feature Carmen Pretorius as Lorraine, Taryn-Lee Hudson as Mary and Kirsten Murphy as Francine with Duane Alexander, Bjorn Blignault, Charlie Bouguenon, Matt Counihan, Christopher Dudgeon, Ryan Flynn, Stephen Jubber, Lara Adine Lipschitz, Kyle Matthews, Byron Olivato and Stephan van der Walt.

The South African creative team includes musical director Bryan Schimmel, resident director Anton Luitingh, resident choreographer and dance captain Duane Alexander, technical director Alistair Kilbee and company manager Yolanda Kimber.

The New York-based global creative team, which will visit South Africa to help with the mounting, includes music supervisor Ron Melrose, production supervisor Richard Hester and associate choreographer Danny Austin. The two creative teams will work closely together.

The company will begin rehearsing in Johannesburg and then polish the production in Singapore, where the show first opens internationally at the Marina Bay Sands in November 2012 for a 14-week season before returning to South Africa and future Asian territories.

Jersey Boys is written by Academy Award winner Marshall Brickman and Rick Elice with music by Bob Gaudio, lyrics by Bob Crewe and direction by two-time Tony Award winner Des McAnuff and choreography by Sergio Trujillo with music direction, vocal arrangements and incidental music by Ron Melrose and orchestrations by Steve Orich.

The production design team is Klara Zieglerova, scenic designer; Jess Goldstein, costume designer; Howell Binkley, lighting designer; and Michael Clark, project designer.



Frankie Valli will be performing his own stage show, as well as co-producing the Jersey Boys movie.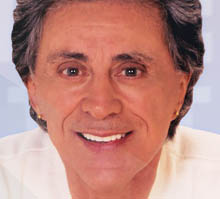 Frankie Valli will bring the real deal - himself - to Broadway when he performs seven shows at the Broadway Theatre October 19-27 - a stone's throw from the August Wilson Theatre, which is home to Jersey Boys, the Tony Award winning hit based upon Valli and his creation of The Four Seasons.

Valli and the Four Seasons had a total of 14 US top 10 hits in the 1960s. They were inducted into the Rock 'n' Roll Hall of Fame in 1990.

"I've performed around the world in every size theatre imaginable, but it has always been my dream to play Broadway," said the 78-year-old singer in a statement.

Before Broadway, Frankie Valli performs Saturday, August 25, South Shore Music Circus Cohasset, Massachusetts. On Sunday, August 26, he's on stage at the Cape Cod Melody Tent Hyannis, Massachusetts.

Jersey Boys will also dance its way onto the big screen with Iron Man director Jon Favreau helming the musical. Executive Producers are Frankie Valli and Bob Gaudio. The production company, GK Films, is staging an open casting call for the four leads with both on line and in person auditions currently being accepted.

An opening casting call took place in Philadelphia last Saturday with a New York cattle call is set for Saturday, August 25, at the Ailey Studios.

The film adaptation of the Broadway musical is expected to start shooting in New York City in January, 2013 and released into theaters in 2014.

The Book of Mormon the Tony Award winning musical has starting recruiting converts across American, opening it's doorbell ringing stop at the Ellie Caulkins Opera House in Denver, CO with performances through September 2.

Created and written by Trey Parker and Matt Stone and Tony-winning songwriter Robert Lopez. Co-directed by Parker and Casey Nicholaw.

The tour stars Tony nominee Gavin Creel and Jared Gertner. The production also features Samantha Marie Ware as Nabulungi, Grey Henson as Elder McKinley and Kevin Mambo as Mafala Hatimbi.

The touring cast also includes Mike McGowan, Derrick Williams, Jon Bass, Jacob ben Widmar, Colin Bradbury, Josh Breckenridge, JR Bruno, Michael Buchanan, Jonathan Cullen, Bobby Daye, Talitha Farrow, Phyre Hawkins, Mykal Kilgore, Daniel LeClaire, Antyon Lemonte, Douglas Lyons, Kimberly Marable, Laiona Michelle, Kevin Michael Murphy, Michael Schwitter, Jeffrey David Sears, Marisha Wallace, Bud Weber, Christian Dante White and Jamaal Wilson.

Batman Live, a high-intensity stunt-and-story production with 42 cast members, elaborate sets, pyrotechnics and a 105-foot bat-shaped LED video wall, is scheduled to kick off a North American tour at the Honda Center in Anaheim, with eight performances September 5-9.

The arena production that began in Britain last year is also set to visit Staples Center in downtown Los Angeles for eight shows September 27-30.

The scripted adventure pits Batman played by Sam Heughan, sidekick Robin and tireless butler Alfred against the Joker, Catwoman, the Riddler, Two-Face, Scarecrow, Poison Ivy, Harley Quinn and the Penguin, and the settings take audiences to the high-tech confines of the Batcave, the dank depths of brutal Arkham Asylum and the Penguin's chilled and glittering Iceberg Lounge.

As audiences enter the arena, they will be greeted by a 3D Gotham City landscape complete with buildings, soundscape, and video animation, setting the scene for the story to come. The magnitude of the production becomes apparent the first moment a full symphonic score is heard and a 105-foot bat-shaped LED video wall comes to life, enhancing the action on a custom-built stage. Another exciting element is the eye-catching, all-new Batmobile, designed especially for the show.





Broadway To Vegas is supported through advertising and donations. Priority consideration is given to interview suggestions, news, press releases, etc from paid supporters. However, no paid supporters control, alter, edit, or in any way manipulate the content of this site. Your donation is appreciated. We accept PAYPAL. Thank you for your interest.



ART AND ABOUT


PAINTED ROOMS: AMERICAN HISTORIC INTERIORS BY MICHAEL JOHN HUNT

Michael John Hunt, Wynkoop Untitled 1. Photo: The American Museum in Britain.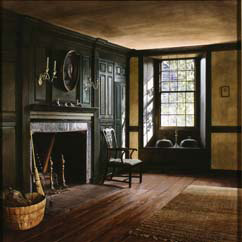 Celebrated on both sides of the Atlantic for his meticulously detailed architectural paintings, English artist Michael John Hunt (b. 1941) is entirely self-taught and has an intuitive understanding of perspective that would rival the abilities of many an artist. He has exhibited around the world from Amsterdam to Dubai and counts among his collectors members of the British Royal Family as well as Washington society.

One of the most striking features of Hunt's portraits of American historic interiors is his theatrical use of natural light: sunlight filters between wood wall paneling, spills through window panes, and pools onto floorboards by open doorways. Fleeting shadows are thus captured forever in paint. Surprisingly, Hunt creates his pictures with layered acrylics and glazes producing subtleties of light and color that are more usually associated with oil pigments. Thus Hunt illustrates his innate artistic dexterity – the painterly equivalent of a musician's 'perfect pitch'.

Founded by Henry Francis du Pont, Winterthur is the premier museum of American decorative arts, reflecting both early America and the du Pont family's life here. Its 60-acre naturalistic garden is among the country's best, and its research library serves scholars from around the world. Over the years, Hunt has built up a considerable painted archive of the 175 period rooms on view there and, since this is one of the museums on which the American Museum in Britain was modeled, this exhibition in Bath is most appropriate. Hunt has also produced a similar collection of paintings of Wynkoop House, a fine Colonial period stone house in New York State and the largest in Marbletown, when it was built for Cornelius Evert Wynkoop in 1767. Wynkoop, of Dutch descent, was a successful merchant and served as a Major of the Minutemen of Ulster County in the American Revolution.

On display through October 28 at The American Museum in Bath, England.

Housed in Claverton Manor on the outskirts of the Georgian city of Bath, the American Museum in Britain opened to the public in July 1961 with the intention of fostering historic ties between the United States and the United Kingdom. The American Museum is celebrated for its magnificent decorative arts collection – over 200 historic American quilts, exceptional pieces of Shaker furniture, exuberant folk art paintings and sculptures, Native American objects, and Renaissance maps of the New World.


SWEET CHARITY


A NIGHT UNDER THE STARS Lisa Bonet, Joe Mantegna, Cloris Leachman, Amy Madigan, Wendie Malick and Jean Smart who headline a special Sneak Peek staged reading of Recipe, a new play by Michael Gene Sullivan.

What do a group of middle-aged ex-hippies do to fight the good fight after the has long since ended? They bake! But old habits die hard and sometimes baking pies the ladies of The Morning Glory Baking Circle for Revolutionary Self Defense as they mix their special ingredients in a deliciously indulgent comedic romp.

This special benefit proceeds benefit The Will Geer Theatricum Botanicum's new play development and education programs.

Sunday, August 26 at The Will Geer Theatricum Botanicum in Topanga CA.


THE MUSIC GOES ROUND AND ROUND


CALL ME MADAM is a musical with a book by Howard Lindsay and Russel Crouse and music and lyrics by Irving Berlin.

Originally recorded in 1950, this is the first and only authorized CD version of RCA Victor's Call Me Madam digitally remastered by Masterworks Broadway from the original tapes.

A satire on politics and foreign affairs that spoofs America's penchant for lending billions of dollars to needy countries, it centers on Sally Adams, a well-meaning but ill-informed socialite widow who is appointed United States Ambassador to the fictional European country of Lichtenburg.

While there, she charms the local gentry, especially Cosmo Constantine, while her press attache Kenneth Gibson falls in love with Princess Maria.

The lead character is "loosely based" on Washington D.C. hostess and Democratic Party fundraiser Perle Mesta, whom President Harry Truman appointed as Ambassador to Luxembourg in 1949.

Call Me Madam was conceived as a vehicle for Ethel Merman, at that moment arguably the biggest star in Broadway musicals, and reunited her with Irving Berlin, composer/lyricist of her blockbuster 1946 hit Annie Get Your Gun.

A red-hot ticket when it opened on October 12, 1950 at the Imperial Theatre, Call Me Madam proved to be the blockbuster Merman and Berlin hoped for. They were in the very best of hands: George Abbott directed, Jerome Robbins choreographed and the casting was supervised by Abbott's new young assistant, Harold Prince.

The cast included an Oscar-winning leading man (Paul Lukas), the bright new presence of Russell Nype as Mrs. Adams's lovelorn attache and - as Merman's underutilized understudy - the young Elaine Stritch.

The cast also includes Galina Talva as Princess Maria, Ralph Chambers as Senator Gallagher, Jay Velie as Senator Brockbank and Pat Harrington as Congressman Wilkins. Harrington was the father of Pat Harrington, Jr. who would gain television fame for his role as building superintendent "Schneider" on the CBS sitcom One Day at a Time.

The capitalization for the entire show came from NBC and its record division, RCA Victor. Unfortunately a big problem loomed as Merman was under contract to Decca Records who refused to release her to star in what Senator Brockbank.

Ultimately, RCA Victor turned to one of its hottest singers, Dinah Shore, to step into Merman's shoes for the original cast recording. It rose to No. 6 on from the catalog. The recording got an LP reissue in 1977 but it disappeared again until this Masterworks Broadway release on August 14th, and is the first and only authorized CD version of RCA Victor's Call Me Madam digitally remastered from the original tapes.

One of the marvelous results from Merman being barred from doing the album is - Dinah Shore and her glorious voice.

This is a lost gem with Masterworks Broadway doing a great service in releasing this CD.

Many of the songs are timeless and so is the political theme - especially in this election year.

The Washington Square Dance is clever - and pertinent and I Like Ike, while important to the musical's plot, makes a still relevant point. Can You Use Any Money Today? is an in your face commentary about American throwing money at any country with its hand out.

In addition to the songs with the political jabs, the show is infused with songs that became standards - It's a Lovely Day Today, The Best Thing for You and I Wonder Why.

The only down side to his CD is the abrupt ending. No reprise, no splashing finale. When I Wonder Why/You're Just In Love ends - that's it.

Orchestra:

Violins: F. Manzella, M. Tartasky, H. Rosoff, H. Kaye, P. Frank, H. Glickman, A. Robbins, S. Weiss, A. Nanu, S. Zwilling. Violas: S. Greitzer, A. Goldman, L. Drunzinsky. Cellos: O. Giskin, I. Gusikoff, L. Norfleet. Bass: A. Fiderholtz. Guitar: R. Colicchio. Piano: M. Kahn, Saxophone: A. Arden, V. Odrich, P. Pincus, M. Rose, I. Levin. French horns: A. Miranda, M. Noliboff. Trombones: M. Morrow, M. Ballman, M. Martini. Trumpets: C. Zimmerman, R. Kessler, A. Gianelli, C. Mangolis, M. Solpmom. Drums: A. Ross.

Musical Direction by Jay Blackton. Orchestrations by Don Walker, Jon Glover and Hugo Winterhalter. Recorded on November 6, 7, and 9, 1950 at Manhattan City in New York City.


INVENTOR OF THE ROLLERCOASTER HAS EXHIBITION
Catherine and her Coronation Robes. Photo: National Museum of Scotland.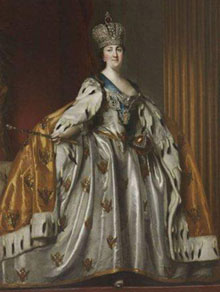 She was considered sharp, funny, generous, iron-willed and passionate. She invented the roller coasted buy couldn't tolerate anyone who gnawed when they ate.

Catherine the Great was one of Russia's most successful rulers and one of the greatest art collectors of all time. Catherine The Great: An Enlightened Empress is presented by the National Museum of Scotland in partnership with the State Hermitage Museum in St Petersburg.

The exhibition features more than 600 priceless works including paintings, costumes, jewelry and exquisite works of art seldom seen outside Russia.

But about that rollercoaster and those who gnaw.

Ice mountains were a popular feature in Russia. After climbing to the top of these huge structures, riders would launch themselves down the steep slopes on sledges made of wood or blocks of ice.

To continue the pastime into the summer months, Catherine had a summer slide built at Oranienbaum.

This three-storey blue and white pavilion boasted a 500-metre slide that used wheeled carriages, which could reach speeds of over 50 miles an hour - surely the first rollercoaster.

In fact, rollercoasters are still called 'Russian mountains' in several languages.

She also had rules against gnawing.

Catherine the Great wrote rules of behavior for her guests, and punished anyone who broke them. Her rules of behavior were displayed in the gallery connecting the Winter Palace to the Small Hermitage. These rules include 'All ranks shall be left outside the doors, similarly hats, and particularly swords' and 'Be merry, but neither spoil nor break anything, nor indeed gnaw at anything'.

Also, she wasn't exactly Russian.

The famous 'Empress of All the Russias' was born in Stettin, in the German-speaking kingdom of Prussia which is modern day Szczecin in Poland.

In this exhibit you can explore Catherine's reign through her collections, which vividly reflect her own interests and provide a fascinating glimpse of the wealth and magnificence of the Imperial Russian court. Learn of a woman who won wars and built palaces, wrote plays and books, built a rollercoaster for her own entertainment and who put Russia firmly on the cultural map of Europe.

Special events take place throughout the exhibit. Those in the near future include:

On August 23 patrons can enjoy a free performance from Russian pianist Olga Jegunova which is part of the Free Fringe Music program, with daily performances until August 26.

On August 30 - Anthony Cross, Professor Emeritus of Slavonic Studies at the University of Cambridge, is internationally known for his work on 18th-century Russia and Russo-British relations will discuss the prominent role Scotland and the Scots played in the life of Catherine's Russia.

From August 30 - September 1 at The Princess Dashkova Russian Centre, The University of Edinburgh, Conference Room as three-day international symposium will revolve around the socio-cultural shifts in the Russian language brought about by exposure to Enlightenment thinking.

On August 31 a day course on Catherine The Great takes place. Catherine the Great was an avid collector and patron who expanded her empire and turned Russia into a world power. This day course - which is fully booked - explores the complexities required to create the objects in the exhibition, and considers the legacy she left behind.

Catherine the Great is on display through October 21, 2012 in Edinburgh at the National Museum of Scotland.


SPREADING THE WORD


CASTING HAS BEEN ANNOUNCED by the Pasadena Playhouse for their upcoming production of Under My Skin, featuring Hal Linden.

This World Premiere engagement is written by the award-winning team of Robert Sternin and Prudence Fraser and will be directed by Marcia Milgrom Dodge.

The full cast features - in alphabetical order:

• Tim Bagley as Dr. Hurtz
• Erin Cardillo as Melody Dent
• Yvette Cason as Angel
• Hal Linden as Poppa Sam
• Monette Magrath as Victoria
• Megan Sikora as Nanette
• Danielle Soibelman as Casey
• Matt Walton as Harrison Badish

In addition to director Marcia Milgrom Dodge, the creative team includes scenic design by John Iacovelli, lighting design by Jared A. Sayeg, sound design by Philip G. Allen and costume design by Kate Bergh.

The world premiere is billed an "outrageous, new, heartfelt comedy about sex, love and healthcare ... the three things we all need but can't always get."

Performances will begin September 11 through October 7, at The Pasadena Playhouse in Pasadena, CA.

FROM BASEBALL TO BROADWAY - DAMN YANKEES: TWENTY-FOUR MAJOR LEAGUE WRITERS on the world's most loved (and hated) team.

Join Robert Fleder, former Executive Editor of Sports Illustrated, as he talks about Damn Yankees, a new collection of essays he edited, which demonstrates that no one feels neutral about the Yankees!

In the line-up with Fleder for this program will be contributors Dan Barry, New York Times columnist and author of Bottom of the 33rd (Harper, 2011), and Bruce McCall, author of Marveltown (Farrar, Straus and Gioux, 2008).

Along with Pete Dexter, Roy Blount, Jr., Jane Leavy, and Colum McCann, they make up this collection's winning team of writers whose stories illuminate the Bronx Bombers' personalities, rivalries and economics. Wednesday, August 22 at the Museum of the City of New York.

SNICKERS BAR THERAPY Kirsten Chenoweth is still recovering from injuries she sustained when a gust of wind knocked over lighting equipment, which hit her and knocked her down. She'd been filming an episode of The Good Wife, which stars Julianna Margulies.

Chenoweth was in a recurring role in the series, playing a political reporter, but has now been forced to drop out of the part because of a slow recovery process. Her first day of physical therapy was last Tuesday.

She also had to forgo attend the Goodspeed Opera Gala which presented the Tony Award winner with the Goodspeed Award for outstanding contribution to musical theater.

Chenoweth is keeping her Twitter account busy - posting that she was grateful to Goodspeed Opera House for their award: "I love you Goodspeed Opera House. And thank you for the huge honor. So wished I coulda been there in person!" To Andrew Lippa and Alan Cummings who accepted the award for her, she commented;" "I love you Lippa and Alan!" Then the petite dynamo added that to celebrate the award - she ate a Snickers.

WICKED AUSTRALIA has announced that David Harris performed his final performance as Fiyero in the Seoul production of Wicked on Sunday, August 5. David joined the tour in Brisbane and since then has performed in the role 473 times. David left the show to appear in Sydney in October as Emmett in the Australian premiere of Legally Blonde the Musical.

Taking over the role Fiyero is Richard Blake is no stranger to the role having played Fiyero for 4 years in total both on tour and on Broadway before coming to Seoul.

THE OREGON SHAKESPEARE FESTIVAL has announced the appointment of Cynthia Rider as its next executive director, succeeding current executive director Paul Nicholson, who retires in December after a 33-year tenure with OSF.

Rider comes to OSF from Kansas City Repertory Theatre, where she has served as managing director since 2009.

MICHAEL FEINSTEIN has been named the new director of the Pasadena Pops Orchestra. He succeeds Marvin Hamlisch who died on August 6.

PRINCE WILLIAM

Prince William at the controls of a helicopter. Official photo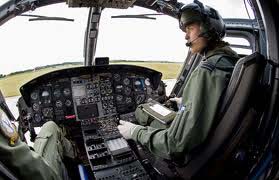 became a forever personal hero of mine when, during a rare television interview with his father and brother, conducted by Ant & Dec, he brought up an issue which had obviously been irritating him for a long time. When he was 8, his father was rushed to the hospital after being thrown and kicked by a pony at a polo match at Windsor. Instead of inquiring when his father was going to be okay, the child asked his mother, Princess Diana: "If Papa dies, can I have his pony?"

During the television interview an annoyed Prince William announced that he was just fed up with people bringing up that conversation and snapped - What kind of a person throws up to an adult what they said when they were eight? From that second on I became Prince William's biggest fan. He's my hero.

He's a hero to a lot of people. Last week he was the pilot of an RAF helicopter which rushed to the aid of two drowning girls; a 13-year-old and her 16-year-old sister who were caught in a riptide off the coast of Anglesey, Wales.

Winchman, Master Aircrew Harry Harrison told the Daily News that "the elder girl was clearly exhausted and was going under the water for what was the very last time... this was one rescue where we truly did arrive in the nick of time and managed to save two young lives."

Co-pilot Flight Lieutenant 'Schmoo' Smith said: "This was a remarkably swift rescue, taking around 38 seconds from take-off until we arrived on scene."

Both girls were winched to safety and then transported to the 500-bed Ysbysty Gwynedd hospital in Bangor, North Wales.


OTHER PEOPLE'S MONEY


EDINBURGH FRINGE TICKET SALES are reported to be down as compared to previous years. Some reports have called it "one of the worst openings in recent times." Even established comedians and critically-acclaimed plays have struggled to sell out. Fringe Edinburgh began on August 3 and runs until August 27.

ONCE the Tony Award winning musical has recouped its original $5.5 million investment in less than six months - " ''faster than any Tony Award-winning best musical in more than a decade'' - producers announced on Monday, Aug. 13, 2012. A national tour of the musical will launch in the summer of 2013.


CURTAIN DOWN


SISTER ACT will say "amen" for the last time at the Broadway Theatre on August 26.

The musical will have played 28 previews and 561 performances. It officially opened April 20, 2011. A national tour will launch this October at Toronto's Ed Mirvish Theatre.



GHOST-WRITER by Michael Hollinger. Directed by caryn desai.

In Ghost-Writer, acclaimed novelist Franklin Woolsey has died. But his words that will complete his masterpiece. This ghost story of literary proportions questions where we draw the line between fact and fiction, recipient of the Edgerton Foundation New American Plays Award.

Starring Leland Crooke, Cheryl David and Paige Lindsey White.

The West Coast premiere opens August 24 at International City Theatre in the Long Beach Performing Arts Center in Long Beach, CA.

RED HOT PATRIOT: THE KICK-ASS WIT OF MOLLY IVINS by Margaret Engel and Allison Engel. Directed by David Esbjornson.

"I am a liberal and proud of it – fish gotta swim and hearts gotta bleed."

Starring Kathleen Turner.

A dyed-in-the-wool liberal from deep in the heart of Texas, Ivins' rapier wit made her one of America's highest-regarded columnists, satirists and beloved rabble-rousers. When Molly Ivins skewered you in her column, you knew you were a political celebrity.

August 23 – October 28, 2012 at Arena Stage in Washington, DC.

LITTLE SHOP OF HORRORS has been extended until September 9, 2012 at the Olney Theatre in Washington, DC. They report that "never before have we extended a show two weeks at one time."

HOW TO BE A NEW YORKER a new Off-Broadway comedy written and performed by Margaret Copeland and Kevin James Doyle.

Under the direction of OBIE Award winner Robert Ross Parker.

"You too can experience the privilege, respect and air of superiority enjoyed by millions who call themselves New Yorkers. But it requires training, even if you were born here. Let us show you how to develop the instincts for disdainful glances, peevish muttering and innate rudeness that distinguish true New Yorkers.

"Actors/Comedians and licensed NYC tour guides, Margaret Copeland and Kevin James Doyle, take you on a whirlwind comedic romp filled with stories from the world's largest landfill in Staten Island to the home of the Bronx Bombers. All this, and lunch too, at Sofia's Downstairs in New York City.

Set design by Nick Francone, with costume design by Janell Clingenpeel.

Set to begin performances on Wednesday, August 22nd at Sofia's Downstairs Theater in the heart of Times Square, NYC.

THE BLUE IRIS written by Athol Fugard. Directed by Stephen Sachs.

Starring Morlan Higgins, Julanne Chidi Hill and Jacqueline Schultz.

The Blue Iris is set in Fugard's beloved and desolate South African desert, the Karoo. In a burnt-out farmhouse, a widowed farmer, Robert Hannay (Higgins) and his housekeeper, Rieta (Hill) sort through the fire-ravaged debris of their lives. The discovery of a miraculously undamaged painting of a flower - a blue iris - created by Hannay's deceased wife (Schultz) unlocks long-forgotten memories and hidden secrets. Fugard digs deep into the human heart, and the result is a love story full of tender, soul-touching and surprising revelations.

Set design for The Blue Iris is by Jeff McLaughlin; sound design is by Peter Bayne; prop design is by Misty Carlisle; the dialect coach is JB Blanc; the production stage manager is Terri Roberts.

The author of over 30 plays and recipient of countless accolades including the Academy Award, Obie Award, and Tony Award, Athol Fugard is best known for his plays about the frustrations of life in contemporary South Africa and the psychological barriers created by apartheid.

U.S Premiee presented by The Fountain Theatre in celebration of Athol Fugard's 80th birthday. This project is supported in part by an award from the National Endowment for the Arts.

Preview performances began yesterday and continue through August 23. Officially opens on August 24 through September 16 at The Fountain Theatre in Los Angeles.

CRAZY HORSE PARIS has welcomed magician Jason Andrews to the adult production show, which has been staging performances for the last 11 years at the MGM Grand in Las Vegas. Andrews is one of only two variety acts presented in Crazy Horse Paris, which came to Las Vegas direct from the Crazy Horse Cabaret in Paris. The production runs through October 1.


WHO'S WHERE


NEIL DIAMOND singing his hits Thursday, August 23 at the Greek Theatre in Los Angeles.

DIANA KRALL has a two night stand Friday and Saturday, August 24-25 at the Hollywood Bowl in Los Angeles.

STEVE MARTIN performs Wednesday, August 22, at Reynolds Hall at The Smith Center in Las Vegas. Thursday finds him at Humphrey's Concerts by the Bay in San Diego, CA. On Friday he's on stage at the Pechanga Resort in Temecula, CA. Next Sunday, August 26, the show is at The Mountain Winery in Saratoga, CA.

CHRIS BOTTI blows his horn Thursday, August 23, at the Montalvo Arts Center in Saratoga, CA. On Saturday he'll be hitting all the right notes at the Santa Clarita Performing Arts Center in Santa Clarita, CA.

FAITH HILL AND TIM McGRAW will perform a series concerts called Soul2Soul at the Venetian Hotel in Las Vegas between December 2012 and April 2013. First date starts December 2.

STRAIGHT NO CHASER performs Wednesday, August 22, at the Longwood Gardens in Kennett Square, PA. On Friday the show is at the Chautauqua Institution Amphitheater in Chautauqua, NY. On Saturday they can be enjoyed at the Ives Concert Park in Danbury, CT. Next Sunday, August 26, a cappella group performs at the Filene Center at Wolf Trap in Vienna, VA.




FINAL OVATION


ALBERT FREEMAN JR Emmy award winning television, stage ands film actor died August 10, 2012. He was 78.

The actor played Nation of Islam leader Elijah Muhammad in Spike Lee's film Malcolm X taught acting and was chairman and artistic director of theatre arts at Howard University in Washington, DC.

His stage debut was in a 1954 Los Angeles showcase of Detective Story. Principal stage appearances include The Long Dream, 1960; Tiger, Tiger, Burning Bright, 1962; A Raisin in the Sun, 1962; Blues for Mister Charlie, in which Freeman appeared in the first Broadway production of the play in 1964 as well as in the piece's London debut.

He also appeared in The Slave, 1964; Dutchman, 1964; Measure for Measure, 1966; Camino Real, 1968; Are You Now or Have You Ever Been ...?, 1972; Long Day's Journey into Night, 1981.

As well as playing Elijah Muhammad, Freeman appeared in numerous films including Finian's Rainbow and Seven Hours to Judgment.

On television he is best known for playing police Captain Ed Hall on the TV soap One Life to Live from 1972 until 1987. In 1979 he was honored with a Daytime Emmy Award for outstanding lead actor for his work on the program.

Freeman was divorced from the late Sevara E. Clemon who passed away earlier this year.

HELEN GURLEY BROWN the legendary editor-in-chief of Cosmopolitan magazines for 32 years, died August 13, 2012 at New York-Presbyterian/Columbia University Medical Center. She was 90.

In 1962, when she was 40, her bestselling book Sex and the Single Girl was published. In 1965, she became editor-in-chief of Cosmopolitan and reversed the fortunes of the failing magazine. During the decade of the 1960s she was an outspoken advocate of women's sexual freedom and sought to provide them with role-models and a guide in her magazine. She claimed that women could have it all, "love, sex, and money".

Due to her advocacy, glamorous, fashion-focused women were sometimes called "Cosmo Girls". Her work played a part in what is often called the sexual revolution.

After more than 50 years of marriage, her husband, David Brown, died at age 93 on February 1, 2010.

Together with her husband David, Helen Gurley established the David and Helen Gurley Brown Institute for Media Innovation. This institution will be housed at both the Columbia University Graduate School of Journalism and Stanford's Engineering School. Their $30 million donation to the two schools will be used to develop journalism in the context of new technologies.

RONALD GABRIEL "RON" PALILLO who played Horshack on the hit 1970s sitcom Welcome Back, Kotter, died Tuesday morning, August 14, 2012, at his home from an apparent heart attack. He was 63 and a heavy smoker.

In 1991 Palillo returned to the New York stage, and played roles as Mozart in Amadeus George in Who's Afraid of Virginia Woolf?, and Nathan Detroit in Guys and Dolls. He also appeared in The Curse of Micah Rood. He appeared on Broadway in 2008 in Broadway Backwards 4, a charity event for people with AIDS.

In 2005, his first full length play, The Lost Boy, the true story of Peter Pan author J.M. Barrie, was produced in New York State.

Palillo lived in Palm Beach County, Florida, where he was a teacher at G-Star School of the Arts for Motion Pictures and Broadcasting.

He is survived by his long time partner Joseph Gramm.

JOAN ROBERTS an American actress, most famous for creating the role of Laurey in the original Broadway production of Oklahoma! in 1943 died August 13, 2012 of congestive heart failure in Stamford, Connecticut. She was 95.

Roberts subsequently appeared on Broadway in Sunny River, Marinka, Are You With It?, and starred as Sara Longstreet in High Button Shoes.

Recently, Ms. Roberts conducted workshops on singing and voice projection. In 2011 she was honored by the University of North Carolina's School of the Arts while attending their replica production of the original Oklahoma!

She was in retirement for many years, when she appeared as Heidi Schiller in the 2001 Broadway revival of Stephen Sondheim's Follies. Over the years she was seen in documentaries about Oscar Hammerstein II, George Abbott, and in the film Broadway: The Golden Age, by the Legends Who Were There. She penned an autobiography, Stage Right, which was released by Kaufmann Publishing earlier this summer

Roberts was married to Dr. John Donlon, who died 1965, and Dr. Alexander Peter, who died in 1993. She is survived by her son Joh Donlon and two stepsons, Robert Peter and James Peter.

ROBERT WAYNE BIRCH long time bass player for Elton John was found dead in his apartment with a gunshot wound to his head. He was 56.

Birch had recorded and toured with John since the early 1990s.

The case is "being investigated as a possible suicide," said Los Angeles Assistant Coroner Chief, Ed Winter.

"My heart goes out to Bob's wife Michele, his son Jonathan and his family," said Sir Elton in a statement.

A saxophonist as well as a bassist, he had spent most of his time over the past 20 years touring with Sir Elton, but he also collaborated with a string of other famous names including Eric Clapton, BB King, Stevie Wonder and Tina Turner.

John published a statement on his website, in which he said, "Bob was family".

"He had been a member of my band for 20 years; we played over 1,400 concerts together. He was one of the greatest musicians I have ever worked with, and in all our years on the road he never played or sang a bad note.

"I cannot find the words to describe this tragic death, and how much I loved him. May he rest in peace."

Birch is survived by his wife, Michele, and a son, Jonathan.








Next Column: August 26, 2012
Copyright: August 19, 2012. All Rights Reserved. Reviews, Interviews, Commentary, Photographs or Graphics from any Broadway To Vegas (TM) columns may not be published, broadcast, rewritten, utilized as leads, or used in any manner without permission, compensation and/or credit.
Link to Main Page
---
Laura Deni



For the snail mail address, please E-mail your request.
CLICK HERE FOR COMMENT SECTION