! >
Broadway To Vegas
  
 SHOW REVIEWS CELEBRITY INTERVIEWS GOSSIP NEWS

| | |
| --- | --- |
| | |
LIVING STATUES - - EDWARD GOREY'S DRACULA EXHIBIT - - BILL MURRAY'S SISTER PERFORMS AT EDINBURGH FRINGE - - JIMMY STEWART HONORED WITH STAMP - -FIRST ANNUAL CALIFORNIA THOUSAND OAKS FESTIVAL OF NEW MUSICALS - - PITTSBURGH BALLET THEATRE NINE SINATRA SONGS - - MATTER OF HONOR - - ALL ABOUT MY MOTHER - - DONATE . . . Scroll Down


STIFF AS A STATUE


Humans pretending to be marble.



A stand still gig for a living statue at the Venetian Hotel in Las Vegas
It's a great gig as long as somebody doesn't grab your crotch - at least that seems to be the general consensus among the mime artists.

Living statues as they are called have been around since 19th-century circuses introduced them as nearly nude painted bodies posed to depict classic sculpture.

In Paris and London, you can see human statues in many a park and garden, busking for money in monochrome hues with physical patience and control that rivals most yogis or athletes.

A living statue appeared in a scene of the 1945 French masterpiece film Les Enfants Du Paradis (Children of Paradise), and early living statue pioneers include the London-based artists Gilbert and George in the 60s.

Epcot Center in Orlando, Florida has hosted interactive examples of living statues from Unity Productions since April 1995. Most of those hang out at the French and Italian pavilions. Living Statues also loiter in Sin City.



Tourist tossing money at the feet of the living statue at the Venetian Hotel in Las Vegas. Photo by Laura Deni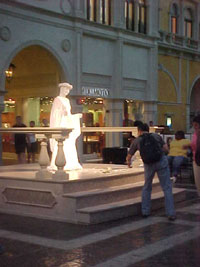 Living Statues stand still at the Venetian hotel in both the Grand Canal Shoppes and the adjoining St. Mark's Square, appearing between an hourly Renaissance show which features jugglers, stilt-walkers and opera singers.

Hired from a local modeling agency they are paid about $21 an hour, plus tips. The pedestal base is salted with money hinting to passers-by to lay thy money down. It's rude to stiff a statue.

Broadway To Vegas witnessed several legitimate tourists throw down a bill - usually after having had their picture taken.

While most living statues have had mime training and some even boast of their yoga ability to enter a trance like state - those at the Venetian are still but aware.

They need to stay alert.

It is possible for shoppers to sneak up from the back.



Living Statue is holding the woman's hand and with the other gloved hand, rubbing the man's stomach. Photo by Laura Deni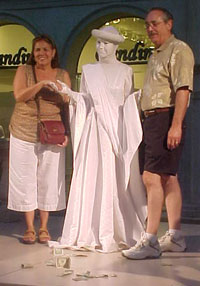 It's possible to sneak up behind the statue, steps some seeking a photo prefer to climb. Photo by Laura Deni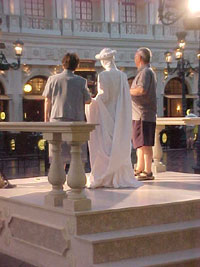 We witnessed one man climb up the back stairs and place his arm around the mannequin while his wife focused the camera. The statue didn't so much as blink.

Innocent tourists abound.

Of course, there is that occasional smart-alek who thinks it would be cool to grab the statue's crotch or check-out the firmness of a statue's breast.

Living statues can also get a bit playful. If a tourist seemed reluctant to climb up and stand next to the statue at the Venetian, the living piece of granite slowly crooked the gloved finger and signaled - beckoning the person to come on up.

When a couple book-ended the breathing pottery - the statue gently held the woman's hand while placing the other gloved hand on the man's stomach and - ever so slightly - began moving the hand up and down on the man's stomach. He smiled.

More people than you might suspect desire to call this mime art form an occupation. Hopefuls will be given a chance when the 11th edition of the largest living statue championship takes place Sunday, August 26 in Arnhem, The Netherlands.

Living Statues from all over the world will bring their pedestal, sheets and make-up, sign legal documents agreeing to "participate on own risk."

The contestants perform at least four times, 30 minutes each time, during a four hour period.

Performers will be judged on the following: Quality of costume and grime; does the performer look like a real statue?
Mime and movement; is the performer able to stand still and eye fixation?
What are the function and meaning of movement in the total act? In case of cramp, is the movement part of the act?
Theatrical and dramatic qualities; how is the overall concept transformed into meaning? How is the interaction with the audience?
Originality; is it a pioneering concept, technique and/ or performance?
Overall impression;
The art form living statues compared to the other performances.

Prizes: 1st: EUR 1500 or about $2,038. 2nd prize: EUR 500 or about $679. audience award: EUR 1000 or about $1,359.

If you're intent upon acting like a stone relic here's how instructional brochures suggest to pull it off:

Choose a costume or character. Monochrome works best - all gold, all white, all blue - and metallic is great. The less skin you have to paint, the easier the makeup job and quicker the clean-up. Some living statues use props. Popular are; wings, broken umbrellas, boas, fans, bottles, scales, swords strips of material, books, flowers vines, and clocks.

Some statues come to life and others don't.



Living Statue as Rembrandt. From Living Sculptures KLASSIEK & AMBA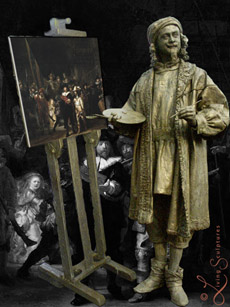 For those who intend to morph into movement - choose an action. When the statue comes to life, it needs to give something away. It' doesn't have to be tangible, it can be as simple as a kiss or a glance, but it needs to be meaningful and it needs to be a moment in which you connect with the human being in front of you and look them in the eye.

If you feel that once is a lonely number - team up. A concept using two, three or more people can look stunning if it's well executed.

Correctly applied makeup is essential. Makeup provides the artifice which is key to this art form. If using a white or non-metallic color, use water based cake-makeup as opposed to oil based. If you use oil, dust it with a finishing power so it doesn't smudge. Dark colors don't work as well as light unless your costume is very specifically geared towards that. White works best, silver second. Metallics can be bought in a bottle or a cake for use with a sponge and a little goes a very long way. Never use house or spray paint!

Show your talent off from a high place. It's essential that you find some sort of pedestal or ledge to stand on. It takes a top mime to fool a crowd while standing on the ground.



A living statue entertains a crowd in Europe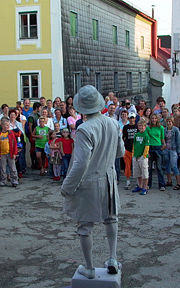 Make sure that your eyes stand out. To prevent them from getting lost, line them with a regular black eyeliner.

Cover your head. Hats and wigs work best. Natural hair can spoil the look. A head wrap such as those for a Greco-Roman statue offer excellent results.

Relax. You want to use as little energy as possible holding your pose. Find poses that don't require holding difficult balances. As you stand, check through your body for unnecessary tension. Don't lock your knees.
Control your breathing. Breathe deeply and slowly into your abdomen, then your chest.

Shift your position gradually. Slow and controlled movements will be imperceptible to most onlookers, and will lessen the likelihood of cramping or fatigue.

The classic statue stands on a pedestal and strikes and holds poses. Statues never speak, and often their eyes are closed. As people walk past, they think they're walking by a stone statue, until he or she suddenly moves - like snatching the cap off the head of someone passing by.

Popular figures include bronze bikers, golfers, military figures, artist statues. There are interactive garden of Eden statues; statues that look like ices sculptures, zombies, performing Shakespeare statues, art deco, angels, mermaids and the Statue of Liberty.



Jennifer Stewart and New York Mayor Michael Bloomberg. Photo credit Kristen Artz / Office of the Mayor, 2005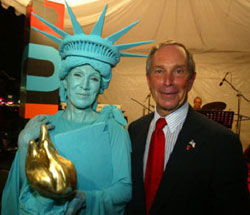 Perhaps the most famous living Statue of Liberty is the human Jennifer Stewart, who has been covered in green paint posing as Living Liberty since 1986. She's become a fixture in New York City.

When she picked up her B.A. degree in art/psychology from the University of Iowa Stewart never foresaw that she would become a faux stone celebrity look-alike. She worked her way through school as an art teacher in institutions for special needs individuals, ranging from private care facilities for mentally/emotionally impaired adults to group homes for disturbed children. While teaching at the Johnson County Care Facility in Iowa City in 1985, one of her students, a diagnosed schizophrenic, commented he thought she looked like the Statue of Liberty.

Ironically, the next year Stewart happened to read about a national Statue of Liberty look-alike contest being held in celebration of Liberty's 100th birthday. Something possessed her to enter. She won - beating out 1,000 other hopefuls.

Jennifer and her than husband moved to New York City. Jennifer intended to pursue a graduate program in art therapy at New York University.

Instead, her torch lifting has reached semi-officially status. She's been used at Gracie Mansion - that's the mayor's pad - had gigs representing The Big Apple at travel fairs and official functions abroad. She even was sent to Singapore with New York's Olympic bid delegation in 2005. She regularly does paid corporate appearances and has been on the cover of U.S. News and World Report.

Those who statue also entertain.

Or, as has been said:

Don't take them for 'granite',
they're 'marblous'


BILL MURRAY'S ACTING SISTER AT EDINBURGH FRINGE
Nancy Murray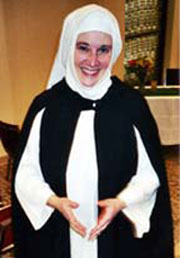 She's a nun, actress, Bill Murray's sister and she has tour dates most performers would envy - bookings through November of next year.

Murray who joined the Roman Catholic order of the Adrian Dominican sisters in 1966, has performed her one woman play about the life of St Catherine of Siena over 280 times all over the world.

When she's not on the road performing, she lives wither her Dominican order in Illinois, teaching drama to middle-class kids and doing youth work in the impoverished Latino quarter.

Right now she's holding forth as part of the Edinburgh Fringe Festival, the largest fringe in the world, headquartered in Edinburgh, Scotland. Through August 20 her one woman show is housed at a frequently used fringe venue - old St. Paul's Episcopalian Church.

The production is basically a one suitcase operation in which Murray plays all the parts - including that of Pope Gregory.

Donning an old-fashioned Dominican habit and utilizing an outrageous Italian accent, the stage props are basic; Small writing table, Straight-back chair, Crucifix that can be placed on the table, Small vase of flowers (a variety is preferred), Large candle that can be seen by the audience and that can be lifted without spilling wax, Glass of water, A CD player and a lavaliere microphone. In most cases those are provided by the venue.

Murray swoops in - her show is mainly about a strong woman, standing up to power, speaking out against injustice, in a time which did not appreciate forthright women.

In 2000, Murray teamed up with another nun and drama teacher, Kathy Harkins, on writing a show based on new information that was coming to light about the life of St Catherine. But Kathy Harkins died of cancer that same year and Nancy Murray first performed the play at her co-author's funeral.



St. Catherine of Siena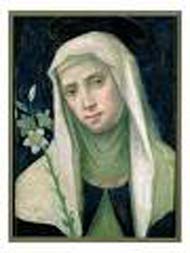 Originally named Caterina Benincasa, in 1347 the woman who was to become St. Catherine was a twin (her sibling died at age 3 months ) the 24th child born to Lapa di Puccio di Piacenti, the daughter of a poet, and Giacomo di Benincasa, a prosperous wool dyer in Siena, Italy. She later became a lay member of the Dominican Order. She was a nurse caring for the terminally ill, a mystic and one of the most influential women of her - or any other - time. Though she lacked formal education, she is known for letters and visits in which she advised princes and popes on social and political issues, and is credited with ending the Avignon "captivity" of the papacy in the 14th century.

Catherine is best remembered for The Dialogue, which contains the intimate conversations or prayers that she and God shared with each other. The Dialogue has been termed the mystical counterpart in prose of Dante's Divina Commedia.

More than 400 of her letters still exist. The works of St. Catherine of Siena rank among the classics of the Italian language, written in the beautiful Tuscan vernacular of the fourteenth century. The Letters are considered not only as priceless to students of history, but as fresh and illuminating, as wise and practical in their advice and guidance as they were for those who sought her counsel while she lived. She died in 1380 at the age of 33.

Those letters whose themes were the plague, a fractured church and social unrest - are seen by Nancy Murray as parallels with today's problems of Aids, migration and war. They form the basis for Murray's one woman show.

Catherine was canonized in 1461, a mere 81 years after she died. In 1939, as the Second World War was breaking out in Europe, she was named co-patron saint of Italy (with St. Francis of Assisi). And in 1970, at the start of the women's liberation movement, she was declared a Doctor (exemplar and teacher) of the Roman Catholic Church, one of the first women (with St. Teresa of Avila and later St. Thérèse of Lisieux) to be accorded that honor.

Nancy Murray is the only member of her talented family who has a degree in acting. Her Dominican Order sent her to study drama at Barry University in Miami.

In the past seven years she has appeared in all five continents, performing either in English or Spanish, which she speaks fluently. This summer she will appear in Manila, East Timor, South Vietnam, Peru and Italy. In contrast with her brother Bill - who deserves every penny he makes - she pockets no money from her appearances, since all proceeds from her performances go back to the order.

After closing in Scotland she has performances September 18-19 in Mill City, Oregon followed by a September 20-30 gig in Anchorage, Alaska.



Broadway To Vegas is supported through advertising and donations. Priority consideration is given to interview suggestions, news, press releases, etc from paid supporters. However, no paid supporters control, alter, edit, or in any way manipulate the content of this site. Your donation is appreciated. We accept PAYPAL. Thank you for your interest.


SPREADING THE WORD


THE WESTON PLAYHOUSE present Connections & Contexts, a series of free lectures and discussions in conjunction with WPTC's summer season of plays. Providing insight into the issues and history surrounding each play, regional and national experts will offer hour-long lectures. On Saturday, August 4, Scott Wittman and Marc Shaiman, the original composer and lyricist of Hairspray, will talk about the genesis of the runaway Broadway hit. Hairspray is staged at The Weston Playhouse in Weston, Vermont through August 21.

FIRST ANNUAL CALIFORNIA THOUSAND OAKS FESTIVAL OF NEW MUSICALS in association with the Academy of New Musical Theatre (ANMT) and Cabrillo Music Theatre, the Festival will take place in at the Thousand Oaks Civic Arts Plaza on Saturday, August 25 and Sunday, August 26.

The mission of the festival is to share the development process of new musical works with public audiences and LA-based artists. The Festival of New Musicals includes the following selections:

I Come for Love by Jeffery Lyle Segal and LA-based Terrence Atkins.
Maccabeat! by LA-based Harvey Shield, Richard Jarboe and Chayim Ben Ze'ev.
Showgirl of 52nd Street by Charles Leipart and John Kroner.
The Grouch's Daughter by Jack Helbig and Mark Hollmann who won the Tony Award for his score for Urinetown in 2002.

Festival Artistic Director Chris McCoy explained the Festival's philosophy: "I know that Broadway is the goal for any theatre writer or composer, but I think it's important to remember that theatre is alive and well all across the country. More and more regional theatres are looking for work that reflects the interests and values of their communities. I think that developing new work with the goal of finding alternative paths to success can only help the theatre industry nationwide."


PHILATELY, AEROPHILATELY - SNAIL MAIL


JAMES STEWART With this 13th stamp in the Legends of Hollywood series, last Friday the U.S. Postal Service honored James Stewart. Although beloved as a quintessential American film hero whose lanky physique, drawling speech and naturalistic acting style made the characters he played seem "real," Stewart began his career on the stage.

Born May 20, 1908, in Indiana, PA, Stewart starred in amateur theatrical productions as a child. He continued to act while he was a student at Princeton University, where he earned a degree in architecture in 1932. However, the allure of acting proved too great, and Stewart joined the University Players, a summer stock group headquartered in Massachusetts.

Stewart's talent landed him auditions and screen tests with various movie studios. Soon after, he signed a contract with MGM and made his film debut in 1934. He quickly became a star. In 1939, he received his first Oscar nomination for his performance in the classic film, Mr. Smith Goes to Washington.

Art director Phil Jordan designed the stamp using a portrait of Stewart by Drew Struzan, who based his work on a photograph taken during the taping of The Stratton Story. The painting on the selvage, also by Struzan, shows Stewart in Mr. Smith Goes to Washington.

During World War II, Stewart served in the U.S. Army Air Corps. He was a decorated B-24 squadron commander who flew 20 missions over Germany, including one over Berlin.

Stewart starred in more than 80 movies. His first movie after the war was It's a Wonderful Life (1946), a sentimental holiday favorite in which he portrayed George Bailey, a man who learns the importance of family and friends with the help of a guardian angel named Clarence.

In Harvey (1950), Stewart played another signature role as Elwood P. Dowd, a martini-drinking "philosophizer" who believes he is always accompanied by a giant white rabbit. He went on to star in other famous films such as, The Glenn Miller Story (1954) and Rear Window (1954). Stewart played a shrewd country lawyer in Anatomy of a Murder (1959), and also played a lawyer in The Man Who Shot Liberty Valance, a Western released in 1962. James Stewart died July 2, 1997.


SWEET CHARITY


A TRIBUTE TO ELVIS: THE EARLY YEARS by Idols of the King star Scot Bruce. Proceeds benefit the Alabama Shakespeare Festival. Monday,August 20, and Tuesday, August 21 in Montgomery, Alabama.


ART AND ABOUT


EDWARD GOREY'S DRACULA an amazing exhibition of the master cartoonist's original set and costume designs, rare production photographs and memorabilia from the Tony Award-winning Broadway production presented by The Cartoon Art Museum in San Francisco.

Gorey's Dracula earned Tony Awards for best revival and best costume designs. The show premiered in Nantucket and then moved to Broadway. Gorey made significant innovative contributions to the theater world in his roles as playwright, producer, director, set and costume designer. His most commercially and critically successful, Gorey's Dracula, which starred Frank Langella, ran on Broadway from Oct. 20, 1977 to 1980, with successful national road companies as well as foreign productions.

Museum visitors will have a unique behind-the-scenes look at the creative process, from Gorey's initial notes and sketches through his completed concept artwork.

A truly prodigious and original artist, Edward St. John Gorey (1925-2000), gave to the world over one hundred works, including The Gashlycrumb Tinies, The Doubtful Guest and The Wuggly Ump; prize-winning set and costume designs for innumerable theater productions from Cape Cod to Broadway; a remarkable number of illustrations in publications such as The New Yorker and The New York Times, and in books by a wide array of authors from Charles Dickens to Edward Lear, Samuel Beckett, John Updike, Virginia Woolf, H.G. Wells, Florence Heide and many others.

His well known animated credits for the PBS Mystery! series have introduced him to millions of television viewers. Gorey provided the backdrop for Mystery since the series began in 1980. Both the opening credits and stage sets for the series are based on his work. Gorey's masterful pen and ink illustrations and his ironic, offbeat humor have brought him critical acclaim and an avid following throughout the world.

Gorey died of a heart attack April 15, 2000, at his home in Cape Cod at age 75.

Gorey's Dracula comes to the Cartoon Art Museum courtesy of the Edward Gorey House in Yarmouth Port, Massachusetts and The Edward Gorey Charitable Trust. On exhibit through January 20, 2008.



BEING ALIVE! Music & Lyrics by Stephen Sondheim.

A brand new musical revue, conceived and directed by award-winning musical theatre performer Billy Porter.

Being Alive! blends the songs of Stephen Sondheim with the poetry of William Shakespeare to tell the universal story of man's seven ages in African-American musical idioms including soul, jazz, blues, R&B, hip-hop, and gospel.

Featuring songs, including Anyone Can Whistle, Send in the Clowns, Pretty Women, Children Will Listen and Being Alive.

A World Premiere presented August 23 – September 8 at the Westport Country Playhouse, in Westport, CT.

ALL ABOUT MY MOTHER Samuel Adamson's new play brings the multi-award winning film of the same name to the stage. The screen version won international acclaim and an Oscar for Pedro Almodóvar.

Directed by Tom Cairns. The cast includes; Eleanor Bron, Bradley Freegard, Joanne Froggatt, Robert Galas, Mark Gatiss, Lucy-Anne Holmes, Lesley Manville, Colin Morgan, Eileen Nicholas, Yvonne O'Grady, Charlotte Randle, Diana Rigg and Michael Shaeffer.

Music is by long-term Almodóvar collaborator, Alberto Iglesias, with a new stage score by Ben and Max Ringhan. Lighting by Bruno Poet. Sound by Christopher Shutt.

Following the tragic death of her beloved son, Manuela goes to Barcelona in search of his father. But before she can exorcise her guilt she gets caught up in the lives of three women: Agrado, a long-lost transvestite friend, Rosa, a young nun in search of love and Huma Rojo, the famous actress that Manuela's son so admired. As Manuela's life begins to have meaning once more, her son's father returns.

World Premiere at The Old Vic in London August 25-November 24.

CIRQUE JACQUELINE

Andrea Reese as Jackie O. Photo by Lisa Kapler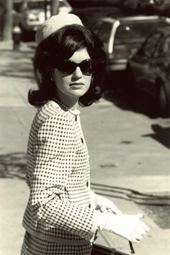 Andrea Reese's highly acclaimed one-woman play returns for a limited engagement from August 25 - September 1, at The Art House, a 120-seat theater in Provincetown, MA.

A one-woman drama about Jacqueline Kennedy Onassis in which Reese portrays Jackie who hid beneath a carefully constructed public persona. The play covers Jackie's childhood with a womanizing father and abusive mother, her joys and struggles within her marriage to Jack Kennedy, her trauma during and after the assassination, her scandalous marriage to Aristotle Onassis and her blossoming interests and loves during the last decades of her life.

Also appearing in the play in a cameo is Paul Urban. Directed by Charles Messina. Sound Design by Charles Messina and Set Design by Victor Flynn.

THE LION KING the Tony Award-winning Broadway sensation. Marvel at the breathtaking spectacle of animals brought to life by award-winning director Julie Taymor, whose visual images for this show you'll remember forever. Thrill to the pulsating rhythms of the African Pridelands and an unforgettable score including Elton John and Tim Rice's Oscar-winning song Can You Feel The Love Tonight and Circle of Life.

There are more than 200 puppets in the show, including rod puppets, shadow puppets, and full-sized puppets. The tallest animals in the show are the 18-foot exotic giraffes in the song I Just Can't Wait To Be King. It takes 19 trucks to transport The Lion King tour from city to city. Opens August 23 at the Orpheum Theatre in Memphis.

INSIGNIFICANT OTHERS an original musical by San Francisco composer and lyricist, L. Jay Kuo, follows the romantic foibles of five friends-two gay men and three straight women-who move to San Francisco from the Midwest seeking love and adventure.

Under the direction of George Quick, the cast features local actors Lillian Askew, Erin Diamantides, Sarah Kathleen Farrell, Jason Hoover, Kevin Maldarelli, Justin Mckee and Andrew Sa. Additional cast members are Dane Paul Andres, Bobby Bryce, Mary Kalita and Alex Rodriguez.

Keeping the production on track is stage manager Sarah Avigale de Asis and keeping them on their toes is choreographer David E. Garcia.

Performances continue through September 23 at the Zeum Theater at Yerba Buena Gardens in San Francisco.

A WORK-IN PROGRESS - THE JOAN RIVERS THEATRE PROJECT a workshop production of a new play by Joan Rivers, Doug Bernstein, and Denis Markell. Directed by Mark Rucker. Starring Joan Rivers, Carrie Paff, and Susannah Livingston

In this comedy set in a dressing room just before Hollywood's biggest award show, Joan must muster all her strength and ingenuity to survive yet another year. The network has a new entertainment director and if this year's puny cheese platter is any indication, Joan is in big trouble. The creative team will continue developing the piece through its two-week limited run and presentations will be followed by a talkback with Ms. Rivers as a part of the process.

Magic Theatre in San Francisco through September 2.

MATTER OF HONOR a world premiere by Michael J. Chepiga. Scott Schwartz directs this story about a cadet's struggle for truth, honor and redemption.

"Duty, Honor, Country." - The West Point Motto

West Point Military Academy was established in 1802 to educate and inspire military leaders of the future with such notable graduates as Robert E. Lee in 1829, Douglas MacArthur in 1903 and Norman Schwarzkopf in 1956. The first African-American cadet Henry Flipper graduated from West Point in 1877. His roommate Johnson Whittaker, another African-American cadet was denied the opportunity for reasons having nothing to do with his military potential.

In 1877, Cadet Johnson Whittaker should have been the second African-American man to graduate from West Point. Some say he was phased out because of his race - others say that he simply was not up to snuff.

Matter of Honor tells the moving story of Whittaker's trials at West Point, which became the stuff of legend, remaking hidden practices at the venerable institution.

"The discipline which makes the soldiers of a free country reliable in battle is not to be gained by harsh or tyrannical treatment." – West Point Military Academy's Superintendent John M. Schofield's Definition of Discipline, 1879.

The cast of Matter of Honor stars Steve Coombs as Stanton, Richard Doyle as Schofield, Eric Lutes as Chase, Cedric Sanders as Whittaker, Adam Smith as Stern, Brian Watkins as Foster, with Steve Holm and John O'Brien.


Matter of Honor plays at the Pasadena Playhouse, beginning August 24, running through September 30.


| | | |
| --- | --- | --- |
| | | |
WHO'S WHERE


PITTSBURGH BALLET THEATRE NINE SINATRA SONGS recognized for its classical ballet expertise and skill, the Pittsburgh Ballet Theatre brings its style, beauty, and grace to the Filene Center stage in Twyla Tharp's masterpiece choreographed to the musical genius of Frank Sinatra.

Ballroom meets ballet in these stylized dances as the characters sweep across the stage.

Tuesday, August 21 at the Filene Center at Wolf Trap in Vienna, VA.

TONY ORLANDO who recently celebrated the 34th anniversary of his hit record Tie A Yellow Ribbon 'Round The Ole Oak Tree performs Wednesday, August 22, at Christchurch Town Hall in Christchurch, New Zealand.

DAVE BRUBECK often regarded as a genius in his field of jazz piano, has written a number of standards, including In Your Own Sweet Way and The Duke. Brubeck's style ranges from refined to bombastic, reflecting his mother's attempts at classical training and his own improvisational skills. Much of his music employs unusual time signatures. Presented by San Jose Jazz, the Dave Brubeck Quartet performs Friday, August 24, at the Fox Theatre in Redwood City, CA.

JOHNNY MATHIS croons Thursday, August 23, at the Filene Center, Wolf Trap in Vienna, VA.

BOSTON POPS ESPLANDE ORCHESTRA perform Gershwin & Friends. Keith Lockhart, conductor with Special Guests: Marin Mazzie & Jason Danieley. Wednesday, August 22, Filene Center at Wolf Trap. Vienna, Virginia.

LINDA RONDSTAD at Abravanek Hall in Salt Lake City, UT on Friday, August 24.

COUNTING CROWS perform Tuesday, August 21, at Blair County Ballpark in Altoona, PA. On Wednesday they are on stage at First Energy Park in Lakewood, NJ. Friday finds them at McCoy Stadium in Pawtucket, RI. On Saturday the show is at Dutchess Stadium in Wappingers Falls, NY.

NORA JONES entertain Monday, August 20 at Philipshalle in Dusseldorf, Germany. On Thursday the show is at The Point in Dublin, Ireland. Friday they are on stage at Clyde Auditorium in Glasgow, Scotland. The Saturday performance is at Carling Apollo Theatre in Manchester, England.

DIANA KRALL stars at Pechanga Resort and Casino in Temecula, CA on Tuesday, August 21. On Wednesday she can be enjoyed at the Embarcadero Marino Park in San Diego. Thursday she's in the spotlight at Dodge Theatre in Phoenix and next Sunday he's on stage at The Santa Fe Opera in Santa Fe, NM.

TONY BENNETT opens a two night stand Friday, August 23 at Caesars Atlantic City.

DAVE MATTHEWS BAND performs Monday, August 20 at the Blossom Music Center in Cutahoga Falls, OH. On Wednesday the show is at the Riverbend Music Center in Cincinnati, OH. Thursday they are on stage at the DTE Energy Music Theatre in Clarkston, MI. On Saturday they open a two night gig at the Alpine Valley Music Theatre in East Troy, WI.

BEACH BOYS bring their surf sounds to the Walnut Creek Amphitheatre in Raleigh, NC on August 23. Saturday finds them at the Pisgah Memorial Stadium in Canton, NC.




PIFFLE AND PROFUNDITIES


THE SEATTLE SYMPHONY'S three year search for a concertmaster ended Friday with a four way tie from the 20-odd people who auditioned over the past three years.

Music director Gerard Schwarz has selected Emmanuelle Boisvert (concertmaster of the Detroit Symphony), Frank Almond (concertmaster of the Milwaukee Symphony), Ani Kavafian (well-known violin soloist and chamber player) and Seattle's Maria Larionoff (the present acting concertmaster) to share the role.

Next Column: August 26, 2007
Copyright: August 19, 2007. All Rights Reserved. Reviews, Interviews, Commentary, Photographs or Graphics from any Broadway To Vegas (TM) columns may not be published, broadcast, rewritten, utilized as leads, or used in any manner without permission, compensation and/or credit.
Link to Main Page
---
Laura Deni


CLICK HERE FOR COMMENT SECTION