! >
Broadway To Vegas
  SHOW REVIEWS     CELEBRITY INTERVIEWS     GOSSIP     NEWS 
| | |
| --- | --- |
| | |
Copyright: August 19, 2001
By: Laura Deni
CLICK HERE FOR COMMENT SECTION

PENILE CONTORTIONS AND RECTAL TRUMPETING
There was a time when you'd be locked up in the booby-hatch or hoosegow. Today if you twirl your penis in public you can have your name in lights and people will buy tickets.

The Puppetry of the Penis isn't what Sheri Lewis had in mind when she said she had a hand puppet.

New York bound The Puppetry of the Penis features two naked men who are billed as "performance artists" twisting their private parts into various shapes that are projected onto a huge screen.

Promoters are outraged at any implication that this is a sex show or anything akin to a couple of emotionally immature men - with a teen-age mentality - acting like they are alone in their bedrooms.

Not this well endowed two some.

They stress playing with their penis is a work of art with serious thought and preparation.

The penile puppeteers put together a show which debuted at the Melbourne Comedy Festival in 1998. It was a hit at the Edinburgh Fringe Festival - becoming a cult success, particularly with parties of young women - won rave reviews on the West End, and has just finished a sold-out run in Montreal. The genital manipulators open tomorrow at the New Yorker Theater in Toronto for a run through Sept. 2. Then the mind-blowing show heads for Broadway.

During the show, which has been cheered by Elton John, Bono, Hugh Grant and Joan Collins, the pair, who are both naked as a pair of jay birds, exhibit astonishing stamina, an unbelievable stretch factor and an amazing level of testicular fortitude to perform about 45 different "installations," manipulating their genitals into shapes and landmarks including; the Hamburger, The Windsurfer, The Eiffel Tower, Loch Ness Monster, the Pelican, and Kentucky Fried Chicken - the viewing of which has made some vow to never again eat poultry.

That's the below the belt equivalent of tying one's tongue in a knot. Not too many people can do that, but why would anyone want to in the first place?

Australian Simon Morley and David Friend are friends who met about four years ago. Each possesses a penis and both have mastered the art of "genital origami." Neither have yet to go blind.

Previews begin at the John Houseman Theatre in New York City on Sept. 25.

Even though our Webmaster says that "there are certain things that shouldn't be elevated to an art form " - expect a line around the block.

Morley and Friend aren't the only two entertainers to keep shirts on their backs by unzipping below.

Entertaining through the posterior side of the pelvic structure has been a show stopper for over a century.

More than a hundred years ago Le Petomane was one of the most bizarre and unique performers of France, all because he could fart songs with a straight face.

Today the British have their own version, in a talent who calls himself Mr. Methane.


JOSEPH PUJOL A.K.A. Le Petomane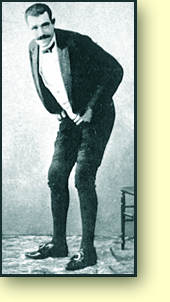 Joseph Pujol who became Le Petomane was born in Marseilles in 1857. His father was a baker who specialized in bran muffins, which may have contributed to Pujol's gaseous talents. His accomplishments were first noticed when as a child he visited the sea shore. According to history books, as he prepared to dive into choppy ocean waters, he took a deep breath - inadvertently contracting his abdominal muscles. Suddenly, he was pierced by an icy sensation. Panicked, he returned to shore - where he noticed a flood of seawater emanating from his bottom.

He eventually realized that, unlike other boys, he could suck water up his hind end at will and then project it out with frightful force. French proctologists would later record a record five meter spout from the adult Pujol.

It was said of the young Pujol that "he could wash your walls with just a bucket and a squat." Pujol soon discovered that through a weird mixture of motions, extortions and contortions, he could "inhale" as much as two quarts of air - as measured by Dr. Marcel Baudouin in 1892 - through his rectum. The young man quickly found that by varying the force with which he expelled this air, he could produce musical notes of varying pitch and timbre.

He soon had a repertoire, and found himself entertaining astonished school chums with impromptu Bel cantos and arias. Pujol was the life of the party.

While in the army he was dubbed "Le Petomane" - rough translation: fart maniac or "fartiste." Upon his discharge, he returned to Marseilles where he honed his act.

He began touring throughout France. By 1892 he was ready for his big premiere at the 19th Century's most famous entertainment hall - The Moulin Rouge. Upon arriving in Paris and seeing the enormous red windmill, Pujol is said to have remarked, "The sails of the Moulin Rouge... what a marvelous fan for my act!"

His rectal trumpeting was so funny that it caused at least one man to die of a heart attack due to uncontrollable laughter. Countless women fainted at both the hilarity and the spectacle of Le Petomane's hour-and-a-half long performance, in which he remained totally deadpan. For practical as well as promotional purposes, a number of white-coated nurses were always in attendance.



MOULIN ROUGE

There was no nudity or shockingly exposed body parts. Handsome and unpretentious Pujol would appear on stage dressed elegantly in a short-tailed red coat and black satin breeches. The only unusual aspect of the outfit was the rubber tube which dangled from his backside. It was this tube shoved up that orifice that allowed him to "breathe" and to do a number of astonishing feats. Besides blasting out melodies, Le Petomane could do impressions of famous figures and politicians farting.

His musical wind-breaking talents became the cabaret sensation of his era.

He also had a staple of tricks, such as blowing out a candle from meters away, and smoking cigarettes from both his ends at the same time.

At the height of his fame in the 1890s, Le Petomane earned an average gate of 20,000 francs per show while the other star of the Moulin Rouge, Sarah Bernhardt, was only pulling in 8,000 francs per performance.

To avoid a bum rap that he was faking the farts, Le Petomane offered demonstrations special "in-the-buff" private shows for the wealthy elite (men only), proving to detractors that there was "no trickery in this anus."

He also submitted to endless probing of his hind-end by France's leading doctors. Astounded, the doctors not only confirmed that his act was legit but published lengthy medical reports on his phenomenal talent. Dr. Adrien Charpy would comment in a treatise published in 1904 that "Le Petomane uses his abdominal cavity like a bellows." An even more widely read probe of the subject's rear end appeared in an 1892 edition of La Semaine Medicale. This piece, by the aforementioned Dr. Baudouin, was simply entitled: "An Extraordinary Case of Rectal Breathing and of Musical Anus."

When he died in 1945, at the age of 88, a Parisian medical school offered Pujol's family the sum of $25,000 for the privilege of exploring the late, great entertainer's rectum. In turning down the offer, his eldest son Louis explained, "there are some things in this life which simply must be treated with reverence."

Those fun loving British have their own rectal trumpeter - Mr. Methane who is publicly endorsed by Kelsey Grammar and Bob Goldthwait, specializes in "singing" from both ends, putting the "Art into fart" rock, pop and classical selections are included in his musical repertoire. He also has released some CD's.

He dresses in a costume that resembles Bat Man, with a Lone Ranger mask.

To combine his musical segment with a visual display, Mr. Methane lies on a table, his legs in the air, while an assistant inserts various objects into where the sun don't shine. Then the man who boasts that he is the world's only performing "flatlist" performs candle snuffing, talc blowing, and the incredible dart farting.

Mr. Methane is the first to admit that the artistic farting business is a tough field to crack. There isn't a text book or a Controlled Anal Voicing 101 class offered at your local community college. No advertisements for Flatulists in the help wanted columns.

Like Le Petomane, Mr. Methane began his trade by accident at the age of 15, when while practicing the Full Lotus position encouraged by his Yoga loving sister, he discovered the ability to "breath both fore and aft, so to speak."

With wind beneath his wings he lost no time is plying his trade. The next day he gave a lunch time performance for friends in his Cheshire, England school. He soon discovered that being able to do "twenty rapid fire rasping farts in under a minute was the order of the day, quite an achievement and so popular was it that this became a regular event." Providing low end sound effects while people ate also filled his pockets with money.

After attempts at ordinary occupations, such as a train conductor where he blew a whistle through his mouth, a frustrated Mr. Methane knew he should be blowing that whistle from his opposite end.

He began working full time as a Trouser Trumpet. He was a runaway sensation. From playing his anal organ for fellow train crew members to becoming a full time Flatulist, was just a toot away. He quickly discovered that "I was speaking an international language."



Broadway To Vegas is supported through advertising and donations. Priority consideration is given to interview suggestions, news, press releases, etc from paid supporters. However, no paid supporters control, alter, edit, or in any way manipulate the content of this site. Your donation is appreciated. We accept PAYPAL. Thank you for your interest.


LITTLE TRAMP CHARLIE CHAPLIN COMES TO THE STAGE

The two women who meant the most to him disappeared from his life - his mother, who left her sons on the steps of a workhouse and his lost love, Hetty, who died young. Charlie Chaplin had a sad, elusive life. His road to stardom was a convoluted one which perhaps is one of the reasons a play about the "Little Tramp" has been so difficult to get mounted.

The creators of Chaplin have been trying for 20 years.



CHARLIE CHAPLIN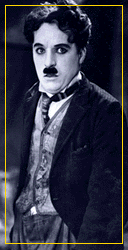 Twice a production has almost made it to Broadway. In 1981 there was going to be a Joe Layton directed production with John Rubinstein cast as Chaplin. The highly respected Tony Walton and Wally Harper were on board as designer and musical director. Just as rehearsals were about to begin producer Don Gregory ran out of money.

Anthony Newley had a version that folded in Los Angeles as fast as it opened.

The musical about silent film star Charlie Chaplin began a new life Tuesday night when it opened at the Golden Apple Dinner Theatre, in Sarasota, Florida in what is billed as a "pre-Broadway engagement."

The road to Broadway is going to circle around the United States in what producer Paul Bartz likens to research and development. He's playing close attention to what the Florida audiences like - from the songs to character empathy. He also wants to get a bead on what the audiences don't like.

Expect changes before the curtain opens on Broadway.

After seeing a 1993 production of Chaplin in Miami, which received a Carbonell Award for Best Musical from the South Florida Theater Critics Association, Bartz secured the rights and has been carefully working to get it on the road to New York.

Director Robert Ennis Turoff is owner of the Golden Apple, and has been given license to change whatever he thinks will bolster the production, which runs through Sept. 2.

Larry Raben, of the original Forever Plaid, stars as Chaplin. He prepared for the role by watching documentaries about Chaplin and some of the comedian's films, reading his autobiography, My Life in Film, and studying the 1991 film Chaplin which starred Robert Downey, Jr.



ROBERT DOWNEY, JR as CHARLIE CHAPLIN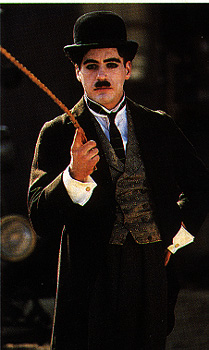 The musical, with a score by Roger Anderson, lyrics by Lee Goldsmith and a book by Emmy award winning Ernest Kinoy, covers the early years of Chaplin, leading to the performer's becoming a superstar during the silent era of Hollywood movies.

It's the music to Chaplin that is the show's strong suit.

The Miami Herald, which described the show as "thoughtful, accessible and emotionally involving," said that Anderson's score "excels throughout" and is well matched with Goldsmith's "droll, witty and bittersweet" lyrics.

The score has been called "captivating," laced with a "haunting" recurring number called Pretend. The song becomes a kind of aching theme and secret to success, ultimately in Chaplin's professional and personal life. John Visser is the musical director for the Golden Apple production.

It's Chaplin from a where did he come from approach with a focus on Chaplin's early years to avoid some of the political and personal strife that affected him later in life.

The creators call it "a musical-comedy psychological study."

Life for the Chaplins became almost unbearable in the States during the McCarthy witch hunts. Hoover did appear to have something personal against Chaplin and strongly hoped to establish him as a Communist.

His fondness for young woman pushed him down a slippery slope.The two wives who are mostly associated with this condemnation are Mildred Harris and Lita Grey, both were seventeen years old, both ambitious actresses with equally ambitious mothers in tow.

When he married Oona O' Neill, she was 18, he 54, but their marriage lasted until Chaplin died at 88.

Along with a paternity suit filed against him from a rather unstable young woman (which failed), admiration for Chaplin turned to almost seething hate thanks to the atmosphere of paranoia McCarthy instigated across the country. The Chaplins left for a holiday to England and his re-entry permit to the United States was withdrawn. This was enough for Chaplin to turn his back on the country that had turned it's back on him.

Charlie did return to the States in 1972 to a great reception, and was honored with a special Academy Award.

The Sarasota cast includes Susie Roelofsz as Charlie's mum, Hannah, and his true love, Hetty; Kyle Turoff as Mabel Normand; Ian Sullivan as music hall producer Karno; Kelley McCollum as brother Syd Chaplin; Richard Bigelow as Stage Manager; Drew Foster as Child Syd; Mike Foster as Child Charlie; Roy Johns as Mack Sennett; Catherine Randazzo as Louise; with Nick Darrow, Michael Harrington, Geoffrey Hefflefinger, Al Jackson, James Lewis, Paul J. Wargo, Kelly Burnette, Jillian Johnson, Dierdre Mercier, Liza Pahel, Joleen Wilkinson, Jessica Fritz, Edwin Medina and Liam Mercier.

Charles Spencer Chaplin was born in London, England on April 16, 1889. His parents were variety artists whose lives were fraught with problems. His father drank, and deserted the family when Chaplin was still a child. His mother lost her voice and eventually her sanity.

This production opens with Chaplin visiting his London boyhood street, Kennington Road, and fighting the memories that swirl around him.

Charlie Chaplin, the tramp with the bowler hat and cane. But behind this Little Fellow was an extremely creative film maker who scripted, directed and starred in some of the best films of the century as well as writing his own musical scores.



BOB HOPE won a CHAPLIN look alike contest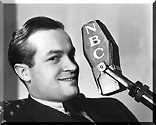 He was powerful, admired and emulated. A 12 year old Bob Hope - then Leslie Hope - won a Chaplin look alike contest at Luna Park in Cleveland.

Charlie died peacefully in his sleep at 4 am on Christmas day in 1977. He was 88 years old. He is buried at Corsier-sur-Vevey in Switzerland, his home for the last years of his life.

On March 1st 1978, nine weeks after he was buried, Chaplin's body was taken and held to ransom. The two 'kidnappers' - a Polish and a Bulgarian mechanic - demanded 600,000 Swiss Francs from Oona (Charlie's wife), but she refused to pay. The local police eventually caught them making one of their demands from a phone box in Lausanne. They had hidden the coffin in a wheat field outside the village of Noville, about 12 miles from Vevey. The farmer who owned the field placed a simple wooden cross in the spot once Chaplin's body had been returned to the cemetery at Vevey.

The cross is still there.


SWEET CHARITY

DE LE GUARDA Members of the Las Vegas company of De La Guarda staged a one-night benefit for Martin Bygraves at Glo a local nightclub. Proceeds from the Aug. 13 benefit will help the family of De La Guarda cast member Bygraves pay medical bills and relocation costs resulting from the July 29 incident in which he was struck by a hit-and-run driver.

According to show spokespersons, Bygraves remains in "critical but stable condition at a local trauma center." His family has relocated from London to Las Vegas to stay with him. The Aug. 13 benefit featured members of Blue Man Group and Uberschall, improv comedy from The Second City, resident DJ Javier Alba and singer-songwriter Peter Stuart.



THE HOLY MOTHER OF HADLEY NEW YORK a new play by Barbara Wiechman, directed by Rachel Dickstein that will have its world premiere, presented by the Obie-award winning theatre company New Georges, at the Ohio Theatre in NYC.



MARY SCHULTZ, GRETCHEN LEE KRICH, and JULIA PRUD'HOMME in The Holy Mother of Hadley New York. Photo By: Richard Termine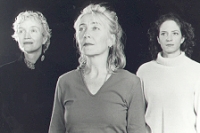 In The Holy Mother of Hadley New York Agnes La Voie suffers a nervous breakdown in the small upstate town of Hadley, then claims she's been healed by a visitation from the Holy Mother. How do the neighbors react to Agnes' sighting of the Virgin Mary in her kitchen window? Or to the news that the Virgin will appear again, this time in the parking lot of Arvid Gurney's gas station before he entire town?

The cast of eleven who will play over 50 roles will include Obie winner Mary Shultz, Gretchen Lee Krich; Nicole Halmos; Maria Striar, Gary Brownlee, and Andrea Mauletta of Also featured are: Alan Benditt, Malachy Cleary, Christopher Mattox, Julia Prod'homme, and Richard Toth.

Set design by Sarah Edkins, the costume design by Katherine Hampton, the lighting design by Lenore Doxse, and the sound design by Kate Down. The production stage manger will be Terry Dale.

New Georges is a non-profit theater company that produces and develops imaginative new works by women & supports the creative efforts of emerging women theater artists.

TERRENCE MANN steps into he role of the "sweet tranvestite" Dr. Frank'n'Furter in The Rocky Horror Show. Aug. 30, Mann replaces Tom Hewitt, who is sinking his teeth into a new role: the title count in Frank Wildhorn's Dracula. Hewitt leaves the show Aug. 19, with an understudy coming in for the two-week gap before Mann arrives. Circle in the Square, NYC.

SUSAN BLAKELY will star as the title character in the Howard M. Gould world premiere of Diva, a comedy about a spoiled but adorable film star determined to break into television. The engagement is slated for Sept. 11-Oct. 14 at La Jolla Playhouse, CA. Neel Keller directs. The production team includes: Andrew Jackness (sets), Candice Donnelly (costumes), David Lee Cuthbert (lighting) and Robbin E. Broad (sound).

NO SEX PLEASE, WE'RE BRITISH stars Becky Wooldridge as Frances, a just-married wife who lives with her husband above a bank in London, where he is the Assistant manager. She innocently orders Scandinavian glassware through the mail to sell from her new apartment. The order backfires when a Scandinavian company, thinking she's a man, sends her pornographic pictures instead. Timothy Stewart is her husband, Peter, an up tight bank officer who never has time to become a full-fledged stuffed shirt because he's kept too busy coping with the chain reaction of porn materials his wife's innocent order unleashes. Jake DeTommaso is Brian Runnicles, a bank assistant who signs for the pictures and gets pressured by Peter into doing most of the dirty work in trying to get rid of the films and books that follow. Brenda S. Williams is Peter's mother, Eleanor, who comes to visit much too soon after the wedding W. Jerome Stevenson is Peter's bank boss, who becomes romantically interested in his mother, Eleanor, to make matters worse. Robert Matson is Mr. Needham, a bank inspector whose sleeping pills soon get liberally distributed to many of the principals. The import firm's sexy representatives are played by Wendy Hart and Katy Jarred. Jim Ong is the police superintendent. Directed by Brenda Williams. The farce by Anthony Marriott and Alistair Foot is getting race reviews. Performances through Sept. 1. The Pollard Theatre in Guthrie, Oklahoma is Oklahoma's only professional year-round resident theatre company.

THE MISANTHROPE the classic Moliere comedy, is the first of three Equity Showcases - in rotating repertory - by the Boomerang Theatre Company, beginning September 5th at The Flatiron Playhouse, NYC.

A comedy of manners The Misanthrope will be directed by Blake Lawrence from a translation by Richard Wilbur. Set in 17th Century Paris, the play tells the story of Alceste (the title character), a man who, sick of the political correctness of "modern day" society, determines to tell the truth, no matter how (or who) it offends. Not surprisingly, he's soon taken to task and eventually hauled before a magistrate for his honesty. There's also the matter of Celimene, the woman to whom he has pledged his undying love, but who, thanks to a bevy of other suitors, may not be ready to commit her own affections - at least those of a permanent nature. (And the truth, when it comes to matters of the heart, may be the most painful of all.) Considered one of his greatest plays,The Misanthrope pokes fun at the gods of convention and the hypocrisy of the middle-class, with many of its sentiments still quite topical today. This production will keep the rhyme and the meter of the play intact, allowing audiences to see the play as Moliere originally conceived it. The Misanthrope runs from September 5th - September 16th.

SHEBA Lyricist Lee Goldsmith penned book and lyrics to this based on William Inge's Come Back, Little Sheba. The production starring Kaye Ballard folded out of town in 1974. It will be seen in its first full revival Aug. 31-Sept. 2 at Lucille Lortel's White Barn Theatre in Westport, CT, with Donna McKechnie.

THE GLASS MENAGERIE By Tennessee Williams begins performances August 24 at the Alley Theatre in Houston, Texas with a press night slated for August 29.

A revival of one of the greatest plays of the American theatre featuring Tony Award-winner Elizabeth Ashley as Amanda Wingfield, a faded Southern belle who lives on the memories of her gentlemen callers and the desire to find happiness and good fortune for her children.

This production is sponsored by BJ Services Company and Shell Oil Company Foundation.

The Tony Award winning Alley Theatre suffered severe damage when tropical storm Allison blew through. The costume shop suffered extensive damage.

The theatre was flooded and professional clean-up crews staged a dramatic clean-up effort.


WHO'S WHERE


MELISSA ETHERIDGE today she performs in Montreal, QC at the Salle Wilfrid-Pelletier. Next Friday she can be found center stage in Toronto, ON at Massey Hall and on Saturday the spotlight shines in Detroit, MI at the Opera House.

SADE performs tonight in Auburn Hills, MI at the Palace Of Auburn Hills. On Tuesday the singer does it again in Baltimore, MD in the Baltimore Arena. The following night she's behind the microphone in Boston, MA at the Fleet Center and on Friday the location is Bristow, VA in the Nissan Pavilion. She closes out the week with a Saturday engagement in Raleigh, NC at the Alltel Pavilion @ Walnut Creek.

NATALIE COLE tonight is entertaining in Seattle, WA at Benaroya Hall.

ED McMAHON in Las Vegas taping his new television series Ed McMahon's Next Big Star at the MGM-Grand Hotel Aug. 25-27. The show will be based in Las Vegas.

JOURNEY has a busy week. Tomorrow it's a show in Lubbock, TX at the West Texas Canyon Amphitheater. On Tuesday they are center stage on Bossier City, LA at the CenturyTel Center. Wednesday they perform in The Woodlands, Texas at the C.W. Mitchell Pavilion and Saturday finds them in Wilmington, DE at Frawley Park.

DESTINY'S CHILD in the spotlight today in Miami, FL at the American Airlines Arena. On Tuesday they're in front of the microphone in Antioch, TN at the AmSouth Amphitheatre. Wednesday finds the group in Cleveland, OH at Gund Arena. The next night Clarkston, MI is the town and DTE Energy Music Theatre is the place. The Friday stop is Burgettstown, PA for a show at the Post-Gazette Pavilion @Star Lake and Saturday rounds out their week with a performance in Noblesville, IN at the Verizon Wireless Music Center.

DARYL HALL AND JOHN OATES Hilton Hotel, Atlantic City, N.J. on Aug 24, 25, 26.

PATTI LaBELLE stars at Caesars in Atlantic City, N.J. Aug. 24-26.

98 DEGREES perform in the PNC Bank Arts Center in Holmdel NJ on Aug. 25

' N SYNC in the spotlight tomorrow in Columbus, OH at the Columbus Crew Stadium. On Wednesday they're center stage in New Orleans, LA at the Louisiana Superdome and on Friday the guys perform in Jackson, MS at the Veterans Memorial Stadium.

TOM JONES swivels on stage Friday in Thousand Oaks, CA at the Kavli Theatre @ Civic Arts Plaza.

AL JARREAU entertains tonight in Houston TX at the Arena Theater. On August 21 he can be found in Denver CO at Fiddler's Green Amphitheater. August 23 has him on stage in Saratoga CA at the Mountain Winery and the next night he entertains in Concord Ca at the Chronicle Pavilion.

RINGO STARR & HIS ALL STARR BAND with Ian Hunter, Sheila E. Take over Fiddler's Green Amphitheater, Denver on Aug. 25

BARBARA COOK continues through Sept 1 at London's Lyric Theatre.

BARBARA FASANO featuring Rick Jensen on piano in a show at the FireBird Cafe, NYC Fridays, August 24 and 31.

BETTY BUCKLEY August 25 at the Great Waters Music Festival in Wolfeboro, NH.

U2 opens tonight in London, UK at the Earls Court Arena. Then they are off on Monday, but return to the stage for performances on Tuesday and Wednesday.

PATTI LuPONE on August 24 stars in Sweeney Todd at the Ravinia Festival in Highland Park, IL.

GEORGE CARLIN on Thursday will be discussing the seven forbidden words and a few others in San Diego, CA at Humphrey's. On Friday he begins a two nighter in Reno, NV at the Silver Legacy Casino.

GLADYS KNIGHT does a two nighter in Las Vegas this coming Friday and Saturday at Sam's Town Casino.

TONY ORLANDO will be putting a bow on that yellow ribbon in Wilmington, DE at the Three Little Bakers. August 22-24.

B.B. KING has a full week ahead of him. Tonight B.B. and Lucille are on stage in Noblesville, IN at the Verizon Wireless Music Center. On Tuesday he's in the spotlight in Rosemont, Illinois the Rosemont Theatre. On Wednesday it's center stage in Columbus, OH at the Polaris Amphitheate. The next night the entertainer does it again in Cincinnati, OH at the Riverbend Music Center. Then he performs a two nighter in Atlanta, Ga at the Chastain Park Amphitheatre.


PIFFLE AND PROFUNDITIES

THE LURE OF A KRISPY CREME DONUT the second annual Theater District Open House for Educators takes place on August 25 in Houston, Texas. Educators are hyped to incorporate the arts into curriculum by scheduling field trips or arranging for the Theater District member groups to bring programming directly into the school. Each Theater District organization will make a presentation with live performances .There will also be an opportunity to have one-on-one interaction with members of each arts group.

Hosted by: Theater District Association, Alley Theatre, Da Camera of Houston, Houston Ballet, Houston Opera, Houston Symphony, Society for the Performing Arts, Theatre Under The Stars Cost: free, including breakfast from Krispy Kreme Doughnuts.

THE BOYS OF SUMMER many Congressional staffers in Washington, D.C. have their own softball teams. Senator Edward Kennedy's office team is the Ted Sox. Across the aisle, Senator Jesse Helms's is Helms' Hitmen.












Next Column: August 26, 2001
Copyright: August 19, 2001. All Rights Reserved. Reviews, Interviews, Commentary, Photographs or Graphics from any Broadway To Vegas (TM) columns may not be published, broadcast, rewritten, utilized as leads, or used in any manner without permission, compensation and/or credit.
Link to Main Page
---
Laura Deni


CLICK HERE FOR COMMENT SECTION