! >
Broadway To Vegas
 
 SHOW REVIEWS     CELEBRITY INTERVIEWS     GOSSIP     NEWS 
| | |
| --- | --- |
| | |
HAIRSPRAY STANDS OUT - -ELVIS PRESLEY WANTED TO LOOK LIKE TONY CURTIS - - BETWEEN IRAQ AND A HARD PLACE - - JULIA CHILD TURNS 90 - - DIRTY VEGAS - - SUSAN SARADON & JIM ROBBINS PANNED - - LARRY GATLIN'S WHITE HOUSE SLEEP OVER - - MUM CONTROLS JAMES BOND'S NEW CAR - - DONATE . . . Scroll Down


SIX FRAT PARTIES AND YOU'RE THE HOOKER
Jill Turnbow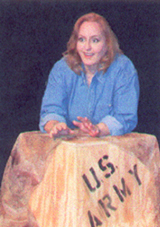 You're a country about to go to war. The troops need their R&R but the government can't risk them running amuck in a foreign country. What's the United States military to do?

Between Iraq and a Hard Place is stand-up comedienne Jill Turnbow's autobiographical account of her three-month stint performing for the United States military on a cruise ship in the Persian Gulf during Operation Desert Shield/Desert Storm.

In one of the most unusual bookings - funded by taxpayer dollars - what started out as something akin to a drunken frat party ended up to be a life altering experience.

Turnbow spoke with Broadway To Vegas about her Gulf War experience and her one woman show, which has it's New York premiere September 18.

"It was 950 men having their first beer. It was like six frat parties and you're the hooker. It was chaos," she recalled.

In 1990, Turnbow was hired to entertain on the Cunard Princess, a floating rest-and-relaxation detour for U.S. service men and women during Desert Storm. Every three days, 950 soldiers boarded the Princess, which was docked 19 miles outside of Bahrain, and were treated to an open bar, exercise classes and free entertainment, including Turnbow's 20-minute comedy set.

Just as the boys returned from Desert Storm as battle-seasoned men, Turnbow progressed from being a not-terribly-worldly, mildly successful road comic into a woman whose reputation became legend among the troops, who got her name painted on bombs, and who was eventually even told to tone down her act because she was scaring the Marines!



Jill and a couple the servicemen on board the ship. Photo Courtesy of Jill Turnbow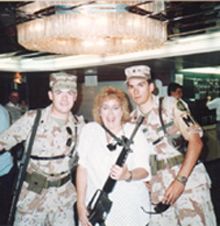 This type of R&R for our military "seemed to be something new at the time," explained Turnbow. "They didn't really know what to do. So, they contacted an agent in New York that booked Cunard. The Navy chartered the Cunard ship and said - Just do what you normally do. Cunard went - Okay."

"The ship, Cunard Princess, which no longer exists, never moved. The Navy chartered the ship from Cunard, paid for it and docked it 19 miles outside of Bahrain. I had a manager in New York that represented comics that worked normal, regular cruise ships. She went through Cunard's booker. At the time this was new and nobody really knew what they were doing. They just went through normal procedures," she reiterated.

A seasoned cruise entertainer, Turnbow was hired.

"Their only military specifications on comics was it had to be one man and one woman. It couldn't be two guys or two girls. The only people hired outside of the Cunard staff were two comics, a rock and roll lounge band and a group of fitness trainers. They called them the Sports Team. They were brought in to lead exercises for the guys. Everyone else on board were normal Cunard employees."

A beer party paid for by US taxpayers.



Some of the military in front of the ship. Photo courtesy Jill Turnbow.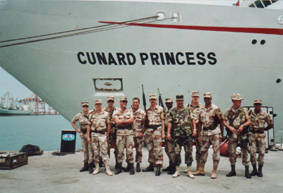 "Yes, they were given liquor. Yes, as much as they wanted. They had to pay for it, but it was like a quarter, said Turnbow who has a hearty voice heard in hundreds of voice overs and commercials.

"They brought them on in groups," she recalled. "An entire unit would come on board. Every three days it was a new 950 unit of military people. They were brought on in units with their commanders and there were liaisons who stayed on the boat all the time."

"We got over there Christmas Eve, so the war hasn't started yet. The first two days nobody knew what they were doing. They were trying to run it like an actual cruise ship, except the boat didn't move, which we learned after the first three days was insanity."

"They drank the entire ship dry in the first two days - completely. There wasn't a drop of liquor left on the boat. They were bringing in beer by the thousands of cases - literally unloading truckloads. They couldn't get it on there fast enough."

"First it was like - R&R GO! Then they discovered - Whoa! We gotta have some rules. So, for the first week it was just unbelievable insanity, until they figured out how to control it. Then it became much more of a controlled situation."

"But, it was their R&R. You couldn't turn them loose in a town like they do when they are here - Fleet's In and they all go to town. They couldn't let them loose in Bahrain," said Jill about the country whose small size and central location among Persian Gulf countries require it to play a delicate balancing act in foreign affairs among its larger neighbors.

"So, they brought them to the boat," she continued. "They couldn't leave the boat by themselves. There were organized tours into Bahrain. There were a lot of rules. There were organized city tours and there was a little beach resort and they took organized groups over to that. Otherwise, you stayed on the ship."

Taxpayer money paying for our armed forces to get drunk and then telling them, hangovers or not, to go fight a war. Should that be frightening?

"It's frightening until you see it," she countered. "Then you understand it."

Turnbow matured as an entertainer in a New York minute.

"In a big hurry," laughed the Texas born comic. "In the first show I got thrown up on - right as I was finishing, a guy in the front row puked all over the stage."

Accustomed to the entertainment rules for passenger cruise ships, Turnbow came on board with "G" rated material. That became her first problem.

"I was too clean. Hi, I'm Jill and I've been shopping - " she parodied in a little girl voice.

By the first show Jill knew she had to spice it up.

"I had to change my act quickly. You had to work dirty."

"I did have (that kind of ) material. A lot of it wasn't necessarily changing the material as much as it was the treatment of the audience. They wanted to be slammed. Thee is nothing these guys wanted more than some woman to tell em off and cuss them out in a funny way. They ate that up. They would try to heckle me and I would win. So, I at least knew how to do that."

Perhaps too well.

"Two months in I had a Sgt. Major tell me I had to back off because I was starting to scare the Marines. I was just tougher than they were. They weren't frightening me. I was too quick with the comebacks," she said referring to her rapid fire retorts to their heckling.

"They would yell things and I would just give it right back. As long as you gave it back and didn't crack under it, you were their hero."

"They followed me around like rats behind a piper. I always had at least 15 guys right behind me saying - Can I get you anything? What do you need? What do you want?"

Turnbow lived and ate on the ship. "It was the best time of my life. I was actually suppose to go only for a month. A month into it the war had started. They weren't bringing people on as much. The Navy started to use the ship more as an office. They sent me and the band home. Then I was sent back for two more months. So, I actually stayed until the end of April - from Christmas Eve until the end of April."

Turnbow's preparation was flying by the seat of your pants.

"Passport, that was it. No guidelines were given until after I got there. The ship's people didn't know anything, either. We pretty much got orientation from the military," she explained. "If you go to town don't wear short sleeves, don't smoke. Bahrain is very Westernized. It's not part of Saudi. It's independent. I wasn't allowed in Saudi. I wasn't allowed out of Bahrain in any way. But, they knew who we were and why we were there. I never really had a problem."

Now, about that love affair.

"At first they tried to curtail fraternization. Some of them hadn't seen a woman in a year," related Turnbow about the failed attempt to restrict the libido.

For Turnbow it wasn't a one night stand.

"I fell in love while I was over there. It was somebody that was there for a whole month. He didn't just come on for three days," softly recalled Jill who references this in her show.

For others love had nothing to do with it.

"We had some dancers who made some extra cash. The opportunity was immense," she laughed. "I've never had that type of attention before or since."

Between Iraq and a Hard Place, directed by Mark Ankeny, ran last year to acclaim at the Hudson Guild and the Powerhouse Theaters in Los Angeles.

The world changed between the first and second productions.

"When I did it last summer we literally closed two weeks before September 11. Then I did it again in March and literally changed only about three or four lines in the whole show, just to address what had happened. But, it became a completely different show - the way I performed it, the mood of audience, the way it was received."

"People were very, very cynical about the Persian Gulf war," she elaborated. "A lot of people didn't think it was a war. They thought it was a waste of our time and our reasons were political. They kind of turn their nose up at it. Any kid with a video game could have beat those guys. That was the attitude."

"Every though they liked my show, they forgot that these were real people who went over there - human beings," she said of the time period shortly before Desert Storm started when 50,000 body bags had been ordered. "Yeah," she replied. "We lucked out. We won. It was easy. That was the attitude of people."

"After September 11 it took on a whole life, a whole new meaning to people. Suddenly Desert Storm was and is more emotional to people."

"At the time I went over, I was thinking - Hey, this will be cool. It's good money. Nobody else has done it. And, it totally and completely changed my life. I was a better person, a better comic and I felt like I had been a part of something incredibly important."

"I went in not knowing anything about the military. I left having complete respect for the military. I was amazed. These were some of the finest men I have ever met."

Between Iraq and a Hard Place, will be presented Wednesdays through Sundays, September 18 through October 6 at the Royal Theater in The Producers Club, New York City.

JULIA AT 90 BON APPETIT!

She had wanted to become a writer, but learned how to cook at age 37 in order to snare a husband.



Julia Child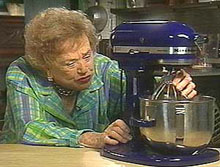 Last Thursday, August 15, the legendary gourmet guru Julia Child celebrated her 90th birthday.

A segment of her life was turned into an off-Broadway and touring opera starring Jean Stapleton demonstrating making a chocolate cake. With music by Lee Hoiby, words by Julia Child and Mark Shulgasser, the mini-opera in one act premiered at the Kennedy Center for the Performing Arts on March 8, 1989.



Dan Ackroyd as Julia Child on Saturday Night Live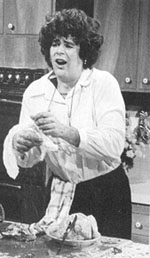 Dan Ackroyd's impression of her on Saturday Night Life was a devastatingly funny ratings' grabber.

Tomorrow the Smithsonian Institution Museum of American History officially opens an exhibit in her honor. Bon Appetit! Julia Child's Kitchen at the Smithsonian, is where Julia's own kitchen from her Cambridge, MA home has been installed.

After deciding to move back to her home state of California, Child donated the kitchen and its contents -- some 1,200 objects -- from her Cambridge, Mass. home to the museum. With the exception of Child's French copper pots, the exhibition has everything from the original kitchen including the cabinets, counters, cookbooks, Garland commercial range, and hundreds of utensils and gadgets. Museum staff carefully disassembled and catalogued the contents in Child's home and reassembled the 14-foot-by-20 foot kitchen in the museum gallery. In addition to viewing the kitchen itself, visitors will explore Child's early life and career as a ground breaking television chef and cookbook author through photographs and video clips.



Julia Child's kitchen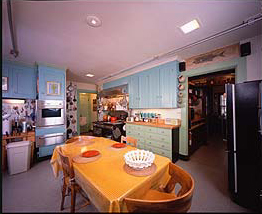 "With this kitchen, the museum has acquired an 'object' that perfectly represents how Child changed the way Americans think about their food," said Marc Pachter, Acting Director of the museum. "Julia Child demystified cooking. She came into our homes and showed us that cooking, especially French cooking, was fun and something that anyone could do in their own home."

That wasn't always the case.

The high-spirited California girl graduated from Smith College, where Julia was at the center of every prank and party. When most of her girlfriends married, Julia volunteered with the OSS in India and China during World War II, and was an integral part of this elite corps.

There she met her future husband, the cosmopolitan Paul Child. It didn't take Julia long to realize that to hook him she would have to learn to cook.

"Paul's mother was a good cook and he had lived in France. If I was going to catch him, I would have to learn to cook," she said in her autobiography.

Julia began her culinary training at the age of thirty-seven at the Cordon Bleu.

She caught her intended, but her beginning gastronomic treats were not prize winning.

Paul's description of one of Julia's early attempts at one French dish: "...a sort of white, suspiciously suggestive thing, disguised by a multiform yellowish sauce for which, if you saw it on the rug, you'd promptly spank the cat."

Their marriage was one of devoted love and equal partnership.

In fact it was Child's late husband who designed the look and layout of the kitchen when they moved into their home in 1961. Because Child is 6 feet 2 inches tall, the counter tops were built 38 inches high, two inches higher than in standard kitchens.

In this kitchen, Child tested recipes for cookbooks and filmed the last three of her television cooking shows. Through her cookbooks such as Mastering the Art of French Cooking (vol. 1, 1961; vol. 2, 1970) and television shows including The French Chef, Child used her distinctive personality to influence American cooking.

In the 1950s and '60s, when many Americans were cooking with pre-packaged foods, Child demonstrated that they could instead produce sophisticated foods easily by using the right tools and simple step-by-step directions.

Her approach had a tremendous impact on the way cookbooks and cookbook authors were viewed. Before Child, publishers of cookbooks generally assumed that American cooks would not be interested in anything fancy or foreign, but the first volume of Mastering the Art of French Cooking changed that notion when it sold an unprecedented 1.25 million copies by 1974.

Child believes that by sharing her kitchen with the American people, she will continue her life's mission. "I am very proud indeed that the Smithsonian wants my kitchen. Through this gift to the Smithsonian, if I can influence Americans to 'keep in the kitchen' and make it a real family room and a real part of their lives, I will have succeeded beyond hope," said Child.

The exhibition was made possible through the financial support of The American Institute of Wine and Food (AIWF), KitchenAid, ARAMARK and Industrial Crating, Inc.

Mayor Anthony Williams of Washington D. C. has proclaimed August 18 as Julia Child Day in the District of Columbia, and the City Council has declared the week of August 18 through 24 as Julia Child Week.

Bon Appetit! Julia Child's Kitchen at the Smithsonian opens to coincide with Child's 90th birthday week and will be on view from August 19 through February 2004.



Broadway To Vegas is supported through advertising and donations. Priority consideration is given to interview suggestions, news, press releases, etc from paid supporters. However, no paid supporters control, alter, edit, or in any way manipulate the content of this site. Your donation is appreciated. We accept PAYPAL. Thank you for your interest. Laura Deni P.O. Box 60538 Las Vegas, NV 89160


SWEET CHARITY


ACTOR'S FUND BENEFIT of The Graduate starring Kathleen Turner, Jason Biggs and Alicia Silverstone, takes place next Sunday, August 25, at The Plymouth Theatre, NYC.

THE TRANSPORT GROUP benefits from an August 19 reading of William Inge's Come Back, Little Sheba. Julie Murney, Chad Kimball and Heather MacRae, Jim Madden, Jim Hindman, John Wellman, John Cariani, Lynne Shankel, and Barbara Walsh participate. The Transport Group was co-founded last year by Jack Cummings III, Artistic Director and Robyn Hussa, Associate Artistic Director, is a not-for-profit theatre company striving to create thought provoking theatre that simultaneously pays homage to the traditions of the 20th century while exploring new forms of story telling. Charitable and outreach programs include collaborations with animal rescue leagues and multiple drama workshops free of charge to chosen groups of students using the current script in production as the focus of study.



HAIRSPRAY seen in previews the week before opening is everything the financial backers and the paying customers could hope for.

The show's brand new, but the year's '62 and Baltimore's Tracy Turnblad is going to do whatever it takes to dance her way onto TV's most popular show. Can a big girl with big dreams-and even bigger hair-turn the whole town around and still have time to win the boy she loves?

If you want to feel good go see Hairspray. Don't analyze it, just relax and enjoy the over the top funny spoof. The toe tapping tunes Marc Shaiman and Scott Wittman penned are brought to life in moves choreographed by Jerry Mitchell. You'll giggle and talk about Paul Huntley's hairdos and William Ivey Long's costumes. This politically incorrect show will perk up even the terminally grumpy. It will also make a star out of Marissa Jaret Winokur and bring Harvey Fierstein a new legion of admirers.

Excellent cast includes; Mary Bond Davis, Matthew Morrison, Dick Latessa, Corey Reynolds, Kerry Butler, Penny Pingleton, Clarke Thorell, Laura Bell Bundy, Linda Hart, Danelle Wilson, Eric Anthony, Shoshana Bean, Joshua Bergasse, Eric Dysart, Adam Fleming, Jennifer Gambatese, Greg Graham, Danielle Lee Greaves, David Greenspan, Katy Grenfell, Jackie Hoffman, Hollie Howard, Katharine Leonard, Kamilah Martin, Rashad Naylor, Judine Richard, Peter Matthew Smith, Todd Michel Smith, Shayna Steele, Brooke Tansley and Joel Vig.

Book by Mark O'Donnell and Thomas Meehan. Sets by David Rockwell. Directed by Jack O'Brien. The Neil Simon Theatre, NYC. Good luck on getting tickets.

THE GUYS which received rave reviews in New York and California getting mixed to panned comments at the Edinburgh Festival Fringe. The sold out production stars Susan Sarandon and Tim Robbins. Critics called the play by Anne Nelson simplistic and glib. The Telegram ran a headline calling the production "Smug and Sanctimonious" while The Guardian labeled it "self-congratulatory and politically incurious."

SOME LIKE IT HOT starring Las Vegas resident Tony Curtis opens August 26 at Wolf Trap in Vienna, Virginia with performances through September 1.

As an aside, Elvis Presley first dyed his hair jet black for two reasons. He thought it would photograph better in the movies and he thought the color made him look more like Tony Curtis.

As for Some Like It Hot the production has Director/Choreographer Dan Siretta helming the cast which stars Jodi Carmeli, Timothy Gulan, Arthur Hanket, Lenora Nemetz, William Ryall and Gerry Vichi. The ensemble includes; Mark Adam, Sarah Anderson, Jacqueline Bayne, Scott Burell, Bobby Clark, Jamed Darrah, Tim Falter, Ashlee Fife, Brenda Hamilton, Shannon Hudson, Derek Isetti, Pamela Jordan, Ryan Migge, Elise Molinelli, David Monzione, Gair Morris, Heather Parcells, Elizabeth Polito, Marisa Rozek and Karen Sieber. Jule Styne's music, and Bob Merrill's lyrics with a book by Peter Stone. Costume designer is Suzy Benzinger. Scenic design by James Leonard Joy. Musical Director is Lynn Criger and Ken Billington is the lighting designer.

FROG AND TOAD stars Robert Sella as Frog, a rather calm and gallant fellow, and Mark Linn-Baker will play Toad, a rather grumpy and easily befuddled fellow. These two amphibians, who are best buddies, explore the challenges and rewards of their friendship. The production uses jazzy 20's style music to poetically, lyrically and comically chronicle their adventures during the course of a year.

A Year with Frog and Toad, which is based on the popular children's books by Arnold Lobel, has music by Robert Reale and book and lyrics by Willie Reale. It will be directed by David Petrarca (a resident director at the Goodman Theatre since 1998), with scenic design by Adrianne Lobel, costume design by Martin Pakledinaz - who won a 2002 Tony award for Thoroughly Modern Millie and a 2000 Tony award for Kiss Me, Kate - lighting design by Jim Ingalls, sound design by Rob Milburn, choreography by Danny Pelzig and music direction by Wendy Bobbett.

Previews August 20-22, opens August 23, and runs through November 2 at Minneapolis' Children's Theatre Company. The production will transfer to The New Victory Theater in New York and run from November 15-December 1.

AIDA the Tim Rice-Elton John musical that had its world premiere in Chicago in 1999 returns. Performances Aug. 20-Sept. 15 at the Palace Theater. Chicago.

THE LION KING tickets on sale through December 29. The next interpreted performance for the hearing impaired will be Sunday, September 22 Pantages Theatre, Los Angeles

A SAINT SHE AIN'T by Dick Vosburgh and Denis King, directed by Eric Hill. Westport Country Playhouse. Aug. 28-Sept. 14.

MICHAEL FLATLEY'S LORD OF THE DANCE the high octane Celtic Dance troupe which has broken box office records in more than 30 countries - is returning to North America for an expansive tour.

They open September 2 in Bushnell Memorial Hall in Hartford, Conn tapping away through September 8. They then clog step it to the Mann Center in Philadelphia, PA for an engagement September 12 through September 15. On September 18 there is a one nighter in Portsmouth, Virginia at the Harbor Center. The troupe returns to Roanoke, Virginia kicking off the Roanoke Civic Center's 2002-03 Broadway Season on Thursday, September 19.

Michael Flatley, who originated the role of the Lord, serves as the artistic director and continues to oversee all aspects of the production. The first American to win the All-World Championship in Irish Dance, Flatley opened the show in Dublin in 1996 and is listed in The Guinness Book of World Records for having "the world's fastest feet" - 35 taps per second.


WHO'S WHERE


BRUCE SPRINGSTEEN & THE E STREET BAND performs in Las Vegas this week-end. Tonight the Thomas and Mack Center will be packed to over flowing. Last night the action was at the Hard Rock hotel which threw the Boss Bash with Springsteen friend Pittsburgh rocker Joe Gruschecky, John Eddie and John Caffferty and a VIP guest list that included names like Ben Affleck, Leonardo DiCaprio, Benicio Del Toro, Lara Flynn Boyle, Rose McGowan, Tobey Maguire and Billy Bob Thornton. In a few select cities Springsteen has scheduled shows in different venues - intimate, performance arena and, if possible, a huge stadium. Vegas could accommodate two out of the three. Then he packs up for a full week of shows. On August 20 the show is in Portland, Oregon at The Rose Garden. August 21 finds the gang on stage in Tacoma, Washington at the Dome. August 24 the action is in Los Angeles at The Forum and on August 25 the performance takes place in Phoenix at the America West Arena. Springsteen and the E Street Band have added more gigs, performing seven shows in seven European cities in October, continuing the barnstorming theme of the American tour.

CHRIS ISSAK plus Special Guest Shelby Lynne Saturday, August 24 at the Santa Barbara Bowl, California.

MICHAEL FEINSTEIN performs Saturday in the Great Auditorium in Ocean Grove, New Jersey.

JIMMY BUFFETT takes the party to Burgettstown, PA on Tuesday at the Post Gazette Pavilion at Star Lake. On Thursday he's the center of attention at the Verizon Wireless Music Center in Noblesville, Indiana. He closes out the week, Saturday, in East Troy, Wisconsin at the Alpine Valley Music Theatre.

DAVID BENOIT stars Thursday at the Villa Montalvo Center for the Arts in Saratoga, CA.

PAT BENETAR center stage Tuesday in Hampton Beach New Hampshire at the Hampton Beach Casino Ballroom. On Friday she is in Buffalo, New York at the University at Buffalo. She rounds out the week, Saturday, in Verona, New York at Turning Stone Casino.

TONY BENNETT sings Wednesday at the Mann Music Center in Philadelphia, PA. On Friday he can be enjoyed in the Cape Cod Melody Tent Hyannis, MA.

OZZY OSBOURNE tomorrow at the UMB Bank Pavilion in Maryland Heights, Missouri. On Tuesday the Prince of Darkness lights up the stage in Bonner Springs, Kansas at the Sandstone Amphitheatre. Thursday the show is at the Pepsi Center in Denver.

GEORGE JONES the guy with the no show reputation promises to show up Thursday at Dakota Magic in Hankinson, North Dakota.

PAUL ANKA entertains tomorrow night at the North Shore Music Theatre in Beverly, Mass. On Friday the show takes place in the Freedom Hill Park Amphitheatre in Sterling Heights, Michigan.

JEWEL on stage Monday Civic Center of Greater Des Moines, Des Moines, Iowa. On Thursday she performs at the Shrine Auditorium in Billings, Montana. Friday the show is at the Caras Park Pavilion in Missoula, Montana. she closes out the week Saturday in Salt Lake City at Abravanel Hall.

LYLE LOVETT singing Tuesday on Noblesville, Indiana at the Verizon Wireless Music Center. On Wednesday he can be enjoyed in Interlochen, Michigan at the Interlochen Center. On Thursday the guy is center stage in Clarkston, Michigan at the DTE Energy Music Theatre.

BIG BAD VOODOO DADDY getting the 930 Club in Washington, D.C. jumpin' on Thursday. The next night, Friday, they'll do it again at B.B. King's Blues Club in New York City.

STEVE LAWRENCE & EYDIE GORME are Las Vegas residents who are beating the terrible heat by skipping out of town, performing this week in Massachusetts. On Wednesday they are at the North Shore Music Theatre; Thursday finds them in the spotlight in Hyannis, Mass at the Cape Cod Melody Tent and they can be enjoyed next Sunday in Cohasset at the South Shore Music Theatre.

CHER & CYNDI LAUPER putting on a terrific show this evening in New Orleans at the New Orleans Arena. On Tuesday the show moves to Oklahoma City at the Ford Center Arena. On Wednesday it's center stage in Houston, Texas at the Compaq Center. Friday finds the high energy performers in Dallas at the American Airlines Center and the week closes out on Saturday in Austin, Texas at the Frank Erwin Center.

PINK AND LENNY KRAVITZ have a full week. Tonight the show takes place in Selma, Texas at the Verizon Wireless Amphitheatre. On Tuesday they are in the spotlight in Albuquerque, New Mexico at the Journal Pavilion. On Wednesday Th action is in Englewood, Colorado at Fiddler's Green Amphitheatre. Friday the hop on stage in George, Washington at the Gorge and cap off the week on Saturday in Vancouver, BC at General Motors Place.

THE GYPSY KINGS at the Hammerstein Ballroom in New York City. Get your dancing shoes out for a wild night of rumba flamenca as Canut, Nicolas, Pablo, Patchai, Diego, Paco and Tonino perform their array of exotic music while you dance the night away. Their Manhattan Summer Dance Party with two special guest DJs on August 21 & 22.

DAVE BRUBRECK QUARTET perform Monday at the Cerritos Center for the Performing Arts, Cerritos, CA.

LARRY GATLIN who is on the list of having slept over at the White House, will be spending his nights this week on stage. On Friday he is performing in Abilene, Texas at the Abilene Civic Center and he's in the spotlight Saturday in Osceola, Iowa at the Lakeside Casino.

BILLY RAY CYRUS performing tonight in Sarasota, Florida at the Van Wezel Performing Arts Hall. On Thursday the show is in Lakeville, Penn at the Caesar's Cove Haven. On Friday Cyrus can be found in Raleigh, North Carolina at The Longbranch.

MOBY AND DIRTY VEGAS whose members are Ben Harris, Steve Smith and Paul Harris perform Tuesday at Bricks, Salt Lake City, Utah.

WAYNE NEWTON returns to the Stardust Hotel in Las Vegas after spending his day off going back to his childhood home of Newark, Ohio last Friday to serve as grand marshal of its bicentennial parade, attended by an estimated 25, 000 people. Newton, known as Mr. Las Vegas, received a key to the city from Mayor Frank Stare. Newton's aunt and uncle still live in Newark. Newton called the place home during the 1950's. "Whoever it was who said you can't go home again just never went to Newark, because this is one of the highlights of my life," Newton told the crowd. Back in Las Vegas the entertainer performs Saturday through Thursday at the Stardust.

CLEO LAINE AND JOHN DANKWORTH close out a three nighter August 18 at the Suncoast Hotel in Las Vegas.

RITA RUDNER one of our favorites, has been busy. In addition to working steady at New York-New York she has been mulling over living through a Las Vegas summer. "Another summer in Las Vegas is coming to an end. Oh darn - why can't it be 7,000 degrees forever? I taped a comedy show called Ask Rita last year; it's sort of a cross between Dear Abby and Politically Incorrect. The show aired locally here in Las Vegas and, lo and behold, a national syndicator has picked it up and, if all goes well, it will start airing daily on a TV station near you some time in 2003. If all goes badly, it will only air in my house. Meanwhile, if you have any questions regarding a relationship problem, send them my way, and we'll consider them for the next set of tapings."


PIFFLE AND PROFUNDITIES


MIND YOUR MOTHER is exactly what Ian Callum, the designer of the rare, V12 Vanquish Aston Martin car, which is to be driven by Pierce Brosnan in the new James Bond 007 movie, Die Another Day, did when his mother, Sheila, asked him to bring the gadget laden buggy to an event her St. George's Church in Dumfries is staging on Saturday. Only 400 of the 450 horse power cars, which has a top speed of 195 miles per hour, have been built.

Callum was suppose to be in California but postponed that explaining to BBC Scotland. "I think it is always best to do what mum says."













Next Column: August 25, 2002
Copyright: August 18, 2002. All Rights Reserved. Reviews, Interviews, Commentary, Photographs or Graphics from any Broadway To Vegas (TM) columns may not be published, broadcast, rewritten, utilized as leads, or used in any manner without permission, compensation and/or credit.
Link to Main Page
---
Laura Deni


CLICK HERE FOR COMMENT SECTION