! >
Broadway To Vegas
  
  REVIEWS INTERVIEWS COMMENTARY NEWS

| | |
| --- | --- |
| | |
2014-15 THEATRE SEASON FEATURES PREMIERES - -MARILYN: CELEBRATING AN AMERICAN ICON - - SPEECHLESS - - THE WIDOW LINCOLN - - COUNTRY MUSIC RADIO GAINS NEW OUTLETS - - CELINE DION CANCELS SHOWS - - HOLLYWOOD A LISTERS SUPPORT POLITICIANS - - 2014 PAGEANT OF THE MASTERS CELEBRITY BENEFIT CONCERT - - DONATE . . . Scroll Down




Copyright: August 17, 2014
By: Laura Deni
CLICK HERE FOR COMMENT SECTION


2014-15 THEATRE SEASON FEATURES PREMIERES


Every theatrical season brings its share of world premieres - each effort striving for international fame and fortune. The approaching 2014-15 season is no exception.

A spot check revealed the following:

The Kennedy Center production of Little Dancer is a world premiere Kennedy Center musical with direction and choreography by five-time Tony winner Susan Stroman.

Part fact, part fiction, and set in the harsh backstage world of the Paris Opera Ballet, this creation is inspired by the story of Marie van Goethem, a young ballerina who posed for Edgar Degas and became, inadvertently, the most famous dancer in the world. Torn by her family's poverty, her debt to the artist, and the lure of wealthy men, she struggles to keep her place in the corps de ballet - a girl on the verge of womanhood, caught between the conflicting demands of life and art.

Degas's sculpture Little Dancer Aged Fourteen continues to captivate as one of the National Gallery of Art's most popular sculptures - and now the Kennedy Center brings its fascinating story to life in what is promised to be "unquestionably the landmark event of the new D.C. theater season."

Starring four-time Tony Award winner Boyd Gaines as Edgar Degas, three-time Tony Award nominee Rebecca Luker as adult Marie, and New York City Ballet Principal Dancer Tiler Peck as young Marie, the musical is being penned by the Tony Award–winning team of book and lyrics writer Lynn Ahrens and composer Stephen Flahert.

October 25 - November 30, 2014 at the Eisenhower Theater in Washington, DC.

Not one, but three world premiere productions will be offered by the Manhattan Theatre Club.

At their Samuel J. Friedman Theatre in NYC The Country House, the new play by Pulitzer Prize winner Donald Margulies, directed by Tony Award winner Daniel Sullivan, starring Tony and Emmy Award winner Blythe Danner, will begin previews September 9 with opening night slated for October 2, 2014.

This is a work commissioned by MTC and through the U.S. Trust New American Play Commissioning Program.

A new comedy about a deeply dramatic family casts Danner as Anna Patterson, the matriarch of a brood of famous and longing-to-be-famous creative artists who have gathered at their Berkshires summerhouse during the Williamstown Theatre Festival. But when the weekend takes an unexpected turn, everyone is forced to improvise… inciting a series of simmering jealousies, a flurry of romantic outbursts and a bout of passionate soul-searching.

Inspired by Chekhov's pastoral comedies, the play is described as "a witty and compelling new play (which) provides a piercing look at a family of performers coming to terms with the roles they play in each other's lives."

The Country House is a co-production with The Geffen Playhouse which presented the Los Angeles run of the production this past June.

MTC's Off-Broadway season at New York City Center – Stage I will feature the world premiere of Lost Lake, by Tony and Pulitzer Prize winner David Auburn, directed by Daniel Sullivan and The World of Extreme Happiness by Frances Ya-Chu Cowhig, directed by Eric Ting.

The production begins previews October 21, 2014. It is described as "a riveting and spirited world premiere play. The lakeside rental Veronica has managed to afford is a far cry from the idyllic getaway she and her children so desperately need. And the disheveled property owner, Hogan, has problems of his own – problems that Veronica is inevitably - and irrevocably - pulled into. An engrossing and revealing portrait of two strangers bound together by circumstance, Lost Lake is a vivid new work about the struggle for connection in an imperfect world."

Lost Lake was developed during a residency at the Eugene O'Neill Theater Center's National Playwrights Conference in 2013 and was produced as part of the inaugural season of The Sullivan Project at Illinois Theatre, University of Illinois at Urbana-Champaign, February 2014.



Frances Ya-Chu Cowhig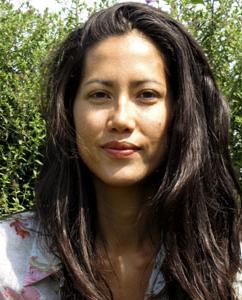 The third world premiere presented by MTC will be Extreme Happiness by Frances Ya-Chu Cowhig, directed by Eric Ting.

Unwanted from the moment she's born, Sunny is determined to escape her life in rural China and forge a new identity in the city. As naïve as she is ambitious, Sunny views her new job in a grueling factory as a stepping stone to untold opportunities. When fate casts her as a company spokeswoman at a sham PR event, Sunny's bright outlook starts to unravel in a series of harrowing and darkly comic events, as she begins to question a system enriching itself by destroying its own people.

Critically acclaimed in a workshop production at London's National Theatre, The World of Extreme Happiness makes its world premiere in a co-production with Chicago's Goodman Theatre with previews beginning Tuesday, February 3, 2015.The Chicago run of the play will take place September 13 – October 12, 2014 in the Owen Theatre at the Goodman before coming to Manhattan Theatre Club.

The 5th Ave Theatre in Seattle will stage Something Rotten! April 29 – May 24, 2015.

From the director and choreographer of The Book of Mormon, The Drowsy Chaperone and Disney's Aladdin, comes what is billed as at "hilarious new world premiere original musical comedy."

Music and lyrics by Wayne Kirkpatrick and Karey Kirkpatrick with a book by Karey Kirkpatrick and John O'Farell. Directed and choreographed by Casey Nicholaw from an original concept by the Kirkpatricks.

"The time is Renaissance England where two brothers, Nick and Nigel Bottom, are desperate to write a hit play. But how can they when the competition is the biggest star of the era, everyone's favorite bard: William Shakespeare? So they seek out the soothsayer Nostradamus. But not the Nostradamus, his nephew Thomas, who gives our heroes a completely original idea from the future–write a play with songs! And thus, the first ever musical is born. But not without much mayhem, madness, and musical mishaps. There is indeed Something Rotten! – and it will have you rolling in the aisles."

Ford's Theatre in Washington DC mounts the World Premiere of The Widow Lincoln by James Still which will be directed by Stephen Rayne in a run slated for January 23-February 22, 2015.

"Ridiculed and disdained for her perceived sense of entitlement, Mary Todd Lincoln sparked more controversy than any First Lady before or since. Set during the weeks following Abraham Lincoln's assassination at Ford's Theatre, The Widow Lincoln portrays a very human Mary in the aftermath of her husband's death as she mourns the post-war life they will never share."

Ford's Theatre commissioned this world premiere as part of Ford's 150, a series of events marking the 150th anniversary of Lincoln's assassination.

The World Premiere of 2AZ at The Purple Rose in Chelsea, Michigan takes place July 11 - August 29, 2015.

Penned by Michael Brian Ogden the play which contains violence and adult language is called "a truly unique theatrical event.

Described as: "What would you miss most if everything that makes us free and civilized human beings ceased to exist? A warm shower? Clean sheets? Grocery stores? Movie theaters? Toilet paper? The war has been raging for 2 long years. No one is content. No one is secure. No one is safe from man, beast or worse. The great and terrible conflict will decide whether humanity will perish from this earth or have a new birth of hope. Michael Brian Ogden's world premiere thriller digs deep into the recesses of our souls to face the monster that may be lurking in all of us."

La Jolla Playhouse in LaJolla, CA will present the world-premiere production of Kingdom City, a comedy about religious oppression in a small town.

Written by Sherri Wilner and directed by Jackson Gay, the cast features the real life husband-and-wife team Kate Blumberg and Todd Weeks playing on-stage partners Miriam and Daniel, along with Cristina Gerla as Katie and Ian Littleworth as Luke. The cast also includes Austyn Myers as Matt and Katie Sapper as Crystal.

The official description is: "When displaced New York director Miriam finds herself in Kingdom City, Missouri, she reluctantly agrees to direct a high school production of The Crucible. As the students fall deeper into their roles, the play unlocks their own unspoken desires, creating a firestorm in this small, predominantly Christian town. Kingdom City is a comic and smart world premiere in which a 20th Century classic inspires a 21st Century showdown."

The creative team for Kingdom City includes scenic designer Robert Brill, costume designer David Reynoso, lighting designer Paul Whitaker, sound designer Nick Drashner and dramaturg Gabriel Greene.

Performances begin September 4 prior to an official opening September 12. The production will continue through October 5, 2014.

Colossal, winner of the Kennedy Center's Jean Kennedy Smith Playwriting Award and recipient of a 2014 Edgerton Foundation New American Plays Award will have a world premiere September 3 - 28, 2014 in the Mulitz-Gudelsky Theatre Lab of the Olney Theatre in Olney, MD.



Alabama Story will have a world premiere at The Pioneer Theatre Company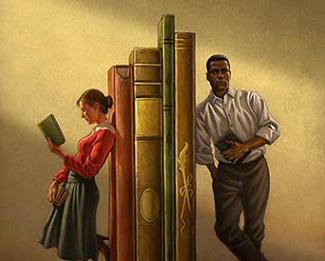 Featuring Michael Patrick Thornton, star of ABC's Grey's Anatomy spin-off Private Practice the production was written by Andrew Hinderaker and directed by Will Davis. Colossal is billed as "an extraordinary story of emotional and physical endurance, love, and family. Structured like a football game (performed in four quarters with a pre-show training session and half-time show), Colossal tells in vivid, physical flashback the story of Young Mike, a college football player who took a hit in a game that left him paralyzed from the waist down. Mike now relives the memory of his accident with the help of a live nine-person football squad onstage, finally confronting his demons in the play's extremely powerful and uplifting conclusion."

Alabama Story has its world premiere at The Pioneer Theatre Company in Salt Lake City, Utah January 9, 2015 - January 24, 2015.

Penned by Kenneth Jones, the play "recognizing the 50th Anniversary of the enactment of the Civil Rights Act, Alabama Story tells the tale of state librarian Emily Wheelock Reed, who orders a seemingly innocuous children's book called The Rabbits' Wedding and ignites a state senator's segregationist ire in 1959 Montgomery, Alabama."

A finalist for the 2014 National Playwrights' Conference, Alabama Story is "a gentle, fact-based drama that unfolds at a pivotal time in American history."





Broadway To Vegas is supported through advertising and donations. Priority consideration is given to interview suggestions, news, press releases, etc from paid supporters. However, no paid supporters control, alter, edit, or in any way manipulate the content of this site. Your donation is appreciated. We accept PAYPAL. Thank you for your interest.





ART AND ABOUT


MARILYN: CELEBRATING AN AMERICAN ICON

Cecil Beaton photograph of Marilyn Monroe, 1956/2005, Silver gelatin print, © Cecil Beaton Archive / Sothebys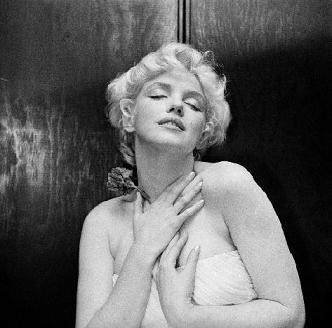 is touted by the Reading Museum as an exhibition which "captures the spark, sex appeal, and sensation that was Marilyn Monroe. Andy Warhol, Milton H. Greene, Cecil Beaton, Eve Arnold, Antonio de Felipe, and Henri Cartier-Bresson are just a few of the famed artists featured in this exhibition whose depictions of Marilyn helped immortalize her as a cultural icon. This exhibition documents the legendary life of America's favorite sex symbol in styles ranging from fashion photography to Pop Art.

Composed of 115 works by more than 50 artists, Marilyn, Celebrating an American Icon highlights the many sides of this 1950s glamour goddess and immortal legend through shots of well-loved movie scenes and famous photographs, biographical glimpses into Monroe's private moments, and various artistic interpretations of the starlet. Featuring paintings, photographs, and video, this celebration exemplifies how Marilyn's iconic image still electrifies the world half a century after her death.

Offering a visual voyage of Monroe's rise to stardom, the exhibition captures the beauty and sensuality of the actress in ways that would come to redefine sexuality in America. These images illustrate not only the recognizable celebrity, but also Marilyn's struggle to empower herself. The exhibition includes a series of silver gelatin prints by world-renowned British photographer Cecil Beaton, including a photograph reported to be Marilyn's favorite picture of herself - lying across a bed in a white dress, holding a carnation to her breast.

The final section is a presentation of works by American, Asian, and European artists after Marilyn's death. These works take the form of diverse media, and often reflect the artists' ideas on sexuality, commercialism, and exploitation in the world. Most of all, these works reveal the character of Marilyn Monroe as an enduring cultural phenomenon. Organized by Sairally Fine Arts & Consulting, Hamburg, Germany, Marilyn: Celebrating an American Icon is toured by International Arts & Artists, Washington, DC. The exhibit will run August 23 - October 5, 2014, in the Cohen Modern and Contemporary Gallery in Reading, PA.

ANNETTE MESSAGER

Annette Messager, Cones noirs/Black cones 2009, Black leatherette, net, ropes, image MCA and Marian Goodman, Gallery, Paris and New York © the artist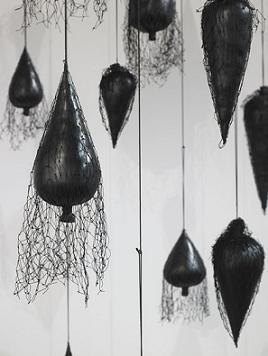 is an internationally renowned French artist whose diverse practice encompasses drawing, artist's books, photography, sculpture and installation.

Curated by Rachel Kent (MCA) this exhibit features works from the late 1970s to the present.

The exhibit represents the artist's first retrospective exhibition in Australia and includes her large kinetic installations with mechanical and inflatable elements.

At once playful and disturbing, Messager's works employ everyday materials and objects in their realization, from woolen gloves and items of clothing, to black netting, soft toys and badges.

Messager attended the Ecole des Arts Decoratifs in Paris, France but was eventually asked to leave because she spent her time at museums and movie theaters instead of going to class.

In 2005, her work was featured in the French Pavilion of the Venice Biennale, where she won the Golden Lion for her Pinocchio-inspired installation that transformed the French pavilion into a casino.

One of her most famous pieces is her exhibition The Messengers (Mori Art Museum in Tokyo), which showcases a series of toy-like, hand knit animals in costumes. For example, some of the animals' heads were replaced by heads of other stuffed animals to reflect the ways in which humans disguise themselves or transform their identities with costume.

Her work is held in the collection of the Museum of Modern Art in New York City.

On display through at October 26, 2014 the Museum of Contemporary Art in Sydney, Australia.


SWEET CHARITY


2014 PAGEANT OF THE MASTERS CELEBRITY BENEFIT CONCERT takes place August 23, 2014 in Laguna Beach, CA.

The Acura/KOST Celebrity Benefit Concert and Pageant is a celebrity-hosted private event begins with star-studded red carpet arrivals and fine art, followed by an intimate concert with a well-known musical guest from KOST Radio.

Guests enjoy great music, beautifully exhibited original art, and conclude the evening with a performance of the 2014 Pageant of the Masters.

All summer long, guests have the opportunity to purchase raffle tickets for the chance to win a brand new Acura. On August 23, the lucky winning ticket will be pulled.

The 2012 Celebrity Event features James Ingram and was hosted by Marcia Gay Harden. The musical guest was Christopher Cross. The 2013 event featured Heather Locklear as host.








SPREADING THE WORD


CELINE DION announced that she has cancelled all performances - including an Asia tour - through March 22, 2015 due to health concerns for her husband who had a cancerous tumor removed in December. A statement released stated that the struggle with the disease has taken a toll on her family.

Celine also has had a difficult time recovering from an illness that inflamed her throat muscles and prevented performances in Las Vegas since July 29.

Those who have already purchased tickets to her shows are offered a full refund.

THE LIFE OF THE EXTRAORDINARY CLARE BOOTHE LUCE features Sylvia Jukes Morris discussing her recent biography, The Price of Fame: The Honorable Clare Boothe Luce.

Clare Boothe Luce (1903-1987) was a playwright, journalist, politician and diplomat. She was managing editor of Vanity Fair, represented Connecticut in the House of Representatives for two terms, and under President Eisenhower, was appointed ambassador to Italy - the first American female to serve in a major ambassadorial position abroad. She was married to Henry Luce, publisher and founder of Time Inc.

All forums are free and open to the public. Seating is on a first-come, first-served basis. Sunday, August 25, 2014 at the Kennedy Library in Boston.

SPEECHLESS Silicon Valley's "hilarious, snarky, irreverent underground entertainment, in which tech workers, entrepreneurs, and entertainers live out their worst nightmares" will have a special performance at Joe's Pub in New York City on Monday, August 25, 2014.

The acclaimed show is created by Sammy Wegent. Special guests for the NYC show are: Tony award winning James Monroe Iglehart, TED Darling and spoken word poet Sarah Kay, Future Mate creator Brian Fountain, and Improv Guru Nathan Phillips.

Speechless puts players on the spot with nothing more than a stage, a microphone, and a PowerPoint deck of images they've never seen. "The result is a series of fall-down laugh-riot presentations, often presented by engineers, programmers, and product developers from major tech companies, vying for prizes and bragging rights."

"At each show, a virtual spinning wheel (developed by a software engineer, of course) determines what kind of random talk the speaker must give - it may be a TED Talk, app launch, new hire orientation, video game pitch, quarterly report, even a sexual harassment seminar - while outrageous slides are presented to accompany their talks. A panel of judges score each presentation on a F.U.T.I.L.E. system (Funny, Understandable, Transcendent, Informative, Legendary, Entertaining). Contestants are chosen via advance web applications, with one audience member selected at each performance to participate."

It is estimated that every second, in offices around the globe, some 350 PowerPoint presentations are given (21,000 per minute, 1.26 million per hour). Hapless workers from Cupertino to Chengdu are pinned to their plastic chairs, fighting sleep, while managers, developers, and sales leaders drone on and on, aided by visual charts, graphs and photos.

In addition to its performances, the Speechless team has also entertained and trained at some of Silicon Valley's most innovative companies, including Google and IDEO. They are regularly brought into Google's Mountain View offices to work with teams. This month they were flown to the Bill & Melinda Gates Foundation for a session for IDEO, and next week to Bentonville, Arkansas for a training session at Walmart's HQ, and in August is leading groups at Google in New York, as well as Silicon Valley's Salesforce, followed by a trip to Google's developer/advocate teams in Tel Aviv. Speechless has been showcased at comedy festivals including SF Sketchfest, the San Francisco Improv Festival, and the recent tech conference Funnybiz.

COUNTRY MUSIC RADIO GAINS NEW OUTLETS 13 in fact, which switched over August 15, according to the trade journal Radio Insight.

The Nash Icon brand was announced last May as a partnership between Cumulus Media and Big Machine Records.

"The concept behind Nash Icon is to provide an outlet for established country musicians who still have large followings but no other home on the radio, according to the website. A Nash Icon record label also hopes to sign some of those artists and support them with merchandise and touring."

The format will focus on "old hits and new material by 1990s country stars such as Garth Brooks, George Strait, Shania Twain and the Judds, along with a handful of similar acts from the late 1980s and early 2000s," according to the publication's original report of August 8.

Now boasting the Nash Icon are stations in Des Moines, Iowa; Sylvester/Albany, Newaygo/Muskegon MI, Cedarville/Fayetteville, Ark.; Albuquerque, N.M.; Lake Charles, LA; Birmingham, AL, Pontiac/Bloomington, IL; Savannah and Albany, GA; Oak View/Oxnard, CA; Kansas City, MO; Atlanta, Nashville, and Detroit.

Only two of the inaugural Nash Icon branded stations were previously Country while "a big takeaway is the removal of CBS Sports Radio from three of the stations," according to Radio Insight.


OTHER PEOPLE'S MONEY


HOLLYWOOD A LISTERS are pumping more money than usual into midterm elections, according to an article in The Hill. The report by Judy Katz indicated big names are "all coughing up blockbuster bucks," with the intent to"save Senate majority for Democrats."

To gain control of the upper chamber, Republicans need to pick up six seats.

According to the article, "One of the biggest recipients of the entertainment industry's dollars is Kentucky Democrat Alison Lundergan Grimes, whose is in a tight battle against Senate Minority Leader Mitch McConnell (R).

"Her donor list reads like a who's who of Tinseltown: producer J.J. Abrams, Ben Affleck, comedian Jack Black, Avatar director James Cameron, Nicolas Cage, Danny DeVito, Cameron Diaz, DiCaprio, Jennifer Garner, director Steven Spielberg, Tom Hanks, Jerry Seinfeld, Mike Myers, and Mad Men's Jon Hamm all giving $5,200 each, the maximum amount an individual can give to a single candidate in a two-year election cycle.

"Other Grimes donors include DreamWorks CEO Jeffrey Katzenberg, Woody Allen, Ted Danson, America Ferrera, Leonard Nimoy, (Barbra) Streisand, West Wing writer Aaron Sorkin, Ben Stiller and Chris Rock.

COUNTRY MUSIC STAR KENNY ROGERS has put up for sale his Atlanta, Georgia home, with an asking price of $4.8 million. The 11,964-square-foot mansion features six bedrooms, eight full baths, four half-baths, an elevator, 10 fireplaces, a home theater and a Roman spa. The 1.26-acre property also includes fountains, a sports court, a pool, a spa and a swim-up bar.



THE WAYSIDE MOTOR INN by A. R. Gurney. Directed by Lila Neugebauer.

Outside Boston, ten people - some strangers, some not - struggle with the circumstances that have brought them to the Wayside Motor Inn. With old grudges and new feuds threatening the travelers' peace, this funny and moving work kicks off A. R. Gurney's Signature Residency by examining the tenuous space between loneliness and connection, and the fragile framework of the American Dream.

The cast includes Kelly AuCoin as Andy, Jon DeVries as Frank, Quincy Dunn-Baker as Ray, Rebecca Henderson as Ruth, Tony Award-nominee Marc Kudisch as Vince, Jenn Lyon as Sharon, Lizbeth Mackay as Jessie, David McElwee as Phil, Ismenia Mendes as Sally and Will Pullen as Mark.

The design team includes Andrew Lieberman (Scenic Design), Kaye Voyce (Costume Design) Tyler Micoleau (Lighting Design) and Stowe Nelson (Sound Design). Donald Fried is the Production Stage Manager. Casting by Telsey + Company, William Cantler, CSA.

Presented by Signature Theatre Company, the production is currently in previews and runs through September 28, 2014, with a September 4, 2014 opening night in The Alice Griffin Jewel Box Theatre at The Pershing Square Signature Center in New York City.

FABULOUS! THE QUEEN OF NEW MUSICAL COMEDIES with book and lyrics by Dan Derby, music by Michael Rheault who also serves as musical director.

Directed by Rick Hamilton with choreography by Mary Lauren.

After receiving popular acclaim from a limited sold-out off-off Broadway run last season, Fabulous! The Queen of New Musical Comedies called a high seas musical romp will tap into the newly built Write Act Repertory Theatre at the Times Square Arts Center in New York City beginning previews Friday, August 23, 2014.

"It's "Dames" at Sea - when two female impersonators on a cruise ship must keep their cool and concoct Some Like It Hot-styled confusions in this madcap musical where Anything Goes! The 12-member cast includes Josh Kenney and Nick Morrett as the two "down on their luck" female impersonators and Jane Aquilina, Natalie DePuy, DaWoyne A. Hill, AJ Hunsucker, Adam Kemmerer, Cameron Lucas, PJ Palmer, Bryan Seastrom, Aaron VanderYacht and Owen Wingo complete the company.

Scenery designed by Kathleen Moriarty, costumes designed by Maya Graffagna and lighting designed by David Goldstein.

AND I AND SILENCE the U.S. Premiere of a play by Naomi Wallace.

Directed by Caitlin McLeod.

"Two imprisoned teenagers, one black, one white, form a perilous bond. As the young women serve time, they forge a plan for survival. When the outside world proves even more dangerous than the jail itself, their private world becomes an untenable practice ground for their new lives. And I and Silence explores the fierce dreams of youth and the brutal reality of adulthood in 1950's America."

The cast includes Trae Harris as Young Jamie, Rachel Nicks as Jamie, Emily Skeggs as Young Dee, and Samantha Soule as Dee.

The design team includes Rachel Hauck (Scenic Design), Clint Ramos (Costume Design), Bradley King (Lighting Design), Elisheba Ittoop (Sound Design), Charlotte Fleck (Dialect Coach), and David Anzuelo (Fight Direction). Amanda Michaels is the Production Stage Manager. Casting by Telsey + Company, Karyn Casl, CSA.

Currently in previews and running through September 14, 2014, with an August 25, 2014 opening night in The Romulus Linney Courtyard Theatre at The Pershing Square Signature Center in New York City.

LUNGS by British playwright Duncan Macmillan

To Breed or Not to Breed, That Is The Question.

In a time of global anxiety and political unrest, a young couple contemplate having a child. If they over think it, they'll never do it. But if they rush, it could be a disaster.

"I could fly to New York and back every day for seven years and still not leave a carbon footprint as big as if I have a child. Ten thousand tons of CO2. That's the weight of the Eiffel Tower. I'd be giving birth to the Eiffel Tower."

In a time of global anxiety, terrorism, erratic weather and political unrest, a young couple want a child but are running out of time. If they over think it, they'll never do it. But if they rush, it could be a disaster. They want to have a child for the right reasons. Except, what exactly are the right reasons?"

This hilarious and touching examination of one couple's decision begs the question, what will be the first to destruct, the planet or the relationship?

First presented at The Studio Theatre, Washington D.C on September 28, 2011 in a rolling World Première with Paines Plough/Sheffield Crucible.

August 23, 2014 – September 13, 2014 at the Fortune Theatre in Dunedin, New Zealand.


WHO'S WHERE


BRUNO MARS opens a two night stand at the Cosmopolitan in Las Vegas on Friday, August 22.

KATY PERRY performs Wednesday, August 20, at the Pinnacle Bank Arena in Lincoln, NE. Friday's gig is at the Target Center in Minneapolis.

MIRANDA LAMBERT brings her show to the Walnut Creek Amphitheatre in Raleigh, NC on Thursday, August 21. Friday's show is at Farm bureau Live at virginia Beach, VA. On Saturday she's on stage at Jiffy Lube Live in Bristow, VA.

ROD STEWART takes to the stage on Tuesday, August 19, at the Verizon Center in Washington, DC. On Wednesday he's in the spotlight at Nikon at Jones Beach Theater in Wantagh, NY.

JOSH GROBAN brings his beautiful voice to Wolf Trap in Vienna, Virginia for performances August 19-20.

EAGLES bring their tour to the Tacoma Dome in Tacoma, WA on Monday, August 25. On Wednesday they'll be performing their hits at the Moda Center in Portland, OR. On Friday they open a two night stand at the Lake Tahoe Arena at Harveys in Stateline, NV.

AEROSMITH headline the Pepsi Center in Denver on Tuesday, August 19. On Friday they star at the American Airlines Center in Dallas.

PINK MARTINI takes to the stage Monday, August 18, for a show at Butcher Gardens in Victoria, BC.

CHRIS ISAAK entertains Wednesday, August 20, at the Orpheum Theatre in Wichita, Kansas, On Friday the show is at the Uptown Theater in Kansas City, MO. On Saturday the tour stops at the Riverside Casino in Riverside, Iowa and next Sunday, August 24, the performance is at the Northern Lights Theater in Milwaukee.


FINAL OVATION


ROBIN WILLIAMS brilliant comedian extraordinaire died August 11, 2014 at his home in California, the results of a suicide caused by asphyxiation through hanging. Williams' wife, Susan Schneider, issued a statement last Thursday that Williams was in the early stages of Parkinson's disease when he died. He had not yet chosen to make the diagnosis public. He was 63.

The Oscar, Emmy and Grammy Award winner had suffered from alcoholism, drug addiction and severe depression.

In addition to television, movies and recordings, Williams made in Broadway debut in 2002 with his one-man show (and subsequent DVD) Robin Williams: Live on Broadway.

Williams appeared opposite Steve Martin at Lincoln Center in an Off-Broadway production of Waiting for Godot in 1988. He made his Broadway acting debut in Rajiv Joseph's Bengal Tiger at the Baghdad Zoo, which opened at the Richard Rodgers Theatre on March 31, 2011.

Tributes poured in including heartfelt tributes from world leaders. In a statement released by the White House, President Obama said: "Robin Williams was an airman, a doctor, a genie a nanny, a president, a professor, a bangarang Peter Pan, and everything in between. But he was one of a kind. He arrived in our lives as an alien – but he ended up touching every element of the human spirit. He made us laugh. He made us cry. He gave his immeasurable talent freely and generously to those who needed it most – from our troops stationed abroad to the marginalized on our own streets. The Obama family offers our condolences to Robin's family, his friends, and everyone who found their voice and their verse thanks to Robin Williams."

Clarence House released a statement from Prince Charles which said: "The Prince of Wales is deeply saddened to hear of Robin Williams' death. The Prince of Wales said: 'He was a remarkable man, whose wonderfully frenetic humour brought a special kind of laughter into people's lives. I greatly enjoyed meeting him on several occasions and his irreplaceable contribution to life will be greatly missed by countless people, including myself.'"

Oscar and Tony winner Kevin Spacey was one of the first celebrities to post a comment. Spacey who starred in the 2009 film Shrink with Williams, said: "Robin Williams made the world laugh & think. I will remember & honor that. A great man, artist and friend. I will miss him beyond measure."

Neil Portnow President/CEO of The Recording Academy issued the following statement: "Five-time Grammy winner Robin Williams was a prolific actor and stand-up comedian who literally did it all: television, film, theater, and live performances. After gaining fame in his breakout role of Mork in the television show Mork & Mindy, Williams became a household name. His improvisational skills and comedic timing were unmatched, and he quickly established himself as a larger-than-life presence on screen and on stage. His roles in classic movies such as Mrs. Doubtfire, The Birdcage, and Jumanji showcased his comedic chops, while his versatility was reflected in dramatic films such as Dead Poets Society, The Fisher King, and Good Will Hunting, which earned him an Academy Award for Best Supporting Actor. Although Williams is most recognized for his film and television work, he has received Grammys for Best Comedy Recording three times, Best Recording for Children, and Best Spoken Comedy Album. Additionally, his heart matched his expansive talent, as he often gave generously — both financially and personally — to a number of worthwhile causes throughout his life. Our entertainment community has lost an immense talent, a true inspiration, and a creative genius, and his remarkable legacy will forever be immortalized in his vast and impressive body of work. Our sincerest condolences go out to his family, friends, and his countless fans around the world who will continue to honor his memory through laughter."

The Broadway community mourned the loss of beloved actor and comedy legend by dimming the marquees of Broadway theatres in New York on, Wednesday, August 13th, at exactly 7:45pm for one minute.

"Robin Williams was a comedic genius with limitless talent and stunning versatility who left this world far too early. He made an impact on everyone he met or entertained," said Charlotte St. Martin, Executive Director of The Broadway League. "Whether on screen or live on stage, his multi-faceted talent always created memorable performances. Robin Williams will be greatly missed and our thoughts are with his family, friends and fans."

Williams leaves behind his third wife, Susan Schneider, and three children: a son, Zachary Pym, whom he had with his first wife Valeri Velardi, and two children, Zelda Rae and Cody Alan, whom he had with his second wife Marsha Garces.

LAUREN BACALL legendary film and Tony Award winning stage actress died August 12, 2014 in New York City. She was 89 and suffered a massive stroke.

Born and raised in New York City, the young Ms. Bacall studied acting; stood outside Sardi's selling copies of Actor's Cue, a casting tip sheet; ushered at Broadway theaters; and was a hostess at the American Theatre Wing's Stage Door Canteen. Her first Broadway role was a walk-on in the 1942 play Johnny 2 x 4, and then she was cast in Franklin Street, a comedy directed by George S. Kaufman, which closed out of town.

After gracing the cover of Harper's Bazaar the 19-year-old Bacall was brought to Hollywood and won a role in the film To Have and Have Not with 49-year-old Humphrey Bogart. Bogie and Bacall, as they became known, fell in love in what has always been considered one of the world's greatest romances. Their marriage lasted until his death in 1957.

Bacall appeared in Bogart movies The Big Sleep, Dark Passage, and Key Largo, and had comedic roles in How to Marry a Millionaire with Marilyn Monroe and Betty Grable, and Designing Woman with Gregory Peck.

In her 70s, Ms. Bacall began lending her distinctive voice to television commercials and cartoons, and between 1995 and 2012 she was featured in more than a dozen films, including The Mirror Has Two Faces, in which she played Barbra Streisand's mother. The role brought her an Academy Award nomination as best supporting actress and soon after a Kennedy Center Honor. In 2009, she received an honorary Academy Award "in recognition of her central place in the Golden Age of motion pictures." She also won a National Book Award in 1980 for the first of her two autobiographies, Lauren Bacall: By Myself.

Ms. Bacall won Tony Awardsâ for her starring roles in two Broadway musicals adapted from classic films: Applause, based on All About Eve, and Woman of the Year, based on the Spencer Tracy-Katharine Hepburn movie of the same name. She also starred in the comedies Goodbye, Charlie; Cactus Flower; and Waiting in the Wings.

The Broadway community mourned the loss of the legendary stage and screen star by dimming the marquees of Broadway theatres in New York on Friday, August 15th, at exactly 7:45pm for one minute.

"Lauren Bacall had a distinct presence on stage and screen during a career that spanned decades," said Charlotte St. Martin, Executive Director of The Broadway League. "Along with her talent and memorable performances, her timeless beauty and witty intelligence will be remembered. Our thoughts are with her family, friends and fans."

Bacall married actor Jason Robards, Jr. in 1961. They divorced in 1969. According to Bacall's autobiography, she divorced Robards mainly because of his alcoholism.

She lived in the Dakota, on Central Park West, until her death. She is survived by her sons, Stephen Bogart and actor, Sam Robards; her daughter, Leslie Bogart; and six grandchildren.

CHARLES KEATING an Emmy Award winning and Tony nominated stage actor who was best known for his long run as the villainous Carl Hutchins on the television soap opera Another World, died at his home in Weston, CT, on August 9, 2014. The cause of death was cancer. He was 72. The British born Keating began his career as a stage actor at the Cleveland Play House and the Guthrie Theater in Minneapolis. As part of the Minnesota Theatre Company, he acted on Broadway in The House of Atreus and The Resistible Rise of Arturo Ui, which played in rep in 1968.

Asked to open the Crucible Theatre in Sheffield, England, in 1971, Keating returned and stayed in the U.K. for 12 years, appearing with the Royal Shakespeare Company and at the Chichester Festival Theatre.

In 2003, he played the role of Carney/Oscar Wilde in the Lincoln Center Theater Performance of A Man of No Importance, which was a new musical by Ahrens and Flaherty. In 2007, he played the role of Clement O'Donnell in the Guthrie Theater production of Brian Friel's The Home Place.. In 1986, he appeared in a revival of Joe Orton's farce Loot, and received a Tony-nomination. The show had started Off-Broadway at Manhattan Theatre Club. He returned to MTC 1989, acting in What the Butler Saw.

Other Off-Broadway productions during the '80s and '90s included A Man For All Seasons, The Doctor's Dilemma, Light Up the Sky, You Never Can Tell and Pygmalion.

He is survived by his wife Mary, their two sons, and six grandchildren.















Next Column: August 24, 2014
Copyright: August 17, 2014 All Rights Reserved. Reviews, Interviews, Commentary, Photographs or Graphics from any Broadway To Vegas (TM) columns may not be published, broadcast, rewritten, utilized as leads, or used in any manner without permission, compensation and/or credit.
Link to Main Page
---
Laura Deni



For the snail mail address, please E-mail your request.
CLICK HERE FOR COMMENT SECTION