! >
Broadway To Vegas
  
 SHOW REVIEWS CELEBRITY INTERVIEWS GOSSIP NEWS

| | |
| --- | --- |
| | |
GIANT CABBAGES, DEBATING POLITICIANS, OUTHOUSE RACES - - THE OLDEST PROFESSION - - GUANTANAMO: HONOR BOUND TO DEFEND FREEDOM - - NEW UNITED STATES POET LAUREATE - - ABRACADABRA - - LIGHTING UP RITA MORENO - - THE GREAT AMERICAN CONCERT WITH FIREWORKS - - ACTORS BARE ALL AT THE OMAHA COMMUNITY PLAYHOUSE - - DONATE . . . Scroll Down


OUR STATE FAIR IS THE BEST STATE FAIR...


State Fairs have been the subject of story and song, most notably the musical State Fair with music by Richard Rodgers, lyrics by Oscar Hammerstein II and a book by Tom Briggs and Louis Mattioli.

This 1945 film was the only Rodgers & Hammerstein musical written directly for the screen. It has since been adapted for the stage. The lovely score includes It Might As Well Be Spring and It's a Grand Night for Singing. The national tour of the Broadway production was launched in - where else - the Iowa State Fair.

This year, the country's most famous state fair, the Iowa State Fair, celebrates its 150th anniversary with an 11-day birthday bash currently underway through August 22.

The fair kicked off Thursday with opening ceremonies that included the release of 150 white pigeons, a Black Hawk helicopter flyover and the dedication of a new fountain - a six-ton granite ball "floating" on water and over 100 food vendors.

The Iowa shindig includes a 500-person-50 wagon-112-mile horse caravan from Fairfield, Iowa (the Fair's first site), to a torch run from all four corners of the state, plus gala reunions of State Fair queens and Talent Search winners.

There are also zany contests such as the first ever outhouse race.

This corn belt event is revered.

USA Weekend Magazine in May ranked it No. 2 among "the top 10 places America goes to have fun" - second only to Las Vegas.

And it is the only fair included in a travel guide published last year called 1,000 Places to See Before You Die. It is listed among such destinations as the Chicago Blues Festival, the Grand Canyon and the Taj Mahal.

That doesn't mean other fairs don't beckon.

Only at the California State Fair, scheduled Aug. 20 to Sept. 6. in Sacramento, could recipe contests be held for both sushi and pizza.

Providing live entertainment are; Hootie & The Blowfish, Newsboys, Phil Vassar, Mya, The Spinners, The Doobie Brothers, Stacie Orrico, Ozomatli, Maroon, and Los Lonely Boys.

The Colorado State Fair, August 21 through September 5 in Pueblo, Colorado features World Champion Mutton Bustin'. Similar to the undertaking it imitates - bull riding-- contestants, age 6 years and younger and less than 60 lbs., attempt to last 6 seconds on a sheep that's as unpredictable as a bull. This hugely successful competition has been consistently viewed as one of the hottest attractions at the fair.

The Colorado State Fair is a celebration from start to finish, but the party really heats up during Fiesta Weekend, September 4 - 5. Fiesta Weekend recognizes Colorado's proud ties to Latin culture by showcasing the music, dance, food, art, costumes, traditions, and people who keep the Latin spirit alive in Colorado. The State Fair's Fiesta Weekend showcases a Hispanic Art Show, the Fiesta Parade, a variety of free stage shows, two nights of international entertainment in the Events Center, a "Charreada" or Mexican rodeo.

Life entertainment from Stacie Orrico, Chris Cagle, Chris LeDoux, Nickelback & Puddle of Mudd, ZZ Top, Dierks Bentley, Trick Pony, Brad Paisley, REO Speedwagon, Olivia Newton John, and Clat Aiken.

Alaska State Fair Aug 26-through September 6, features the 9th annual Giant Cabbage Weigh-Off.

Fascination over giant cabbages started back in 1941 when Colonel Ohlson, General Manager of the Alaska Railroad, offered a $25 prize for the largest cabbage exhibited at the fledgling Matanuska Valley Fair. The lure of a little extra cash began a spirited competition, and homesteader Max Sherrod was the lucky winner with a 23 pounder that first year. Ray Rebarchek, a nearby Palmer farmer began growing the endearingly odd cabbages in the 1950's and for years he and Sherrod traded the winners cup in a spirited competition.

A tremendous leap to colossal cabbages came when Sherrod discovered a Japanese seed variety called OS Cross. Nearly all large cabbages today are produced from this seed. This year, for the first time, the Alaska State Fair is packaging and selling their own cabbage seeds. The seed packets will be mounted on a keepsake postcard, perfect as a Fair memento, to mail to faraway loved ones, or, of course, for planting.

"The Alaska State Fair is known for our giant cabbages so we thought it would be a great idea to market giant cabbage seed packets for those who wish to try their hand at the giant beast," said Dean Phipps, Fair marketing director.

The postcard and packaging for the OS Cross Hybrid seeds is being designed by painter, children's book author/illustrator and former Alaskan, Mindy Dwyer. Dwyer, who currently lives in New York's Hudson Valley, is also designing the Fair's annual poster, brochure and other marketing materials. She describes the look as "stylized, imaginative, colorful, fun and animated."

The 2004 Alaska State Fair, themed Garden Hearty Party, opens August 26 and runs through September 6.

Nebraska state fair August 28th - September 6th in Lincoln, features an art and wine festival followed by a Chain Saw Carving Auction.

Performers doing their thing in person include; Brad Cotter, Chris Cagle, Chris LeDoux, REO Speedwagon, and Cheap Trick.

This year Nebraska fair fans are as happy as a corn dog because two events are returning, after an absence of several years - big combines and a political debate.

Debates, as well as straw polls on political races, used to be as traditional at the fair the fat hogs - although there are those who claim not to know the difference.

During a 1988 State Fair debate, Republican Dave Karnes's comment that Nebraska needed "fewer farmers" caused a furor and helped scuttle his bid to unseat incumbent Democratic U.S. Sen. Bob Kerrey.

The Sept. 5 debate between Democrat Matt Connealy and Republican Jeff Fortenberry will be restricted to agricultural and natural resources issues.

Also up for display are big wheels and we're talking serious equipment. There will be feed wagons, augers and sprayers. The combines will include the largest built in the world, which cost upwards of $250,000 and cut swaths 36 feet wide. Be there or be square.

The musical State Fair travels with the Frake family as they leave behind the routine of the farm for three days of adventure at the annual Iowa State Fair. Mom and Pop have their hearts set on blue ribbons while their daughter and son find romance and heartbreak on the midway. Let us all remember the important lesson learned - the secret ingredient in mincemeat is - whiskey.


KAREN BLACK'S VIEW OF THE HEART
Karen Black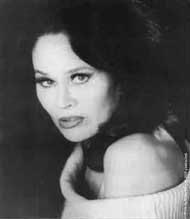 Karen Black is, of course, the star of many films; Easy Rider, Nashville, Five Easy Pieces to the recent House of 1,000 Corpses.

She also appeared in 1974's The Great Gatsby and in 1976 as a jewel thief in Alfred Hitchcock's final film, Family Plot, raking in Golden Globe and New York Film Critics Circle awards, as well as Oscar and Grammy nominations.

Black spoke with Broadway To Vegas about her career and upcoming one-woman show A View of the Heart - which she brings to the Ars Nova in Manhattan August 20-23.

It's a show which has evolved over a 30-year period.

"Toni Basil wanted to do a show with me," she said referring to the choreographer who was raised in Las Vegas and did a turn as a Las Vegas High School cheerleader.

"She's a genius," emphasized Karen about Toni who has been her friend since they both were in Easy Rider, that flick which also starred Peter Fonda, Dennis Hopper, and Jack Nicholson.



Toni Basil grew up in Las Vegas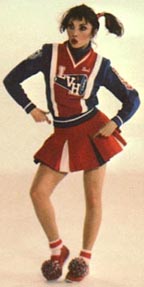 "She wanted to make sure that in my show I do different things back to back, because I do all kinds of singing," explained Black referring to Basil's appreciation of Black's seemingly contradictory opera-trained voice and a voice that can communicate a rough, country feel.

"From opera up against country western, which is my chest voice," Black continued. "So, it's really quite an assortment of characters. I just really do my best to stay in communication with the audience."

"In 1982 a lot of the numbers were picked. I was doing Come Back To The Five & Dime, Jimmy Dean, Jimmy Dean on Broadway," Black recalled about the Robert Altman directed play which ran Feb. 18, 1982-April 4, 1982 and starred Black, Cher, Sandy Dennis, and Kathy Bates.

"I would do the show and then Toni and I would go out every night to Marc Shaiman's house. He is now a huge music person for movies. We just put on all these cassettes and played songs on the piano and I'd start singing them. My guess is we went through 500 songs. We would do that night after night and Toni would sit and cross her arms and legs and say - Nope, next. Nope, next."

"It's hard to even communicate how she just knew which songs I should sing."

"For example, there isn't any way I can sing Jesse, the Janis Ian song, without meaning every word - completely. There isn't any way that I can sing Send In the Clowns without experiencing personally the bitterness and sort of tragic comedy of it. Toni could see that instantly and that is how she would pick the songs."

"There are a couple of songs that I wrote which are in it and she likes those."

In 2002 Black brought the act into Joe's Pub. This show is similar but not identical.

"The stage at Ars Nova is a real proscenium stage, whereas Joe's Pub is a triangular stage," Black explained while eating a quick lunch of rye crisp crackers and blue cheese which she assured -"sounds terrible but it tastes great."

"My act takes a real small proscenium stage with sides, a bottom and a top. So it's nice to have it in that concept. Rather than - we're eating dinner and did she say something?"

Black is backed by three musicians but would like to add a horn. As with most things, money is a consideration. "It's terribly expensive to put a show on," she declared.

For this show a proscenium stage is important to Black.

"Other people have asked me to do it and I go and look at the venue and sometimes it just doesn't click. I do know exactly what I need. I can accommodate other things, but it is really hard for me to come to a decision if it's not right."

The actress/singer has reached a life stage where she prefers to pick and choose.

Black has also turned down some movie sequels, although she had the utmost respect for the producers, directors and actors.

"I didn't do the sequel to in Rob Zombie's movie House of 1,000 Corpses, although I think he is great," she said about the 2003 release with a plotline about two couples stranded in an old house who are set upon by the resident family who practice cannibalism.

"I'm just trying to do things that are just more - me. Just things that I love and I love slice of life. I don't really like blood. I can't imagine why people want to shoot people with blood. It's not real to me. If it doesn't make any sense to me then I shouldn't do it. But I love the character I did in House of 1,000 Corpses. I thought it was great fun, but I'm trying to look at the whole of the material."

"I've always loved the character but now that isn't quite enough. You should like more than the character because you are contributing to something. And, what is that something? Is that something that you want - something you want communicated across the broad base? I think about that."

Her thoughts returned to the upcoming New York act. "This show has a bed on stage. I'm trying to call New York and get a bed and trying to figure out if 30 inches high is tall enough for me to sit on. So, there is a bed and a table, chair and a band. It is a little theater/cabaret in a sense that it is theatrical. It just not sitting and singing. It has a theatrical base to it."

"I sang in Can She Bake A Cherry Pie? and in Nashville and we were all nominated for a Grammy," related Black who also composed the music for Can She Bake A Cherry Pie?

Black is currently singing in two movies, Gypsy 83, a limited released film directed by Todd Stephens, in which she plays a singer and Firecracker, a true-to-life tale of murder in a small Kansas town.

"I play two characters," she said referring to the Firecracker roles of Sandra and Eleanor. "One is an elderly gray haired lady who is kind of in her own world to a dangerous degree. The other is a circus performer, much younger, and I sing in French."

A View of the Heart - has different characters some of whom sing permitting Black to take a look at the human condition, providing a glimpse into the lives of American women though a mixture of song and story.

While Black's life has experienced some bleak personal periods, she now enjoys a solid, happy home life which includes her husband, Steven Eckelberry, and 16-year-old daughter, Celine. Karen delights in the close relationship she shares with her daughter. "I have good talks with her. I really cherish the idea that she wants to come to me and tell me things."

While Black may have to worry about stage dimensions and song selections for her cabaret show, at home the top priority is "making sure I make good mashed potatoes."

Karen Black: A View Of The Heart August 20-23 at Ars Nova in New York City.


THE MUSIC GOES ROUND AND ROUND


RELAXATION A WINDHAM HILL COLLECTION is the latest offering from the company that has established itself as a pioneer in lifestyle music and a force on the new age charts.

Relaxation hits all the right notes in this stress reducing remastered instrumental CD. It's a sound soother with performing artists rather than artificial waterfalls and chirping birds. Composing music for the piano and the guitar may be opposites in the world of physics but in the overdrive world of the stressed, the tuneful results merge on a psychic harmonic plain.

This compilation features Windham Hill's best-loved and best-selling artists including George Winston, Jim Brickman, Barbara Higbie and Yanni who performs in Las Vegas on November 6.

In addition to the music Relaxation includes a CD-ROM content that adds to the tranquil experience - providing access to an exclusive Relation website, and a host of visual images that can be viewed, printed or used as desktop wallpaper or added to a screen saver.

Tracks:
--1: Only A Memory - Yanni
--2: Big Thing In The Sky - William Ackerman
--3: Rainsong - George Winston
--4: Glass Green - Tim Story
--5: Bayangume - Peter Scott/Richard Schonherz
--6: No Wonder They Sing - Philip Aaberg
--7: Majestica - Lisa Lynne
--8: Espana - Patrick O'Hearn
--9: Wind In The Trees - David Arkenstone
--10: On The Edge - Jim Brickman
--11: Closer Still - Douglas Spotted Eagle
--12: Tibet Part II - Mark Isham


WHO IS?


He learned to play the piano as a child, sang in the school choir, taking part in several public performances.

During a school concert of religious music he played the trumpet in the orchestra. Later while attending another school he would join a brass trio.

From his youth through university, he played the cello in school, at charity concerts as well as in a symphony.

He sang with a Bach Choir and later the bass singer joined the choir for a performance of Bach's Mass in B Minor marking the 300th anniversary of Bach's birth.

He's got a good social life, having attended charity dinners and musical evenings with Elton John.

He's attended rock and pop concerts with stars including Paul McCartney, Elton John, Eric Clapton, Phil Collins, George Harrison, Mick Jagger, Rod Stewart, Sting, Tina Turner, Annie Lennox, George Michael, David Bowie, Chris de Burgh, Madness, Duran Duran, Dire Straits, Genesis, Paul Young, Spandau Ballet, the Spice Girls and All Saints.

He attends opera and symphony concerts, supporting more than 20 performing arts organizations. He was elected president of a Shakespeare Company and regularly shows up at performances as a private member of the audience, supports fund-raising events, chairs the company's annual general meeting and holds an annual reception for the staff.

Answer at the bottom.



Broadway To Vegas is supported through advertising and donations. Priority consideration is given to interview suggestions, news, press releases, etc from paid supporters. However, no paid supporters control, alter, edit, or in any way manipulate the content of this site. Your donation is appreciated. We accept PAYPAL. Thank you for your interest.


SWEET CHARITY


ABRACADABRA the 14th annual production of Abracadabra, the Cincinnati Playhouse in the Park's annual extravaganza of magic and illusion August 19-22.

Abracadabra is the Playhouse's only major fundraising event of the year. Proceeds from the weekend are used to support the not-for-profit Playhouse's artistic, education and outreach programs throughout the entire season.

Abracadabra week begins on Thursday, August 19 with the return of the popular Preview House Party, which features an Italian Street Fair theme this year.

This year's event conjures up two renowned acts, Las Vegas favorites The Pendragons and Mac King, who has lived in Sin City since 1997 and currently does SRO business at Harrah's in The Mac King Comedy Magic Show.

This year's Abracadabra Gala performance is scheduled for Friday, August 20, featuring a Venetian Carnivale atmosphere, complete with strolling magicians and costumed entertainers. The full evening of events includes a pre-show reception, performance and gourmet dinner and dancing to the music of The AirWave Band following the show.

NEWPORT JAZZ FESTIVAL 50th ANNIVERSARY GALA TO BENEFIT THE PRESERVATION SOCIETY OF NEWPORT COUNTY was SRO last Thursday, August 12, at The Breakers.

Special guests included; Bill Cosby, Dave Brubeck, Wynton Marsalis, Ron Carter, Roy Haynes, McCoy Tyner, Jon Faddis, Howard Alden, Lewis Nash, Ken Peplowski, Randy Sandke, Cedar Walton, Peter Washington, Jamie Cullum, Sebastian de Krom and Geoff Gascoyne.

The festival ends today with a program at Fort Adams State Park. Some of many talents include; Herbie Hancock, Wayne Shorter, Dave Holland & Brian Blade, Peter Cincotti, Ornette Colrman Quartet, The Lincoln Center Jazz Orchestra directed by Wynton Marsalis, The Mingus Big Band, and Coz of Good Music conducted by Bill Cosby.



WAXING POETICALLY

Robert Frost and Carl Sandburg in the Library of Congress' Whittall Pavilion, May 2, 1960. Library of Congress photo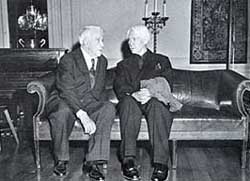 Ted Kooser a resident of Garland, Neb., is the new poet laureate of the United States. Librarian of Congress James H. Billington officially announced the appointment Thursday. Kooser, 65, replaces Pulitzer Prize winner Louise Gluck in the position.

Kooser is the first poet laureate chosen from the Great Plains.

A native of Ames, Iowa, Kooser graduated from Iowa State University in 1962 and earned his master's degree in English from University of Nebraska, Lincoln in 1968. He has written 10 collections of poetry, most recently Delights & Shadows published this year. His work has appeared in a number of periodicals including The New Yorker, The Hudson Review, and Prairie Schooner.

The one-year poet laureate's job includes an office at the Library of Congress, a $35,000 salary funded by a gift from Archer M. Huntington, and an obligation to deliver and organize readings. This annual series of public poetry and fiction readings, lectures, symposia, and occasional dramatic performances began in the 1940s.

The Library keeps to a minimum the specific duties in order to afford incumbents maximum freedom to work on their own projects while at the Library.

Previous poets laureate include Robert Frost, Gwendolyn Brooks and Rita Dove. Kooser assumes his new job on October 7.


OFF-KEY


It must be contagious - or something in the water. First composer Frank Wildhorn and singer-actress Linda Eder, who were married in 1998 and have a five year old son, Jake, legally separated.

Now comes word that Boston Pops conductor and Utah Symphony music director Keith Lockhart has separated from his wife, Boston Symphony Orchestra violinist Lucia Lin.

The couple have been married nearly eight years and have an 11-month-old son. A short statement issued by Symphony Hall in Boston stated: "Mr. Lockhart and Ms. Lin are working amicably and cooperatively together toward a joint resolution of their affairs." Lin is a first violinist for the BSO. The two have performed together in Lin's chamber music group, Innuendo.


CURTAIN DOWN


LITTLE SHOP OF HORRORS closes next Sunday, Augist 22. It will have had 40 previews and 372 regular performances at the Virginia Theater in The Big Apple.



THE OLDEST PROFESSION written by Paula Vogel and directed by David Esbjornson. Starring; Marylouise Burke, Anita Gillette, Carlin Glynn, Katherine Helmond and Joyce Van Patten.

As Ronald Reagan enters the White House, five aging practitioners of the oldest profession are faced with a diminishing clientele, increased competition for their niche market, and aching joints.

With wit, compassion, and humor, they struggle to find and learn new tricks as they fight to stay in the Life.

August 17 through October 10 at Signature Theatre Company Peter Norton Space in NYC.

HANK WILLIAMS LOST HIGHWAY by Randal Myler and Mark Harelik. The hit musical tribute to the life and legend of singing idol Hank Williams has performances August 17-September 11 at Actors Theatre in Louisville, KY.

MARTHA MITCHELL SPEAKS by Jodi Rothe Patricia Barry stars as the whistle-blowing wife of Richard Nixon's Attorney General John Mitchell who was at the center of the Watergate Scandal. August 22-23 as part of the fourth annual Women Center Stage festival at The Culture Project's 45 Bleecker Theatre in NYC.

BRIGADOON is REPRISE! Broadway's Best first show of its 8th Season. Starring Marin Mazzie, Jason Danieley, Deborah Gibson and Orson Bean. The enchanting Lerner & Loewe musical with book & lyrics by Alan Jay Lerner, music by Frederick Loewe. Musical Direction by Gerald Sternbach. Choreography by Lee Martino. Directed by Stuart Ross.

Marin Mazzie will be playing Fiona MacLaren. Jason Danieley will be playing Tommy Albright. Also starring in the cast of Brigadoon as Meg Brockie will be multi-platinum recording artist and star of Broadway, Deborah Gibson, and star of stage and screen Orson Bean as Mr. Lundie.

Also featured will be Brooks Almy, Jodi Ashworth, Louis Becker, Bradley Benjamin, Teressa Byrne, Larry Cedar, Robert Pike Daniel, Gary Franco, Bella Hicks, Chris Holly, Allan Louis, Kim Mikesell, Elisa Nixon, Sean McDermott, Blake Pullen and Ellen Rosa.

Brigadoon features many of Lerner and Loewe's most glorious songs: Almost Like Being in Love, Heather on the Hill, and Come to Me, Bend to Me to name just a few.

Limited engagement opens August 18th at UCLA'S Freud Playhouse in Los Angeles and continue through Sunday, August 29,

GUANTANAMO a documentary drama that deals with the horrors of prisoners at Guantánamo Bay. Co-written by Nicholas Kent and Gillian Sloan, from spoken evidence by Victoria Brittain and Slovo.

Co-directed by Nicolas Kent, artistic director of the Tricycle Theatre in Kilburn, England, who attended the International Criminal Tribunal for the former Yugoslavia in The Hague and Sacha Wares.

Kathleen Chalfant stars Gareth Peirce, one of the lawyers working for British detainees.

Weaving together personal stories, legal opinion, and political debate, Guantanamo: Honor Bound to Defend Freedom looks at the questions surrounding the detentions in Guantanamo Bay, and asks how much damage is being done to Western democratic values during the 'war on terror.'

Design by Mirian Buether.

A hit in London's West End at the New Ambassador's Theatre, performances begin August 20 at the 45 Bleecker Street Theatre in NYC.

PRETTY FACES: THE LARGE AND LOVELY MUSICAL by Robert W. Cabell has been selected to perform at the New York Musical Theatre Festival in The Big Apple. The entire cast from Eugene, Oregon will travel to Manhattan to perform at The Revelation Theater, for six performances between September 21 and September 27.

The show is written by former Eugene resident Robert W. Cabell and received its West Coast Premiere at Actors Cabaret in Eugene last January.

Musical direction by Jim Roberts. Joe Zingo directs the cast of eight; Erica Jean Pierson, Tyler Holden, Bruce McCarthy, Amanda Fackrell, Laura Holden, Nikki Pagniano, Michelle Sellers, Jennifer Hill.

Pretty Faces is about The Other Girl Next Door - a back stage musical that takes place on and off staged the Miss Global Glamour Beauty Pageant. The show is complete with two feuding stars and their romantic past, a shy, love-struck stage manager, a blushing, baton twirling Southern Belle, Spoiled Rich Girl and three more full figured femmes fatales competing for the title.

There is a strong sense of camaraderie and healthy competitiveness as the contestants share the wonder and novelty of being Glamour Girls for the first time in their lives. The audience is the Antagonist. They watch and participate in the Cinderella transformation each girl goes through, from day one of rehearsals to the crowning moment of the Beauty Pageant.

Songs include; Too Plump For Prom Night the recurring Sleep Walkers Lament, and Bobby-Joy's star-spangled baton-twirling Song for Jesus.

ONE RED FLOWER a new musical based on letters written by Vietnam War soldiers. Music by Paris Barclay. Book and Lyrics adapted for the stage by Paris Barclay from the book Dear America: Letters Home From Vietnam, which was edited by Bernard Edelman for the New York Vietnam Veterans Memorial Commission. Directed by Eric Schaeffer.

A Vietnam War story, in which soldiers communicate with loved ones through the rock-and-roll music of the period. Based on 208 actual letters and poems by 125 American soldiers written in 1969, the show was adapted for the stage by 1979 Harvard graduate Paris Barclay, an Emmy Award-winning director of such television series as N.Y.P.D. Blue and The West Wing.

Set to a score based in the rock-n-roll rhythms of the period, the story compels, informs and entertains with a glimpse into the often hellish, sometimes light-hearted experiences of our American soldiers.

August 17-October 3. Signature Stage in Arlington, Virginia.

TWO CITIES a new musical based on the epic Dickens classic. Composer-lyricists Chad Hardin and Dan Schillaci have created this production which includes a score of 20 songs. A cast of 23 led by Director Lenore Shapiro.

Sydney Carton, Charles Darnay, Lucie Manette, Madame Defarge. You know their names. Now come see their story - a passionate love triangle set against the reign of terror that was the French Revolution. Two cities: London and Paris. One a city of hope, the other a city of fear. In one a loving family, safe at home. In the other a mob of the homeless and disenfranchised, living on streets where no one is safe. Two Cities promises to deliver a stirring mix of romance, comedy and terror.

August 19-29 at the Rich Forum, Stamford Center for the Arts in Stamford, Conn.

A HOUSE IS NOT A HOME Starring; Allen Payne, Tichina Arnold, Gospel sensation Karen Clark Sheards and Michael and Regina Winans.

A House Is Not A Home is a romantic, inspirational, musical, comedy stage play about a happily married couple (Robert and Stephanie) that have just celebrated their 10th wedding anniversary.

Every married couple has their ups and downs, but when Stephanie married Robert, she got a package deal, there's Robert, his daughter, Tyrika, and the drama of his Baby's Mama.

The confusion explodes when Robert's now teen-aged daughter, Tyrika, has problems of her own and decides she wants to live with her daddy now. Tyrika's mother, Crystal, does not care that he is married, she is still in love with Robert and figures this is the perfect opportunity to finally get him back. Robert is faced with the decision of infidelity and Crystal works to break up this once happy home. Delicately presented so that the audience is torn with compassion and sensitivity for all involved.

Come and find out what makes a house a home. August 19-22 at the Lyric Opera House in Baltimore, Maryland.

HAIR opening August 27 brings nudity to the stage for the first time at the Omaha Community Playhouse, which is the largest community theatre in the nation.

Lighting and choreography will make the one scene more mainstream friendly, although the Playhouse does post warnings of adult content. The Grammy-winning musical has a Book by Gerome Ragni & James Radio; Music by Galt MacDermot; Lyrics by Gerome Ragni & James Radio.

August 27 - September 26 at the Omaha Community Playhouse in Omaha, NE.

HOW TO SAVE THE WORLD AND FIND TRUE LOVE IN 90 MINUTES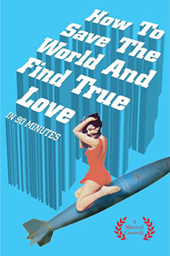 is the first professionally produced work by author and lyricist Jonathan Karp. Music by Seth Weinstein. David H. Bell is musical director.

This is a musical comedy about a cowardly tour guide at the United Nations, a sexy diplomat, and an idealistic slacker who confront love in the age of the orange alert, risking everything when an office romance leads to global crisis. A modern tale of love and paranoia.

As a newly minted composer Karp has a day job to keep the bills paid. He's editor-in-chief at Random House.

The show will have its premiere at the Lucille Lortel Theatre August 25-29 as part of the New York International Fringe Festival.

The 8th Annual New York International Fringe Festival, featuring more than 200 shows at twenty venues, is the largest theatre festival in North America, opened August 13 running through August 29.


| | | |
| --- | --- | --- |
| | | |
WHO'S WHERE


THE GREAT AMERICAN CONCERT WITH FIREWORKS - WALT DISNEY 75 YEARS OF MUSIC

Everybody loves Walt Disney. Dudley photo by Laura Deni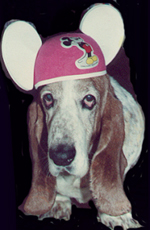 is presented August 20-21 at the Hollywood Bowl in Hollywood, CA.

John Mauceri and the Hollywood Bowl Orchestra pay tribute to a true Great American icon - the inimitable Walt Disney.

This weekend celebrates his commitment to orchestral music, from the beginnings with Steamboat Willie to the drama of Fantasia to the mega-smash The Lion King.

From old favorites to new hits to classic songs, there truly will be something for everyone at this first-time event that ends as only a Great American concert could – with fireworks!

Produced in cooperation with The Walt Disney Company.

The evening includes a very special guest appearance by Dick Van Dyke.

RITA MORENO who performed her two-act Between Love & Fascination show last Friday and Saturday at the Martin Theatre, as part of the Ravinia Festival in Highland Park, Illinois gives a lot of credit to her lighting director - a guy who is relative new to the business after years of toiling in another profession. Former internal medicine specialist Dr. Leonard Gordon is the lighting guy. He is also Rita's husband.

RUSH their 30th Anniversary Tour August 18-19 at Radio City Music Hall in NYC.

JOSH GROBAN performs August 16 at the Starlight Circle Theatre in Kansas City. The performance sold out months ago.

GAVIN DeGRAW with special guests Toby Lightman and Michael Tolcher perform August 22, at Joe's Pub in the Park at the Delacorte Theater in Central Park, NYC.

BIG BAD VOODOO DADDY take to the stage at Gainey Vineyards in Santa Ynez, CA on Friday, August 20. On Saturday they perform at Celebrate Erie in Erie, PA.

MAUREEN McGOVERN has brought her Sultry Songs on a Hot Summer's Night program to AuBar in New York City through August 22.

JOHNNY MATHIS in a two nighter August 20-21 at the Westbury Music Fair in Westbury, NY.

BEACH BOYS star at Foxwoods Casino in Mashantucket, CT on Thursday, August 19.

PETER FRAMPTON center stage at Harrah's in Atlantic City August 20 and 21.

ROD STEWART in the spotlight Tuesday, August 17 at the Marcus Amphitheatre in Milwaukee. On Wednesday he'll be rocking and crooning at the DTE Energy Music Theatre in Clarkston, MI. Friday finds him at the Tweeter Center in Tinley Park, IL and he can be found Saturday at the Germain Amphitheater in Columbus, Ohio.

DAVE MATTHEWS BAND on stage Wednesday, August 16 at the Verizon Wireless Amphitheater. On Wednesday it's a venue with the same name only this one is in Selma ,Texas. Friday they begin a two nighter at the C.W. Mitchell Pavilion in The Woodlands, TX.

TONY BENNETT performs at Wolf Trap Filene Center in Vienna ,VA on Monday. The ageless singer is in the spotlight on Thursday at SUNY in Purchase, NY. Saturday finds him at the South Shore Music Circus in Cohasset, MA and next Sunday he's centerstage in an SRO gig at the Cape Cod Melody Tent in Hyannis, MA.

HUEY LEWIS AND THE NEWS on stage Monday, August 16 at the American Music Theatre in Lancaster, PA. On Tuesday they can be enjoyed at the Community Arts Center in Williamsport, PA. Thursday finds the group at Turning Stone Casino in Verona, NY and on Friday they are on stage at Foxwoods Casino in Mashantucket, CT.

PATTI LA BELLE celebrates her newly released CD Timeless Journey at Radio City Music Hall on Saturday August 21, NYC.

PAUL ANKA in a two night gig August 20-21 at the Mohegan Sun Casino in Uncasville, CT.

THE JOAN & HAL SHOW an evening of music and great fun starring Joan Jaffe & Hal Blankenship with Rena Isbin, Trudi Mann, Ray Noran, and Richard Skipper as Carol Channing. Patrick Firth-Musical Director, Frank Levatino-Drums, John Roach-Bass. Aug 17 in the Milton Berle Room of The Friars Club, NYC.

THE PHILADELPHIA ORCHESTRA MUSIC FROM THE MOVIES MARVIN HAMLISCH GUEST CONDUCTOR A pre-performance talk will take place with composer/conductor Hamlisch, who will be interviewed by Judith Kurnick, vice president, communications and public relations of The Philadelphia Orchestra. Friday, August 20 at the Saratoga Performing Arts Center, NY.

RADIO DAYS Five By Design, joined by the U.S. Navy Band, dance, sing and perform some of the funniest skits from the early days of live radio. Part of the Encore Series of the San Diego Symphony. Aug 20-21 in San Diego, CA.

CAROLE KING performs Aug 20 at the Nob Hill Masonic Auditorium in San Francisco.

CHRIS ISAAK on stage August 18 at the State Theatre in Modesto, CA. On Thursday he's in the spotlight at Wente Concerts at the Vineyard in Livermore, CA. Friday finds him at Harvey's Lake Tahoe Outdoor Arena in Lake Tahoe, NV. He closes out the week, Saturday, at Konocti Harbor Resort & Spa in Kelseyville, CA.

NATALIE MERCHANT brings her show to Wente Vineyards in Livermore, CA on August 18.

THE RIVER CITY RAMBLER from St. Louis, Missouri head up stream. The six funny guys bring their Dixieland beat, spontaneity and humor to the Mainstage of the Cumberland Playhouse in Crossville, TN on August 20.

LINDA EDER in a two night stand August 21-22 at the Mohegan Sun Casino in Uncasville, CT.

PAULA POUNDSTONE telling funny stories Monday, August 16 as part of the Summer Mondays series at Bay Street Theatre in Sag Harbor, NY.


PIFFLE AND PROFUNDITIES


WHO IS Prince Charles.

JOHN KERRY speaking in Las Vegas last Tuesday told a cheering crowd: "We've got to get the economy moving because there is nothing worse than an unemployed flying Elvis."
















Next Column: August 22, 2004
Copyright: August 15, 2004. All Rights Reserved. Reviews, Interviews, Commentary, Photographs or Graphics from any Broadway To Vegas (TM) columns may not be published, broadcast, rewritten, utilized as leads, or used in any manner without permission, compensation and/or credit.
Link to Main Page
---
Laura Deni


CLICK HERE FOR COMMENT SECTION