! >
Broadway To Vegas
  
 REVIEWS  INTERVIEWS COMMENTARY NEWS

| | |
| --- | --- |
| | |
THE WIFE OF OSCAR WILDE TAKES CENTER STAGE - - VIVA ELVIS GETS OVERHAUL - - THE SAINT OF BLEECKER STREET CD REVIEW - - TOMB SCULPTURE FROM THE COURT OF BURGUNDY - - CELEBRATING ABBEY ROAD STUDIOS' 80th ANNIVERSARY - - ROCKY HORROR TIME WARP FLASH MOB - - SOUTH PACIFIC TRANSFERS FROM BROADWAY TO OPEN IN LONDON - - SHAKESPEARE FREE FOR ALL - - DONATE . . . Scroll Down



THE WIFE OF OSCAR WILDE - CONSTANCE - TAKES CENTER STAGE
Oscar Wilde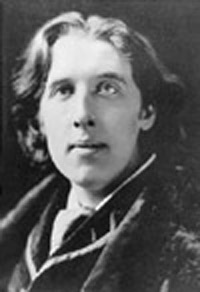 Oscar Wilde, the famous author, who served a prison term after being convicted of Gross Indecency for "unnatural acts with a man" and sentenced to two years with hard labor, had a wife and two sons.

While Wilde has been commemorated in plays, books, memorials, statues, essays, seminars and festivals, his wife has not just been ignored, but downgraded.

Yet, his wife had as much to do with creating Oscar Wilde as any other living force.

Constance, the over-looked, but fascinatingly interesting wife - who was just as brilliant and ambitious as her husband - is suddenly commanding her own spotlight.
A new book, a museum display and a stage play are looming as a triple edged tool that centers Constance as a force to be reckoned with.

A new biography Constance: The Tragic and Scandalous Life of Mrs Oscar Wilde by Fanny Moyle has won rave reviews from London's The Daily Mail, The Independence and The Guardian.

Constance died in exile, aged 39. Moyle's account, the first to draw on more than 300 of Constance's unpublished letters, is "delightful, sad, and entirely convincing; her last chapters reduced this hardened reader to tears." - The Guardian.

One hundred and twenty seven years ago - at the Anglican St. James Church in Paddington in London - the wedding of Constance Mary Lloyd, the daughter of a well-know Irish barrister, and Oscar Fingal O'Flahertie Wills Wilde took place. Mary Lloyd lived around the corner in Lancaster Gate with her paternal grandfather, and that is where the wedding reception was held on May 29, 1884.

St James's is working towards creating a substantial and permanent memorial to Oscar and Constance within the building.

Oscar Wilde was already known as an Aesthete and Wit on both sides of the Atlantic, having delivered a series of lectures in the United States in 1882. He visited about seventy towns and later said of the miners of the Rocky Mountains town of Leadville, Colorado: "The only well-dressed men I have seen in America." (They wore mainly red shirts, corduroy trousers and high boots.)

Mr and Mrs Wilde spent their honeymoon in Paris, and it was at their hotel that Wilde's earliest biographer, Robert Sherard, first met Constance. "The lovely young wife seemed supremely happy - And as I walked out with Oscar, he told me that marriage was indeed wonderful."

In 1888, Constance Lloyd had known Oscar Wilde for nine years; she had been married to him for four. Her love for her brilliant husband ("As long as I live you shall be my lover," she wrote in answer to his proposal in 1883) was fully returned. "I feel incomplete without you," Oscar told her shortly after their marriage. A proud new father, he couldn't stop urging male friends to get married.

It's been reported that the extremely difficult birth of her second son made it impossible for her to have sexual relations. Enter Lord Alfred Douglas whom Wilde brought home in 1891 to meet his wife.

Soon Wilde was spending more time living in hotels than at home.

After Wilde's imprisonment, Constance changed her and her sons' last name to Holland to disassociate themselves from Wilde's scandal. The couple never divorced and though Constance visited Oscar in prison so she could tell him the news of his mother's death in person, she also forced him to give up his parental rights and later, after he had been released from prison, refused to send him any money unless he no longer associated with Lord Alfred Douglas.

A fall down the stairs in the Tite Street home she had shared with Wilde caused Constance to have a form of paralysis, and she died on April 7, 1898, after spinal surgery. She is buried in Genoa, Italy.

London's first fringe theatre The King's Head Theatre in Islington, whose new artistic director Australian Adam Spreadbury-Maher took over last year, will stage the world premiere of Oscar Wilde's play Constance about a loyal wife. It is the only play Wilde ever wrote after being imprisoned on those "indecency with a man" charges.

Olivier Award Winning company Good Night Out Presents will stage the world premiere of Constance, the only unproduced Oscar Wilde play.



Constance Wilde and her son Cyril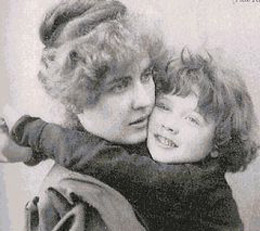 While the play isn't about Wilde's wife, patrons can read between the lines.

William Daventry, a rich industrialist and self-made man, is married to Constance, the perfect wife: loyal, faithful, and with excellent family credentials. At the Daventry's country house, various members of Constance's extended family, a zealous man of the cloth and his flirtatious wife are assembled for an evening of entertainment – such as is affordable only by the middle classes, a fact deplored by the Duchess of Sandgate and her companion, Sir Richard. An incident between the Reverend's wife and Daventry sets in motion a train of events that risk upsetting the moral code of this aristocratic family, driving them from Twickenham to London to the Tyrolean Alps.

After his release from prison in 1897, Oscar Wilde immediately began writing Constance. Wilde sold what he claimed were "exclusive rights" to a number of theatrical agents, publishers, actors and managers, eventually handing over his handwritten manuscript to an American actress, Mrs Cora Brown Potter.

On her death in the 1930s the manuscript passed onto the French writer Guillot de Saix, who with a colleague Henri de Briel, put together a French translation.

Henri de Briel was suspected of being a collaborator with the Germans during World War II, and Wilde's original English manuscript is thought to have been destroyed by members of the resistance movement when they caught up with him.

However, a copy of the French translation survived in Guillot de Saix's possession, and in due course was published in a French literary magazine.



Constance begins previews September 13 at the King's Head Theatre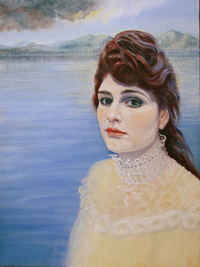 Constance was unearthed by Wilde enthusiast and writer, Charles Osborne, many years later. Osborne has translated the play back into English, recreating for the world a genuine, brand new, Oscar Wilde play.

Charles has asked Artistic Director Adam Spreadbury-Maher and Executive Producer Dominic Haddock to bring Constance to the stage for the first time and they agreed.

This production is not without serious risk. The difficult job of taking a script, which was translated by another from English to French, and reverting it back into English, can result in errors on both sides of the dictionary.

King's Head Theatre press and marketing manager Joanna Forest-Jones told Broadway To Vegas that the entire cast hasn't yet been confirmed. However, the design crew includes: Set design by Tessa Battisti. Costumes by Laura Cordery and Bettina John. Lighting Design by Ben Polya. Sound design by Tim Adnitt. Hair and Makeup by Rosie Shorter and Anita Brulee.

Playwright Oscar Wilde, born in 1854, wrote such plays as The Importance of being Earnest, An Ideal Husband, Salome and Lady Windemere's Fan.

After his release from prison Wilde was exiled and spent the remainder of his life in Europe where he died in 1900 - aged 46.

Adaptor of Constance, Charles Osborne, born in 1927, was Literature Director of the Arts Council of Great Britain, and chief theatre critic of the London Daily Telegraph from 1986 to 1991. He is the only author the Agatha Christie Estate has ever allowed to produce adapted works in her name. Charles lives in Southwark, London.

The King's Head Theatre is London's first pub theatre since Shakespeare's time, founded in 1970 with 50 West-End/Broadway transfers to its credit. Multi-Award winning Adam Spreadbury-Maher became the venue's second ever Artistic Director in March 2010 and relaunched the venue with a revolutionary opera program.

The King's Head Theatre now performs in repertory, the only fringe theatre in the UK with such a bold program of self-produced work including the Olivier Award Winning La Boheme and The Turn of the Screw.

Previews for Constance by Oscar Wilde begins September 13. The press opening is September 16 and the production continues through October 23 at the King's Head Theatre in London.



Broadway To Vegas is supported through advertising and donations. Priority consideration is given to interview suggestions, news, press releases, etc from paid supporters. However, no paid supporters control, alter, edit, or in any way manipulate the content of this site. Your donation is appreciated. We accept PAYPAL. Thank you for your interest.



ART AND ABOUT


THE MOURNERS: TOMB SCULPTURE FROM THE COURT OF BURGUNDY

Jean de La Huerta and Antoine le Moiturier, Mourner no. 55, mourner with head uncovered, wiping his tears on his cloak with his right hand. 1443-56/57. Alabaster. Musée des Beaux-Arts de Dijon. Photo © FRAME by Jared Bendis and François JAY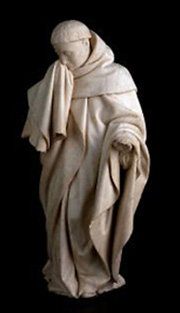 the exhibition features thirty-seven exceptional devotional figures that recreate the mourners in a royal funeral procession.

On loan from the Musée des Beaux-Arts de Dijon, these small marvels have never before been seen in their entirety outside of France prior to the current seven-city exhibition tour.

The figures were commissioned for the elaborate tomb of the second Duke of Burgundy, and carved by Jean de la Huerta and Antoine le Moiturier between 1443 and 1456/57. Hauntingly spare, yet crafted with astonishing detail, the alabaster sculptures exemplify the most important artistic innovations of the late Middle Ages.

The sculptures, each approximately sixteen inches high, depict sorrowful figures expressing their grief or devotion to John the Fearless (1371–1419), the second Duke of Burgundy, who was both a powerful political figure and patron of the arts.

The tomb, which is not traveling with the exhibition, comprises life-sized effigies of the duke and his wife, Margaret of Bavaria, resting upon a slab of black marble. The procession of mourners weaves through an ornate Gothic arcade beneath. Each individual figure has a different expression - some wring their hands or dry their tears, hide their faces in the folds of their robes or appear lost in reverent contemplation. The motif echoes that of ancient sarcophagi, but these innovative tombs were the first to represent mourners as thoroughly dimensional, rather than in semi-relief. The presentation of the mourners passing through the arcades of a cloister was also a great innovation for the tombs of the era.

During the 14th and 15th centuries, the Valois dukes of Burgundy were among the most powerful rulers in the Western world, presiding over vast territories in present-day France, Luxembourg, Belgium and the Netherlands from their capital in Dijon. The significant artistic patronage of the dukes drew artists, musicians and writers to Dijon, which became a major center of creativity.

This prolific creativity and innovation extended to the ducal court's sculpture workshop, which produced some of the most significant art of the period. The tombs of the first two Burgundian dukes, John the Fearless and his father, Philip the Bold, are among the best examples. Both tombs were originally commissioned for the family's monastic complex outside of Dijon, the Charterhouse of Champmol. Following the French Revolution, the tombs were dismantled and moved to the Musée des Beaux-Arts in Dijon, where they have remained since the early 19th century.

The Mourners: Tomb Sculpture from the Court of Burgundy was organized by the Dallas Museum of Art and the Musée des Beaux Arts de Dijon, under the auspices of FRAME (French Regional & American Museum Exchange). Curator Dr. Lynn Federle Orr is responsible for the San Francisco presentation.

The 2011 winner of the Association of Art Museum Curators award for excellence in the category of outstanding small exhibitions, The Mourners: Tomb Sculptures from the Court of Burgundy, is on view from August 20–December 31, 2011, at the Legion of Honor, San Francisco.


THE MUSIC GOES ROUND AND ROUND


THE SAINT OF BLEECKER STREET by Gian Carlo Menotti who wrote the librettos and provided the orchestration, became Menotti's second Pulitzer Prize-winning musical.

Masterworks Broadway has reissued this long-out-of-print title as a 2 disc CD.

This CD features riveting performances from soprano Gabriele Ruggiero and tenor David Poleri. This dramatic jewel was recorded under Menotti's supervision, and conducted by Thomas Schippers who received a special Tony Award.

The Saint of Bleecker Street is significant. Saint changed both Broadway and opera.

If there hadn't been The Saint of Bleecker Street, there wouldn't have been West Side Story.

Leonard Bernstein strongly implied that Menotti's colloquial grand opera style in The Saint of Bleecker Street formed the outline for Bernstein's West Side Story score. It has been written that Saint "lay the groundwork for an all-out urban Broadway."

This year is the centenary of Gian Carlo Menotti (1911-2007) and his alma mater, the Curtis Institute of Music, has been celebrating that event.

The distinguished composer graduated from Curtis in 1933 and served on the faculty for 20 years.

Fellow students at Curtis included Leonard Bernstein and Samuel Barber. The latter became Menotti's partner in life and in work.

Menotti's childhood influenced the 1954 opera The Saint of Bleecker Street. Menotti was the sixth of eight children of Alfonso and Ines Menotti. The family was well-to-do, owing to a coffee exporting firm run by an uncle, but had touches of what was considered "madness" with at least one relative having religious "hallucinations."



Conductor Thomas Schippers, at the piano, worked out a detail in the score of The Saint of Bleecker Street with Gloria Lane and David Poleri. Photo: Sony Music Archives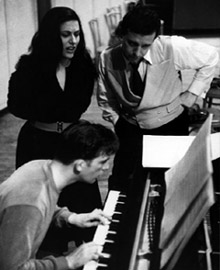 Menotti's passion for all things Italian or American poised him to set The Saint of Bleecker Street in New York City's Little Italy. He infused his characters with both the passion and superstition that is found in the culture.

The struggle of Menotti's characters in Saint echoes Menotti's conflicted sense of his own Catholicism versus his sexuality.

Annina is the Saint of Bleecker Street, an orphaned sickly young girl who sees religious visions and bears the marks of the stigmata (which is to say, wounds or reddish skin blotches in locations corresponding to the crucifixion wounds of Jesus). She lives in a cold-water flat with Michele, her older brother, who is both an outcast to the Italian-American community and an atheist; he rejects the notion that Annina can perform miracles, accusing the Church of exploiting his ailing sister. Michele wants her hospitalized, while the rest of the neighborhood believes she is a saint.

With flavors from Puccini's Tosca, Menotti's Saint soars with its own personality.

In addition to changing Broadway musicals by opening the door for productions such as West Side Story, Saint changed opera.

Menotti is credited inventing the twentieth-century chamber opera - a musical creation that is both easy to sing and to produce. An added plus is that an audience can comprehend what they are watching.

It's the orchestrations/arrangements that are the driving force with steaming arias and teeming choruses. Saint permits the musicians to become the "actors" who deliver their melodramatic histrionic, emotional best.



Gloria Lane recording the role of Desideria. Photo: Sony Music Archives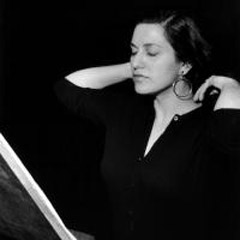 A 1978 New York City Opera production of Saint was aired on PBS.

Broadcasts were Menotti's staging of choice. His best-known works were created not for the stage but for television and, before that, radio. Saint is unusual is that it was written specifically for Broadway.

Sung in English, it was first performed at The Broadway Theatre in New York City on December 27, 1954. David Poleri and Davis Cunningham alternated in the role of Michele, while Gabriele Ruggiero and Virginia Copeland did the same with Annina. It ran for 92 consecutive performances and was a critical success.

This original Broadway cast two disc CD is powerful, intriguing and compelling. The cast features: Catherine Akos, mezzo-soprano - Maria di Gerlando, soprano - Maria Marlo, soprano - Leon Lishner, bass - Gabrielle Ruggiero, soprano - David Poleri, tenor - Gloria Lane mezzo-soprano - David Aiken, baritone.

With Lucy Becque, Reid Shelton (who would, two decades later, become Daddy Warbucks in Annie.) Elizabeth Carron, Russell Goodwin, Keith Kaldenberg, John Reardon (who would go on to co-star with Phil Silvers on Broadway in the Jule Styne musical Do Re Mi, introducing the standard Make Someone Happy.) Dorothy Krebill and Robert Barry.

Menotti wrote the Christmas classic Amahl and the Night Visitors, among numerous other operas, including the Pulitzer Prize-winning The Consul (1950) and The Saint of Bleecker Street (1955). He taught composition at Curtis from 1941 to 1955 and 1965 to 1971. He founded the noted Festival dei due Mondi in Spoleto, Italy, in 1958, and its American counterpart, Spoleto USA in Charleston, South Carolina, in 1977. He led Spoleto USA until 1993 when he became director of the Rome Opera.

In 1984, he received the Kennedy Center Honor for Lifetime Achievement in the Arts. The composer died on February 1, 2007 at Princess Grace Hospital in Monaco. He was 95.

A misprint in the accompanying CD booklet lists that the recording took place "January 16 & 17, 2011 in New York City." The correct year is 1955.

Transferring-Mastering Engineer John Fredenberg / Restoration Engineer: Brian Losch / Supervising Engineer: Charles Harbutt, Long Tail Audio, LLC, NYC.


SWEET CHARITY


RHYTHM & ROOTS

Macy Gray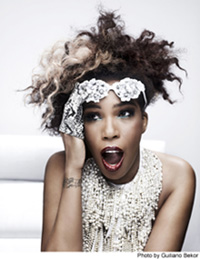 starring Grammy Award-winning, multi-platinum artist Macy Gray.

A benefit performance at the Ford Amphitheatre in Los Angeles on Sunday, August 28.

All proceeds from ticket sales will go to support Children Uniting Nations, an organization that brings attention to the plight of at-risk and foster youth, and Keshet Chaim Dance Ensemble's youth education programs, which serve to eradicate ethnic and cultural barriers through the arts.

Celebrating the connection and diversity of the world's cultures through music and dance, Rhythm & Roots also features performances by:

Israeli American Keshet Chaim Dance Ensemble; African American Lula Washington Dance Theatre; multi-ethnic, interfaith Agape International Choir; Israeli pop star Harel Skaat; R&B singer Abraham McDonald; and legendary female rapper MC Lyte.

Tickets are $75, $100 and $150.



JAPANESE EARTHQUAKE FALLOUT CAUSES ELVIS TO SEMI-LEAVE THE BUILDING


It should have happened months ago.

The announcement last Wednesday that the Viva Elvis, Cirque's homage to Elvis Presley at the Aria Hotel in Las Vegas, will shutter for six weeks while the Cirque folks try to save the show.

Actually, Viva Elvis is a victim of economic fallout from the devastating Japanese earthquake. Had that disaster not occurred, Zed, the Cirque show being staged at Tokyo Disneyland, would still be selling out and higher powers - not needing to place the talented Zed acrobats somewhere - would have dawdled in admitting that Viva Elvis wasn't up to the standards of the Cirque reputation.

The back to the drawing boards announcement came a week before the Tuesday, August 16th 34th anniversary of Presley's death.

Presley's life did take on characteristics of a side show carnival. However, staging a production which elevated his image into a bazaar, goofy, surreal presentation was so difficult to comprehend that even his ex-wife, Priscilla, admitted she had to have some of the scenes explained to her.

Finally, the string pullers decided to totally revamp, and then give the new show two years to make it, or a Viva Elvis is leaving the building notice will be posted.

Expect Cirque to return the show to Cirque roots, which are - the most inventive, talented acrobatic performers that you'll ever see. Assuming important roles will be cast members from the Japanese production Zed, plus more of the Presley signature rock 'n' roll. Gone will be the overload of confusing carnival crap.

The official Cirque statement from the company's senior publicist, Renee-Claude Menard. said:

Cirque du Soleil and MGM Resorts International have always had an active and open relationship about their projects. As for all Cirque du Soleil productions, we constantly review all aspects of our shows, including the creative positioning and the business results. These discussions have been ongoing for Viva Elvis, and we have decided to modify the show to make it less of a biographical representation of Elvis and more of an acrobatic Cirque du Soleil spectacular production.

As a result of the recent tragedies in Japan, Cirque du Soleil has had to make a difficult decision to close its permanent show Zed by the end of this year. But in making that difficult decision, an opportunity presented itself to enhance Viva Elvis.

Zed features some of the most impressive acrobatic acts ever presented onstage, and we truly wish to continue bringing these performances to our audience. In the last weeks, we have reviewed the possibilities and have decided to fully integrate these beautiful acts in Viva Elvis and to present them to the millions of people who visit Las Vegas annually.

Cirque du Soleil is a creative-driven organization and wants to ensure that this integration is done well and fully respects its artistic objectives. To do this, the partners have agreed that Viva Elvis will take extended dark dates beginning in January 2012. This integration is expected to be completed by the end of the first quarter. We will also take this time to review all marketing strategies to reposition Viva Elvis. We are sure that like us, you will be excited to re-discover Viva Elvis.

I would like to specify that we expect to have the same total amount of artists onstage, and the financial investment both in the creative integration and new marketing initiatives are still under complete evaluation."

Cirque in Las Vegas has seven shows on the Strip. The first, Mystere, debuted in 1993 and is still running.


SPREADING THE WORD


FLATROCK PLAYHOUSE the State Theatre of North Carolina, will be celebrating its 60th Anniversary Season in 2012 by hoping to launch a new musical set in Western North Carolina, and stage Sid Caesar's Your Show of Shows in which the classic television series comes to life. Pending completion negotiations for the rights, this would be a world premiere production.

According to the venue's promo: "From 1950 to 1954, millions of viewers tuned their television sets to NBC for a 90-minute sketch-comedy show starring Sid Caesar, Carl Reiner, Howard Morris and Imogene Coca. The writers were Mel Brooks, Neil Simon, Michael Stewart and Mel Tolkin and the show was called Your Show of Shows. The show changed television forever and influenced every television comedy that came after it. Flat Rock Playhouse is pleased to revisit some of the greatest comedy skits ever written in this all-new stage production."

HARRY SHEARER TALKS NEW ORLEANS The Big Uneasy. Humorist Harry Shearer (This is Spinal Tap, The Simpsons) comes to BAM to present his first documentary that gets the inside story on the disaster that hit his adopted hometown of New Orleans.

Shearer offers never-before-seen video of the moments that New Orleans began to flood after Hurricane Katrina and the painstaking investigations that followed.

In short segments hosted by actor John Goodman, Shearer speaks candidly with local residents about life in New Orleans and why they still choose to live there.

Wednesday, August 17, at the BAM Rose Cinemas, Brooklyn, NY.

PLAYBOY PAJAMA PARTY for the first time the Playboy's Midsummer Night's Dream Party - the Playboy Mansion's most infamous lingerie party - comes to Sands Macao. On August 20th, Playboy Club Macao is promising "an uninhibited night of fun, fantasy and sense-indulging experiences.

According to the Sands Macao "Playboy Club gives guests a rare glimpse into Hef's charmed lifestyle. The night promises scantily-clad guests and body painted ladies sipping delicious cocktails and dancing to beats by DJ Bliss. It's the sexiest party of the year so guys don't forget your smoking jacket, and for the ladies don't forget to wear your sexiest lingerie."

ROCKY HORROR TIME WARP FLASH MOB is being staged today, August 13 by The Old Globe Theatre in San Diego. The occasion is CityFest, the famed Hillcrest neighborhood street fair now in its 27th year. The Old Globe which is staging Richard O'Brien's The Rocky Horror Show from September 15 – November 6, encouraging fans of the cult musical, to join in the fun and dance to the show's signature tune, The Time Warp. Participants are encouraged to dress as their favorite Rocky Horror character, or just come as they are. The old Globe has even posted a "How to do The Time Warp" instructional video.

CityFest is a huge celebration of community spirit through music, arts, crafts and food in the heart of San Diego's Hillcrest neighborhood and attracts 150,000+ attendees each year.


CELEBRATING ABBEY ROAD STUDIOS' 80th ANNIVERSARY
Abbey Road is the eleventh studio album released by the English rock band The Beatles and their last recorded.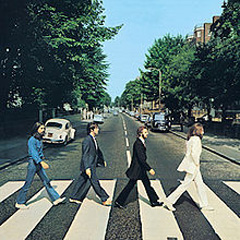 The most famous recording studio in the world - Abbey Road.

The first recording at the studio was Land of Hope and Glory conducted by Edward Elgar in 1931. But it was The Beatles that will foreve be associated with the studio.

Originally a nine-bedroom Georgian townhouse built in the 1830s on the footpath leading to Kilburn Abbey. the building was later converted to apartments. The premises were acquired by the Gramophone Company in 1931 and converted into studios. The neighboring house is also owned by the studio and used to house musicians.

Gramophone Company later amalgamated with Columbia Graphophone Company to form EMI, which took over the studios. The studios were then known as EMI Studios until EMI formally changed their name to Abbey Road Studios in 1970.

Studio Two at Abbey Road became a centre of rock music in 1958 when Cliff Richard and the Drifters (later Cliff Richard and The Shadows recorded Move It there, arguably the first European rock and roll single.

Abbey Road Studios is most closely associated with the Beatles, who recorded almost all of their albums and singles there between 1962 and 1970. The Beatles named their 1969 album Abbey Road, after the street where the studio is located. The success of that record caused the recording studio to change its name to Abbey Road in honor of that Beatles' 1970 record.

The studio has been around for 80 years - a fact that isn't going by unnoticed.

As part of the 80th anniversary celebrations, there will be two uniquely themed symphonic performances that celebrate legendary recordings from Abbey Road Studios' history.

The concerts will be held on August 20-21 at Chiswick House and Gardens in West London.

Boutique orchestral arrangements of both new and classic rock, pop and epic film scores with an indelible attachment to their legacy will be performed by one of the UK's most prestigious orchestras, the Royal Philharmonic, and led by world class conductors Nick Ingman and Joel McNeely.

On Saturday August 20, the audience will enjoy full symphonic versions of timeless rock and pop anthems from The Beatles, Elgar, Radiohead, Oasis, Kate Bush, Queen, Elbow, the Hollies and more.

On Sunday August 21, the many film scores recorded at Abbey Road Studios will be heard in all their soaring majesty. These include music from Harry Potter, Star Wars, Raiders of the Lost Ark, The Lord of the Rings, Braveheart, Star Trek: The Motion Picture and 2001: A Space Odyssey.

Performing alongside the eighty-six strong Royal Philharmonic Orchestra will be the forty singers of the Crouch End Festival Chorus, plus guest soloists.


OTHER PEOPLE'S MONEY


FREE FOR ALL is a much-loved Washington, DC tradition that offers free Shakespeare performances to the community. This year's Free For All kicks off The Shakespeare Theatre Company's 25th Anniversary Season.

The Shakespeare Theatre Company stresses that the performances are "Completely 100% FREE. Tickets cost nothing. Nada. Zip. Zero. Zilch."

Come and enjoy Julius Caesar, originally performed 2008, directed by David Paul, original direction by David Muse, which will be staged August 18-September 4 at Sidney Harman Hall.

There are 774 seats in Sidney Harman Hall. For each performance, a certain number of seats are designated to STC Subscribers, Friends of Free For All, students and other community partners through numerous outreach initiatives.

A minimum of 200 seats will be offered to the general public for each performance through the Ticket Line at the box office, as well as many more given away through their Online Lottery.

BEYONCE is popular. Her 4 Intimate Nights With Beyoncé set for August 14,16,18 and 19 at NYC's Roseland Ballroom all sold out within one minute of going on sale last Wednesday. Her first show sold out in just 22 seconds. Speed dial works.

ROLLS ROYCE ONCE OWNED BY SAMMY DAVIS, JR's hits the auction block this coming week-end, being gaveled down on August 18-19 by Bonhams at the Quail Lodge Sale in Carmel, California.

The sand-colored Silver Cloud III Drophead Coupe is only one of 23 built with left-hand drive. Custom touches include tinted glass and a case in the rear armrest for a notebook, compact and cigarettes. Davis purchased the car at the height of his Las Vegas Rat Pack fame and referred to it in a 1964 Ebony magazine interview as his "$20,000 plus Rolls Royce."

Bonhams estimated its value today at approximately $500,000, due to its rarity and celebrity provenance. Davis was nearly killed in a car accident in 1954 on Route 66 during a trip from Las Vegas to Los Angeles, losing his left eye in the incident. It is legal to drive with vision in only one eye and Davis remained an avid car buff until the end of his life. His prized collection included several vehicles customized by Batmobile creator George Barris and a DeLorean.

While noted for his lavish lifestyle when Davis died in 1990 he owed $15 million in taxes.

The Sammy David Rolls is one of several ultra posh cars in the auction, which some expected to bring in $1.5 million.


WEDDING BELLS . . . .


JOY BEHAR the talented comedian married Steve Janowitz, a retired junior high school mathematics teacher, in a private ceremony Thursday evening, August 11, 2011 in New York City. On her Twitter site, Behar coyly posted her marriage announcement as "gone fishing."

The couple has been together for 29 years. Haven't a clue where they might have registered for bridal gifts. After 29 years of togetherness, chances are some of their possessions are starting to wear out, and perhaps they need a new toaster.

It's the bride's second marriage.

SHERRI SHEPHERD a co-host of The View (with Joy Behar) married Lamar Sally, a writer, Saturday, August 12, 2011 in a lavish ceremony at the Fairmont Hotel in Chicago. The Style Network filmed the ceremony and reception for a Style wedding special "Wedding Fabulous: Sherri Shepherd Gets Married" which will be broadcast Tuesday, September 13.

Previously wed, the bride's 6-year-old son Jeffrey escorted her down the aisle. Her bridesmaids included The View co-host Elisabeth Hasselbeck, Niecy Nash, Kym Whitley, Yvette Nicole Brown, Cynthia Occelli, Wendy Peel and matron of honor, Vonda Morris.

On her Twitter site Shepherd posted that on the eve of her wedding - "Sitting in pi's when all of a sudden my bridesmaids burst into their room w their own footed pj's - Just had the most amazing bachelorette party with Bridesmaids... much food, laughter & love in this room ...can't wait to open my gifts."



SOUTH PACIFIC

Paulo Zsot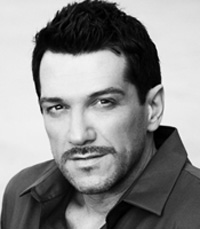 by Rodgers and Hammerstein.

The winner of 7 Tony Awards, the Lincoln Center production has its highly anticipated European premiere at the Barbican Centre in London with previews beginning August 15.

Featuring a cast of 40 and an orchestra of 25, this is a ravishing and breathtaking production, which is brought to the UK by the entire Lincoln Center creative team, led by director Bartlett Sher, with musical staging by Christopher Gattelli, sets by Michael Yeargan, costumes by Catherine Zuber, lighting by Donald Holder, sound by Scott Lehrer, musical direction by Ted Sperling and original orchestrations by Robert Russell Bennett.

Paulo Szot, who won a Tony for his performance as Emile de Becque in the Lincoln Center Theater production, will be recreating the role of the French plantation owner. He will be sharing the role of Emile with Welsh National Opera star Jason Howard.

Joining them will be Samantha Womack in the role of Nellie Forbush. Also starring will be Daniel Koek, as Lt Joe Cable, Alex Ferns , as Luther Billis, and Loretta Ables Sayre reprising her Lincoln Center Tony-nominated performance of Bloody Mary.

Set on a tropical island during World War II, this is the sweeping romantic story of two couples, threatened by the realities of war and by their own prejudices. Its portrayal of Americans stationed in an unfamiliar culture in wartime remains as relevant today as when it first thrilled audiences.

Considered one of the finest musicals ever written, the score includes Some Enchanted Evening, I'm Gonna Wash That Man Right Outa My Hair, Bali Ha'i, I'm in Love with a Wonderful Guy, Younger than Springtime, Happy Talk and There is Nothin' Like a Dame.

The production runs at the Barbican Centre in London for a limited season of 7 weeks from August 15 to October 1, with an opening night on August 23.

POTTER POTTER - The Unauthorized Harry Experience – A Parody by Dan and Jeff.

All seven Harry Potter books in seventy minutes. Watch CBBC's Dan and Jeff take on the ultimate challenge, with the help of endless costumes, brilliant songs, ridiculous props, and a generous helping of Hogwarts magic. This fantastically funny show features all your favorite characters, a special appearance from a very frightening fire-breathing dragon, and even a game of Quidditch involving the audience.

"A must-see for Potter addicts, and a great introduction to the series for anyone who's ever wondered what all the fuss is about," states the theatre.

Dan and Jeff are best known for their TV appearances. They were nominated earlier this year for the prestigious Best Entertainment Olivier Award for their last show, Potted Panto.

August 18, 2011 to August 29, 2011 at The Garrick Theatre in London.

THE LIBERTINE by Stephen Jeffreys.

Directors Terry Karabelas and Damien Ryan.

A theatrical exploration of the life and times of Charles II and the fascinating Earl of Rochester.

Billed as " a stunning theatrical exploration into the decaying facade of 'civilized' values. Set in the restored court of Charles II in 17th century England, The Libertine follows the exploits of John Wilmot, the Earl of Rochester. Wilmot makes himself the subject of his own life experiment and throws himself into the seedy underworld of taverns, brothels and theatres and he rebels against the highly polished world of court and King. When he falls in love with actress Elizabeth Barry, relationships are tested, and ideals and moral codes are challenged.

"Delving into themes of morality, self-expression and liberation, Sport for Jove unravels Jeffreys' bold exploration on the nature of personal freedom and love."

Starring: Charles II - Sean O'Shea; John Wilmot, Earl of Rochester - Anthony Gooley; Elizabeth Malet - Susan Prior; Elizabeth Barry / Whore - Danielle King; George Etheredge / Punter - Matthew Edgerton; Alcock / Bouncer / Constable - Sam Haft; Sackville / Harris - James Lugton; Billy Downs / Mr Huysman - Felix Jozeps; Jane / Pikeman - Naomi Livingston; Mrs Luscombe / Mrs Ufton / Madam - Alice Livingstone.

August 18 to September 11 at the Darlinghurst Theatre in Potts Point, Australia.

DEATH OF A SALESMAN with Mike Nichols directing Arthur Miller's Pulitzer Prize-winning play revival will open next March on Broadway at the Barrymore Theatre.

The Amazing Spider-Man star Andrew Garfield make his Broadway debut.

Oscar-winning actor Philip Seymour Hoffman will play the traveling salesman Willy Loman; Linda Emond will play his wife, Linda; and Garfield will play Loman's underachieving son, Biff.

GREASE music, book and lyrics by Jim Jacobs and Warren Casey, directed by Bobby Smith, appears to be 'the word' at the Olney Theatre in Washington. DC. The musical has been extended to August 28.

THE WIZARD OF OZ will see Michael Crawford continuing in the role of Professor Marvel and the Wizard in Andrew Lloyd Webber's new production of The Wizard of Oz, at the London Palladium until February 5, 2012. The news was first announced by Webber's Really Useful Group.

The production stars Danielle Hope, the 19-year-old schoolgirl who won the role of Dorothy by winning of BBC TV's Over the Rainbow contest. However, Danielle did developed throat problems which Crawford soothed by bringing her manuka honey.


WHO'S WHERE


CHRISTINE ANDREAS in Two for the Road, a 'Well Traveled' musical recollection featuring Martin Silvestri at the piano Distinctive renditions of the American Songbook, Broadway Gems and Original Compositions. Saturday, August 20, at Guild Hall in The Hamptons, NY.

KEITH URBAN in the spotlight Tuesday, August 16, at the INTRUST Bank Arena in Wichita, KS. On Thursday the show is at the BOK Center in Tulsa, OK. Friday's performance is at the Sprint Center in Kansas City, MO. On Saturday he stars at the Qwest Center in Omaha.

SADE entertains Monday, August 15 at the Rose Garden Arena in Portland, OR. On Wednesday the show is at the Power Balance Pavilion in Sacramento. On Friday she begins a three night stand at the Staples Center in Los Angeles.

JOSH GROBAN on stage Tuesday, August 16, at the Viejas Arena in San Diego. Wednesday's show is at the Staples Center in Los Angeles. On Friday he can be enjoyed at the US Airways Center in Phoenix. Saturday finds him in Las Vegas at the MGM Grand Garden Arena.

GARTH BROOKS performs August 19-20 at Wynn Resorts in Las Vegas.

CHRIS BOTTI blowing his own horn Wednesday, August 17, at Wolf Trap in Vienna, VA.


FINAL OVATION


JOHN WOOD the Tony Award winning actor died in his sleep on Saturday, August 6, 2011. He was 81.

The veteran British actor won a Tony in 1976 as Henry Carr in Tom Stoppard's Travesties. He also appeared on Broadway in 1974 as Sherlock Holmes and in 1967 as Guildenstern in Rosencrantz and Guildenstern Are Dead. He received Tony nominations for both performances.

In 1978, Wood originated the role of playwright Sidney Bruhl in Ira Levin's long-running thriller Deathtrap.

A native of Derbyshire, England, Wood attended Oxford University, where he studied law but changed course after having great success directing and playing the title character in a student production of Richard III. He joined the Old Vic Company and later moved on to the Royal Shakespeare Company.








Next Column: August 21, 2011
Copyright: August 14, 2011. All Rights Reserved. Reviews, Interviews, Commentary, Photographs or Graphics from any Broadway To Vegas (TM) columns may not be published, broadcast, rewritten, utilized as leads, or used in any manner without permission, compensation and/or credit.
Link to Main Page
---
Laura Deni



For the snail mail address, please E-mail your request.
CLICK HERE FOR COMMENT SECTION