! >
Broadway To Vegas
  
 SHOW REVIEWS CELEBRITY INTERVIEWS GOSSIP NEWS

| | |
| --- | --- |
| | |
NORTH SHORE MUSIC THEATRE DOESN'T LET FIRE BURN OUT SEASON - - JEREMY IRONS AND MELISSA ERRICO IN CAMELOT - - JUDY KAYE STARS IN SOUVENIR - - YUKON INTERNATIONAL STORYTELLING FESTIVAL - - ELVIS REMEMBERED - - DRUMSTRUCK - - WE WILL ROCK YOU CELEBRATES MILESTONE - - ROSIE O'DONNELL TO BOOST FIDDLER ON THE ROOF - - DONATE . . . Scroll Down


ABYSSINIA RISES AFTER NORTH SHORE MUSIC THEATRE FIRE
North Shore Music Theatre prior to the blaze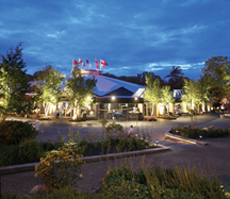 A three alarm fire which caused $3 million worth of damage to the North Shore Music Theatre in Beverly, MA only emphasized the show must go on attitude of the theatre community.

"We're going through a lot. We had a fire - a major fire inside our theatre," Julie Arvedon, Communications Manager for the regional theatre, said in speaking Friday with Broadway To Vegas. She talked about future plans for the award winning regional theatre following the devastation suffered from a massive July blaze.

"We are closed at the moment and moving our next two productions to the Shubert Theatre in Boston."

Perhaps fittingly the next musical production, Abyssinia, which opens August 23, is the life-affirming story of a young woman, blessed with an angelic voice and a mystical ability to heal, on a courageous journey of renewal and rediscovery - woven together through the inspiring music and rhythms of gospel, jazz and ragtime.



The July 14th fire destroyed the stage and heavily damaged the theater. Photo by Paul Lyden. Photo courtesy North Shore Music Theatre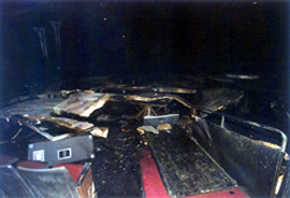 "There was an electrical malfunction underneath the stage," said Arvedon referring to the fire that was reported at about 11 p.m. "They haven't determined yet what exactly caused it, but it was an accidental fire. It was actually the opening night of Cinderella. It happened after the show had closed that night. Thankfully, no one was in the theater when it happened. But it caused pretty extensive damage."

The fire destroyed the building's hydraulic stage and 1,800 seats and caused significant smoke and water damage. The fire department ruled that "the building's sprinkler system probably prevented more extensive damage."

"We've been going through a lot in the past month," Arvedon emphasized about the blaze that had fire crews from 11 communities fighting the flames.

"The Cinderella cast and crew went home, back to New York," she said of the production that was to have run through July 31. "Most of them were living in New York. We had to cancel the rest of the run, because there was no time to mount it anywhere else. We're in the round, so it is a difficult transition to make to proscenium. It would have been very hard to do that."

"Under Equity rules, an Act of God - fire - that type of thing, their contract is over when that happens. But we did do an additional payment to them to help them out," she said referring to the Cinderella cast. Cinderella will now become part of North Shore's 2006 season.

All of the subscribers "were given refunds."

"It was terrible, but I tell you the theatre community and our community in general have been just phenomenal. The support has just been unbelievable. We are very, very thankful," Arvedon stressed.

"The insurance is covering a lot of it. But with Cinderella it was difficult because of the lost revenue. We had four performance and we should have had a three week run. That was pretty devastating."

Stepping up to the plate - the Shubert Theatre in Boston, about 25 miles away from North Shore Music Theatre.

"Josiah Spaulding who is the CEO of the Wang Center for the Performing Arts that runs the Shubert Theatre there in Boston, and Jon Kimbell who is our artistic director and executive producer of North Shore Music Theatre, spoke the day after the fire," Arvedon reported.

"As luck would have it, the Shubert was dark for the two months that we basically would have needed it. So, we were able to move in fairly easily. They are actually giving it to us free of rent."

"Since we are now going to be mounting shows at the Shubert, everyone on staff is really working hard."

"We are opening Abyssinia, a new musical that we are doing as a co-production with Goodspeed Musicals. We open Abyssinia on August 23 with previews for opening night of August 25. It's terrific, " she exclaimed.

The production stars; Uzo Aduba, Shannon Antalan, Edward M. Barker, Derrick Cobey, B.J. Crosby, Seth Diggs, Karole Foreman, Andre Garner, Angela Grovey, Kellee Knighten, Darius Nichols, Q. Smith, Nathaniel Stampley, Eric LaJuan Summers, Lisa Nicole Wilkerson, Natasha Yvette Williams

Camelot will also be presented at the Shubert.

North Shore Music Theatre is even offering bus service from the NSMT parking lot to The Shubert in Boston for $12 per person round trip.

"Basically, we want everyone to come and see Abyssinia at the Shubert. That is Number One. And, if people would like to donate, obviously, we need everyone's support. We would love to have donations for the re-building," Arvedon said.

Also, the remaining 2005 Children's Musicals have been cancelled. Other cancellations included The Beach Boys on August 14, George Carlin on August 28, Suze Orman on October 2, the Righteous Brothers on October 13, The Royalty of Doo-Wop All- Stars on October 14, and Johnny Mathis on October 15 and 16.

Jerry Herman and Broadway Friends on September 26th, Loretta LaRoche on November 6, and Holiday Pops on December 19 are not cancelled.

Founded in 1955, North Shore Music Theatre (NSMT) is a year round 1,800 theatre in the round. Close to 400,000 patrons attended NSMT annually, making it the largest full-time professional Equity non profit theatre company in New England. NSMT annually produces 7 musical productions, 2 dozen celebrity concerts, and 10 children's shows. The loyal subscription audience of 27,500 is one of the largest in New England and among the top ten in the country.


BREADBASKET LOCATION OFFERS INTENSE MUSICAL THEATRE TRAINING
Laurie Martinez Lessman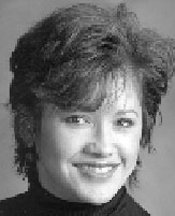 "For the love of theatre," is the way Laurie Martinez Lessman put it.

The Lincoln Community Playhouse is venturing forth into an ambitious attempt to teach teenagers musical theatre.

The Lincoln, Nebraska venue, a non-profit theatre founded in 1946, is looking for talented young performers to be a part of the first Broadway Showcase at the Lied Center. This Emerging Artist Institute is a partnership between the Lied Center for Performing Arts and the Lincoln Community Playhouse.

This intensive training experience is especially for emerging musical theatre performers ages 12-18. Participants, accepted by audition only, will learn about the history and business of Broadway, develop and hone their skills in auditioning, singing, dancing and acting with local professionals through the Lincoln Community Playhouse. The showcase is an eight month commitment that will culminate with a performance at the Lied Center on Friday, April 14, 2006.

Auditions will take place at the Lincoln Community Playhouse on Saturday, September 3.

Laurie Martinez Lessman, director of the program, spoke with Broadway To Vegas about the project.

"We'd love to have hundreds, but perhaps only 50 people might be accepted into this," she explained.

"I mailed letters on Friday. As of Monday we had six people call to sign up for the audition. I also received E-mails from interested people. So, the word is going out this week. We are going to put an ad in the paper. We've got a couple of people from Omaha that are interested," she said of the community located 60-miles from Lincoln. "We have people from Beatrice who are interested," she added about the town 38-miles away.

Lessman emphasized that students from any location are welcome to audition as long as they are committed to the program. That means attending the weekly sessions.

"It's like family. You're going to be picking your family for the next eight months," she said of the audition process.

"We are opening it to anybody who thinks they want to try this. We know that one or two might drop out - but this is what they have to commit to. We are going for everything this very first time."

"I'm not the only one doing this," stressed Lessman who has a BFA in musical theatre. "I've got some really good people. And, the Lied Center for the Performing Arts. If it wasn't for their space and people there who believe in this, we couldn't do this - we'd be starting a lot smaller."

"The kids accepted will pay tuition of under $400. Their fees go to the use of the space to take the classes - 60 to 75 hours of classroom instruction. They will see three shows at the Lied Center - Thoroughly Modern Millie, Miss Saigon, and Will Rodgers Follies. They get to do workshops with many of the cast members of these national tours. They get a T-shirt - all of the stuff."

"The tuition is so low in comparison to what they get," emphasized Lessman. "I am volunteering my services. I've got several other instructors who are volunteering their time. We are doing this because we love the theatre. We want to make this work and we want to make it affordable for the participants who are accepted."

"This will be on Saturday afternoons. We will be having workshops at the Playhouse and classes will be at the Lied Center. We will offer classes on Saturdays for voice for the stage, acting, musical theatre dance, history of Broadway, history of musical theatre. A lot of different ways for them to engage in all aspects of musical theatre."

"Beginning after the first of the year we will start focusing on materials and scenes that they will want to perform."

Lessman got the bee in her bonnet that led to this adventure after taking a group of students to Atlanta.

"We took a group down to Atlanta in January and they performed for the Broadway Junior Festival," she said of the group of 18 teens, all chosen through the audition process.

"We didn't know then that we'd wind up going to Atlanta, which was a great experience for us. We went down there because we wanted to see what this was like. There were about 45 other theatres. There were five top performing awards and we won one of the top five."

"That is where this came about. We found that our own kids want to further their knowledge and experience."

"We do a lot of the Broadway junior shows from MTI. Just seeing what the kids were able to do in just a week's time - putting a show together," she said of the Atlanta experience.

"It was like - hummm we can do this. Wonder what we could do with a school year commitment?"

"This is the first time we have done this, so we are trying everything," she said about diving head first into the deep end.

Lessman stressed that the parents are not pushing their offspring into providing a spotlight for their unrequited ambitions.

Neither do the teens have unrealistic expectations of stardom.

"All of the kids that I've seen are kids that just really want to perform or volunteer in any capacity. A lot of them just want to better understand theatre. They want to know what it takes. They want to learn the business side of this, too. We will be teaching the business side - from resumes to what to expect. "

"A lot of our kids are getting calls to do commercials and voice overs. As part of our education we want to give them information, at the very beginning, to make sure they understand what they are getting into."

"We have a really good group of kids in the community. We just know by the number that we have auditioning for us for our musicals. Sometimes there is only one part for that age group, but they come and audition anyway. We have some great talents."

As the Education Director at LCP she is in charge of Theatre To Grow, an after-school activity for elementary schools in Lincoln. She also coordinates and helps teach numerous theatre education classes held throughout the year at LCP for both youth and adults, as well as the Theatre Arts Academies that are held during school breaks and the summer months. Most recently she has begun directing LCP's cabaret nights in conjunction with mainstage series shows.

"I teach classes in all aspects of theatre and I'm a free lance choreographer," she explained. "Most of my background is in performance. I've been volunteering here for 20 years. I've been teaching for a dozen years and I've been on staff for three years."

Eventually Lessman hopes the schools will grant some type of extracurricular credit for participating in this program.

"Perhaps they could get credit in terms of lettering in music or drama," she suggested.

Completion of the intensive, eight month program also looks good on a college application.

"Yes, it does," responded Lessman.

"This is an eight month musical theatre commitment, so I think we are going to get kids that really want to do this."


JAZZ HALL OF FAME SELECTS THE CLASS OF 2005


The class of 2005 for the Nesuhi Ertegun Jazz Hall of Fame was announced by Jazz at Lincoln Center.

Count Basie, trumpeter Roy Eldridge, Ella Fitzgerald, Benny Goodman, pianist Earl "Fatha" Hines, alto saxophonist Johnny Hodges of the Duke Ellington Orchestra, Basie band drummer Jo "Papa Jo" Jones, bassist-bandleader-composer Charles Mingus, cornetist Joe "King" Oliver, who brought Louis Armstrong north to Chicago from New Orleans in 1922, and Thomas "Fats" Waller, the stride pianist and singer who wrote hit tunes such as Ain't Misbehavin and Honeysuckle Rose. Pioneering bebop drummer Max Roach and tenor saxophonist Sonny Rollins became the first living inductees.

"These great jazz musicians set new standards for instrumental and vocal performance in the 20th century," said Wynton Marsalis, the artistic director of Jazz at Lincoln Center. "Their work stands as a testament to the creative power of jazz, and their impact on musicians and audiences across time is etched into the prominent history of jazz."

Inductees, family members of inductees, friends and fellow artists will be on hand to receive honors at the second annual private induction ceremony on September 8th at Frederick P. Rose Hall, home of Jazz at Lincoln Center. Performers and participants will be announced prior to the event.

The artists are nominated and elected by a 58-person international voting panel, which includes musicians, scholars and educators from 17 countries. Criteria for nomination includes excellence and significance of the artist's contributions to the development and perpetuation of jazz.

The Nesuhi Ertegun Jazz Hall of Fame was named by Ahmet Ertegun, a Jazz at Lincoln Center board member, and his wife, Mica, in honor of his brother and partner in Atlantic Records, who died in 1989.

The Nesuhi Ertegun Jazz Hall of Fame was designed by the Rockwell Group and opened to the public in 2004 during the grand opening of Jazz at Lincoln Center's new home, Frederick P. Rose Hall. The space is a multi-media installation featuring an 18-foot video wall, interactive kiosks, touch-activated plaques and the great sound and spirit of jazz. The Hall of Fame's physical design celebrates jazz by emphasizing flexibility and improvisation, and utilizes materials, such as cork, wood and brass, found in jazz instruments.


TELLING IT LIKE IT WAS


Ever get an urge for a good story told in the Tagish language?

Relax. The Yukon International Storytelling Festival takes places August 19-21 in Whitehorse, Yukon.

Founded in the mid 1980s by Angela Sidney, one of the last speakers of the Tagish language. She was forced to travel all the way to Toronto in order to tell her stories to a large audience. This prompted two Yukoners to organize the first Storytelling festival in the Yukon in 1988.

For the first Festival, storytellers came from six countries on four continents and joined Yukon native elders to tell and sing stories in 23 different languages, 16 Native languages, Dutch, French, Danish, English, Norwegian, Icelandic, and Ukrainian. All storytellers were encouraged to tell in their first language, with a summary or full translation in English.

Within two years, it had become an annual international festival, focusing on, but not restricted to, countries from the circumpolar world.

Throughout the years, performers have come to join our Yukoners from Chuckotka, Magadan, Sakhalin, Norway, Finland, Sweden, Iceland, Zimbabwe, Greenland, Scotland, the Faroe Islands, Japan, China, Australia, Bolivia, Alaska, and the Southern United States as well as every province and territory in Canada.

Each year sees more and more storytellers gathering in Whitehorse to celebrate the North's rich storytelling tradition under the midnight sun. Incorporating costume, dance, theatre, drums, mime, and music, the festival transports visitors across miles of land, years of history, and lifetimes of experiences.



Broadway To Vegas is supported through advertising and donations. Priority consideration is given to interview suggestions, news, press releases, etc from paid supporters. However, no paid supporters control, alter, edit, or in any way manipulate the content of this site. Your donation is appreciated. We accept PAYPAL. Thank you for your interest.



This weekend Queen and Ben Elton's musical, We Will Rock You officially became the longest running musical to play at London's Dominion Theatre, one of the West End's biggest theatres. The show displaced the previous record holder, Robert Stigwood's Grease, which ran at the Dominion for 3 years and 3 months. In setting a new performance record at the theatre, We Will Rock You also outruns other box office hits Beauty and the Beast, which played for 2 years 7 months, and Dave Clark's Time, formerly the third longest-running show at 2 years.

The show's achievement will be recognized with a special performance of the show next Wednesday, August 17th, in the presence of show creators Brian May, Roger Taylor and Ben Elton.

Since opening in previews from on April 26. 2002, the London production of We Will Rock You has sold over 2.1 million tickets. Since London audiences heralded We Will Rock You a smash hit, the show has spawned sister productions in Australia, Spain, Russia and Germany, Japan and is the entertainment showpiece at the Paris Hotel in Las Vegas.

Globally, the show has now been seen by an audience of more than 4 million. Next year sees productions open in South Africa, Switzerland and Italy.

At the heart of the futuristic rock comedy are Queen's legendary hits, including We Are the Champions, Another One Bites the Dust, Bohemian Rhapsody and, of course, We Will Rock You.


SPREADING THE WORD


KANSAS CITY REP throws a free theatre tailgate party where those attending will learn about the Rep's 2005-06 Season. A free night of beer and burgers, backstage tours, a season preview, prizes and live music from Ike and Nate of The Wilders. Friday, August 19 on the KC Rep Patio.

TALKBACKS AT THE NORMA TERRIS THEATRE Participate in the process of creating a new musical, Amour, by discussing the show with the creative team immediately following the performances on Thursday evenings August 18 & 25 at the Goodspeed Opera House in East Haddam, CT.


CURTAIN DOWN


THRILL ME: THE LEOPOLD & LOEB STORY After a run filled with impressive reviews and three extensions, The York Theatre Company - located in Saint Peters Church which is undergoing renovations - has announced that this musical by Stephen Dolginoff, will play its final performance Sunday, August 2.



SOUVENIR

Judy Kaye stars as Florence Foster Jenkins.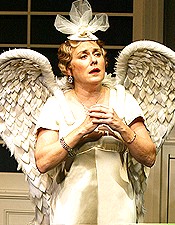 a Fantasia on the life of Florence Foster Jenkins, a play with music by Stephen Temperley, Directed by Vivian Matalon. starring Judy Kaye as Florence Foster Jenkins and Donald Corren as Cosme McMoon.

In 1932, when Florence Foster Jenkins, a tone deaf spinster with deep pockets (inherited wealth from her father) and a striking lack of talent, met Cosme McMoon, an equally hapless pianist, stardom had eluded them both.

But over the next 12 years their bizarre musical partnership earned them an extraordinary cultish fame, and their awkward pairing evolved into a friendship as full of light and warmth as the spotlight they shared, culminating in a sold out performance at Carnegie Hall.

Souvenir arrived at the Berkshire Theater Festival in Stockbridge, Mass. with previews August 17-18, opening August 19 running through September 3. Opens November 10 at the Lyceum Theatre in NYC.

LOVE, JANIS Conceived, adapted and directed by Randal Myler. Inspired by the book Love, Janis by Laura Joplin featuring Katrina Chester as Janis Joplin. August 16 - September 10 Actors Theatre of Louisville, KY. A Conversation with the Artists takes place August 21.

PIPPIN by Roger O. Hirson and Stephen Schwartz. Jack Hofsiss directs cast that features Anastasia Barzee, Larry Keith, Sebastian La Cause, David Larsen, Alice Playten, Stephanie Pope-Caffey, Raphael Odell Shapiro and B.D. Wong.

This eternally contemporary Tony Award winning musical comedy is based on the legendary son of the 8th Century King Charlemagne, the show tells the tongue-in-cheek coming-of-age story of Pippin who, on a quest for fulfillment, samples politics, religion, war, love and other pursuits before finding his true calling. Through September 4 at the Bay Street Theatre in Sag Harbor, NY.

GREASE Lenape presents an entirely new revival of Grease. For the first time anywhere in the Delaware Valley, this all new production will feature four songs from the motion picture, specially inserted into the show for Lenape's production. Nowhere else in the area will patrons hear the hit songs, Hopelessly Devoted To You, Sandy, You're The One That I Want, and Grease. Jen Childs will direct this production. On August 20, Grease is the word at Lenape Regional Theater in Marlton, NJ.

DRUMSTRUCK currently playing at Dodger Stages in New York City, is the world's first interactive drumming experience.

Direct from sold out engagements in Johannesburg, South Africa and Australia. In its American debut, Drumstruck provides a 2-foot-tall drum on every seat - and the entire audience gets the chance to make music together.

Featuring 11 South and West African percussionists, they start the show with a pulse-racing bang: song, dance and eye blurring drum performances. Then they lead the audience in an exhilarating experience of exuberant African drumming.

Drumstruck is the brainchild of drum enthusiast Warren Lieberman, who started the phenomenon in 1997 by inviting strangers into his Lieberman Drum Cafe in Johannesburg to join him in beating a drum. The fascination took hold and soon he couldn't contain the crowds. Lieberman's Drum Cafe has provided 25,000 drums for a drum circle at a South African rugby match, and audience members have included Nelson Mandela, Queen Elizabeth and President George W. Bush.

Directed in New York by David Warren.

The New York cast includes Nicholas "Africa" Djante, Ayanda, Sebone Rangata, Bafana Enock Mahlangu, Tiny Modise, Richard Carter, Nomvula Gerashe, Themba Kubheka, Thabo Ronald Medupe, Molutsi Mogami, Molebeledi "sponch" Mogapi.

The design team is composed of Neil Patel (Sets), Jeff Croiter (lighting), Tom Morse (sound) and Moving Into Dance (dance consultant).

BELLY OF A DRUNKEN PIANO draws upon the 30 years of Tom Waits's catalog of music. This new play, imported from Australia will be performed by its writer, Stewart D'Arrietta, backed by three other musicians, beginning on August 17 at the SoHo Playhouse, NYC.

URINETOWN Washington Premiere of the Tony Award-Winning Broadway Musical. Music and Lyrics by Mark Hollman. Book and Lyrics by Greg Kotis. Directed by Joe Calarco. August 16 – October 2 at the Signature Theatre in Arlington, VA.

JOURNEY'S END by R.C. Sherriff.

Directed by Gregory Boyd.

Lieutenant Raleigh has joined the army straight from school and finds himself posted to the company of Captain Stanhope, just three years' Raleigh's senior and his idol from home. But Stanhope has been changed by his time in the trenches of WWI, shattered by his nerves and by whiskey. On the verge of an attack by the enemy, each man in the company faces his own personal battle.

Opens August 18 at the Westport Country Playhouse in Westport, CT.

DAMN YANKEES Play ball! This sprightly, tuneful, joyous production combines two of America's most cherished traditions – our national pastime, baseball and our national theatre, musical comedy - in one of the merriest shows you'll see in a long, long time. It is summer, when all good fans are obsessed with the pennant race, and the only way our heroes can beat the hated Yankees is with a bit of supernatural help! You'll laugh at the hilarious ups and downs and twists and turns; you'll tap your toes to the bright and catchy songs and dances including such songs as Whatever Lola Wants, Lola Gets and You've Gotta Have Heart; and you'll cheer when it all ends up with one of Broadway's happiest endings!

August 18 - October 16 at The Fireside Dinner Theater in Fort Atkinson, WI.

Ed Flesch has served as Artistic Director since the theatre was opened in 1978, having produced all and directed most of the nearly 80 productions. He auditions over 1,000 professional singers, actors and dancers each year, primarily in New York, to cast approximately 75 roles.

TWO GENTLEMEN OF VERONA the second of the two Shakespeare in the Park presentations this summer at the Delacorte Theater stars David Costabile as Launce, and Rosario Dawson as Julia. The musical is adapted from Shakespeare by John Guare and Mel Shapiro, with music by Galt MacDermot. The cast also features Oscar Isaac, Paolo Montalban, Megan Lawrence and Norm Lewis, Performances begin August 16 running through September 11.

HELLO DOLLY! starring Michele Lee. August 16-21 at the Orpheum Theatre in Memphis.

A FEW GOOD MEN Aaron Sorkin's breakthrough stage play and subsequent first movie, opens in London's West End at the Theatre Royal, Haymarket, on August 18. Rob Lowe stars as Lieutenant Daniel Kaffee, the idealistic lawyer trying to defend a group of marines accused of a murder they contend was committed under orders.

FIDDLER ON THE ROOF on September 20 will welcome Rosie O'Donnell to the cast as Golde, the long-suffering wife and devoted mother. She will play opposite Harvey Fierstein in the role of dairyman Tevye.

"As a 20-year friend of Rosie's, I couldn't be happier that we will finally share a stage together," Fierstein said in an announcement. "With her understanding of Fiddler's important place in theatrical history, I am positive she will uphold that tradition excitingly."

The show's producers called the casting "a match made in musical-theater heaven." Fiddler on the Roof is at the Minskoff Theater, NYC.

FRINGE TEASERS The New York International Fringe Festival goes uptown for the first time ever to present The Uptown Version of FringeNYTEASERS. In the intimate setting of the Makor Café, enjoy tantalizing 5-minute teasers of shows participating in this year's festival, including... Cemetery of Lips, Channel Rat, Word Infirmia and Edna St. Vincent Millay Speaks to the Committee on Immortality.

Sunday, August 21, at the Steinhardt Building, NYC.

LUIS BRAVO'S FOREVER TANGO at John Ascuaga's Nugget in Sparks, NV through August 28.

CAMELOT

Jeremy Irons stars as King Arthur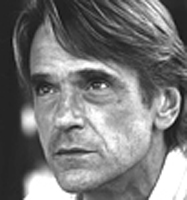 Melissa Errico plays Guenevere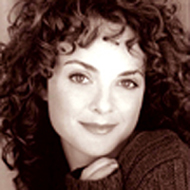 by Lerner and Loewe.

"For one brief shining moment" the Bowl is magically transformed into the medieval court of legendary King Arthur. Such a grand show deserves a grand introduction, so Medieval-style entertainers will set a festive mood from the moment patrons enter the Hollywood Bowl.

Directed by Gordon Hunt, the production stars Jeremy Irons as King Arthur; Melissa Errico plays Guenevere; James Barbour is Lancelot; Paxton Whitehead is Sir Pellinore; Orson Bean as Merlyn; Malcolm Gets is Mordred; Benjamin Platt is Tom of Warwick; Thomas Ian Griffith portrays Sir Dinadan; Melissa Hoff is Nimue; Anthony Meindl is Sir Lionel; Kevin Earley plays Sir Sagramore.

Mitch Hanlon Singers directed by Mitch Hanlon. The Hollywood Bowl Orchestra conducted by John Mauceri, conductor.

Lords, Ladies, and Knights of Camelot: Seth Belliston, Robert Bottoms, Stephen Breithaupt, David Brouwer, Wendy Calio, Kelly Connolly, Jeremy Duvall, Gary Franco, Dameka Hayes, Nicole Kaplan, Diana Kavilis, Heather Lipson, Joel Longenecker, Robert Marra, Tracy Powell, Lance Roberts, Bryce Ryness, German Santiago, Jean M. Sayeg, Jennifer Shelton, Lawson Skala, Sage Thommen, Mary Van Arsdel, Kristen Williams.

Choreographed by Kay Cole. Casting by Bruce H. Newberg. Mitchell Hanlon, Vocal Director. Lighting Design by Casey Cowan. Scenic Design by Evan Bartoletti. Prop Coordination by Sandy Huse. Costume Design by Lisa Ann Hill. Assistant Costume Designer: Lindey L. Crow. Costumes Assistant: Michelle Neumann. Rehearsal Pianist: Gerald Sternbach. Stage Manager: David Lober. Assistant Stage Manager: Lindsay Martens.

August 14 at The Hollywood Bowl.


| | | |
| --- | --- | --- |
| | | |
WHO'S WHERE


THE ROLLING STONES AND THE BLACK EYED PEAS on stage next Sunday, August 21 at Fenway Park in Boston.

MAROON 5 on stage at the Carling Apollo Hammersmith in London, England on August 18.

THE EAGLES perform this evening, August 13 at Sonoma St. University in Rohnert Park, CA. On Tuesday they are at the Santa Barbara Bowl in Santa Barbara, CA. Wednesday finds them at the Coors Amphitheatre in Chula Viata, CA. Friday they perform at the Salinas Sports Complex in Salinas, CA and on Saturday they are on stage at Harvey's Lake Tahoe Outdoor Amphitheatre at Lake Tahoe, NV.

MARC ANTHONY, ALEJANDRO FERNANDEZ AND CHAYANNE perform Wednesday, August 17 at the Toyota Center in Houston. On Friday they are on stage at the Laredo Entertainment Center in Laredo and on Saturday the show is at the SBC Center in San Antonio.

NEIL DIAMOND has a busy week. On Monday he opens a two night stand at the Fleet Center in Boston. Then on Thursday he begins a three night gig at Madison Square Garden in New York City.

COLDPLAY next Sunday, August 21, performs at the Verizon Wireless Amphitheatre in Irvine, CA.

DAVE MATTHEWS BAND performs Tuesday, August 16. at Sleep Train Amphitheatre in Marysville, CA. On Friday they open a three night engagement at The Gorge in George, WA.

MERCY ME on Saturday, August 20, appearing as part of the World Purlse Festival in South Bend, IN.

BLIND BOYS OF ALABAMA perform tonight, August 14, at the Blues Festival in Reno, Nevada. On Tuesday they are at he Arts Festival in Interlochen, MI. Thursday finds them at the Orpheum Theater in Wichita, Kansas and on Saturday they perform at the Universal Lending Pavilion in Denver, CO.

WAYNE SHORTER on stage at the Arena La Palma in Forli, Italy on Thursday, August 18.

AN EVENING WITH NATALIE COLE backed by the Los Angeles Philharmonic with Gail Deadrick, conductor. August 19-20 at the Hollywood Bowl.

AN EVENING WITH JUDY COLLINS WITH SPECIAL GUEST KENNY WHITE Friday, August 19 Filene Center at Wolf Trap in Vienna, VA.

TONY BENNETT the Grammy award winner returns to Playhouse Square after a sold out show in September 2004. Bennett has remained for five decades one of our leading male singers of traditional pop songs. With over 66 albums, this cat can swing, and make you smile and fall in love just by the way he croons. His latest album Jazz Moods-Cool was released May 10th. He performs August 17 at the State Theatre in Cleveland, Ohio.

LESLEY GORE steps out with Ever Since, her first album in nearly thirty years. She performs live Monday, August 15, at Joe's Pub in NYC. Lesley will be joined by Johnathan Ellinghaus on drums, John Turner on bass, Mike Errico on guitars, and Blake Morgan on piano.

SEAL performs August 19-20 at the Mirage Hotel in Las Vegas.

HUEY LEWIS AND THE NEWS WITH SPECIAL GUEST PAUL THORN The band that gave you The Heart of Rock & Roll and The Power of Love returns for an evening of hits. Sunday, August 21 at the Filene Center of Wolf Trap in Vienna, VA.


PIFFLE AND PROFUNDITIES


ELVIS PRESLEY

Elvis Presley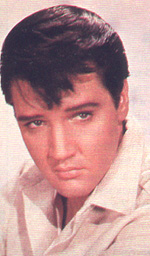 left the building 28 years ago on August 16. He was 42.


On Monday evening the Candlelight Vigil & VigilCast takes place.

An opening ceremony is held at the gates of the Graceland Mansion property. Then, fans are invited to walk up the driveway to Elvis's gravesite and back down carrying a candle in quiet remembrance. Free admission. Gates remain open until all who wish to participate in the procession have done so, which typically takes until the early morning hours of August 16, the anniversary date of Elvis's passing.

This year's VigilCast also will be presented on select PBS television stations in America.

On Tuesday, August 16, George Klein's Elvis Presley Memorial Service begins at noon in the Main Theater at the University of Memphis. This annual event is hosted by Memphis entertainment personality and long-time friend of Elvis, George Klein. Speakers will include friends and relatives of Elvis and celebrity guests.
















Next Column: August 21, 2005
Copyright: August 14, 2005. All Rights Reserved. Reviews, Interviews, Commentary, Photographs or Graphics from any Broadway To Vegas (TM) columns may not be published, broadcast, rewritten, utilized as leads, or used in any manner without permission, compensation/credit.
Link to Main Page
---
Laura Deni


CLICK HERE FOR COMMENT SECTION