! >
Broadway To Vegas
  
 SHOW REVIEWS CELEBRITY INTERVIEWS GOSSIP NEWS

| | |
| --- | --- |
| | |
SURVIVOR RECALLS ATOMIC BOMB HORROR - -WORLD TRADE CENTER ORIGINAL SOUNDTRACK - - CAPE COD PLAYHOUSE 60TH BIRTHDAY CELEBRATION - - CARRIE FISHER TALKS ABOUT HER ONE WOMAN SHOW - - CELEBRATING MAE WEST'S BIRTHDAY - - BARRY MANILOW TO HAVE SURGERY - - KATHLEEN TURNER DIRECTS CRIMES OF THE HEART - - FROST/NIXON OPENS IN LONDON - - DONATE . . . Scroll Down


PARTY LIKE A PLAID
Wearing a pink poodle skirt, pink horned rim glasses and saddle shoes U.S. Congresswoman Shelley Berkley (D-Nev) presents a Congressional Proclamation to Douglas Frank, Dale Sandish, Kevin McMahon, Mark Perkins, Drew Frady, David Kancsar (musical director), and Ken Seiffert (bass player).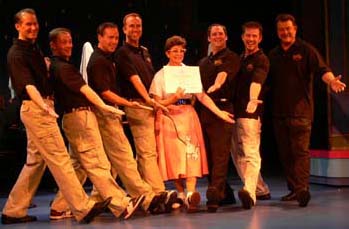 It was the kind of party that used to happen during the bygone, good-old-days era of Las Vegas. Celebrities mingled, got into the act and everyone relaxed and had a good time.

Forever Plaid celebrated their 500th performance at the Gold Coast hotel Thursday night with an invitation only buffet cocktail party, followed by a performance, capped off with a champagne toast and cake.

Nevada Congresswoman Shelley Berkley was attired in a pink poodle skirt, matching white poodle blouse, pink horned rim glasses, pink purse and saddle shoes.

When Broadway To Vegas asked her where she got the duds she said she had called a costume store, which told her they had racks of poodle skirts in sizes small, medium and large.

Currently in her fourth term representing Nevada's First Congressional District in the U.S. House of Representatives, Berkley plunked down $40 and then spent another $20 to rent a bouffant flip wig, which - at the last moment - she decided not to wear.

"The saddle shoes are my own," she reported. Looking cute and campy she bopped upon stage to present the Plaids with a Congressional Proclamation honoring their 500th show.

A part of every performance is bringing on stage a member of the audience to participate in a piano duet and a little dance routine.



A Toast to the Plaids. Susan Anton joins in a champagne toast with Plaids Kevin McMahon, Mark Perkins, Douglas Frank & Dale Sandish.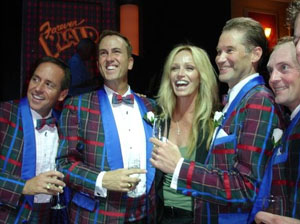 Plucked from the crowd was Susan Anton who gamely followed directions given by Plaid Mark Perkins. At the conclusion Perkins presented Anton with plaid covered dental floss, a lecture on oral hygiene and a diploma acknowledging her as an Honorary Plaid.

Anton is about to head to New York to begin rehearsals for the national tour of All Shook Up, the musical which fashions a story line around 25 classic Elvis Presley songs.

After the Forever Plaid performance we spoke with Susan about the tour. Her eyes just beamed when discussing Elvis Presley. "I did meet him. He was performing at the Hilton hotel. I had just come to Vegas. It was '72 to '73. He took me to his suite and showed me around. He loved showing me his books. I've always liked Engelbert Humperdinck and the three of us would hang out together."

"I loved Elvis' music so this is full circle. I think it's going to be a really fun show."

Forever Plaid is also a fun show.

As of Thursday the production has used 15,000 lbs. of dry ice, 10,000 AA Batteries, 500 boxes of "plaid covered" dental floss, 500 cotton balls, 500 business cards, 3 dozen ketchup bottles, and the cast has had 396 shoe shines and 200 haircuts. "Smudge" has taken 500 sips of Milk of Magnesia, and "Jinx" had 500 nosebleeds.

Forever Plaid is the story of four unlikely heroes whose dreams of musical glory come true. It is the kind of off-beat quirky show that keeps people talking and coming back to see the bow-tied, harmonizing young men in plaid attire get a reprieve from death in a car crash for one last shot at the big time.

The long-running off-Broadway revue has given over 4,000 performances in Las Vegas having transferred to the Gold Coast from the Flamingo Hotel. The Las Vegas show is the first Forever Plaid production to reach this many performances.

Forever Plaid can be enjoyed at the Gold Coast Hotel in Las Vegas and in various other cities. All Shook Up will launch at Milwaukee's Marcus Center on September 9th. and then play engagements in 34 other cities throughout 2006 and 2007. The cities and venues scheduled so far are: Orlando's Carr Performing Arts Center from Oct. 24th through 29th, Houston's Hobby Center from Nov. 7th through 19th, Fort Lauderdale's Broward Center from Nov. 22nd through Dec. 3rd, Atlanta's Fox Theatre from May 1st through 6th, and Minneapolis' Orpheum Theatre from May 8th through 13th.

The tour will star Joe Mandragona as Chad, the handsome stranger who shakes things up in a drab 1950s-era American town, and Jenny Fellner will play Natalie, the girl who falls under his spell. Susan Anton is Miss Susan, David Benoit portrays Sheriff Earl and Wally Dunn is cast as Jim Haller.


THE CELEBRITY SHADY SIDE - JAILED OR JEWELED, HAND CLAPPED OR HANDCUFFED
Mae West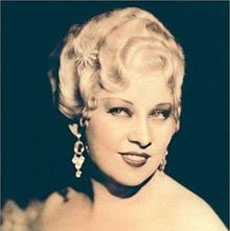 Mae West's annual birthday gala takes place at the Village Restaurant in New York City on August 17. The brainchild of playwright and Mae West expert LindaAnn Loschiavo and Courting Mae West, LLC, a Manhattan, based, off-Broadway producing outfit whose mission is to increase opportunities for women and female-driven plays.

During the Jazz Era, two of the most glamorous actresses - Mae West and Texas Guinan - were frequently photographed at premieres as well as inside police precincts, paddy wagons, courtrooms, and prison cells. Whether they were bejeweled or being jailed, Mae West and Texas Guinan were preserved on camera.

Part of this year's celebration will include a free 15-Day Exhibition - Onstage Outlaws: Mae West & Texas Guinan During a Lawless Decade. Though many books have been published on both women, the striking images in this special collection have not appeared since 1935.

The birthday celebration will open with a Press Preview on Thursday, August 17, followed by an invited guest glamorous Roaring 20s theme party with partygoers in Roaring 20s attire. There will also be appropriate themed entertainment, food, drinks, and gift bags.



At age 61 Mae West performing at the Sahara Hotel in Las Vegas. Her groundbreaking stage show featured not showgirls, but a bevy of beefcakes to accompany bawdy songs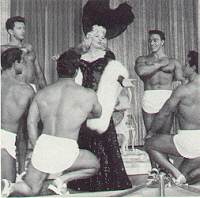 Flying in for the festivities is Las Vegan Steve Rossi who performed onstage during the 1950s in the Mae West Revue - and later teamed up with funnyman Marty Allen as Allen & Rossi. Given a sneak peek of the display Rossi called the exhibition "quite revealing" and reported that he was "astonished by the collection."

Christined Joseph Charles Tafarella, it was Mae West who gave Rossi his stage moniker while they were playing the Sahara in Vegas. She insisted he assume a smaller-sized name because his real one took up too much of the marquee and tended to overshadow hers. He worked with Ms. West for 14 months in her muscleman nightclub act as her handsome leading man who sang to her in the show and fed her comic lines.

The combination of her ribald humor and the sensation of flexing bodybuilders made the show a runaway smash. It toured the country's top venues, drawing celebrities, including then-Senator John F. Kennedy, and breaking attendance records at New York's legendary Latin Quarter.



Texas Guinan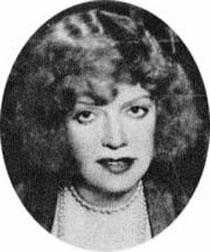 Texas Guinan moved with her family to Denver, Colorado where the 16-year old was active in amateur stage productions and played the organ in church. Guinan married John Moynahan, a cartoonist for the Rocky Mountain News, on December 2, 1904. Moynahan's career took them to Chicago, where Guinan studied music before divorcing him and starting her career as a professional singer. She toured regional vaudeville with some success, but became known less for her singing than for her entertaining wild west-related patter.

In 1906 she moved to New York City, where she found work as a chorus girl before making a career for herself in national Vaudeville and in New York theater productions. Upon the introduction of Prohibition, she opened a speakeasy called the 300 Club at 151 W. 54th Street in New York City. The club became famous for its troupe of forty scantily-clad fan dancers and for Guinan's unique aplomb, which made her a celebrity.

Arrested several times for serving booze and providing entertainment, she always claimed that the patrons had brought the liquor in with them, and the club was so small that the girls had to dance so close to the customers. Guinan maintained that she had never sold an alcoholic drink in her life. At this favorite hangout of the city's wealthy elite, George Gershwin often played impromptu piano for wealthy guests such as Reggie Vanderbilt, Harry Payne Whitney, or Walter Chrysler, and celebrities Pola Negri, Jeanne Eagels, John Gilbert, and Rudolph Valentino, as well as socialites like Gloria Morgan and her sister Thelma, Vicountes Furness - who are respectively the grandmother and great-aunt to Anderson Cooper.

Texas Guinan capitalized on her notoriety, earning $700,000 in ten months in 1926, while her clubs were routinely being raided by the police. Guinan is credited with coining a number of phrases. "Butter and egg men" referred to her well-off patrons, and she often demanded that the audience "give the little ladies a great big hand". She traditionally greeted her patrons with "Hello, suckers!"

Mae West and Texas Guinan had secret passions that will be revealed when Loschiavo conducts a walking tour on Sunday August 20th followed by brunch at Village Restaurant, an eatery West used to frequent.

There is no charge to view this historic photographic collection which can be viewed August 18 - 31 at Village Restaurant.


A THOUSAND CRANES FOR PEACE
Kazuo Maruto and interpreter Geoff Neill. Photo by Laura Deni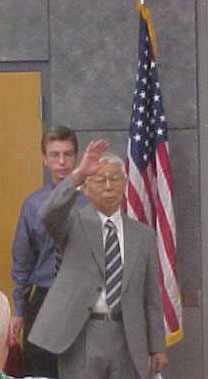 Last week marked the 61st anniversary of the bombing of Nagasaki and Hiroshima.

"We would like everyone to know what was going on underneath those mushroom clouds," said Mitsuyoshi Taira, director of the Nagasaki National Peace Memorial Museum.

Taira and survivor Kazuo Maruto, accompanied by Toronto born and raised, interpreter Geoff Neill were in Las Vegas engaging in a series of events, including delivering speeches, visiting schools and accepting from Cozine Elementary School 1,000 paper cranes as an offering of peace.

On August 9, 1945 Kazuo Maruto was a 13-year old school boy coming home early from junior-high after completing a school exam. It was almost shortly before ten in the morning and hot. Reaching the home he shared with his mother he discovered she was visiting neighbors. He took off his shirt and mopped the sweat from his teen-age frame. At 11:02 a.m. his house suddenly collapsed. His mother was dead. He was seriously injured. America had bombed Nagasaki. A B-29 piloted by Maj. Charles W. Sweeny dropped a plutonium device nicknamed Fat Man.

Speaking through translator Geoff Neill the 74-year old Maruto told a standing room only crowd at the Atomic Testing Museum about his life.

Broadway To Vegas attended the speech which was followed by a Q&A.



Museum Director Bill Johnson reading a letter from U.S. Senator Harry Reid, who was unable to attend because of pressing duties in the Senate. Reid stressed that Las Vegas was fortunate to be able to host this exhibition. In part, Reid's letter stated: "Nevada understands the effects of nuclear power all too well. The Nevada Test site has hundreds of nuclear tests which has had an extremely perverse effect." Throughout the 1950's decade, about one bomb a month was detonated in the nearby Las Vegas desert. Photo by Laura Deni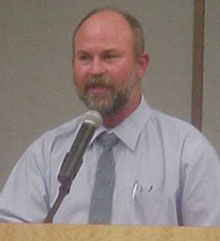 Maruto was a first year student at the junior high school. Of the 200 other students in his class 100 of then passed away in the bombing.

"I had just started junior high school. I was living at home with my mother. My father had passed away two years earlier," he told the attentive crowd.

"The war between Japan and the United States had been going on for some time and Japan was well on its way to defeat. At my school the younger teachers had been called into the Army, so it was almost impossible for us to have proper classes. Instead, we were tutored in small classes. By June the islands of Okinawa had come under complete American control and they were forecasting that the U.S. forces would soon be invading the major island of Japan."

"Even the junior high students were asked to help. We were sent to the coast lines of Nagasaki where we were put to work digging trenches."

"By this time the cities of Japan had been extremely hit. Nagasaki had come under fire. The destruction had been larger and larger each time. I was just a boy of 13 but even I could feel the sense of crisis. I started to worry that each day would be my last. That was the sense of uncertainty."

"All of us first year students had been writing our final English test. The test had been going on from 9 o'clock to 10 o'clock. Then we were allowed to go home. I lived about a half mile away so about ten-thirty I arrived home. I removed my shirt and went around bare-chested after removing the sweat off my back."



Atmospheric Nuclear Testing was easily seen from downtown Las Vegas on a regular basis. The Atomic Energy Commission (AEC) triggered the atomic bomb called Priscilla on June 24, 1957 at the Nevada Test Site. According to U.S. Department of Energy documents, Priscilla was a weapons related balloon type test, and had a yield of 37 kill tons.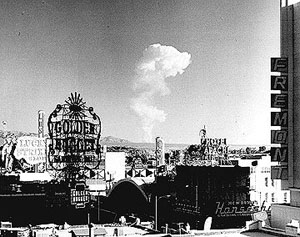 "A little while later I heard the all familiar sound of an American fighter plane. That sound soon changed into an overwhelming explosion blast, followed by a strange bluish white light that flashed. It looked to me as if hundreds or thousands of flash bulbs had gone off right in front of my face. I fell down to the ground, but at the same time my body was thrown up into the air by the force of the blast. At the same time a vicious roar sounded and the temperatures soared. The blast was so huge that it is impossible to describe. It felt like I had been thrown into a pitch black tunnel. I thought - for sure - this is where I am going to end my life. I think I lost consciousness."

"Later I discovered that I was trapped underneath our house which had collapsed on top of me. I couldn't move an inch. The next thing I heard were women and children screaming out in agony. At this point I started to hear footsteps of people trying to get up to the mountains. I scream out "Help me, Help me," but nobody came to my aid."

"I was seriously wounded by window glass. There were 52 pieces stuck in my back. I still suffer from wounds which were caused by glass shards and I still have scars all across by back. Nagasaki was instantly turned into a hell on earth with 74,000 people dead and another 75,000 injured."

A nearby fire was getting closer.

"I didn't want to be burned alive," he declared. "That was enough for me to summon up every ounce of my strength and I managed to make my way from under the house. I was feeling weak and dizzy after losing so much blood. I thought I was going to pass out at any moment. I managed to make my way up into the mountains behind my house. There was an open field, already crowded with people who had survived the blast."



The atomic blast branded this survivor's skin with her kimono pattern. Photo from the exhibition.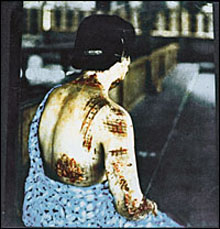 "Some of these people were scorched from the tips of their noses to their toes. A lot of people had wounds from flying glass. It was while I was up in this field that I heard from someone, who knew my neighbors, that my mother had been killed. She was at my neighbor's house at the time taking care of some errands. I was in no condition to react to the news at all."

"People were desperate to get a drink of water. Many had wounds so bad that their skin hung in tatters on their body. They were gasping with pain and just hoping for someone to save them. Almost immediately they began dying one after the other and their bodies began piling up at the river and along the banks. People who hadn't suffered any obvious wounds began losing their hair. These people began dying off as well from the effects of the radiation."

"The number of houses that were destroyed, burnt totally to the ground - 18,000. Nagasaki was a city that had some Catholicism since the middle of the 16th century. The Catholic population of Nagasaki at that time was 12,000 and some 8,500 died," related Maruta who is a Buddhist.

"Nagasaki had been completely destroyed," he repeated. "Up in the mountains we had no way to get information. I spent that night in a bomb shelter up on the mountain side. I came down with a huge case of diarrhea, which is a symptom of acute atomic bomb disease. I saw an uncle of mine who thought I was on the verge of death, so he took me back to the city to try to get medical help."

"On the morning of August 11, my uncle and I left the city with the other survivors who were walking. We carried the remains of my mother, which we had found, and made our way to the train station in the next town."

"As we walked it was nothing but scorched wasteland, into the distance as far as the eye could see. There were scorched bodies scattered among the ruins. It's been burned into my mind and I still see the sight in my eyes."

"We were able to get a train for a city about 20 kilometers away from Nagasaki. There I was taken to an emergency relief center. They told me I had dysentery and sent me to a ward for infectious diseases. For days and days I had a high fever."

Because no knowledge was available about effects of atomic radiation the medical staff had misdiagnosed him.



Kazuo Maruto - still haunted by visions and memories. Photo by Laura Deni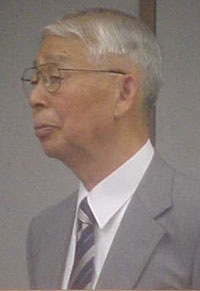 "I think what must have saved me was the misdiagnosis of dysentery and putting me the ward for infectious diseases, because I was allowed to stay there longer," he theorized. "Thanks to the care of a great staff I made a recovery. At the beginning of September I was released from the hospital."

"I went off to another city to stay with an uncle. I actually started to go to school again after missing two months."

Referring to his original school which had been flattened in the bombing, Maruta explained that it was "a simply built school which collapsed in the explosion. Inside the school had been about 60 students and teachers. Only three managed to survive. The reason more students weren't in the school was that we were having an English test that day. None of us who attended that school had any idea of the fate that awaited us."

"Most of the first year students were at home or on their way home walking or riding on the street cars. There were 300 students attending the school. 100 students died as did all of their families. Even though 60 years have passed I still think about and having feelings for these students."

As part of the Q&A section Maruta divulged that he still sees friends from his junior high school. "We meet and talk a lot," and then garnered laughter when he added, "and drink a lot."



Mitsuyoshi Taira, director of the Nagasaki National Peace Memorial Museum stands in front of 1,000 paper cranes, made by 4th graders at Cozine Elementary School in North Las Vegas. The students studied the atomic bomb and its effects and researched radiation. The cranes were made "as a bridge to bring us together as one people - a pledge to keep peace." Photo by Laura Deni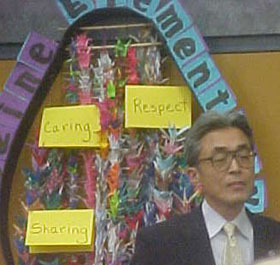 "Since then, those of us who have survived give talks about our experiences in hopes for the elimination of nuclear weapons," said Maruto who was making his first visit to Las Vegas. "We do this because we want to make sure that another tragedy like this never ever happens again."

"Nuclear weapons will lead to the extinction of the human race," he cautioned. "It is the responsibility of all who survived the bombings to continue to speak about their experiences. It is our responsibility to help humanity. We the citizens of Nagasaki strongly appeal for the elimination of nuclear weapons at the earliest possible date."

"To all citizens of America, we survivors know that you in your hearts also wish for a world that is free of war, free of terrorism and free of nuclear weapons."

"I went back to a small town near Nagasaki where I was brought up by my grandparents. Because my parents were dead there were no funds for college, but I finished junior high school and then high school and joined the Civil Service. Following that I worked for the government for several years. Since that time I have been fairly healthy. I had an operation, in the last few years, for cancer of the large intestine and now I am a lot better."



Geoff Neill and Kazuo Maruto intently listening to a question from the audience about his family. "Yes, I did get married. I was blessed with three children who are healthy. I now have five grandchildren." Photo by Laura Deni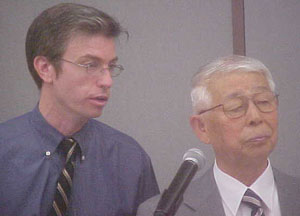 In conjunction with last week's speeches the Atomic Energy Museum is displaying - through August 27 - a free exhibit of 50 panels of photographs and artifacts from the bombing.

"The use of the atomic bombs is something that can instantaneously take away all of the happiness," stressed Mitsuyoshi Taira. "We feel that holding this exhibition here at this museum, which teaches the history of the development of nuclear weapons, is a huge step in the elimination of these weapons. Please tell as many people as you know what you saw at this exhibition. That way you will help in world peace."

One of the aspects provided at National Peace Memorial Museum is the opportunity "for people to pray for every single person who suffered," said Taira. "We are happy that we are able to come to Nevada to show people what happened in this exhibition."

While some people questioned the suitability of the Las Vegas Atomic Energy Museum as a venue for the exhibition the Nagasaki museum says; "Informing the public of what happened in Hiroshima and Nagasaki through the museum will help spread messages against nuclear weapons around the world."

The museum is also screening the animated film, The Angelus Bell, which depicts the life of the late physician Tatsuichiro Akizuki, who treated victims while he himself was being exposed to radiation. Akizuki died last October. The Las Vegas based museum, which opened in February last year, has told the Nagasaki museum that it welcomes events and exhibitions on nuclear weapons presented from diverse perspectives.

The Atomic Testing Museum (ATM) is a program of the Nevada Test Site Historical Foundation (NTSHF) and a member of the Smithsonian Institution Affiliates Program. The 8,000 square foot permanent exhibit is located just two blocks from the Strip and is open to the public seven days a week.


THE MUSIC GOES ROUND AND ROUND


WORLD TRADE CENTER MOTION PICTURE SOUNDTRACK composed by Craig Armstrong. Distinguished by an evocative score from Grammy Award-winning composer Craig Armstrong, this original motion picture soundtrack album is from Academy Award-winning director Oliver Stone's epic World Trade Center which sold an estimated $4.4 million worth of tickets on its opening day Wednesday, August 9.

Most sound tracks are a listening after-thought.

For World Trade Center the compositions and executions are eloquent and perfect. As a soundtrack they convey emotion, but don't intrude. As a CD, the music stands on its own as elegant listening. Armstrong has constructed music that affords instruments a vocabulary.

What would be unfortunate is if this soundtrack is typecast by the storyline of the Paramount film. The music deserves its own avenue without conjuring up memories of horror.

Music from this CD would be excellent as part of a classical program. Hesitate to use the word "restful" with anything connected to the World Trade Center tragedy, this soundtrack - never-the-less - is perfect as background music for venues ranging from the office to personal meditation. The film is billed as respectful. So is the music. Think dignity, reflection.

The film is important and so is the soundtrack.

It tells the true story of the heroic survival and rescue of two Port Authority policemen – John McLoughlin (played by Academy Award-winner Nicolas Cage) and Will Jimeno (played by Michael Peña, of Crash) – who were trapped in the rubble of the World Trade Center on September 11, 2001, after they and three other officers went in to help people escape. As history notes, only 20 people were rescued alive from the WTC after the collapse of the two buildings – Jimeno and McLoughlin were the 18th and 19th.

Armstrong, the multi-talented composer and arranger who shared his first Grammy Award last year for Best Score Soundtrack Album For Motion Picture, Television Or Other Visual Media for Ray, makes use of his own background, A pianist who won the title Jazz Musician Of the Year at an early age, Scottish-born Armstrong later studied violin and composition at the Royal Academy in London. The World Trade Center compositions emphasize how important strings are to interpreting emotion.

He later branched into theatre and became resident composer at the Tron Theatre in Glasgow. His classical works include a chamber opera commis­sioned for the Edin­burgh festival.

Fortunately for the listeners Armstrong is just now coming into his own and we can all look forward to his future endeavors.

The World Trade Center original soundtrack released by SONY.

Orchestrated by: Matt Dunkley and Craig Armstrong
Orchestra conducted by: Pete Anthony
Choral Arrangements by: Craig Armstrong
Keyboards and Guitar by: Craig Armstrong
Additional Orchestrations and Music Programming by: Kazimir Boyle
Music Editors: Joe E. Rand and Barbara McDermott
Orchestra Contractors: Debbi Datz-Pyle and Giza Zimmitti
Music Performed by: The Hollywood Studio Orchestra
Concert Master: Bruce Dukov
Solo Piano by: Craig Armstrong and Randy Kerber
Vocal Contractor: Sally Stevens
Choir: Hollywood Film Chorale
Music Preparation by: Bob Bornstein
Pro Tools Operator: Kevin Globerman



Broadway To Vegas is supported through advertising and donations. Priority consideration is given to interview suggestions, news, press releases, etc from paid supporters. However, no paid supporters control, alter, edit, or in any way manipulate the content of this site. Your donation is appreciated. We accept PAYPAL. Thank you for your interest.


SWEET CHARITY


CAPE COD PLAYHOUSE 60TH BIRTHDAY CELEBRATION The Cape Playhouse celebrates its 80th season this year. Join the Cape Cod Center for the Arts as it gives tribute to the Oldest Professional Summer Theater. Broadway great, Lee Roy Reams, former Miss America Susan Powell, and TV and Broadway's Kevin Spiritis join Artistic Director Evans Haile at the piano for this special celebration.

The evening even includes a meet-and-greet with the stars. Performance: Sunday, August 20. Dennis, MA.


SPREAD THE WORD


GEFFEN OPEN EVENT

Carrie Fisher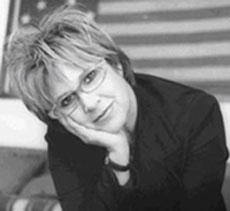 takes place Thursday, August 17th when you have an opportunity to get an exclusive sneak peek at a World Premiere. Geffen Producing Director Gil Cates and Artistic Director Randall Arney will present the full Geffen Playhouse 2006/2007 season.

Then Carrie Fisher performs selections from her newest one-woman show, Wishful Drinking, a hilarious insider's look at her life as a movie star icon, drug addict, and survivor.

Carrie Fisher, the child of two Hollywood stars (Debbie Reynolds and Eddie Fisher), began life with everything going for her and lived life with a lot going against her: addiction, manic depression, a marriage to Paul Simon, drug overdose, rehab, having a child with a man who forgot to tell her he was gay, mental institutions and let's not forget that signature Star Wars hairdo! From these experiences comes Wishful Drinking, her World Premiere one-woman show.

After the program, enjoy complimentary dessert and coffee.

Originally slated for the intimate Audrey Skirball Kenis Theater at Geffen Playhouse in Los Angeles, due to popular demand, Wishful Drinking has been moved to the Geffen Main Stage with performances beginning November 7.

AFTERNOON ARIAS IN BRYANT PARK New York City Opera returns to Bryant Park this summer from August 15 - 18 to present Afternoon Arias, a series of free lunchtime concerts open to the public. On August 15 96.3 FM WQXR's morning host, Jeff Spurgeon will act as MC with classics performed from Madame Butterfly, Carmen, La bohème, and much more with pianist: Gerald Steichen. On Wednesday [art of Bryant Park Reading Room's Word for Word series, this talk between stage and screen star Anthony Rapp and City Opera dramaturge Cori Ellison includes a reading from Rapp's autobiography, Without You: A Memoir of Love, Loss, and the Musical Rent. Selections performed by the casts of Broadway's Rent City Opera's La bohème. Thursday, August 17 will be emceed by 96.3 FM WQXR's evening host, Midge Woolsey. Enjoy highlights from Hansel and Gretel, The Pirates of Penzance, La traviata, and much more with pianist Gerald Steichen. Wiikset will also emcee on Friday, August 18 when pieces from La bohème, Faust, with pianist Gerald Steichen will be offered.


OTHER PEOPLE'S MONEY


THE SOLOMON R. GUGGENHEIM MUSEUM in New York City has been awarded a $1 million grant from the United States Department of Education to conduct research into whether students' problem-solving skills are improved by studying art.

Last month, the Guggenheim Museum announced results of another Department of Education-funded study, which showed that the Guggenheim's pioneering art education program Learning Through Art (LTA) had a demonstrable impact on students' literacy and critical thinking. among students who took part in a program in which the Guggenheim sends artists into schools.

Rebecca Shulman Herz, Manager of Learning Through Art, explains, "An important aspect of creativity is the ability to solve problems in new and interesting ways: How do you make a sculpture balance, represent a person's character through color and line, or work collaboratively to create an installation? By engaging students in artistic processes, we are also teaching them to be creative problem-solvers."


GET WELL SOON TO ...

BARRY MANILOW who has dropped out of performing August 19-November 8 at the Hilton Hotel in Las Vegas, so that he might undergo arthroscopic surgery on both hips,



FROST/NIXON

Frank Langella and Michael Sheen star in Frost/Nixon. Photo by Hugo Glendinning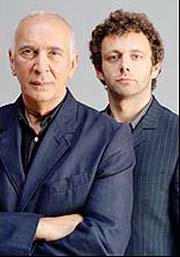 by Peter Morgan. A World Premiere directed by Donmar Artistic director Michael Grandage.

Michael Sheen portrays Frost and Frank Langella stars as Nixon.

David Frost's interviews with Richard Nixon, following the Watergate scandal and the President's humiliating resignation, drew the largest audience for a news interview ever. Could this British talk-show host be the one to elicit an apology from the man who committed one of the biggest felonies in American political history?

The creative team for Frost/Nixon includes design by Christopher Oram, lighting design by Neil Austin, and music and sound score by Adam Cork.

Previews began August 10 at the Donmar Warehouse in London. The production will officially open on August 21.

THE MIDDLE EAST, IN PIECES with six short pieces by Kia Corthron, Israel Horovitz, Anne Nelson, Heather Raffo, Betty Shamieh, and Beau Willimon. Directed by Thomas Caruso.

A reading in response to the current developments in the Middle East. Post-reading discussion with the audience to raise awareness and encourage a forum for multiple perspectives

Three of the plays were written specifically for the event. Corthron's Power Lunch, which takes place in a quaint restaurant, imagines a pleasant chat between two women: Condie and Hillary. Horovitz's Beirut Rocks is about American students stranded in a Beirut hotel awaiting evacuation. Willimon's Dog River takes the form of email exchanges between an Arab-American in Lebanon and his girlfriend back in the United States. The idea for the entire evening came from Mr. Willimon, whose girlfriend's father was living in Beirut when the current conflict began.

The reading will also include excerpts from two new plays: Nelson's Petra, about two women - an American and a Saudi - who meet on a bus south of Amman, and Shamieh's The Black Eyed, as well as an excerpt from Raffo's critically acclaimed one-woman play 9 Parts of Desire.

Among the ten performers, on Cherry Lane's Mainstage, will be Mozhan Marnò, who performed the 2006 Berkeley Rep production of 9 Parts of Desire, and Anthony Veneziale, a founding member of the popular hip-hop improv group Freestyle Love Supreme.

This sold out event takes place August 17-18 at The Cherry Lane Theatre in New York City.

CINDERELLA Created by the legendary team of Rodgers and Hammerstein, this magical musical will charm you and your whole family with its classic tale of love and transformation and dazzling special effects. Related free events: On August 29: Meet the Theatre, post show audience discussion with the artists August 22 – September 10 at the South Shore Music Theatre in Beverly, MA.

FOODSEXWORKSLEEPGOD Written and directed by Ron West. Songs by Ron West and Phil Swann.

This is a satire of modern society. It's about getting lunch, getting laid, getting ahead, getting rest, and getting on your knees. A hybrid of one act plays and improvisational devices.

Performances at the Open Fist Theatre in Hollywood.

CRIMES OF THE HEART

Kathleen Turner directs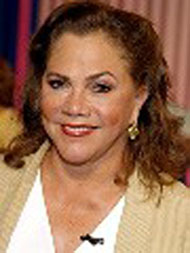 which won the Pulitzer Prize in 1981 will be staged as a reading on Friday, August 18 as part of The Fridays @ 3 readings of the Williamstown Festival. These readings are usually presented on the Nikos Stage. Due to demand, the reading has been moved to the larger Main Stage, where more can be accommodated.

The reading is directed by Kathleen Turner, twice nominated for a Best Actress Tony Award and nominated for a Best Actress Academy Award.

Starring in the reading are: Kerry Butlet, Jeanine Serralles, Patch Darragh and Liz Wisan.

Warm-hearted, irreverent, zany and brilliantly imaginative, Crimes of the Heart teems with humanity and humor. In Hazlehurst, Mississippi, the three Magrath sisters have gathered to await news of the family patriarch, their grandfather, who is living out his last hours in the local hospital. Lenny, the oldest sister, is unmarried at thirty and facing diminishing marital prospects; Meg, the middle sister, who quickly outgrew Hazlehurst, is back after a failed singing career on the West Coast; while Babe, the youngest, is out on bail after having shot her husband in the stomach. Their troubles, grave and yet, somehow, hilarious, are highlighted by their priggish cousin, Chick and by the awkward young lawyer who tries to keep Babe out of jail while trying not to fall in love with her. In the end the play is the story of how its young characters escape the past to seize the future—but the telling is so true, touching and consistently funny that it will linger in the mind long after the curtain has descended.

August 18 in Williamstown, Massachusetts.


| | | |
| --- | --- | --- |
| | | |
WHO'S WHERE


TONY BENNETT AND STEVE MARCH TORME perform Saturday, August 19 at Harrah's Star Cove in Council Bluffs, Iowa.

PAULA POUNDSTONE telling funny stories Friday, August 18 at One World Theatre in Austin, Texas. On Saturday she'll be getting laughs at Rehoboth Beach Convention Center in Rehoboth Beach, DE.

LYLE LOVETT has a busy week. Tomorrow, Monday, August 14 he's on stage at Hummingbird Centre in Toronto. Tuesday finds him at the National Arts Centre in Ottawa. On Wednesday the show is at the Merrill Auditorium in Portland, Maine. On Thursday the show is at the South Shore Music Circus in Cohasset, MA. Friday he'll be at the Chautauqua Amphitheater in Chautauqua, NY. Saturday he's entertaining at Torndos Stadium in Worchester, MA and next Sunday he's in the spotlight at the Cape Cod Melody Tent in Hyannis, MA.

CHRIS ISSAK on stage Wednesday, August 16 at the House of BLues in Cleveland, Ohio. On Thursday the show is at the Beacon Theatre in New York City. Friday he begins a two nighter at the Borgata Music Box in Atlantic City.

PETER FRAMPTON, DICKIE BETTS AND HOOTIE AND THE BLOWFISH entertain Tuesday, August 15 at the House of Blues in Myrtle Beach, SC. On Thursday they're in the spotlight at Sea Pines Resort at Hilton Head Island, SC. Saturday finds them at the Verizon Wireless Music Center in Pelham, AL.

RED HOT CHILI PEPPERS perform Tuesday, August 15 at the Taco Bell Arena in Boise, ID. On Wednesday they are on stage at the Delta Center in Salt Lake City. Friday the show is at the Pepsi Center in Denver.

MADONNA continues her headllne making show through Wednesday at Wembley Arena in London. On Wednesday she performs at the LTU Arena in Dusseldorf, Germany.

WYCLEF JEAN AND SHAKIRA center stage Tuesday, August 15 at the Staples Center in Los Angeles. On Wednesday they perform at The Sports Arena in San Diego. Friday finds them at Arrowhead Pond in Anaheim, CA. On Saturday they are in the spotlight at the JP Pavilion in San Jose, CA.

THE DIXIE CHICKS bring their tour to the United Center in Chicago on Tuesday, August 15. On Friday they are at The Target Center in Minneapolis.

DIANE SCHUUR entertains Tuesday, August 15 at Wiggins Park in Camden, NJ.
















Next Column: August 20, 2006
Copyright: August 13, 2006. All Rights Reserved. Reviews, Interviews, Commentary, Photographs or Graphics from any Broadway To Vegas (TM) columns may not be published, broadcast, rewritten, utilized as leads, or used in any manner without permission, compensation and/or credit.
Link to Main Page
---
Laura Deni


CLICK HERE FOR COMMENT SECTION