! >
Broadway To Vegas
  SHOW REVIEWS     CELEBRITY INTERVIEWS     GOSSIP     NEWS 
ELVIS PRESLEY REMEMBERED - AGAIN

When you go pay your respects at the grave of Elvis Presley you can add a new dimension to "till death do you part" by legally declaring your hunka hunka burnin love while you're mourning the departed



For over 10 years Elvis Presley reigned supreme in Las Vegas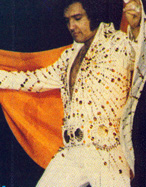 Brand new at Graceland - by popular demand - the new Wedding Chapel, adjacent to the grave. We're not sure if you get married by an Elvis impersonator, although you can in Las Vegas.

It's that time of year again - the anniversary of when Elvis Presley left the building.

Under the any excuse for a party banner, the frivolity began last week on the downtown streets of Tupelo, the Second Annual Elvis Presley Festival, August 3-6, which was a hometown tribute to the King of Rock & Roll.

The festival included stages featuring everything from vintage rock & roll to gospel, a classic car and motorcycle show, street dances, a bike race, a foot race, food and merchandise vendors and tours of key points around Tupelo relating to Elvis' early years around Tupelo.

On hand were the Jordanaires, for over 40 years, known worldwide as one of the most versatile vocal quartets in music. The group provided vocal and even instrumental music for Elvis beginning with his first RCA recording sessions and continuing with virtually every recording he made through 1970. The group is featured prominently on 28 Elvis movie soundtracks, appearing on-screen in several. Together longer than any vocal group active today.



Elvis with his backup group the Jordanaires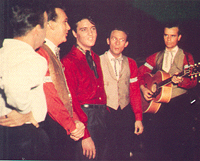 Then it's on to Memphis for Elvis Week 2000 which runs through Wednesday. Today, members of Presley harmonizers the Imperials - Joe Moscheo, Terry Blackwood, Jim Murray and Sherman Andrus - will sing for a gospel brunch.

The year 2000 marks the thirtieth anniversary of the MGM concert film Elvis, That's the Way It Is. Turner Entertainment, the owner of the MGM films, is preparing an exciting, long-anticipated new edition of this program which will air on Turner Classic Movies (TCM) channel early next year and be released on Warner Home Video and DVD. This year's Elvis Week is themed around Elvis, That's the Way It Is and is sub-themed around Elvis' other MGM films. Months in advance of the TV/video/DVD release of the new edition of That's the Way It Is,Special Edition, the long-awaited remastered, re-edited edition of the beloved 1970 MGM concert film in widescreen 35 mm format it had a special screening in Memphis yesterday exclusively for the Elvis fans attending Elvis Week 2000.

One of Presley's favorite gospel groups, the Blackwood Brothers Quartet, held its annual, extended-family homecoming . There was the second annual Memphis Mafia get-together happens at the Ramada Airport with Lamar Fike talking on Presley's Army years and yesterday Marty Lacker, Presley cousin Billy Smith and one of Presley's girlfriends, Anita Wood.

George Klein staged his own annual Memphis Mafia Reunion today followed by his Elvis Memorial Gathering at noon on Wednesday at the University of Memphis theater building.



A statue of Elvis Presley still stands in the Las Vegas Hilton Hotel to commemorate that all his shows were SRO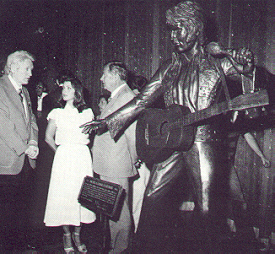 Tomorrow it's "Conversations on Elvis," a seminar at the New Daisy Theatre with Sun legends Sam Phillips, Scotty Moore and D.J. Fontana plus other professional and personal associates.

And Almost Elvis: Elvis Impersonators and Their Quest for the Crown is a documentary scheduled for 7 p.m. Monday at the New Daisy Theatre. Don't miss the real thing, however, when the annual Images of Elvis International Impersonator Contest takes place daily beginning today through Aug. 19 at the Holiday Inn Select Airport. There are literally thousands of wannabe's and kennels full of hound dogs trying to croon their way into Elvis-dom. There are currently over 240 Elvis entertainers who do make a good living around the world.

Last but not least is Tuesday night's Candlelight Vigil, the solemn walk to Presley's Graceland grave, where he is trying to rest in peace.



Broadway To Vegas is supported through advertising and donations. Priority consideration is given to interview suggestions, news, press releases, etc from paid supporters. However, no paid supporters control, alter, edit, or in any way manipulate the content of this site. Your donation is appreciated. We accept PAYPAL. Thank you for your interest.


THEATER TALK AWARDED TDF TAP PLUS GRANT FOR CLOSED CAPTIONING

Theatre Development Fund (TDF) has awarded a TAP Plus grant to Theater Talk Productions, producers of Theater Talk, the popular television series, now in its fifth year on Thirteen/WNET, New York City's PBS affiliate.

Four episodes of the series, captioned for the deaf and hearing-impaired, will air Sunday, August 20 on Thirteen/WNET.

The first closed captioned episodes will be A Conversation with Broadway legend Elaine Stritch; Remembering David Merrick with producer Emanuel Azenberg and librettist Mark Bramble, as well as biographer Howard Kissel, author of David Merrick: The Abominable Showman, sharing stories of the life and work of the legendary impresario.

The State of the Theater 2000, part 1 with guests: Todd Haimes, Artistic Director, Roundabout Theatre Company; playwright Warren Leight who penned Side Man, 1999 Tony Award winner for Best Play, Broadway columnist Jesse McKinley of The New York Times producer Daryl Roth, drama critic John Simon of New York Magazine and librettist Peter Stone of 1776 and Titanic fame. Taped before a live audience on March 13, 2000, the panel discusses key artistic and financial issues, pertinent to the survival of the American theater and theatrical artists.

The State of the Theatre 2000 part 2, taped the same night, includes audience questions.

The Theatre Development Fund is the largest non-profit performing arts service organization in the United States. The Theatre Access Project (TAP) is a TDF program, created in cooperation with The New York State Council on the Arts, that is designed to provide access in NYC to the performing arts for those with physical disabilities. TAP serves theatergoers who are hard of hearing, deaf, blind, partially sighted, people who for medical reasons cannot climb stairs, and people who require aisle seating or use wheelchairs.

In 1980, TDF, through the TAP program, offered the first sign language interpreted performance on Broadway, The Elephant Man. Since then, TAP has organized more than 200 sign language interpreted performances of over 100 Broadway productions, and established guidelines which are requested and used increasingly in other cities throughout the country.

1997, TAP expanded its services further by offering the first open captioned performance on Broadway, Barrymore. Since then, 32 different productions have been captioned for a total of 63 performances. Audiences for this new service continue to grow, currently outselling sign interpreted performances by almost 40%.

There are more than 28 million people, about 10%, of the total population, with hearing loss. Of those individuals, approximately 2 million are profoundly deaf and the majority (72%) are older, late-deafened adults, who are not likely to be primary ASL (American Sign Language) users. Captioning casts a much wider net in helping the far larger majority of people with hearing loss. Theater Talk, which is hosted by producer Susan Haskins and Michael Riedel, Broadway columnist of the New York Post, re-airs on Metro/Arts Thirteen and on WGBH/Boston.


OTHER PEOPLE'S MONEY


THE SUNDANCE INSTITUTE THEATRE PROGRAM and its yearly play writing laboratory, has been awarded a total grant of $1.95 million. Sundance is one of nine recipients of grants from the Leading National Theatre Program, a joint initiative of the Doris Duke Charitable Foundation and the Andrew W. Mellon Foundation.

The grant - $1.5 million from Duke and $450,000 from Mellon - is the two groups' largest single award. Sundance's Theatre Laboratory is an annual three-week workshop providing playwrights, directors and other artists the time to develop new scripts or explore new approaches to existing works and adaptations free from the pressure of public performance.

Projects developed in recent years at the lab include Moises Kaufman's new drama, The Laramie Project, now playing off Broadway; Tony Kushner's acclaimed two-part drama, Angels in America; Nilo Cruz's Two Sisters and a Piano - which will have its regional premiere next season by the Salt Lake Acting Company, - and Robert Schennkan's Pulitzer Prize-winning drama, The Kentucky Cycle.

"We are thrilled to be recognized by two of this country's leading supporters of the arts," Ken Brecher, Sundance Institute executive director said in a news release announcing the grants. "The LNTP grant provides the theater laboratory with financial stability to realize our mission of developing new plays designed to invigorate and nourish the theater community across the country. The Mellon grant will help support new play development over the next three years. The Doris Duke award will offer endowment support, to be matched, creating an ongoing revenue stream that will help ensure artistic program support for the future.


IN THE COURTS

RITA RUDNER who is currently starring at Bally's Hotel in Las Vegas, has been legally given her name back. The funny lady wasn't amused when Internetco Corp. of Lehighton, PA., registered the internet domain name ritarudner.com. Rudner filed a complaint indicating that she had to register a different Web address www.ritafunny.com, but would "dearly love" her own name back. A United Nations arbitrator for The World Intellectual Property Organization awarded the performer the right to the Internet domain name ritarudner.com.

GIA PRIMA widow of the late swing-jazz singer Louis Prima, has sued Walt Disney Corp. for royalties from video and DVD sales of the 1967 animated movie Jungle Book, in which Prima, who died in 1978, was the voice of King Louie of the Apes, and sang I Want to Be Like You in the movie. The Prima estate has received royalties on audio recordings of the soundtrack. Disney contends that the singer's contract entitled him only to audio recording royalties, not those from new technology such as videocassettes and DVD's.

GALLAGHER who uses his trademark sledgehammer to smash watermelons, while comedically riling about the problems of society, has scored a victory against his copycat brother. Ron Gallagher, the funnyman's estranged sibling, was ordered by a federal judge to stop impersonating Gallagher in comedy shows billed as "Gallagher II," in which Ron steals the shtick by smashing watermelons and other fruits with a sledgehammer. The original Gallagher suffered a heart attack in June, which his rep claims was brought on by the stress of the case.


CURTAIN UP IN PALM SPRINGS

The Palm Springs Stage Company is a new venture by veteran theater professionals Mary Wright and Jim Warner, who have taken a theatrical leap of faith in the Palm Springs area of California.



MARY WRIGHT AND JIM WARNER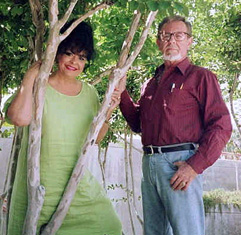 Their first production, a melodrama, opens this evening.

"The growth of the Coachella Valley has shown there's a demand for 'a community theater dedicated to professional entertainment," said Warner. "After our summer tour, we will open a permanent theater in Palm Springs." Prior to its first major production next season, Palm Springs Stage Company will launch a touring production of The Bad, The Worse and The Broccoli - directed by Wright, which premieres at the Miracle Springs Resort and Spa in Desert Hot Springs tonight and will continue on the 20th and 27th. The production is a Western parody, and an old-fashioned musical melodrama, set in the late 1800s, where we find the villain, Baron von Broccoli, in Broken Stump - the Broccoli growing capital of the world.

Palm Springs Stage Company has filed its articles of incorporation and bylaws with the Secretary of State to obtain its 501(c)(3) nonprofit charter. The purpose of Palm Springs Stage Company, as stated in the articles, is "to present community theater productions, children's theater, and educational workshops in all phases of the performing arts for the enrichment of the cultural climate of the City of Palm Springs, in particular, and the surrounding cities in the Coachella Valley, in general."

Wright's performing arts background includes TV, musical theater, dramatic productions, acting, directing and teaching music. Her directing credits number more than 400 shows. She previously taught music education and fine arts for Oklahoma City public schools and was artistic and educational director of Oklahoma Theater Center in Oklahoma City. Subsequently, Wright established four community theaters, three children's theaters and three performing arts schools. Wright holds a B.A. in Music and Theater from Southwestern State University of Weatherford, Okla.

Warner plans to direct Lady Audley's Secret, an 1860 melodrama next season; he previously directed that show and many others at Three Crowns theater, a theater organization he created in St. Thomas, Virgin Islands. Warner who has an M.A. degree in Theater from Occidental College in Los Angeles, also directed the first national touring company of "The Fantasticks," the long-running off-Broadway musical. He created The Disney Players at Walt Disney Studios, Burbank.


SWEET CHARITY

LOUIS ARMSTRONG finally gets what's coming to him this Saturday in Sag Harbor, the Hamptons. A special screening of highlights of director Ken Burns' new PBS TV series, Jazz, will be held at the Sag Harbor Theatre with a dinner following at Sugar Reef. Organized by General Motors Vice President Rod Gillum and Primedia CEO Tom Rogers the event benefits the Hamptons Film Festival and the Abyssinian Baptist Church in Harlem. Wynton Marsalis is co-chair and senior creative director of the film. Lending their support are Paul Simon, Ronald Perelman, and his wife Ellen Barkin, Russell Simmons, David Stern, John Sykes, Andrew and Chris Cuomo, Bernie Brillstein, Brad Grey, Matt Blank, Jonathan Tisch, Andre Leon Talley, Sonny Mehta, Bob Sillerman, Lorne Michaels, David Granger, Caroline Miller, Michael Caruso, and Jason Binn.


SWING OUT

Its official August 14~August 20 is - SWING WEEK! In New York City.

Naturally the cast of Swing! will be here, there and everywhere.

On Monday cast members Ryan Francois, Jenny Thomas and Casey MacGill will be at the Hard Rock Cafe performing a Swing demonstration. Then in the evening they will be joined by Laura Jeffers, a representative of the NY Swing Society - yes, there is one - to discuss the origins and current state of Swing dance and music.


TURN TABLES AND CAMERA ANGLES

HEATHER HEADLEY who brought home the Tony award for her portrayal of the Nubian princess in Aida has signed a recording contract with RCA. Headley's first effort for RCA, will be a mix of rap, ballads, gospel, Caribbean music and pop. Hailing from Trinidad the 25-year-old is also a tunesmith. Her CD will include several songs that Headley herself wrote, among them a rap number.

HBO FILMS & GOOD MACHINE have acquired the film rights to The Laramie Project, which will be co-produced by Peter S. Cane and Roy Gabay. The critically acclaimed American play was written by Moises Kaufman and the members of Tectonic Theater Project (TTP). Kaufman also directed the praised production.

To fast track the upcoming film, the Off Broadway hit show at the Union Square Theatre, will close Saturday, September 2 after 126 performances & 23 previews. Kaufman will direct the full-fledged movie, that will have the participation of the entire acclaimed cast as well as that of other stars.

Starring in the play are Stephen Belber, Amanda Gronich, Mercedes Herrero Andy Paris, John McAdams, Greg Pierotti, Barbara Pitts, and Kelli Simpkins.

Set design is by Robert Brill, Costume design by Moe Schell, Lighting design by Betsy Adams, Original Music by Peter Golub with Video and Slides by Martha Swetzoff.


FOOD FOR THOUGHT

LANCE BASS of N'SYNC fame is planning a sugary side business to bolster his boffo boy-band success. The sweet-toothed teen idol and one of his bodyguards plan to open a Krispy Kreme donut shop in Orlando.

MICHAEL CAINE has been in and out of the restaurant business for years - at one time owning five chat and nibbles. The marvelous actor set to reopen the Chelsea Canteen at a new site in London, with another bistro in New York City.



JEAN STAPLETON who has been on tour starring as Eleanor Roosevelt in Eleanor: Her Secret Journey, brings Rhonda Lerman's one-woman play, in the Canon Theatre in Beverly Hills, CA. John Tillinger directs the Charles H. Duggan production which will have a four-week limited engagement at the Canon Theatre, with previews beginning September 12.



JEAN STAPLETON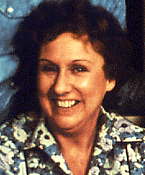 Called "a glowing portrait of this great lady," Eleanor offers an absorbing journey through her key years of 1918-1922. From her innocuous beginnings as a socialite wife and mother of five; the audience listens as the first lady describes her shocking tour of the brutal battlefields of World War I. The play also reveals her yearning for the love that her husband chose to share instead with her social secretary, Lucy Mercer; and eventually her transformation into the activist, feminist and idealist that most Americans now recognize.



ELEANOR ROOSEVELT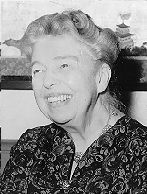 Beyond the history books and strong public face lies the private woman that playwright Lerman reveals, one full of doubt and loneliness. Eleanor is an engaging insight into the life of a historic figure, whose bare and solitary personal life makes her public achievements all the more admirable.

A shy, awkward child, starved for recognition and love, Eleanor Roosevelt grew into a woman with great sensitivity to the underprivileged of all creeds, races, and nations. Her constant work to improve their lot made her one of the most loved--and for some years one of the most reviled--women of her generation.

As for First Lady Roosevelt, Emmy Award-winning actress Jean Stapleton creates a performance The New York Times credited with "An unmistakable audience favorite, Ms. Stapleton conveys a ruminative air, a real sense of civility, an idealistic belief in a divine process, in a man's perfectibility. She has charm and candor."

Although she began her career on Broadway it was her role as Edith on All in the Family, that made her a household name. Producer Norman Lear had seen her on stage in Damn Yankees and called her to audition for Edith Bunker. "I heard that absolutely every actress of my generation was up for the role, so I didn't put much faith in my audition," she admitted. "We did two pilots for the show and it took the network two years to green-light the project because they didn't think it would appeal."



JEAN STAPLETON as ELEANOR ROOSEVELT
It not only appealed but became groundbreaking. The series garnered Stapleton three Emmy Awards and three Golden Globe Awards.

Since that series she has been dividing her time between theatre, television and film. Recent film credits include: You've Got Mail with Tom Hanks and Meg Ryan; Michael appearing opposite of John Travolta; and her voice was heard in Pocahontas II for Disney and Dr. Doolittle for Twentieth Century Fox with Eddie Murphy.

On the stage she has enjoyed engagements in: Noel Coward's Blithe Spirit at the South Coast Repertory Theatre in California, Horton Foote's Night Seasons at the Signature Theatre in New York City, as well as his The Roads to Home at the Lamb's Theatre, the Stepmother in Rodgers and Hammerstein's Cinderella at the New York City Opera, and the Nurse in Romeo and Juliet for the Shakespeare Company in Washington D.C.

Playwright Rhoda Lerman is an accomplished novelist, having published Call Me Ishtar, The Girl That He Marries, The Boo of the Night, God's Ear and Animal Acts. The play Eleanor: Her Secret Journey was developed by Lerman from her 1979 book, Eleanor.

Director John Tillinger has numerous Broadway credits and was awarded an Outer Critics Circle Award and a Tony Award nomination for his treatment of Joe Orton's Loot.

PROOF starring Mary-Louise Parker, written by David Auburn and directed by Daniel Sullivan, will move from off-Broadway to Broadway's Walter Kerr Theatre beginning October 10.

THE BEST MAN by Gore Vidale opens September 5 at the Virginia Theatre, NYC. Directed by Ethan McSweeney the cast includes; Charles Durning, Spalding Gray, Chris Noth, Elizabeth Ashley, Christine Ebersole, Michael Learned, Jonathan Hadary, and Mark Blum.

IMPERFECT CHEMISTRY a new musical about science and ethics, opens August 24 at the Minetta Lane Theater, NYC. The book and lyrics are by James Racheff and the music is by Albert Tapper. John Ruocco directs.

BERKSHIRE THEATER FESTIVAL staged Say Yes! with words by Sherman Yellen, music by Wally Harper and is directed by Jay Binder. August 15 through September 2.

MISCAST J. S. Staniloff's play, will be staged at this summer's New York International Fringe Festival for 7 performances, August 17 - 26 at Charas/ El Bohio - Teatro. Phone sex, Chekhov, and a tour of Private Lives all converge in this play about an actress who feels miscast in every role she plays--on and offstage. The play was developed at Ensemble Studio Theatre and was produced by adobe theatre company in July, 1993 at Soho Rep. It was also presented in 1997 at EST's Octoberfest. Under the direction of Jaret Christopher, the cast for Miscast will be: Kelli K. Barnett, Katrishka King, and Andrew Robbins.

LIGHT UP THE SKY takes over The Williamstown Theatre Festival August 16-27. The revival of Moss Hart's delight has a cast that includes Tony winner Ron Rifkin, Peter Bartlett and T. Scott Cunningham. They join Eric Stoltz, Jessica Hecht, Enid Graham, Angelina Phillips and Frank Wood who won a Tony for an excellent performance as a feckless trumpet play in Side Man, written by Warren Leight. Hart's backstage comedy will be directed by Christopher Ashley.

42nd STREET has had its option picked up by Dodger Theatrical, the producer of The Music Man, Titanic and The King and I. The Dodgers will co-produce the show with Dutch entertainment mogul Joop van Ende. The revival will be directed by Mark Bramble, who co-wrote the show. The revival would likely open in Amsterdam in October and then tap dance to New York in the spring.

CHITA RIVERA the two time Tony winner, will star as Reno Sweeney in Cole Porter's Anything Goes at New Jersey's Paper Mill Playhouse, September 6-October 15. Lee Roy Reams directs. This won't be the first time Chita has worked the Paper Mill. She starred in Bye Bye Birdie at the Paper Mill with Tom Poston and Selma Diamond. That was back in 1962.

THE DONKEY SHOW celebrates its one year anniversary in New York on August 23 and has added to international productions. The Edinburgh production opened on August 2 and the European company then opens in London at The Hanover Grand Club on September 26.

The Donkey Show is a musically driven sensuously soaked 70 minutes which tells the story of euphoric lust gone haywire. The show, a bewitching bacchanal based on William Shakespeare's libido-laced A Midsummer's Night's Dream, has the action taking place in a 1970s Disco - the home of love-sick revelers lost in a forest of misguided longings.

To attend The Donkey Show is to experience it - as the players float above the audience, glide through the audience, dance with the audience, sing to the audience and sometimes even flirt with the audience. Created by Diane Paulus the production opened Aug 18, 1999 at the El Flamingo rapidly turning into an electrically charged hit.


WHO'S WHERE

ELAINE STRITCH putting the finishing touch on her one woman Broadway show.

SARAH BRIGHTMAN entertains August 21-21 in Sao Paulo and then on to Rio de Janeiro for a show on August 23.

BETTY BUCKLEY goes across the pond. Performing August 21-September 3 at the Donmar Warehouse in London, UK

VIOLINIST JULIA FISHER making her New York debut in the Mostly Mozart Festival Orchestra the week of August 14-20. Hans Conk, conductor. Andre Watts at the piano. Avery Fisher Hall, NYC.

T.G. SHEPPARD Boomtown Casino, Biloxi, MS on August 16.

B.B. KING BLUES FESTIVAL featuring B.B. King, Buddy Guy and Susan Tedeschi, August 16. Starlight Theatre, Kansas City.

KORN performs at the Mississippi Coast Coliseum Biloxi, MS August 16.

THE DOOBIE BROTHERS Grand Casino, Biloxi, MS on August 19.

LINDA EDER performs at the Guild Hall, East Hampton, LI this Saturday.

BERNADETTE PETERS the two-time Tony winner, will conclude her run in Annie Get Your Gun on September 2, and then begin a U.S. concert tour kicking off September 15 at the Starlight Theatre in Kansas City.

CHERYL LADD will make her Broadway debut when she replaces Bernadette Peters in the smash revival of Annie Get Your Gun!" Steps into the role September 5, and will be "doin' what comes naturally" until January 28.

REBA McENTIRE last night treated the people who make Pella Windows to a private concert to celebrate the company's 75th anniversary. McEntire performed at Hilton Coliseum on the Iowa State University campus in Ames. The concert culminated a day of games, carnival rides and activities on the campus which were open to only Pella employees and their families.

LEE LESSACK is either is great demand or he doesn't like to linger in one place too long. The cabaret performer entertained this week-end at the Stockbridge Cabaret DeSisto Estate - Stockbridge, MA . Tonight he'd taking the stage at the Bradstan Country Hotel in White Lake, NY. Then he's got a gig at the FireBird Cafe , NYC Sunday, August 20 and Monday, August 21. He moves on out of town for shows at Odettes in New Hope, PA on August 25-26.




Mention BROADWAY TO VEGAS for Special Consideration
Call (800) 942-9027









Next Column: August 20, 2000
Copyright: August 13, 2000. All Rights Reserved. Reviews, Interviews, Commentary, Photographs or Graphics from any Broadway To Vegas (TM) columns may not be published, broadcast, rewritten, utilized as leads, or used in any manner without permission, compensation and/or credit.
Link to Main Page
---
Laura Deni


CLICK HERE FOR COMMENT SECTION