! >
Broadway To Vegas
  
 SHOW REVIEWS CELEBRITY INTERVIEWS GOSSIP NEWS

| | |
| --- | --- |
| | |
HILLARY CLINTON, BARACK OBAMA AND STAR TREK - - YOUNG FRANKENSTEIN A LAUGHABLE SPOOF - - BENEFIT READING OF THE TRIAL OF THE CATONSVILLE NINE - - MAE WEST REMEMBERED - - DONALD TRUMP GOES FROM PURPLE TO AUBURN - - ELVIS PRESLEY ANNIVERSARY PROMISES A NEW ELVIS - - RESPECT: A MUSICAL JOURNEY OF WOMEN - - TEACHING OSCAR WILDE - - DONATE . . . Scroll Down


HILLARY CLINTON, BARACK OBAMA AND STAR TREK
Barack Obama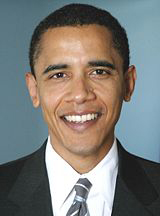 This past week two contenders fighting it out to be the leader of the free world, and one group which fought it out in the galaxy, got beamed into Las Vegas.

New York Sen. Hillary Clinton and Illinois Sen. Barack Obama showed up at the National Association of Black Journalists Convention and the dressed up fans attending the 6th annual Star Trek convention all had their say. Clinton addressed the journalists on Thursday and Friday Obama took his turn. Both presidential hopefuls espoused the Star Trek platform - Live Long and Prosper.

While neither Hillary nor Barack profess to known Klingon, from the spaced out questions they were addressing they might as well have turned to the book for Klingon-speak.

Obama showed up late explaining; "I'm sorry I'm a little bit late. But you guys keep asking whether I'm black enough." Going for the joke - fed-up with badgering about whether he is black enough, implying that those in the room bought into a stereotype that Africa-Americans are chronically late, the crowd at Bally's hotel responded with wild applause.

All presidential hopefuls have, in effect, filled out the application paperwork for a job - a temp one with benefits. They have now advanced to the interview phase of their application. In real life, if the potential boss asked an applicant if they were "black enough" the querient would be brought up on federal charges. Obviously, running for president has no relationship to real life.

A

Hillary Clinton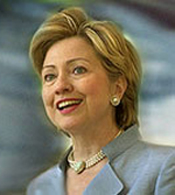 respected journalist, acting as moderator during Clinton's appearance, queried presidential job applicant Clinton, "Are you black enough?" The Democratic Presidential hopeful responded; "My attitude is, I don't deserve anyone's vote. I have to earn everyone's vote."

Black Americans accounted for 13 percent of the U.S. population in 2005 up from 12.3 percent in 2000.

Currently, 64.5 percent of U.S. adults, age 20 years and older, are overweight and 30.5 percent are obese. 35.9 million Americans live below the poverty level. Nationally, 30 percent of ninth graders fail to finish high school with their peers - an estimated 1.2 million U.S. students from the class of 2006. Nearly half of all Americans have one or more chronic health conditions. Of the people who dye their hair, one in three reach for blonde. 30 percent of all Americans have room temperature IQ scores - 70-89 - which is classified as anywhere from dullness to borderline deficiency. A study published in the October 2006 issue of the New England Journal of Medicine indicates that almost fifty percent of Americans are of "below average" intelligence - average being 109 and the 50 percent figure represented those below 100.

What are the follow-up questions for Clinton and Obama? Are you fat enough? Are you poor enough? Are you uneducated enough? Are you ill enough? Are you stupid-blonde enough?

The "Are you black enough?" approach has turned the presidential campaign into an on-the-road Saturday Night Live skit.

Neither Clinton nor Obama were sighted at the Star Trek get-together, although those people vote and, for all we know, may be the deciding factor.

They could have discussed their political positions in tandem with those of the Star Trek creator the late Gene Roddenberry, one of the most influential yet unheralded humanists of the world. The conflicts and political dimensions of Star Trek form allegories for contemporary cultural realities. The original Star Trek television series addressed issues of the 1960s, just as later spin-offs have reflected issues of their respective eras. Issues depicted in the various series include war and peace, authoritarianism, imperialism, class warfare, racism, human right, sexism, feminism and the role of technology.

Headquartered at the Las Vegas Hilton Hotel, the Star Trek event ends today. Stars on hand August 12 include; William Shatner, Leonard Nimoy, Anthony Montgomery, Armin Shimerman, Max Grodenchik, Nicole deBoer, Jeffrey Combs, Robert O'Reilly, Wallace Shawn and Nicholas Meyer.

Back by popular demand is the famous Klingon Luncheon. Billed as one of their most beloved traditions. Participants included Suzie Plaxson and Robert O'Reilly in a festively savage meal to remember.

Last night's Saturday Night Gala Celebration showcased members of the Las Vegas Philharmonic under the direction of Associate Conductor Richard McGee in Star Trek: A Concert (Part Two) with a special salute to The 20th Anniversary of Star Trek: The Next Generation. There was a special musical performance from Broadway and Star Trek star Nana Visitor.


ELVIS PRESLEY LEFT THE BUILDING - DIGITAL WIZARDY PROMISES A RE-BIRTH
August 16 marks the 30th anniversary of Elvis Presley's 1977 death at Graceland. The place is expected to be jammed with fans descending on Memphis to commemorate the singer's earthly departure.

It promises to be a swell party and the last year that the King of Rock 'n' Roll remains a no-show.

Thanks to hocus pocus technology next year people can expect to see an Elvis so life-like that they'll think it's the real deal.

CKX which controls Graceland and its rambling assortment of souvenir shops and memorabilia museums have plans to gut and rebuild the tourist complex. There will be a new 80,000 square foot visitors center - bigger than a football field or almost 8 times the size of Graceland Mansion. There will also be a 500-room convention hotel replacing the 128-room Heartbreak Hotel. Add to the mix a high-tech museum - sort of a high tech birthing room for a digital King - promised to bring gasps from the crowd who will swear it's their re-born idol.

In 2005 CKX company chairman Robert Sillerman bought the rights to Elvis' name and image from daughter Lisa Marie, Presley's sole heir. Lisa Marie Presley still owns Graceland the white-columned house her father purchased in 1957 for a little over $100,000 and she still owns 15 percent of Elvis Presley Enterprises while CKX exercises the control.

Approximately 600,000 visitors a year make the trek to Graceland making it a major tourist destination. The busiest times are the anniversaries of his birth and death. Christmas is also a crowded season.

Last year, Graceland took in $27 million in revenue, and the overall Elvis business brings in more than $40 million a year.

Attention must be paid to the homage accorded Presley. Dead or alive, the guy is star power.

The traditional vigil takes place at 8:30 p.m. on August 15, near the front gates of the mansion property. Fans gather in the street and in Graceland Plaza with a queue line down the street. At the end of the ceremony, torches lit from the eternal flame at Elvis's grave are brought down to the gate. The queue line starts to move as fans walk through gates and light their candles on the torches and then walk single file up the driveway to the gravesite in the Meditation Garden and back down.

Although candle lighting for the procession is from the torches, fans are asked to be prepared to light their own candle when asked to do so for the traditional "sea of candles" shot for the world news media at the start of the opening ceremony.

The King of Rock 'n' Roll will roll with the King of Beers when NASCAR's most popular driver Dale Earnhardt Jr. and NHRA young gun Brandon Bernstein pilot commemorative Elvis Presley's 30th Anniversary paint schemes on the #8 Budweiser Chevrolet and Bud King Racing Top Fuel dragster in September.

Earnhardt's #8 Budweiser Chevrolet is a predominantly white scheme with black and red highlights and features Elvis' image on the hood and rear quarter panels, plus the King's image and "Elvis 30th" on the deck lid for the Chevy Rock & Roll 400 at Richmond International Raceway on Sept. 8. A custom Elvis themed helmet and black driver firesuit includes the young Elvis' silhouette on the torso with Budweiser in red down each leg. The car will be unveiled Monday, Aug. 13 on the front steps of Elvis' Graceland home, and be on public display during Elvis Week in the Elvis Auto Museum, Aug. 14-18.

Bernstein, a four-time winner in 2007, also will celebrate Elvis Week with a similar white paint scheme and matching white Elvis themed firesuit for the Bud King Racing Top Fuel dragster during the NHRA MAC Tools U.S. Nationals, Aug. 29-Sept. 3 in Indianapolis.

Earnhardt and Bernstein will rev up the 30th Anniversary Elvis Week celebration by hosting the first night of the Elvis Music & Movies" series on the front lawn of Graceland on Aug. 13. Elvis Music & Movies marks the first ever Elvis Week entertainment event inside the gates of Presley's famed home in Memphis.

In addition, Budweiser will honor Elvis' passion for horses with a visit by the Budweiser Clydesdales, which will be stabled in Graceland's main tour center area for public viewing Aug. 14-18.

Earnhardt and Bernstein will discuss racing, their love of Elvis music, introduce some favorite songs, and interact with the evening's entertainers. Following the live performances, Earnhardt will introduce the Elvis movie Viva Las Vegas, which has been restored and digitally remastered as part of a new release of Elvis movies from Warner Bros.

The Insiders Conference features a raft of just that - insiders. On August 13 there will be actress and former Miss America, Mary Ann Mobley, who co-starred with Elvis in the films Girl Happy and Harum Scarum; D.J. Fontana, Elvis's original drummer, who worked with him from 1955 to 1968; Loanne Parker, former long-time RCA Records staff member who worked with Elvis and his manager Colonel Tom Parker and later became Mrs. Parker; Dick Grob, who handled security for Elvis and was a member of his entourage; and Charles Stone, who was part of the management team for Elvis's concert tours.

Special guests confirmed for August 14 include: Priscilla Presley whose segment will be hosted by Jerry Schilling - entertainment producer/manager, former member of Elvis's inner circle, and author of the acclaimed 2006 memoir Me and a Guy Named Elvis, My Lifelong Friendship with Elvis Presley; members of Elvis's legendary TCB Band, who backed him from 1969 through the 1970s - lead guitarist James Burton, pianist Glen D. Hardin and drummer Ronnie Tutt; from The Sweet Inspirations - the female vocal group that backed Elvis on stage from 1969 to 1977 - Myrna Smith and Estelle Brown; and from Elvis's legendary 1969 recording sessions at American Sound in Memphis - drummer Gene Chrisman, organist Bobby Emmons, bass guitarist Mike Leech, pianist Bobby Wood, and guitarist Reggie Young. These American Sound sessions produced some of Elvis's finest work, including the classic hits In the Ghetto; Kentucky Rain, Don't Cry, Daddy and Suspicious Minds.

Larry King Live will emanate live from inside Graceland Mansion on August 15. Larry's guest will be Priscilla Presley.

August 16 at the FedEx Forum in downtown Memphis. Elvis: Midnight in Vegas stars the real Elvis Presley, exclusively using performance footage shot for production of the MGM concert film Elvis, That's the Way It Is, which focused on his Summer 1970 engagement at International Hotel in Las Vegas. Elvis will be on the giant screen and live on stage will be a cast of singers and musicians – many of whom worked the 1970 Vegas engagement with him.

The 90-minute show features Joe Guercio (musical director & conductor); TCB Band members James Burton (lead guitar), Glen D. Hardin (piano), Jerry Scheff (bass guitar), and Ronnie Tutt (drums); Sweet Inspirations members Myrna Smith, Estelle Brown and Portia Griffin; Imperials members Sherman Andrus, Terry Blackwood, Joe Moscheo and Gus Gaches; Millie Kirkham (soprano) and members of the Memphis Symphony Orchestra.

Lest we not forget the official Mass in Memory of Elvis which takes place Wednesday. The official announcement reads: "St. Paul Catholic Church. Recorded music at 2:15 PM. St. Paul Choir sings at 2:45 PM. Memorial Mass begins at 3:00 PM. Come together to pray and remember Elvis. Spaghetti dinner to follow."



Broadway To Vegas is supported through advertising and donations. Priority consideration is given to interview suggestions, news, press releases, etc from paid supporters. However, no paid supporters control, alter, edit, or in any way manipulate the content of this site. Your donation is appreciated. We accept PAYPAL. Thank you for your interest.


YOUNG FRANKENSTEIN - LAUGHTER IN A DOUBLE SCOOP SPOOF

Mel Brooks' eagerly anticipated Young Frankenstein has started to materialize at the Paramount Theatre in Seattle.

Destined to be a Broadway hit, the effort is a spoof of the Brooks' movie of the same name which was a spoof of the book. Buy a ticket, sit back and enjoy. Laughter is good for you.

People seem to enjoy comparing Young Frankenstein to the Brooks' masterpiece The Producers, which is like comparing a pineapple to a pinecone. Besides, Young Frankenstein should be viewed on its own merits, although humans seem to have a fixation for relating almost anything to something else. If a comparison must be made - Jekyll & Hyde and Young Frankenstein are both sub-species of horror musical genre. Broadway To Vegas loved the Broadway production of Jekyll and Hyde which was seen twice in 1997 and 1998. ( See Broadway To Vegas column of June 8, 1998 ) Although not everybody shared our enthusiasm, the production did pick up four Tony nominations and played 44 preview performances and ran for 1,543 regular performances before closing January 7, 2001 - the longest-running show in the history of the Plymouth Theatre.

Broadway To Vegas viewed Young Frankenstein last week and loved the show - an enthusiasm which we expect everyone to share when the production transfers to Broadway's Hilton Theatre in late October.

Both Jekyll & Hyde and Young Frankenstein are musicals; both are a stage version of what started out first as a book before transferring to the big screen. Both have big laboratory scenes. Both have distinct first and second acts where the plot dramatically changes direction. Both have freaks. Both have show-stopping segments. For Jekyll and Hyde it was Robert Cuccioli's rendition of This Is The Moment which in a previous era would have been #1 on the Top 40 charts. For Young Frankenstein the show-stopper is the elaborate and zany Susan Stroman choreographed production number - set to Irving Berlin's Puttin' on the Ritz. Not really a number it's long, more akin to a complete act in itself and stars Robert Bart and Shuler Hensley - in the largest tuxedo ever built.

In addition to the afore mentioned Stroman, the costumes by William Ivey Long include hilarious multiple humps for - Igor/Eye-gor - humps which present their own personalities and enough exquisite fanciful folkloric Middle European peasant garb to clothe a third world country.

Shuler Hensley, who plays The Monster, spends hours getting into several pounds of rubber. The time it takes him to get into his costume is in direct proportion to the amount of time he did not have to spend learning his lines, since he doesn't have one single word in the first half. He growls.

Not until the end of Act Two does Shuler have a snippet of a song. Up until then he's of the groan and moan school of acting. His beautiful operatic bass baritone voice is eventually heard in the song Deep Love. During the second half he dominates the production.

Massive scenery and sight gags abound. It will take 30 huge shipping crates and two-dozen trucks to transport the production to New York.

The mind of Mel Brooks is a little tilted. If we are lucky his orb will always remain off-axis.



Megan Mullally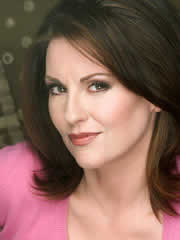 Shuler Hensley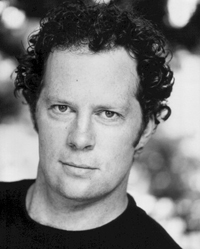 For the unusual goof who doesn't know the plotline - bone up before seeing the show so you'll fully appreciate the Brooks' creative genius when it engulfs you. Or, read the press notes;

"When Dr. Frederick Frankenstein, an esteemed New York brain surgeon and professor, inherits a castle and laboratory in Transylvania from his grandfather, deranged genius Dr. Victor Von Frankenstein, he faces a dilemma. Does he continue to run from his family's tortured past or does he stay in Transylvania to carry on his grandfather's mad experiments reanimating the dead, and, in the process, fall in love with his sexy lab assistant Inga?"

However, this is not the movie version transferred to the stage - as The Producers. In Young Frankenstein numerous scenes from the movie hit the cutting room floor, new scenes are in the stage version and the ending is slightly different.

From a musical standpoint Jekyll & Hyde, penned by Leslie Bricusse and Frank Wildhorn, was written like a Broadway musical. Young Frankenstein is composed like an operetta. Glen Kelly and Dough Besterman must be signaled out for their arrangements and orchestrations.

Starring Roger Bart, an under used Sutton Foster featured in a revolving book case scene, Shuler Hensley, Andrea Martin, Fred Applegate, Christopher Fitzgerald and Megan Mullally, who almost steals the show which is set in a castle in foggy Transylvania Heights. Songs include He Vas My Boyfriend sung by Andrea Martin who is cast as creepy housekeeper Frau Blucher (Cloris Leachman on film); Together Again for the First Time a vaudeville duet performed by Roget Bart and Christopher Fitzgerald. Please Don't Touch Me comes from Mullally who plays Frankenstein's fiancée Elizabeth - a virgin. Some of her other renditions include Alone, and Surprise and Deep Love. Mullally, best known as Karen Walker in the NBC series Will and Grace, is one of the few cast members who doesn't have a Tony Award - yet.

The ensemble includes Heather Ayers, Jim Borstelmann, Paul Castree, Jen Lee Crowl, Jack Doyle, James Gray, Amy Heggins, Eric Jackson, Kristin Marie Johnson, Renee Feder, Matthew LaBanca, Kevin Ligon, Barrett Martin, Linda Mugleston, Christina Marie Norrup, Justin Patterson, Brian Shepard, Sarrah Strimel, Craig Waletzko and Courtney Young.

Brooks brought on board virtually the entire creative team from The Producers and none are one-hit wonders. Collectively, the creative team behind Young Frankenstein has won 27 Tonys and 54 nominations.

That is crucial because - with all due respect to Mel Brooks - he needs them more than they need him. Without the phenomenal talents of the creative team this creation would be nothing more than a frat house laugh getter. Yeah, the transformation of the monster to a man means that all of his body parts are smaller and there is that song Deep Love. Wink, wink - we get it.

Thomas Meehan - Book; William Ivey Long - Costume Design, Susan Stroman - Direction and Choreography, Peter Kaczorowski - Lighting Design, Doug Besterman - Orchestrations, Robin Wagner - Scenic Design and Jonathan Deans - Sound Design.

Broadway tickets have premium seats priced at $450. Depending upon your location - it can be cheaper to travel to Seattle purchase a $25. 00 ticket which tabs out under $35 when you include the convenience charge and the building facility charge. While Brooks is a practitioner of the whatever-the-traffic-will-bear approach to ticket sales - it seems like top dollar tickets ought to include a meet and greet with the cast, back stage tour and a swig of a Young Frankenstein distillation in a souvenir goblet.

Young Frankenstein won't be the only kid on The Great White Way. Young Frankenstein will be going head to head with another high-profile, marquee-value musical - Disney's The Little Mermaid currently trying out in Denver. The Little Mermaid begins preview performances at the Lunt-Fontaine Theatre in New York City on November 3 shortly after Young Frankenstein is set to start their previews.


SPREADING THE WORD


OSCAR WILDE has been added to the list of authors to be studied by teenagers attending secondary schools in England.

The author of Lady Windermere's Fan and The Importance of Being Earnest has now taken his place beside Charles Dickens, Jane Austen and Shakespeare as a result of a review of what should be taught in schools.

Education Secretary Alan Johnson's decision to recommend a list of prescribed pre-1914 authors - overruling his advisers - upset some English teachers who wanted more freedom to choose the authors their pupils studied.

Mr. Johnson defended his decision by insisting: "There are certain untouchable elements of the secondary school curriculum that all teenagers should learn for a classic well-rounded British education.

"It's vital that teachers instill a love of literature in young people and engage them with the best-loved writers from our history," he said.

MAE WEST BIRTHDAY WALKING TOUR takes place August 17th. The Brooklyn-born Mae West is honored on what would have been her 114th birthday with a special walking tour, part of the celebration of the Annual Mae West Gala in New York City helmed by playwright LindaAnn Loschiavo.

Secretive and image-conscious, the Brooklyn bombshell carefully covered up her private life, which included frequent partying at speakeasies, a secret marriage to an Italian accordionist, séances behind curtains, and multi-racial love affairs.

On the actress's birthday, the Annual Mae West Gala will focus on Manhattan's busy theatre district, where Mae's West Side Story will unfold in over a dozen sites between West 50th Street and West 63rd Street.

Participants will come up to see three addresses where the blonde bombshell hung her famous hats along with the former speakeasies where she rendezvoused with Rudolf Valentino, George Raft, and others.

Other locations include her dance school, the jewelers who created the Diamond Lil sparkle, legitimate theatres, former vaudeville houses, and more. In the past, guests of these yearly Mae West events have included playwright Sam Shepard, actress Jessica Lange, broadcaster Joe Franklin, ballplayers from the New York Yankees, well-known screenwriters, and a diverse group of Mae devotees who travel cross country to The Big Apple during the dog days of summertime.

The Friday evening walking tour will be followed by a reception.



Sketch: Mae West by Miguel Covarrubias 1932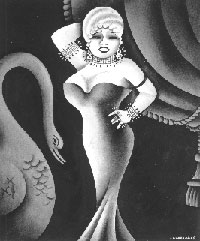 New York City isn't the only location remembering the Come Up and See Me Sometime broad.

On Saturday, August 11, the Brownsville Historical Association in Brownsville, Texas is hosting a workshop that will have Texas artist Mark Clark teach you to draw a caricature of Mae West as part of the festivities surrounding the Miguel Covarrubias: Caricuturista exhibition.

Born in Mexico, Miguel Covarrubias was a popular artist in the early 20th century.

He drew the era's most notable figures like Mae West whom he sketched for The New Yorker. along with Franklin D. Roosevelt, Josef Stalin, Charlie Chaplin, and other VIPs all hilariously re-imagined via his exaggerated sketches.

This exhibit will be on display until September 29 in Brownsville, Texas.


SWEET CHARITY


BENEFIT READING OF THE TRIAL OF THE CATONSVILLE NINE

Daniel Berrigan at the Third Annual Staten Island Freedom & Peace Festival, October 28, 2006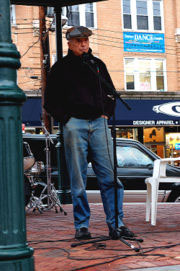 Martin Sheen and Tim Robbins head an all-star cast that includes Beau Bridges, Mike Farrell, Camryn Manheim and Sandra Oh in this benefit reading of The Trial of the Catonsville Nine by Daniel Berrigan, directed by Gordon Davidson.

On May 18th, 1968, three Catholic priests (including Daniel Berrigan), a nurse, an artist and four others walked into a Catonsville, Maryland draft board office, grabbed hundreds of selective service records and burned them with homemade napalm in protest against U.S. involvement in Vietnam. The nine were; Philip Berrigan, Daniel Berrigan, David Darst, John Hogan, Tom Lewis, John Melville, Marjorie Melville, George Mische, and Mary Moylan.

Non-violent protests against the Vietnam War earned Daniel Berrigan and his brother Philip a place on the FBI Ten Most Wanted Fugitives' list.

The publicity and news coverage from the ensuing trial of the "Catonsville Nine" helped galvanize an American public that was becoming increasingly disillusioned with the Vietnam War. Berrigan's free-verse dramatization is based on the actual records of the trial in which he and the eight other defendants were convicted.

One performance only, followed by a reception with the cast, is set for Saturday, August 18 at the Kirk Douglas Theatre in Culver City, CA. All proceeds from the event benefit the Office of the Americas and The Actors' Gang.

The Office of the Americas is a non-profit organization dedicated to furthering the cause of international justice and peace through broad based educational programs. Founded in 1983 in Los Angeles, the Office of the Americas is a recognized source of documentation and analysis of current international events with a focus on the foreign policy of the United States. Through its public education campaign, the Office of the Americas works to reach constituencies of students, religious and human rights organizations and all others concerned about issues of international justice and peace. Our goal is to end the long-standing international culture of militarism.

The Actors' Gang, founded in 1982 by a group of renegade theater artists, has over 90 productions and more than 100 awards to its credit, and consistently wins acclaim for its daring interpretations.


OTHER PEOPLE'S MONEY


THE COLOR PURPLE Donald Trump is hoping that gold and auburn equals green. For the last 17 years the Trump Taj Mahal resort in Atlantic City has been festooned in bright purple - from the carpet to other things eye catching. That beauty parlor hue is being replaced with deep gold and auburn, felt to be earthy, more masculine and appealing to those with more green to spend.



AN IDEAL HUSBAND by Oscar Wilde. Directed by Richard Monette.

Sir Robert Chiltern is the ideal husband – witty, well-bred and adored by his loving wife. Conversely, Lord Arthur Goring is an idle philanderer and the despair of his long-suffering father.

But when evidence surfaces of a dark secret in Sir Robert's past, each must decide: is it social convention or true love that makes for an ideal marriage?

The cast includes; Paul Amos, Sean Arbuckle, Bruce Dow, Eaquel Duffy, Shannon Eizenga, Eli Ham, Jacob James, Ron Kennell, Sophia Kolinas, Jean-Michel LeGal, Tom McCamus. Brian McKay, Chick Reid, Dixie Seatle, Roger Shank, David Snelgrove, Severn Thompson, Sara Topham, Brian Tree and Bright Wilson.

Set Designer is Michael Gianfrancesco. Costunes by Francois St-Aubin, Lighting Designer is Kevin Fraser. Composer Paul Shilton and sound design by Wade Staples.

Officially opened last night, August 11 with performances to October 27. Festival Theatre Stratford Festival of Canada in Ontario, Canada.

ACOMPLICE by Rupert Holmes.

An isolated English country house. A rainy night. Love, lust, jealousy, greed, revenge. Who is killing whom? For whom? And who is whom, anyway? Rupert Holmes' audacious twist on the twisted mystery plot is a plot within a plot within a play within a plot. Or is it a play within a plot within a plot within a play... or is it? Not much can be told about this sexy, scary, hilarious, murder mystery thriller, because it's so full of surprises that it would be a crime to give any of them away. Besides, as Rupert Holmes himself once put it, "Even if I told you the truth, I'd be lying."

August 23 - September 15. Harlequin Productions makes its home in the historic State Theater in the heart of downtown Olympia, Washington, at the southernmost tip of Puget Sound. Or, as they put it; We're 60 miles south of Seattle, 105 miles north of Portland, 50 miles east of the Pacific Ocean and about 3,000 miles west of New York City.

PENTECOST by David Edgar. This fiercely relevant piece of theatre might have been inspired by the latest world events; 15 years after its debut it remains timely, delivering an important humanistic message.

"In this play the events of today's television news and papers burst on stage, and bring all the suffering and horror with them, along with all the hope of today," says director Mladen Kiselov.

Set in a Balkan country after the fall of the Berlin Wall, the play tells the story of a curator who finds a church fresco that could rewrite art history and give her struggling nation a new cultural legitimacy. A nasty debate between two art historians over restoration practices is interrupted by a hostage crisis, with a motley group of refugees seizing the curators and demanding passage into Western Europe.

"This is the most interesting group portrait of people who would not understand each other because of differences and yet find a way to overcome differences to look at each other as humans and to get together, putting above all the very precious dream for happiness, for peace, which is in everyone," says Mr. Kiselov.

"Pentecost is a voice for new thinking, for a new globalization of the spirit. This is very difficult to achieve but I think the whole intelligent world is dreaming of it."

The Cast (in alphabetical order): Commando: Matt Cassidy. Father Petr Karolyi: Dan Chameroy. Amira: Laura Condlln. Abdul: Aidan deSalaiz. Fatima: Barbara Fulton. Leo Katz: Jonathan Goad. Yasmin: Adrienne Gould.

Pentecost opened officially on Aug. 10 and plays in repertory until Sept. 21. Stratford Festival of Canada's Studio Theatre in Ontario, Canada.

RESPECT: A MUSICAL JOURNEY OF WOMEN written by Dorothy Marcic an adjunct professor at Vanderbilt University's Owen Graduate School of Management and the former director of the doctoral and master's programs in human resource development at Vanderbilt. She was a Fulbright Scholar at the University of Economics, Prague and the Czech Management Center, where she taught M.B.A. students and practicing managers.

A musical revue performed by four actors including a narrator and includes a 3-piece band was adapted from her book by the same name. The play tells the history of women dating back about 100 years to the present - a joyful memory lane jaunt about women told through more than 60 Top-Forty hits.

From the co-dependence of I Will Follow Him to the anger of These Boots are Made for Walking, to the cynicism of What's Love Got to Do With It, and finally to the strength of Hero.

Combining excerpts of 60 songs with women's own stories about finding dreams, lost love, relationship issues, entering the workforce and gaining independence.

For more than the first half of the last century, the voice of women in Top-40 popular music has been one of neediness and dependency. I'll do anything for you; just be my baby, even if you're no good and treat me bad; just love me and I'll stand by my man. By the end of the century, things were quite different. Popular music had come far enough so that women looked for the hero within themselves, were urged to get on their feet and make it happen, ready to stand on her own with or without a man. Messages encompassed I Am Woman (hear me roar), encouraged women to find their own dreams.

Officially opened August 10 at the Chanhassen Dinner Theatre in Chanhassen, MN.

Growing out of Respect: A Musical Journey is The Respect Project Inc. which is a not-for-profit whose mission is: By utilizing the arts, theater and workshops, help women and teenage girls transform their lives through smart thinking, smart choices, smart results - to uplift and empower women to choose more positive outcomes.

HAIRSPRAY at the Neil Simon Theatre in NYC welcomes Lance Bass to the cast. Bass, a member of the boy band 'N Sync, will appear from August 14 through January 6 as Corny Collins, host of the dance program at the heart of the musical.

SWING jumpin' and jivin' with over 30 fabulous songs from the Big Band Era and the dance phenomenon that swept the nation in the 30's and 40's. This all-singing, all-dancing extravaganza features classic tunes such as It Don't Mean a Thing, Boogie, Woogie Bugle Boy, Blues in the Night, Sing, Sing, Sing, In the Mood and many more. Kenny Shepard serves as director/choreographer.

Through September 8 at the Dutch Apple Dinner Theatre in Lancaster, PA.

SNAPSHOTS a new musical from Stephen Schwartz, writer of the music and lyrics for Wicked, Godspell and Pippin. Book by David Stern. The Snapshots project began over a decade ago and has been seen in industry readings and workshops and productions at Westport Country Playhouse and the Village Theatre in Seattle.

Snapshots depicts a moment of crisis in the life of a suburban couple. Just as Sue is preparing to leave her husband, she stumbles upon a box of old photos/snapshots, chronicling their 30-year relationship. Sue and Dan re-examine their life together through the photos allowing them to relive moments of their life and love, from burgeoning teenagers to upwardly-mobile twenty-somethings to their current empty nest mid-life crisis.

In Snapshots, fans are treated to a never-before heard song - Making Food - that was cut from Wicked.

Directed by Randy Brenner. Choreography by Karl Reischerl. The musical director is Kevin Wallace. Costume design by Stacey Galloway. Lighting design by Annmarie Duggan. Scenic Design by Robert Fetterman To August 19 presented by Seaside Music Theatre at News-Journal Center in Datona Beach, FL.

TAKING FLIGHT written and performed by Adriana Sevan and directed by Giovanna Sardelli.

Based on a true experience, Taking Flight is the unforgettable journey of two friends who struggle to overcome a tragic event that changes the world and both their lives. Laugh, cry and cheer with Adriana as she discovers why the heart is the strongest muscle in the body.

August 17 – August 26, at the Fountain Theatre in Hollywood.

ON YOUR TOES Artistic director Jason Alexander presents Stefanie Powers and Dan Butler in Reprise! Broadway's Best's production of the Rodgers and Hart musical.

Dan Mojica directs. Choreography by Lee Martino.

Also featured in the cast are; Jeffry Denman, Beth Malone, Brett Ryback, Jonathan Sharp, Yvette Tucker and Diane Vincent. The ensemble features Shell Bauman, Seth Belliston, Quintan Craig, Jennie Ford, Casey Garritano, Jeff Griggs, Chelsea Hackett, Joey T. Marshall, Melissa Paris, Aaron Pomeroy, Mark C. Reis, Katie Rooney, Jean Michelle Sayeg, Leslie Stevens, John Todd, and Scott Weber.

Phil "Junior" Dolan, son of Vaudeville performers, is no stranger to the stage, but when he becomes wrapped up in a jealous love affair with the Russian ballet's prima ballerina, the uproarious, dance-filled musical takes a turn for the hilarious. This landmark musical, originally directed by George Abbott and choreographed by George Balanchine, is celebrated as the first of its kind to use dance to further the plot and features Rodgers and Hart favorites like There's a Small Hotel, Glad to Be Unhappy, It's Got to Be Love, and the unforgettable jazz ballet Slaughter on Tenth Avenue.

Aug. 14 - Aug. 26 at the Freud Playhouse in Los Angeles.


| | | |
| --- | --- | --- |
| | | |
WHO'S WHERE


MICHAEL FEINSTEIN performs Saturday, August 18, at the Southern Vermont Arts Center in Manchester, Vermont.

DIANA KRALL AND CHRIS BOTTI entertain Tuesday, August 14 at Harvey's Lake Tahoe Outdoor Amphitheater at Lake Tahoe, NV.

DIANA KRALL continues the week with a show Wednesday at Davies Symphony Hall in San Francisco. On Friday she opens a two night stand at the Hollywood Bowl in Los Angeles. Next Sunday she performs at the Santa Barbara Bowl in Santa Barbara,CA.

LINDA RONDSTADT on stage Friday, August 17, at the Performing Arts Center in Westhampton, NY. On Saturday she is in the spotlight at the FOTA Pavilion at Planting Fields in Pyster Bay, NY.

SHeDAISY take their show to the Berrien County Youth Fair in Berrien Springs, MI on Thursday, August 16.

ARLO GUTHRIE performs Friday, August 17, at the Bethel Woods Center for the Arts in Bethel, NY.

COUNTING CROWS on stage Tuesday, August 14, at Ripken Stadium in Aberdeen, MD. On Wednesday the show is at Harry Grove Stadium in Frederick, MD. Friday finds them at Merchantauto.com Stadium in Manchester, NH and on Saturday they'll be delighting their fans at New Britain Stadium in New Britain, CT.

NORA JONES continues her European tour with a show Tuesday at the Theatre Antique in Vienna, France. On Wednesday she is on stage at Arenes in Nimes, France. Saturday the show is Forest National in Brussels, Belgium. Next Sunday she can be enjoyed at Heineken Music Hall in Amsterdam, Netherlands.

TONY BENNETT singing Thursday, August 16, at the Greek Theatre in Los Angeles. On Saturday he'll be delighting the crowds at Deer Valley Resort in Deer Valley, UT.

DAVE MATTHEWS BAND on stage Tuesday, August 14 at Saratoga Performing Arts Centre in Saratoga Springs, NY. On Wednesday they can be found at the Verizon Wireless Center in Virginia Beach, VA. On Friday the open a two night gig at the Verizon Wireless Music Center in Noblesville, IN.




PIFFLE AND PROFUNDITIES


TOUGH CROWD The Puritans in England ordered all playhouses and theatres to be pulled down in 1648, all players to be seized and whipped, and anyone caught attending a play to be fined five shillings.

Next Column: August 19, 2007
Copyright: August 12, 2007. All Rights Reserved. Reviews, Interviews, Commentary, Photographs or Graphics from any Broadway To Vegas (TM) columns may not be published, broadcast, rewritten, utilized as leads, or used in any manner without permission, compensation and/or credit.
Link to Main Page
---
Laura Deni


CLICK HERE FOR COMMENT SECTION