! >
Broadway To Vegas
  SHOW REVIEWS     CELEBRITY INTERVIEWS     GOSSIP     NEWS 
| | |
| --- | --- |
| | |
Copyright: August 12, 2001
By: Laura Deni
CLICK HERE FOR COMMENT SECTION

LOOKING THROUGH THE WINDOWS OF LIFE AT THE ME THAT NOBODY KNOWS
On the outside peeking through the windows of life begging to come in. Asking the world to "try to dig it before you slam it. Try to dig it before you damn it."

Hard to get through life alone.

The Me That Nobody Knows was an award winning musical of the 1970s. The music was composed by Gary William Friedman with lyrics by Will Holt, Herb Schapiro and inner city children.The score spawned hit songs by The Fifth Dimension with Light Sings and The Staple Singers did the same with This World.

The original cast was one of the hottest ever assembled, comprised of children ages 10 to 17 and included future stars like Irene Cara, Beverly Brenners, Harrie Winston and Northern Calloway.

After thirty years, Atlantic Records has licensed the rights to 150 Music - a new independent record label specializing in Adult Pop Music, Broadway and Jazz - to release the original cast album.

A revival is in the works.

"It came in like lightening," said Michele Oliver, who represents the record label in explaining the original production. "It was such a hit off Broadway and when it moved to Broadway it was nominated for five Tony awards but Steven Sondheim won that year. He was the anointed one, at that time. What it really came down to was maybe The Me Nobody Knows didn't have the most aggressive producing. But people know the show and there is such a cult following- and it is going to be revived."

"Even though it's 30 years later - sadly, it's more relevant than ever," she continued. "A workshop was just done and it was touching. I think people are ready for a revival. The people who were kids - who were 10 years old - now have 10 year old children of their own - so I really think its going to be a lot better known that it was 30 years ago."

"It's going to start off Broadway, but as a major first class off Broadway production," emphasized Oliver. " The show is definitely heading into production. The contracts are signed. It's going to start casting and into production this fall with a company here in New York and be reintroduced to the world."

Are people going to buy tickets for a production starring unknown children?

"It's an ensemble show," she responded. "So the producers are looking for a combination of unknowns and the names that sell tickets. It's not really a star vehicle, but obviously today's producers are savvy enough to know that they are going to go looking for stars, because it never hurts to have stars to sell tickets."

Oliver indicated that releasing the CD has been a long anticipated event. "Releasing an original cast CD is something we've wanted to do for years. Gary Friedman, the composer, and the whole original group - the team is still here in New York - has always felt that it was a recording that should have been released a long time ago. When you go into stores and see CD's of obscure shows of 50 years ago and the fact that there was no CD issued on The Me Nobody Knows, it is just a shame because of the cast and the quality of the production. So we wanted to put out a CD."


IRENE CARA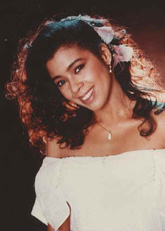 When people think of Irene Cara it's Fame that comes to mind and in listening to this new The Me That Nobody Knows CD that comes to the back of the mind is - Fame.

"Quite frankly there were a lot of ideas that they did in Fame that they sort of got from The Me Nobody Knows," said Oliver. " Irene Cara was a little girl. This was really her start. Gary Friedman went on to become the music director of Sesame Street and The Electric Company. He really was very big in defining the sound - the 70s youthful sort of pop sound. He's a varied composer who has also written classical works. Back then he was a very young guy and he really created the young sound."

"With the exception of Hair this was really a ground breaking show," she added. " For the adult theater crowd to really embrace it at that time was tremendous."

The Me Nobody Knows, opened in New York off-Broadway at the Orpheum Theater in 1970, transferred to Broadway in 1971 at the Helen Hayes Theater and received five Tony award nominations.

The production was adapted from a book of poems and essays written in the late 1960's by inner-city children. A ground-breaking, semi-rock score was created to reflect their dreams and observations of the life around them. One song quickly followed another as the 12 young people confronted topics as slums, hunger, drugs, religion as well as lighter and purely fanciful matters such as what they would go if they had a million, gazillion dollars.

What about the money. Were the kids ripped off?

"For the last 30 years there has been a fund set up for the children," elaborated Oliver. "Steve Joseph was a school teacher who compiled the writings of these kids and edited them and published with Avon Books The Me Nobody Knows. Legally, it was all taken care of and signed off. There has been a fund for the last 30 years. It's called The Children's Fund. There has always been a percentage of any money, royalties and publishing funds that come through that goes into it. And, again, with this new production there is a fund set aside for the kids."

If you think it's tough to mount a show, try to make a success out of a record label.

"150 Music is a small, new, independent label founded by Barry William Friedman and his wife, Stevie Holland, who is a singer and performer. It's a very eclectic group They have a handful of artist that they want to pull in and produce," related Oliver.



THE LAST SUPPER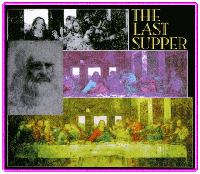 "Mr. Friedman has a few other shows that are heading into production and some are running regionally. There is a show called The Last Supper which is an inspiration work that he was commissioned to write.(See Broadway To Vegas column of March 19, 2000) It's a story of Leonardo DiVinci. That is another show that is due for a real cast recording and a bigger production than it had in New York. Some of his shows are out on recording, for instance a show called Sheeba," she said about a 1996 Off-Broadway production at the 91st Street Playhouse.

Sheba is a musical tale about the Queen of Sheba meeting King Solomon with book and lyrics by Shaleen Cooper Cohen and music by Friedman. The production was held over and became one of the most successful shows in the theatre's 23-year history.

As to what is the worst aspect of the recording industry, Oliver responded without hesitation. "Distributors. Today they take a really long time to pay and sometimes they don't. And, it's a really risky business. It's about promoting. It's about staying behind your product, getting your artist out there. And, it's about quality. Maybe we're old fashioned, but we believe that if you have a high quality recording, a thing of value, and you promote it you're going to hope that somebody is going to listen to it."

Years ago a distributor might get the product into the store, but that was no guarantee that the album or CD would be placed where a potential customer could find it. Helping to level the turntable playing field is the Internet.

"I don't think we could have been so brazen and so bold without the Internet," admitted Oliver. "You've got major retail sites that can allow any independent artist or company to put their product out and make it available to the world. There is always to going to be bigger promotions on the bigger sites with the bigger labels, but basically with the advent of the Internet the playing field is more level. It isn't ever easy but there is now a lot of opportunity."



STEVIE HOLLAND starred as the Angel in THE LAST SUPPER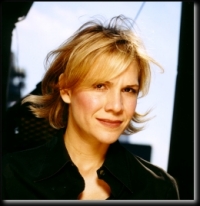 "Right now we have a very strong team with Stevie Holland and Gary Friedman and the original Broadway director, Bob Livingston who was also a co-adapter. He's part owner of the show. There are five people here that have to be answered to. The five guys all have a stake in the show, different percentages, but it's a team.

150 Music has put together an 8-page CD booklet with liner notes from the original creative team, plus historical photos and artwork. The CD will be available to the public on September 5th. The original cast album is sensitive, poetically hopeful - youthful dreams that have yet to be trampled by reality. The music captures the essence of a longed for better existence while striving to grab the flickers of joy in the life they endure. The musical transcends eras, speaking to the hopes, frustrations and desperation that reinvent themselves through the next generation. Buy the CD. Enjoy the music, but listen to the lyrics.



Broadway To Vegas is supported through advertising and donations. Priority consideration is given to interview suggestions, news, press releases, etc from paid supporters. However, no paid supporters control, alter, edit, or in any way manipulate the content of this site. Your donation is appreciated. We accept PAYPAL. Thank you for your interest.


TOUT THAT TUBER - SHOW OFF THAT SPUD


In the movie Michael, as an angel returned to earth, John Travolta seeks out the largest ball of twine and the biggest Teflon frying pan. He missed the potato - that 13 foot high, 7 feet in diameter, fiberglass sculptured potato which is at the entrance to Canada's Potato Museum.



Favorite photo spot for visitors at the Potato Museum
That's the place that contains, in addition to the Potato Hall of Fame, the largest exhibit of potato artifacts in the world, housed in over 7,000 feet of air-conditioned splendor.

Spuds are celebrated this time of year. That Prince Edward Island Potato Museum, open seven days a week, located in the community of O'Leary, in the western part of Canada's smallest province, celebrates Potato Blossom Festival during the last week in July.

Not to be outdone in America on August 24 and 25th Potato Days takes place in Barnesville, Minnesota. That's a two-day festival filled with potato activities and taste-testing.

They all want you to know that tubers are terrific.

The average American eats 142.7 pounds of potatoes each year. That's a lot of offspring from the nightshade family.



BRITNEY SPEARS prefers hers mashed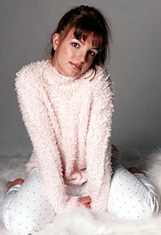 Celebrities enjoy spuds as much as the next guy. Britney Spears likes mashed potatoes and Bette Midler is a potato salad gal - preferring to make her own from her mother's recipe.

Singer Wesla Whitfield divulged that "many members of my family come from that capital of Potato - Ireland. During my college years I pretty much lived on baked potatoes and would happily continue doing so. Unfortunately, the intervening years have made it necessary to also provide my body with greens from time to time. But baked potatoes remain my favorite, and I prefer them with plain yogurt and a little dab of mustard mixed in. In a pinch I'll eat them with only vinegar. And, I don't usually share this information - but, unfortunately the passing of years has also made it impossible for me to avoid serious gas attacks after eating baked potatoes. So, I must time these blessed feasts to be long enough before a gig to complete my recovery!"



WESLA WHITFIELD will binge after her current engagement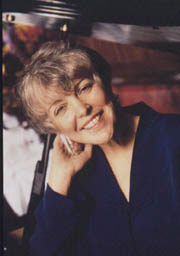 Welsa has sufficiently recovered from her last potato binge, because through August 18 she is starring in the Plush Room of the York Hotel in San Francisco.

The gorgeous Cheryl Tiegs opts for French fries while Lauren Holly enjoys potato chips. Tony Award winner Swoosie Kurtz says, "I'm addicted to lightly salted, low fat kettle chips, original flavor." Cher is also a chip fan, only she prefers the bar-b-que variety. They aren't alone. Invented in 1853, the potato chip has been America's number one snack food for more than 50 years.

It takes 10,000 pounds of potatoes to make 3,500 pounds of potato chips and in two hours, a factory can make 7,000 pounds of potato chips. The average person eats the equivalent of 96 one-ounce bags of potato chips each year. That's 6 pounds a year. The average potato chip is between .04 and .08 of an inch thick.

The food even inspired a song. Vincent Lopez was a musician and orchestra leader who discovered singer and actress Betty Hutton. He was known for his theme song Nola and his piano playing style inspired such future stars as Liberace and Eddy Duchin - that would be Peter's father. In 1949 The Vincent Lopez Orchestra and the Martin Sisters recorded a song for NPCI called Potato Chips, which ran on the air along with songs like Rum and Coca Cola and The Popcorn Polka.

The first potato chip queen was crowned in 1946, and she had a court of five members.

Not everybody views an association with potatoes as a crown of glory.



Charles Colson became an expert potato peeler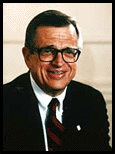 The Watergate scandal resulted in 40 government officials indicted or jailed. They included; H.R. Haldeman, John Erlichman, John Dean, John Mitchell, Howard Hunt, G. Gordon Liddy, Charles Colson, and James McCord.

Can anybody forget the scene in All The President's Men where some of the incarcerated are peeling potatoes? They were steady institutional workers, but no record setters. The greatest amount of potatoes peeled by five people to an institutional cookery standard with standard kitchen knives in 45 minutes is 587 lbs, 8 oz. by J. Mills, M. McDonald, P.Jennings, E. Dardiner and V. McNulty at Bourke Street Hall, Melbourne, Vic, Australia on March 17, 1981.

Scarfing down potatoes is nothing knew to the high and mighty.

While ambassador to France, Benjamin Franklin attended a banquet where the fare was nothing but potatoes, prepared in 20 different ways. Thomas Jefferson gets the credit for introducing French fries to America when he served them at a White House dinner. John Adams thought Jefferson was putting on airs by serving "such novelties."

Britain's Queen Elizabeth I had a chef that she did permit to live, although he lost his job over potatoes. He got kicked to the curb when he mistakenly served the leaves rather than the tubers.

Then there was Vice President Dan Quayle who misspelled it.

Potatoes first became fashionable when Marie Antoinette paraded through the French countryside wearing potato blossoms in her hair. They soon became the rage in Parisian court circles. Louis XVI of France wore potato flowers in his buttonhole to encourage the growing of that vegetable.

The potato originated in the Andes of Bolivia and Peru. It was there, in 1537 that the Spanish conquistadors discovered the potato. From there it traveled to Europe, then back to the United States. Peru's Inca Indians first cultivated the potato in about 200 B.C. This vegetable had many uses to the Incas. Raw slices were placed on broken bones, and carried to prevent rheumatism. The ancient Inca Indians valued the potato not only as a food, but as a measure of time. Units of time were correlated to how long it took a potato to cook.



THE POTATO EATERS by VAN GOGH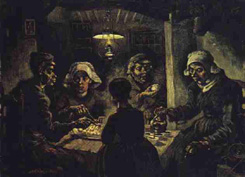 The potato has long been considered a work of art.

Vincent Van Gogh painted four still-life canvases devoted entirely to the potato. His The Potato Eaters depicts a Dutch coal mining family sharing a meal of potatoes and coffee. Van Gogh did several versions of this painting, which remains one of the most famous masterpieces in the world. The original is in Amsterdam.

Origins of the word "spud" can be traced to the instrument used to dig potatoes from the ground - the Spade.

People in Shakespeare's time viewed the potato as an aphrodisiac and labeled them Apples of Love.

Potatoes contain no fat.The potato is 80% water. Today, the potato is grown throughout the world. The states of North Dakota, Minnesota, Idaho, Washington, Maine, California, Oregon and Wisconsin produce nearly 75% of the total crop.

The rivalry between Idaho and Maine in potato cultivating is serious business.

The Maine potato industry is over 240 years old, brought to the state by the Scotch-Irish around 1750. Rich soil conditions, along with long warm days and cool nights, make Maine a natural home for potatoes. Between 1928 and 1958, Aroostook County along produced more potatoes than any state in the nation.

Idaho has a Spuddy Buddy fan club and a few years ago their state television tourism commercial - a take off on the Karl Malden American Express ad, with the Governor of Idaho never leaving home without a potato - was an award winner.

The people of Idaho insist that their potato is like no other and that you can tell an Idaho Potato connoisseur because he or she will never open a baked potato with a knife. Instead, the connoisseur will poke a zigzag pattern into the top of the potato with a fork, then will press the ends of the potato together to open or "blossom" the potato. The connoisseur recognizes that the blade of the knife flattens the surface and alters the premium fluffy texture of the properly prepared Idaho Potato.


SWEET CHARITY

THE SECOND ANNUAL HAMPTONS COMEDY FESTIVAL began last night and continues next Saturday spotlighting the brightest, hottest, and funniest comedians from HBO, Comedy Central, NBC's Conan and CBS's Letterman, who lighten up the Hamptons with Laughter to Fight Cancer.The event takes place at Bridges Bar & Restaurant in Bridgehampton. Festival proceeds are split between the Prostate and the Breast and Ovarian Cancer Research Funds at Memorial Sloan-Kettering Cancer Center.



THE MADWOMAN OF CHAILLOT has multiple Tony Award nominee Anne Jackson joining Oscar winner Kim Hunter in The Colleagues Theatre Company production of Jean Giraudoux's play at The Neighborhood Playhouse, NYC from October 2nd through October 28th.

Jackson replaces the previously-announced Eileen Brennan in the role of Countess Aurelia, the Madwoman of Chaillot. Hunter, who won an Oscar for A Streetcar Named Desire, will play Mlle. Gabrielle, The Madwoman of St. Sulpice and Catherine Wolf will play Mme. Constance, The Madwoman of Passy, with Alvin Epsein as the Ragpicker, Sloane Shelton as Josephine, Ben Hammer as the Sewerman and Roger Serbagi as the President. Roy B. Steinberg will direct.

Jean Giraudoux' poetic and comic fable The Mad Woman of Chaillot is set in Paris as the President and Prospectors plan to blowup the city to unearth the oil they believe lies underfoot. The Madwoman and her friends, who believe in life, beauty and the fulfillment of dreams, see through these 'evil ones' and plot to rid the world of them.

Madwoman, which was adapted by Maurice Valency, was first presented in New York in 1948 with Martita Hunt as Countess Aurelia, Estelle Winwood as Mme. Constance and Nydia Westman as Mme. Gabrielle. More recent interpretations include a film version starring Katharine Hepburn; the Mirror Rep production starring Geraldine Page (followed by Ms. Jackson), and the Jerry Herman musical Dear World.

The Colleagues Theatre Company was founded in 1995 by Catherine Wolf to commission and produce plays that celebrate the richness of the mature life experience; to provide performance opportunities for seasoned artists, and to create a 2-year scholarship training program in theatrical craftsmanship for gifted high school graduates from under served communities. In keeping with the goal of putting mature actors back onto center stage the large cast of The Madwoman of Chaillot features eleven roles for actors over the age of 55.

Anne Jackson, who plays Countess Aurelia, the Madwoman of Chaillot, studied at The Neighborhood Playhouse and made her stage debut in Eva LeGallienne's production of The Cherry Orchard. She received Tony Award nominations for her work in Summer and Smoke, Oh Men, Oh Women and Chayefsky's Middle of the Night. Married to Eli Wallach, her memoir Early Stages was recently published by Little, Brown Inc.

Kim Hunter, who plays Mlle. Gabrielle, The Madwoman of St. Sulpice, made her Broadway debut as Stella in A Streetcar Named Desire winning the Academy Award for her performance in the film version.

Costumes will be designed by Gail Hecht, sets by Drew Francis, lights by Jeff Fontaine and sound by David Gilman.

THE COCKTAIL HOUR by A.R. Gurney. It's upstate New York in the mid-1970s John, a playwright, has returned to the family mansion bringing his latest play. To the consternation of this wealthy WASP family, they discover that John's play is about them. Their confrontation takes place during the ritual of the cocktail hour As the martinis flow, so do the revelations and recriminations, both funny and poignant. Judd Nelson, Louise Sorrel and Estelle Parsons star in this witty winner of the Lucille Lortel Award. August13-25 Cape Cod Playhouse, Cape Cod, MA.

In its 75th Season, the Cape Playhouse is America's oldest professional summer theatre and Cape Cod's only Equity theatre. You can also take a fascinating backstage tour conducted by Marcia J. Monbleau, author of the book, The Cape Playhouse. Tours which alternate Thursdays this month, usually include visits to the theatre, scene shop, storage barn and cinema.

FIDDLER ON THE ROOF Summer Theatre, Spirit Lake. Iowa August 14-19.

CIRQUE DU SOLEIL'S DRALION debuts in Boston at Suffolk Downs August 15. Combining ancient Chinese circus tradition with their avant garde approach, this acclaimed Canadian company presents fanciful creatures and spectacular performing acts in a celebration of the human body in motion. This is their newest edition that will be there for ten performances only under the famous blue and yellow Big Top.

EAT THE RUNT takes the cake. The Off-Broadway comedy by Avery Crozier will celebrate its 100th performance on Sunday, Aug.19 at the American Place Theatre, NYC. Immediately following the performance, the cast will be presented with a cake reading Eat The Cake.

Question & Answer sessions have been added after evening performances to discuss the "genderless" playwright and actors knowing all the roles. All the actors learned all the roles in Eat The Runt, and audience members are astounded that they could see the same play - the script never changes - performed with a different cast at another performance. To counter this disbelief, producers Matthew vonWaaden, Weil Richmond, and Matthew Richmond display a large Runt Score Board in the theater lobby. It charts which one of the 40,320 casting possibilities was voted on by the audience at each performance to date. It was also decided to invite the audiences to attend question and answer sessions with producers, director, and cast members following each evening performance. Over 50% of each "house" remains for these discussions.

The script was discovered on the Website for Literary Managers and Dramaturgs by Mefisto Theatre Company who produced a developmental production last year.

The youthful, innovative producers credit the show's success to the fact that Eat The Runt is a unique theatrical experience--set during the universal experience of a job interview - that makes theater goers want to return to this comedy about identity, society, and cutthroat competition.


WHO'S WHERE

THE FIRST FAMILY OF COOL featuring the John Pizzarelli Trio with Jessica Molaskey. August 15-19 Alcazar Theatre, San Francisco

ROBERT SEAN LEONARD Tony Award winner for his role in The Invention of Love is the new Harold Hill in The Music Man. He stars opposite Rebecca Luker as Marian the Librarian. Neil Simon Theatre, NYC.

JENNIFER JASON LEIGH replaces Mary-Louise Parker as Catherine, in David Auburn's Proof, on Sept. 11. Parker who won a Tony Award for her role, leaves the production on September 9. The Walter Kerr, NYC.

SARAH JESSICA PARKER will star in the New York premiere of David Lindsay-Abaire's Wonder of the World at Manhattan Theatre Club. The production includes Marylouise Burke, Kristine Nielsen, Amy Sedaris and Alan Tudyk. Christopher Ashley directs. Previews begin October 9.

RAY ROMANO performs August 17-19 at the Mirage Hotel, Las Vegas.

SAM HARRIS opens August 14 at Arci's Place, NYC for an engagement running through August 26.

HORTON FOOTE AND HALLIE FOOTE father, 85, and daughter, 48, are on stage in their 26th production together starring in The Carpetbagger's Children, Academy Award winner Horton Foote's story about the struggles, achievements and legacy of a Union Army man living in post-Civil War Texas, as told by three descendants who are sisters. This the first show in the new season for the. Minneapolis, Minn. based Guthrie Lab.

STATLER BROTHERS August 13 The North Shore Music Theatre Beverly, MA.

DAVID CASSIDY August 14, North Shore Music Theater, Beverly MA which is about 25 miles from Boston.

JOHNNY MATHIS a two nighter, Aug 15-16 at the North Shore Music Theater, Beverly MA

LYLE LOVETT performs Saturday August 18 at the North Shore Music Theater, Beverly MA

JOHN McDERMOTT is working during the Rosie O'Donnell hiatus. Tonight he's center stage in Ganonoque, ON at the Fest. Of The Islands

DESTINY'S CHILD perform in the America Airlines Area, Miami on August 19. Hailing from Houston, Texas, Destiny's Child has sold more than 15 million albums and singles worldwide.

RINGO STARR AND HIS ALL STARR BAND in the Au-Rene Theater of the Broward Center for the Performing Arts, Ft. Lauderdale. Featured in the All-Starr Band are musicians Greg Lake (Emerson, Lake & Palmer bassist), Howard Jones (Keyboardist and soloist), Ian Hunter (Mott the Hoople guitarist), Sheila E. (percussionist) and Roger Hodgson (Supertramp guitarist). Aug. 14

JACKIE MASON one man show Much Ado About Everything! With no target too sacred, no personality too revered, Jackie Mason brings his comic genius to Denver with an all-new one man show, Jackie Mason: Much Ado About Everything - The Broadway Tour. Armed with completely new material ranging from the Internet to tobacco companies, politics to the stock market, heath care and his personal pet peeve, political correctness, Mason will take to the stage with his fifth hilarious Broadway hit. August 20-26 in the Auditorium Theater, Denver Performing Arts Center, Denver.

ERIC CLAPTON Thomas & Mack Center, Las Vegas on August 13.

WENDY WASSERSTEIN prolific author including Shiksa Goddess, appears tonight at the Writers at Guild Hall program East Hampton, Long Island.



WENDY WASSERSTEIN

The event is free, sponsored by BookHampton. Wendy is a busy lady and happily telling Hampton pals that she's excited and having a great time adapting for Broadway An American in Paris, that marvelous Gershwin classic that brought home the Best Picture Oscar in 1950 Jerry Zaks has directed a Lincoln Center sponsored workshop of the first draft Howard McGillin, Vanessa Williams, Peter Jacobson, and Jan Maxwell participated in parts that roughly correspond to what Gene Kelly, Leslie Caron, Oscar Levant, and Nina Foch did in the movie. Wasserstein's rewrite of Alan Jay Lerner's Oscar-winning original script gives a little more depth to the Parisian canvass that now includes Simone de Beauvoir (Tovah Feldshuh), the love-interest of Jean-Paul Sartre, who now is also a character. There is also countess (Charlotte Moore); and a Paris Opera bigshot played by John Cunningham.


PIFFLE AND PROFUNDITIES

A SHIRT OFF ELVIS' BACK The Elvis-a-Rama Museum in Las Vegas is celebrating Elvis week with a drawing for an authentic Elvis Presley shirt valued at $1,000. Starting yesterday and continuing through Thursday, the anniversary of his death. Patrons can register to win the shirt. The winner will be drawn at 3 p.m. on Thursday.



ELVIS PRESLEY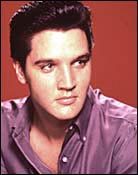 In Nashville the culmination of Elvis Week which began on Friday will be Elvis-The Concert, the production that reunites former Elvis bandmates live on stage with a state of the art video-projected Elvis.

The show's concept is to present an authentic as possible Elvis Presley concert. The producers edited together a collection of Elvis' finest concert performances that exist on film and video and removed all sound from the footage except for Elvis' vocal. The Elvis footage is projected on a large video screen. On stage are a 16-piece orchestra and a group of Elvis' original bandmates. All music heard in the concert production is performed live except for Elvis' voice.

The original Elvis bandmates who participate in tours of this production are: Joe Guercio (conducting), The Sweet Inspirations (female backing vocals), former members of J.D. Sumner & the Stamps Quartet and former members of The Imperials (with the two groups alternating from tour to tour as male backing vocalists), and the TCB Band: James Burton (lead guitar), Glen D. Hardin (piano), Jerry Scheff (bass guitar), and Ronnie Tutt (drums). Some tours have also included Millie Kirkham (soprano).

For the Memphis show former Imperials are the male vocalists and Millie Kirkham rejoins the cast. Former Stamps members were to have been in this show as well, but a scheduling conflict arose for them and they had to cancel their appearance.













Next Column: August 19, 2001
Copyright: August 12, 2001. All Rights Reserved. Reviews, Interviews, Commentary, Photographs or Graphics from any Broadway To Vegas (TM) columns may not be published, broadcast, rewritten, utilized as leads, or used in any manner without permission, compensation and/or credit.
Link to Main Page
---
Laura Deni


CLICK HERE FOR COMMENT SECTION