! >
Broadway To Vegas
  
  REVIEWS INTERVIEWS COMMENTARY NEWS

| | |
| --- | --- |
| | |
LUCERNE FESTIVAL CELEBRATES UPHEAVAL AND CHANGE - - SAM FRANCIS: FIVE DECADES OF ABSTRACT EXPRESSIONIS - - ADELE AND FRED ASTAIRE MUSICAL - - LIBERACE AUTOPSY FILM - - MATILDA COMPOSER TIM MINCHIN ON STAGE - - LETTERS FROM ZORA - - AWAKE & SING! - - JEFF BUCKLEY TRIBUTE CONCERT - - DONATE . . . Scroll Down




Copyright: August 11, 2013
By: Laura Deni
CLICK HERE FOR COMMENT SECTION


AN EVENING WITH THE ASTAIRES
Fred and Adele Astaire in Stop Flirting, Shaftesbury Theatre, London, May 1923. Photo: V&A Museum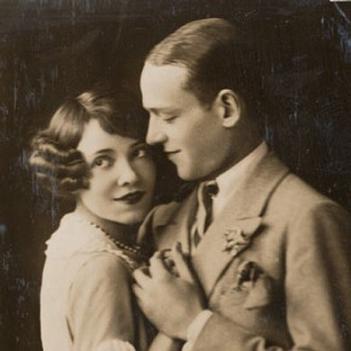 A new touring show celebrating the music of Fred and Adele Astaire may be coming to a location near you.

Called Fred and Adele Astaire, for the performance on August 18, at Guild Hall in East Hampton, New York, the musical production stars Tony nominee Lee Roy Reams (who celebrates his birthday on August 23), Anna Bergman, and Jennifer Sheehan.

James Followell is the production's musical director and pianist.

For a cabaret or stage presentation, the life and times of Fred and Adele Astaire is an untapped trove of rich music and fascinating stories.

Tricia Brouk who will be directing the touring version of the show, though not the one night Guild Hall mounting, told Broadway To Vegas: "The show is a narrative/story telling musical/cabaret of the life of Fred and Adele Astaire. Emphasizing Adele's influence on Fred and their career. It's musically driven with little tidbits about their life together."

"Patty Watt, the producer is intending on touring the theatrical production," she continued, "and I am intending on directing/choreographing future productions."

"Fred and Adele are not played by actors," she added.



Tricia Brouk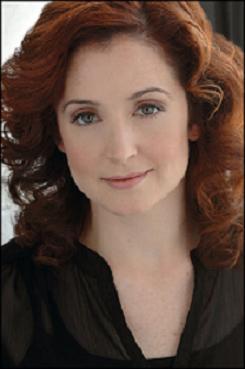 Fred Astaire, the recipient of the first Kennedy Center Honor, is an international icon.

With the passing time Adele, his older sister, has faded from memory.

Until now.

Without Adele, Fred would have been nothing more than a second rate vaudeville performer. Critics of their day opined that without Adele unemployment may have been the future for Fred.

Adele was born September 10, 1986 in Omaha, Nebraska. Three years later Fred joined the family. They became a show-biz team when he was five and she was eight.

A teacher's suggestion that the two children might have a stage career if they could receive proper training. That was all their ambitious mother needed to hear. She promptly moved the family from Omaha to New York, though the father returned to Omaha to work delivering beer - an occupation helped him maintain his status as an alcoholic.

A sad commentary is that their place of birth - Omaha - has all but disowned them. The Gottlieb Storz Mansion, built in 1905, includes the "Adele and Fred Astaire Ballroom" on the top floor, which is the only memorial to their Omaha roots.



The Gottlieb Storz Mansion. The Adele and Fred Astaire Ballroom is on the top floor - the only memorial to their Omaha roots.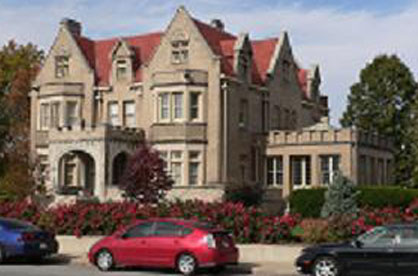 In New York Adele, Fred and their mother, a first generation American German, lived in a boardinghouse, and the children began attending the Alviene Master School of the Theatre and Academy of Cultural Arts. They adopted the more American sounding name 'Astaire' after trying several variations on Austerlitzes, their original family surname.

The children were soon a part of the vaudeville circuit positioned between flame-throwers and performing seals.

Within a few years Adele and her sidekick Fred were totally supporting the family, sending home money to their father.

Their big break came in 1923 when they appeared in Stop Flirting on Shaftesbury Avenue in London.

Songs by Gershwin showcased the brother and sister's musicality without demanding huge vocal range The London critics lauded Adele. Credited with putting "all the flap into flapperdom", Adele "raced about the London stage like an exquisite hoyden, managing always to keep in strict rhythm." Acknowledged as the better dancer of the two, she instinctively produced effects that Fred had to practice in the wings.

The show was a hit and Adele and Fred settled into a West End run of 418 performances. They returned to London throughout the 1920s with such shows as Gershwin's Lady be Good and Funny Face.

On May 9, 1932, after a successful stint with Fred in the revue The Band Wagon on Broadway, Adele Astaire retired from the stage to marry Lord Charles Arthur Francis Cavendish, the second son of the 9th Duke of Devonshire and moved to Ireland, where they lived at Lismore Castle.



Adele Astaire with her husband Lord Charles Arthur Francis Cavendish.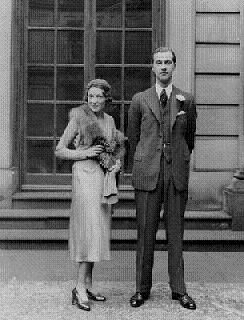 She had three children, a daughter who was born and died on October 3, 1933 and twin sons born in 1935, and also died soon after birth.

Her husband died in 1944, aged 38, of long term acute alcoholism. On April 20, 1947, Adele Cavendish married her second husband, Col. Kingman Douglass, an American investment banker and Air Force officer who was an assistant director of the Central Intelligence Agency. He died in 1971.

While Fred had always been the dominant creative force, it was Adele who had the charisma and the dance talent. Following her first husband's death she turned down an offer from Irving Berlin to return to the stage in Annie Get Your Gun.

When Adele married into the British aristocracy Fred was left to go it alone - which is how he wanted it.

Astaire was adamant that he didn't want to be teamed with Ginger Rogers - or anyone else.

It didn't dislike Rogers - even briefly dating her when they had both been hoofers on Broadway - but as he said in a strident letter to his agent in early 1934: "I've just managed to live down one partnership and I don't want to be bothered with any more."

Australian born Dr. Kathleen Riley, a theatrical historical, penned the 2012 book The Astaires, by Oxford Press which does do justice to Adele Astaire, thanks to her being given access to audio recordings of Adele Astaire that allowed Dr. Riley to tell the Astaire story with an authority uncommon in modern biographies.

At Oxford in 2008 at Oxford University Dr. Riley convened the first international conference on the art and legacy of Fred Astaire.

"The fact that the movie moguls insisted that their new signing would be partnered with Ginger whether he liked it or not speaks volumes about the industry's perception that without his sister, or someone a bit like her, Fred was nothing more than a goofy-looking, slightly sexless, already veteran vaudevillian." Management prevailed and - as they say - the rest is history.

With Ginger Rogers he went on to make ten films including the classic Top Hat (1935) and Swing Time (1936). His later partners included Judy Garland, Eleanor Powell, Rita Hayworth, Cyd Charisse, Audrey Hepburn and Leslie Caron.

Great songwriters of his day also wrote some of their greatest songs for him - Irving Berlin, Cheek to Cheek, George Gershwin, They Can't Take That Away From Me, Jerome Kern, The Way You Look Tonight, Cole Porter, Night and Day and Johnny Mercer, One for My Baby and One More for the Road.

Fred and Adele Astaire, takes place August 18, at Guild Hall in East Hampton, New York.







Broadway To Vegas is supported through advertising and donations. Priority consideration is given to interview suggestions, news, press releases, etc from paid supporters. However, no paid supporters control, alter, edit, or in any way manipulate the content of this site. Your donation is appreciated. We accept PAYPAL. Thank you for your interest.


ART AND ABOUT


SAM FRANCIS: FIVE DECADES OF ABSTRACT EXPRESSIONISM FROM CALIFORNIA COLLECTIONS

Sam Francis, Middle Blue No. 5 [detail], 1959–60. Watercolor on paper, 26 3/4 x 40 1/4 inches. Collection of the University of California, Berkeley Art Museum and Pacific Film Archive; Gift of Julian J. and Joachim Jean Aberbach, New York (1965.38). Artwork © Sam Francis Foundation, California / Artists Rights Society (ARS), New York

the exhibition celebrates internationally acclaimed California native Sam Francis (1923–1994), one of the state's most historically significant artists.

Featuring a colorful range of the artist's paintings and unique works on paper, this survey highlights different periods of the artist's oeuvre as represented in extraordinary public and private California collections, starting from the early works that the artist made in the San Francisco Bay Area in the 1940s, and leading up to the artist's influential and expansive body of work created between the 1950s and the 1990s.

Spanning fifty years, the works included in the exhibition explore Francis's use of saturated tones (blues, reds, or yellows) and pigments ranging in hue from light to dark representing a kind of duality in the universe both understood and imagined.

The exhibition includes some of his smallest works, which measure three by two inches, as well as monumental murals that are over ten feet long, each with a distinctive power and presence regardless of size or material. This exhibition includes some of the artist's loosely defined series including the "Cellular" paintings from the 1950s, the "Blue Balls" and "Edge" paintings of the 1960s, and the "Fresh Air" and "Grids" from the 1970s.

Other works include mandalas, late self-portraits, and Francis's alchemically inspired works of the 1980s and early 1990.

Represented are works made in the artist's California studios in Palo Alto, Point Reyes, Santa Monica, and Venice, as well as those made when Francis was living in New York, Switzerland, and Japan.

The exhibition is organized by the Sam Francis Foundation in collaboration with the Pasadena Museum of California Art and the Crocker Art Museum.

August 11, 2013 - January 5, 2014 at the Pasadena Museum of California Art in Pasadena, CA.


SWEET CHARITY


THE WHISPER a new comedy by Emmy nominee Eugene Pack. Starring two-time Tony Award winner and film star Matthew Broderick, Tony Award winner and television star Jane Krakowski, Emmy Award winning television star Pamela Adlon, and Academy Award nominee Jennifer Tilly headline a one-night-only, live benefit staged reading. The cast also includes Drama Desk Award winner Dayle Reyfel.

The evening will benefit the Felix Organization, which provides inspiring opportunities and new experiences to enrich the lives of children who are growing up in the foster care system.

Thursday, August 22, at Guild Hall in East Hampton, NY.

THE OLD GLOBE in San Diego) stages a Jeff Buckley Tribute Concert on Monday, August 19. The concert, which features several prominent local artists covering the songs of the legendary musician, coincides with the Globe's upcoming production of The Last Goodbye, a fusion of Buckley's music with Shakespeare's Romeo and Juliet.

The Jeff Buckley Tribute Concert, benefitting the Globe's student Shakespeare programs, will take place in the outdoor Lowell Davies Festival Theatre.

The lineup includes The Midnight Pine, Stevie Harris, Jeff Berkley, Israel Maldonado and Fernando Apodaca with Todd Hannigan, Veronica May, Eve Selis, Gayle Skidmore, Superunloader and Pete Thurston.

The concert will be emceed by Cathryn Beeks, host of KPRi-FM's "The Homegrown Hour, and Chris Cantore, U-T San Diego's Director of Lifestyle & Entertainment.

Jeff Buckley was born in Orange County, California on November 17, 1966 and died in Memphis on May 29, 1997. He had emerged in New York City's avant-garde club scene in the 1990s as one of the most remarkable musical artists of his generation, acclaimed by audiences, critics and fellow musicians alike.


LUCERNE FESTIVAL CELEBRATES UPHEAVAL AND CHANGE
Daniel Hope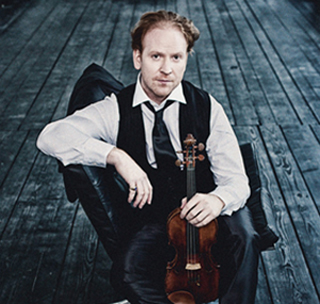 When Igor Stravinsky's ballet Le Sacre du Printemps was premiered on May 29, 1913 at the Théâtre des Champs-Elysées in Paris, the archaic power of this music exerted a shocking impact on the audience. There was booing, whistling, and shouting – leading ultimately to outright fighting.

Arguably the most memorable of scandalous premieres in the history of music, at the same time it has become a vibrant symbol for the early 20th century, for the overthrow, reversal, and reorientation of values in that era.

The Lucerne Festival which takes place August 16-September 8 in Lucerne Switzerland will take the centenary of this famously scandalous work as an occasion to devote itself to music associated with upheaval and times of change.

More than 120,000 are expected to attend the festival.

The focus will be on composers who initiated radical innovations and whose music responded to political, social, and cultural revolutions: from Carlo Gesualdo through Beethoven and Berlioz to Arnold Schoenberg; from Dmitri Shostakovich, whose works take the October Revolution and its aftermath as their theme, to Luigi Nono and Helmut Lachenmann. And of course the Rite of Spring itself can hardly be ignored.

A special focus will be on the great operatic revolutionary Richard Wagner, whose 200th birthday is being celebrated in 2013. Jonathan Nott, the Bamberg Symphony Orchestra, and a first-rate cast of soloists will present the complete Ring of the Nibelung, some of which Wagner wrote during his years in Tribschen near Lucerne.

Israeli composer Chaya Czernowin is welcomed as composer-in-residence; the young JACK Quartet will explore revolution in chamber music as the quartet-in-residence, and as "artistes étoiles" all facets of the artistry of pianist Mitsuko Uchida and percussionist Martin Grubinger will b showcased. International musical artists will also be featured.

To open up unfamiliar horizons of sound: this is also a goal of Festival in the Summer of Revolution. What is old and what is new? What is "art" music and what is "popular" music? The German-British composer Max Richter has provided his own answer to these questions.

In Four Seasons Recomposed he decided to take on Vivaldi's famous classic, newly recomposing and mixing the score and superimposing unexpected sounds on the familiar themes; what he created has become a cult piece. When Richter introduced his work with British violinist Daniel Hope, for whom he wrote this remix, at the Techno-Club Berghain Berlin, some 1,800 people showed up in the "Yellow Lounge" - the crowd was so large that at one point a line over 3,000 feet long formed.

Last March Hope celebrated his 10th anniversary as Associate Artistic Director of the Savannah Music Festival. Held in Savannah, Georgia it is considered one of the most distinctive cross-genre music festivals in the world.

Since its foundation the festival features concerts by the Festival's resident orchestra, recitals by soloists and concerts by guest orchestras, including theBerlin Philharmonic, Boston Symphony Orchestra, London Symphony Orchestra, Leipzig Gewandhaus Orchestra, Cleveland Orchestra and the Vienne Philharmonic.







SPREADING THE WORD


MADE IN DAGEHAM will be turned into a West End production with producers hoping a deal can be finalized with Bond girl Gemma Arterton to star as Rita. The script is penned by Richard Bean who wrote One Man, Two Guvnors.

Early workshops were directed by Rupert Goold - the new artistic director of London's Almeida Theatre - with the score written by David Arnold, who also provided the music for the Bafta-nominated film.

Made in Dagenham recounts the story of the machinists who went on strike in 1968 at the Ford Dagenham car factory demanding equal pay and protesting against sexual discrimination.

The character of Rita played a pivotal role in leading the strike and meeting former employment secretary Barbara Castle, leading to the Equal Pay Act 1970.

The film also starred Andrea Riseborough, Jaime Winstone and Bob Hoskins. Producers hope the stage version opens in 2014.

COMMUNITY THEATRES SERIES JOINT VENTURE has been announced by Hugh Hallinan, Executive Producer of Downtown Cabaret Theatre (DCT), in Bridgeport, Connecticut and the Downtown Cabaret Theatre.

"It's really been a matter of being in the right place at the right time for both theatres," Hallinan continued. "We have the theater, the facilities and years of experience and the non-profit Bridgeport Theatre Company, originally housed at the Playhouse on the Green, has been searching for a permanent home.

Under this arrangement the BTC will be able to continue presenting larger, Broadway shows, including the upcoming 2013/14 season featuring Little Shop of Horrors, Dreamgirls, To Kill a Mockingbird and Shrek.

Both Downtown Cabaret Theatre and Bridgeport Theatre Company will continue to operate independently, but will share some of the effort of mainstage productions. "It's really about sharing in various challenges that non-profit theatre companies face in today's economic climate," said Eli Newsom, Artistic Director. Added support from the veteran Downtown Cabaret Theatre in various elements of production, such as scenery, sound and lighting, as well as marketing and box office operations will only help Bridgeport Theatre Company to continue to grow. Likewise, BTC will be filling a demand in the Cabaret's calendar for larger Broadway musicals.

LIBERACE AUTOPSY FILM is being peddled, according to the always interesting NY Post columnist Michael Riedel.

He reported that he has been approached by e-mail from the child of a now deceased investigator for the Riverside County (California) Coroner's Office, who removed the two rolls of undeveloped film and took them home. They have been stored in their original protective metal container. The person offering the film rolls for sale inherited them after the death of their father.

RIOULT DANCE NY a modern dance company based in New York City, announces its new Executive Director, Lonnie EJ Cooper. Mr. Cooper spent the last three years producing and managing tours for the USO including Trace Adkins, Avenged Sevenfold and Operation Thriller in Kyrgystan, Qatar, Kuwait, Afghanistan, and Iraq, as well as an international tour of the USO/Sesame Street Experience for Military Families.

RIOULT Dance NY, celebrating its 20th Anniversary in the 2013-2014 Season, fast became an established name in modern dance with a reputation for bringing the sensual, articulate and musical dance works of Pascal Rioult to audiences worldwide. The eleven dancer company is led by husband-and-wife team Artistic Director/Choreographer Pascal Rioult and Associate Artistic Director Joyce Herring - both former Martha Graham Dance Company principal dancers.



AWAKE & SING! by Clifford Odets.

Stephen Fried directs an all-Asian American cast that includes Sanjit de Silva, Mel Duane Gionson, Andrew Ramcharan Guilarte, Mia Katigbak, Teresa Avia Lim, Jon Norman Schneider, David Shih, Alok Tewari, and Henry Yuk.

Considered Odets's finest play, Awake and Sing! premiered on Broadway in 1935, performed by the Group Theater, which Odets help found in 1933. It is the story of the Bergers, a lower middle class, three-generation Jewish family living in a Bronx apartment during the Depression. Odets described it as "a struggle for life amid petty conditions," capturing the frenetic, pressured existence in this crowded dwelling with robust authenticity.

Awake and Sing! recalls that this country was founded as the land of opportunity for immigrants who came to its cities and towns with an enduring belief in the American dream. Odets's characters are all the parents, grandparents, and children who sought refuge and forged new lives. Families like these from around the world continue to make their way here every day, making Awake & Sing! as timely today as it was when it was written.

Scenic design by Anshuman Bhatia, costume design by Moria Clinton, lighting design by Gina Scherr, and sound design by Toby Algya.

Postcard Design by Barrett Brown. The Dialect Coach is Charley Layton. Production Stage Manager, David Beller. Assistant Stage Manager, Belén Ferrer. Assistant Director, Stephanie Johnson. Production Assistant, Collin Bradley.

Presented by the OBIE Award-winning NAATCO, National Asian American Theater Company, which kicks off their 24th season with this production, A limited engagement which begins August 16th at Walker Space in New York City and continues through September 8t, 2013.

The National Asian American Theatre Co., Inc. (NAATCO) was founded in 1989 to assert the presence and significance of Asian American theatre in the United States, demonstrating its vital contributions to the fabric of American culture, offering European and American classics as written with all Asian American casts; adaptations of these classics by Asian American playwrights; and new plays - preferably world premieres - written by non-Asian Americans, not for or about Asian Americans, but realized by an all Asian American cast.

NAATCO was the recipient of the 2012-13 Lucille Lortel Award from the League of Professional Theatre Women for their work "highlighting the multi- and intercultural dynamics of our society" and the 2006 Rosetta LeNoire Award from Actors' Equity Association in recognition of its contribution toward increasing diversity and non-traditional casting in American theatre.

LETTERS FROM ZORA written by Gabriella Pina.

The world premiere is directed by Anita Dashielle-Sparks with music composed by Ron McCurdy. Archival images collected by Margie Labadie

Letters From Zora is as "an untold story about the unbridled creativity of Zora Neale Hurston: writer, anthropologist, voodoo priestess and overall Renaissance woman determined to live and die by her own mind," stated writer Gabrielle Pina. "This production offers a passionate glimpse of history, music, and artistry intended to illuminate her life, her extraordinary career and her immeasurable contributions to the American literary canon." Through the dramatization of personal letters, Letters From Zora explores Hurston's controversial views on integration, segregation and social justice showcasing a life that was filled with artistic triumphs as well as abject poverty and self-doubt.

Eight-time NAACP Image Award nominee Vanessa Bell Calloway plays the role of Zora.

The production was originally presented at Bovard Auditorium on the campus of the University of Southern California on March 3, 2012 by Vision and Voices: The USC Arts and Humanities Initiative.

Performances August 15 – 18, 2013, at The Pasadena Playhouse in Pasadena, CA.

ROSENCRANTZ AND GUILDENSTERN ARE DEAD by Tom Stoppard. Directed by Simon Phillips.

Starring Tim Minchin, the comedian and the Tony Award nominee and Olivier Award winner for composing the score for Matilda and Toby Schmitz.

The cast also features Paul Cutlan, John Gaden, George Kemp, Angus King, Ewen Leslie, Heather Mitchell, Nicholas Papademetriou, Berynn Schwerdt, Christopher Stollery, Aaron Tsindos, Adele Querol and Tim Walter.

The famed production is described as: "In Tom Stoppard's evergreen comic masterpiece, the hapless pair's last days are chronicled; days largely spent trying to make sense of their interactions with other characters as the epic Hamlet unspools just off stage. In the hands of director Simon Phillips, the wit and playfulness of Stoppard's writing will be front and centre."

Set and costume design by Gabriela Tylesova, lighting design by Nick Shlieper, sound design by Steve Francis and original music and musical direction by Alan John.

A Sydney Theatre Company production with performances through September 14 at the Sydney Theatre in Sydney, Australia.

UNBROKEN CIRCLE written by James Wesley and directed by Jason St. Little, welcomes Jennifer Simard to the production. She has taken over the role of Edna (originally played by Anika Larsen) at St. Luke's Theatre in New York City.

'S WONDERFUL is an all singing, all dancing musical revue, featuring over 42 songs by the beloved George and Ira Gershwin, including, Someone to Watch Over Me, I've Got Rhythm, Embraceable You, Let's Call the Whole Thing Off, Summertime and more.

The melodies flow through five mini-musicals inspired by stories of young love, beginning in 1920s New York City, moving to Paris in the 1930s, Hollywood in the '40s, New Orleans in the 1950s and ending in the present day.

S'Wonderful takes you on a nostalgic ride that has been called "a gem for Gershwin lovers, young and old."

A Midwest premiere August 15-25 at the Timber Lake Playhouse in Mount Carroll, IL.


WHO'S WHERE




MICHAEL BALL the two-time Olivier Award winner will close SummerFest Abu Dhabi with his show, Michael Ball Sings the Musicals shows on Yas Island on August 16-17. Philharmonic Orchestra, conducted by Callum McLeod. Ball will perform classics from major musicals such as Aspects Of Love, Les Miserables, Jekyll and Hyde, Kismet, Matador, Sweeney Todd, Chess, Lion King, Phantom Of The Opera, Cats, Evita and Hairspray. This will mark Ball's first time performing in Abu Dhabi.

TAYLOR SWIFT brings her tour to the Valley View Casino Center in San Diego on Thursday, August 15.

BRUNO MARS entertains Monday, August 12, at the American Airlines Center in Dallas. Wednesday's show is at the Frank Erwin Center in Austin. On Thursday his tour stops at the Toyota Center in Houston. On Saturday he's on stage at the Bridgestone Arena in Nashville.

PAULA POUNDSTONE telling funny stories, Monday, August 19, at the Bay Street Theatre in Sag Harbor, NY.

DIANA ROSS has a busy week. Tonight, Sunday, August 11, she performs at the PAC in Providence, RI. On Tuesday the show is at the Bushnell Center in Hartford, CT. On Wednesday her tour stops at the Filene Center at Wolf Trap in Vienna, VA. Friday's gig is at the Prudential Hall in Newark, NJ. On Saturday she'll be singing her hits at the Center for the Arts in Stamford, CT. Next Sunday, August 18, she'll be starring at the Borgata Hotel in Atlantic City, NJ.

STRAIGHT NO CHASER blending their voices Thursday, August 15, at Humphrey's Concerts by the Bay in San Diego. On Friday they'll be singing at the Gallo Center for the Arts in Modesto, CA. Saturday's show is at The Mountain Winery in Saratoga, CA.

THE OAK RIDGE BOYS appear at the Missouri State Fair in Sedalia, MO on Wednesday, August 14. On Friday the show is at the Resorts Casino in Tunica, MS. On Saturday they'll be singing their hits at the Mill Town Music Hall in Breman, GA.

PINK returns to the Ron Laver Arena in Melbourne, Australia with eight more shows. The performances this week open on Tuesday, August 13, followed by shows on Wednesday, Friday and Saturday.


FINAL OVATION


EYDIE GORME famed singer died August 10, 2013 at Sunrise Hospital in Las Vegas, six days before her 85th birthday, following a brief illness. It is believed that she died of cancer. Her husband Steve Lawrence was at her bedside, along with their son, when she died.

The popular singer performed as a solo act and with her husband.

Steve Lawrence and Eydie Gorme had one of the classiest acts to ever perform on stage. For decades they were major Las Vegas headliners. She retired in 2009.

Neil Portnow President/CEO of The Recording Academy issed the following statement:

"Two-time Grammy winner Eydie Gorme was a remarkable pop vocalist who for decades entertained fans as a nightclub performer, recording artist and television personality. Whether performing solo or with her longtime husband Steve Lawrence, Gorme captivated audiences with her smooth, playful voice, memorable songs and vivacious charm. As a bilingual artist, she had success within both the English- and Spanish-language markets with hits such as Blame It On The Bossa Nova and Amor, making her a true crossover star. We mourn her loss along with her family, friends, and all who had the pleasure of knowing her, and we celebrate the legacy she has left behind."

Gormé and Lawrence were married in Las Vegas in 1957. They  had two sons, David,  a composer, and Michael, who died suddenly from ventricular fibrillation, resulting from an undiagnosed heart condition in 1986, at the age of 23.  In addition to her husband, she is survived by their son David and a granddaughter.

MARGARET PELLEGRINI who at the age of 16, played the Flower Pot Munchkin and one of the skeepy head kids in The Wizard of Oz died August 7, 2013 near her home in Phoenix, Ariz. The 4-foot actress was 89. Last year she suffered a stroke. In May, 2012 she appeared at the 34th Annual Oz-Stravaganza at the Turning Stone Casino in Chittenango. She rode on the Oneida Nation's float in the parade.

KAREN BLACK the Oscar and Grammy nominated actress , died August 8, 2013 from ampullary cancer. She was 74.

She began her career appearing off-Broadway in two revues, composing the music for oneof them. She was hired for the role of Philia, the virgin courtesan (and the ingénue lead), in the Stephen Sondheim musical A Funny Thing Happened on the Way to the Forum, but was replaced by Preshy Marker during a pre-Broadway tryout. She appeared on Broadway in a 1965 thriller, The Playroom, starring as a youthful kidnapper,

It would be her film career that brought her internatonal stardom She appeared in more than 100 movies.

Married four times, Black is survived by her husband, Stephen Eckelberry, son, Hunter Carson, daughters Celine Eckleberry and Diane Koehnemann Bay; a sister, Gail Dugan; a brother, Peter Ziegler; four grandchildren; and two great-grandchildren.

GEORGE DUKE known as a keyboard pioneer, composer. singer and producer in both jazz and popular mainstream musical genres died from chronic lymphocytic leukemia in Los Angeles on August 5, 2013. He was 67.

A key player in the development of jazz-fusion, since 1976, Duke issued more than 40 albums under his own name, some in collaboration with drummer Billy Cobham or bassist Stanley Clarke.

His wife Corine died from cancer last July. The keyboardist dedicated his just-released album to her. He is survived by his sons Rasheed and John.

Neil Portnow.President/CEO of The Recording Academy issued the following satement: "Grammy winner George Duke was a multitalented producer and keyboardist whose sound infused jazz, funk and R&B throughout his 40-year-plus career. His diversity as a musician can be heard on music from Frank Zappa to Michael Jackson, as well as production on albums by Al Jarreau and Dianne Reeves. His immense talent will live on through the hundreds of recordings he's given the world, and we send our sympathies to his family, friends and all who were touched by his soulful music."

DIXIE EVANS legendary burlesque star died August 3, 2013 at an assisted care facility in Las Vegss. She was 86.

In the early 1990s, she established the Exotic World museum in Helendale, Calif., and the Miss Exotic World pageant, both tributes to burlesque dancers. After the museum closed in 2006 she moved to Las Vegas, and in 2010 established the Burlesque Hall of Fame on Fremont Street.













Next Column: August 18, 2013
Copyright: August 11, 2013. All Rights Reserved. Reviews, Interviews, Commentary, Photographs or Graphics from any Broadway To Vegas (TM) columns may not be published, broadcast, rewritten, utilized as leads, or used in any manner without permission, compensation and/or credit.
Link to Main Page
---
Laura Deni



For the snail mail address, please E-mail your request.
CLICK HERE FOR COMMENT SECTION