! >
Broadway To Vegas
 
 SHOW REVIEWS     CELEBRITY INTERVIEWS     GOSSIP     NEWS 
| | |
| --- | --- |
| | |
ROOTING FOR THE PIG - - NAKED DAY-GLO PAINTING - - RAVINIA FESTIVAL - - ANDRE PREVIN MARRIES FIDDLE PLAYER - - CLASS ACT CHARLTON HESTON - - BRUCE SPRINGSTEEN AND VIAGRA - - BARBARA COOK TEACHES - - MARION ROSS AS EDNA ST VINCENT MILLAY - - DONATE . . . Scroll Down


SWINEDOM'S SWIFTEST HAVE STAR POWER


Throw down an Oreo cookie and a pig will follow you anywhere.



Rocky from the Robinson racing stable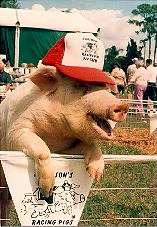 It's not exactly making a silk purse out of a sow's ear, but it does involve putting silks on a pig.

It's the big business of pig racing. Just like different stables of race horses, there are firms that specialize in this popular fair and carnival event.

Hedrick's Racing Pigs aren't your ordinary pig in a poke. There is Brittany Squeals, In Stink, Jean Claude Van Ham, and, of course, Kevin Bacon. The pig's handlers, brothers Tim and Jeff Hart, are thinking of naming their next prize pig Snoop Hoggy Hog, after the canine-loving rapper Snoop Doggy Dog.

The Harts and their pigs entertained audiences five times a day at the Laramie, Wyoming County Fair closing tonight and then head to a fair in Louisville, Ky.



Fans watching the Robinson pigs race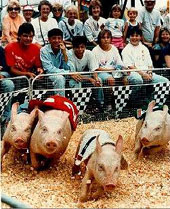 With music during the pre-show, a swinemaster-announcer gives background information about the racing pigs, introducing the snorters to the audience, much like a horse race. The caretaker places silks on the pigs and get them ready to race. Cheerleaders from the audience "root" the pigs onto victory. The race begins with a Call To The Post and the sound of a bell - and they're off.

On February 6, 1985, Paul Robinson's Racing Pigs made their debut at the 1985 Florida State Fair in Tampa, Florida.



Carlota Robinson and Bill Shilling wearing pig snouts at a Fair and Expo convention in Las Vegas.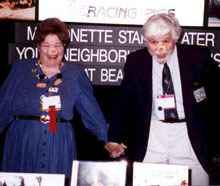 "After the first day," Carlota Robinson wife and partner recalls, "we knew we had a winner. We'd been on television twice and were in the morning papers. People were interviewing us from sunup-to-sundown."

Agent D. William Shilling was selected to represent the races to the fair industry. By the time the Florida State Fair ended, every TV station had carried coverage, weeklies had carried a press release, and the radio talk shows were coming down to announce the pig race results.

Shilling spoke with Broadway To Vegas about his ability to refer to his clients as swines without fear of being sued.



Col. Mel and Gloria Silverlake of the Robinson Stable with Jay Leno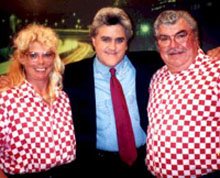 The pigs have even trotted on The Tonight Show with Jay Leno. "Someone from his staff had seen the pigs at a fair or festival, which are our major markets," explained Shilling about their "five units racing in a season that runs June through end of October."

"Jay Leno wanted to put them on the show, but we couldn't do it in the studio. So, they came to the fair and did a taping."

Shilling explained how the porcines are trained to move those cloven hoofs down the track.

"A lot of Oreos," he stated. "You start them out with two Oreo cookies in each starting gate. That's how they learn to get into the starting gate. Then they eat the cookies and get mad as hell that the cookies are gone. So you place a couple more cookies down the track and they learn to get out of the starting gate and run. You keep placing Oreos along the way until they learn to run the track."

Pig fame is a fleeting experience. In no time the porkers eat themselves out of a job.

"They get too big and they aren't cute," explained Shilling. "There is nothing cute about a 300 pound pig. They are only good for about six or seven months before they get too big and besides a fat pig can't run."

If Oreo cookies are the key to hog heaven, does the cookie company sponsor the races?

"No," Shilling quickly answered. "We approached them and were told many years ago that this wasn't in their image."


RAVINIA FESTIVAL BOASTS STAR STUDDED WEEK


This week get stirred (not shaken!) by Ravinia Festival's Martinis at the Martin Series 2002 celebrating the Great American Songbook.

Tonight and tomorrow it's the John Pizzarelli Trio featuring Ray Kennedy & Martin Pizzarelli.

John Pizzarelli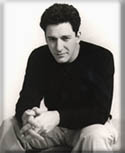 Following in the footsteps of his famous father, guitarist/singer John Pizzarelli has established himself as one of the main forces in jazz today.

On Wednesday the spotlight falls on the Ravinia Festival Orchestra with Ted Sperling conducting and Audra McDonald on vocals. McDonald's astonishing and astonishingly versatile soprano - "this 1100cc Harley-Davidson engine of a voice" is how composer Adam Guettel, a friend, describes it. Her multiple Tony awards made her Broadway's most lauded rising star while still in her twenties.



Tony Bennett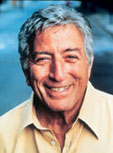 Singing mega star Tony Bennett has a sold out two nighter Thursday and Friday. Three time Grammy winner Keb' Mo' is a blues musician who incorporates elements of pop, folk and jazz into his work. His songs have been featured in such films as Tin Cup and One Fine Day. He shares the bill with Dar Williams, one of the most acclaimed and evocative artists of her generation. They perform Saturday.

The Ravinia began as a refined and civilized amusement park built solely for the purpose of increasing ridership on the Chicago & Milwaukee Electric Railroad. First opened on August 15, 1904, Ravinia Park boasted a baseball diamond and grandstand, an electric fountain, a theater, a refectory building with dining rooms and dance floor. Alcohol was forbidden, and the first music heard the evening of the park's opening was not Beethoven or Mahler, but Bill Bailey Won't You Please Come Home played on a steam calliope.

The open-air 1,420 capacity pavilion offered concerts by the New York Symphony under Walter Damrosch, and dance performances by Ruth St. Denis and Ted Shawn. Damrosch was one of the founders of the Juilliard School and conducted six weeks of Ravinia concerts each summer from 1905 through 1910. Opera was added in 1912, and by 1914 Ravinia earned a reputation as America's summer opera capital.

Louis Eckstein, an opera-loving Chicago businessman, took control of the enterprise, making up annual deficits from his own pocket. With the onset of the Depression, that Golden Age ended with the 1931 season and with Eckstein paying off a $200,000 deficit. Ravinia was closed for the next four years. In the spring of 1936 music-loving Highland Park and Chicago businessmen formed the Ravinia Festival Association, a not-for-profit organization dedicated to presenting music of the highest quality for less than cost. On July 3, 1936, the Ravinia Festival opened its first season with the Chicago Symphony Orchestra conducted by Ernst Ansermet.

In May 1949 the 1400-seat wooden Pavilion burned to the ground, but six weeks later the 14th Festival opened on schedule under a 33-ton canvas cover originally constructed for B-29 bombers. Playing in that airplane canvas were Jascha Heifetz, Artur Rubenstein and Gregor Piatigorsky.

Seiji Ozawa was named Ravinia's first music director in 1964 and in 1968 the Festival appointed Edward Gordon as executive director. The Pavilion stage was designed by George Balanchine, and in 1971, James Levine became Ravinia's music director at the age of 27, four years before assuming the same position at the Metropolitan Opera.

Zarin Mehta, former general manager of the Montreal Symphony, succeeded Gordon as executive director on June 1, 1990.

This year more than 500,000 people will attend Ravinia concerts



Broadway To Vegas is supported through advertising and donations. Priority consideration is given to interview suggestions, news, press releases, etc from paid supporters. However, no paid supporters control, alter, edit, or in any way manipulate the content of this site. Your donation is appreciated. We accept PAYPAL. Thank you for your interest. Laura Deni P.O. Box 60538 Las Vegas, NV 89160



The Steve Silver Foundation and Beach Blanket Babylon Scholarship for the Arts have announced the $10,000 division winners. Acting: Shoresh Alaudini of Lick Wilmerding High School in San Francisco. Dance: Tracy Shibata of Northgate High School in Walnut Creek, Calif. Voice: Cecilia Foecke of School of the Arts in San Francisco.

Steve Silver's Beach Blanket Babylon is the longest running, hit musical revue in theatre history. The Show premiered at the Savoy Tivoli in San Francisco's North Beach, June, 1974. It is a zany musical spoof of pop culture with extravagant costumes and outrageously huge hats. The Show's immediate popularity forced it to move to larger quarters at Club Fugazi, a North Beach landmark, where it eventually found a permanent home. It is now in its 29th year of sold-out performances.


NOBODY WILL SKIP THIS CLASS
Tony Award winner Barbara Cook will offer a master class in the art of singing on Tuesday, Aug. 13. In front of a live audience Cook will work with six singers from the metropolitan Washington area - Judy Simmons, Jennifer Ridgway, Wendy Lane Bailey, Tracy Lynn Olivera, Tim Tourbin and Patrick O'Neill.

The main thrust of the class is an attempt to have each person get in touch with his or her emotional well. She wants them not to "perform" but to have the courage to "be", to learn to trust whatever is unique in them. Open to the public, at only $5.00 per person, it's the best educational value you'll ever find. The Terrance Theater at The John F. Kennedy Center for the Performing Arts, Washington, D.C.


SWEET CHARITY


ENTERTAINMENT INDUSTRY FOUNDATION benefits from the Banana Republic white shirt sale beginning August 13. Celebrities were asked to put their John Hancocks on white shirts which will be sold with a minimum price of $150.00. Call 1-800-952-9480 after 10 a.m. Pacific Time with your credit card.

Stars lending their autographs include: Tom Cruise, Kevin Spacey, Tom Hanks, Sharon Stone, Rob Lowe, Robert Downey, Jr., Will Smith, Nicholas Cage, the cast of 7th Heaven - Barry Watson, Beverly Mitchell, and Jessica Biel - Ted Danson, Daryl Hannah, Tobey Maguire, Matthew, MaConaughey, Thora Birch, Rachel Griffiths Tori Spelling, Jerry O'Connell, Kelli Williams, Picabo Street, Fairuza Balk, Shannon Elizabeth and Jeff Goldblum.



Lilly Tartikoff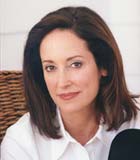 Celebrating 60 years of giving, the Entertainment Industry Foundation (EIF) represents the collective philanthropy of the entertainment industry. The roots go back to 1942 when The Entertainment Industry Foundation, formerly known as Permanent Charities of the Motion Pictures Industry, was formed to unify the entertainment industry's charitable giving to support the U.S. war effort. Active ever since in 1994 EIF partnered with Revlon to sponsor the first Revlon Run/Walk Los Angeles raising more than $500,000 for breast cancer research. In 1997 EIF launched the National Women's Cancer Research Alliance (NWCRA), a partnership with Lilly Tartikoff. In 1999 EIF launched the National Colorectal Cancer Research Alliance (NCCRA), a national initiative with Katie Couric and Lilly Tartikoff to raise awareness about one of the most easily preventable types of cancer.

ACTOR'S FUND BENEFIT featuring Urinetown: The Musical winner of three 2002 Tony Awards, takes place next Sunday, August 18th, at The Henry Miller Theatre. NYC.

HORSE CAVE THEATRE in Horse Cave, Kentucky staging a benefit this weekend - August 9-11 - with Annie Potts and Horse Cave's artistic director, Robert Brock, starring in four benefit performances of A.R. Gurney's Love Letters.


OTHER PEOPLE'S MONEY


HIGH KICKIN' MAD

Not bowled over by offer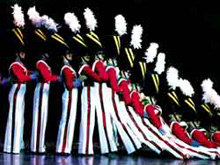 those long legged dancers who make up the Radio City Rockettes have their lovely gams knotted up over reports that Cablevision, which owns the Rockettes and Radio City Music hall, want to save money by replacing the roster with open auditions on a show by show basis.

Offers of a buy-out to the 41 dancers with the roster contracts have been tendered. Reportedly the dancers would be paid $3,000 for each year they've been employed - with a minimum payout of $15,000 apiece. Rockettes with 12 or more years of service would get $45,000 payouts.

John Hall, the union's chief negotiator snapped back that basically such an offer was tantamount to treating them like hookers rather than hoofers. The precision dancers are in unison that they aren't amused. They have been working without a contract since February.


PREVIN-MUTTER
Conductor-composer Andre Previn, 72, has married his fourth wife, violinist Anne-Sophie Mutter, 39, in a New York ceremony on August 1.



Anne-Sophie Mutter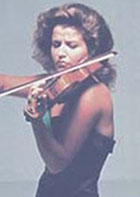 Jonathan Brill, Previn's representative at Columbia Artists in Manhattan, announced the marriage last Wednesday.

Mutter is a widow. Her first husband, Detlef Wunderlich, died in 1995.

Born in Rheinfelden in southern Germany, the beautiful Anne-Sophie began playing the violin at the age of five. At 13 she was proclaimed "... the greatest music prodigy since the young Menuhin" by the great Maestro Herbert von Karajan. Today, the four time Grammy award winner is one of the world's most celebrated violinists and one of the most glamorous.

Previn's first wife was to singer Betty Bennett. The liner notes for her Nobody Else But Me CD are by Previn, who recently recorded with Bennett's current mate, guitarist Mundell Lowe. Previn's second marriage was to singer Dory Previn and his third to actress Mia Farrow, who is currently a United Nations goodwill ambassador, visiting famine-hit Angola.



Andre Previn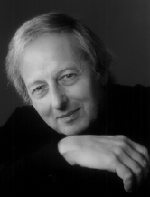 Previn and Mutter fell in love back stage several years ago. In March 2002, the Boston Symphony Orchestra with Previn conducting, gave the world premiere performance of the Previn Violin Concerto written for Mutter, which was a BSO commission.

Born in Berlin, Germany, Andreas Ludwig Previn was a musical child prodigy. He came to America as a teenager with his parents and began his musical career arranging and composing scores for MGM Studios. He simultaneously worked professionally as a jazz pianist, and recorded his first jazz record at the age of 16. He won four Oscars for his orchestrations on such swank, effervescent musicals as Gigi (1958), Porgy and Bess (1959), Irma La Douce (1963) and My Fair Lady (1964).

Previn premiered his first opera A Streetcar Named Desire which he set to a libretto by Philip Littell based on Tennessee Williams' play, had its premiere at the San Francisco Opera on September 19, 1998, with soprano Renee Fleming in the role of Blanche du Bois.

He has been awarded Germany's Commander's Cross of the Order of Merit and a Kennedy Center Honor for Lifetime Achievement, a Grammy Award for Best Chamber Music Recording and the Grand Prix du Disque for his Streetcar recording. In the 2002-03 season, Previn will begin a four-year term as Music Director of the Oslo Philharmonic. On commission from Carnegie Hall, Previn is currently writing a piece for the Emerson String Quartet and Barbara Bonney to be premiered in Spring 2003. He is currently at work on his second opera, which is based on the Alessandro Baricco novel Silk.

Previn was awarded a Knighthood (KBE) by Her Majesty Queen Elizabeth II in 1996.


DRINKING STORIES


JACK FREUD the great, great grandson of Sigmund Freud has graduated with a psychology degree.

Freud, 21, of Battersea, England will use his psyche knowledge to open and run a bar.

DRINKING WITH HARRY ON RUSH is a play set on the winter evening in 1989 when Chicago Cubs announcer Harry Caray was chosen for the Baseball Hall of Fame. The storyline follows a bartender and his compatriots as they deal with life's upheavals.

Opened last Friday running to Aug. 29 at the Cubby Bear Lounge, Chicago.



PILLOW BOOK starring Shakti. Based on the works of 11th century Japanese poet Sei Shonagon. celebration of women's sexuality, Shakti ends up completely naked, her body a canvas for beautiful day-glo painted images.

Shonagon's writings of love and liberation also inspired Peter Greenaway's film The Pillow Book, starring Euan McGregor. Written at a time when women were not supposed to express their feelings, sexual or otherwise, this is a passionate piece, made even more so by Shakti's highly-charged performance.



Euan McGregor starred in the movie version

The Pillow Book spans from the floating world of Kyoto courtesans through rhythms of fiery passion to a performance art finale celebration of female beauty. From its teasing beginning to the energetic finale, The Pillow Book is erotic. Halfway through the show, Shakti bears all, allowing herself to be daubed all over in brightly colored paint, a procedure which is performed with precision by Mieko Nishimura. When the body painting is finished, Shakti continues with her dance, building up to an almost demonic climax.

Shakti was born in 1957 in Kyoto, Japan to an Indian father and a Japanese mother. Her mother founded the VasantaMala Dance Company and brought Indian dance to Japan while her father founded and directed the Gandhi Institute in Kyoto. While earning an M.A. in Indian Philosophy at Columbia University in New York City, Shakti studied modern dance with Martha Graham, Alvin Ailey and jazz dance with Luigi. Upon returning to Japan, Shakti developed a unique hybrid form of dance blending an array of Eastern dance traditions and yoga with Western jazz and contemporary rock resulting in a exotic, erotic, and shocking effect.

Shatki is the co-ordinator of the Japan Experience which assists and manages Japanese artists abroad. She also runs The Garage which is now one of the most prominent venues in the Edinburgh Festival Fringe hosting over 40 different companies from all over the world. The Garage International is now expanding into Avignon (France) and Adelaide (Australia). Shakti makes her West End debut in The Pillow Book at the Arts Theatre, London from August 29 through September 7.

THE WHALE FAT FOLLIES in the mood for sleaze, cheese and hilarity? Then you need a Spenard song, dance and slide revue. This year's production of The Whale Fat Follies stars Alice Welling, Tim Tucker, "Roadhouse" Ron Brown, "Jellyroll" Jim Wright and Mr. Whitekeys. The Fabulous Spamtones and "Big Daddy" Al Green play sleazy R&B after the show on Fridays and Saturdays. Through September 14 at the Fly By Night Club. Anchorage, Alaska.

NICKEL AND DIMED in its world premiere of Joan Holden's play based on Barbara Ehrenreich's book of the same title about her personal discoveries of what it's like to live in low-wage America. Performances through August 25. Audio-described performance: Aug. 17. Sign-interpreted performance: August 18. Seattle Center.

BAY AREA PLAYWRIGHTS FESTIVAL readings of plays by Liz Duffy Adams, Catherine Filloux, Kirsten Greenidge, August Schulenburg, Mac Wellman, Brighde Mullins, plus panels and more. August 16-25. Playwrights Foundation, San Francisco.

THE ADVENTURES OF ROBIN HOOD a new and lively adaptation has audience members bring greeted at their cars and welcomed to Sherwood Forest. Merry Men are also recruited in the parking lot. Following the performance, King Richard knights audience members. The Theater at Monmouth, Cumston Hall in Monmouth, Maine. Performances through 22.

Since its founding in 1970, The Theater At Monmouth has presented professional productions of the world's greatest plays in rotating repertory. Performances are held in Cumston Hall, listed on the National Register of Historic Buildings since 1976.

MR CHARLES, CURRENTLY OF PALM BEACH a one-act comedy by Paul Rudnick, is billed as A Pushy Evening of Theatre. Presented by Spontaneous Productions. Through Aug. 17 at the Spontaneous Productions Community Theatre in Boise, Idaho

MOUNTAIN DAYS: THE JOHN MUIR MUSICAL written by Mary Bracken Phillips & Craig Bohmler; directed by Richard Elliott. A cast of over 60, including goats, sheep and dancing horses, tells the life story of John Muir. Through August 25. Willows Theatre Company, John Muir Amphitheater, Martinez Waterfront Park, Martinez, CA.

BALLOTS PASSED OUT some touring productions of Disney's Beauty and the Beast programs contains a ballot seeking patrons' suggestions for touring productions for the 2003-04 season. The 14 shows listed include Starlight Express, The Lion King, Thoroughly Modern Millie, Urinetown, The Full Monty, The Producers, Sussical, Saturday Night Fever, Fame, Bye Bye Birdie, 42nd Street, Smokey Joe's Cafe, Oliver! and Sweet Charity.

THE HAWKSHAWS by Talon Bunn who has dug up the long-forgotten facts of a 1927 newspaper circulation war between the Chicago Tribune and the Chicago Journal. Based on a sensationalized story, first reported in the Journal and later in the Tribune about a large hawk seen killing pigeons near the Board of Trade, The comedy stars Charlie Clark and Matthew Gunnels who portray 16 characters, including two detectives, Max Lyme and Harvey Lime, who are hot on the trail of the winged invader. Gregory Gerhard directs. Opens Thursday and continues through Sept. 22 at the Theatre Building, Chicago.

A LOVELY LIGHT written by actress and writer Dorothy Stickney, starring Marion Ross, is a one-woman journey through the life, letters and poems of Pulitzer Prize-winning American poet Edna St. Vincent Millay (1892-1950).

The work contains selected verses from many of St. Vincent Millay's best-known poems, including those written for the Saturday Evening Review, interspersed with personal letters and anecdotes from her life.

Directed by Norman Cohen and presented by Gary Marshall at his 99-seat Falcon Theatre in Burbank, California every Sunday through August 25.


WHO'S WHERE


BRUCE SPRINGSTEEN AND THE E STREET BAND despite getting down on one knee, blowing kisses to his wife, guitarist Patti Scialfa, and then telling the audience that at his age he might need Viagra when they got home, the Boss left no doubt that he can still rock the house. He'll do just that tomorrow at Madison Square Garden in New York City. On Wednesday they'll be performing to standing room only in Cleveland, Ohio at the Gund Arena. Thursday the show is in Alburn Hills, Michigan at the Palace of Auburn Hills and next Sunday, August 18, they'll rock Las Vegas at the Thomas and Mack Center.

CHER ageless, energetic and selling out. if you can get a ticket Cher and Cindi Lauper perform Aug 12th in Phoenix at the American West Arena. On the 14th they are in Salt Lake City at the Delta Center. On August 15 the performance is in Denver at the Pepsi Center and on the 17th it's center stage in Little Rock at the Alltel Arena.

JUDY KUHN will present an evening of song on August 12. Drawing from her recent Lincoln Center concert, Kuhn will include works by Joni Mitchell, Harold Arlen, Tom Waits and Kurt Weill. The performance is free. The Millennium Stage, The John F. Kennedy Center for the Performing Arts Washington, D.C.Washington, D.C.

FRANK SINATRA, JR August 15-21 in Las Vegas at the MGM-Grand.

LIZ CALLAWAY performs August 16 & 17 at the Stackner Cabaret Theatre in Milwaukee, WI.

LINDA EDER & BURT BACHARACH August 15 at Pier 62 in Seattle, WA. August 16 at City Lights Amphitheatre, Denver, CO and August 17 at the Mountain Winery in Saratoga, CA.

MAUREEN McGOVERN in the spotlight August 11 with the Mormon Tabernacle Choir in Salt Lake City, Utah.

BARBARA COOK sings August 14-18 at the Kennedy Center's Terrace Theatre in Washington, DC.

HUEY LEWIS AND THE NEWS opens a three night stand Friday at Caesars Atlantic City.

LISA ASHER appears in concert with Jeff Waxman at The Memorial Hall Center for the Arts - a beautiful structure, built in 1902, designed by Stanford White. August 17 in Wilmington, Vermont.

B.B. KING with his guitar Lucille are center stage August 14 Westfair Amphitheatre Omaha, Nebraska.

DOWN FROM THE MOUNTAIN TOUR with Alison Krauss & Union Station, Chris Thomas King, Emmylou Harris, Patty Loveless, Ralph Stanley, The Del McCoury Band, perform August 13 at the Starlight Theatre in Kansas City.

NATALIE COLE performs Thus day in Dencer Colorado at the City Lights Pavilion. On Friday she is center stage in Deer Valley, Utah at the Deer Valley Amphitheatre. She closes out the week, Saturday, in Tucson, Arizona at the Anselmo Valencia Amphitheatre.

OASIS carry on after last week's accident in Indianapolis when the taxi in which they were riding collided head-on with another vehicle. They perform at Roseland tonight and the Beacon Theatre, NYC next Tuesday and Wednesday.

JARS OF CLAY perform August 18 in Meadville, PA at the Crawford County Fair.

JOHNNY MATHIS in a two nighter Saturday and Sunday at the South Shore Music Circus in Cohasset, MA.

AL GREEN closes tonight at the Paris Hotel in Las Vegas. He's in the spotlight Thursday in Sterling Heights, MI at the Freedom Hill Park Amphitheatre. On Saturday the show is in Bowler, Wisconsin at the Mohican North Star Casino.

OZZY OSBOURNE on Tuesday performs in Bovelsville, Indiana at the Verizon Wireless Music Center. Thursday he can be found in Cincinnati at the Riverbend Music Center. He closes out the week, Saturday, in Somerset, Wisconsin at the Float Ride Park Amphitheatre.

KENNY CHESNEY has a week of state fairs. He performs tonight in Nillings, Montana at the Montana Fair. On Wednesday the show is in Indianapolis, Indiana at the Indiana State Fair. Thursday the fair is the one in Missouri at Sedalia and Friday he is in Springfield, Illinois at the Illinois State Fair.

SHRLEY JONES singing August 17 at the Robert Park Auditorium in Taunton, MA.

SMOKEY ROBINSON in the spotlight Friday in Chautauqua, New York at the Chautauqua Amphitheater. On Saturday he is singing in Boston, Mass. at the Hatch Shell.

PETER FRAMPTON Friday in Atlanta, Georgia at the Chastain Amphitheatre.

JEWEL August 16 in Duluth, Minnesota at the Duluth Entertainment Convention Center Auditorium.

MARC ANTHONY in the spotlight Monday in Denver at CityLights Pavilion. On Wednesday the performance is in Las Cruces, New Mexico at the Pan American Center. On Friday he can be found on stage in Selma, Texas at the Verizon Wireless Amphitheatre. Saturday's show takes place in Grand Prairie, Texas at Next Stage at Grand Prairie.


CLASS ACT
Charlton Heston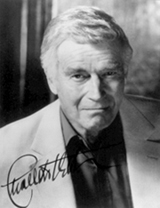 His announcement that he has Alzheimer's was just another example of how Charlton Heston has always been a class act.

Charlton Carter Heston first met with success on Broadway in Katherine Cornell's 1947 production of Antony and Cleopatra.

Where he wanted to be was on the big screen.

He made his screen debut in the 1950 film Dark City. In 1953 his face was plastered all over magazines in a movie tie-in ad for Van Heusen Century Shirts rating their "won't wrinkle ever" claim as 4 stars. At the bottom of the ad was a promo for the Paramount release of Secret of the Incas, starring Heston, Robert Young, Nicole Maurey, Thomas Mitchell and Yma Sumac.

The roles got better.

In 1959 he took home an Oscar for his performance in Ben Hur.

Along the way he did more ads for Camel cigarettes and Skippy peanut butter. He also amassed a career that produced over 150 motion pictures. He served as president of the Screen Actors Guild and is the current president of the National Rifle Association.

He rarely returned to the stage but when he did it was SRO. In January, 1973 Heston starred in Arthur Miller's The Crucible directed by Joseph Hardy for the Center Theatre Group.

In September, 1984 as part of a scholarly conference marking the 175th birthday of the 16th president, Abraham Lincoln, Heston took the stage at Gettsburg College in Pennsylvania for a one nighter.

"I've played presidents, but I've never played Lincoln," Heston said after he delivered an standing ovation performance reading from material written by and about Abraham Lincoln.

His finest performance may have been when he announced he had be cast in his most difficult role - that of having Alzheimer's.

For information on the disease the website for the Alzheimer's Association is http://www.alz.org/













Next Column: August 18, 2002
Copyright: August 11, 2002. All Rights Reserved. Reviews, Interviews, Commentary, Photographs, Graphics from any Broadway To Vegas (TM) columns may not be published, broadcast, rewritten, utilized as leads, or used in any manner without permission, compensation and/or credit.
Link to Main Page
---
Laura Deni


CLICK HERE FOR COMMENT SECTION