! >
Broadway To Vegas
  
  REVIEWS INTERVIEWS COMMENTARY NEWS

| | |
| --- | --- |
| | |
53rd ANNUAL PHILADELPHIA FOLK FESTIVAL - - 27th ANNUAL DAEDALUS PROJECT - - PAINT ALONG OPERA - - POETRY FOR THE PALACE - - PARKINSON'S SUFFERERS LEARN TO DANCE - - CELEBRITIES EXPAND BUSINESS VENTURES - - THE 10th ANNUAL PROVINCETOWN JAZZ FESTIVAL - - WILL ROGERS REMEMBERED - - DONATE . . . Scroll Down




Copyright: August 10, 2014
By: Laura Deni
CLICK HERE FOR COMMENT SECTION


WILL ROGERS REMEMBERED - THE EVENT 2014


His life story was made into a Tony Award winning musical starring Keith Carradine - The Will Rogers Follies, with a book by Peter Stone, lyrics by Betty Comden and Adolph Green, and music by Cy Coleman.

Will Rogers was one of America's most unusual humorist-philosophers.

August 15 will mark the 99th anniversary of his untimely death when the airplane carrying Rogers and famed aviator Wiley Post crashed. On August 15, 1935 they left Fairbanks, Alaska for Point Barrow. They were a few miles from Point Barrow when they became uncertain of their position in bad weather and landed in a lagoon to ask directions. On takeoff, the engine failed at low altitude, and the aircraft plunged into the lagoon, shearing off the right wing, and ended up inverted in the shallow water of the lagoon. Both men died instantly.

The Will Rogers Museum is located on a lofty hillside at Claremore, Oklahoma. In the foreground is the tomb of Will Rogers chiseled with his famous quotation: "I never met a man I didn't like." Built of native limestone, the regal eight-gallery museum hosts a dozen theaters or television kiosks; a famous saddle collection; fine art and artifacts depicting his life.

A variety of events are planned to commemorate the anniversary - known as The Event.

Will Rogers, at the time of his death, had been selected top male motion picture box office star, and had just completed two movies, yet to be released. The 2014 observance has been expanded to include Will's movie career.

Will Rogers Memorial Foundation has partnered with Circle Cinema in Tulsa for The Event 2014, featuring Will's last movie. Proceeds will benefit the Will Rogers Memorial Museums.

The Event 2014, Thursday, August 14, will include a reception and program, followed by the screening of Steamboat Round the Bend..

Headlining the anniversary celebration each year for the past 25 years has been a fly-in on a 2,000-foot grass strip adjacent to the house where Will was born Nov. 4, 1879, as well as a wreath-laying at the Rogers tomb on the grounds of the Will Rogers Memorial. That takes place on the morning of August 15.

A Special Evening Program features Rob Cork presenting the program: Wiley Post and the Winnie Mae with a reception to follow.

Will Rogers Film Festival, a Double Feature for Families, is scheduled for Saturday, August 16. The screenings will include Too Busy to Work, followed by In Old Kentucky.

Next Sunday, August 17, there will be a Will Rogers & Wiley Post Fly-In with planes landing on a grass strip. A family fun day with concessions, inflatables for kids, Cherokee storyteller, music, and a car show. The takes place at Will Rogers Birthplace Ranch in Oologah. It's free and open to the public.

Born in 1879 on a frontier ranch, Will Rogers used his cowboy trick roping talents to enter show business rising from Wild West shows to vaudeville. He was the toast of Broadway for a decade in the Ziegfeld Follies. His wry on-stage observations remain applicable today. Will Rogers became a major syndicated newspaper columnist; author of six books; star of 71 motion pictures, and America's premier radio commentator.

The Museum was designed by John Duncan Forsythe and financed by a $200,000 appropriation by the Oklahoma Legislature. Ground was broken on April 21, 1938, when Sallie Rogers McSpadden, Will Rogers' sister, turned the ceremonial first spade of earth. The building was dedicated on November 4, 1938, Will Rogers' 59th birthday.

The original 15,000-square-foot, fossilized native limestone edifice was enlarged in 1983 with a new addition of 11,000 square feet.

Twelve galleries of priceless artifacts and art tell the enduring story of the life and legacy of Will Rogers, one of the most influential and best known figures in the first half of the twentieth century. Visitors can view daily in the museum's theaters one of his twenty-one feature-length motion pictures or a documentary of his life. His diverse career in entertainment and communication, his humor and humanity, and his passion for both aviation and roping come vividly to life through numerous video and audio displays. The Children's Museum in the lower level features unique, interactive exhibits and educational activities.

The 2,400-square-foot library and offices in the new wing of the Will Rogers Memorial provide research space for scholars and writers. Included in the library are more than 2,000 volumes by, about, or referencing Will Rogers, in addition to texts on Indians, genealogy, vaudeville, early motion pictures and the history of the 1879-1935 era.

The archives include some 18,000 photographs, thousands of original manuscripts, private letters, contracts and personal papers, motion pictures, home movies and audio tapes.

His body along with the remains of his wife, Betty, 1879-1944, are interred in the crypt on the Museum property, along with three of their four children, Fred Stone Rogers, 1918-1920, Mary Amelia Rogers Brooks, 1913-1989, and James Blake (­Jim) Rogers, 1915-2000, as well as Jim's wife, Marguerite Astrea Kemmler Rogers, 1917-1987.





Broadway To Vegas is supported through advertising and donations. Priority consideration is given to interview suggestions, news, press releases, etc from paid supporters. However, no paid supporters control, alter, edit, or in any way manipulate the content of this site. Your donation is appreciated. We accept PAYPAL. Thank you for your interest.





ART AND ABOUT


POETRY FOR THE PALACE This exhibition celebrates the work of the current Poet Laureate, Carol Ann Duffy, at the half-way point in her 10-year laureateship. On display is her poem Rings for the 2011 royal wedding of Prince William and Kate Middleton

Poetry for the Palace is the first ever exhibit to explore the role of the Poet Laureate, and the close relationship between poet and monarch over the last three and a half centuries.

It brings together presentation volumes, original manuscripts, annotated collections of poetry and remarkable images of poets, including John Dryden, William Wordsworth, Alfred Lord Tennyson, John Betjeman, Ted Hughes, Nahum Tate, Henry Pye, Robert Southey, Alfred Austin, Robert Bridges, John Masefield, C. Day Lewis, Sir John Betieman, and Andrew Motion.

That close relationship included the sharing of wine.

The Poet Laureate is given a small annual stipend and a 'butt of sack', a wooden cask containing full bodied wine (now known as sherry). This unusual custom began in 1630 with a gift to the poet Ben Jonson (1572–1637), who wrote for James I and Charles I, but was never formally appointed Poet Laureate. Henry Pye (1745–1813) ended the sherry tradition in 1790, relinquishing his portion in lieu of £27 per year. The tradition was revived during the tenure of Ted Hughes by the Sherry Producers of Spain, and the gift now consists of 720 bottles of sherry, the equivalent of a barrel. It is traditional for the Poet Laureate to sign their barrel, and the exhibition includes the barrel head signed by Carol Ann Duffy.

Recently the Poet Laureate has been sharing the sherry with the monarch.

"A crate of Oloroso – sounds like a dream," wrote the delighted Queen Mother to her friend Ted Hughes on learning that he was going to send her a few bottles from his butt. "I am not only very grateful but extremely touched that you should wish me to share in this lovely gift."

Her handwritten note is on public display for the first time in this exhibition.

Duffy also sends some of hers to the Queen over Christmas.

The exhibition includes original manuscripts and rare editions presented to monarchs by Poets Laureate from the 17th century to the present day, many personally inscribed, handwritten or illustrated by the poets themselves. Over three-quarters of the 52 items are on display for the first time.

Early poet laureates were the palace press agents of their day. Their poems not only showed deference but spin-doctored the views the monarch wanted presented to the public.

Poets Laureate have marked numerous royal events, from births, deaths and marriages to investitures and jubilees, although they have not been obliged to do so since the 18th century. Both Cecil Day-Lewis (1904–1972) and John Betjeman (1906–1984) wrote poems for the investiture of His Royal Highness The Prince of Wales in 1969. Work by Ted Hughes (1930–1998) includes a special edition of his Laureate poems published at the request of Her Majesty Queen Elizabeth The Queen Mother and the original draft of The Dream of the Lion, written to mark The Queen Mother's 85th birthday in 1985. A handwritten copy of The Golden Rule by Sir Andrew Motion (b.1952) celebrates Her Majesty The Queen's 80th birthday in 2006.

The first official Poet Laureate was John Dryden (1631–1700), appointed by Charles II in 1668. He was also the only one to be dismissed, when he refused to swear allegiance to William III and Mary II in 1689. The exhibition includes a copy of the poem written by Dryden to mark the death of Charles II in 1685. The oldest item in the exhibition is a musical score by Henry Purcell for an ode by the third Poet Laureate, Nahum Tate (1652–1715), who is best known today for writing While Shepherds Watch their Flocks by Night. The ode, Celebrate this Festival, marked the 31st birthday of Queen Mary in 1693.

Poets Laureate have often worked closely with the Master of the King's Music or other leading musicians of the day. A poem in memory of Queen Alexandra, consort of King Edward VII, was set to music by the Master of The King's Music, Sir Edward Elgar, in 1932, and the original manuscript score is shown in the exhibition.

Carol Ann Duffy's poetry is also represented by the work of the textual artist Stephen Raw, who has created several pieces for the exhibition.

Visitors will also be able to hear new recordings. Daniel Day-Lewis reads poems by his late father, the poet laureate Cecil Day-Lewis; and Timothy West reads poems by Dryden, Robert Bridges and Wordsworth.

Curated by Deborah Clarke and Emma Stuart.

The opening on August 7 was part of the Edinburgh Art Festival. Poet Laureates from Dryden to Duffy are on display in Edinburgh at The Queens Gallery Palace of Hollyroodhouse until November 2, 2014.


SWEET CHARITY


PARKINSON'S SUFFERERS LEARN TO DANCE

Misty Owens leads members of the Brooklyn Parkinson Group at the Mark Morris Dance Center. Photo by Rosalie O'Connor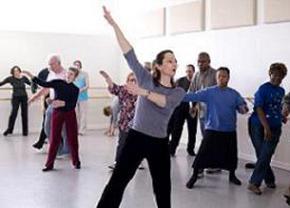 in a program presented by Ballet Academy East. The free classes are called Dance for PD and begin in September.

Dance for PD classes, developed collaboratively by Mark Morris Dance Group and the Brooklyn Parkinson Group, are currently offered at Mark Morris Dance Center, The Juilliard School, and at several locations in The Bronx and Queens. The class at Ballet Academy East represents the program's first East Side location and provides access for an area of Manhattan previously underserved by this kind of resource.

Dance for PD, which originated at the Mark Morris Dance Center in 2001, offers specialized dance classes accompanied by live music for people with Parkinson's, their caregivers, family members and friends. Professional teaching artists integrate movement from modern, ballet, tap, folk and social dancing, and choreographic repertory to engage participants' minds and bodies and create an enjoyable, social environment for artistic exploration.

Because Dance for PD focuses on the aesthetic movement of dance rather than acting as therapy, participants in class they are encouraged to approach movement like dancers rather than as patients.

Dance for PD classes provide a social environment for participants to interact with other community members, and to share a positive, stimulating activity together with their partners. Participants report that the classes boost their confidence levels, transform their attitudes about living with a chronic illness, and help them manage some of the symptoms associated with Parkinson's disease. Consistent interaction within the close-knit community of the dance class helps to combat social isolation and depression while empowering participants with a sense of physical possibility and artistic achievement.

The program is built on one fundamental premise: professionally trained dancers are movement experts whose knowledge is useful to persons with PD. This acclaimed program is appropriate for anyone with PD, no matter how advanced. No dance experience is required. Participants explore elements of modern dance, ballet, tap, folk and social dancing, and Mark Morris company repertory in a non-pressured, social environment in which live music energizes, enriches and empowers. Classes modeled after Dance for PD now occur in more than 100 communities in the US, Australia, Belgium, Canada, Germany, Holland, Italy, India, Israel, Mexico, and the UK.

27th ANNUAL DAEDALUS PROJECT presented by The Oregon Shakespeare Festival, a benefit for HIV/AIDS organizations, takes place Monday, August 18.

Since the first Daedalus Project was organized by OSF actor and director James Edmondson in 1987, the event has raised $1.4 million for local, regional, national and international HIV/AIDS organizations. In the last 27 years, the Daedalus Project has created a tradition of remembrance, celebration and collective action for OSF's company, community and audience.

OSF artistic associate James Edmondson had the original idea for an HIV/AIDS fundraiser 27 years ago. OSF Artistic Director Emeritus Jerry Turner named the event the Daedalus Project after the story of Daedalus from Greek mythology. Daedalus and his son, Icarus, were imprisoned in a labyrinth by King Minos, and by crafting wings from wax and feathers, Daedalus created a way out of the maze.

Eduardo Placer, director of the Daedalus Project, said, "The theme of this year's Daedalus Project is Act V: The End of AIDS. We are participating in a global shift by naming the end of this epidemic. We are thrilled to continue to provide an opportunity for this community to gather in solidarity for such an amazing cause, to support organizations committed to ending AIDS not only here, but also all over the country and the world. This week is a generosity-fest, a wonderful opportunity for the entire community to gather for something bigger, to collectively commit to ending AIDS."

The Monday play reading will be The Children's Monologues, held in the Angus Bowmer Theatre. Directed by Sara Bruner, The Children's Monologues features the adapted stories of children's first-hand experiences in South Africa retold and re-interpreted by playwrights and performed by actors. The play was created by the United Kingdom-based charity Dramatic Need, and this will be the second production of this play and the first in the U.S.

The evening Daedalus Variety Show, an inventive parade of acts, ranging from the outrageous to the poignant, and featuring a fun-filled underwear parade during the intermission, will begin staged in the Allen Elizabethan Theatre. The evening will be hosted by OSF actor Mark Bedard. The show will be sign-interpreted.


53rd ANNUAL PHILADELPHIA FOLK FESTIVAL
9 time Grammy nominee Janis Ian will perform. Photo by Lloyd Baggs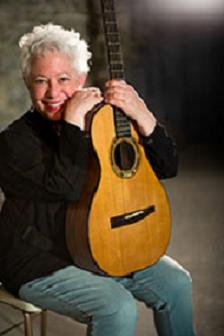 Banjo styles, Celtic afternoon and topical songs are all part of the 53rd Annual Philadelphia Folk Festival which takes place August 15-17 at the Old Pool Farm in the Upper Salford Township near Schwenksville which is near Philadelphia.

It's the longest continuously running festival of its size and scope in the country.

The multigenerational attractions at this year's fest include Nashville string band Old Crow Medicine Show, actor, humorist and Grammy Award winning folk singer Loudon Wainwright III, blues woman Shemekia Copeland, folk trio The Lone Bellow, folk duo JohnnySwim; Janis Ian the songwriter, performer, and author with 9 Grammy Nominations. Her songs At 17 and Society's Child are in the Grammy Hall Of Fame.

Also in the spotlight; New Orleans strutters ReBirth Brass Band, Celtic rockers Tempest, Philadelphia songwriter Kwesi K, swing band Hot Club Of Cowtown, Canadian banjo man Old Man Luedeke, bluegrass band Steep Canyon Rangers. In 2013 their album Nobody Knows You won a Grammy for Best Bluegrass Album.

Performing during the Festival will be Ukrainian folk band Dhaka Braka, Texas tunesmith Sarah Jarosz and Nova Scotia fiddle Natalie McMaster.

Other talents on board are: Steve Poltz a Canadian-born singer-songwriter, and guitarist, who is a founding member of the indie-rock band The Rugburns, two time Grammy nominee Tommy Emmanuel the Australian virtuoso guitarist and occasional singer, best known for his complex fingerstyle technique. His participation at the Philadelphia Folk Festival wraps up a tour which kicked off June 12 in St. Louis, MO at Sheldon Concert Hall.

Philadelphia born singer/songwriter Irene Molloy is part of the program. She was seen Off Broadway at the Atlantic Theater in 10 Million Miles, directed by Michael Mayer, and co-starring Mare Winningham, Matthew Morrison, and Skipp Sudduth. On Broadway she appeared in The Civl War, originating the role of Sarah McEwen and earning an Outer Critics Circle nomination as Outstanding Featured Actress in a Musical. When she isn't performing on Broadway she can frequently be found touring with her Acoustic/Folk band.

Slated to perform as well are folksinger and actor Josh White Jr., who is proudly upholding the musical tradition begun by his father, the legendary bluesman and social activist Josh White; Rebecca Loebe a singer/songwriter based in Atlanta, Georgia who became a contestant on the NBC television show The Voice in April 2011; The Slide Brothers, a band featuring musicians playing slide guitar who have appeared on Conan; The John Byrne Band led by former Patrick's Head front man and Dublin native John Byrne; Jefferson Berry and The Urban Acoustic Coalition, Katie Frank, The Wallace Brothers, Spuyten Duyvil, A Fistful of Sugar, Ryan Tennis, Mutlu, Gibson Bros, John Byrne Band, SONiA, El Caribfunk, Antsy McClain, Jordie Lane, Archie Fisher 10 Strings and Goat Skin, Vance Gilbert, Orpheus Supertones, Dave Fry and DisCanto.

WXPN-FM Folk Show deejay Gene Shay will returns to host and promises to "tell knee slapping jokes."

Founded in 1957, the Philadelphia Folksong Society (PFS) has contributed to the preservation of a vast variety of musical styles and historical perspectives. PFS has acquired international recognition and local acclaim through popular programs such as The Philadelphia Folk Festival, Fall Fling, Spring Thing, and Cabin Fever Festival. Seasonal programming of workshops, community service programs, concerts, PFS Presents..., Sings, and the Odyssey of American Music programs serve a diverse range of participants-members in the community, volunteers, artists, students, partner organizations, and PFS members.








SPREADING THE WORD


THE 10th ANNUAL PROVINCETOWN JAZZ FESTIVAL will be held on August 16th & 18th at the Provincetown Town Hall and the Cotuit Center for the Arts, both located on the Cape.

For 10 years the Provincetown Jazz Festival has presented jazz musicians from the United Sates, Canada, United Kingdom, Europe, and New Zealand.

This year the festival will feature first timers Kathy Kosins, an award-winning vocalist from Michigan; Rebecca Parris who will be accompanied on piano by Paul McWIlliams; and bass player Avery Sharpe.

Returning are festival favorites Dane Vannatter, vocalist from Pittsburgh, PA; Shawnn Monteiro, jazz vocalist and educator from Rhode Island; and Cape Cod Jazz Quintet.

A portion of the proceeds from the festival are donated to worthy causes.

PAINT ALONG OPERA returns to the Nashville Opera. Using opera at the inspiration, attendees will paint a scene on carvas and listen to Artistic Director John Hoomes discuss the visual elements used to design an opera set.

Wine, heavy hors d'oeuvres, all art supplies and instruction are included. All skill levels are welcome. August 19 at the Noah Liff Opera Center in Nashville.

PRELUDE 2014 ARTISTS ANNOUNCED by The Martin E. Segal Theatre Center at The Graduate Center, City University of New York (CUNY) which presents the annual three-day festival dedicated to artists at the forefront of contemporary New York City theatre and performance.

The artists include: Lucy Alibar, Mallery Avidon/Jeff Aaron Bryan, Chloë Bass, Eliza Bent, Catherine Brookman, Aisha Cousins, Jackie Sibblies Drury, Josh Gelb, Trish Harnetiaux, Paul Ketchum, Jerry Lieblich, Jennie MaryTai Liu, Casey Llewellyn, Allison Lyman/Moe Yousuf, Erin Markey, Christina Masciotti/Paul Lazar, Sarah Maxfield, Alejandro Moreno, David Neumann, Piehole, Francis Weiss Rabkin/Anna Brenner/Leslie Allison, Amelia Roper, Rose & Stags, Eva von Schweinitz, Nathaniel Sullivan, The Truck Project, and Joe Waechter.

Helmed by curators Chloë Bass, Jackie Sibblies Drury, Allison Lyman, Sarah Rose Leonard, and Frank Hentschker, the program provides a unique preview of new work being created by groundbreaking New York theatre and performance artists working in theatrical, interdisciplinary, and mixed media performance. The festival is a public lab for sharing new ideas through brief workshop performances, readings, installations, participatory events, panels, and discussions. Prelude is the only festival of its kind in New York that remains completely free and open to the public. All events are presented at the CUNY Graduate Center, This year's event takes place October 8-10.

DAME HELEN MIRREN will return to Broadway for the third time in her storied career when she begins previews February 17, 2015 as Queen Elizabeth, reprising her role in a Broadway run of The Audience, which is scheduled to open March 8 at the Gerald Schoenfeld Theatre in New York.

Mirren previously appeared in The Audience on London's West End, winning an Olivier Award for her performance. The play, by Peter Morgan, imagines the ritual closed-door meetings between the queen and the many prime ministers who have served under her. Stephen Daldry will direct the Broadway production as he did in London.


OTHER PEOPLE'S MONEY


THE OLD GLOBE IN SAN DIEGO reports that over 380 guests attended The Old Globe's 2014 Gala, Summer Splendor, on July 26 on the Globe's historic campus in Balboa Park. When final proceeds and expenses are tallied, the black-tie event is expected to net more than $1 million for the theatre's artistic and educational activities. Nina Doede, Deni Jacobs, and Sheryl White served as Co-Chairs for the Globe Gala.

CELEBRITY BUSINESS VENTURES INCLUDE Lady Gaga announcing that she is set to launch a second brand of perfume called Eau De Gaga while Brooke Shields announced that she will launch a line of cosmetics. Her collection with MAC cosmetics is to include eye shadows, lipsticks, mascaras and nail polish.

The cake boss Buddy Valastro is set to open a branch of the famous New Jersey Carlo's Bakery in the UAE. The Cake Boss is in Abu Dhabi where on Saturday, August 9, he staged a live show as part of the Abu Dhabi Summer Season festivities at the Emirates Palace. There he indicated that he wants to open bakeries in the entire Gulf region. So far no one has told him to "Fuhgeddaboudit!"


CURTAIN DOWN


ROCKY the musical based on the Oscar-winning 1976 movie is set to close on Sunday, August 17th after 28 previews and 188 performances.

"Rocky" opened at the Winter Garden Theatre in March and was nominated for five Tonys but picked up just one award.



THE WAYSIDE MOTOR INN a drama by A. R. Gurney.

Directed by Lila Neugebauer.

The mounting stars Kelly AuCoin as Andy, Jon DeVries as Frank, Quincy Dunn-Baker as Ray, Rebecca Henderson as Ruth, Tony Award nominee Marc Kudisch as Vince, Jenn Lyon as Sharon, Lizbeth Mackay as Jessie, David McElwee as Phil, Ismenia Mendes as Sally and Will Pullen as Mark.

"Outside Boston, ten people - some strangers, some not - struggle with the circumstances that have brought them to the Wayside Motor Inn. With old grudges and new feuds threatening the travelers' peace, this funny and moving work kicks off A. R Gurney's Signature Residency by examining the tenuous space between loneliness and connection, and the fragile framework of the American Dream."

The creative team includes Andrew Lieberman (scenic design), Kaye Voyce (costume design), Tyler Micoleau (lighting design) and Stowe Nelson (sound design). Donald Fried is the production stage manager. Casting is by Telsey + Company, William Cantler, CSA.

Performances begin Off-Broadway August 12 prior to an official opening September 4. at the Alice Griffin Jewel Box Theatre at The Pershing Square Signature Center, NYC.

HELLO DOLLY! music and lyrics by Jerry Herman.

Directed by Rob Ruggiero.

Music direction by Brad Haak.

Mrs. Dolly Levi makes her grand Muny return in the classic musical, Hello, Dolly!. Celebrating the 50th anniversary of its Broadway opening, this award-winning musical features the irresistible story of matchmaker extraordinaire Dolly Levi as she "meddles" her way from Yonkers to New York City. Full of familiar tunes and plenty of big dance numbers, including Before the Parade Passes By, It Only Takes a Moment and Put on Your Sunday Clothes.

August 11-17 at The Muny in St. Louis.

BUSKER ALLEY Book by AJ Carothers; Music & Lyrics by Richard M. Sherman & Robert B. Sherman.

The tale of Charlie Baxter, a street performer (busker), and Libby whose star is about to be on the rise. Based on the 1938 British film, St. Martin's Lane, this delightful show has not been seen on the West coast in almost 20 years. Directed by Darcie Roberts who was the original star of the national tour of Busker Alley.

A staged reading presented concert-style. Using minimal sets and costumes, but featuring the full script and score, the Reiner Staged Reading Series is a perfect way to celebrate the whole spectrum of musical theatre, while discovering some new favorite songs and shows.

August 17, 2014 at the Carpenter Performing Arts Center in Long Beach, CA.

THE BOOK OF MORMON a religious satire musical by Trey Parker and Matt Stone.

Co-direction and choreography by Casey Nicholaw.

The Tony Award winning mega-hit Book of Mormon tells the story of two young Mormon missionaries sent to a remote village in northern Uganda, where a brutal warlord is threatening the local population. Naïve and optimistic, the two missionaries try to share the Book of Mormon, one of their scriptures - which only one of them has read - but have trouble connecting with the locals, who are more worried about war, famine, poverty, and AIDS than about religion.

Starring David Larsen as Elder Price, Cody Jamison Strans as Elder Cunningham, Denee Benton as Nabulungi, Pierce Cassedy as Elder McKinley, James Vincent Meredith as Mafala Hatimbi. Featuring Christopher Shyer and David Aron Damane.

Scenic Design by Scott Pask, Ann Roth costume design, Brian MacDevitt lighting, Brian Ronan sound design. Stephen Oremus serves as music irector/vocal arranger and co-orchestrator. Larry Hochman co-orchestrator.

August 14-September 14, 2014 at The Orpheum Theatre in Minneapolis, MN.

THE TWO GENTLEMEN OF VERONA By William Shakespeare.

Directed by Tony Award nominee Mark Lamos.

One of Shakespeare's most delightful and boisterous comedies. Best friends Valentine and Proteus travel to the big city to seek their fortunes, only to find themselves rivals, both madly in love with the beautiful Silvia, daughter of Milan's most powerful duke. A fast-paced, exuberant tale of friendship, romance, and secret identities, featuring a band of outlaws, two bumbling servants, and one unforgettable dog.

August 10 – September 14, 2014 Lowell Davies Festival Theatre, Old Globe in San Diego, CA.


WHO'S WHERE


BRUNO MARS brings his tour to the Matthew Knight Arena in Eugene, OR on Monday, August 11. Thursday's show is at Harveys at Stateline, NV. Friday he stars at the SAP Center in San Jose, CA. Next Sunday, August 17, he's on stage at the Fiddler's Green Amphitheatre in Englewood, CO.

KATY PERRY has a busy week. She's on stage Monday, August 11, at the Palace of Auburn Hills in Auburn Hills, MI. Wednesday finds her at the Nationwide Arena in Columbus, OH. On Thursday she can be enjoyed at the Quicken Loans Arena in Cleveland. Saturday's show is at the KFC Yum! Center in Louisville, KY. Next Sunday, August 17 her tour stops at the Scottrade Center in St. Louis, MO.

MIRANDA LAMBERT entertains Friday, August 15, at the First Midwest Bank Amphitheatre in Tinley Park, IL. On Saturday the show is at the Klipsch Amphitheater at Bayfront Park in Miami, FL.

ROD STEWART performs Tuesday, August 12, at the Pepsi Center in Denver. On Thursday he'll be singing his hits at the Spring Center in Kansas City. Saturday's performance is at the Allstate Arena in Rosemont, IL.

JEFF DUNHAM appears with his entourage of signature characters, including Walter, Bubba J, Peanut and Achmed the Dead Terrorist, all ready and willing to challenge and chastise his every sentence. Wednesday, August 13, at the Palace Theatre in Stamford, CT.

MILEY CYRUS performs tonight, Sunday, August 10, at the Scottrade Center in St. Louis. On Tuesday she is on stage at the Spring Center in Kansas City. Thurday finds her at the United Center in Chicago.

KISS AND DEF LEPPARD bring their tour to Hartford, Connecticut and The Xfinity Theatre today, August 10. On Tuesday they are in Toronto, Canada at the Molson Canadian Amphitheatre. Wednesday finds them in Darien, New York at the Darien Lake Performing Arts Center. Friday's gig is in East Troy, Wisconsin at the Alpine Valley Music Theater. On Saturday they'll be rocking in Tinley Park, Illinois at the First Midwest Bank Amphitheater

STRAIGHT NO CHASER closes out a successful engagement at Harrah's Atlantic City on Tuesday, August 12.

THE NATIONAL sing their songs Tuesday, August 12, at the Open Air Arena in Vienna, Austria. On Wednesday they perform at the Maag Halle in Zurich, Switzerland. Friday's gig is at the Pukkelpop in Hasselt, Belgium. On Saturday their European tour stops at the Lowlands in Biddinghuizen, Netherlands.

AEROSMITH perform Wednesday, August 13, at the Concord Pavilion in Concord, CA. Saturday's show is at the Gorge Amphitheatre in Quincy, WA.















Next Column: August 17, 2014
Copyright: August 10, 2014 All Rights Reserved. Reviews, Interviews, Commentary, Photographs or Graphics from any Broadway To Vegas (TM) columns may not be published, broadcast, rewritten, utilized as leads, or used in any manner without permission, compensation and/or credit.
Link to Main Page
---
Laura Deni



For the snail mail address, please E-mail your request.
CLICK HERE FOR COMMENT SECTION