! >
Broadway To Vegas
  SHOW REVIEWS     CELEBRITY INTERVIEWS     GOSSIP     NEWS 
| | |
| --- | --- |
| | |


BROADWAY LIGHTS DIM
Jerome Robbins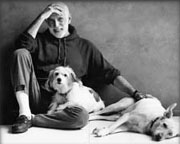 The Great White Way went dark last Thursday when Broadway theaters dimmed their lights in memory of legendary choreographer Jerome Robbins.

He died last Wednesday, after suffering a stroke the previous Saturday. He was 79.

Robbins was the winner of 5 Tony Awards, 2 Oscars and an Emmy. He will be missed. His creative genius will live on forever.




ANDRE AND BROOKE PLAN A PARTY


On September 26, at the MGM-Grand Hotel's Grand Garden, Andre Agassi and his wife, Brooke Shields will stage the Nevada social event of the year - The 4th annual, black tie benefit for The Andre Agassi Charitable Foundation. Last year's Oct. 4th gala raised over $2 million for at-risk youth.

ANDRE AGASSI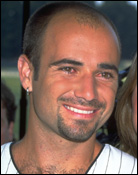 Andre was raised in Las Vegas. Even before he married Brooke she served as hostess for the event. Those who have attended the extremely worthwhile annual event have watched their love develop - almost as if viewing a living romance novel.

The first gathering was a relatively small affair, held Sept., 1994, at Planet Hollywood. Brooke was her usual elegant self in a short, checked dress. She carried a camera in one hand and scooted around taking pictures - "For the family album, for the family album." It was obvious that Brooke got along with Andre's family and that they adored her. Kenny G. performed and there were hors d'oeuvre. Tickets were $125.

Afterwards, I thought that I'd had a really enjoyable time. The money went for a good cause and I hoped they'd consider doing it again. They not only did it again, but they are doing it in grand style.

It only took the first event for Andre to realize that he had the support of both the entertainment and Las Vegas communities. The tennis star turned his charity event into the "Grand Slam," moved it to the MGM Hotel's Grand Garden Arena, with the first of those extravaganzas held in 1995.

A 65 piece orchestra played for dinner. Dinner, consisting of the type of gourmet foods most people can't pronounce, is always followed by a live, fun-loving auction, hosted by Brooke Shields.

That year Andre offered his 1989 Porche 930 turbo, slant-nose convertible, which gaveled down at $85,000. Robin Williams and his wife offered to host dinner for six in San Francisco. That went for $65,000. Entertainment was provided by Elton John, Michael Bolton, Kenny G., Wyonna, Oleta Adams, Warren Weibe and Robin Williams. David Foster is always the capable producer.

This is also an event which has always taken a turn for the personal.

Brooke Shields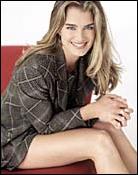 By the time of the Sept.21, 1996 bash the audience felt there was enough of this dating nonsense and a push was on for Brooke and Andre to get married. They had become engaged Feb. 28 and held an elaborate engagement party at Andre's palatial Las Vegas home in May. By September, the fans were ready for some action. The concert featured performances by Elton John, Seal, Kenneth "Babyface" Edmonds, Vanessa Williams, Tim McGraw and Faith Hill.

Anytime Brooke's name was mention Andre would grin. However, one of their limo drivers whispered that the wedding was postponed because of Brooke's brand new series Suddenly Susan. While the series was heating up, the wedding was still on ice. "Brooke told Andre that she has to be in Los Angeles for the series. She can't move to Las Vegas the way they had planned. He's going to be on the tennis tours, so they wouldn't have much of a real marriage right now. She is still wearing his engagement ring and just wants to keep things the way they are, with them seeing each other whenever it fits into their schedules," said one of the drivers.

Romantics attending the gala wanted a wedding.

Brooke always takes part in the auction, handling the microphone, auction items and bidders with fun loving aplomb.



Bidding was fast and furious for a Suddenly Susan walk on part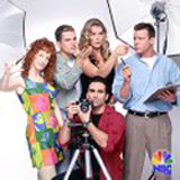 Looking gorgeous in a long red, sleeveless, high necked sheath, her hair piled on top of her head, Brooke took the microphone to auction off a walk on part on Suddenly Susan. "This is a surprise auction item, not listed in the program. But it's not a surprise to me," Brooke explained to the elite, who had paid up to $25,000 a seat for the dinner and auction portion of the entertainment event. "We are going to auction off a walk-on on Suddenly Susan.You won't have to fall, they leave the stunts to me," Brooke promised the bidders. "We tape on Tuesdays."

Bidding became fast and furious and quickly approached the $40,000 figure.

"Okay, for $40,000, I'll kiss you. I'll throw in a kissing scene. I'll do a kissing scene with you," announced Andre's fiancee'.

Agassi wasn't amused.

As the bidding escalated over $40,000 a startled Brooke acknowledged that her beloved made the rules. "Andre says NO! He says no kissing scenes. I'm sorry."

As the auctioneer yelled, "Sold! At $50,000," a gracious Brooke said, "Thank you. You can come on anytime you want. It will be an honor."

But, no kissing.



Faith Hill and Tim McGraw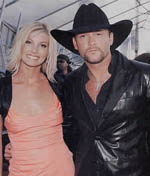 During the two hour star studded entertainment portion, real life lovebirds Faith Hill and Tim McGraw sang a duet in which they hugged, kissed and Tim gently stroked her face. While she was singing he even caressed her lips with his fingers. Faith called Tim, "the greatest love of my life."

Returning to the stage Andre said, "They and that music could do a lot for a relationship."

"You could use a little of that yourself right now," quipped show producer David Foster. "You'd better try harder to get her to marry you. Neither of you are getting any younger. There's no reason to wait."

By the following spring, they had waited long enough. That love match snuck off and made it legal on April 19. A lot of people weren't invited and felt left out. That feeling didn't get passed Jay Leno who served as master of ceremonies for the Oct. 4, 1997 Agassi Gala.

Jay Leno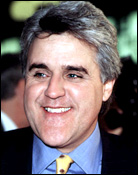 Leno surprised both Andre and Brooke when he called Andre back out onto the stage and complained that the tennis champ had guested on The Tonight Show a week before he married. Yet, when Jay point blank asked him when he and Brooke planned to wed, Andre deliberately lied to him saying; "Oh, I don't know. We haven't decided yet."

As the benefit audience laughed, Leno continued to complain. He picked up People who had covered the wedding and pointed out that the picture of them kissing wasn't very good.

Leno explained that you couldn't really see the kiss and said; "I'll give $5,000 cash, right now, if you two re-enact the wedding kiss."

The sophisticated crowd howled, stamped and whistled.

Leno called Brooke up out of the audience. At first she didn't seem too keen on the idea. So, Leno again said he'd donate $5,000 cash to Andre's charity for the re-enactment. They agreed.

Serving as a minister Jay asked Andre if he took Brooke to be his wife. Andre replied; "I do." Then Leno pronounced them man and wife and told him to kiss his bride.

What followed was a passionate, incredible, French kiss, lip lock that seemed to go on for a romantic era - the kind of event that sweeps up the voyeur. First the audience screamed. Then the sounds of chairs moving, as the audience started getting cuddly.

Finally, the smooch ended. But, it was Brooke who had the last word. She said to Jay: "I'll give you $10,000 right now if you kiss him the same way he kissed me!" Jay thought about it for a second and declined.

As she has done every year Brooke conducted the live auction and then served as official hostess as she put it, "being the first Agassi on stage."

"A very heartfelt welcome. About four years ago I fell in love with this guy," she said referring to husband Andre. "I always knew he had a capacity to show love, but I never realized that he has such a capacity to share love. I've been lucky enough to have been part of this every year. But, don't worry, I'm not going to sing," she promised. The audience groaned.

"Next year. I promise," answered Brooke. "I'll take singing lessons this year. Really! Next year, I promise to sing. Tomorrow I'll start to practice and register to take singing lessons. And, next year, I'll sing."

Next year is here and again the Andre Agassi Foundation will stage another gala. If you miss it, you're the loser. Will Brooke sing? Will the prying questions involve their plans for parenthood?



Pierce Brosnan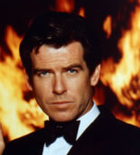 If you're in the financial categories where you buy tables for $30,000 and get a kick out of running up the auction bids - last year a 1997-Z-3 BMW car, as driven by Pierce Brosnan in his latest James Bond movie, and a BMW R850 motorcycle, plus going to the Bond movie premiere and celebrity party to meet Brosnan, with transportation provided by American Airlines went for $87,000 - then fuel up your personal Lear jet, or hop on your company's corporate one and show up.

Officials of Agassi Enterprises told me that a few tables for $10,000 and $30,000 are still available. If you're interested in purchasing a table call (702) 227-5700.

That doesn't mean that those who can't support their own third-world country are left out.

Prices to attend this fun-loving, entertaining charity shindig vary from year to year. In 1996 half as many tables were sold but 12,000 tickets went to the general public, priced from $75 to $200. It was decided that for 1997, they could make more money by selling more tables.

During the l997 bean-feast Leno made reference to the rich or poor ticket prices. Tables of 10 sold for $10,000 to $30,000. At the other end of the extreme 6,000 tickets were priced at $30.

When emcee Leno walked on stage he said; "Hi, rich people! Hi, poor people! The table scraps from the rich people will be donated to the poor people right after the show," resulting in cheers from the people in the cheap seats. Offering directions Leno instructed; "Please congregate at Dumpster #9 right after the show."

If you're part of the peon crowd, just remember what Leno instructed. After the show, the leftovers are up for grabs at Dumpster #9. I'll meet you there.



Broadway To Vegas is supported through advertising and donations. Priority consideration is given to interview suggestions, news, press releases, etc from paid supporters. However, no paid supporters control, alter, edit, or in any way manipulate the content of this site. Your donation is appreciated. We accept PAYPAL. Thank you for your interest. Laura Deni P.O. Box 60538 Las Vegas, NV 89160


SEINFELD ON BROADWAY

Mega millionaire Jerry Seinfeld, opens at Broadway's Broadhurst Theater on Aug 5, performing 10 live shows. Tickets went for $75, plus a $5.50 service charge, by phone only, with a limit of two per person. All 8200 tickets sold out the first day.

JERRY SEINFELD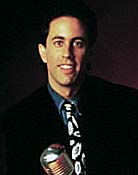 The Brooklyn born performer will donate all proceeds from New York ticket sales to programs benefiting students in the New York City public schools.

His final performance on Aug 9 will be a live telecast on HBO entitled Jerry Seinfeld:I'm Telling You for the Last Time: Live on Broadway.

Seinfeld's Broadway engagement marks the end of his national tour which kicked off in San Antonio, Texas to a sold out crowd of 2,500. Jerry and opening act Mario Joyner, then took his sense of humor to Hermosa Beach, Calif. He drove himself to and from the club in his electric blue colored Porche and carried his own garment bags.

His Omaha, Nebraska performances, at the Orpheum Theatre had Good Life Tours offering a special dinner and show package of $115 per person. That got you fed at the Happy Hollow Country Club, transportation to the theater and a ticket for the show.

From Hermosa Beach, where tickets went for $35, to Des Moines, Iowa, where the tickets were free. Last Friday the comedian surprised the audience by giving away all of the nearly 11,000 tickets to his four week-end shows. Audience members who had already paid more than $60 per ticket were given refunds. On Saturday he gave away the remaining 2,000 tickets. Now it's on to New York where nothing is free.


CORNHUSKER CLUCK-OFF

Where else but in Nebraska-that state that gave us Henry Fonda, Johnny Carson, Dick Cavett and is home to David Letterman's Top Ten Home Office - now comes Joel Varva of Crete, Nebraska. For the third year in a row he's won the national Cluck-Off championship. Joel clucked off the competition, who actually showed up from Arkansas and Texas.

Over 12,000 spectators stormed Bressler Park in Wayne, Nebraska to witness the 18th annual Wayne Chicken Show.

Some people actually take this stuff seriously. There were 85 floats. The Chickendales danced. Chicken Show contests included the Egg Drop Catch won by Lucas Munter of Wayne, Nebr., who caught, bare-handed, an egg that fell 54 feet, 11 and 7/8 inches.

The Hard-Boiled Egg Eating Contest winner was Greg Tesch of Omaha who ate nine eggs in two minutes. A cholesterol screening test should have been one of the prizes.

The always popular Chicken Flying Competition was won by Osmond, Nebraska's Joan Gansebom's bird, who flapped its way to victory in the lightweight division by flying 44 feet, 2 inches.

In the middleweight division, another Osmond resident, Cole Kralicek owned the winning clucker who flew, 24 feet, 4 inches. In the heavyweight division the chicken owned by Derek Poutre of Wayne, Nebraska flapped to the win with a 17 foot, 4 inch flight.

I'm not sure what happens to a winning chicken. You can't very well put them out to stud. They're tough to train as carrier chickens and besides pigeons probably have a union. How about chicken and noodles, billed as made from prize winning ingredients?


LAWSUIT MADE HIM A STAR
FRANK MARINO as JOAN RIVERS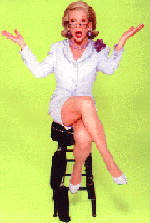 Frank Marino, the star of An Evening At La Cage at the Riviera Hotel, Las Vegas, celebrates his 14th anniversary on Sunday, August 9, after coming to Las Vegas from "The Big Apple" 14 years ago.

While most people would cringe in horror at the thought of being sued by Joan Rivers, it was just such a lawsuit that made Marino famous. Getting his picture on the cover of The National Enquirer didn't hurt, either.

The legal flap started in 1986 when Joan Rivers, according to Marino "brought me a river of publicity and the front page of That National Enquirer after suing me for using her material. It made my show and my career an overnight sensation. We settled and later became friends and still are to this day. If she hadn't sued me for $5 million, I might not still be impersonating her. Enquiring minds help keep my name on the marquee."

Marino has even had plastic surgery to make himself look more like the female comedian. He not only openly talks about it, but has even put together a videotape Bold, Blonde and Beautiful."In it I talk about everything from my plastic surgeries to making myself look like "Queen of Comedy" Joan Rivers.

Marino even has included dozens of makeup tips to make either men or women look like a supermodel.

The World of La Cage in which nothing is real is where men are transformed into some of the most famous, glamorous women in the world. They match their talents against the superstars with hilarious and dramatic singing and acting. It's an extremely unique and entertaining show.


SCHWARZENEGGER SHOPPING


Some stars go on shopping sprees spending thousands of dollars on clothes or jewelry. Arnold Schwarznegger buys games. Arnold, his wife, Maria Shriver and their son, stopped by the FAO Schwarz toy store in Las Vegas. Arnold spent over an hour in the game room and purchased over $1,000 worth of board games. He didn't buy just one of each game, but 5 or 6 copies of each selection Then he had everything shipped.

When Arnold noticed a store employee with an elastic surgical bandage around an ankle Arnold became extremely concerned and questioned the man about his injury. Finally, the employee had to confess that FAO Schwarz requires that all employees keep tattoos covered. The surgical bandage was to hide a tattoo. Arnold doubled up laughing.

SHELLEY WINTERS next Monday, Aug. 10, the two time Oscar winner is honored with the lifetime achievement award at the Hollywood Film Festival.

WON'T HAVE TROUBLE GETTING A GOOD TABLE Reality Daydreams,currently in its second week of a two week run at The Trilogy Theater in N.Y.was written by Michael Racancelli, the maitre d' of Elaine's.

COMEDIENNE and Saturday Night Live alumna Ellen Cleghorne, who currently can be seen in Touchstone's Armageddon as nurse Helga, takes center stage for seven nights at the Riviera Hotel, Las Vegas' Comedy Club, beginning Monday, Aug. 3.

Cleghorne burst into the national spotlight when she joined the cast of Saturday Night Live creating such memorable characters as Queen Shaniqua and the NBC page Zoriada, as well as hilarious portrayals of Whoopi Goldberg, Jocelyn Elders and Anita Hill.

STEVE MARTIN'S Picasso at the Lapin Agile is back in San Francisco with performances at Theatre on the Square

CATS opens August 25 at the San Jose, California Center for the Performing Arts. Run ends August 30.

ON FRIDAY admission is free to The Teen Idols starring Davy Jones of The Monkees Peter Noone, of Herman's Hermit's and Bobby Sherman. They'll be singing their hits on the Santa Cruz, Calif. Beach Boardwalk Bandstand. All shows feature an American Sign Language interpreter.

COMEDIAN MARTY ALLEN Comedian Marty Allen and his wife, singer Karon Kate Blackwell, found a way to beat the Las Vegas heat. They signed on to entertain on five, consecutive, week-long Princess line Alaskan cruises.


THIS AND THAT

PETER FONDA a Swatch watch collector and Gena Lee Nolin of Baywatch showed up in Las Vegas to attend the opening of the latest Swatch Store.

FX CABLE NETWORK needs contestants for a game show in development which Danny Bonaduce will host. It's called Splitsville. Call (212) 582-3529 for information.

OUR ROVING North Carolina correspondent Trudy Knight-Peek reports that the good folk of Lake Lure, North Carolina would like to stop a rumor that may be giving some film crews second thoughts about coming there to shoot. For the longest time a rumor has been circulating that the building where Patrick Swayze and Jennifer Grey had that famous love scene in Dirty Dancing had burned down The love scene wasn't that hot. The building that burned was the one next to it. The love scene cabin is still standing and available as a movie location rental..

OVER THE WEEK-END Lady Chablis, that sassy drag queen, who was in Midnight in the Garden of Good and Evil made the scene in Cincinnati. On Saturday Chablis was guest of honor at a $100 a person dinner at a mansion, which is really a private home to some rich folks. Then on Sunday Chablis helped with the T-shirt auction all benefiting AIDS. T-shirts auctioned off were autographed by Lauren Bacall, Liz Taylor, Bette Midler, John Travolta and Madonna. The price to attend the auction was $25, but you got in free if you anted up the $100 the night before.

RED FACED We are embarrassed and appreciate the people who have brought to our attention spelling/typing errors. A staff meeting was held. Everyone was sent to the optician. One got glasses. One got the power upper on the contacts. One poor soul was informed that a man named Edison had invented something called the light bulb, which should be turned on before attempting to proof-read. We shall try to improve.
Next Column: August 10, 1998
Copyright: August 3, 1998. All Rights Reserved. Reviews, Interviews, Commentary, Photographs or Graphics from any Broadway To Vegas (TM) columns may not be published, broadcast, rewritten, utilized as leads, or used in any manner without permission, compensation and/or credit.
---
Link to Main Page
---
Laura Deni




For the snail mail address, please E-mail your request.
CLICK HERE FOR COMMENT SECTION