Broadway To Vegas
  
 SHOW REVIEWS CELEBRITY INTERVIEWS GOSSIP NEWS

| | |
| --- | --- |
| | |
THE 1906 SF EARTHQUAKE ENRICO CARUSO WAS THERE - -BERKELEY REPERTORY THEATRE AND RITA MORENO - - ERIC CLAPTON TO RED SQUARE - - DAVID SCHWIMMER MAKES BROADWAY DEBUT IN THE CAINE MUTINY COURT-MARTIAL - - EDWARD ALBEE TO TEACH AT PRINCETON - - AUSTRALIAN OPERA CELEBRATES 50 YEARS - - AL PACINO IN SALOME - - BOOTS ON THE GROUND THE PLAY - - DONATE . . . Scroll Down


SHAKE, BAKE AND SPIN!


Almost a century before Hurricane Katrina ravaged New Orleans, one of the worst natural disasters in our nation's history devastated San Francisco. On April 18, 1906, at 5:12 in the morning, The Great San Francisco Earthquake "shook San Francisco like a wet dog," followed by a series of catastrophic fires that burned for three days and destroyed more than 500 blocks in the heart of the city.

The shock waves were felt as far east as central Nevada and from southern Oregon to Los Angeles. Even a century later, it is difficult to revisit this moment in San Francisco history. The quake, estimated at 7.9 to 8.25 on the Richter scale, and the firestorm that came on its heels destroyed 28,000 buildings. Although initial reports indicated 674 individuals were killed, historians going through city records years now have conservative estimates at more than 3,000 -- with some estimates as high as 6,000 -- mostly in the city of San Francisco. Between 225,000 and 300,000 people were left homeless with property damage estimated then at $400 million (about $8.2 billion in today's dollars).

Mayor Eugene Schmitz issued a shoot to kill order which stated; "The Federal Troops, the members of the Regular Police Force and all Special Police Officers have been authorized by me to KILL any and all persons found engaged in Looting or in the commission of Any Other Crime."

A century later, San Francisco is remembering the 1906 earthquake and fire with commemorations, celebrations and educational programs.

More than 50,000 spectators and survivors are expected to attend with as many as 22 survivors having been identified; more than a dozen from all over the U.S. have indicated a desire to participate in the ceremonies.



Enrico Caruso. Photo from Enrico Caruso Museum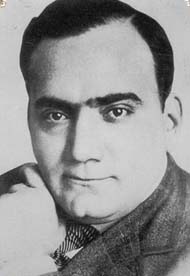 An eye witness to the horrific event was singer Enrico Caruso, (1873 - 1921) considered by many music lovers to be the greatest operatic tenor of all time. Perhaps best known as the leading male singer at the Metropolitan Opera in New York for seventeen years, he was on tour in San Francisco during the Great Earthquake, and appeared in Carmen at the Mission Opera House a few hours before the disaster.

On display at the Museum of the City of San Francisco is this somewhat disjointed narrative of Caruso's experiences in San Francisco which appeared in The Sketch, published in London, with drawings by Caruso to illustrate his experiences. The article was reprinted in the July 1906 edition of The Theatre magazine.

"You ask me to say what I saw and what I did during the terrible days which witnessed the destruction of San Francisco? Well, there have been many accounts of my so-called adventures published in the American papers, and most of them have not been quite correct. Some of the papers said that I was terribly frightened, that I went half crazy with fear, that I dragged my valise out of the hotel into the square and sat upon it and wept; but all this is untrue. I was frightened, as many others were, but I did not lose my head.

Wreckage of the Palace Hotel where Caruso was staying. View is along New Montgomery Street between Jessie - behind the Palace Hotel - and Mission Street. Horse is covered with a blanket which reads "Safes Opened." Men in front are by a shanty constructed of bricks and tin recovered from the rubble. Photo San Francisco Museum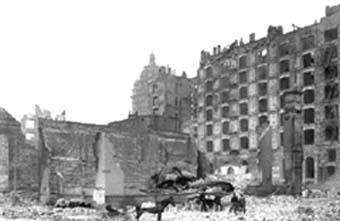 I was stopping at the [Palace] Hotel, where many of my fellow-artists were staying, and very comfortable it was. I had a room on the fifth floor, and on Tuesday evening, the night before the great catastrophe, I went to bed feeling very contented. I had sung in "Carmen" that night, and the opera had one with fine eclat. We were all pleased, and, as I said before, I went to bed that night feeling happy and contented."

"But what an awakening! You must know that I am not a very heavy sleeper—I always wake early, and when I feel restless I get up and go for a walk. So on the Wednesday morning early I wake up about 5 o'clock, feeling my bed rocking as though I am in a ship on the ocean, and for a moment I think I am dreaming that I am crossing the water on my way to my beautiful country. And so I take no notice for the moment, and then, as the rocking continues, I get up and go to the window, raise the shade and look out. And what I see makes me tremble with fear. I see the buildings toppling over, big pieces of masonry falling, and from the street below I hear the cries and screams of men and women and children."

"I remain speechless, thinking I am in some dreadful nightmare, and for something like forty seconds I stand there, while the buildings fall and my room still rocks like a boat on the sea. And during that forty seconds I think of forty thousand different things. All that I have ever done in my life passes before me, and I remember trivial things and important things. I think of my first appearance in grand opera, and I feel nervous as to my reception, and again I think I am going through last night's Carmen.

"Then my valet succeeds in getting a man with a cart, who says he will take us to the Oakland Ferry for a certain sum, and we agree to his terms. We pile the luggage into the cart and climb in after it, and the man whips up his horse and we start."

"We pass terrible scenes on the way: buildings in ruins, and everywhere there seems to be smoke and dust. The driver seems in no hurry, which makes me impatient at times, for I am longing to return to New York, where I know I shall find a ship to take me to my beautiful Italy and my wife and my little boys."

"When we arrive at Oakland we find a train there which is just about to start, and the officials are very polite, take charge of my luggage, and tell me go get on board, which I am very glad to do. The trip to New York seems very long and tedious, and I sleep very little, for I can still feel the terrible rocking which made me sick. Even now I can only sleep an hour at a time, for the experience was a terrible one."
The Sketch, London
reprinted in The Theatre
Vol. VI., No. 65, July 1, 1906.

To mark the centenary eve of the 1906 Earthquake, on Monday, April 17, the California Historical Society presents a 1906 Concert and Sing-Along: A Caruso Memory, with selections from the Bizet opera Carmen, as presented on April 17, 1906 by the great tenor in his final concert ever in San Francisco.

Historic songs of the period and selections from Carmen will be performed by members of San Francisco's Pocket Opera, Matthew O'Neill, San Francisco Opera Adler Fellow, San Francisco Opera star Sheri Greenawald.

Laura Ricci will perform an excerpt from SFPALM's Amazing Theatre Trunk Show, and the evening will feature other special "surprise" appearances. Piano accompaniment will be provided by Mark Morash, Music Director for San Francisco Opera Center. Emcee for the concert is long-time Bay Area radio personality Alan Farley of KALW.

The San Francisco Fire Department Historical Society will present The 1906 Great Earthquake & Fire Exposition on April 15, 16 & 17, on San Francisco's Pier 48.

The three days of activities surrounding the exposition will include historical exhibits with vintage fire apparatus, historical artifacts & photographic displays, fireboat tours, safety & preparedness exhibits & displays.

An old-time Firefighter's Muster with competitive games in bucket brigades, hose cart races, hand-operated fire pumps from the 1800's, and horse drawn steam fire engines in operation just like they were 100 years ago.

The exposition will also feature two stages of live entertainment, and the Firefighter's Ball on Saturday night, April 15, with a turn of the century costume contest. A highlight of the three-day Expo will be an historic firefighter muster with bucket brigades, hose cart races, hand-operated fire pumps from the late 19th century, a steamer operation, horse-drawn pumps, and a 65' ladder raise.

"Apart from the amazing exhibits and great entertainment that will be on hand, we want to use this opportunity to educate the public in case of another earthquake," Fire Chief Hayes-White stated. "The exposition will commemorate the tragic events of 1906, celebrate the rebirth of our beautiful city, as well as educate the public about disaster preparedness."

Saturday, April 15 will include the Opening Ceremony, featuring political and civic VIPs complete with ribbon-cutting and a rousing song from San Francisco soprano, Nicolle Foland, current diva from Teatro ZinZanni.



High Pressure Battery #3. In 1895 Henry H. Gorter, a machinist at the City's Central shops, first designed and built this type of horse-drawn high pressure Battery Wagon. Water is supplied to this battery through six 3" inlets. The SFFD had three of these batteries in service during the 1906 Fire, at which time one unit was destroyed. Photo San Francisco Fire Department Museum.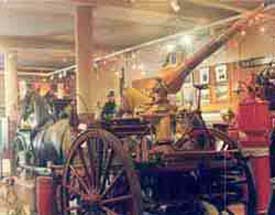 That evening a special 1906 Expo Firefighter's Ball will be held on Pier 48 to benefit the SF Fire Department Historical Society. The public is invited to attend this festive dance, which includes a period costume contest. Entertainment will include the acclaimed violinist Dick Bright and his SRO Orchestra.

Entertainment will be provided on Saturday, April 15 by the Barbershop Quartet Harmony Express, The Golden Gate Park Band, and the rockabilly band Los Tres Borrachos. On Sunday, April 16, the public will be treated to Dixieland and Swing by Brassworks Music, dancing by The Barbary Coast Cloggers, and the music of The American Ragtime Ensemble as well as Generation Blue. On Monday April 17, the focus will be on education. A special roster of entertainment is being planned specifically for the younger set.

On Tuesday, April 18, the exact date of the 1906 Earthquake, the 1906 Earthquake and Fire Parade with 60 contingents including several vintage fire-fighting vehicles, will conclude with additional live entertainment and historic displays.

In the immediate aftermath of the Great Earthquake and Fire of 1906, San Francisco city officials and business leaders became concerned that the extensive international coverage and reaction to the disaster threatened the city's future prosperity. "Shake, Bake and Spin! San Francisco and the Media in the Aftermath of the 1906 Earthquake and Fire" uses historic documents, retrieved relics, photographs, newspapers, and film to examine the repackaging and reselling of the events of April 18, 1906 to accommodate commercial interests and stem the outflow of residents and capital. The exhibition further investigates the role of the media in containing the impact of the disaster, protecting property, sustaining morale, and refocusing attention on the rebuilding of the city.

This display opens April 12 continuing through December 8 at the Society of California Pioneers Museum.


ART AND ABOUT


OPERA AUSTRALIA'S 50TH ANNIVERSARY will be celebrated at Buckingham Palace on Tuesday April 11th with Prince Charles and Camilla, the Duchess of Cornwall attending a Gala recital and dinner. The previous day they will have celebrated their own wedding anniversary.

For those not invited to either party, you can experience the passion and splendor of opera as the George Adams Gallery at the Arts Centre in Melbourne, Australia has come alive with the opulence, grandeur and beauty of opera through a display of fine costumes, set models, props and photographs in Bravo!, an exhibition to celebrate the Opera Australia's 50th anniversary.

Drawing from the Arts Centre's Performing Arts Collection and Opera Australia's archives. Bravo! takes a close-up look at productions that have shaped Australia's national opera company. It's almost impossible to choose from the huge range of treasures created for stage over the last fifty years, but the exhibition includes costumes worn by Dame Joan Sutherland and set model boxes from past and present productions including Elijah Moshinsky's La Traviata (which opens in Melbourne on April 20), Batavia, The Marriage of Figaro, The Mikado and La bohème.

Margaret Marshall, curator of the Performing Arts Collection in the Arts Centre, is curating Bravo! Her task has been to search through reference photos, archival material and the Opera Australia warehouse in Blacktown, NSW, where the vast collection of costumes, props and sets are stored.

There seems to be something for everyone - from a lovely Joan Carden Marriage of Figaro gold costume to one of the cactus costumes from Love for Three Oranges.

The exhibit features seven areas. One is Favorite Operas and that includes things like La Traviata, The Marriage of Figaro. Then there is Operettas and Musicals. Operas represented include; The Mikado, The Merry Widow with Joan Sutherland, Fiddler on the Roof and Sweeny Todd. There's Early Music Operas, Twentieth Century Operas, one called New Visions which is looking at how things are reworked, looking at La bohème and Nabucco in three different versions. And finally Australian works and a section on OzOpera.

Brave! opened April 7 at the George Adams Gallery and continues through July 2.

RICHARD GOODE

Richard Goode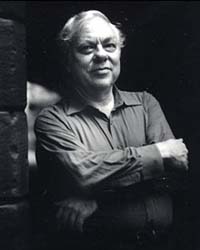 62, is the inaugural winner of the $50,000 Jean Gimbel Lane Prize in Piano Performance from the Northwestern University School of Music in Evanston, Ill.

The biennial award was established in 2005 to honor pianists who have achieved the highest levels of national and international recognition.

Goode, a New York native, has been hailed worldwide for music making of tremendous emotional power, depth and expressiveness. He is internationally recognized as one of today's leading interpreters of Beethoven.

In addition to receiving a $50,000 cash award, the Jean Gimbel Lane Prize winner spends two to three non-consecutive weeks in residency at the School of Music engaging in master classes, chamber music coaching and lecturing. He or she also performs a public recital during one of the residency weeks. Goode's initial Northwestern residency will take place the week of March 6-9, 2007, with a public recital scheduled for March 9, at Pick-Staiger Concert Hall on the University's Evanston campus.

Among Goode's other prizes are the Avery Fisher Prize, First Prize in the Clara Haskil Competition and a Grammy Award with clarinetist Richard Stoltzman. Goode has appeared with all the major American and European orchestras and performs regularly at the Edinburgh International Festival and BBC Proms, an annual music festival of promenade concerts in London.

MICHAEL BUBLÉ the internationally acclaimed singing sensation, emerged as the big winner at The 2006 JUNO Awards, Canada's Music Awards, equivalent to the Grammys. In total, Bublé was honored with four awards – including Single of the Year, Album of the Year, Artist of the Year and one for Pop Album of the Year.

Delivering a show stopping performance, Vancouver native, Bublé has been on a whirlwind ride that has taken him on sold-out headlining tours to four different continents. ( See Broadway To Vegas column of February 19, 2006 ) His self-penned single Home has the distinction of being the most-heard song on Canadian radio in 2005, reaching an estimated audience in excess of 382 million.

EDWARD ALBEE 78, the award winning playwright has been named the first recipient of the Princeton University/McCarter Theatre Playwriting Fellowship.

The new theatrical initiative, funded by the Ford Foundation, will bring Albee to campus for several months beginning in fall 2007. While in residence, he will create a major new work that will be produced by McCarter. He also will teach in Princeton's Program in Theater and Dance.

Albee is no stranger to Princeton's campus. He spent a short time on campus during the 1991-92 academic year as a Belknap Visitor through the University's Council of the Humanities. In 2002, he collaborated with McCarter Theatre Artistic Director Emily Mann on the production of his play, All Over, and gave an address as part of the University's Public Lecture Series.

MONDAY NIGHT LEAR produced in association with the Stage Directors and Choreographers Foundation. Monday Night Lear showcases a distinguished company of seasoned actors and directors as they work their way through Shakespeare's masterpiece, exploring an act an evening for four Monday nights. Become part of the discovery process, experience different Lears, interpretations, directorial approaches, and reconnect with this great work of Western literature. Philip Bosco is featured on April 17. Classic Stage Company in NYC.

THE MANHATTAN ASSOCIATION OF CABARETS & CLUBS 20th Annual Awards Show on Monday, April 17, at the Tribeca Performing Arts Center will honor legendary jazz trumpeter Clark Terry with MAC's Lifetime Achievement Award - in addition to the previously-announced Betty Buckley, Donald Smith and Sheila Jordan. Mr. Terry, who will be honored for his 60+ year career as one of the leading jazz artists in our country, will also perform at the 20th Annual MAC Awards along with fellow Lifetime Achievement honorees. Cabaret impresario Donald Smith will also receive MAC's Lifetime Achievement Award and Phoebe Snow will be honored with MAC's Board of Directors Award.



Broadway To Vegas is supported through advertising and donations. Priority consideration is given to interview suggestions, news, press releases, etc from paid supporters. However, no paid supporters control, alter, edit, or in any way manipulate the content of this site. Your donation is appreciated. We accept PAYPAL. Thank you for your interest.


OTHER PEOPLE'S MONEY


MILLION DOLLAR BABY is what Julia Roberts is being called. She's making her Broadway debut in Three Days of Rain. In the first week of previews the production, which also stars Paul Rudd and Bradley Cooper, grossed $988,298 according to figures released last Monday by the League of American Theatres and Producers. Written by Richard Greenberg, the production officially opens April 19 at the Bernard B. Jacobs theatre.


SPREADING THE WORD


NEW DRAMATISTS IN NEW YORK members past and present read from their plays and discuss the role of the dramatist in contemporary American theater. Mon, Apr 17, Steinhardt Building in NYC.

The playwrights' organization New Dramatists has helped shape the careers of numerous celebrated writers. Its members have included Nilo Cruz, Paddy Chayefsky, Richard Foreman, John Guare, William Inge, Romulus Linney, Donald Margulies, Suzan Lori-Parks, John Patrick Shanley, Paula Vogel and August Wilson.

WOLE SOYINKA the Nigerian playwright and poet makes a rare U.S. appearance, Monday, April 17, at the Kaufmann Concert Hall in NY, part of the 92nd Street Y.

In works such as Poems from Prison, The Invention, A Dance of the Forests, Death and The King's Horseman and The Beatification of Area Boy, this Nobel Prize winner has, in the words of Stanley Meisler, "challenged the West to broaden its aesthetic and accept African standards of art and literature…[and] challenged Africa to…reject the tyranny of power practiced on the continent by its colonizers and by many of its modern rulers."

DAVID KENNEY'S EVERYTHING OLD IS NEW AGAIN this evening, April 9, features an in studio interview with Karen Akers who is currently performing in Manhattan at The Algonquin Hotel's Oak Room.

Everything Old Is New Again can be heard every Sunday 9-11 PM (ET) over WBAI 99.5 FM.



THE CAINE MUTINY COURT-MARTIAL by Herman Wouk, the Pulitzer Prize-winning author. Directed by four-time Tony winner Jerry Zaks with a star-spangled cast of twenty, led by David Schwimmer in his Broadway debut as Lieutenant Barney Greenwald, Tony Award nominee Željko Ivanek as Captain Queeg and Tim Daly as Lieutenant Commander John Challee.

Heralded as both a landmark courtroom drama and a groundbreaking glimpse at the human side of war, The Caine Mutiny Court-Martial is the gripping account of naval officers on trial for conspiring a mutiny. It's about duty, about decency, about deception and about deciding the difference between them.

Originally published as a novel in 1951, The Caine Mutiny won Herman Wouk the Pulitzer Prize, became his first bestseller and has since gained the status of a modern American classic. The initial Broadway production mounted in 1954, written by Wouk, ran for over a year, starring Henry Fonda and Lloyd Nolan. That same year, the novel was adapted (separately) into a very successful movie starring Humphrey Bogart.

Sets by John Lee Beatty. Lighting by Paul Gallo. Costumes by William Ivey Long. Sound by Peter Fitzgerald. The first major revival in twenty-five years begins previews April 14 at the Schoenfeld Theatre - the same venue where the show was originally staged over 50 years ago.

PHAEDRA Originally written by Euripedes, the script has been updated by playwright of the moment Frank McGuiness. The eponymous Phaedra will be played by Claire Higgins who won an Olivier for her last performance as a Greek heroine.

Tom Cairns directs a cast which, in addition to Higgins, includes; Linda Bassett, Sean Campion, Michael Feast, Lucy-Anne Holmes, Paul Nicholls, Marcella Plunkett, Janet Whiteside.

The King is missing, presumed dead. His warrior son is braced for inheritance but is betrayed by his heart. Phaedra, the tormented Queen has a terrifying secret that will shake Athens to its core.

Creative Team: Set Designer Tom Cairns. Costume Designer Amy Roberts. Lighting Designer Bruno Poet. Sound Designer Christopher Shutt. Video Designer Lorna Heavey.

Began previews April 6 at the Donmar Warehouse in London.

AFTER ASHLEY a new play by Gina Gionfriddo, directed by Anthony Powell.

What happens when a young man's personal tragedy lands him squarely in the harsh glare of daytime talk shows and the twenty-four-hour news cycle? Reality TV suddenly becomes darkly surreal as the actual consequences of fifteen minutes of fame come vividly to life in After Ashley,

Poor Justin just can't deal with his hippie mother's frank sex talks. Fast forward three years and Justin can barely cope with life much less his fame as "The 911 Kid" while his father writes a bestseller and lands a cable TV show. After Ashley is a scathing satire on the media's exploitation of victims and violence.

Previews began April 6 with performance through June 3 at The Ricketson Theatre, Denver Center for the Performing Arts.

BERKELEY REPERTORY THEATRE AND RITA MORENO announce night/OUT, an event for the lesbian, gay, bisexual, and transgender community. The evening starts with a breathtaking performance by the legendary actress Rita Moreno in The Glass Menagerie, and the festivities continue late into the night.

Expect an unforgettable performance from the woman who won the Oscar, the Tony, the Grammy and two Emmys. Tennessee Williams' autobiographical masterpiece about Amanda and her fractured family is a tale of endurance and forgiveness, a young man is torn between obligation to his family and the need to lead a life of his own. Williams called this his "memory play," and its expressionistic beauty illuminates the subjective nature of memory. For Amanda, it serves as a refuge; for her son, it's a prison he will never escape.

Post-Play Party - Features gourmet hors d'oeuvres from Venus Restaurant; complimentary wine, beer, and other beverages; and music mixed by a cutting-edge Bay Area DJ. Admis­sion to the party is free with a ticket to that evening's performance Thursday at the Thrust Stage in San Francisco.

SALOME stars Al Pacino. which we viewed when Pacino - who pronounced it (Sal-O-May) did it the first time in a turn at Circle in the Square in New York City. That was in May, 1992. That was directed by Robert Allan Ackerman and also starred Suzanne Bertish, Sheryl Lee, Esai Morales and Arnold Vosloo.

Pacino reprises the part - this time with Kevin Anderson and Jessica Chastain in a re-worked presentation with music of Oscar Wilde's masterpiece at the Wadsworth Theatre for 26 performances only, April 14 to May 14.

Presented as it was on Broadway in spring, 2003, it will again be directed by Estelle Parsons with original music by Yukio Tsuji.

A dramatic production based on the biblical tale of lust and revenge, Oscar Wilde's Salome draws the audience into a decadent world of passion and betrayal. Salome follows the legend of King Herod and his unbridled desire for Salome, the young daughter of his wife, Herodias. Salome, indifferent to Herod's advances, longs for the love of the imprisoned John the Baptist. When he rejects her, she uses her powers of seduction and manipulation - and the Dance of the Seven Veils - to seek her revenge.

This production of Salome was developed at the Actor's Studio where Estelle Parsons is the Artistic Director and was presented at St. Ann's Warehouse in Brooklyn (November 2002), at the Bardavon 1869 Opera House in Poughkeepsie, NY (February 2003), and on Broadway at the Ethel Barrymore Theatre (April, 2003).

SLAVA'S SNOWSHOW Produced by David J. Foster and Ross Mollison by arrangement with SLAVA and Gwenael Allan.

Audiences in over 80 cities around the world have seen the internationally acclaimed Slava's Snowshow, winner of the Olivier Award in London for Best Entertainment.

Created by Slava - considered by many to be the world's greatest clown - Slava's Snowshow is a magical theatrical experience that melds the unbridled hilarity—and the unexpected poignancy—of the art of clowning with stunning spectacle and awe-inspiring visual images and fantasy, culminating in a blinding, heart-stopping snowstorm that engulfs the entire audience.

April 11- May 7 at the Golden Gate Theater in San Francisco.

BOOTS ON THE GROUND presents true stories. Conceived/Written by Laura Kepley and D. Salem Smith.

A new play created to focus head-on with an issue facing Rhode Island: putting our neighbors' points of view on stage and inspiring dialogue.

(NOTE: Actually, it could be any state. ( See Broadway To Vegas column of December 5, 2004 ) This play just happens to be based in Rhode Island.) After informal polling of Rhode Islanders to find out what was on their minds (the topics ranged from healthcare to education, the environment, the Station fire to the Cornell Young case), they found that the war in Iraq came to the forefront of everyone's conversations.

Nearly 70 soldiers and their families, medical workers, journalists, ministers, and teachers were then interviewed. All of those we spoke to shared stories of courage, sacrifice, and dedication - in Iraq and here at home. Boots on the Ground is the 90-minute play built from their words, recorded in nearly 200 hours of interviews.

Compassion, humor and hope are at the core of their stories, which cross political, religious, and socio-economic lines to present all sides. True stories. Rhode Island voices. If you think the war in Iraq doesn't affect the Ocean State, listen to your neighbors.

April 14 – May 21 at Trinity Repertory in Providence, RI.



WHO'S WHERE


ERIC CLAPTON will perform a final, historic show on August 3, in Red Square, Moscow. The Russian date wraps up the tour which begins May 5 in France and will travel through 14 countries.

This will be the first time Clapton has performed in Red Square, following in the footsteps of major artists such as Paul McCartney, Placido Domingo and Luciano Pavarotti who have all performed in the famed location, in addition to last year's historic Live 8 concert.

The Red Square show will feature The Robert Cray Band as support act as well as the tour band which consists of: Eric Clapton, Guitar, along with Doyle Bramhall II and Derek Trucks also on Guitar, Chris Stainton and Tim Carmon on Keyboards, Willie Weeks on Bass, Steve Jordan on Drums, The Kick Horns: Simon Clarke, Roddy Lorimer, and Tim Sanders on Brass, and backing vocals by Michelle John and Sharon White.

PAUL ANKA opens a three night engagement Friday at the Borgata Hotel in Atlantic City.

LEON REDBONE is in Minnesota this week. She's on stage Thursday, April 13 at the Fergus Theatre in Fergus Falls. Friday finds him at the Paramount Theatre in Saint Cloud and on Saturday the performance is at the Performing Arts Center in Cambridge.

MICHAEL BUBLE stars at the Chrysler Hall in Norfolk, VA on Tuesday, April 11. On Wednesday he'll be delighting fans at Memorial Auditorium in Raleigh, NC. Friday the show is at the Palace Theatre in Columbus, OH and on Saturday the standing ovations will take place at the Fox Theatre in Detroit.

LEANN RIMES on stage Tuesday, April 11 at the Fox Theater in Bakersfield, CA. Thursday finds the singer at the Chumash Casino in Santa Ynez, CA. On Friday she'll be singing at the Cow Palace in San Francisco and on Saturday she's in the spotlight at the Star of the Desert Arena in Primm, NV.

CHICK COREA opens a six night engagement at the Blue Note in New York City on Tuesday, April 11.

RONAN TYNAN the famed Irish tenor knows how to get in free to ball games. On April 11 he'll sing the National Anthem at the Yankees Season Opener. Then on April 16 he performs at the Buffalo Sabres game in Buffalo, NY.

STILL IN LOVE - MEG MACKAY AND BILLY PHILADELPHIA in their cabaret show featuring many of legendary Cole Porter's well known songs. Through April 23 at the New Conservatory Theatre in San Francisco.

MEGON McDONOUGH with Stef Scaggiari on piano. This inaugural member of the Four Bitchin' Babes will perform her own songbook, as well as tunes from her Always Patsy Cline show. April 13 at The Barns, Wolftrap in Vienna,VA.

MAYNARD FERGUSON AND THE BIG BOP NOUVEAU BAND on stage Monday, April 10 at the High School in Manchester, CT. On Wednesday they can be enjoyed at the Casino Theatre in Vandergrift, PA. Saturday finds the group at the Company Theatre in Norwell, MA.

LYNYRD SKYNYRD performs Thursday, April 13 at the Convention Center in Hot Springs, AR. On Friday the group is on stage at the Music Hall of Fame in Tuscumbia, AL. Saturday the show is at the Heritage Motorcycle Rally in Ladson, SC.

ELVIS COSTELLO entertains Tuesday, April 11 at the Bass Concert Hall in Austin, Texas. On Thursday he's in the spotlight at Jones Hall in Houston, Texas.

JERRY SEINFELD telling funny stories Friday, April 14, at the Palace Theater in Myrtle Beach, SC. On Saturday he'll be getting laughs at the Fox Theatre in Atlanta, GA.


FINAL OVATION


GENE PITNEY 65, the performer and songwriter of such hits as Town Without Pity and 24 Hours From Tulsa was found dead Wednesday at the Hilton Hotel in Cardiff, Wales after having performed the previous day. Pitnet, who was inducted into the Rock & Roll Hall of Fame in 2002, was on tour. He had a full week ahead of him, set to be on stage Tuesday, April 11 in Newcastle, UK at City Hall followed by a Wednesday appearance at Bridgewater Hall in Manchester, UK. On Friday he was slated to star in Blackpool, UK at the Opera House with a Saturday show in Buxton, UK at the Buxton Opera House. Next Sunday he was contracted to sing his hits in Llandudno, UK at the North Wales Theatre & Conference Centre.

In apparent good health, his death came as a shock.

South Wales police said they had been called to a hotel at 9:50 a.m. on Wednesday morning and that the death was not being treated as suspicious. Pitney was born in Hartford, Connecticut, on February 17, 1941. His 40-year career included hits such as It Hurts to Be in Love, (The Man Who Shot) Liberty Valance, Every Breath I Take, Town Without Pity, Only Love Can Break a Heart and I'm Gonna Be Strong.

As a songwriter Pitney penned the Crystals' No. 1 hit, He's a Rebel, Rick Nelson's Hello Mary Lou and Bobby Vee's Rubber Ball.

Pitney is survived by his wife, Lynne, and three sons, David, Todd and Chris.

JOSEPH BERNARD 82. who first performed on Broadway in The Rat Race in 1949 and was best known for being Jerry Lewis' acting coach, died April 3 in New York City while coaching Lewis for his guest role on Law & Order SUV. Bernard, who ran a highly regarded acting school in Las Vegas, also coach Lewis for his Broadway debut in Damn Yankees.

Brooklyn born Bernard studied acting with Marlon Brando at the New School in New York City with legendary acting coach Stella Adler. Bernard spent 11 years as executive director and teacher at the Lee Strasberg Theater Institute in Hollywood. He moved to Las Vegas in 1979. With numerous Broadway, television and movie credits he seemed happiest when coaching others and reveled in their accomplishments.

A widower, Bernard is survived by a son and daughter.
















Next Column: April 16, 2006
Copyright: April 9, 2006. All Rights Reserved. Reviews, Interviews, Commentary, Photographs or Graphics from any Broadway To Vegas (TM) columns may not be published, broadcast, rewritten, utilized as leads, or used in any manner without permission, compensation and/or credit.
Link to Main Page
---
Laura Deni


CLICK HERE FOR COMMENT SECTION