! >
Broadway To Vegas
  
  REVIEWS INTERVIEWS COMMENTARY NEWS

| | |
| --- | --- |
| | |
END OF THE RAINBOW CD REVIEW - - AN EXPENSIVE TOAST TO QUEEN ELIZABETH - - JERRY LEWIS ONE STEP CLOSER TO DIRECTING BROADWAY - - ART AFFAIR EXPLORES THE ORIENT - - THE GRAMMY FOUNDATION PRESENTS GRANTS - - MAGIC JOHNSON TO HOST TALK BACK - - L.A. THEATRE WORKS BROADCASTS IN CHINA - - SPIDER-MAN ACTOR SWINGS CHARGES - - DONATE . . . Scroll Down


Copyright: April 8, 2012
By: Laura Deni
CLICK HERE FOR COMMENT SECTION

TRACIE BENNETT WILL FIND THE POT OF GOLD AT THE END OF THE RAINBOW

The exceptional talent known as Tracie Bennett - Broadway's break-out star of this season. She's currently starring on Broadway as Judy Garland in End of the Rainbow, the tragic drama with music recounting of the days preceding the 1969 drug overdose death of Garland at the age of 47.

Last week Masterworks Broadway released a CD with the same title. However, this is neither an original cast album of the original West End mounting, nor the Broadway production at the Belasco Theater.

Rather, it is described as "songs from the Broadway production and other Garland classics."

The must have reason to add this CD to your collection is the English TV and Olivier winning stage actress Tracie Bennett, who brings to the Broadway stage her star turn as Judy Garland, the role she created in London.

Her vocal ability to capture the essence of Garland translates the stage performance to the CD.

Hers is a name those on this side of the pond might not immediately recognize, though she deserves to be remembered.

The petite blonde beauty appeared in She Loves Me at the Savoy Theatre in 1994, for which she won the Olivier Award as Best Supporting Performance in a Musical. She played Ida in Honk!, which won the 2000 Olivier Award for Best Musical.

In 2003, she was critically acclaimed for her role in the London production of High Society, and for which she was nominated for an Olivier Award in 2004. In January 2006, Bennett joined the West End production of Les Miserables in the role of Madame Thénardier at the Queen's Theatre, which she continued to play to July 2007.

In October 2007, she began her run in the role of Velma Von Tussle in the London premiere of the musical Hairspray at the Shaftesbury Theatre. While her wig transformation into Judy Garland isn't as difficult as the costuming for Velma Von Tussel, in which the wiring under her wig weighed 10 pounds, taking on he persona of the musical icon known as Garland is daunting.


Tracie Bennett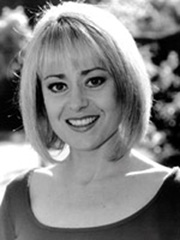 Bennett pulls it off.

There have been many who have done impressions of Judy Garland - perhaps the most famous being Jim Bailey who, for decades, headlined in Las Vegas delivering Garland during her vocal heyday.

In End of the Rainbow Garland is portrayed during the final months of her tortured life.

There is the frenetic, desperate Come Rain or Come Shine, with hyperactive bongos indicative of the Ritalin that Garland so craved. The listener can feel the twitches, her frequent hair tugging, that restless strutting, which consumed Garland's performances.

Smile is delivered with an emotional punch while Me and My Gal is reminiscent of the presentation in Easter Parade.

Just In Time is soft and soulful. You Made Me Love You and By Myself shows Garland's depressing, desperate sadness, as does The Man That Got Away. When You're Smiling in which Bennett as Garland is singing about a condition she's been told about but not often experienced, leads into the hilarious but seldom sung verse. Of course there is Garland's signature song, Over the Rainbow.

In her downward spiral, Garland wasn't noted for hitting and holding a note in a pure clear sound. Rather, it was a jagged edge - sometimes desperate sound - as her booze and drug infused vocal cords and nervous system re-wrote the musical charts. Bennett has the chops. She's impressive with that jagged edge, nervous delivery and displays the Garland emotional gamut in this offering.

Recorded at Angel Studios by Steve Price, mixed by Trystan Francis at Vivace Music Studio, mastered by Nigel Palmer at Lowland Masters.

Musical arrangements by Chris Egan. Conducted by Gareth Valetine. Orchestral contractor Andy Barnwell.

Mike Smith; drums - Andy Past; double bass - Adam Goldsmith; electric and acoustic guitars - Chris Egan; piano, keyboards - Mike Lovatt and Pat White; trumpets - Andy Wood; trombone - Howard McGill and James Talbott, woodwinds - Robert Atchison, Julian Trafford, Laura Melhuish and Jayne Harris; violins.

I Can't Give You Anything But Love/Just In Time
I Could Go On Singing
Smile
Medley: The Bells Are Ringing For Me And My Gal/You Made Me Love You/The Trolley Song
Zing Went The Strings Of My Heart
Man That Got Away
Come Rain or Come Shine
When You're Smiling
Somewhere Over The Rainbow
San Francisco
When The Sun Comes Out
Get Happy/By Myself.





Broadway To Vegas is supported through advertising and donations. Priority consideration is given to interview suggestions, news, press releases, etc from paid supporters. However, no paid supporters control, alter, edit, or in any way manipulate the content of this site. Your donation is appreciated. We accept PAYPAL. Thank you for your interest.



ART AND ABOUT


2nd ANNUAL ART AFFAIR: EXPLORE THE ORIENT

Vendor Okimono, carved ivory, from Treasures of the Chrysanthemum Throne: Bronzes, Porcelain and Ivory from the Meiji Empire.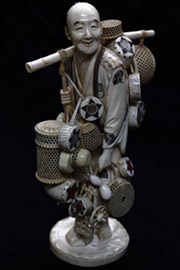 will be held at the Museum of Arts & Sciences in Daytona Beach, Florida on April 14.

This year, their signature event celebrates the opening of Treasures of the Chrysanthemum Throne: Bronzes, Porcelain & Ivory from the Meiji Empire.

Patrons are promised delicious Asian cuisine, silent auction, musicians and a traditional Chinese Lion dance.

A special VIP reception for event patrons and sponsors preceds the evening.

Treasures of the Chrysanthemum Throne: Bronzes, Porcelain and Ivory from the Meiji Empire features exquisite Japanese bronzes, intricate yet delicate ivories and glorious porcelains in the important exhibition.

Each carefully selected artwork is of the highest quality and were created during the progressive reign of Mutsuhito, the Meiji Emperor, who ascended the Japanese throne in 1867 at the age of fifteen and ruled with the aid of Samurai advisors until his death in 1912.

In addition to the Meiji Empire exhibit, guests can explore the rest of the MOAS Chinese artworks collection, which are housed in a specifically designed gallery. Additionally, within the Helene B. Roberson Visible Storage Building are intricately embroidered Chinese robes.

The history of astronomy in China will come alive in the planetarium and guests may also participate in a silent auction fundraiser.

The Meiji Empire is on display April 13, 2012 - June 10, 2012 at the MOAS in Daytona Beach, Florida.

WHAT WE WORE AND WHY WE WORE IT This four-part series of lectures will trace the morphing silhouette of fashion from the mid-century to the present day, led by author of The Chronology of Fashion, N.J. Stevenson.

Every Thursday evening for four weeks beginning April 19 with 1947- 1960 The New Look. How the silhouette of a decade was born in a moment when one man revitalized the spirit of fashion

Lecture 2: 1960-1969 The Swinging Sixties is slated for April 26. How the youthquake generation found themselves.

Lecture 3: 1969-1985 From Glam to New Romance is scheduled for May 3. How the 70s was a dressing up box of escapism.

Lecture 4: Retro & Revolution takes place May 10. How the fashion cycle became a well-oiled machine.

All programs take place at the Fashion and Textile Museum in London.

ALL HANDS ON DECK: REMEMBERING THE TITANIC (1912-2012) On April 15, 2012, the RMS Titanic tragically sank in the North Atlantic Ocean.

In honor of the 100 years which have passed, All Hands on Deck: Remembering the Titanic (1912-2012), curated by New York City Library for the Performing Art's (LPA) Music Division, exhibits items from their collections to commemorate the Titanic's voyage, its passengers, artists and its memory.

Items include sheet music of songs performed on the ship and written in its honor, as well as photos from the films Titanic (1953) and A Night to Remember (1958).

In conjunction with the exhibit and using materials from The Library for the Performing Arts' collections, LPA will present a concert titled The Titanic (1912-2012): Remembering the Era, the Music and the Musicians, on May 5, 2012.

Vocalists Constance Green, Ellen Lang and Irwin Reese are joined by musicians to recreate the music performed on board the ships and popular songs of the era.

All Hands on Deck: Remembering the Titanic (1912-2012) is on display in the 3rd floor reading room through Labor Day.


SWEET CHARITY


BAM'S 150th ANNIVERSARY GALA begins with cocktails and dinner, followed by a concert featuring New Orleans legend Dr. John and special musical guests, including the Dirty Dozen Brass Band, Irma Thomas, and Ivan Neville.

The revelry continues late into the night at the Bourbon Street After Party. The full evening includes cocktails, dinner and performance. April 12 at the Brooklyn Academy of Music in Brooklyn, NY.


JERRY LEWIS ONE STEP CLOSER TO DIRECTING THE NUTTY PROFESSOR ON BROADWAY


Some thought it was a nutty idea.

Jerry Lewis, who celebrated his 86th birthday last March 16, determined to direct on Broadway. And, not just any old show, but a musical version of his classic movie The Nutty Professor.

Lewis has been promising to mount the movie to stage production for several years. He's also experienced the typical trials and tribulations of false starts associated with bringing anything to the stage.

Many thought the performer would tire of the idea and find other projects to fill up his golden years.

When Lewis gets his teeth into something he's proving he's like the proverbial dog with a bone.

Nashville and the Tennessee Performing Arts Center (TPAC) will play host this summer to the historic world premiere of The Nutty Professor Musical, a new musical comedy directed by the King of Comedy himself, Jerry Lewis.

The Broadway at TPAC Special Event will run from July 24 to August 19 in TPAC's James K. Polk Theater. Featuring music by Oscar, Emmy, Tony and Pulitzer Prize winner Marvin Hamlisch and a book and lyrics by three-time Tony Award winner Rupert Holmes. Choreography is by Tony winner Kathleen Marshall

The Nutty Professor is billed as "a musical treat for the whole family, based on the classic 1963 film in which Lewis starred and co-wrote."

Actor, singer, and entertainer Michael Andrew will star in this new production as bumbling Professor Julius Kelp and his sleazeball alter ego Buddy Love. It is Andrews who brought the project to Lewis in 2005.

Andrew worked with Executive Producer Ned McLeod and Lewis to bring the production to the stage. Mac Pirkle, co-founder and former Artistic Director for Tennessee Repertory Theater, is also producing.

Producers are planning to hold auditions in both New York City and in Nashville and hope to cast local actors in lead roles and in the ensemble. Local costuming and set craftsmen are also expected to be involved as the production is built and tested over the multi-week run.

Inspired by the film, recently named one of the top 100 comedies of the century by the American Film Institute, the musical follows geeky chemistry Professor Kelp, who concocts a formula to turn himself into the ultimate heartthrob.

"Music is truly an international language and it has the ability to bring people together like nothing else... except comedy," said Marvin Hamlisch. "It's a thrill to be working with Jerry Lewis, a true king of comedy, and bringing this classic story to life on Broadway with music."

"Jerry Lewis has been my hero from boyhood, not only as one of the most gifted entertainers of all time but also as one of the grand masters of movie-making," said Rupert Holmes. "To work with Jerry and the vivid cast of characters he created is a privilege and thrill beyond measure."

"All Broadway shows start somewhere. With Nashville's community of creative professionals and its passionate theatergoers, it's the perfect place for this major event," said Kathleen O'Brien, President and Chief Executive Officer of TPAC. "We're excited to provide audiences the rare opportunity to be part of the creation of a Broadway musical before it premieres in New York. As the production develops, audiences may see scenes, lines, or whole songs added or removed. Those seeing the show the first week and again the last week will see a real evolution of the production."

Having the new musical production in Nashville for seven weeks is expected to bring large numbers of both residents and visitors downtown and generate additional economic activity. That has not gone unnoticed by city officials.

"Nashville has a strong and well-deserved reputation for cultural and performing arts and as a place for the creation of art, music and theater," said Nashville Mayor Karl Dean. "We are honored to host Jerry Lewis and his new musical production, as its premiere here further underscores that Music City is a place for artists to create and succeed. I am grateful for the opportunities this production will give to the pool of highly talented local actors and others in the theater business that are here, and, once open, I look forward to the energy and economic activity the show will add to our downtown area."


L.A. THEATRE WORKS NOW HEARD IN CHINA
L.A. Theatre Works radio programs will air in China.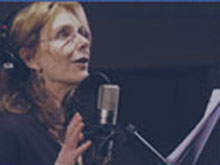 LA Theatre Works syndicated radio theater series has a new outlet - China.

The syndicated radio theater series can now be heard daily on Radio Beijing in the first English service provided by a provincial radio station in China.

L.A. Theatre Works is broadcast everyday throughout China on the Radio Beijing Network with a potential listening audience in the millions. The show is aired twice daily, at 10 am and 11 pm, and features a new play every two days.

The Beijing Waiyu Guangbo, also known as the Beijing Foreign Broadcast, is a radio station which broadcasts on AM 774. The station is part of the Radio Beijing Corporation (RBC), a state-owned radio station with independent transmission status.

The many languages represented on the station include Japanese and English, with the commercials, announcements and station identification done in Mandarin Chinese.

This isn't the first foray into China for the Los Angeles theater group.



L.A. Theatre Works production of Top Secret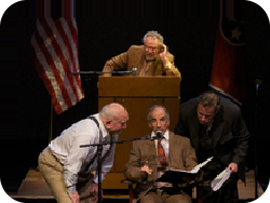 This past fall, L.A. Theatre Works embarked on a two-week tour of China, performing Top Secret: The Battle for The Pentagon Papers by Geoffrey Cowan and Leroy Aarons. The play dramatizes the Washington Post's decision in 1971 to publish classified documents concerning U.S. involvement in Vietnam. Aarons was an editor at the Washington Post and drew from his experience at the newspaper to create the play.

This was the first time the company traveled to China and the first time it toured abroad. The company is known for producing radio-style performances of classic and contemporary plays.

L.A. Theatre Works toured the production for two weeks of performances, November 22 through December 4, playing to sold out houses at the prestigious Shanghai Dramatic Arts Centre as part of their annual International Contemporary Theatre Festival; Sun Yatsen University in Guangzhou; and the Beijing Municipal Bureau of Culture's Annual International Theater and Dance Festival.

Traveling with the tour was Top Secret co-author and former Voice of America Director Geoffrey Cowan, who in conjunction with L.A. Theatre Works presented a range of associated public programming from student workshops to pre and post-play panel discussions with the cast and China's leading law and journalism schools.

However, at Guangzhou's Sun Yatsen University, a discussion afterward with Cowan was abruptly canceled by the government. What surprised L.A. Theatre Works wasn't that a discussion was cancelled, but rather that they were even permitted to present the play.

For three decades, L.A. Theatre Works has been the leading radio theater company in the United States, committed to using innovative technologies to preserve and promote significant works of dramatic literature and bringing live theater into the homes of millions. The company's public radio series can be heard in over 100 U.S. markets.

Over 9,000 libraries carry LATW's plays on audio, and recordings and teaching materials are used by over 3,000 middle and high schools across the country.

Now, the shows are also heard in China.


SPIDER-MAN ACTOR FILES COURT PAPERS CLAIMING COMPUTER GEEK DIDN'T CALIBRATE


A stuntman and actor in the accident prone Spider-Man:Turn off the Dark didn't appreciate the hard landings and has said so in court papers.

R. Joshua Kobak has become the first actor to take legal action against the Spider-Man producers. Kobak played Spider-Man in some of the musical's flying sequences. He asserts that he sustained two herniated discs, a concussion, whiplash and holes in both knees as a result of errors by crew members in charge of programming the aerial rigging computer.

In an affidavit Kobak states that, at that time, he had warned the show's aerial designer, Scott Rogers, that the stunts weren't working properly.

According to the legal papers, Kobak had replaced another stuntman, Christopher Tierney, who was injured after a 30-foot fall from a platform at the Dec. 20, 2010, performance. Tierney's injury was caused by human error; he recovered and has rejoined the show.

Kobak asserts that because of the weight difference between himself and Tierney the computer system needed to be recalibrated to slow down and soften his landings on stage after flight sequences. Kobak states that he asked Rogers about this, according to the court papers, and was told that the computer was being reprogrammed.

Kobak asserts that the computer correction was not made until he had completed 16 performances of Spider-Man, during which he landed "very hard on stage."

He also states that he had sustained at least 70 hard landings during rehearsals and performances.

He said in his affidavit that his right knee has a hole of .14 cm and his left knee has a hole of .9 cm. He also said he sustained another flying-related injury last April when, he said, at the request of Rogers he changed his timing and body positioning during a stunt to align with the computerized rigging. As a result, he said in the affidavit, "I was pulled straight into the wall striking my head and face into the wall," from which he had the concussions, herniated discs and other injuries.

In legal papers filed in State Supreme Court in New York on Tuesday, a lawyer for Kobak asked a Manhattan state judge to order the show's producers, 8 Legged Productions, to turn over an internal investigation including memos, emails or any other evidence about the computer program and the equipment, copies of accident reports prepared by producers and any other relevant papers to "determine if there is a viable claim."

In a statement released last Wednesday, Rick Miramontez, a spokesman for the producers, said: "The producers have no comment on the matter except to wish Mr. Kobak, who is currently in the American Idiot tour, well."


THE GRAMMY FOUNDATION PRESENTS GRANTS


The Grammy Foundation has announced $250,000 in grants to help facilitate a range of research, archiving, and preservation projects on a variety of subjects to 18 recipients in the United States, Canada, and the Dominican Republic.

Research projects include a project that will use technology to enable parents of premature babies to have a presence at their child's bedside even when they are away from the hospital.

Preservation and archiving initiatives include a project that will protect live recordings of such performers as Marian Anderson, Louis Armstrong, Ella Fitzgerald, Mstislav Rostropovich, and Nina Simone, among others; and an effort to digitally transfer and provide access to an archive of fragile reel-to-reel recordings of live performances and related oral histories in the collection of the oldest continuously running folk music coffeehouse.

Preservation Implementation Category.

Caffè Lena— Saratoga Springs, N.Y.
Awarded: $19,691

CaffèLena will clean, store, digitally transfer, and provide access to its valuable, at-risk archive of fragile reel-to-reels of live performances and field recordings (1960–1989), and related oral histories on audiocassettes. This unique historic collection sheds light on the New York music scene and its influence on the 20th century folk revival. The Library of Congress will serve as the final repository for these archives.

Carnegie Hall— New York
Awarded: $17,250

This project will preserve volumes 1–4 of the Robert Shaw Choral Workshop Collection of Carnegie Hall's Archives

Los Angeles Philharmonic Association — Los Angeles
Awarded: $16,560
This grant will enable the digital transfer, storage, and management of the Swedlow Collection of 1,500 analog tapes recorded on a 3-track tape machine between 1953–1960. The collection includes live recordings of such performers as Marian Anderson, Louis Armstrong, Ella Fitzgerald, Mstislav Rostropovich, and Nina Simone, among others.

Oklahoma Historical Society— Oklahoma City
Awarded: $20,000

The Oklahoma Historical Society will archive Bob Wills & His Texas Playboys recordings from the '40s on lacquer discs, including U.S. radio broadcast transcriptions and 136 reel-to-reel tapes of '50s and '60s performances.

The Ravi Shankar Foundation — Encinitas, Calif.
Awarded: $16,420

This project will preserve, digitize, catalog, and provide access to historic live and studio recordings from two of the most prolific points in Ravi Shankar's career.

University of the Pacific— Stockton, Calif.
Awarded: $8,983

This project will stabilize and digitize 49 highly endangered reel-to-reel tapes of concerts, rehearsals and personal recording sessions by pianist/composer Dave Brubeck.

WGBH Educational Foundation— Boston
Awarded: $17,250

The goal of this project is to preserve and make available interviews from the landmark PBS television series Rock & Roll.

Preservation Planning Category

PaulAnastasio— Shoreline, Wash.
Awarded: $4,000

This collection of Mexican violin music in Guerrero and Michoacán features Premio Nacional winner Juan Reynoso and 20 of his fellow violinists. This project will assist the copying, transcribing, collating, and indexing of this rare, beautiful and nearly extinct music.

Bowdoin International Music Festival — Brunswick, Maine
Awarded: $5,000

The Bowdoin International Music Festival, a renowned summer music school and concert series, will celebrate its 50th anniversary in 2014. In advance of the anniversary, this project will catalog, transfer, and selectively restore materials in its recorded archive. Included are performances by some of the world's top classical musicians and works by illustrious 20th- and 21st-century composers.

Louis Guida— Lexington, Ky.
Awarded: $5,000

This project will assess, prioritize, and prepare material from a significant collection of African American gospel and blues from Memphis and the Mississippi Delta for digitizing and preservation. The collection, housed at Indiana University Bloomington's Black Film Center/Archive, includes field recordings, film footage and photographs from a five-year project led by director Louis Guida that resulted in the international award-winning 1992 documentary Saturday Night, Sunday Morning.

Irka Mateo— Brooklyn, N.Y.; Santiago, Dominican Republic
Awarded: $5,000

Rare recordings of Dominican folk music played for popular religious events comprise primary source material that expands and continues on previous work done by Fradique Lizardo (1930–1997), housed at the Centro León. The goal of this project is to initiate preservation consultation efforts that focus on music recordings celebrating Liborio Mateo, a central religious leader and healer that lived in San Juan de la Maguana.

Northwest Folklife — Seattle
Awarded: $4,000

The Northwest Folklife Festival's collection of live audio recordings documents 40 years of the musical and cultural heritage of the Pacific Northwest.

Scientific Research Category

Georgia Tech Research Corporation — Atlanta
Awarded:$17,250

Cerebral palsy is prevalent in one in 303 children in the United States. Approximately one-half sustain upper-extremity dysfunction. Using rhythmicauditory cues to improve upper-extremity function has shown promise with adult post-stroke patients. There is limited evidence of such music-based intervention in pediatric physical therapy. This project will investigate the effects of rhythmic auditory-induced interventions for children with cerebral palsy.

The Research Institute at Nationwide Children's Hospital — Columbus, Ohio
Awarded: $16,846

The goal of this project is to create a healing environment through auditory stimulation within the Neonatal Intensive Care Unit system that improves behavioral development and reduces length of stay in medically fragile babies. Through the use of technology, this innovative program allows parents to have a presence at their baby's bedside even when they are away from the hospital.

Rotman Research Institute, Baycrest Centre for Geriatric Care — Toronto, Canada
Awarded:$17,250

This project will examine the potential benefits of musical training on speech processing in elderly adults. Brain imaging techniques will be used to assess neural activity at multiple tiers of the aging auditory system and its correspondence to perception during active speech listening. Specifically, the project will assess the possibility that musicianship counteracts the negative declines in hearing ability and speech understanding that commonly emerge late in life.

University of Miami — Coral Gables, Fla.
Awarded: $20,000

This project will explore and quantify infants' ability to entrain spontaneous movement with rhythmic auditory understanding of motor development, and inform therapeutic intervention for deficits in attention, speech, and extremity movement.

Western University — London, Canada
Awarded: $19,500

Despite the amazing level of shared neural machinery between humans and nonhuman primates, only humans appear to sense and react to musical rhythm. This ability has played a major role in the development of human culture for millennia. The aim of this project is to understand the neural processes that underpin our uniquely human ability to sense the beat in rhythmic sequences by comparing brain responses across species with the most advanced magnetic resonance imaging methods available.

Benjamin Zendel — Montreal, Canada
Awarded: $20,000

As we age it becomes more difficult to understand speech in noisy environments because of changes in how the brain processes sound. It has been recently demonstrated that this age-related decline is mitigated in lifelong musicians, likely due to neuro-plasticity induced by musical training. The purpose of this project is to determine if music lessons in older adults can improve the ability to understand speech in noise by improving the way the brain processes sound.

To date, the Grammy Grant Program has awarded close to $5.8 million to more than 300 noteworthy projects.


SIEGFRIED & ROY INTRODUCE TIGER POSTAGE STAMP
Siegfried & Roy, the illusionists noted for their work in preserving the Royal White Tiger, will introduce a Save Vanishing Species special U.S.semipostal stamp April 9 at Siegfried & Roy's Secret Garden and Dolphin Habitat at the Mirage Hotel in Las Vegas.

The stamp features an Amur tiger cub, one of five tiger subspecies. When full grown, this cat can weigh up to 650 pounds and measure 13 feet from its nose to the tip of its tail.

The net proceeds from the sales of the Save Vanishing Species semipostal stamp will be transferred to the U.S. Fish and Wildlife Service.

With the dedication of these semipostal stamps, the U.S. Postal Service is helping to save vanishing species 11-cents at a time - specifically tigers, African and Asian elephants, rhinos, great apes and marine turtles.

The net proceeds from the sales of the new Save Vanishing Species semipostal stamp will be transferred to the U.S. Fish and Wildlife Service to support the Multinational Species Conservation Funds. The stamps sell for 55 cents each - 11 cents more than an individual First-Class Mail stamp - and $11 per sheet of 20.

The stamp features an illustration of a tiger cub by artist Nancy Stahl. The artwork on the full sheet of 20 stamps is dark green and includes silhouettes of a rhinoceros, a tiger, a gorilla, Asian and African elephants and a marine turtle. Stahl based both the stamp art and the silhouettes on photographs of wildlife. The phrases Save Vanishing Species and Amur tiger cub appear on the left side of the stamp. Derry Noyes served as the art director, designer and typographer for the stamp.


AN EXPENSIVE TOAST TO THE QUEEN
The Diamond Jubilee Blended Scotch Whisky by John Walker & Sons priced at $200,000.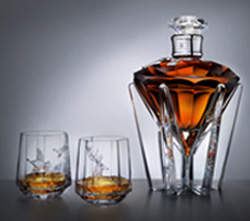 Did you get your invitation to purchase a $200,000 bottle of whiskey?

No???

Perchance it's lost in the mail or perhaps your pockets aren't deep enough.

It's going to be an expensive toast - and two whiskey booze makers are raising their glasses.

For the wealthy and well connected, it's a sip to remember.

Never mind that Queen Elizabeth drinks Dubonnet and gin while her son Prince Charles is said to prefer the peatiness of Laphroaig, a single malt from Islay - it's hoist the whiskey.

Johnny Walker wanted to do something special to mark Queen Elizabeth's 60 years on the throne.

Last July the whiskey label announced they would released a new blend called Diamond Jubilee. It's been loitering around, distilling since 1952, and they said a bottle would cost $200,000.

It isn't as ostentatious as it sounds.

All profits from the sale will go to the Queen Elizabeth Scholarship Trust, the charitable arm of the Royal Warrant Holders Association. Diageo's John Walker & Sons already has a royal warrant and has guaranteed at least $1.5 million.

The wet stuff, now tagged Diamond Jubilee, has been soaking up the aromas in a cask made of oak from the Sandringham Estate, the 8000-hectare piece of land owned by Britain's royal family, where Sandringham House stands.

The Diamond Jubilee Blended Scotch Whisky by John Walker & Sons was bottled on February 6, 2012, exactly 60 years to the day after the Queen's accession to the throne.

Each Diamond Jubilee edition represents a year in Her Majesty's 60-year reign.

The first bottle will be presented to the Queen as a gift. Others will be sold by private invitation only.

Despite the price tag, Diageo said: "We don't think we'll have any trouble finding buyers."

The company is not saying who will receive invitations to purchase, although they are expected to be some of the richest individuals in high-growth markets such as China, Japan, India and South Korea, where rare whiskies are seen as a status symbol.

First up, Diageo Philippines which unveiled the Diamond Jubilee in an exclusive and prestigious event dubbed as Manila's Royal Affair at the Ayala Museum.

Present at the Manila event was Johnnie Walker Global Brand Ambassador Jonathan Driver.

"Master Blender Jim Beveridge and his apprentice Matthew Crow explored vast stocks of Scotch whisky to seek out some of the most exceptional casks of whiskies distilled in 1952 to craft the exquisite liquid," Driver told the sophisticated crowd.

"Jim Beveridge drew on expertise gained over more than 30 years and inspiration from the Walker family blending notes to create this peerless blend with a unique sense of provenance," he added.

Being gazed upon as one would a fine jewel was the diamond shaped Baccarat crystal decanter, standing on a crystal base with six radial legs to reflect the decades of the Queen's reign. Leading Scottish silversmiths Hamilton & Inches has fashioned the collars set with a half-carat diamond, the Royal Arms, John Walker & Sons monogram, and individually numbered seals.

The edition includes a pair of lead Cumbria Crystal glasses engraved by Philip Lawson Johnston and a commemorative artifact book, hand bound by Laura West at her Isle of Skye bindery. All the elements were housed in a chest made by the cabinet makers at N.E.J. Stevenson, incorporating oak from Sandringham to echo the whisky marrying casks and Caledonian pine from the Queen's Balmoral Estate.

"Diamond Jubilee by John Walker & Sons is a remarkable achievement, a work of art created by the hands of more than 60 craftsmen and women, which will continue to support the development of many more through the contribution to the Queen Elizabeth Scholarship Fund from sales of the 60 editions," said Driver.

Driver also reiterated and emphasized that Diageo has pledged a guaranteed donation of $1.5 million to the Queen Elizabeth Scholarship Fund.

"We are privileged to be able to celebrate the Queen's remarkable achievement with this fitting tribute, Diamond Jubilee by John Walker & Sons, the sales of which will help create an enduring legacy for the supreme craftsmanship that it represents," said Diageo Philippines Managing Director Arif Esenc.



Glen Grant 60 years old, which only costs $12,600.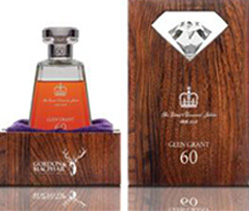 For those on a budget, Gordon & MacPhail - the Elgin based and family-run Single Malt Whisky specialist - has released only 85 bottles of Glen Grant 60 years old, which only costs $12,600.

On February 2, 1952, on the instruction of George Urquhart, two First Fill Sherry Hogsheads - cask numbers 465 and 466 - were filled at Glen Grant and left to quietly mature at the distillery.

Cask 465 was transferred to the Bonded Warehouses of Gordon & MacPhail on March 26, 1968. On February 2, 2012, exactly sixty years after the whisky was distilled, the instruction was given to carefully empty cask number 465 and bottle at cask strength.

The precious contents are presented in 85 pyramid shaped crystal decanters each adorned with a diamond shaped stopper. It carries an engraved crown with a sparking Swarovski crystal and is packaged in "a hand-crafted box made of Scottish Elm, felled a short distance from Holyrood House, the Queen's official Scottish residence. The decanter nestles in the box with luxurious, purple Harris Tweed and a dust jacket made from the same material protects the box and the precious contents."

Bottoms up.


SPREADING THE WORD


THE UNIVERSITY OF MINNESOTA AND PENUMBRA THEATRE PRESENT reshaping the Black Image on the American Stage: Penumbra's Legacy and Influence.

A series of four lectures and conversations moderated by Dominic Taylor, Associate Artistic Director - New Play Development at Penumbra Theatre and an Associate Professor at the University of Minnesota.

The third lecture in the series takes place Thursday, April 19 and is titled Black Cultural Traffic and the Black Arts Movement.

Guest speaker is Harry J. Elam, Jr., Professor of Drama, Stanford University.

The event takes place at the Thursday, April 26 Engage in conversation, and enjoy a complimentary beverage and dessert. The event takes place in the In-Flux Auditorium of the Regis Center for Art in Minneapolis. Free and open to the public - no reservation required.

NEW VOICES at NYU A Celebration of Songs by NYU Musical Theatre Writers, Past and Present takes place April 16 at New York University's Frederick Loewe Theatre.

The program will explore work by current composers in the NYU Musical Theatre writing program, as well as work by some of NYU's famous alumni.

Danny Burstein will host the evening, which will feature the talents of Rebecca Luker, Rory O'Malley, Elizabeth A. David, Drew Gehling, Kate Shindle, and Michael Winther.

Directed by Annette Jolles, the artists will interpret songs by Gaby Alter, Will Aronson, Ben Bonnema, Ben Cohn & Sean McDaniel, Joey Contreras, Julianne Wick Davis, Jeremy Desmon, Vadim Feichtner, Caleb Hoyer, Jenny Giering, Dylan Glatthorn, Kait Kerrigan, Brian Lowdermilk, Brendan Milburn & Valerie Vigoda, Chris Miller, Peter Mills, Matt Sklar, Christopher Staskel, George Stitt, Nathan Tysen and Sam Willmott.

The singers will be accompanied by the Director of Collaborative Piano at NYU, Grant Wenaus, with Stephen Benson on guitar, Yuiko Kamakari on violin, Ed Matthew on clarinet and Clay Ruede on cello.

Lighting Design by Nick Kolin. Artistic Director, Joel Fram.

ON PRODUCING: BROADWAY'S ROGER BERLIND IN CONVERSATION WITH MARA ISAACS In a Broadway career spanning more than thirty years, Roger Berlind has produced or co-produced more than forty plays and musicals, in addition to a prolific Off-Broadway and regional theatrical career.

From Amadeus to Long Day's Journey into Night, from Copenhagen to Anna in the Tropics, Berlind's Broadway productions have won Tony Awards beyond count.

In 2003, Princeton University named the McCarter Theatre Center's 360-seat Berlind Theatre for the producing legend.

Roger Berlind will share his secrets for surviving on the Great White Way and give us his perspective on contemporary American theatre. The conversation will conducted by Mara Isaacs, Producing Director at McCarter Theatre.

Monday, April 16, 2012 at the Martin E. Segal Theatre Center at the Graduate Center CUNY in New York City.

THE PRODUCERS OF THE TONY AWARDS demonstrating an "if it ain't broke, don't fix it" policy have announced that Neil Patrick Harris will - for the third time - host the Tony Awards on June 10.

THE 57th ANNUAL VILLAGE VOICE OBIE AWARDS CEREMONY will take place on Monday, May 21, 2012, at Webster Hall in New York City's East Village.

The Awards Will Be Presented By: Eric McCormack, Grace Gummer, Hugh Dancy, Jonathan Pryce, Juliet Rylance, Justin Bartha, Lily Rabe, Michael McKean, Topher Grace and Tracee Chimo.

For the past 57 years, the Village Voice Obie Awards, founded by Jerry Tallmer in 1956, have honored the best of Off Broadway and Off-Off Broadway. Structured with informal categories that change annually, the Village Voice Obie Awards recognize persons and productions of excellence. Unlike most theater awards, the Village Voice Obie Awards list no nominations publicly. In the conviction that creativity is not competitive, the judges may give several Obies in each category, and may even invent new categories to reward exceptional artistic merit.

MAGIC JOHNSON will host a talk back on stage after the 2pm performance of Magic/Bird on April 13th at the Longacre Theatre in NYC.

OPERA ON TAP presents a live libretto reading of The Inner Circle, about sex expert Kinsey - an opera newly commissioned by Opera on Tap as part of its Roadworks Series.

Libretto by Kate Gale. Music to be composed by Daniel Felsenfeld. Reading Directed by Kira Simring.

About The Inner Circle: "Can there be a timelier subject for an opera than Dr. Kinsey? The controversial Svengali or hero (depending on who you ask) who either enlightened or corrupted a captivated culture (also depending on who you ask), whose name we know but whose legacy has yet to be fully or appropriately explored, especially on the operatic stage. The story, while universal, is also one of the great archetypal American social tragedies: the rise-and-fall of the ahead-of-his-time thinker, the groundbreaker who had to labor in semi-secret in the face of a culture that simply did not understand."

Commissioned and produced by Opera on Tap, Thursday April 12, 2012 at The Cell in New York City.

MOTLEY CRUE FRONTMAN VINCE NEILL has been engaging in a Twitter war with the Palms Hotel in Las Vegas, after the venue posted that they had banned the performer.

Using Twitter as the memo of choice, the venue posted that Neil was ejected from a hotel restaurant "as a result of his inappropriate behavior," then posted that the rocker later called hotel staffers "threatening negative publicity."

Also via Twitter, Neil denied the hotel's version tweeting: "Do [sic] to recent events, including distrust and dishonesty at the executive level. I will never again step foot @palms property."


OTHER PEOPLE'S MONEY


$10 MILLION GIFT from the Irene Diamond Fund will result in what is now known as the End Stand being christened the Irene Diamond Stage at Signature Center.

Diamond who created the Irene Diamond Fund died in 2003 at the age of 92.

Irene Diamond is a name heard often on PBS stations - as in an announcer intoning - the program was funded by a generous grant from the Irene Diamond Fund.

Irene Diamond, who after a successful career scouting scripts and talent in Hollywood became a major benefactor of the arts and medical research in New York City, was president of the Irene Diamond Fund, which she established in 1994 to support, in particular, the performing arts and the fight against AIDS. The fund succeeded the Aaron Diamond Foundation, which she and her husband, a New York real estate developer, set up in the 1950's.

She liked to say that at the time they married, however, she made more money than her husband.

In the 1980's, the couple took an innovative step, deciding to pay out that foundation's considerable wealth over 10 years. They made the decision just before Aaron Diamond, developer of Roosevelt Island, died in 1984.

Mrs. Diamond remained in control of the foundation after his death. Over the next decade, as planned, she oversaw the distribution of $220 million in about 700 donations.

Through her own fund, Mrs. Diamond invested heavily in New York institutions like Lincoln Center. Gifts shortly before her death included $1.2 million for Jazz at Lincoln Center's new home, and large grants for the Dance Theater of Harlem, New York City Ballet and the New York Public Library.

She gave $10 million to the Juilliard School for a program to attract gifted minority students and teachers.

President Bill Clinton recognized her philanthropy in 1999 with the National Medal of Arts, and in 2001 she received the Andrew Carnegie Medal of Philanthropy.

. Last Thursday the Signature Theater Company announced the $10 million gift. The 299-seat house, where Edward Albee's The Lady from Dubuque is playing, had been called the End Stage. The other two theaters in the center are named after the playwright Romulus Linney and the educator Alice Griffin.

The $66 million Signature Center opened in late January.






PROFILE IN COURAGE AWARD HONOREES ANNOUNCED

J.F. Kennedy Library where the award is presented.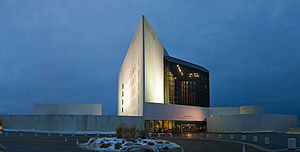 three former Iowa Supreme Court Justices who were part of a unanimous decision to legalize same-sex marriage in Iowa, and Robert Ford, U.S. Ambassador to Syria, whose diplomacy has provided crucial support to Syrians struggling under the regime of Syrian president Bashar al-Assad, have been named the recipients of the 2012 Profile in Courage Award.

Former Iowa Chief Justice Marsha Ternus and former justices David Baker and Michael Streit were chosen in recognition of the political courage and judicial independence each demonstrated in setting aside popular opinion to uphold the basic freedoms and security guaranteed to all citizens under the Iowa constitution.

Also being honored with a 2012 Profile in Courage Award is Robert Ford, U.S. Ambassador to Syria, whose bold and courageous diplomacy has provided crucial support to Syrians struggling under the brutal regime of Syrian president Bashar al-Assad.

The prestigious award for political courage, will be presented by Caroline Kennedy at a ceremony at the John F. Kennedy Presidential Library and Museum in Boston on Monday, May 7.

The John F. Kennedy Profile in Courage Award is presented annually to public servants who have made courageous decisions of conscience without regard for the personal or professional consequences.

The award is named for President Kennedy's 1957 Pulitzer Prize-winning book, Profiles in Courage, which recounts the stories of eight U.S. senators who risked their careers, incurring the wrath of constituents or powerful interest groups, by taking principled stands for unpopular positions.

The John F. Kennedy Library Foundation created the Profile in Courage Award in 1989 to honor President Kennedy's commitment and contribution to public service. It is presented in May in celebration of President Kennedy's May 29th birthday.

The Profile in Courage Award is represented by a sterling-silver lantern symbolizing a beacon of hope. The lantern was designed by Edwin Schlossberg and crafted by Tiffany & Co.



WHITE BUFFALO

Original art for the production created by students from Chelsea High School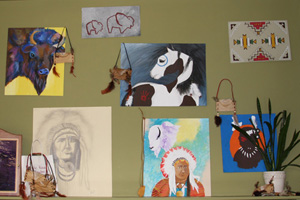 a World Premiere by Don Zolidis. Winner of the 2004 Princess Grace Award for Playwriting and the 2011 Edgerton Foundation New American Play Award.

Directed by Guy Sanville.

When Carol Gelling discovers that a buffalo born on her farm is pure white, she thinks it's nothing more than a curiosity. She soon learns that the birth of the white buffalo fulfills an ancient Sioux prophecy - the coming of peace on earth and unity of mankind.

Almost overnight, her small farm becomes a hotbed of spiritual outpouring - from Native American pilgrims to the Dalai Lama.

When a mysterious businessman offers to buy the calf, Carol must decide whether the white buffalo signals the end of her financial hardships or the beginning of her own spiritual enrichment. This award-winning new play weaves a magical story of forgiveness, hope, and belonging.

The cast includes Gregory Butka, David Daoust, Matthew David, Rainbow Dickerson, Stacie Hadgikosti, Alex Leydenfrost, Nate Mitchell, Michelle Mountain, Michael Brian Ogden and Meghan Thompson.

Set Designer: Vincent Mountain. Properties Designer: Danna Segrest. Costume Designer: Christianne Myers. Lighting Designer: Daniel C. Walker. Sound Designer: Quintessa Gallinat. Stage Manager: Stephanie Buck.

Performances through June 2, 2012 at the Purple Rose Theater in Chelsea, Michigan.

Students from Chelsea High School's Art and Independence Hall classes have created original art for the production of White Buffalo. The students were given the Sioux Legend of the White Buffalo Woman (which plays an integral part in the play), and asked to respond to it. The result is called "a terrific display of paintings, drawings and Native American inspired crafts." Those creations decorate the lobby until June 2, 2012.

LA CAGE AUX FOLLES the Tony Award winning revival with music and lyrics by Jerry Herman and a book by Harvey Fierstein. Based on the play by Jean Poiret. Directed by Terry Johnson.

This touring show stars George Hamilton and Tony nominee Christopher Sieber, as Georges and Albin, respectively.

dale Hensley plays Frances. Jeigh Madjus is Lacob. Gay Marshall portrays Jacqueline. Allison Blair McDowell is Anne. Featuring 137 wigs by famed London wig-designer Richard Mawbey.

April 10-22 at Music Hall at Fair Park in Dallas, Texas. April 24-May 6 at The Hobby in Houston.

THE MARCH world premiere based on E.L. Doctorow's acclaimed novel, adapted by Tony Award-winning director and Steppenwolf ensemble member Frank Galati.

With a cast of 26 - including seven Steppenwolf ensemble members - it's one of the biggest projects to play the Steppenwolf stage.

General William Tecumseh Sherman, Uncle Billy to his men, marches 62,000 Union soldiers through lush Georgia countryside. Bearing along both black and white refugees, the march destroys everything in its path, turning home into exile and exile into home. Its epic force forever changes the lives of those caught up in its sweep: a liberated slave, a sheltered daughter of a Southern judge, a pair of Confederate deserters and Uncle Billy himself.

The Cast: Will Allan, Phillip James Brannon, Cliff Chamberlain, Patrick Clear, Carrie Coon , Alex Goldklang, Harry Groener, Stephen Louis Grush, Anthony Kayer, Michael Mahler, Shannon Matesky, Luce Metrius, Andy Monson, John Mossman, Alex Newkirk, Alex Ring, Joe Sinopoli, Philip R. Smith and Alex Stage.

Featured Ensemble Members: Alana Arenas, Ian Barford, K. Todd Freeman, Martha Lavey, Mariann Mayberry, James Vincent Meredith and Alan Wilder.

Scenic Design: James Schuette. Costume Design: Virgil C. Johnson Lighting Design: Jim Ingalls Original Music: Josh Schmidt. Stage Manager: Malcolm Ewen. Assistant Stage Manager: Christine D. Freeburg. Assistant Director: Ben Viccellio. Lead Musician: L.J. Slavin.

The March recently won an Edgerton Foundation New American Play award. The March is a co-commission with Oregon Shakespeare Festival as part of their American Revolutions: the United States History Cycle.

Downstairs Theatre at Steppenwolf in Chicago. Performances through June 10.

4000 MILES the play by Amy Herzog which enjoyed an extended premiere last summer as part of Lincoln Center Theatre's new works initiative LCT3 is finding continued success off-Broadway.

The first play from the LCT3 program, it began previews March 15 at the Mitzi E. Newhouse Theater at Lincoln Center with a run scheduled to end May 20. It's now been announced that the play which stars Tony Award winner Mary Louise Wilson and Gabriel Ebert, will extended to at least June 17.

TIME STANDS STILL by Donald Margulies. Directed by Joe Dowling.

From Pulitzer Prize-winner Donald Margulies comes a moving and often hilarious story of relationships, mid-life crisis and the ties of friendship. After barely surviving a bomb blast in Iraq, photojournalist Sarah Goodwin finds herself caught in a tug-of-war between her exhilarating career and the contentment of family life.

Returning home into the care of her long-time lover James, Sarah's caught off guard by his desire for family and by the simple domestic life pursued by Richard, her editor, and his much younger girlfriend Mandy.

Starring Sarah Agnew as Sarah Goodwin. Bill McCallum as James Dodd. Mark Benninghofen as Richard Ehrlich and Valeri Mudek as Mandy Bloom.

Set Designer Walt Spangler - Costume Designer Christine A. Richardson - Lighting Designer Tom Mays - Sound Designer Scott W. Edwards - Dramaturg Jo Holcomb - Voice and Dialect Coach D'Arcy Smith - Movement Marcela Lorca - Stage Manager Martha Kulig - Assistant Stage Manager Meaghan Rosenberger - Assistant Director Jon Ferguson.

Performances through May 20 on the McGuire Proscenium Stage at the Guthrie Theater in Minneapolis.


WHO'S WHERE


SMITHSONIAN JAZZ MASTERWORKS ORCHESTRA The Incredible Jazz Guitar of Wes Montgomery. A disciple of guitarist Charlie Christian, Wes Montgomery began his ascent to fame following a two-year stint with Lionel Hampton's Orchestra from 1948 to 1950. Considered to be one of the greatest influences among modern jazz guitarist, Montgomery, with a hand full of other jazz guitarists' put the guitar on the map as a bebop/post bop instrument. The SJMO small group will perform classic Wes Montgomery selections such as Four on Six, Unit 7 and West Coast Blues. Saturday April 14 at the Baird Auditorium, National Museum of Natural History, Washington, DC.

BRUCE SPRINGSTEEN AND THE E STREET BAND will be delighting the audience Monday, April 9, at Madison Square Garden. On Thursday the show is at the Palace of Auburn Hills in Auburn Hills, MI. On Friday they perform at the First Niagara Center in Buffalo, NY.

IN THE MOOD a brassy, upbeat 1940's musical review which features a company of 19 on stage: the blistering thirteen-piece String of Pearls Big Band Orchestra and the In The Mood singers and dancers, including a high-energy swing dance couple. Thursday, April 12 at the State Theatre in Ithaca, NY.

CLINT HOLMES returns to the Cafe Carlyle in New York City for shows April 10-28.

NICKELBACK has a performance stop Tuesday, April 10 at the WirelessCenter in Moline, IL. On Thursday the show is at the Van Andel Arena in Grand Rapids, Saturday they are on stage at the Joe Louis Arena in Detroit. Next Sunday, April 15, the show is at the Schottenstein Center in Columbus, OH.

ELVIS COSTELLO performs Tuesday, April 10 at the Orpheum in Vancouver, BC. On Thursday the show is at the Paramount Theatre in Seattle. Friday finds him at the Arlene Schnitzer Concert Hall in Portland, OR. Next Sunday, April 15 he's on stage at the Warfield Theatre in San Francisco.

VAN HALEN perform in Florida this week. On Tuesday, April 10, they are on stage at the Atlantic Center in Sunrise. Thursday's show is at the Amway Center in Orlando. On Saturday the tour stops at the Times Forum in Tampa.

STRAIGHT NO CHASER bring their harmonious sounds to the Best PAC in Fort Smith, AR on Tuesday, April 10. On Wednesday the show is at the Tivoli Theatre in Chattanooga, TN. Friday's gig is at the Grand Casino in Hinckley, MN. Next Sunday, April 15, they perform at the Orpheum Theatre in Sioux City, IA.




FINAL OVATION


THOMAS KINKADE known as the Painter of Light, died April 6, 2012 at his Los Gatos, California home. He was 54 years old.

His family had been traveling in Australia.

The cause of death is believed to be natural, although the coroner hasn't yet released the official report.

Kinkade, who was noted as a "devout Christian," painted more than 1,000 works, including nature, cityscapes, and holiday art. Many contained images from Bible passages. His paintings, sold in shops across the country, can be found in one of every 20 homes in America, according to the Mercury News. A key feature of Thomas Kinkade's paintings are their glowing highlights and saturated pastel colors.

Some of the art in his recent 2012 Spring Collection are of bridges and cottage homes. Though most of his paintings are relatively affordable, some cost as much as $10,000.

His Media Arts Group company surged to success, taking in $32 million per quarter from 4,500 dealers across the country 10 years ago, before it went private in the middle of the past decade.

But in 2010, the company's Morgan Hill manufacturing arm, Pacific Metro, filed for Chapter 11 bankruptcy protection. Months later, Kinkade was reportedly arrested on suspicion of DUI. In 2006, the Los Angeles Times reported the FBI was investigating whether he fraudulently induced investors and then ruined them financially.

Former gallery dealers also charge that Kinkade uses Christianity as a tool to take advantage of people. One former dealer's lawyer stated "Most of my clients got involved with Kinkade because it was presented as a religious opportunity. Being defrauded is awful enough, but doing it in the name of God is really despicable," according to Fredericksburg.com.

During the years 1997 through 2005, court documents show at least 350 independently owned Kinkade franchises at its peak. By May 2005, that number had more than halved. Kinkade pocketed $50 million during this period, according to the Chicago Tribune. An initial cash investment of $80,000 to $150,000 is listed as a startup cost for franchisees.

Funeral services are private with a public memorial being considered at a later date.

He is survived by his wife Nanette and four daughters.








Next Column: April 15, 2012
Copyright: April 8, 2012. All Rights Reserved. Reviews, Interviews, Commentary, Photographs or Graphics from any Broadway To Vegas (TM) columns may not be published, broadcast, rewritten, utilized as leads, or used in any manner without permission, compensation and/or credit.
Link to Main Page
---
Laura Deni



For the snail mail address, please E-mail your request.
CLICK HERE FOR COMMENT SECTION