! >
Broadway To Vegas
  SHOW REVIEWS     CELEBRITY INTERVIEWS     GOSSIP     NEWS 
| | |
| --- | --- |
| | |
Copyright: April 8, 2001
By: Laura Deni
CLICK HERE FOR COMMENT SECTION

JACK NICHOLSON CHARMS STATE Jack Nicholson is in Omaha, Nebraska filming his latest movie About Schmidt. Nicholson plays a retired insurance salesman dealing with a divorce and his daughter's pending marriage to a man he doesn't like.

JACK NICHOLSON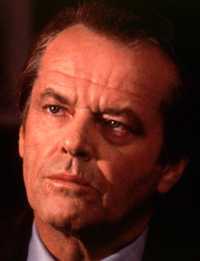 Crews are all over Omaha and surrounding cities, including making purchases in The Next Millennium, a store that specializes in New Age, religious supplies, and gifts. Items purchased included 20x20 inch Celtic rope and knot design posters, crystals, crystal balls and books, according to our eye witness. "They were fairly large, background objects that would show up easily on the screen."

Even Nicholson movies have strict budgets and when the bill came over to over $300.00 "she returned a $30.00 lighted stand that would have held the crystal ball. The set person explained to the salesperson that she only had a budget of $300.00 for that particular set. That brought the bill down to $299.10 and she paid cash."

Meanwhile Nicholson has endeared himself to everyone. The actor signed a cast on the foot of Tyler Heng, a freshman at Nebraska City Lourdes Catholic High School. He's also autographed somebody's hand, a T-shirt and a copy of a The Sound of Music script. The Oscar winner is chatting with anybody who stops him, asking about their interests and lives. After eating a Reese's Pieces and cookie dough Dairy Queen Blizzard the concoction was immediately re-named the Jack Nicholson Blizzard.

Nicholson has attended a performance of the Nebraska Symphony and eaten dinner out at the Flatiron Cafe and at V Mertz, chowing down on veal and beef with co-star Kathy Bates and director, Omaha native Alexander Payne. The star also ate lunch with the rest of the cast and crew in the basement of St. Mary's Catholic Church. The Rev. Michael McCabe opened up the church to the film company explaining that they wished to be hospitable.

The production company has employed about 700 locals as extras and Nicholson has won over the hearts of every person he's encountered. Said one who almost hyperventilated at meeting him: "He's very nice. He's not anything like he was in The Shinning.



Broadway To Vegas is supported through advertising and donations. Priority consideration is given to interview suggestions, news, press releases, etc from paid supporters. However, no paid supporters control, alter, edit, or in any way manipulate the content of this site. Your donation is appreciated. We accept PAYPAL. Thank you for your interest.


SEARCHING FOR SIGNS OF LIFE IN THE UNIVERSE

The 1997 movie Contact starring Jodi Foster, Matthew McConaughey, and James Woods was based on the novel by Ann Druyan and Carl Sagan who specialized in exobiology, the field of biology that investigates extraterrestrial life.



JODY FOSTER in Contact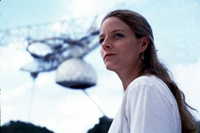 Sagan wrote more than 20 books and died on Dec. 20, 1996 during the production of Contact. He was 62.

Characters in the movie were reality inspired.

The blind researcher, Kent Clark, Project Manager of Project Phoenix, and the leader of its signal detection team is really a blind Ph.D. physicist named Kent Cullers.

Cullers and Sagan were friends. Sagan not only based that character on Cullers, at one point it looked as if the intellectual was going to become a movie star.

Last Friday night Cullers was in a classroom at the University of Nebraska in Omaha delivering a speech sponsored by The Omaha Astronomical Society.



KENT CULLERS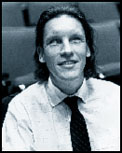 "The first director had me screen test to play myself. He judged me competent enough to play myself," quipped Cullers. "I don't think my screen test caused it, but the very next day he got fired or had a parting of the ways and left the movie and went to Australia to do something else. The new director, Robert Zemeckis, thought the part should be expanded and that a real actor should be used, but they used my screen test to help develop the character."

Sagan had Cullers write about SETI to keep the organization reality based in the movie.

About 50 people sat enthralled as Cullers discussed new efforts in expanding the search to discover intelligent life in space.

While Lilly Tomlin has spent decades on stage looking for signs of intelligent life, the scientific community has thus far been limited to audio search - listening to noises from the great beyond. However, new optical lenses have been developed for high powered telescopes, meaning that soon experts will be able to conduct vision as well as audio field searches in their quest for life in outer space.

The Silicon Valley based scientist frequently travels in support of SETI.

The film also mirrored financial cutbacks. In the movie when the Jody Foster character, Ellie, sees her SETI project shut down, she turns to a Howard Hughes-like private donor to continue the search.

In real life, former Nevada Senator Richard Bryan amended the NASA appropriation bill of 1994 to kill SETI, forcing the Institute to seek private funding. Today the SETI Institute is actively involved in establishing a $100 million endowment to ensure that the searching can continue as long as necessary.


ACTORS AND EQUITY REACH AGREEMENT
The verbal fisticuffs between Actors' Equity and The League of American Theatres and Producers over their National Broadway Theatre Awards has ended.

The agreement will permit Equity members to participate in the upcoming Awards Ceremony on May 21 at The Supper Club in NYC.

Initial bickering over having Equity members competing against non-Equity associates for awards turned into high drama when Equity workers bailed out in even attending much less particpating in the awards show, which is to be co-hosted by Henry Winkler and John Ritter.

Shortly after the awards nominations were announced by the League in March, Equity objected to the fact that non-union tours were included alongside union tours. Members of Equity must meet membership requirements, pay dues and obey Equity rules.

Equity withdrew its objections to the NBTA on March 27, following lengthy discussions between Alan Eisenberg, Equity's Executive Director, and Jed Bernstein, President of the League. An informal meeting between League presenters and Equity staff, attended by the League's Director of Membership Services, Ed Sandler, and Eisenberg, was also helpful in reaching a compromise, according to Equity Communications Director David Lotz.

In the future, Equity tours and Equity actors will be identified on NBTA ballots. In this year's awards ceremony, a separate award will be given to an Equity actor or Equity show, if a non-Equity actor or show wins in any category.

In other words - if you're in an Equity production you have a double opportunity to win. If an Equity shows wins there is no consolation award given to a non Equity production.

Under the terms of the agreement, starting next season, the League's presenters will be asked to identify Equity tours in publicity material and display an Equity logo at the box office, distinguishing the show as an Equity production.

According to the League, the awards "provide a way for producers and presenters to promote and market Broadway shows and their casts, which will create a larger market for, and awareness of live theatre." Unlike the Tony Awards, voting is conducted by the theatre-going public, who can vote via the internet or by mailing in ballots distributed in the lobbies of participating theatres around the country. According to both sides, the agreement will address mutual concerns.

A press release stated

"Equity is pleased that the League has agreed to identify Equity productions in the future so that the public can make an informed choice when voting for their favorite show or actor," said Alan Eisenberg. "Anything that stimulates the public's interest in live professional theatre should be encouraged," he added.

League President Jed Bernstein said, "We are delighted to be going forward with arrangements for the National Broadway Theatre Awards with the full and complete support of Actors' Equity and are equally happy to support their efforts to recognize the excellence of Equity members in touring companies all over the U.S."


CHILDREN DOING COMMERCIALS: HOPPING ALL THE WAY TO THE BANK

Much has been written about the horrors of children in show business. People will walk across a street to avoid a stage mother. Protect the child and pity the parents who try to live the life they never had through their child's success and look upon their off spring as an expanded meal ticket.


BILL and REID KIRCHENBAUER Cadbury commercial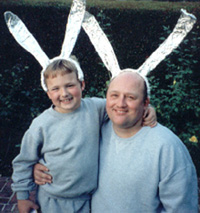 As grim as the negatives are, not every kid in the spotlight is destined for emotional mess up.

For instance, there is that commercial for the Cadbury Easter eggs - that famous chocolate orange egg and the introduction this year of the chocolate raspberry egg.

The commercial features a man and a boy in Easter bunny suits. It could have been just the casting director pairing up actors who made the final audition cuts.

In this case they are a real life father and son combo - actor comedian Bill Kirchenbauer and his son, Reid who turns ten this Sept.25. It wasn't Reid's first time in front of the camera. He's had parts in several TV series and was in the movie The Grinch Who Stole Christmas.

We spoke with Bill about his son's involvement in the world of child actors and Bill offered some advise for parents who would like to see their progeny in the child work force.

First the benefits: A child can earn a lot of money. If the child makes $8,000 at something and you bank that - by the time the child reaches 21 it's a nice little nest egg.

The schooling provided the children is the best. The studios look for the creme de la creme of teachers. The studios have educational standards that are higher than the best schools. Child actors receive the very finest in education.

It's not all positives. It's a business and with the job comes hard work.

Mandatory publicity photographs have to be taken more often of a child than of an adult. While an adult might need to be re-shot only once every two to five years a child is going to need new pictures every six months. Each photo session will cost several hundred dollars.

If you think you child is beautiful and perfect chances are that kid isn't going to get the part.



REID KIRCHENBAUER represented by ddk Talent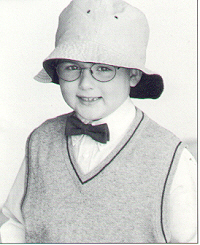 "They want the child who looks different or is capable of looking different - where there is something about the child that isn't ordinary. That can be something like even ears that stick out," explained Kirchenbauer.

The hours are long and hard. Even though the child may be in front of the camera from a few seconds to a few minutes, the time at the studio can be from early morning until late at night. Reid's mother serves as his chauffeur and personal manager. "That means that if Reid has to be at the studio at six in the morning, so does his mother."

The false presumption that if you just knew something your child would be a star - is also akin to - if all you needed was to know somebody every hooker in Hollywood would be a star.

Kirchenbauer rose to fame in his role as Coach Lubbock on the hit comedy show Growing Pains and star of ABC's Just the Ten of Us. He regularly works as a stand up comic and also produces the Legends in Comedy show in Las Vegas. Thus, Kirchenbauer was able to open the door for his son by taking him to his commercial agent. However, once the entrance is made, it's the child who must establish his right not to be shut out. At first Reid though acting was fun. Then he informed his parents that he didn't want to go to any more auditions.

It's at that point that the true motives of the parents surface. If a parent is looking at the child as the bank account, that becomes the water shed where the manipulative parent pushes the child on stage whether they want it or not. In the case of the Kirchenbauers they simply said - fine - and stopped lining up auditions and never mentioned the subject.

A couple of months later Reid announced he wanted to get back in the audition line.

The father-son Cadbury commercial was a neat bonding experience for father and son. There have been other father son commercials but they have been stars playing themselves - Bing Crosby poured orange juice for his children. In this case, Bill and Reid are not identified and portray pseudo Easter bunnies. The result is - Reid has a reason to hop all the way to the bank.


PRACTICE TEACHING
This past week stars have been vacating the stages and studios to trek back to the classroom.

Henry Winkler put on his leather jacket at Staten Island's PS 42 on Thursday as part of the Principal for a Day program sponsored by Public Education Needs Civic Involvement In Learning (PENCIL). The actor was in the principal's office to counsel students exiled there.

Julianna Margulies was at LaGuardia High School for the Performing Arts in Manhattan, while Billy Baldwin picked the Brooklyn high school his father attended Boys and Girls High School. Wyclef Jean was principal for a day at Truman High School in the Bronx. Also doing time behind the principal's desk were NBA entertainment president Adam Silver, Liberty star Rebecca Lobo, and TV star Summer Sanders - principals for the day at MS 247 on West 92nd Street.

Talk Media president Ron Galotti tackled middle school IS 45 in the South Bronx, and wrestler Mick (Mankind) Foley was the main man at the Hunger Ford School for severely handicapped kids on Staten Island.

David Letterman lectured to Al Gore's journalism class at Columbia University.



TED DANSON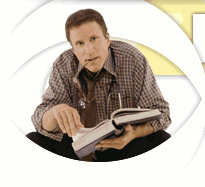 Ted Danson and the cast of Becker sat in on an NYU medical class where future physicians were being taught proper bedside manner, a class that Danson admits his TV character either missed or flunked.

Jasmine Guy made use of a break between roles to stress the importance of reading to elementary school students. Guy shot to fame as Whitley Gilbert in the 1990s sitcom A Different World starred as Velma Kelly in a road production of the musical Chicago and also appeared in The Vagina Monologues. She read to youngsters at Hanley Elementary School in Memphis. ''No matter what you do in life, you have to be able to read,'' she told the youngsters. Guy was no stranger to some at the school. Her mother-in-law, Loraine Patterson, is the school's media specialist. And her niece, Jashayla, is a Hanley kindergarten student.

Meanwhile, Tom Hanks has donated $125,000 to help restore the auditorium at Skyline High School in Oakland, Calif., from which he graduated in 1974. Since 1999, the Skyline Performing Arts Committee has been trying to restore the school's 38-year-old theater, once the pride of Oakland. Hanks also promised to attend the restored theater's grand opening next year


APPLAUSE, APPLAUSE


DAVID HYDE-PIERCE spent his birthday testifying before Congress last Tuesday about the horrors of Alzheimer's Disease. Both his grandfather, father and aunt died from the disease.

THE ESSENCE AWARDS the Magazine's annual celebration returns to New York City taking place on Friday, April 27th at the Theatre at Madison Square Garden.
Previous Essence Awards honorees and appearances have included Muhammad Ali, Maya Angelou, Bill Cosby, Kenneth "Babyface" Edmonds, Lauryn Hill, Whitney Houston, Janet Jackson, Michael Jordan, Patti LaBelle, Quincy Jones, Spike Lee, Wynton Marsalis, Chris Rock, Denzel Washington, Oprah Winfrey and Stevie Wonder, as well as dozens of community activists who have given of themselves to improve the quality of life for others.


SWEET CHARITY

THE GREAT AMERICAN MUTT SHOW will be held on Pier 92 on April 21. It is the first national show highlighting mix-breed dogs. Sponsored by Tails in Need a nonprofit foundation founded by prominent interior designers Bunny Williams and Kitty Hawk

Sniffing and scratching, 700 dogs are expected to have a doggoned good time participating in The Great American Mutt Show with participating tail waggers coming from as far away as Dallas.

There will be forty classes in twenty competition categories including "mostly" breed categories such as Mostly Hound, Mostly Spaniel, Mostly Shepherd, and Mostly Collie. They will also compete in such noble abet creative classifications as Best Kisser, Most Musical, Best Lap Dog Over 50 lbs., Highest Jumper, Longest Tail, Best Tail Chaser, Best Catcher and Pets who Look most like their Owners -- and of course, the Best in Show.

BEST IN SHOW Trophy has been designed and donated by architect Michael Graves. BEST IN CLASS trophies are engraved in stainless dog bowls donated by Trixie & Peanut.All dog participants will receive a special Great American Mutt Show bow tie/ribbon.

Open to the general public Deadline for dog entry is Wednesday, April 11th. Only registered dogs will be allowed onto Pier 92.

In this the first year of competition, The Great American Mutt Show's primary recipient of funds will be The Humane Society of New York (HSNY). Established in 1904, HSNY reaches out to city animals in need of medical attention or a permanent home. HSNY which promotes a no-kill policy, helps over 29,000 dogs and cats annually, through its hospital, spay/neuter program, and adoption center.

The Great American Mutt Show 2001 has been entirely underwritten by the generous support of individuals. Key donors include Isaac Mizrahi who adopted a mutt - Harry - at the Tails In Need launch party last December.

Others are Mrs. Vincent Astor, Lauren Bathgate, Lawrence E. Bathgate, II, Candice Bergen, Mr. and Mrs. Robert J. Blinken, Linda S. Bresch, Franchelli Cadwell, Alan Campbell, Edward Lee Cave, Mr. and Mrs. Kenneth Cole, Mr. and Mrs. Oscar de la Renta, Mrs. Danielle S. Dean, Skye Elsas, Tina Fogel, Jonathan Gargiulo, Furlow Gatewood, Mr. and Mrs. S. Parker Gilbert, Isabel Cristina Grajales, Michael Graves, Mr. and Mrs. Benjamin A. Groves,

ISSAC MIZRAHI adopted a mutt
The Honorable and Mrs. Henry A. Grunwald, Agnes Gund and Daniel Shapiro, Sarah H. Hastings, Kitty Hawks, Inge Heckel, Mr. and Mrs. Ward Landrigan, Mrs. S. Deborah Lash, Evelyn and Leonard Lauder, Lawrence Lederman, Mr. and Mrs. Toland Link, Pamela W. Logan, Elise Lufkin.

Janet Mavec, Alan W. Melville, Mr. and Mrs. Morris Offit, R. Scott Ornstein, Muriel Peters, Mrs. Alton E. Peters, Cynthia Phipps, Dr. Charles E. Pierce Jr., William D. Rondina, Carmen A. Ross, John Rosselli, Mr. and Mrs. John Sabre, Emilia A. Saint-Amand, Gilbert P. Schafer III, Mrs. Gilbert P. Schafer, Jr., Mr. and Mrs. Constantine Sidamon-Eristoff, Patricia Bleznak Silverstein, Mr. and Mrs. Benjamin Stapleton III, Michael D. Trapp, Judith Watson, William Wegman, Lin Weinberg, Bunny Williams, Andrea Woodner, and Linda Yang.

To register call 212-327-3164.


TALK A LOT

Playwright August Wilson is part of the panel for Theater Talk's "Off Broadway at The Millennium" forum tomorrow, April 9, at The Lucille Lortel Theatre in Greenwich Village, NYC.

Wilson, one of this year's Lucille Lortel Award nominees for his play Jitney, will be joined by fellow Lortel nominee, actor Brian Murray for The Play About the Baby, as well as by The Vagina Monologues' producer David Stone and drama critics Linda Winer of Newsday and Clive Barnes of the New York Post.

The panel, hosted by Michael Riedel of the New York Post and producer Susan Haskins, will discuss the state of Off-Broadway in 2001. This will be followed by Q&A with the audience.

The program, which will be taped for later broadcast on Thirteen/WNET, is open to the public free-of-charge, on a first come, first serve basis.



... AND THEN THERE'S BEA Bea Arthur's one-woman show with her friend Billy Goldenberg at the piano will have it's national premiere at at the Guthrie Theater in Minneapolis April 24-29 The production then hits the road for a 25 city tour and a spring 2002 New York opening

From Mame to Maude to The Golden Girls, Bea Arthur's career has spanned six decades of work on stage, television, and film. She is best known as the sharp-tongued Dorothy in the long-running The Golden Girls, as the Emmy Award-winning Maude, as Vera Charles in her Tony Award-winning performance in Mame, and as Yente the Matchmaker in the original Broadway production Fiddler on the Roof.

This new effort will tilt towards heartwarming and hilarious as Bea shares stories and songs from her triumphs and tribulations over the course of her career

In addition to this production Goldenberg ( See Broadway To Vegas column of May 10, 1999 ) is currently working with librettist Tom Jones on Harold and Maude, a new musical in development for Broadway.

CABARET April 10-15 in Naples, FL at the Naples Philharmonic

FAME at the Aladdin Hotel, Las Vegas April 18-22.

THE GARDEN OF FRAU HESS by Milton F. Marcus, directed by Rhoda R. Herrick presented by The Jewish Repertory Theatre, Ran Avni, Artistic Director, begins previews at The Duke in NYC April 21. The Garden of Frau Hess takes place in Germany in 1944, where a relationship develops between Ilse Hess, wife of Nazi party leader Rudolph Hess and Isaac Baum, a concentration camp prisoner, former professor of horticulture, who becomes her gardener. The play is a fictional relationship, based upon actual events.

The two person cast features Lisa Bostnar and Joel Leffert. Set design is by Richard Ellis, costume design by Gail Cooper-Hecht, and lighting design by Richard Latta.

O PIONEERS! a musical based on Willa Cather's famous novel debuts April 19 in New York City at Producers Club II. The Pulitzer-Prize winner, who grew up in Red Cloud, Neb., in addition to writing O Pioneers! also authored My Antonia and other American classics of the Great Plains. Cather died in April 25, 1947.

O Pioneers! tells the story of Alexandra Bergson and her struggles dealing not only with the unknown quantities of farming life, but also her conflicts with the world's condescending view of women. Intertwined in this tale is the tragic love story between Alexandra's brother Emil and a neighbor's wife, Alexandra's childhood friend Maria.

Cather's epic and touching story has been adapted for the musical stage by Robert Sickinger, who wrote the book, music and lyrics for the piece. He will also direct. Sickinger has been called the father of today's Chicago theatre, Sickinger founded Hull House Theatre, which seeded what was then a barren theatrical landscape and is now as fertile as the Nebraska prairie. David Mamet, whom Sickinger mentored at Hull House, called him "one of the greatest directors I've ever known."



WILLA CATHER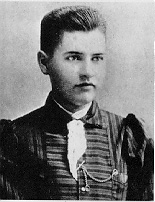 As for Cather, she was my father's Godmother. As a generation jump baby - meaning my deceased parents were old enough to be my grandparents when I was born - logically, the rest of the principal players were dead before I was ever on the scene. Yet, Cather always seemed to be a formidable presence. She selected my father's name - Charles Cedric - because, as she wrote in his baby book, she thought it was important and dignified. Weekly my grandmother wrote Cather and weekly Willa replied by rewriting the letters into carefully crafted, detailed notations about my father's babyhood activities. The Cather letters were placed in his baby book. That continued until my grandmother left her husband and son to run off with another man - a turn of the century scandal.

My mother met Cather on several occasions and thought Willa was a lesbian whose true soul mate was her writing. She frequently dressed in men's clothing and my mother said she always tried to give the impression that she wasn't frightened by Willa. The author was fascinated by a lot of things. From what I gleaned in growing up hearing about her, she would no doubt have been intrigued that an asteroid has been named after her. Amateur astronomer Robert Linderholm, who discovered the asteroid in 1997, submitted Cather's name to the International Astronomical Union, the group that designates asteroids as new celestial bodies. He recently learned that asteroid No. 14969 will be named after Cather.

What probably would have ticked Cather off is that a few years ago members of the Latter Day Saints church had her baptized into their faith through a proxy baptism. Cather had joined the Episcopal Church and, according to my mother who watched her conduct some ceremonies held behind super secret closed doors in New York City - Willa Cather was fond of witchcraft.


WHO'S WHERE

MATCHBOX TWENTY plays at the Gaylord Entertainment Center in Nashville on April 14. The tickets are $32.50 and $25.

JOHNNY MATHIS April 13 and 14 in Fort Lauderdale, FL at the Broward Center

ROBERT GOULET spends April 12 doing a national TV Commercial for Excite.Com

MAYNARD FERGUSON April 10-13 at the Blue Note, NYC.

NEIL SEDAKA April 13 at the Mohegan Sun Casino.

DEBBIE REYNOLDS at the Performing Arts Center in Coral Springs, FL on April 14.

THE PIZZARELLI FAMILY April 10th - May 5th at Feinsteins at the Regency, NYC

LORETTA LYNN out of the hospital after an 11 day stay battling pneumonia. She's had to cancel all performances through the end of this month She's getting herself geared up for May 26 - that's when she opens a Loretta Lynn museum on her dude ranch in Hurricane Mills, about 60 miles west of Nashville.


THIS AND THAT

RICK SPRINGFIELD star of the EFX show at the MGM-Grand in Las Vegas went across the street to the Virgin Megastore in the Forum Shops at Caesars Palace to host a CD-signing. Springfield's newest release is Greatest Hits ... Alive




Mention BROADWAY TO VEGAS for Special Consideration
Call (800) 942-9027









Next Column:April 15, 2001
Copyright: April 8, 2001. All Rights Reserved. Reviews, Interviews, Commentary, Original Photographs from any Broadway To Vegas (TM) columns may not be published, broadcast, rewritten, utilized as leads, or used in any manner without permission, compensation and/or credit.
Link to Main Page
---
Laura Deni


CLICK HERE FOR COMMENT SECTION