! >
Broadway To Vegas
  
  REVIEWS INTERVIEWS COMMENTARY NEWS

| | |
| --- | --- |
| | |
THE ROLLING STONES CELEBRATE THEIR 50th ANNIVERSARY - -ANDREA McARDLE 70's AND SUNNY: LIVE AT 54 BELOW - - KINKY BOOTS AND CYNDY LAUPER PUT THEIR FOOTPRINTS ON BROADWAY - - BEST BOND GIRL QUEEN ELIZABETH WINS BAFTA AWARD - - QUALIFYING TO EAT HOT DOGS - - COACHELLA FESTIVAL WANTS MUSIC AND ROCKIN' HAIR - - 17th ANNUAL POWER OF LOVE GALA - - GRAMMY ON THE HILL TO HONOR JENNIFER HUDSON - - DONATE . . . Scroll Down




Copyright: April 7, 2013
By: Laura Deni
CLICK HERE FOR COMMENT SECTION


LAS VEGAS DRESS REHEARSAL FOR THE ROLLING STONES HEADLINING GLASTONBURY FESTIVAL
The Rolling Stones gearing up for their 50 and Counting Tour. Photo Getty.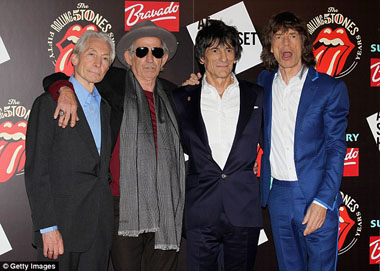 Chances are The Rolling Stones are rolling in to a stop near you.

The aging, but ageless in popularity rockers will open their 50 and Counting Tour in early May, with a stop in Las Vegas on May 11. The American leg of the journey may be their personal paid version of a dress rehearsal for their star turn at the Glastonbury Festival in Somerset, England followed by two shows at Hyde Park. The wrinkly rockers had a one night Hyde Park stand planned for July 6. After tickets - beginning at $147.00 - sold out, within five minutes, they announced a second show would be added a day or two after the first one.

Not all things on earth revolve around The Rolling Stones.

Acquiescing to the power of sports, their stop at the Staples Center in Los Angeles will depend upon the NHL playoffs.

Firmed up are the May 5 start at the Oracle Arena in Oakland, Calif.; May 8 at the HP Pavilion in San Jose; May 11 at the MGM Grand Garden Arena in Las Vegas; May 15 at the Honda Center in Anaheim; May 25 at the Air Canada Centre in Toronto; May 28 at the United Center in Chicago; June 12 at the TD North Garden in Boston; and June 18 at the Wells Fargo Center in Philadelphia.

Having been sufficiently warmed up, the lads then cross the pond for their highly anticipated gig at the Glastonbury Festival.

Last October 135,000 Glastonbury Festival tickets were sold to fans in a record setting 1 hour and 40 minutes - and those who got the ducats didn't even know the names of the headline acts.

When those ticket buyers learned that the headliners will be The Rolling Stones, with Mumford and Son and the Artic Monkeys, they thought they had won the equivalent of the concert lottery.

This will be the first time The Rolling Stones have played the event at Worthy Farm which takes place on the final weekend of June.

Glastonbury organizer Emily Eavis called it "as big a coup as we ever thought would be possible."

There will be 190 acts performing including: Primal Scream, Nick Cave And The Bad Seeds and Elvis Costello, with chart acts such as Professor Green and Dizzee Rascal also entertaining.

Kenny Rogers, 74, will perform on the main Pyramid Stage, which also hosts Rita Ora, Jake Bugg, Rufus Wainwright and festival veteran Billy Bragg.

Names on the Other Stage include Portishead - almost 20 years after they released their debut album Dummy - along with Smashing Pumpkins, Mercury Prize-winners Alt-J and John Lydon's band PiL. The XX, The Lumineers, Alabama Shakes and Foals are also included on the bill.

The Stones' Frontman Mick Jagger tweeted "Can't wait to play Glastonbury. I have my wellies and my yurt," he posted, referring to rubber boots and a portable, bent dwelling structure - a far cry from the luxurious hotels where the group will really be bedding down.

Guitarist Ronnie Wood claimed he cajoled the rest of the band into playing, saying: "I've been using all my persuasive charm on the boys for a few weeks now, really pleased to be doing it, can't wait to be getting out on that stage."

Fellow-guitarist Keith Richards added: "We all had such a ball last year, and the energy between the band is so good, we can't wait to play Glastonbury, see you on a summer's day in England."

The festival was not held last year because of the Olympics and to "let the farmland recover."

The Stones aren't needing any recovery time. They finish Glastonbury and star in a huge outdoor gig on Saturday, July 6, as part of the British Summer Time Hyde Park spectacular.

That concert takes place almost 44 years to the day since the Stones first played Hyde Park.





Broadway To Vegas is supported through advertising and donations. Priority consideration is given to interview suggestions, news, press releases, etc from paid supporters. However, no paid supporters control, alter, edit, or in any way manipulate the content of this site. Your donation is appreciated. We accept PAYPAL. Thank you for your interest.


ART AND ABOUT


GEORGE BELLOWS (1882-1925): MODERN AMERICAN LIFE

By George Bellows. One in a series of paintings portraying amateur boxing matches.
this exhibition is the first retrospective of works by American realist painter George Bellows to be held in the UK.

When Bellows died at age forty-two, he was considered one of the greatest artists in America.

His fascination with New York's gritty urban landscape, its technological marvels and the diversity of its inhabitants, made him both an artist of the modern city and an insightful observer of the dynamic and challenging decades of the early 20th century.

Bellows' short career encompassed a range of subject matter and the exhibition explores the principle themes of his work, featuring boxing fights, cityscapes, views of the Hudson River, social scenes, seascapes, portraits and the First World War.

The exhibition presents 71 works of art: 38 paintings, 14 drawings, and 17 lithographs, covering Bellow's career between 1905 and 1925.

The exhibition will begin with Bellows' renowned paintings of tenement children, boxers, and the urban landscape of New York. These iconic images of the modern city were made during an extraordinary period of creativity for the artist, from shortly after his arrival from Columbus, Ohio, in 1904, up to the Armory Show in 1913, and remain his best-known works. They include Forty-Two Kids, 1907 (Corcoran Gallery of Art), New York, 1911 (National Gallery of Art), Stag at Sharkey's, 1909 (Cleveland Museum of Art), and Snow Dumpers, 1911 (Columbus Museum of Art).

Complementing the earlier signature masterpieces will be groupings that bring to light other crucial, yet less familiar aspects of Bellows' prodigious achievement, including his Maine seascapes, sporting scenes (polo and tennis), World War I subjects, family portraits, and Woodstock, NY, subjects. Drawings and lithographs will illuminate Bellows' working methods and the relationships between his various media. The show will end with paintings from 1924, the year before his sudden death from peritonitis. These last works, including Dempsey and Firpo (Whitney Museum of American Art) and The White Horse (Worcester Art Museum), will prompt visitors to contemplate the artist Bellows might have become had he lived into the 1960s like his great contemporary, Edward Hopper.

On display through June 9, 2013 in the Sackler Wing of Galleries, Burlington House, Royal Academy of Arts, London.

THE SURGEON AND THE PHOTOGRAPHER by Canadian artist Geoffrey Farmer consists of 365 puppet-like figures composed of images cut from old books and magazines and mounted onto fabric forms.

Exhibited for the first time in its completed form.

This exhibition is accompanied by a new film commission and blends the collage and assemblage traditions of Hannah Höch and Robert Rauschenberg, the element of chance employed by John Cage and Merce Cunningham, and an animist perspective from Pacific Northwest Coast cultures.

Based in Vancouver. Farmer studied at the Emily Carr Institute of Art and Design in Vancouver and the San Francisco Art Institute.

Farmer creates installation-based artworks using combinations of a broad range of elements, including: drawing, photography, video, sculpture, performance, and found materials. Farmer's work offers an exceptionally subtle take on the legacies of minimalist and postminimalist art.

The Surgeon and the Photographer is on display until July 28, 2013 at The Curve, Barbican in London.

THE ENCHANTED WORLD OF JACQUES DEMY Designed by the French Cinematheque, the Jacques Demy exhibition presents film clips alongside costumes, photographs, paintings, drawings and sculptures created by artists who were influenced by the director such as Jean Cocteau, David Hockney, Alexander Calder, Raoul Dufy and Niki de Saint Phalle.

Spectacular and yet intimate, the exhibition takes you into a colorful and musical world.

Billed as having "both a spectacular dimension - with emblematic film scenes, work on the wallpaper so typical of films by Jacques Demy, exhibition models and costumes in three dimensions - and also a cozy and intimate dimension with books and drawings of Demy, displayed as if in his study".

Music will guide the public around the exhibition.

Wednesday, April 10 to Sunday August 4, 2013 at the Cinémathèque française - Cinema Museum in Paris.


THE MUSIC GOES ROUND AND ROUND


ANDREA McARDLE 70's AND SUNNY: LIVE AT 54 BELOW will be released April 9, 2013 on Broadway Records.

Andrea, whom we all fell in love with when she debuted as the original Annie, has grown into a woman who is both beautiful and talented. In this CD Andrea musically relives her upbringing during the 70's.

Her voice has matured into one which is powerful, clear, and able to effectively deliver a variety of song tempos and emotions. Her rich alto can pack a punch or smoothly caress.

There is the powerful and sassy Wherever He Ain't, and the hopeful Meadowlark, which shows off Steve Marzullo's nimble piano finger work. The Carpenters, who were at the top of the charts during the 70's, are represented with Rainy Days and Mondays. Karen Carpenter is credited as being a vocal inspiration for Andrea, because Karen's singing style was unaffected.

Each song selection represents Andrea during a specific 70's growth phase. For instance, Nothing by Marvin Hamlisch represents Andrea when she was attending the High School for Performing Arts.

Fallin' is paired with Being Alive. Andrea talks about Paul McCartney bringing his wife Linda and their daughter (designer Stella McCartney) to see Annie. She discloses that McCartney bought the rights to Annie, so that "every time Tomorrow is played, he gets paid." That leads into her rendition of Got To Be There.

Billy Joel's Angry Young Man is Andrea during her rebellious period. I Can Let Go Now, by Michael McDonald, is Andrea learning from her parents that in life, you need to let go and go on.

Iconic Advise is one of several talking segments. In this one Andrea recalls having graduated from high school and about to go to NYU when her then agent The William Morris Agency called and said they had a part for her. It would be her first grown up role in the Jerry Herman show called Jerry's Girls. Her name would be above the title along with Carol Channing and Leslie Uggams.

Andrea was elated. She accepted the part and tells a story about the time Channing gave Andrea a needed attitude adjustment. Carol had overheard Andrea complaining to the backup singers in Jerry's Girls about the song from Annie called Tomorrow, which was Andrea's big number in the production, for which she earned a Tony nomination. She was complaining that she was sick of that song, having sung it just one too many times. Andrea's retelling of what Channing told her, while imitating Channing's his distinctive voice, is both precious and - good advice.

Of course she sings Tomorrow followed by My Soul Rejoices written by Marzullo. It was written recently, but as Andrea explained, "it sounds 70s." She liked it and wanted to sing it. As the title suggests, it's upbeat and hopeful.

Andrea mentioned the time she returned from London after starring in Annie and filmed Rainbow, which was about Judy Garland. Then she ends the show singing Over The Rainbow.

The selection on this CD are perfect and so is Andrea McArdle's voice. A lovely listening experience.

The partnership of Broadway Records recording live at 54 Below is one of the best musical business marriages in years. Decades ago when Las Vegas was at its musical heyday, top-of-the-charts singers recorded "live in Las Vegas" albums. Anywhere from two to four of their Vegas performances would be miked and turned into an LP.

At that time, all that had to be said was Recorded Live In Las Vegas to sell the LPs.

Buyers would ask Who? as an after thought.

The same is going to be said for the 54 Below CDs. The quality is always superb. The artist is going to be great or they wouldn't be getting the 54 Below gig in the first place. Put the star and the venue together and the results are listening pleasure. Music director and musical arrangements by Steve Marzullo, who is also heard on piano. Other members of her band include Guitar: Simon Kafka - Bass: Mary Ann McSweeney - Drums & Percussion: Ray Marchica.

The cabaret show 70s And Sunny directed by Scott Logsdon. Recording engineer - Kris Umezawa Mixed at Aerial View Studio by Aaron Ankrum. Mastered by Greg Reiesson of Rare Form Mastering.




KINKY BOOTS A HIGH HEELED BROADWAY HIT


The pun lending titled Kinky Boots is a raving hit at the Al Hirschfeld Theater. With forceful, uplifting music and lyrics by Cyndi Lauper, whatever she dreamed of accomplishing on Broadway, she has.

Grammy Award winning Cyndi Lauper is her own three-ring circus. She has made a center ring debut on Broadway with a score that is vibrant and infectious. Lauper knows music and doesn't have a problem crossing from one style into another. She brings all musical flavors to this production. From heartbreaking I'm Not My Father's Son while Everybody Say Yeah, Sex Is in the Heel and Raise You Up/Just Be are invigorating, campy, clever and will have you leaving the theater humming, toe tapping, smiling.

Cyndi Lauper is one of the best things to happen to Broadway in a long time. Hopefully, she will continue to bring her talents to The Great White Way. The lady should be mighty pleased with herself. To celebrate, she could even go out and buy herself something to commemorate the production - like a pair of new shoes, or a diamond pin shaped like a shoe. Just don't forget to walk your talents back to Broadway - soon.

A round of applause must be given to Stephen Ormus who did the excellent arrangements and orchestrations.

The musical is based on a real English footwear factory which was in danger of being shut down. Then a drag queen came along and reinvented the business. Instead of turning out sensible walking shoes, what comes off the conveyor belts are kinky boots.



Talented trio: Jerry Mitchell, Harvey Fierstein and Cyndi Laurper. Photo: Gavin Bond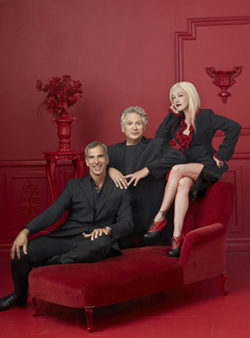 Script writer Harvey Fierstein is a delightfully, talented curmudgeon who has already won four Tony Awards. In a previous life, script writer Fierstein was either a preacher or a registered lobbyist. He's got a message to deliver and his philosophy may be that, since being subtle hasn't altered the way human beings care for each other, let's try hard hitting repetition as the way to change people's beliefs on tolerance and understanding.

Tony Award winning choreographer Jerry Mitchell is in his element. He's put sexy dazzle into high heeled boots and the people who make them.

The best musical sets on Broadway are in this production. The person who gets the credit is David Rockwell. The boots by Gregg Barnes are scene stealing, almost to the point of being show stopping. A couple of pairs even garner their own applause.

Stark Sands as mild mannered Charlie Price inherits a down on its heels shoe factory, Billy Porter as the attitude strutting drag queen with a lot of business sense, and Annaleigh Ashford as the factory worked who falls in love with the boss, are tremendous talents.

When the worst thing you can say about a show is that the British accents are dreadful and off-putting, then consider the musical a long running hit.

Broadway doesn't do the British accents nearly as well as the British speak American. For instance, the British musical Top Hat took the American film of the same name, turned it into a stage musical and cast British stars. Those British performers were taught how to speak America. They do so splendidly. Anyone in the audience can understand every single word, which was a concern for those staging the successful musical.

Likewise, in any British theatre, audiences can easily understand the British speak emanating from on stage. That isn't the case of being on the street, where the native tongue is almost garbled. It's entirely possible not to understand a single word that is spoken. Not one bloody word. Need directions in London? Stop in the AFTRA office or at the box office of any theater. Those people can be understood.

Don't teach American actors garbled British. It's annoying.

Kinky Boots based on the Miramax motion picture Kinky Boots, written by Geoff Deane and Tim Firth, while set in Britain, could be staged as one of those "inspired by " or "revisioned by" musicals and then set in New York City, San Francisco or some place like - Ohio. The premise is a universal one - a factory going out of business which is saved by broadening the customer base.

Seen in previews, walk your own shoes down to the Al Hirschfeld Theater and see this delightful, musical romp. You'll leave the show convinced that your own feet are no longer tired. You might even be inspired to buy a pair of high heeled boots.

Everybody Say Yeah.


GRAMMY ON THE HILL WILL HONOR JENNIFER HUDSON
Jennifer Hudson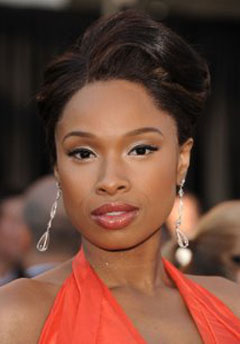 Grammy and Academy Award and winning actress Jennifer Hudson will receive another accolade on Wednesday, April 17, when The Recording Academy - known for the Grammy Awards - will present the organization's 2013 Grammys on the Hill Awards in Washington, D.C.

The event, known as "Washington's most interesting mix of music and politics," will salute Hudson for her artistic achievements and generosity as a philanthropist.

"We are elated to recognize Jennifer Hudson as not only a gifted musician and actress but as an extraordinary humanitarian who has selflessly contributed her time and talent to numerous worthwhile causes," said Recording Academy President/CEO Neil Portnow. "She is one of the industry's most enduring, giving and gifted women, and we are privileged to be honoring her artistry, her commitment, and her generosity."

The event will include a cocktail reception and dinner preceding the awards ceremony, and will also thank key legislators who help improve the environment for music makers.

Proceeds will benefit the Grammy Foundation's Signature Schools, which provides support for underserved music programs throughout the country, and a Grammy Foundation Signature School that has demonstrated excellence in music education will receive a grant to support its music initiatives.

The day after the Awards ceremony, The Recording Academy will host Grammys on the Hill Advocacy Day, where hundreds of music professionals from across the country will visit with legislators to advance pro-music policies that improve the environment for music and its makers. Now in its eighth year, it is the music community's only annual advocacy day in Washington, and features a morning briefing with keynote speeches by leading legislators and lobbying members of Congress on Capitol Hill.


SWEET CHARITY


17th ANNUAL POWER OF LOVE GALA celebrating the lives and legacies of Quincy Jones and Sir Michael Caine who are celestial twins, born in the same year, same month, same hour and within minutes of each other, one in Chicago, the other in London. Jones and Caine met decades ago and have since been great friends. This glittering star-studded gala will bring together the world's celebrities of music and film to mark this milestone year for these two entertainment marvels.

In keeping with its 16-year history, Keep Memory Alive's Power of Love Gala will include a celebrity-chef dinner, a one-of-a-kind live and silent auction, and a night of star-studded performances.

The funds raised by the annual gala support the mission of the Cleveland Clinic Lou Ruvo Center for Brain Health to enhance treatments and research for Alzheimer's disease and other brain disorders.

The evening's festivities will begin with a Dom Perignon reception, followed by an extraordinary dinner prepared by superstar chef Gordon Ramsey and Wolfgang Puck with his team of chefs, remarkable auction items, and spectacular live entertainment with Greg Phillinganes as music director.

The celebrity-guest lineup for the gala includes the expected attendance by superstar Barbra Streisand along with performances and heartfelt tributes from some of the world's hottest entertainers including music and film luminaries:

Amy Poehler, Arsenio Hall, Bebe Winans, Bono, Carlos Santana, Chaka Khan, Chris Tucker, Greg Phillinganes, Herbie Hancock, James Ingram, Jennifer Hudson, Jordin Sparks, Larry King, Marcus Miller, Nikki Yanofsky, Patti Austin, Paulinho Da Costa, Rashida Jones, Scarlett Johansson, Siedah Garrett, Snoop Dog (aka Snoop Lion), Stevie Wonder, Terrence Howard, Tom Scott, Vinnie Colaiuta, Whoopi Goldberg, and Will.I.Am.

April 13 at the MGM Grand Garden Arena in Las Vegas.

A ONE-NIGHT ONLY CONCERT FEATURING OZOMATLI with a portion of the proceeds benefiting The Pasadena Playhouse's Theatrical Diversity Project.

The special evening on Monday, April 15, will feature all-new music from their upcoming album. A limited number of VIP tickets are available which include a Café Con Ozo meet and greet with the band members featuring Ozomatli's Ozo Espresso.

"Ozomatli's great history of tying performance to the celebration of diversity matches perfectly with The Pasadena Playhouse's own connection of art to culture," stated Elizabeth Doran, Executive Director of The Playhouse.

"Here in the greater Los Angeles region we love Ozomatli because both on and off the stage they so clearly represent our shared diverse community. When they take music to refugee camps, they do it in a spirit that seems to take us all along with them. When they impact the lives of children, we feel like we are there, too. We strive for this kind of inclusion and impact here at The Playhouse, and could not be more delighted by the band's decision to come and perform to benefit our own diversity programming."


BOND GIRL QUEEN ELIZABETH WINS A BAFTA
Queen Elizabeth accepts her BAFTA Award from actor Sir Kenneth Branagh who suggested that Her Majesty had a future in film. Photo:Steve Parsons/Getty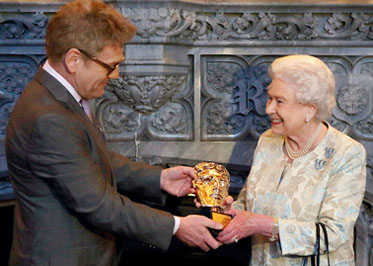 Move aside Linda Christian, Lois Maxwell, Ursula Andress, Eunice Gayson, Jill St. John, Lana Wood, Britt Ekland, Maud Adams, Barbara Bach, Zena Marshall, Eva Green, Honor Blackman, Olga Bisera and Grace Jones.

Same to you Martine Beswick, Margaret Nolan, Marguerite LeWars, Daniela Bianchi, Luciana Paluzzi, Claudine Auger, Lotte Lenya, Diana Rigg, Aliza Gur, Martine Beswick, Molly Peters, Shirley Easton, Tania Mallet, Nadja Regin, Akiko Wakabayashi, Karin Dor, Mie Hama. Tsai Chin and Jane Seymour.

Also get thee to the back of the line Lise Steppat, Caroline Mujnro, Angela Scoular, Catherine Schell, Joanna Lumley, Tanya Roberts, Pamela Salem, Famke Janssen, Samantha Bond, Lois Chiles, Carole Bouquet, Naomie Harris, Izabella Scorupco, Talisa Soto, Mayam d-Abo, Alison Doody, Fiona Fullerton and Kim Basinger.

You are also runners-up Barbara Carrera, Teri Hatcher, Rosamund Pike, Halle Berry, Denise Richards, Caterina Murino, Eva Green, Olga Kurylenko, Helen McCrory, Gemma Arterton, Minnie Driver, Caroline Bliss, Carey Lowell, Michelle Yeoh, Lynn-Holly Johnson, Sophie Marceau, Berenice Marlohe, Cassandra Harris and Kristina Wayborn.

Queen Elizabeth has been declared the "most memorable Bond girl ever," and has the BAFTA to prove it. Queen Elizabeth was presented with an honorary BAFTA by the British Academy of Film and Television Arts for her role as a Bond Girl alongside Daniel Craig during the Olympic opening ceremonies.

Her Majesty was also honored for her longtime dedication to British film and television.

In presenting The Queen with the award during a ceremony at Windsor Castle on April 4, 2013 actor Sir Kenneth Branagh referred to her "sensational appearance" as the latest Bond Girl during the London Olympic opening ceremony. "Several of my colleagues here tonight want you to know that, should you wish to venture further into the world of British film, that they have a number of scripts with them this evening," he said.

Then he added, "I have to warn you, Your Majesty, not all of these films are fully financed."

Those comments caused The Queen to chuckle.

John Willis, chairman of the British Academy Film and Television Awards, also joked that the queen's performance at the Olympics made her the "most memorable Bond girl yet."

Among the 300 guests present were Homeland star Damian Lewis, John Hurt, formner Bond Girl Minnie Driver, Idris Elba, Helena Bonham Carter and Thandie Newton. American director George Lucas flew over specifically for the reception and spoke about the importance of the U.K. in his filming including partly making Star Wars and Indiana Jones films at Elstree Studios, near London.


COACHELLA FESTIVAL WANTS MUSIC AND ROCKIN' HAIR
Red Hot Chili Peppers - Left to right: Anthony Kiedis, Flea, Chad Smith and Josh Klinghoffer.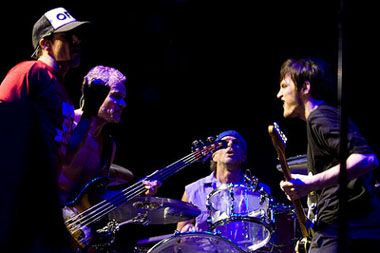 The Coachella Valley Music and Arts Festival held at the 78-acre Empire Polo Fields in Indio, California is getting ready to stage a musical frenzy.

If they rock they're at Coachella. The Red Hot Chili Peppers, The Stone Roses, The Lumineers Metric, How to Destroy Angels, Of Monsters and Men, The Postal Service, Wu-Tang Clan, Blur, The xx, Vampire Weekend, la Roux, Phoenix, Social Distortion, Yeah Yeah Yeahs, 2 Chainz, Modest Mouse, Danny Brown, Earl Sweatshirt and the French duo Daft Punk are among the beat loving groups who will perform at some point over the week-ends of April 12-14 and April 19-21.

One of the most critically acclaimed music festivals in the world, Coachella mixes some of the most groundbreaking artists from all genres of music along with a substantial selection of art installations from all over the world.

Most of the art pieces are interactive, providing a visual treat to the attendees walking around. A few of the visual artists, such as Hotshot the Robot, Robochrist Industries, the Tesla Coil (Cauac), Cyclecide, and The Do LaB, alongside avant-garde performance troupe Lucent Dossier Experience, have appeared for several consecutive years. Poster artist Emek produces limited edition posters. He first produced posters in 2007 and has continued each year.

It's not all music and art. Food abounds. I Love Spicy Pie goes through 900 gallons of tomato sauce each weekend.

The H&M tent is offering free water. hair and nail styling, air conditioning, refresh stations with face wipes, sunscreen. an animated GIF booth and more.

Those attending are encouraged to do something about their hair. Get with it. Fun whimsical styles are encouraged from boho braids to rockin' a headband. A Coachella coiffure is considered important.

If you can't make it in person, there are other options. 1.9 million people tuned in to the webcast in 2012 and watched more than 1.5 million hours of live Coachella performances combined.

While there are tickets available for some concerts, the festival itself is sold out.


SPREADING THE WORD


LYRICS & LYRICISTS DOWNTOWN

Michael John LaChiusa and Audra McDonald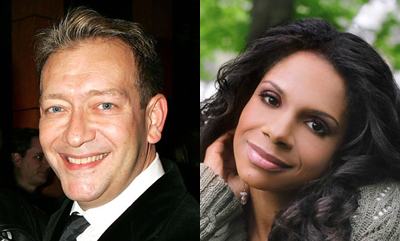 This one-night-only event on Monday, April 15, features a conversation with Tony Award-nominated lyricist composer and librettist Michael John LaChiusa.

As one of today's most innovative, prolific and honored artists, LaChiusa's credits include Giant, Queen of the Mist, See What I Wanna See and Marie Christine.

Joining him as moderator is five-time Tony Award winner Audra McDonald, who has starred in several of his works and included his songs on her CDs Way Back To Paradise and Happy Songs.

The conversation – touching on LaChiusa's significant works and his songwriting process – is punctuated by songs by vocalists Natalie Cortez and Mary Testa who will be accompnaied on piano by Chris Fenwick.

Lyrics & Lyricists Downtown features one-night-only events with songwriters working in today's musical theater, bringing the legendary American Songbook series - running since 1970 - to the intimate, nightclub-style mainstage at 92YTribeca, NYC.

SALSA: A NEW YORK MIXTURE FEATURING BOBBY SANABRIA Grammy-nominated bandleader Bobby Sanabria leads his ensemble in presenting a musical history of Latinos in New York, from Mambo to Latin Jazz to Salsa, and much in between.

This program is presented in conjunction with the exhibition American Sabor: Latinos in US Popular Music, on display in the Donald & Mary Oenslager Gallery, April 20 - July 13, 2013.

This program is part of a new series, Rhapsodic City: Music of New York devoted to exploring some of the unique musical stories of the 20th century.

Wednesday, April 17, at the New York Public Library for the Performing Arts, Dorothy and Lewis B. Cullman Center, Bruno Walter Auditorium, NYC.

IAGO by the late James McLure, with creative consultant Pulitzer Prize-winning, Tony Award-nominated and Academy Award-nominated author Beth Henley.

A stage reading directed by Art Manke.

Iago is billed as: "a very special play by the late James McLure where Vivian Leigh, Laurence Olivier, Peter Finch and Noël Coward are the inspiration for this drama about love betrayal and slipping away through the guise of a production of Shakespeare's Othello.

Iago is presented by special arrangement with the Trustees of the James McLure Literary Productions, LLC. April 16-17 at the Pasadena Playhouse in Pasadena, CA as part of their Hothouse series.

THE LIAR Pierre Corneille's romantic romp will be recorded live in front of an audience to air on public radio April 18-21 at part of LA Theatre Works' syndicated radio theater series.

Written by Pierre Corneille. Translated by Richard Wlbur. Directed by Martin Jarvis. Featuring Tara Lynne Barr, Kate Steele and Matthew Wolf.

Charming, handsome and a pathological liar, Dorante has come to Paris seeking pleasure. He falls head over heels for the beautiful Clarice, but mistakes her name for that of her best friend, Lucrece. After lying his way into a world of trouble, can Dorante lie his way back out again?

All performances will be recorded live in front of an audience - without sets or costumes - to air on L.A. Theatre Works' syndicated radio theater series, which broadcasts weekly on public radio stations nationwide.

April 18-21 at the James Bridges Theater UCLA School of Theater, Film and Television Los Angeles.

FROM HERE TO ETERNITY Tim Rice's new epic musical begins world premiere previews September 30, 2013 at the Shaftesbury Theatre in London.

AL PACINO opens his one-man show at the London Palladium on June 2. The one night event will include an on-stage interview with the actor about his life and work, and a question and answer session with the audience.

THE 58th ANNUAL VILLAGE VOICE OBIE AWARDS which will be presented Monday, May 20, 2013, at Webster Hall in the East Village, NYC have announced that the 2013 Lifetime Achievement Award OBIE Joint Recipients Are: Lois Smith and Frances Sternhagen.

The Award will be presented by Meryl Streep.

The event will be co-hosted by: Jessica Hecht and Jeremy Shamos. The awards will be presented by: Bobby Cannavale, Maggie Grace Judith Light, Aasif Mandv, Krysta Rodriguez, Duncan Sheik, and Courtney B. Vance.

CHAD BAUMAN who has been at Arena Stage in Washington, DC since 2007 will leave his position of Arena's Associate Executive Director to become Milwaukee Rep's Managing Director beginning June 1, 2103.

The official announcement states:

"The Rep has landed a rising star in Chad Bauman, and his experience at Arena Stage and his previous track record of success will make him a key leader in realizing our bold artistic vision. I've spent a lot of time with him recently and find him to be a smart, articulate professional who is ready to join an already strong and committed team," said Rep Artistic Director Mark Clements.

Mr. Bauman will be responsible for all day-to-day operations and jointly lead the 180 member staff at The Rep. He also will oversee fiscal management, leadership development and administrative and technology functions.

LORD RICHARD ATTENBOROUGH 89, director of the movie Gandhi, along with his wife, actress Sheila Sim, 90, live in a home for retired or ill entertainers in West London. The theatrical home also includes many residents who were accepted under a 'charity' classification.

Attenborough has been wheelchair-bound since a fall in 2008, and his health has continued to get worse. His actress wife is also not well.

Lord Attenborough's son Michael, 63, confirmed to the press that his father has been living in the facility for over a year.

The Oscar-winning director and actor spent 50 years starring in movies ranging from Brighton Rock to The Great Escape, Miracle on 34th St and Jurassic Park.

He was also president of the renowned acting school RADA.

Lord Attenborough has two children, Michael and Charlotte. The day after Christmas 2004 his elder daughter Jane Holland and her daughter Lucy were killed in the South Asian tsunami.


ELAINE STRITCH HITS THE ROAD


Elaine Stritch the Tony Award-winning actress closed out what has been billed her final engagement at New York City's Café Carlyle last night, April 6th.

The 88-year-old ageless icon has given up her New York apartment and is returning to Birmingham, Michigan to be close to her nieces and nephews.

She has been nominated for the Tony Award five times in various categories. In 2002, her one-woman show Elaine Stritch at Liberty won the Tony Award for Best Special Theatrical Event, Stritch has earned seven Emmy nominations, winning three.

A documentary, Elaine Stritch: Shoot Me, directed by Chiemi Karasawa, has interviews from Tina Fey, Nathan Lane, Hal Prince, Alec Baldwin, Cherry Jones, James Gandolfini, John Turturro and others. The movie "blends rare archival footage and intimate cinema vérité to reach beyond Stritch's brassy exterior, revealing a multi-dimensional portrait of a complex woman and an inspiring artist." The flick also captures part of her New York farewell. It premieres at the Tribeca Film Festival beginning on April 19.


QUALIFYING TO EAT HOT DOGS


Nathan's Famous, Inc. is staging preliminary hot dog-eating contests to qualify the participants who will compete in the 98th annual Nathan's Famous Fourth of July International Hot Dog-Eating Contest. The Nathan's Famous qualifying tour is conducted each year in cities across the U.S. and beyond.

In recent years, an estimated 40,000 fans have made the pilgrimage to the corner of Surf and Stillwell Avenues in Coney Island to watch the Nathan's Famous Fourth of July Hot Dog-Eating Contest in person. The ESPN telecast of the event drew an audience of over 1 million viewers in 2012.

Joey Chestnut of San Jose, CA, holds the world record for eating 68 Nathan's Famous Hot Dogs and Buns in 10 minutes, and he will seek his seventh straight title this year – a world record. Sonya Thomas of Alexandria, VA, will defend her title as Female Champion. She consumed 45 Hot Dogs and Buns in 10 minutes last year, setting a new women's world record.

If those stats don't cause you to gag and you think you can scarf down a bunch of dogs in record time, head to the nearest qualification contest and start swallowing.

All competitors must be over 18 years of age.

April 13 Miami, FL (Kmart at 3825 7th St NW)
April 20 Las Vegas, NV (New York, New York Hotel and Casino)
May 4 Naples, FL (Mercato's Outdoor Lawn)
June 2 St. Paul, MN (Dixie's Stage at 695 Grand Ave)
June 8 Calgary, Alberta (Cross Iron Mills Mall)
June 12 Pittsburgh, PA (Market Square at Market Street and Forbes Avenue)
June 15 Atlanta, GA (Cypress Pint & Plate)
June 22 Boston, MA (Phantom Gourmet BBQ Beach Party)
June 29 Queens, NY (Plaza at Citi Field)
June 29 East Rutherford, NJ (Meadowlands)

The top male and top female finishers from each qualifier will earn a trip to compete at the ESPN televised finals at the original Nathan's Famous in Coney Island on July Fourth. This year's ESPN show will air on July 4th at 1PM Eastern.


OTHER PEOPLE'S MONEY


BARBRA STREISAND top section London 02 June concert tickets, are still available, priced from $145.00. Tickets in the lower level back going for $396.00 on up.



MOTOWN: THE MUSICAL based on the life of Motown founder Berry Gordy. Featuring a book by Berry Gordy and music and lyrics from the Motown catalogue.

Directed by Charles Randolph-Wright.

Starring Tony Award nominee Brandon Victor Dixon and Valisia LeKae as Berry Gordy and Diana Ross and features Charl Brown as Smokey Robinson and Bryan Terrell Clark as Marvin Gaye, leading a cast of 40.

Motown: The Musical is billed as "the real story of the one-of-a-kind sound that hit the airwaves in 1959 and changed our culture forever. The musical charts Berry Gordy's incredible journey from featherweight boxer to the heavyweight music mogul who launched the careers of Diana Ross, Michael Jackson, Stevie Wonder, Smokey Robinson, Marvin Gaye and many more.

Telling the "whole Motown family fight against the odds to create the soundtrack of change in America. The music that shattered barriers, shaped our lives and made us all move to the same beat."

The creative team features choreography by Patricia Wilcox and Warren Adams, scenic design by David Korins, costume design by Tony Award nominee ESosa, lighting design by Tony Award winner Natasha Katz, sound design by Tony Award nominee Peter Hylenski and projection design by Daniel Brodie.

Arrangements and orchestrations by Ethan Popp, who also serves as musical supervisor, with co-orchestrations and additional arrangements by Bryan Crook, dance arrangements by Zane Mark and music direction by Joseph Joubert.

Officially opens on Sunday, April 14 at the Lunt-Fontanne Theatre in New York City.

HOW TO WRITE A NEW BOOK FOR THE BIBLE by Bill Cain.

Directed by Ryan Rilette.

Writers are told to write what they know. But as Bill Cain discovers in writing about his family, sometimes those we are closest to are the biggest mysteries of all.

In what has been called "powerful, beautiful," this new play taken from Cain's own experiences, a man moves in with his ailing but always funny mother when she becomes too frail to care for herself. Their reunion heals old wounds, opening a heartfelt and humorous new chapter in their relationship.

A Jesuit priest as well as an award-winning playwright, Cain brings a fascinating viewpoint to this look at why the details of our lives and loves matter.

East Coast Premiere April 10 – May 5, 2013 at the Round House Theatre Bethesda, Maryland.

THE DANCE OF DEATH by August Strindberg. A new version by Mike Poulton. Directed by Joseph Hardy.

Strindberg's searing portrait of a husband and wife locked in deadly battle is a masterful tragicomic vivisection of love and marriage.

Starring Daniel Davis, Laila Robins, Derek Smith.

April 10 - May 4 at the Lucille Lortel Theater, NYC.

GOOD NEWS music and lyrics by Ray Henderson, B.G. DeSylva and Lew Brown. Book by Laurence Schwab, Frank Mandel and B.G. DeSylva. Adapted by Jeremy Desmon. Directed and Choreographed by Vince Pesce.

Rah! Rah! Rah! Youthful energy abounds in this signature Goodspeed musical filled with Roaring 20s nostalgia, plenty of laughter and rousing dance numbers.
Anticipation builds on the Tait College campus as game day approaches but the football hero must first pass a big exam in order to play. When he unexpectedly falls for his tutor, romance blooms and hijinks ensue.

With songs like You're the Cream in My Coffee, The Varsity Drag, and Life Is Just a Bowl of Cherries, it's fun for everyone.

April 12 - June 22 at Goodspeed Opera House in East Haddam, CT.

THE CHURCH OF DIMINISHING MARGINAL RETURNS by Jay Huling.

When incorrigible entrepreneur Josh Pocket finds himself in financial trouble, he cons his evangelical brother Jon into starting their own church. Josh and Jon are so successful they're able to pay off most of their debts. This doesn't sit well with their banker, who has been making a handsome living off the interest from their outstanding loans. When the IRS uncovers the "church's" activities, they investigate. This means that Josh and John must get their act together to qualify as a real tax-exempt church.

April 13, 19, 20, 26, May 4, 5, 11, 18, 24 & 25 at the Washington County Playhouse in Rear Hagerstown, Maryland.

JEKYLL & HYDE features a book and lyrics by two-time Oscar winner, Emmy winner and four-time Tony Award nominee Leslie Bricusse, music by Frank Wildhorn, and direction and choreography by Tony Award nominee Jeff Calhoun.

Starring Tony Award nominee Constantine Maroulis in the dual title role of Dr. Henry Jekyll & Edward Hyde and Grammy-nominated R&B artist Deborah Cox as Lucy.

In addition to Maroulis and Cox, the cast also features Teal Wicks as Emma Carew, Laird Mackintosh as John Utterson, Richard White as Sir Danvers Carew, David Benoit as Bishop/Spider, Stephen Mitchell Brown, Jerry Christakos, Dana Costello, Wendy Fox, Brian Gallagher, Sean Jenness, Mel Johnson Jr., James Judy, Ashley Loren, Courtney Markowitz, Aaron Ramey, Emmy Raver-Lampman, Rob Richardson, Blair Ross, Doug Storm, Haley Swindal and Jason Wooten.

Scenic & costume design by Tony Award nominee Tobin Ost, lighting design by Tony Award winner Jeff Croiter, sound design by Ken Travis and projection design by Daniel Brodie. Orchestrations are by Kim Scharnberg. Musical supervision and arrangements are by Jason Howland.

Officially opens on Thursday, April 18, 2013 at the Marquis Theatre in New York City.


WHO'S WHERE




BRUNO MARS will be joined by funky English singer and actress Paloma Faith when Mars makes his UAE debut on April 12 at Dubai Media City Amphitheatre.

JON BON JOVI minus Richie Sambora (at least at deadline time) entertains Wednesday, April 10, at the Frank Ervin Center in Austin, TX. Thursday's show is at the American Airlines Center in Dallas. Saturday finds him at the Sprint Center in Kansas City, MO. Next Sunday, April 14, he stars at the Wells Fargo Arena in Des Moines, IA.

ERIC CLAPTON will be appearing at the Crossroads Guitar Festival at Madison Square Garden on Friday and Saturday, April 12-13.

PINK is across The Pond with a performance Friday, April 12 at the 02 in Dublin, Ireland. Next Sunday she opens a two night gig at the Manchester Arena in Manchester, UK.

ALICIA KEYS entertains Wednesday, April 10, at the Agganis Arena in Boston. On Thursday she headlines Madison Square Garden in NYC. Next Sunday, April 14, she can be enjoyed at the Verizon Center in Washington, DC.

LINDA EDER performs two shows on Wednesday, April 10 and another two on Friday, April 12 at 54 Below in NYC.

FLEETWOOD MAC on stage Monday, April 8, at Madison Square Garden in NYC. Tuesday's gig is at the Verizon Center in Washington, DC. On Thursday they're on stage at the KFC Yum! Center in Louisville, KY. Saturday they'll be singing their hits at the United Center in Chicago.

CHRIS BOTTI brings his talents to the Ohio Theatre in Columbus, Ohio on Friday, April 12. Saturday's performance is at the Tilles Center for the Performing Arts in Greenvale, NY.

TAYLOR SWIFT performs Wednesday, April 10, at the American Airlines Arena in Miami, FL. On Thursday she opens a two nighter at the Amway Center in Orlando, FL.

are in the spotlight tonight, April 7, in Brooklyn, N.Y., at Barclays Center. On Tuesday they're on stage in Providence, R.I., at the Dunkin Donuts Center. Thursday finds them in Toronto at the Air Canada Centre. Friday's performance is in Quebec City at the Quebec Colisee.

TOAD THE WET SPROCKET perform Thursday, April 11, at the SLO Brewing Company in San Luis Obispo, CA. Friday's performance is at the Rio Theater in Santa Cruz, CA. On Saturday the show is at Harlow's in Sacramento, CA. Next Sunday, April 14, they are on stage at McNear's Mystic Theater in Petaluma, CA.


FINAL OVATION


MILO O'SHEA veteran stage and television actor died April 2, 2013 in New York City. He was 86.

He made his Broadway debut in 1968 in Staircase, which was the Great White Way's first serious depiction of homosexual men.

His other Broadway credits include: Dear World, Mrs. Warren's Profession, Comedians, A Touch of the Poet, My Fair Lady, Mass Appeal, Corpse!, Meet Me in St. Louis, and Philadelphia, Here I Come!

He is survived by his wife Kitty Sullivan, two sons, Colm and Steven, from his first marriage to Irish actress Maureen Toal and grandchildren.

RUTH PRAWER JHABVALA the author and Merchant Ivory screenwriter, the only person to have won an Oscar and the Booker Prize, died April 3, 2013. She was 85.

Her scripts for Howards End and A Room With A View earned her two Oscars. She was nominated for a third Oscar in 1994 for the script for The Remains of the Day.

She made more than 20 films with producer Ismail Merchant and director James Ivory over 40 years. She also won the Booker Prize for her 1975 novel Heat and Dust. She is survived by her husband Cyrus and daughters Renana, Ava and Firoza-Bibi.

ROGER EBERT the Pulitzer Prize-winning film critic who reviewed movies for the Chicago Sun-Times and on the popular program At the movies died April 4, 2013, after a long battle with cancer. He was 70.

The day before his death he announced his cancer had returned and that he would be retiring from reviewing movies. However,he had been planning to host the 15th annual Roger Ebert's Film Festival later this month in his hometown of Champaign-Urbana, IL.

In 1975 he was awarded the Pulitzer Prize for criticism, the first such criticism prize to be awarded for film criticism by the Pulitzers.

He is survived by his wife, trial attorney Charlie "Chaz" Hammel-Smith whom he married on July 18, 1993.







Next Column: April 14, 2013
Copyright: April 7, 2013. All Rights Reserved. Reviews, Interviews, Commentary, Photographs or Graphics from any Broadway To Vegas (TM) columns may not be published, broadcast, rewritten, utilized as leads, or used in any manner without permission, compensation and/or credit.
Link to Main Page
---
Laura Deni



For the snail mail address, please E-mail your request.
CLICK HERE FOR COMMENT SECTION