! >
Broadway To Vegas
  SHOW REVIEWS     CELEBRITY INTERVIEWS     GOSSIP     NEWS 
| | |
| --- | --- |
| | |
Copyright: April 7, 2002
By: Laura Deni
CLICK HERE FOR COMMENT SECTION

PARTY AT THE PALACE


Aretha Franklin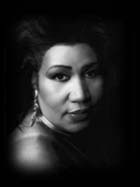 Performing before Queen Elizabeth II as part of her Golden Jubilee is considered such as honor that the Queen of Soul, Aretha Franklin, will confront her fear of flying and get on a plane for the first time in 19 years.

Franklin hasn't flown since she was on a two engine prop plane in 1983. That flight so terrified her that she vowed never to fly again - and hasn't - until she received the invitation from the Queen.

To prepare for the event the airline is having Franklin attend fear of flying classes, including spending time in a flight simulator machine.

The 60-year-old Franklin, the first female performer inducted into the Rock and Roll Hall of Fame, has won 15 Grammy Awards, the Grammy Legend Award and the Grammy Lifetime Achievement Award. She will perform for Queen Elizabeth II in the gardens of Buckingham Palace on June 3, as part of the Queen's Concerts program.

Afterward Queen Elizabeth will host a reception for the artists.



Official Jubilee Photograph of Queen Elizabeth II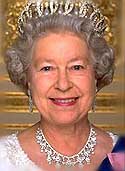 Franklin performed at former President Bill Clinton's inauguration in 1993, and has given at least one Royal Command Performance for Elizabeth II. Her voice has been designated a natural resource of the state of Michigan.

Life is convoluted and the blue bloods of England are no exceptions. While the Palace is in mourning, with the funeral service for the beloved Queen Mum taking place tomorrow, and the official memorial service for Princess Margaret scheduled for next week, plans continue on schedule for the Party at the Palace extravaganza as part of the Queen's Jubilee Celebration.

This year marks the 50th anniversary of The Queen's Accession to the Throne. Only five previous British monarchs have achieved reigns of such long duration.

Queen Mother Elizabeth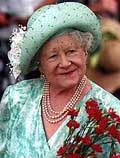 Nobody loved a party more than Princess Margaret and the Queen Mum thoroughly enjoyed music. Her favorite song - I'll Be Seeing You. No doubt somebody will include that song in the Party at the Palace repertoire.



This past week-end Princes William and Harry, in a rare British interview, disclosed that their great-grand mum was something of a cut-up.



Ali G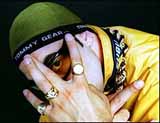 One year, following a family Christmas lunch, the Queen Mum flabbergasted her brood by doing an impersonation of hip-hop comedian Ali G, a cult comedy creation of Sacha Baron Cohen. In 1999 he competed with the Queen when he gave an alternative message on Christmas Day, broadcast on Britain's Channel 4.

As for the royal head of household and kingdom, Queen Elizabeth reportedly has been known to help roll up the rugs at Windsor Palace and is an avid dancer, including keeping up with the dances favored by her granddaughters, Beatrice, 13, and Eugenie, 12.

Frequently, at their private parties, the royal family gathers around the piano for sing alongs.

Music should and will play a significant role in the Jubilee Celebration.

"This is easily the biggest music festival this city has ever seen," said Chamber of Commerce president Tom Mooney.



Tony Bennett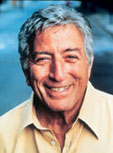 The Queen's Concerts take place in Buckingham Palace on June 1 and 3 with 15,000 invited guests expected to attend.

Crossing the pond to perform will be Tony Bennett, a favorite of the Royal Family.

Another American making an appearance is Brian Wilson, co-founder of the Beach Boys. Las Vegas' favorite Welshman Tom Jones, 35 years into his career and showing no signs of entertainment fatigue, will gyrate his hips on the royal stage.

Sir Elton John will perform as will the most successful solo artist of the former Fab Four, Sir Paul McCartney. While he will perform his own segment, reports have surfaced that McCartney has refused to sing a duet with Pop Idol winner Will Young.



Paul McCartney will solo, refuses duet

The line-up for the Prom at The Palace on June lst features the legendary Dame Kiri Te Kanawa, who has spent more than thirty years as one of opera's brightest stars.

Others on the bill include performances from the internationally renowned cellist Mstislav Rostropovich, often cited as the world's greatest living cellist, and a tireless exponent of new music. Sharing the program are Sir Thomas Allen, considered the most accomplished British baritone of his generation, and husband and wife operatic stars, Roberto Alagna and Angela Gheorghiu.



Dame Kiri Te Kanawa

27-year-old Zenaida Yanowsky and Italian Roberto Bollé from The Royal Ballet will perform a pas-de-deux from Tchaikovsky's Swan Lake, staged by Royal Ballet supremo Sir Anthony Dowell.

Top young British talent have confirmed their appearance: 12 year old clarinet prodigy Julian Bliss will perform in the music room at Buckingham Palace accompanied by Ashley Wass, winner of the Leeds Piano Competition in 2000.

The BBC Symphony Orchestra and Chorus will also perform under the guidance of their Conductor Laureate Sir Andrew Davis.

Also confirmed to perform are; BLUE, Emma Bunton, The Corrs, Annie Lennox, MIS-TEEQ, Sir Cliff Richard, Rod Stewart, and Dame Shirley Bassey joining the lineup for Party at the Palace.



Eric Clapton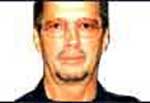 Clapton Is God first appeared as graffiti on London's walls over 35 years ago. In terms of guitar greats, it's been true ever since and the organizers were delighted when Eric Clapton confirmed his performance.

Clapton is going to be making a mad dash for the airport, since he is scheduled to perform in America on June 2 in Indianapolis, IN at the Conseco Fieldhouse and then on June 4 in Cleveland, OH at the Gund Arena.



Atomic Kitten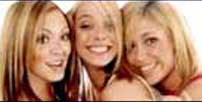 Also helping Queen Elizabeth celebrate will be Phil Collins, the multi-million-selling solo star, Genesis frontman, actor, record producer and Oscar-winning film composer.

Epoch-making rock band Queen has been tapped to perform at Party in the Park. Joining them are chart regulars S Club 7, pop idol Will Young, and female pop sensation Atomic Kitten.

BBC Music Live in 2002 will climax with two unique concerts held in the gardens of Buckingham Palace. Free tickets were distributed via a national ballot.



Broadway To Vegas is supported through advertising and donations. Priority consideration is given to interview suggestions, news, press releases, etc from paid supporters. However, no paid supporters control, alter, edit, or in any way manipulate the content of this site. Your donation is appreciated. We accept PAYPAL. Thank you for your interest.


TOOLING ON DOWN THE ROAD

Boys have always loved automobiles.

That includes boys who grow up to become president. The Harry S. Truman Library and Museum is featuring a display of the Chrysler automobiles that Harry and his wife, Bess, loved.

Two years ago, the Chrysler Corporation began restoring the cars, at a cost of about $120,000 contributed by the Chrysler Corporation, which now appear much as they did when Harry and Bess Truman first purchased them from the showroom floor 62 years ago.

There is a 1941 Chrysler Royal Club. Unusual features include "Corinthian burled walnut" paint finish on dash and door trim in addition to the standard "straight grain" finish; center bumper guard on front bumper; red stripes on all bumper guards. Red, green, brown and black stripes were available on 1941 Chryslers.

The 1941 Chrysler Windsor Sedan. Unusual features: purchase price $1,372.00. Built October 21, 1940. Purchased November 9, 1940. Total number manufactured 36,396. Two-tone paint on wheels; front fender gravel guards; silk assist straps and robe rail in back seat; red stripes on bumper guards.

In 1913 Truman purchased his first automobile, a 1911 Stafford.

Prior to taking up residency on Pennsylvania Avenue he transferred his love of the automobile into a job - working as a membership salesman for the Kansas City Automobile Club.

In Las Vegas the 16th Annual Classic and Collector Car Auction takes place April 19-21 at the Imperial Palace.

As might be expected celebrity owned wheels are part of the event.

Wayne Newton's 1954 Mercedes 220 convertible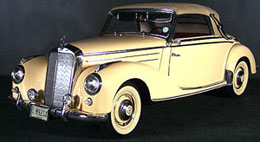 Wayne Newton is represented with several unique offerings. A fire engine and a Mercedes Benz prototype, with a one of a kind Italian body, are part of the Newton offerings as is a 1954 Mercedes-Benz 220 convertible. Currently owned by the entertainer dubbed Mr. Las Vegas, the car comes equipped with a three piece luggage set, tools, jack and manuals.



The Marcos bullet proof car

Another car on the auction block is a 1988 Mercedes-Benz 500SEL bullet-proof sedan, given by Imelda Marcos to her husband, the late dictator Ferdinand Marcos.

It was used by Marcos in Hawaii until his death in September 1989.

The vehicle has been retrofitted with 3.8 inch Kevlar bullet proof door panels, roof, flooring and armor plated doors and windows.

Other security features include: police band communication system, alarm siren and external speakers, oil spraying system under the rear bumper, window fogging system to restrict view into vehicle and fog screen emitting units of four corners of the vehicle.



Owned by both Debbie Reynolds and Lucille Ball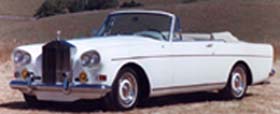 Debbie Reynolds may have passed on husband Eddie Fisher to Elizabeth Taylor and then Connie Stevens, but when it came to automobiles Reynolds picked Lucille Ball.

There were only 49 left-hand-drive SCIII H.J. Mullier-Park Ward Convertibles ever built and Debbie Reynolds bought one of them. It is a 1965 Rolls-Royce Silver Cloud Drophead Coupe. Originally purchased by Reynolds, shortly thereafter she sold it to Lucille Ball.

A complete cosmetic restoration was finished in January, 1997. It comes equipped with air conditioning, power steering, brakes, top and windows.


STORIES, BOOK SIGNINGS AND CD'S


THIS IS AMERICA is a heartfelt, patriotic song co-written by Gary William Friedman, the award winning composer of the Broadway musical The Me Nobody Knows and New York based singer/lyricist Stevie Holland.

The CD single, with a vocal performance by Holland was produced by 150 Music as a fund raiser for those whose lives were impacted by the acts of terror September 11.

Families of Freedom Scholarship Fund, a program of the Citizen's Scholarship Foundation of America, has been selected as the recipient of the fundraising efforts.

Families of Freedom Scholarship Fund will be providing educational assistance to the dependants of those killed or permanently disabled as a results of the terrorist attacks on September 11. The campaign is being chaired by former President Bill Clinton and former Senate Majority Leader Bob Dole.



Bill Clinton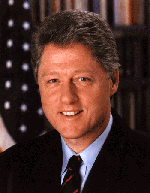 "I was touch by the song," Clinton responded after listening to the CD. Regarding the financial tie in with the CSFA, which is the nation's largest nonprofit administrator of private scholarship programs, Clinton wrote to Holland stating, "This compassionate gesture will make an immeasurable difference in the lives of families who have endured so much hardship and suffered enormous personal loss during this time of national tragedy."

"By ensuring that the children and spouses of those who died have access to the educational opportunities they need and deserve, you demonstrate by the power of your example that the American spirit is far stronger than the forces of hate."

RICCI AND DESI that would be Ricci Martin, the youngest son of Dean Martin and Desi, Jr., the son of Lucille Ball and Desi Arnaz. They were on hand yesterday at Sunset Station in Las Vegas to meet and greet their fans and promote a new book and CD.

That's Amore authored by Ricci is a beautiful tribute to his father, Dean Martin.

In the book Ricci reveals the husband and father few people knew, a man who adored his mother-in-law, and found utter contentment in a slice of buttered bread.

Martin takes readers on a tour through his childhood, from the star studded parties to the exploration of "three marriages, eight kids, one family, to the treasured one-on-one time he shared with his father. He also discusses his father's version of the Martin and Lewis breakup.

Ricci Martin, Desi Arnaz Jr. and Billy Hinsche are old friends, having grown up together in Beverly Hills, California. Their common bond is the music they make. Ricci, Desi & Billy is their newly formed musical group featuring original material as well as the songs of 60's musical teen sensation Dino, Desi & Billy, of which Desi and Billy were founding members. Ricci is Dino's younger brother. Though this is a new configuration of the original band, the last names remain the same - Martin, Arnaz and Hinsche.

They performed last night at the private function at Sunset Station and will be on stage at the Boulder Theatre in Boulder City, Nevada May 24 & 25.

Available in the lobby before and after the show will be the bands newest CD Live from Boulder City which was recorded live at the Boulder Theatre last May. Also available will be Martin's new book.


LAUGH IN INDUCTED INTO HALL OF FAME
Rowan and Martin's Laugh In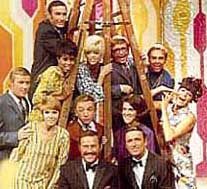 The National Association of Broadcasters began its annual convention yesterday in Las Vegas. The NAB is the world's largest trade event covering the convergence of broadcasting, multimedia and the Internet, audio and video communications, and telecommunications.

Running through April 11, highlight of the convention is tomorrow's induction of the comedy-variety show Rowan & Martin's Laugh-In into NAB Broadcasting Hall of Fame.

Laugh In first aired January 22, 1968 on NBC and immediately became a ratings giant. The program was a rapid fire gag machine, cutting from skit to joke every 12 seconds. Winning six Emmy awards, it was the vehicle by which Dan Rowan and Dick Martin contributed a chapter to the history of television comedy.



Dan Rowan and Dick Martin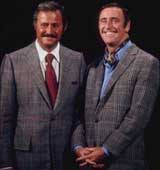 The innovative program was a springboard to success for a raft of new stars, and started trends in comedy which other programs would follow.

Blackouts, sketches, one-liners, and cameo appearances by famous show- business celebrities and even national politicians - including Richard Nixon - were all edited into a frenetic whole.

Some of the classic one liners that became American catch phrases were: "Sock it to me," "You bet your bippy," "Look that up in your Funk and Wagnails," "Here come de judge!," and "Beautiful Downtown Burbank."

Regulars on the program included: Gary Owens, Ruth Buzzi, Judy Carne, Eileen Brennan, Lisa Farringer, Sarah Kennedy, Flip Wilson, Sammy Davis Jr., Goldie Hawn, Arte Johnson, Henry Gibson, Alan Sues, Roddy Maude-Roxby, Jo Anne Worley, Donna Jean Young,

Goldie Hawn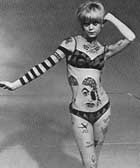 Pigmeat Markham, Charlie Brill, Dick Whittington, Mitzi McCall, Chelsea Brown, Dave Madden, Ann Elder, Teresa Graves, Jeremy Lloyd, Lily Tomlin, Tod Bass, Byron Gilliam, Nancie Phillips, Barbara Sharma, Johnny Brown, Dennis Allen, Pamela Rodgers, Harvey Jason, Richard Dawson, Moosie Drier, Patti Deutsch, Jud Strunk, Brian Bressler, Larry Hovis, Betty Ann Carr, Muriel Landers, Elaine Beckett, Willie Tyler

Of the 40 regulars who appeared in the series only four were in it from beginning to end, the two hosts, announcer Gary Owens, and Ruth Buzzi.

124 episodes aired, the last on May 14, 1973.

On Tuesday the Television Management Conference will include a timely session devoted to audience measurement issues.

If you've ever wondered why so many good shows get canceled and the bad ones get renewed, and why those stars command multi million dollar salaries - it's all in the numbers.

The convention will attempt to explain with "The Future of Research Measurement" offering attendees an inside look at many of the key issues involved with how media audiences are measured in an increasingly digital age.

The session will feature introductory keynote comments by David Poltrack, executive vice president of Research and Planning for CBS Television.

Panelists will include: Steve Morris, president/CEO of The Arbitron Company; Susan Whiting, president/CEO of Nielsen Media Research; Susan Nathan, senior vice president/director of Media Research for McCann Erickson; and Laura Silton, director of Strategy and Resources for LCI, the spot buying arm of Universal McCann. George Ivie, executive director/CEO of the Media Rating Council, and Mac Douglas, vice president of Marsh Media, will serve as co-moderators.

Topics to be covered will include Arbitron's testing of its Personal People Meter (PPM) multimedia audience ratings system, and Nielsen's introduction of its new Local People Meter service, as well as other important issues, such as the future of small market audience measurement and the challenges posed by increasingly fragmented audiences.

NAB's Research and Planning Department has announced the award of six research grants to academic scholars as part of its annual Grants for Research in Broadcasting program.

Each year, this highly competitive program attracts research proposals from broadcast scholars throughout the country.

The grants program is designed to stimulate interest in broadcast research, especially research on economic, social or policy issues of importance to the commercial broadcast industry.

This year's six winners and their topics are:

I. BROOKE BARNETT and CONNIE L. BOOK Elon University, "Bandwidth Bonanza: DTV PC & the Promise of Digital Business Opportunity for Broadcasters"

JERRY CONDRA State University of New York Oswego, "An Investigation of Factors Affecting Training & Recruitment of Entry-Level Broadcast Sales People"

KIMBERLY S. GREGON Indiana State University, "Increasing SplashBack: Once We Get the Broadcast Television News Viewer to the Web, How Do We Get Them to Come Back?"

HERBERT H. HOWARD University of Tennessee Knoxville, "TV Station Ownership in the United States: A Comprehensive Study (1952-2002)"

ANNIE LANG Indiana University Bloomington, "News Program Pacing, Arousal, Memory & Channel Changing"

ANDREW T. SWEETING Massachusetts Institute of Technology, "Strategic Product Choices in the Commercial Music Radio Industry"


SWEET CHARITY

KELLIE MARTIN will be honored by the National Down Syndrome Society Assn. of L.A. April 17 at the Beverly Hills Hotel.



GETTING FRANKIE MARRIED - AND AFTERWARDS by Horton Foote receiving its world premiere at California's South Coast Repertory

Just because an elderly Texas matriarch is on her death bed doesn't mean she's going to die! Mrs. Willis refuses to check out until her son is married. After years of bachelorhood, Fred means to do the right thing by Frankie, his longtime sweetheart. But Fred has a secret that may derail their plans, and given the neighborhood, it won't be secret for long.

Nan Martin, Joel Anderson, and Juliana Donald star in this production directed by South Coast Repertory's artistic director Martin Benson. Also in the cast are Linda Gehringer, Jason Guess, Annie La Russa, Hal Landon, Jr., Kristen Lowman, Randy Oglesby, Jennifer Parsons, Sarah Rafferty, and Barbara Roberts.

Michael Devine (sets), Maggie Morgan (costumes), Tom Ruzika (lighting) and Dennis McCarthy (music). Opening night was April 5 with performances through May 5.

THE ODD COUPLE starring Barbara Eden and Rita McKenzie perform Monday and Tuesday at the Van Wezel Performing Arts Hall in Sarasota, FL. On Friday they open the show for a three night engagement at the Westbury Music Fair in Westbury, N.Y. Eden plays Florence the neurotic, orderly one. In real life the former I Dream of Jeannie star admits that she does have an obsession for neatness.

CONTACT the 2000 Tony Award winning musical April 9-May 5, Oriental Theatre, Chicago, IL.

THE KING AND I starring Carolee Carmello as Mrs. Anna and Kevin Gray as the King. Paper Mill Playhouse

APOCALYPSO! is a play about getting your life in order just in case tomorrow never comes. Where is your Blondie CD? What is post-millennial molecular re-sequencing? Who have you wronged? Settle up now, because the end of the world is approaching and all bets are off. Set in a small Northeastern American town, this dark comedy tracks the lives of eight disparate characters at the approach of New Year's Eve. During the last four days of the year, an apocalyptic messenger has them thinking about who they've wronged, what steps they can take to make things right, and the frightful notion that the Apocalypse may be a Caribbean dance-a-thon that goes on forever. Listless Boone is sponging off his oldest friend Walt---who's carrying on an affair with Boone's estranged and destructive wife, Gin. Meanwhile, Gin's sister Cal (a self-help junkie) struggles with her husband Dwight - who has never come clean about who he really is. On the periphery is Gus, a barstool philosopher, and Sherry, his barmaid girlfriend. Suddenly, Dora appears--who's either an apocalyptic messenger or a lunatic--but most likely both. She'll make sure they all come together in time for The End.

Erin Brindley directs Chris Briggs, J.C. Devore, Colleen DeSalvo, Kelli Lynn Harrison, Kate Hess, James O'Shea, Amy Rhodes and Lee Rosen Playwright William Donnelly is a resident playwright for Boston's Industrial Theatre. The recipient of a Massachusetts Cultural Council grant, his newest play, Painted Alice, will be presented this month by Industrial Theater in Boston.

MISTER starring Anthony Rapp and Yassmin Alers playing an inner-city schoolteacher and his girlfriend, the older sister of one of his students, in the new musical.

Playwright and screenwriter Tony Vellela wrote the book and lyrics with the Latin, jazz, rock and gospel music by pianist Misha Piatigorsky The Present Company Theatorium April 9-30. NYC.

Anthony King directs. Adesola Osakalumi is the choreographer.

BROKE AND ALONE IN LONDON is Joan River's one woman show. For three Sundays this month the 14, 21 and 28 Joan is appearing in two performances each Sunday. The West End's Haymarket Theater in London.

DAMES AT SEA Andrea Chamberlain is Ruby and Joel Carlton is Dick is the Goodspeed Opera House's revival of Dames at Sea, the daffy musical spoof of 1930s movie musicals, April 5-July 6 in East Haddam, CT. Scott Thompson directs and choreographs this musical gem full of comedy, tap dancing and torch songs. This imaginative production tells the story of naive, fresh-faced Ruby, who becomes the last minute star of a new show when the leading lady gets seasick after the demolition of the theatre forces the troupe to perform on the deck of a battleship. With an off-Broadway opening in 1968, the original musical starred newcomer Bernadette Peters.

Book and lyrics by George Haimsohn and Robin Miller, with music by Jim Wise.

The cast includes Corinne Melancon, Michael Gruber, Paula Leggett Chase, and David Engel.

F. Wade Russo is musical director. Michael Bottari and Ronald Case in charge of sets and costumes and Tony Tucci lighting.

Goodspeed Opera House in East Haddam, CT.

SOUTH PACIFIC starring Robert Goulet April 10-21 at the Community Center Theatre in Sacramento, CA.

THE BEST LITTLE WHOREHOUSE IN TEXAS starring Ann-Margret and Gary Sandy closes tonight in Las Vegas. Attending the opening night performance was Las Vegas resident, famed film director George Sidney, who directed Elvis Presley and Ann-Margret in Viva Las Vegas. Also in attendance, Siegfried of Siegfried & Roy. The Best Little Whorehouse in Texas opens up the theatrical brothel April 9-14 in Minneapolis, MN at the Historic State Theatre.

STREAKIN' Steven Yuhasz will present this new musical revue, bill as a fun-filled flashback to the 1970's at the El Flamingo Club, NYC, on four Tuesday nights in April - 9th, 16th, 23rd & 30th. There is a cash bar available with no cover and no minimum. Admission is free but reservations are required.

Directed and choreographed by Jamie Rocco, the musical revue has fun with the ME generation and features over 40 hits songs and fast-paced skits that include Scream That Theme (think Name That Tune), The Grady Group and Scary Night at the Disco (Saturday Night Fever meets Carrie at the Towering Inferno). Streakin' of course includes a real live streaker.

Streakin' features Everett Bradley, Simone DePalo, Tari Kelly, Patty Reeder, Tom Stuart, Danny Vaccaro, and Monte Wheeler. They are accompanied by the 5 piece Zodiac Band under the Musical Direction of Jason Paul DeBord. Musical arrangements are by Patti Wyss and Ed Cionek.


WHO'S WHERE


PAUL McCARTNEY center stage Wednesday and Thursday at the United Center in Chicago, IL. McCartney performed Friday and last night in Las Vegas at the MGM Grand Garden. His audience included Larry King, Bill O'Reilly, Roger Daltrey, Tony Orlando and Alice Cooper. Booked as a replacement when the Mike Tyson fight got KO'ed the entertainer quipped - "Tyson? Fuggedaboutit."

DOUGLAS SILLS Tony-nominated role in The Scarlet Pimpernel brings his debonair way with a song to the intimate setting of Founders Hall at the Orange County Performing Arts Center, CA April 11-14.

BETTY BUCKLEY April 8 Benefit Concert at the Studio Arena Theater in Buffalo, NY.

BARBARA COOK April 9 at the Metropolitan Museum of Art in New York, NY (June Lebell series: The Sound Of Broadway) April 12-13 Marilyn Horne and Barbara Cook at the Warton Center at Michigan State University in MI.

MICHAEL FEINSTEIN performs Friday and Saturday in Orchestra Hall, Minneapolis, Minnesota.

BARRY MANILOW center stage Thursday, Friday and Saturday at the Sunrise Musical Theatre in Sunrise, Florida.

ALAN JACKSON Thursday at the Hilton Coliseum in Ames, Iowa.On Friday he sings in the Mark of the Quad Cities in Moline, IL.

DON RICKLES insulting the happy crowds Friday, Saturday and Sunday at the Tropicana Hotel, Atlantic City, N.J.

PETER PAUL AND MARY singing their hits Thursday in the Opera House in Detroit, MI. The next night they can be enjoyed in the Indiana University Auditorium at Bloomington, Indiana. They close out the week, Saturday, at the Miller Auditorium in Kalamazoo, Michigan.

DAVID CASSIDY entertains tomorrow at the Papermill Playhouse in Milburn, N.J. That engagement is sold out. April 12th is David's birthday. The Las Vegas resident will be celebrating by performing April 12-13 in London at the Carling Apollo Hammersmith as part of his Rock Me Tour 2002.

BOB NEWHART telling funny stories Tuesday at Proctor's Theatre in Schenectady, N.Y. On Thursday he is on stage at the State Theatre in Easton, PA. Friday he is in the spotlight at the John Harris Center in Engelwood, N.J. He closes out the week on Saturday at the Community Theatre in Morristown, N.J.

WILLIE NELSON Thursday at the Classic Center in Athen, GA.

DAVID COPPERFIELD materializes for a three night stand Friday at the Murat Center in Indianapolis, IN.

WINTON MARSALIS and the Lincoln Center Jazz Orchestra perform Wednesday at the Calvin Theatre in Northampton, MA. On Friday the gang is in the spotlight in Symphony Hall in Boston, MA.

JACKIE MASON brings his show to the Palace Theatre in Stamford, Conn. for a four night engagement beginning Thursday.

BILL COSBY at the Hult Center for the Performing Arts in Eugene, Oregon on Friday.

BERNADETTE PETERS April 13 at the Providence Perf. Arts Center in Providence, RI.

ENGELBERT HUMPERDINCK on stage Saturday at the Paramount Arts Center in Aurora, IL.

LINDA EDER brings her glorious voice to the State Theatre in New Brunswick, N.J. on Saturday.

DIANA KRALL on Tuesday will delight the audience Tuesday at the Meyerhoff Symphony Center in Baltimore, MD.

DIANNE REEVES performs Thursday at the Paramount Theatre in Seattle, WA. On Friday she can be found in Malibu. CA at the Smothers Theatre. The nest night she takes the stage in Torrence, CA at the Marsee Auditorium.

STYX stops the tour in Mt. Pleasant, MI for a one night at the Soaring Eagle Casino on Thursday. On Saturday they are on stage at the Crystal Grand Theatre in Wisconsin Dells, WI.

LORRIE MORGAN stars Saturday at the Bridwell Agricultural Center in Wichita Falls, TX.

EILEEN FULTON who stars as Lisa on As The World Turns brings her cabaret act, After All It's Spring, to Don't Tell Mama, NYC on April 12 and 13.

ARLO GUTHRIE in the spotlight Saturday at the Saenger Theatre in Mobile, AL.

WAYNE SHORTER center stage at the Michigan Theatre in Ann Arbor, MI. On Friday the venue is the Tri-C Jazz Festival in Cleveland, OH.

DAME CLEO LAINE AND JOHN DANKWORTH will appear at the Suncoast Resort, Las Vegas April 13 and 14. They will do a meet and greet the public event at the Suncoast on Friday afternoon.

LOU RAWLS AND NANCY WILSON performing in Le Theatre des Arts at Paris Las Vegas. April 13-14.

ELTON JOHN AND BILLY JOEL concerts originally scheduled for last night April, 8 and 11 at the Continental Airline Arena, in NJ have been rescheduled for October 2, 8, and 11.


PIFFLE AND PROFUNDITIES


LES MISERABLES is sending a casting team from New York City to Salt Lake City tomorrow, Monday, April 8, to audition adult singers, and Tuesday, April 9, to audition children. Sessions will be at the Hilton Salt Lake City Centre.

The company is looking for male/female singers/actors to play principal roles, students and various character parts. With a few exceptions, all must be in their early 20s to mid-30s. Most women must be strong belters. Men should be able to sing in the high baritone range or a strong, low tenor range.

The separate children's auditions are for two major roles in the show Gavroche and Young Cosette. Children and their parents/guardians must be willing to relocate to New York or travel with the national tour.













Next Column: April 14, 2002
Copyright: April 7, 2002. All Rights Reserved. Reviews, Interviews, Commentary, Photographs or Graphics from any Broadway To Vegas (TM) columns may not be published, reprinted, broadcast, rewritten, utilized as leads, or used in any manner without permission, compensation and/or credit.
Link to Main Page
---
Laura Deni


CLICK HERE FOR COMMENT SECTION