! >
Broadway To Vegas
  
  REVIEWS INTERVIEWS COMMENTARY NEWS

| | |
| --- | --- |
| | |
THE FASHION WORLD OF JEAN PAUL GAULTIER - - EMPIRE STATE THEATRE PRODUCTION TAX CREDIT APPROVED - - ROSIE O'DONNELL TO RECEIVE ISABELLE STEVENSON AWARD - - MASTERWORKS BROADWAY RELEASES ROBERT GOULET'S KISS ME KATE AND BRIGADOON - - EVERYBODY LOVES RAYMOND HONORED - - KISS UPSET ABOUT ROCK AND ROLL HALL OF FAME INDUCTION - - PAUL SHAFFER'S LATE SHOW OUTFITS NEED TO BE PRESERVED - - STAGEHANDS/ASSISTANTS SUE DAVID COPPERFIELD - - DONATE . . . Scroll Down




Copyright: April 6, 2014
By: Laura Deni
CLICK HERE FOR COMMENT SECTION


ROBERT GOULET - A COMPLEX MAN WITH A MAGICAL VOICE: MASTERWORKS BROADWAY RELEASES KISS ME KATE AND BRIGADOON


For a period of time Robert Goulet and I lived a few houses from each other. He stayed in what was then a hotel owned house which they provided to their stars. Then Goulet bought his first nice Las Vegas home. It was while he lived in that nice home that I booked a television show to interview him in his house. I not only booked the show, I made sure everything ran smoothly. I was the first to arrive and the last to leave. Back then it was even more complicated to bring a television crew into a home than it is today. You had to set up lights, sound, lay cable, position cameras, set marks, and on and on. The taping needed to be on time and under budget. Flooring that isn't going to be seen on camera needed to be protected. Cables needed to be carried not dragged across carpets and floors. The crew removed their shoes. You don't damage anything. It wasn't an unreasonable request if a star asked for the carpet to be professionally cleaned after the shoot.

Goulet wanted his carpet cleaned.

Before the shoot, I was the one who went from room to room determining where to set up and and trying to figure out if the sun might suddenly stream through any windows. Goulet had to feel comfortable with the questions and conversation. Suddenly I noticed a hole in the wall. I looked at him. He nonchalantly informed me that he had gotten mad at his then wife Carol Lawrence, who was in the house.

I stared at that hole in the wall. Goulet was anxious to get on with the pre-taping agreements.

He began the tour of his house. In the living room his Tony Award was on a mantle. He'd won Best Actor in a Musical for his star turn in the Kander and Ebb musical The Happy Time. He took the Tony down, and as he handed it to me to inspect said: "I wasn't even nominated for Camelot." That bothered him.



Robert Goulet and Carol Lawrence in Kiss Me Kate. Photo: Masterworks Broadway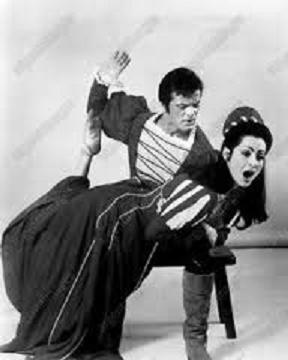 In another room he said he wanted to read me something. From a secret hiding place he pulled out a box containing sheets of paper upon which he written poetry. He picked out one he said he particularly liked, read it to me and wanted to know what I thought. It was exquisite. I thought it should be published. Not just one poem, but a book of his poetry. I really thought his poetry was exceptional. He divulged that had trouble sleeping. He'd get up and write poetry, or call in to a middle of the night religious radio talk show where he would anonymously discuss his troubles with the host.

I took that information and turned it into an article for a religious publication. Goulet had assumed that would cause people to rally around him. The opposite happened. His best friends ridiculed him. He was mocked and embarrassed. Goulet was going through an extremely troubling period. A stranger on the radio would listen and at least pretend to care. His friends didn't.

Regardless of his personal demons Goulet always looked and sounded impeccably elegant.

He was part of the Golden Age of Broadway when orchestrations were lush, the pit filled with musicians and the songs memorable.

Goulet's velvet voice was a composer's dream.

He was a multimedia performer - recordings, stage, television and movies. In addition to winning a Tony, he won a Grammy and five Emmy awards for the two television specials, the soundtracks of which have been captured on this CD.

A shrewd businessman, Goulet starred in a 1966 television version of Brigadoon, which won those Emmy Awards, and two years later Kiss Me Kate, opposite his then-wife Carol Lawrence. Both were produced by Goulet's company Rogo Productions and aired on ABC.

Now Masterworks Broadway has released the soundtracks together as a CD or a digital download.



Peter Falk, Sally Ann Howes and Robert Goulet in Brigadoon. Photo: Masterworks Broadway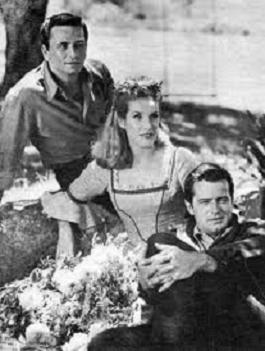 For those who love great Broadway musicals - for those who want to remember the days when television used Broadway as a marketing tool - for those who love standards, great arrangements and voices from singers who really did know how to sing - this Masterworks Broadway release is a must.

Cole Porter's Kiss Me Kate stars Goulet, Jessica Walter, Michael Callan, Tony Hendra, Nick Ullett, Jules Munshie and Marty Ingles who is married to Shirley Jones and, of course, Tony nominee and Grammy Hall of Fame member Carol Lawrence, who on March 9 wrapped up starring in the off-Broadway play Handle With Care at the Westside Theatre Downstairs,

The musical score in this, the third television version of Kiss Me Kate, only had a slight variation from the Broadway version. From This Moment On wasn't added to Kiss Me Kate until the 1999 revival, so obviously isn't on this CD. Nor is Bianca which followed From This Moment On.

Kiss Me Kate produced for records by Joe Carlton. Music Supervised, arranged and conducted by Jack Elliott. "Recording date and location not documented of available sources," stated the booklet. Choral arrangements and direction by Ray Charles.

In addition to the glorious voices of Goulet and Carol Lawrence, enjoy the hilarious rendition of Brush Up Your Shakespeare performed by Jules Munshie and Marty Ingles.

Brigadoon is a musical with a book and lyrics by Alan Jay Lerner and music by Frederick Loewe. Songs from the musical, such as Almost Like Being in Love have become standards. The story involves two American tourists who stumble upon Brigadoon, a mysterious Scottish village that appears for only one day every hundred years. Tommy, one of the tourists, falls in love with Fiona, a young woman from Brigadoon.

Thanks to Goulet, Brigadoon was turned into a 1966 television version, shown as an ABC color special. It was an updated, abbreviated script that accommodated new musical arrangements. It ran ninety minutes with commercials. Goulet starred as Tommy, Peter Falk as Jeff, and Sally Ann Howes as Fiona, with Finlay Currie in one of his last roles as Mr. Lundie, Edward Villella as Harry Beaton, and Marlyn Mason as Meg.

In this updated script, Tommy and Jeff were participating in an auto race when their car stalled just outside of Brigadoon.

Musically there are significant differences between the Broadway and television versions. On Broadway there were originally 24 numbers with an additional three added for the 1980 revival. This telecast soundtrack features 11 selections including the memorable Almost Like Being In Love powerfully sung by Goulet and Howes - the tender From This Day On sung by Goulet and Howes and the equally tender Come To Me, Bend to Me performed by Tommy Carlisle - the melodic and jaunty The Heather on the Hill and I'll Go Home With Bonnie Jean - the romantic There But For You Go I and Brigadoon.

Brigadoon produced for records by Ernie Altschuler. Music supervised, arranged and conducted by Irwin Kostel. Recorded July 13-15, 1966 at Columbia Recording Studio, Hollywood. Choral direction by George Wilkins.

The 1966 telecast of Brigadoon has not been shown since its 1968 rebroadcast on ABC, nor has it ever been released on video cassette

This Masterworks Broadway release is a gem.

The only downside is that Goulet passed away too soon in 2007. It's a shame that he didn't live to see this CD released and then tout it on various programs. He made a great talk show guest.





Broadway To Vegas is supported through advertising and donations. Priority consideration is given to interview suggestions, news, press releases, etc from paid supporters. However, no paid supporters control, alter, edit, or in any way manipulate the content of this site. Your donation is appreciated. We accept PAYPAL. Thank you for your interest.





ART AND ABOUT


THE FASHION WORLD OF JEAN PAUL GAULTIER

© Pierre et Gilles. Courtesy Galerie Jérōme de Noirmont, Paris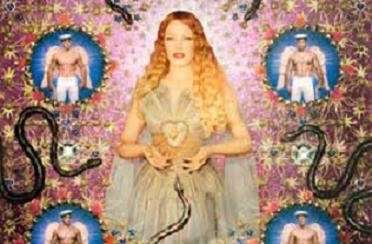 the first major exhibition devoted to the celebrated French couturier.

With his avant-garde fashion creations and cutting-edge designs, Gaultier has shaped the look of fashion over the last 35 years.

His reputation for witty and daring designs and a ceaseless interest in society, identity and a beauty borne of difference has earned him a place in fashion history.

Gaultier is fascinated by world cultures and countercultures, conceiving a new kind of fashion in both the way it is made and worn.

Through twists, transformations, transgressions and reinterpretations, he not only erases the boundaries between cultures but also the sexes, redefining the idea of androgyny or subverting fashion codes.

This theatrically-staged exhibition brings together more than 140 cutting-edge couture and ready-to-wear garments including iconic costumes for film and performance from the early 1970s to the present day.

The infamous conical bra and corsets Madonna wore during her 1990 Blonde Ambition World Tour are showcased alongside stage costumes designed for Kylie Minogue as well as pieces created for the films of Pedro Almodóvar and Luc Besson's The Fifth Element.

Gaultier's rich collaborations with renowned artists and photographers such as Miles Aldridge, Richard Avedon, David LaChapelle, Pierre et Gilles, Herb Ritts, Cindy Sherman and Andy Warhol are also shown together with footage of catwalk presentations, concerts, music videos, films, dance performances and Gaultier's cult television show Eurotrash.

The Fashion World of Jean Paul Gaultier: From the Sidewalk to the Catwalk is organized by the Montreal Museum of Fine Arts in collaboration with Maison Jean Paul Gaultier.

This exhibition was initiated and produced by the Montreal Museum of Fine Arts (MMFA), under the direction of Nathalie Bondil, Director and Chief Curator and Thierry-Maxime Loriot, Curator at the MMFA in collaboration with Maison Jean Paul Gaultier – Paris.

THE FIRST GEORGIANS,

Actor David Garrick with his wife Eva-Marie Viegel by Hogarth. The celebrated actor-manager David Garrick (1717-79) was one of the most frequently painted subjects in eighteenth-century Britain. Despite their close friendship, formed after Hogarth painted Garrick as the King in William Shakespeare's Richard III in 1745 (Liverpool, Walker Art Gallery), tradition has it that artist and actor quarrelled over over this portrait. Garrick was displeased with his likeness and there are signs that Hogarth scored through the eyes. X-rays reveal that the sitters were originally placed in a domestic interior which was replaced by a column with a hanging cord. Although Garrick paid fifteen pounds for the painting in 1763, it was in Hogarth's studio at the time of the artist's death in the following year.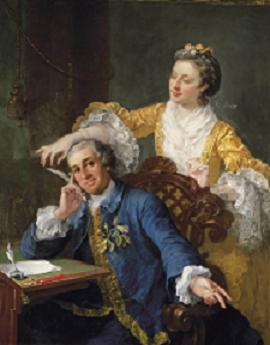 Art and the Monarchy 1714-1760 is the latest exhibit at the Queen's Gallery at Buckingham Palace in London.

In 1714 George I ascended the throne as the first British monarch of the German House of Hanover. With the dawn of a new dynastic age came a silent revolution - one of the most dramatic periods of change across all aspects of British political, intellectual and cultural life.

To mark the 300th anniversary of the beginning of the Georgian era, The First Georgians: Art and Monarchy 1714-1760 explores royal patronage and taste in the reigns of George I and George II as a product of a time when Britain was the world's most liberal, commercial and modern society. It brings together over 300 works in the Royal Collection from royal residences across the UK.

The First Georgians: Art & Monarchy 1714-1760 including lectures, special events, music, study days and creative courses. The lecture program will cover themes including eighteenth-century theatre, Georgian royal dining and the art of the Enlightenment and will also feature Lucy Worsley on the early Georgian court through the eyes of her favourite Queen Consort, Queen Caroline.

The music program includes a solo performance on the Shudi Harpsichord by Robert Woolley, one of Europe's leading performers of the harpsichord and organ, as well as a concert of chamber music by students from the Royal College of Music.

On ther creative courses there will be an opportunity to try out the materials and techniques of seventeenth and eighteenth century portrait miniaturists and a life drawing course exploring how Georgian classicism informs our use of composition and proportion.

Study days include an event, in partnership with the Wallace Collection, dedicated to the often overlooked art patronage of the first two Georges and their families.

Friday, April 11, 2014 to Sunday, October 12, 2014 at the Queen's Gallery in London.


EMPIRE STATE THEATRE PRODUCTION TAX CREDIT APPROVED


The Empire State wants to make a trade - your production for their green stuff.

New York is now the fourth jurisdiction in America to offer financial incentives to investors who originate live productions within New York State, effective for tax year commencing January 1, 2015. Included in the budget for Fiscal Year 2014 - 2015 is a program offering a 25% tax credit to producers who tech their shows in New York's facilities.

A show's tech period, generally requiring between two and four weeks, is the phase in its development when the production is readied for launch; a large venue is rented to facilitate the construction of sets, costumes are fitted, performance cues are choreographed and microphone frequencies are coordinated. Producers spend millions of dollars during this time employing local stagehands, occupying dozens of rooms at area hotels and paying the cast and crew meal per-diems which they spend locally. In addition, once the tech period concludes, the show will normally hold several public performances at the venue and stimulate hundreds of thousands of dollars of supplemental economic activity through additional use of the venue and audience spending.

Nick Scandalios, Chairman of the Broadway League and Executive Vice President of the Nederlander Organization, said, "We are delighted that the executive and the legislature have expressed their appreciation for the significance of Broadway to all New Yorkers, not only for maintaining our status as a world-renowned model for artistic expression, but for the way live theatre serves as a powerful economic driver. Our State's leaders' commitment to investing in the future of this industry will attract financing from across the country and around the world, helping to ensure that New York State remains the true home of Broadway."¯ He continues, "We extend our gratitude to Governor Cuomo, Senators Skelos and Klein, Speaker Silver and to Senator Betty Little and Assemblyman Angelo Santabarbara for their commitment to this vital initiative."

According to the Broadway League, "New York has at least eight Upstate theatres that are ideal for teching and launching new plays and musicals, however tax incentives in Rhode Island, Illinois and Louisiana have attracted many productions away for the past five years. This new program, combined with New York's infrastructure and multitude of highly skilled laborers, will ensure its national competitiveness while serving to financially sustain regional theatres during months when there is typically little activity and houses are often dark."

Al Nocciolino, The Broadway League's Vice Chairman of the Road and President & CEO of NAC Entertainment, specializing in the presentation of Touring Broadway in Buffalo, Rochester, Syracuse, Binghamton, Elmira and Albany, said, "With other states offering aggressive tax incentives for theatrical production, New York's venues have struggled to stay competitive and attract new shows. However, this incentive levels the field and will, without question, drive millions of dollars into New York. Producers balance four criteria when determining where to tech; availability of skilled labor, infrastructure, accessibility and cost. With this program, New York will be one of the most attractive places to invest in new productions while also providing a massive boon to the many beautiful venues that serve the Upstate region."¯

Philip Morris, CEO of Proctors in Schenectady, NY, said, "The legislature's and Governor's support of this incentive is a game changer. Not only because Upstate cities and theatres get more richly connected to the hum of Broadway by attracting more national tours, but what has been New York's theatrical industry: scenic construction, costume building, lighting and sound design, has less reason to be dissipated to other parts of the country. Five years from now we will all be wondering what we would have done without this upstate theater credit!"¯








SPREADING THE WORD


THE 59th ANNUAL VILLAGE VOICE OBIE AWARDS CEREMONY which takes place Monday, May 19, 2014, at Webster Hall in New York City will be co-hosted by Tony Award winner Tamara Tunie and Obie winner Hamish Linklater.

Doing the presentation honors: Obie winner Betsy Aidem, currently on Broadway playing Lady Bird Johnson opposite Bryan Cranston's LBJ in All the Way; four-time Tony Award winner Harvey Fierstein; Lena Hall currently starring as Yitzhak in the Broadway revival of Hedwig and the Angry Inch opposite Neil Patrick Harris; Andy Karl who stars as Rocky in the new Broadway musical based on the Oscar winning film; David Bar Katz a member of The LAByrinth Theater Company which has presented six of his plays in their annual Barn Series Festival; Tony Nominee Cristin Milioti; four-time Tony nominee Kelli O'Hara; Stephen Trask, co-creator and Obie winner for music and lyrics of Hedwig and the Angry Inch and orchestrator for the Broadway production of Rocky.

The 2014 Obie Awards are chaired by two-time Pulitzer prize nominee Michael Feingold. Alexis Soloski will again serve as secretary to the committee. She earned her doctorate in theater at Columbia University, where she recently completed a post-doctoral fellowship in the humanities.

The judges include: Kirsten Child, whose musical The Bubbly Black Girl Sheds Her Chameleon Skin won her, in addition to the Obie, the Kleban, Larson, and Rodgers Awards; Nicky Paraiso, Director of Programming for The Club at La MaMa, Tony and Obie Award winner Tonya Pinkins; reviewer Michael Sommers, and award winning fight director Rick Sordelet with 60 Broadway productions and 54 productions on five continents to his credit.

Past Obie winners include such well-known stars as Al Pacino, Meryl Streep, Morgan Freeman, Denzel Washington, Felicity Huffman, Viola Davis, Kevin Kline, Nathan Lane, Tony Kushner, Kathy Bates, James Earl Jones, Edward Norton, and Sigourney Weaver, to name a few.

TONY AWARD WINNER LINDA LAVIN takes the stage of the Edgerton Center for the Performing Arts as part of its American Legends Series for an 'Actors Studio'-type Interview On Stage on Sunday, April 13, 2014. The Edgerton Center for the Performing Arts is located on the campus of Sacred Heart University in Fairfield, Connecticut.

The afternoon, hosted by Jerry Goehring, Executive Director of The Edgerton Center, will feature video clips of Ms. Lavin's stage, television and film career, her interview on stage followed by a Q&A with members of the audience. Linda Lavin is currently in rehearsal for the upcoming Off-Broadway premiere of Nicky Silver's Too Much at the Vineyard Theatre in New York City.

DAVID LETTERMAN announcing that he will be retiring next year is a smart move on several levels. The most important reason being Letterman's stated intent to spend more time with his family, enabling his 10-year-old son to grow up with fond memories of having a father.

As for the tremendously talented and astoundingly underappreciated Paul Shaffer - he has a lot of notes left. The world needs to hear more from Shaffer. Then there's his garb. Those costumes need to be collected and turned into an exhibit at the Smithsonian. Or, if the Canadian American prefers, a museum in the Maple Leaf country, that's okay, too. Some museum somewhere needs to create an exhibit which can also travel the museum circuit. Shaffer's wearing apparel not only is an example of male theatrical costumes, but a musical history of The Late Show, much the way Elton John's mode of dress from the dark business suit he wore when he first performed in Los Angeles morphing into the outrageous, showcase his musical journey.

Shaffer's own musical journey began in 1972 when Stephen Schwartz invited him to become the musical director of the Toronto production of Godspell, starring Victor Garber, Gilda Radner, Martin Short, Eugene Levy, Dave Thomas, and Andrea Martin.


OTHER PEOPLE'S MONEY


ILLUSIONIST DAVID COPPERFIELD is being sued in federal court by seven men who claim they worked more than 40 hours a week as stagehands/assistants for Copperfield's shows at the MGM Grand without receiving overtime compensation.

In addition to Copperfield, the defendants are David Copperfield's Disappearing Inc., Backstage Employment, Referral Inc. and Imagine Nation Company. Also named as a defendant is Christopher Kenner, the CEO of Backstage Employment.

Attornies Greg Kamer and Philip Varricchio represent Copperfield. The plaintiffs are represented by attorneys Jakub Medrala and Nicolas Donath.


JUMPING THE BROOM


SARA GILBERT AND LINDA PERRY married Sunday, March 30, 2014.

Delightful actress and television personality Gilbert has a son and daughter from a previous relationship. Perry is a successful songwriter whose hits including Pink's Get the Party Started, Christina Aguilera's Beautiful, and Britney Spears Girls & Boys.

Their wedding reception is reported to have been attended by numerous rock stars who performed for the newlyweds and their guests.

WILLARD SCOTT AND PARIS KEENSA married in Fort Myers, Florida on Monday, March 31, 2014.

Popular television personality Scott is 80. He's been a widower since his wife died in 2002. Scott has been with NBC's Today morning news show for more than 30 years.

Scott and Paris Keena met in 1977 and have been a couple for the last 11 years. All we can say is - it's about time!



ROSIE O'DONNELL

Rosie O'Donnell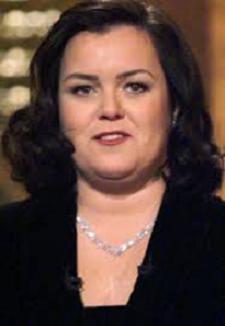 has been chosen to receive the 2014 Isabelle Stevenson Award which will be presented to her during the Tony Awards, Sunday, June 8.

O'Donnell, an Emmy Award-winning performer, writer, producer, and three-time past host of the Tony Awards ceremony, will be honored for her commitment to arts education and her work with New York City's public school children through her organization Rosie's Theatre Kids.

"We are excited to announce Rosie as this year's Isabelle Stevenson Award recipient," said Charlotte St. Martin, Executive Director of The Broadway League and Heather Hitchens, Executive Director of the American Theatre Wing, in a statement. "Rosie exemplifies the spirit and the generosity of the Broadway community through her 'pay it forward' mentality within the arts community and beyond. Rosie constantly works to make our world a better place, and unconditional generosity like hers deserves great recognition."

The Isabelle Stevenson Award is presented annually to a member of the theatre community who has made a substantial contribution of volunteered time and effort on behalf of one or more humanitarian, social service or charitable organizations. Past Isabelle Stevenson Award recipients are Larry Kramer (2013), Bernadette Peters (2012), Eve Ensler (2011), David Hyde Pierce (2010), and Phyllis Newman (2009).

In 2003, Rosie's For All Kids Foundation launched Rosie's Broadway Kids, which is now known as Rosie's Theater Kids (RTKids). Rosie's Theater Kids is a non-profit arts education organization which continually provides training in dance, music and drama for students attending public school in New York City. RTKids serves students who otherwise would not have the opportunity to experience theatre, positively changing the trajectory of their lives by providing comprehensive classes in music, dance and drama; thoughtful mentoring; and structured academic guidance. Dedicated to enriching the lives of children though the arts, their goal is to inspire excellence, motivate learning, uplift the human spirit, build confidence, and spark a lifelong appreciation for the arts.

ROCK AND ROLL HALL OF FAME 29th ANNUAL INDUCTION CEREMONY takes place Thursday, April 10 at Barclays Center in New York City.

The show is going on regardless of KISS stating they have no intention of performing.

The ceremony will honor this year's recently announced Inductees: Peter Gabriel, Daryl Hall and John Oates, KISS, Nirvana, Linda Ronstadt and Cat Stevens; as well as Ahmet Ertegun Award for Lifetime Achievement Inductees Brian Epstein and Andrew Loog Oldham; and Award for Musical Excellence Inductee The E Street Band.

The KISS kiss-off started when a totally peeved Pete Stanley, co-founder of KISS, complained that although he and Gene Simmons were named, along with Peter Criss and Ace Frehley, newer members deserved Hall of Fame admission, too. The Hall of Fame answered back that the six newer members, including current guitarist Tommy Thayer and drummer Eric Singer, merely take on the persona created by Criss and Frehley and haven't create a new dimension.

Stanley's autobiography Face The Music: A Life Exposed is published on April 8. KISS has announced plans to tour with Def Leppard.

Performers to be inducted on Thursday:
Peter Gabriel – Peter is performing; Chris Martin is inducting him
Daryl Hall and John Oates – Hall and Oates are performing; Questlove is inducting them.
KISS - Inducted by Tom Morello. They're going to be inducted, but are refusing to perform.
Nirvana – Michael Stipe inducting Nirvana.
Linda Ronstadt – Inducted by Glenn Frey; Musical tribute from: Bonnie Raitt, Stevie Nicks, Carrie Underwood, Emmylou Harris, and Sheryl Crow.
Cat Stevens – Performing.

Rock and Roll Hall of Fame Award for Musical Excellence (previously the Sidemen category) goes to The E Street Band who will be iInducted by Bruce Springsteen; The E Street Band will be performing

The event will be filmed and the television broadcast will premiere on HBO on May 31.

THE NATIONAL ASSOCIATION OF BROADCASTERS currently holding their annual convention in Las Vegas will induct Everybody Loves Raymond into the Broadcasting Hall of Fame during a luncheon on Monday, April 7.

The series follows the relationships between three close-knit generations of the Barone family that happen to live too close for comfort. The main character is sportswriter Ray Barone (Ray Romano), who lives in Long Island, NY, with his wife, Debra (Patricia Heaton), and their three children. Living just across the street are Ray's meddling parents, Marie (Doris Roberts) and Frank (Peter Boyle). And, constantly moving in and out of his parents' house is Ray's older brother, Robert (Brad Garrett) who romances and then marries Amy MacDougall-Barone (Monica Horan).

Cast members expected to attend include Ray Romano, Brad Garrett, Patricia Heaton, Doris Roberts and Monica Horan, along with the show's creator, Phil Rosenthal. Peter Boyle died in 2006.

Several of the show's principal writers will participate in the induction ceremony.

The show, which debuted in 1996, aired for nine seasons, and ranked among the top 10 programs on television beginning with the 2000-2001 season. Everybody Loves Raymond completed its network run in May 2005 with the series finale drawing more than 32 million viewers. A huge hit in prime time, the show has also been a ratings winner in syndication, consistently ranking in the top five of all syndicated programming.



IN THE MOOD is a fully staged tribute to Glenn Miller, Tommy Dorsey, Benny Goodman and all the big band greats of the '40s. Complete with period costumes and choreography.

In the Mood pays homage to America's greatest generation, when people listened and boogied to up-tempo big band rhythms and danced intimate ballads. Nineteen on stage including six singer-dancers and some hot boogie woogie. Experience the swing, the rhythm and the jazzy, brassy, sentimental and patriotic music of this pivotal time in America's history. Hop aboard the Chattanooga Choo Choo to Tuxedo Junction and you'll soon be In the Mood to hear a 13-piece big band and 6 singers Sing, Sing, Sing, the Moonlight Serenade!.

Many of the musical arrangements were written by Vic Schoen, conductor and arranger for The Andrews Sisters, and Music Director for both Universal and Paramount Pictures.

April 8, 2014 - April 13, 2014 at the Buck's County Playhouse in New Hope, PA.

DIRTY ROTTEN SCOUNDRELS music and lyrics by Drama Desk Award winner David Yazbek with a book by Emmy Award winner Jeffrey Lane.

The UK premiere is directed and choreographed by Tony winner Jerry Mitchell.

Starring Robert Lindsay and Rufus Hound as, respectively, conmen Lawrence Jameson and Freddy Benson with Katherine Kingsley as Christine Colgate. The cast also includes Samantha Bond as Muriel Eubanks, John Marquez as Andre Thibault and Lizzy Connolly as Jolene.

Completing the cast are Gavin Alex, Darren Bennett, Niamh Bracken, Lisa Bridge, Darren Carnall, Andy Conaghan, Lizzy Connolly, Phoebe Coupe, Claire Doyle, Alice Fearn, Selina Hamilton, Ian Knauer, Lisa Mathieson, Zak Nemorin, Genevieve Nicole, Javier Santos, Todd Talbot, Dominic Tribuzio, Jon Tsouras and Zara Warren.

"Prepare to be transported to the luxurious lap of the French Riviera where the decadent world of sophisticated conman Lawrence Jameson is set to come crashing down with the arrival of larger-than-life Freddy Benson - a conman of an entirely different order," states the production. "Soon realizing the town ain't big enough for the both of them, the two find themselves going head to head in the con of their lives, pulling out all of the stops in a bid for the affections of millionaire soap heiress Christine Colgate. Little do they know what they've let themselves in for."

Set and costume design by Olivier Award winner Peter McKintosh.

Officially opened at London's Savoy Theatre on April 2, 2014.

A LITTLE MORE ALIVE book, music and lyrics by Nick Blaemire.

Directed by Tony nominee Sheryl Kaller.

A Little More Alive is promoted as a "captivating new pop musical, in which two estranged brothers reunite at their mother's funeral. An unexpected discovery upends every memory they have – and it becomes their mission to learn the truth about their family; but, along the way, Nate and Jeremy find that no one is exempt from the gray area between right and wrong."

Starring Daniel Jenkins as Gene Fuller; Van Hughes as Nate Fuller; Michael Tacconi as Jeremy Fuller; Lindsay Mendez as Lizzie; Kayla Foster as Molly; and in a separate cast who only appear in interstitial "home videos," Jenny Powers as Maggie Fuller; Stephen Kunken as Robert Hutchens; Christian Maldini as Young Nate; Patrick Gibbons as Young Jeremy; and Lukas Parrish as four-year-old Nate.

Musical supervision and orchestrations by Jesse Vargas, musical direction by Cian McCarthy, lighting design by Jeff Croiter and Cory Pattak, sound design by Nevin Steinberg, scenic design by Wilson Chin and costume design by Alison Heryer.

The world premiere takes place with previews beginning April 11 and the official opening set for May 11 at the Copaken Stage of the Kansas City Rep in Kansas City, MO.

SOUTH PACIFIC the Rodgers and Hammerstein musical, adapted from the Pulitzer Prize-winning novel Tales of the South Pacific by James A. Michener.

Directed by Rob Ruggiero and choreographed by Ralph Perkins.

Starring Mike McGowan as Emile DeBecque, Erin Mackey as Ensign Nellie Forbush, Tony Award nominee Loretta Ables Sayre as Bloody Mary, Tally Sessions as Luther Billis, Doug Carpenter as Lt. Joe Cable and Jessica Wu as Liat.

The company will also feature Jordan Lage (Capt. George Brackett), Rob Richardson (Cmdr. William Harbison) and Ryan Andes (Stewpot). Young actors Bonale Fambrini and Gabby Gutierrez will play Jerome and Ngana, respectively. Avery Espiritu and Sydney Veloso are the alternates for those roles.

Rounding out the ensemble are Andrés Acosta, Faye Bautista, Grady McLeod Bowman, Will Burton, Meggie Canslerr, Matt Faucher, Joanne Javien, Caitlin Maloney, Christian Marriner, George Merrick, Brian Ogilvie, Samantha Joy Pearlman, Michael Scirrotto, Paige Sommerer, Ryan Steer, Jeff Sullivan, Teddy Tinson, Grace Wales and Gregory Williams.

The creative team also includes scenic designer Michael Yeargan, costume design by Catherine Zuber, lighting designer John Lasiter, sound designer Randy Hansen, costume coordinator and additional designer Leon Dobkowski, hair and wig designer Leah J. Loukas and production stage manager Gary Mickelson.

Performances begin at the Paper Mill Playhouse in Millburn, New Jersey on April 9 with the official opening slated for April 13. The production continues through May 4.

WATER BY THE SPOONFUL by Quiara Alegrķa Hudes.

Directed by Edward Torres.

Elliot Ortiz is back in the States after serving in Iraq and starting a new life. At the same time, four strangers in an internet chat room seek support to face demons of their own, and soon the real world and the virtual one start to intersect in unexpected ways. Winner of the 2012 Pulitzer Prize for Drama.

Starring Robert Eli (Fountainhead aka John), Sarah Nina Hayon (Yazmin Ortiz), Rey Lucas (Elliot Ortiz), M. Keala Milles, Jr. (Ghost, Professor Aman, Policeman), Ruibo Qian (Orangutan), Keith Randolph Smith (Chutes&Ladders), and Marilyn Torres (Odessa Ortiz aka Haikumom).

Scenic Design by Ralph Funicello. Costume design by David Israel Reynoso. Lighting design by Jesse Klug Mikhail Fiksel Sound Design, with Jess Slocum serving as Stage Manager.

April 12 – May 11, 2014 at the Sheryl and Harvey White Theatre, Conrad Prebys Theatre Center of the Old Globe in San Diego, CA.

THE HEAD HUNTER by Mark Borkowski.

Directed by Richard Hymes-Esposito.

A dramatic encounter between a screenwriter and his mobster cousin, The play is written by Mark Borkowski, a New York-based playwright, screenwriter and actor who is best known for playing Paul Sagorsky in the third and fourth seasons of HBO's Boardwalk Empire. This is the first revival of a horrific yet hilarious two-hander that made its debut in 2000.

In the play, Casmir, a screenwriter, has sold the exclusive rights of his screenplay to a sleazy Hollywood producer. He confesses what he has done to his cousin Salvatore, a hit man for the mob. The screenplay, a bio-pic, contains truths about Sal's father that are more then incriminating. Enraged, Salvatore vows to get the screenplay's rights back to Casmir even if it means eliminating the producer. The two cousins are forced to deal with issues that tore their family apart and drove them to be who they are: one an artist, the other a ruthless killer.

The play debuted Off-off Broadway 14 years ago to little notice. In its only review, Elias Stimac announced in Backstage, "The new year has barely begun, and already one of the best plays of 2000 has emerged on the New York theatre scene at The Common Basis Theatre. Mark Borkowski's 'The Head Hunter' is an intensely inventive and fiercely funny new drama which mixes shades of Shepard and Mamet while painting a horrific yet hilarious portrait of both modern-day mob life and the equally precarious film industry."

He continued, "Borkowski fills his play with wicked twists and turns that catch viewers off-guard each step of the way. He also has an uncanny ear for dialogue, resulting in sly soliloquies and rapid-fire repartee."

The review resulted in an extended stage run and an "inevitable big screen adaptation," according to the press release.

In this revival, Robert Mobley plays Cashmir, the writer. Sal Inzerillo plays Sal, the mobstah.

April 11 to May 4, 2014 The Producers' Club Theaters, New York City.

THE SUBSTANCE OF FIRE by Tony Award nominee Jon Robin Baitz.

Directed by Trip Cullman

For the first time in 23 years, The Substance of Fire returns to the New York stage in a new production

A story of a family bound by a proud past but facing an uncertain future. Isaac Geldhart, the volatile and brilliant patriarch of his family publishing house, is stubbornly holding on to his place at the head of the company while his three children try to convince him to publish a desperately needed best-seller. Faced with a changing literary landscape and potential takeover of the company, the Geldhart children must either come to terms with their father and band together or break apart and forfeit the legacy he risked everything to build. Articulate and blessed with a lifesaving and cutting sense of humor, Isaac fights like a man with nothing to lose.

With Halley Feiffer, Daniel Eric Gold, Carter Hudson, John Noble, and Charlayne Woodard.

Begins April 10 and runs through May 18, 2014 at Second Stage Theatre in New York City.


WHO'S WHERE


BRUNO MARS headlines the Olympic Park Gymnastics Arena in Seoul, South Korea on Tuesday, April 8. On Thursday the show is at the City Central Gymnasium in Osaka, Japan. He opens a two night gig Saturday, April 12, at the Makuhari Messe in Chiba, Japan.

MILEY CYRUS bringing her signature style to the Time Warner Cable Arena in Charlotte, NC on Monday, April 7. "On Tuesday she appears at the PNC Arena in Raleigh, NC. Thursday's stop is at the Verizon Center in Washington, DC. On Saturday she struts at the Palace of Auburn Hills in Auburn Hills, MI. Next Sunday the performance is at the Schottenstein Center in Columbus, OH.

LADY ANTEBELLUM bring their show to the Ford Center in Evansville, IN on Thursday, April 10. Friday's show is at the Aaron's Amphitheatre in Atlanta. On Saturday they're on stage at the Oak Mountain Amphitheatre in Pelham, AL.

DIANA KRALL brings her newly-found sound - the introduction of a solo guitar, a drum set, and a keyboard to her latest compositions, performs Wednesday, April 9, 2014 at Reynolds Hall in The Smith Center in Las Vegas.

ELVIS COSTELLO is Down Under taking part in the West Coast Blues & Roots Festival next Sunday, April 13, in Fremantle, Australia.

MIRANDA LAMBERT appears at Country Thunder USA in Florence, AZ on Saturday, April 12.

PRESERVATION HALL JAZZ BAND Now celebrating their 50th Anniversary, the band, under the auspices of current director Ben Jeffe, spreads their mission to nurture and perpetuate the art form of New Orleans Jazz. Performance Friday and Saturday in the Cabaret Jazz Room of The Smith Center in Las Vegas.


FINAL OVATION


FRANKIE KNUCKLES died March 31, 2014 in Chicago from complications related to diabetes. He developed Type II diabetes in the mid-2000s and a foot was amputated in 2008.. He was 59.

Knuckles was a DJ, record producer and remixer who played an important role in developing and popularizing house music in Chicago during the 1980s when the genre was in its infancy. In 2005, Knuckles was inducted into the Dance Music Hall of Fame for his achievements. Due to his importance in the development of the genre, Knuckles was often known as "The Godfather of House Music", and the city of Chicago named a stretch of street and a day after Knuckles in 2004.

His notable remixes include one for Chaka Khan's classic Ain't Nobody (1989) and Hercules & Love Affair's Blind (1991). Knuckles also remixed tunes for Michael Jackson, Whitney Houston and Depeche Mode. He was generally known for extended remixes inspired by disco and R&B.

Neil Portnow President/CEO of The Recording Academy issued the following statement: Grammy winner Frankie Knuckles was a legendary producer, remixer and DJ who was a pioneer of house music. His role in combining elements of disco, electronic sound, soul and synth into a new genre earned him the title "Godfather of House Music." His electrifying remixes and high-energy performances on the turntables packed clubs for decades, and he inspired a generation of DJs, bringing house music to the mainstream. As a remixer, he worked with a number of artists including Whitney Houston, Michael Jackson and Diana Ross and won a Grammy Award for Remixer Of The Year, Non-Classical in its inaugural year in 1997. We also remember him fondly as an elected leader of The Recording Academy. We have lost a true visionary and a treasured talent, and our sincerest condolences go out to his family, his fans and all who were, and continue to be, inspired by his passion and genius.

LUCY HOOD President and COO of the Academy of Television Arts & Sciences died on April 2, 2014 following a battle with cancer. She was 56.

Prior to joining the Academy of Television Arts and Sciences, Hood was the founder of Fox Mobile Entertainment and the Executive Director of the Institute for Communication Technology Management at the University of Southern California.

Neil Portnow President/CEO of The Recording Academy issued the following statement: "We are saddened to hear of the untimely loss of Television Academy President and Chief Operating Officer Lucy Hood. Her passion for innovation and expansion, as well as her extensive experience in digital media, made her a true visionary and thought leader, both professionally and personally. Her significant contributions throughout her career were cutting-edge, and the strides she made in her short time at the Television Academy will have a lasting impact on the industry, and the organization, that she loved so much. Our deepest sympathies go out to her family, her friends and the staff of the Television Academy, all of whom undoubtedly will miss her greatly and will carry on her good work."

Hood is survived by her husband, Rob, and children Rachel and Benjamin.

MARC PLATT prominent movie and Broadway dancer, died of pneumonia at a hospice in San Rafael, California on March 29, 2014. He was 100.

He was one of the original members of the Ballet Russe de Monte Carlo, performing under the name Platoff.. While with the company, Platt choreographed Ghost Town (1939), set to music by Richard Rodgers.

Platt danced the role of Chalmers/Dream Curly in the original 1943 Broadway production of Oklahoma, and appeared in the 1955 film version in a dancing / speaking role as one of Curly's cowboy friends. Platt was the cowboy friend who buys Curly's saddle for $10 at the auction - and who also comments that, the previous year, Ado Annie's sweet potato pie gave him a 'three day bellyache'.

He was best known for his portrayal of Daniel Pontipee, one of the seven brothers in the 1954 film Seven Brides for Seven Brothers.

He performed in the 1942 musicals The Lady Comes Across and Beat the Band. In 1953 he returned to Broadway in Maggie. After he stopped dancing, in the 1960s Platt ran the Radio City Music Hall Ballet for eight years, then transitioned to full-time teaching. In 2000, Platt was presented with the Nijinsky Award at the Ballets Russes Reunion. He appeared in the 2005 documentary Ballets Russes.

Platt was married twice and has three children. Ted Leplat, from his first marriage to Ballet Russe dancer Eleanor Marra, is an actor and musician living in Santa Monica. In 1951, Platt married dancer Jean Goodall who died in 1994; the couple had two children, Michael of West Des Moines, Iowa and Donna who lives in San Radael, California and a granddaughter.















Next Column: April 13, 2014
Copyright: April 6, 2014. All Rights Reserved. Reviews, Interviews, Commentary, Photographs or Graphics from any Broadway To Vegas (TM) columns may not be published, broadcast, rewritten, utilized as leads, or used in any manner without permission, compensation and/or credit.
Link to Main Page
---
Laura Deni



For the snail mail address, please E-mail your request.
CLICK HERE FOR COMMENT SECTION