! >
Broadway To Vegas
  
 SHOW REVIEWS CELEBRITY INTERVIEWS GOSSIP NEWS

| | |
| --- | --- |
| | |
BETTE MIDLER MAKES A DIFFERENCE - - JIL AIGROT CD WORDS OF LOVE - - A CELEBRATION OF CHICAGO SKETCH COMEDY - - DIANA REEVES RETURNS TO LONDON - - SMALL CHANGE - - LES LIAISONS DANGERE - - BOATS ON A RIVER - - LALO SCHIFRIN WITH THE LONDON SYMPHONY ORCHESTRA - - DONATE . . . Scroll Down


Copyright: April 6, 2008
By: Laura Deni

CLICK HERE FOR COMMENT SECTION
BETTE MIDLER MAKES A DIFFERENCE


The multi-talented Bette Midler, who currently is ensconced in a long-term Caesars Palace Las Vegas contract, may go down in the history books - not so much for her immense performing abilities - as much as for her environmental activism.

Not since then First Lady Betty Ford suggested that we beautify America by planting a scrub or a bush has anyone taken on the project of beautifying this country. Midler not only picked up the mantle but stamped on her own brand.

Last Tuesday, New York City Mayor Michael Bloomberg issued a proclamation naming April 2008 as MillionTreesNYC Month in New York City. Parks & Recreation Commissioner Adrian Benepe presented the proclamation in Seward Park in Lower Manhattan. MillionTreesNYC Month, presented by BNP Paribas, coincides with the arrival of spring and seeks to raise public awareness for MillionTreesNYC, a public-private partnership between the Department of Parks & Recreation and Bette Midler's New York Restoration Project (NYRP) through which one million new trees will be planted and cared for throughout the five boroughs by 2017.

Commissioner Benepe was joined by New York Restoration Project Executive Director Drew Becher, Head of Corporate Communications of BNP Paribas North America Michele Sicard, and third grade students from P.S. 134 and M.S. 131, all of whom assisted in the ceremonial planting of a crabapple tree to mark the start of MillionTreesNYC Month.

For Midler - the old 50s slogan "clean up, fix up, paint up" became a call to action.

In 1995 with the belief that clean and green neighborhoods are fundamental to the quality of life and that every community in New York City deserves an oasis of natural beauty, the brassy broad took action. Modeled on the Central Park Conservancy and other successful public-private partnerships, Midler's NYRP partners with individuals, community-based groups, and public agencies to reclaim, restore, and develop under-resourced parks, community gardens, and open space in New York City, primarily in economically disadvantaged neighborhoods.

When Midler moved to New York City with her family in 1994, she saw that many parks and open spaces, particularly in underserved communities, had become degraded and were drastically in need of cleanup and restoration. Taking matters into her own hands, she created NYRP to be the "conservancy of forgotten places," with a mission to revitalize neighborhood parks and open spaces that lacked financial and political resources. NYRP has since become an important catalyst for sustainable community development.



Swindler Cove Park. Photo New York Restoration Project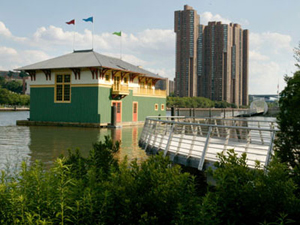 In 1999, the city planned to auction 114 community gardens for commercial development. An outraged Midler led a coalition of greening organizations to save them. NYRP took ownership of 60 of the most neglected plots.

Today Midler and her organization work with local volunteers and community groups to ensure that these gardens are kept safe, clean and vibrant.

In 2003, Midler opened Swindler Cove Park, a new five-acre public park on the Harlem River shore featuring specially designed educational facilities and the Peter Jay Sharp Boathouse, the first community rowing facility to be built on the Harlem River in more than 100 years. The organization offers free in-school and after-school environmental education programming to students from high-poverty Title I schools.

It wasn't a one shot headline grabbing gimmick. Picking up garbage has never been considered a glamorous charity. Midler persevered and taking it one trash bag at a time has made a difference,



New Leaf Cafe. Photo New York Restoration Project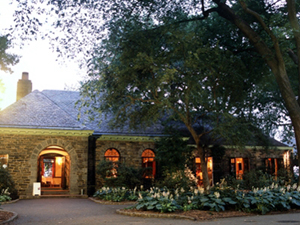 Thanks to the entertainer, since 1995, NYRP has removed more than 75,000 tons of debris from neglected sites around the city; reclaimed 375 acres of parkland throughout the city; helped save 114 community gardens through New York City from the auction block, and purchased and maintained 51 of these sites; opened the New Leaf Café in Fort Tryon Park as a way to generate income for city parks through concessions; and created and implemented a new set of standards for the Adopt-A-Highway program along the Henry Hudson Parkway.

One example took place on June 14, 2005 when over 500 enthusiastic New Yorkers helped Bette Midler and a star-studded group celebrate the opening of two newly renovated Community Gardens on East 114th Street, across the street from Thomas Jefferson Park and around the corner from the famed New York Landmark, Rao's Restaurant.

Honorary Co-Chairs Glenn Close and Robert De Niro were in attendance as were Co-Chairs Fernanda M. Kellogg, President of The Tiffany & Co. Foundation; Ardath Rodale, Chairman of the Board of Rodale, Inc.; Maria Rodale, Vice-Chairman of the Board of Rodale, Inc.; and Frank Pellegrino, owner of Rao's. Jai Rodriguez, from Queer Eye for the Straight Guy served as Master of Ceremonies for the evening's program which included a Mariachi Band, the Son Café Salsa Band, and Glenn Close reading Ms. Midler's favorite piece, The Gladness of June by 19h Century gardener and author, Gertrude Jekyll.

John Loring, Tiffany's internationally acclaimed designer, was responsible for the design of the Family Garden, taking his inspiration from Thomas Jefferson Park which is just across the street. He created a beautiful and historical respite from the wear and tear of the city by replicating the Jefferson head that is on the nickel, as well as reproducing some of the landscape of Monticello.

Today the Rodale Pleasant Park Community Garden is tended to by the mothers in the neighborhood who carefully plant and nurture the garden with the help of Hannah and the Little Sisters of the Assumption. The garden yields 1800-2000 pounds of produce annually which is shared by the neighborhood and underserved communities via food pantries and soup kitchens.

To help finance her clean-it-up mind-set, the Honolulu born Midler launched her owner version of a Halloween celebration - her Hulaween party which includes a star studded charity auction.

Last October NYRP hosted its twelfth annual celebration.

Up for auction bids were not only prime seats for her show at Caesars Palace but 2 VIP tickets to Jessica Alba's next movie, a day on the set of Wolverine with Hugh Jackman for up for 2 people in Australia, a meeting with former President Bill Clinton, a golf date with Joe Torre and tennis lessons from John McEnroe.

Thanks to Midler parks, trees and clean highways can be enjoyed in New York. The four time Grammy Award, Emmy Award and Tony Award winner can be enjoyed strutting her stuff at Caesars Palace in Las Vegas.


THE MUSIC GOES ROUND AND ROUND


Although it is the most visited country in the world, mo American who knows the conversion difference between a Franc and a buck is traveling. It is possible to get a delightful, French infusion at a bargain price - just listen to the CD Words of Love by Jil Aigrot. She's famous in what once was Gaul and becoming more so on the domestic side thanks to her being the voice of Edit Piaf in the award winning flick La Vie En Rose

Aigrot s currently on an American promotion tour including stops last week in Chicago and Ann Arbor. She appears Monday, April 7, at the Borders Store in New York City and then wings across the continent for a stop Wednesday at another Borders in Hollywood.

As for her voice and the recently released CD - a certain je ne sais quoi charm.

Listen back to back to Piaf and Aigrot and you'll understand why the movie producers hired her voice.

Not that long ago the real vocal stars were paid poorly and contract bound to keep their mouths shut. Studio PR firms promoted the gorgeous singing voices of stars who could barely - if even that - sing a note. It was Marni Nixon's voice as Deborah Kerr's Anna in The King and I (1956), Natalie's Maria in West Side Story (1961), and Audrey's Eliza in My Fair Lady (1964) - yet nowhere in the credits will you find that fact.

Thankfully the shackles have been loosened and the deceptions decried.

Enter Jil Aigrot - with a gorgeous voice - both in notes and personality. Even if you don't understand a word of French, you'll delight in her sound and delivery on Words of Love, her CD following up the bio-pic hit La Vie En Rose in which Aigrot was the voice of Edith Piaf the singers whose mystique and popularity remain -- almost 45 years after her death.

In the film, actress Marion Cotillard who delivered a magnificent performance in playing Edith Piaf lip-synched to either existing recordings of Piaf -- or to the voice of Aigrot, who herself was imitating Piaf's sound. While not as throaty as Piaf, Aigrot captured the instances of Piaf's life which were not recorded - her auditioning for Louis Leplée at a night club, or busking on the Paris streets. An example being Comme un moineau—Like a Sparrow.

In some instances Cotillard lip-synched to an already recorded track by Aigrot and in other instances Aigrot dubbed to Cotillard's voice.

Raised in France was raised in Cannes, France, and at an early age began studying music, specializing in French Song. After performing in theater for several years, she came to be particularly interested in Light Opera, and Aigrot's reputation grew with appearances on the popular French television shows Qui Est Qui and C'est L'ete, which lead to a role as a singer in Remington Steele with Pierce Brosnan. Additional acting and singing roles ensued– in the famed Dell'Arte Cie in Nice, stage performances of La Rue, Brel Est Vivant, Il Habite aux Marquieses at the Avignon Festival, Les Enchantees, Sur La Butte and a special tribute to Jacques Brel.

While there is only one Piaf, as a conservatory student Aigrot was often compared to Piaf.

After the film opened, Aignot stopped resisting the constant call to sing Piaf. Two years ago she developed a Piaf concert program. Backed by accordion and piano she intersperses musical numbers with anecdotes about making the movie and about Piaf. That cabaret act will tour American.

Words Of Love, is a tribute to the legendary chanteuse Edith Piaf. Released by LML Music the CD features Aigrot's interpretations of 19 classic and lesser-known Piaf songs.

C'est magnifique accompaniment by Jean-Jacques Franchin on accordion and Bruno Mistrali's piano playing, the tracks include;

1. Sous le ciel de Paris - instrumental
2. Les flonflons du bal
3. La goualante du pauvre Jean
4. Y'a pas de printemps
5. Plus bleu que tes yeux
6. C'est à Hambourg
7. L'homme au piano
8. Mon vieux Lucien
9. Mon Dieu
10. Boulevard du crime
11. Le chemin des forains
12. Bravo pour le clown!
13. Les mots d'amour
14. A quoi ça sert l'amour?
15. Je hais les dimanche
16. La foule
17. Mon manège à moi
18. Non je ne regrette rien
19. La vie en rose - instrumental



Broadway To Vegas is supported through advertising and donations. Priority consideration is given to interview suggestions, news, press releases, etc from paid supporters. However, no paid supporters control, alter, edit, or in any way manipulate the content of this site. Your donation is appreciated. We accept PAYPAL. Thank you for your interest.


SPREADING THE WORD


MEET THE REAL WOMEN OF GEE'S BEND on Monday, April 14 when the Kansas City Repertory Theatre welcomes Mary Lee Bendolph, Revil Mosely, China Pettway, Mary Ann Pettway and Florine Smith, five of the Gee's Bend quilters to Copaken Stage. The quilters will host a round-table discussion and concert followed by a light reception on Monday, April 14 at the Rep's downtown Copaken Stage. This event is free to the public.

You can also catch the Gee's Bend quilters at the Actor's Forum following the April 13th Sunday, matinee performance. Join them, along with the cast of the show for a discussion of the play and its themes. Free to the public, no reservation required.



SMALL CHANGE by Peter Gill.

Set on the east side of Cardiff in the 1950s, Peter Gill's intoxicating and evocative masterpiece recalls the friendship between two boys and the relationship with their mothers, and the tragedy of the things that go unsaid and are forever unresolved.

Having premiered at the Royal Court in 1976 to much critical acclaim, this will be the first London production in over 25 years. Widely regarded as his finest play, Peter Gill returns to the Donmar to direct a cast which stars; Lindsey Coulson, Luke Evans, Sue Johnston and Matt Ryan.

Set Design by Anthony Ward. Lighting Designer is Hugh Vanstone.

April 10 - May 31 at the Donmar Warehouse in London.

THE GLASS MENAGERIE the play that established Tennessee Williams as one of the most riveting voices in the American theatre. Directed by Joe Calarco.

Starring two-time Emmy Award-winning actress Mare Winningham as Amanda Wingfield who reminisces about a tranquil Southern childhood and fights to provide a better life for her grown children Tom and Laura, while they struggle for a future that seems unlikely to fulfill their mother's hopes and dreams. But a change in fortune suddenly seems possible with the arrival of the long-hoped-for "gentleman caller."

April 12 - May 18 Cassius Carter Center Stage of The old Glove in San Diego, CA.

LES LIAISONS DANGERE by Christopher Hampton. Directed by Rufus Norris.

The definitive battle of the sexes springs to life in this Tony Award-nominated classic by Christopher Hampton. For long-time friends and occasional lovers Vicomte de Valmont (Ben Daniels) and Marquise de Merteuil (Laura Linney), love is simply a game of chess. But in a few false moves, they find themselves locked in the ultimate checkmate. Filled with seduction, betrayal, and plenty of illicit passion, this dark comedy paints the pre-Revolutionary French aristocracy in all its cynicism and decadence.

Emmy Award-winning actress Laura Linney returns to Broadway following her Tony-nominated role in Sight Unseen in 2005. Stage veteran Ben Daniels makes his Broadway debut as Vicomte de Valmont.

Performances begin April 11 at the American Airlines Theatre in NYC.

MY FAIR LADY Book and Lyrics by Alan Jay Lerner. Music by Frederick Loewe. Choreography and Musical Staging by Matthew Bourne.

Trevor Nunn directs the cast which includes; Christopher Cazenove, Lisa O'Hare, Walter Charles, Alma Cuervo, Justin Bohon, Dana DeLisa, David Abeles, John Paul Almon, Harlen Bengel, Eric Briarley, Ronald L. Brown, Debra Cardona, Kyle Des Champs, Bill Dietrich, Warren Freeman, Jazmin Grosline, Robin Haynes, Lisa Kassay, Lainie Munro, Adam Laird, Christine Negherbon, Cathy Newman, Georga Osborne, Lauren Pastorek, John Schacchetti, Byron St. Cyr, Jesse Swimm, David Tankersley, Stephanie Van Duynhoven, Erin Willis and Lee Zarrett.

April 9-27 at the Ahmanson Theatre in Los Angeles.

BOATS ON A RIVER by Julie Marie Myatt.

Gregory Itzin and Jenny O'Hara star as an American expatriate and a British nun in the West Coast premiere of this exciting new play by an emerging American playwright. Boats on a River was commissioned by the Guthrie Theater in Minneapolis. The L.A. Theatre Works production is directed by Guthrie associate artist Michael Bigelow Dixon, who directed last year's world premiere in Minnesota.

In Boats on a River, Myatt explores a subject no one wants to talk about: the child sex-slave industry. The Los Angeles-based playwright made two trips to Cambodia to examine the issue of children enslaved in that country's thriving sex trade. The result is a new drama imbued with remarkable humanity, insight and a complex perspective.

The play is set in an aftercare shelter in Phnom Penh, where American expatriate Sidney Webb and his British colleague, Sister Margaret, work long hours to rehabilitate children rescued from Cambodia's brothels. Through their door races an eager young lawyer who announces that he's planned a surprise raid on a brothel, and that he intends to place the liberated girls under the shelter's care. But the raid turns out to be a mess, and he returns with only three frightened girls in tow. Played by young adult women in performance, the girls begin the arduous process of recovery under the concerned watch of the shelter workers. The result is a poignant, smart and unflinching look at the world of sex-trafficking in Southeast Asia through the eyes of Western aid workers.

L.A. Theatre Works records five performances April 9-13 at the Los Angeles Skirball Cultural Center to air on LATW's nationally syndicated, weekly radio theater series, The Play's The Thing.

KLUB

Mitch Watson in KLUB. Photo by Jean-Louis Darville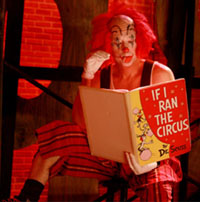 Written by Mitch Watson. Directed by Michael Schlitt.

Songs by David Arnott.

An existential comedy in which ten highly dysfunctional performers must audition with their life stories to escape from a play in which they are trapped - call it A Chorus Line in reverse.

A revival of The Actors' Gang's 1992 hit show.

Featuring Brian Allman, Hannah Eden Chodos, Joseph Grimm, Emilia Herman, Nathan Kornelis, Michael Neimand, Lauren Oppelt, Evie Peck, Michael Schlitt, Robert Shampain, Beth Tapper and Mitch Watson.

Previews begins April 10 and officially opens on April 12. The Actors Gang in Culver City, CA.


| | | |
| --- | --- | --- |
| | | |
WHO'S WHERE


LALO SCHIFRIN WITH THE LSO featuring soloists Alex Acuna, James Morrison and Pierre Boussaguet. This special program entitled Jazz meets the Symphony puts Lalo and his band in front of a 89 piece symphony orchestra to explore symphonic variations on Latin Jazz and perform some of his finest compositions including The Fox, Enter the Dragon and The Dirty Harry Suite. April 10 at the Barbican Hall in London.

CELTIC WOMAN star at the Convention Center in Duluth, MN on Tuesday, April 8. On Wednesday they perform at the Resch Center in Green Bay, WI. Friday finds them at the SeaGate Convention Centre in Toledo, OH. On Saturday they are on stage at the Palace of Auburn Hills in Auburn Hills, MI.

DIANA REEVES Jazz vocal star of George Clooney's film Good Night, and Good Luck returns to London for the first time in years. The Quadruple Grammy award-winner returns to London with a strong band including guitarist Romero Lubambo and Reuben Rogers on bass. Opening for Reeves is guitarist and vocalist Lionel Loueke. April 9 Barbican Hall in London.

VAN MORRISON has a two night stand April 10-11 at the Teatro degli Arcimboldi in Milano, Italy.

THE KINGSTON TRIO singing their hits Saturday, April 12, at the McCallum Theatre in Palm Desert, CA.

BON JOVI returns to the HP Pavilion in San Jose, CA on Tuesday, April 8. On Wednesday the show is at the Staples Center in Los Angeles. On Friday they are on stage at the Jobing.com Arena in Glendale, AZ and on Saturday the performance is at the MGM Grand Gardens in Las Vegas.

A CELEBRATION OF CHICAGO SKETCH COMEDY Featuring Schadenfreude and kevINda. Just in time for the 2008 Presidential race, Chicago's own kevINda and Schadenfreude team-up for a night of edgy sketch comedy exploring politics, race, sex and modern life. Schadenfreude has been performing sketch comedy in Chicago for over ten years and had their own self-titled program on Chicago Public Radio. kevINda has been creating a smart mix of racial and political satire from Chicago to Aspen. Monday, April 14 In the Steppenwolf Upstairs Theatre, Chicago.

DAVID SPADE telling funny stories April 11 and 12 at Planet Hollywood in Las Vegas.




PIFFLE AND PROFUNDITIES


HAPPY BIRTHDAY ALLIE Las Vegas Explosive Specialist Detective K-9 Allie celebrates her fourth birthday on April 9. The female black Labrador Retriever is a Certified Explosive Detective Canine employed by the Las Vegas Monorail to keep the passengers and employees of the Las Vegas Monorail safe. She is trained to detect 24 different odors of base explosives which, when combined, can create approximately 29.000 different types of explosives. Her duties include searching the trains, stations and all other property of the Las Vegas Monorail.

Complete with her own calling card, she always has a ready tail wag and loves a head pat. Despite a fondness for dog biscuits, she manages to keep her girlish figure at 56 pounds.

The Las Vegas Monorail has carried more than 27 million passengers since its opening. The system runs from the Sahara Hotel to the MGM Grand with stations at the Sahara, Hilton, Convention Center, Bally's/Paris, Imperial Palace/Harrah's, Flamingo/Caesars Palace and MGM.

Each year, the Monorail eliminates more than 4.4 million automobile trips, reducing carbon monoxide by 135 tons.

Next Column: April 13, 2008
Copyright: April 6, 2008. All Rights Reserved. Reviews, Interviews, Commentary, Photographs or Graphics from any Broadway To Vegas columns may not be published, broadcast, rewritten, utilized as leads, or used in any manner without permission, compensation/credit.
Link to Main Page
---
Laura Deni


CLICK HERE FOR COMMENT SECTION