! >
Broadway To Vegas
  SHOW REVIEWS CELEBRITY INTERVIEWS GOSSIP NEWS

| | |
| --- | --- |
| | |
JULIE HARRIS HONORED - - FRENCH QUARTER FESTIVAL WITH PETE FOUNTAIN - - FRANK SINATRA AND TOOTSIE ROLLS - - ROY ROGERS MUSEUM ON TRAIL TO BRANSON - - BERNADETTE PETERS TACKLES MAMA ROSE IN GYPSY - - JESUS CHRIST SUPERSTAR FIRES JESUS - - FEMALE IMPERSONATORS GET POINTERS - - THE WOMEN OF RHYME AND SONG - - DONATE . . . Scroll Down


JAZZ FESTIVAL ATTRACTS PETE FOUNTAIN
Pete Fountain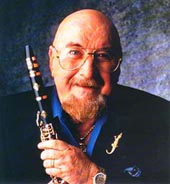 Jazz clarinetist Pete Fountain, who announced last week that he is putting down that licorice stick after 43 years in the New Orleans nightclub business - performing the last 26 at the Hilton Riverside club - will perform at the French Quarter Festival on Friday, April 11th.

During the opening day festivities a tribute to Fountain will take place, including the dedication of his statue in Legends Park. New Orleans Musical Legends Inc. held a fundraising gala last September at Harrah's Casino to raise money for the statue of Fountain. The guest of honor attended the gala, performing along with Ellis Marsalis, Irma Thomas and other musicians.

As Louisiana's largest free annual music event, French Quarter Festival will present the most diverse array of local and regional entertainment on 15 stages. In addition to Fountain over 150 bands will be featured, including Kermit Ruffins & the Barbecue Swingers, Jon Cleary & the Absolute Monster Gentlemen, Donald Harrison, Jr., Marva Wright, Coco Robicheaux, Papa Grows Funk, Irie Vibrations, Lil' Rascals Brass Band, Dejan's Olympia Brass Band, Leigh "Lil' Queenie" Harris, Friendly Travelers, Rockin' Dopsie, Jr., & the Zydeco Twisters, Original Dixieland Jazz Band, Pfister Sisters, Hackberry Ramblers and Steve Riley & the Mamou Playboys.

This year, French Quarter Festival celebrates 20 years of showcasing New Orleans' unique culture and heritage with an anniversary edition. The three-day weekend event is expected to attract an estimated crowd of 300,000 to the streets of the historic Vieux Carre (from Canal St. to Esplanade Ave. and Bourbon St. to the Mississippi River).

Also on tap is Gumbo Ya Ya's Guess the Weight of the World's Largest Praline Contest.


ROGERS MUSEUM ON TRAIL TO BRANSON
Roy Rogers and Dale Evans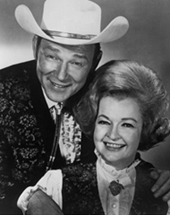 The Roy Rogers and Dale Evans Museum closed it's doors in Victorville, California last Sunday and the family plans to officially open the new Happy Trails Theater and Museum in Branson, Missouri during Memorial Day week-end. (See Broadway To Vegas article of July 21, 2002.)

The new $3 million 26,000 square-foot museum and 326-seat theater is built on four acres of ground located behind Yakov Smirnoff's theater.

The Branson groundbreaking took place on September 3, 2002 with three generations of Roy Rogers descendents participated in the groundbreaking ceremony including Kansas City residents Mindy & John Peterson. Mindy is Roy and Dale's granddaughter, who, along with her sisters Julie and Candy, are The Rogers' Legacy, a western singing group. John, her husband, is an assistant minister at the Metro Christian Church in Grandview.

Joining the Rogers family were Branson Mayor Lou Schaefer, project developers Rick Huffman and Mark Williams of HCW Development Company; city, county and area Chamber of Commerce officials; and special guests, including "The Osage Valley Vigilantes, a Cass County Old West Gunfighter/Re-enactment group.

Music made famous by Roy Rogers and Dale Evans will be performed at the grand opening of The Happy Trails Theater and Museum by Roy "Dusty" Rogers Jr and The High Riders along with other singing members of the Rogers family. The Osage Valley Vigilantes will also be performing at the grand opening.

The Roy Rogers - Dale Evans Museum is expected to draw more than 150,000 visitors annually in Branson. The museum Gift Shop will offer authentic collectibles autographed by Roy and Dale along with mementos and memorabilia that's not available anywhere else in the world.

The 326-seat theater will feature live entertainment in a theater show season running April - mid-December. Shows will be Tuesday through Saturday at 10:30 a.m. and 1:30 p.m. Show length will be 60 minutes. The multi-purpose facility; projection system and movie screen will accommodate showing Roy Rogers - Dale Evans movies.

Rogers known to Western movie fans as the King of the Cowboys died in 1998 at age 86. Evans, who wrote the couple's theme song, Happy Trails to You, died in 2001 at 88.


FAMOUS REFLECTIONS TO HOLD LAS VEGAS CONVENTION


Its' not easy being a girl. Just ask any of the guys who make a living as female impersonators. Seminars and tips on what it takes to get booked and stay employed will be offered during the Second Annual IGCITA Conference and first 2003 World Convention of Famous Reflections, which will take place at the Treasure Island and Mirage resort hotels in Las Vegas June 1-4.



Danny Gans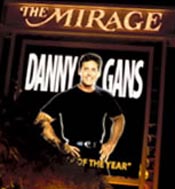 The convention will host an agenda of meetings, mixers, and social events including a talent showcase, trade show, and the combined Cloney Awards & Entertainment Network Awards.

Open to all professionals with vested interests in the celebrity impersonation and tribute arts, the convention will open with an evening featuring a poolside Caribbean theme reception and a choice of the Danny Gans Show or the ongoing poolside party. Monday's events will include a choice of daytime breakout sessions on topics of interest to both talents and agents, a trade show and, that night, the dinner party and Famous Reflections show at Carluccio's Tivoli Gardens Restaurant, formerly owned by Liberace. Tuesday's schedule will begin with a similar smorgasbord of guest speakers, informative seminars, and trade show exhibits, concluding that evening with the guild's Cloney Awards Dinner & Ceremony immediately followed by a talent showcase in the Treasure Island's Grand Ballroom.



Dale Russell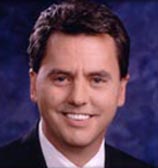 A number of celebrities and dignitaries will offer advice, counseling, and guidance relevant to this unique industry. Featured guest speakers include Fox Broadcasting's Dale Russell, winner of broadcast journalism's highest honor, the George Foster Peabody Award, "B Movies Queen" Jeanne Carmen and renowned Carol Channing impersonator Richard Skipper who will speak on Booking Female Impersonators With Confidence and Style.



Richard Skipper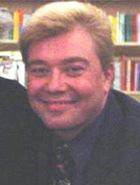 Skipper's presentation is aimed at dispelling the agent's and industry's common fear of using men to portray female stars. He'll also talk about how to showcase the character with style and confidence, how to cope with ridicule, homophobia, and other aspects of working as an actor in this genre.

His 45-minute seminar will also include time for questions and answers. Admission is free to all IGCITA convention registrants and guests.

The guild's website is www.IGCITA.org. Once registered, attendees may secure rooms at the guild's group rate by contacting Treasure Island toll-free at (888) 503-8999. To receive special room rates, callers need not be members of the guild but they must identify themselves as registered with IGCITA for this convention, and their names must appear on the guild's cross-reference listing on file at the hotel.


TRAVELING ON THEIR STOMACHS


The logistical task of providing subsistence for military personnel has been critical throughout history. Frederick the Great of Prussia is credited with having defined an army as a group of men who demand daily feeding.

They still do. At yesterday morning's Central Command Briefing in Qutar, Maj. Gen. Victor Renuart told the press "one-third of a million MRE's are consumed each day."

Unprintable nicknames have been attached to military food. Even those who served in the first Gulf War called the Meals Ready to Eat (MRE) gag food. Military officials admit that "these vacuum-packed rations nearly caused a mutiny on the front lines."

Viewers glued to the television, watching news reports, which frequently contain footage of military forces devouring a meal from a brown pouch. To those who worry that we are throwing garbage down the throats of our military three times a day - take heart.

Since Desert Storm twelve new, soldier taste tested, MREs have been added to the menu.



Army photo of soldier eating an MRE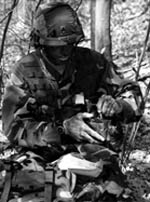 Jamaican pork chops and chicken strips in salsa have been a big moral booster, as have minestrone soup and four other vegetarian meals, reflecting the military's new commitment to variety and good health. But hungry troops still salute old favorites.

There is a beef steak with the real grill marks on it and a real mashed potato with gravy and mushroom sauce.

Other entree items in those MRE pouches include jambalaya and enchilada, chicken nuggets with cavetelli, mesquite chicken breast and beef steak with mushroom gravy. Snack items include wheat snack bread, spice pound cake, peanut butter cookies, pretzels filled with nacho cheese and cheddar cheese, chocolate chip cookies and snack cereals.

Granted, it's not enjoying you mother's Sunday dinner, but it is a step above what your grandfather called that creamed chipped beef on toast.

Each meal contains approximately 1,300 calories and a third of the day's nutrients. The MREs are lightweight, compact, easily opened, withstand a parachute drop from 1,250 feet or from a helicopter at 100 feet with no parachute, endure inclement weather and survive temperature extremes from minus 60 degrees Fahrenheit to 120 degrees Fahrenheit.

Then there is the candy.

M&M candies were originally developed as a military food, born in the backdrop of the Spanish Civil War. Legend has it that on a trip to Spain, Forrest Mars Sr. encountered soldiers who were eating pellets of chocolate that were encased in a hard sugary coating to prevent them from melting. Inspired by this idea, Mr. Mars went back to his kitchen and invented the recipe for M&M's Plain Chocolate Candies.

First sold to the public in 1941, they quickly became a favorite of American GIs serving in World War II. Packaged in cardboard tubes, M&M's were sold to the military as a convenient snack that traveled well in any climate. In 1948, the packaging changed from a tube form to the characteristic brown pouch known today.



Frank Sinatra and starlet Peggy Lipp during a WWII promotion for Tootsie Rolls. Sinatra became a life long fan of the candy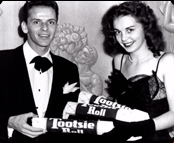 In 1981, M&M's Chocolate Candies were chosen by the first space shuttle astronauts to be included in their food supply. M&M's are now on permanent display at the space food exhibit of the National Air & Space Museum in Washington D.C.

Austrian immigrant Leo Hirshfield brought his recipe for a chocolate, chewy candy to New York City. He named the candy after his five-year-old daughter, whose nickname was Tootsie.

The candy was first included in World War II rations and became highly valued by the armed forces for its ability to withstand severe weather conditions and give troops "quick energy."

Celebrities who ate Tootsie Rolls, such as Frank Sinatra and Sammy Davis, Jr., helped boost sales.



Broadway To Vegas is supported through advertising and donations. Priority consideration is given to interview suggestions, news, press releases, etc from paid supporters. However, no paid supporters control, alter, edit, or in any way manipulate the content of this site. Your donation is appreciated. We accept PAYPAL. Thank you for your interest. Laura Deni P.O. Box 60538 Las Vegas, NV 89160

JULIE HARRIS

Julie Harris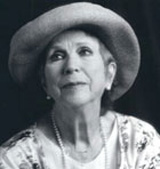 a five time Tony Award winner will be honored at a Laguna Playhouse black tie Gala on April 12 at the New Montage Resort & Spa.

Miss Harris who will be in attendance at the event, won Tonys for her leading performances in I Am a Camera in 1952, The Lark in 1956, Forty Carats in 1969, The Last of Mrs. Lincoln in 1973, and The Belle of Amherst in 1977, as well as a lifetime achievement Tony in 2002. She appeared in a production of The Belle of Amherst at the Laguna Playhouse in 2000 and subsequently toured with it to 18 other cities throughout the U.S.

That doesn't mean Harris has only been in hits. Mademoiselle Colombe, which opened January 6th, 1954 at the Longacre Theatre, closed after only 61 performances. The play, with a book by Louis Kronenberger, adapted from a play by Jean Anouilh, starred Harris and Edna Best and featured Eli Wallach, Sam Jaffe, Harry Bannister, Mikhail Ramumny, Frank Silvera, William Windom, Joanne Taylor, Edward Julien, Nehemiah Persoff, Lee Phillips, Jennie Jerrems and Gregory Robins.

Additional honorees on April 12th include: Joe Lauderdale on the occasion of his fifteenth year as director of the nationally-acclaimed Laguna Playhouse Youth Theatre.

The visionary team whose efforts led to the establishment of the new Laguna Beach Business Improvement District, the largest single source of funds for the arts in Laguna Beach, including the Laguna Playhouse: Claes Andersen, owner of the Hotel Laguna, Paul Freeman, former Mayor & City Council Member, Sam Goldstein, philanthropist & community activist and Karyn Philippsen, President, Laguna Beach Visitors & Conference Bureau.

Chairing the Gala is Sindi Schwartz, a Playhouse Trustee, Laguna Beach resident and owner of Muldoon's a Dublin Pub in Newport Beach with her husband Ronald, an attorney and former Board President of the Laguna Playhouse.

LUCILLE LORTEL AWARDS The League of Off-Broadway Theatres & Producers announced the 18th Annual Lucille Lortel Award nominations on April 2.

The Lucille Lortel Awards, which honor outstanding achievement Off Broadway, were created by The League of Off-Broadway Theatres & Producers in recognition of Lortel's devotion to Off-Broadway. The nominating and voting committee for the awards include representatives of the League of Off-Broadway Theatres & Producers, the Lucille Lortel Foundation, Actors' Equity Association, Society of Stage Directors & Choreographers, journalists, educators and other artistic contributors to Off-Broadway.

Awards will be presented Monday, May 5 at the Lucille Lortel Theatre FOR A COMPLETE LIST OF NOMINEES CLICK HERE

THE GEORGE FOSTER PEABODY AWARDS were first presented in 1941 for radio programs broadcast in 1940. The awards recognize distinguished achievement and meritorious service by radio and television networks, stations, producing organizations, cable television organizations and individuals. They perpetuate the memory of the banker-philanthropist whose name they bear.

The awards program is administered by the Grady College of Journalism and Mass Communication at the University of Georgia. Selection is made by the Peabody Board following review by special screening committees of faculty, students and staff. FOR A COMPLETE LIST OF WINNERS CLICK HERE

MARVIN HAMLISCH the Oscar, Grammy and Tony Award winner, has been selected the principal pops conductor for the Buffalo, New York Philharmonic Orchestra. He fills a position left vacant since Doc Severinsen resigned in May 1999. As principal pops conductor, Hamlisch will conduct three concert series during the 2003-04 season, in October, December and April.


SWEET CHARITY


LOCAL BOYS a movie starring Mark Harmon stages a benefit screening Wednesday in Oklahoma City, sponsored by the Oklahoma Sports Science and Orthopaedics, to benefit The Children's Center. Harman will attend the event, taking a break from filming a two part episode of JAG. Local Boys is the story of two brothers who surf their way through a summer. The younger boy, Skeet (Jeremy Sumpter) makes friends with a legendary surfer, Jim Wesley (Harmon), who has a painful past. When Wesley meets the boys' mother, Jessica (Stacy Edwards), the older brother, Randy (Eric Christian Olsen) becomes overprotective of his widowed mother.

Harmon and his baseball team, The Mark Harmon Bombers, also have an annual benefit game in July for the center. For those who might not know that Harman has his own baseball team, the group came together six years ago when Harman was set to participate in a Hollywood Star Night baseball game to benefit an anti-drug program. The only problem was - no stars showed up. Not willing to let the charity down, an irritated Harmon quickly got together 10 of his friends to play. They raised $20,000 and the Mark Harmon Bombers baseball team was created.

BREAST CANCER RESEARCH FOUNDATION GALA at the Waldorf-Astoria in NYC features Elizabeth Hurley as Mistress of Ceremony. Lionel Ritchie and Elton John perform. April 14.

I AM YOUR CHILD fundraiser for the foundation, founded by Rob Reiner, which focuses on children's issues. Carl Reiner and Mel Brooks will be there as will Jerry Seinfeld. April 9 at the Hollywood & Highland Ballroom, Los Angeles.

LEEZA GIBBONS' MEMORY FOUNDATION is the recipient of the opening-night benefit for Cats at the Pantages Theatre in Los Angeles on April 11. As with many celebrity causes, Gibbons' interest in Alzheimer's is a personal one. Gibbons lost her grandmother to the disease and her mother was diagnosed with early stage Alzheimer's at the very young age of 63.

While still in the foundation stages, the Leeza Gibbons Memory Centers & Family Workshops will be a nonprofit 501(c)(3) organization designed to allow the participation of patients, caregivers, and healthcare providers.

Their mission is twofold. The first is to support the day-to-day trials of living with Alzheimer's and related memory disorders emphasizing commitment to providing the most advanced medical treatments, education, support of the caregiver, and prevention.

Gibbons founded the organization to heal the patient, caregiver and our community at large. While they strive to assist with the day-to-day struggles of coping with this disease, their mission is committed to finding a cure.


OTHER PEOPLE'S MONEY


JAMES GARNER gave $500,000 to help aspiring actors at the University of Oklahoma at Norman. The gift will be used to endow a $1 million faculty chair in the university's School of Drama. The university will request matching funds from state regents to create the James Garner Chair in Drama, the drama school's first endowed position. The chair will be designated for the director of the school.

Garner, 74, is a Norman native and attended last week's announcement. He told the audience that he respects stage actors because he has always had a fear of public speaking. That is way he feels comfortable doing television or movies, because he knows "I can always do it over."

OU's School of Drama, founded in 1903, is the oldest drama school west of the Mississippi River and the second-oldest university theater school in the United States.

Garner has starred in several TV series including Maverick and The Rockford Files. He also has made more than 40 movies, including Murphy's Romance, for which he received an Academy Award nomination in 1985.

TENNESSEE PERFORMING ARTS CENTER has taken a couple of financial blows. The off-Broadway musical tick, tick BOOM! Jonathan Larson's autobiographical musical, failed to sell tickets. That caused a cancellation, leaving the Nashville center holding the bag. Under a contract obligation the TPAC is required to pay for the performances which were schedule April 1-6, causing the venue to lose between $90,000 and $100,000 on the show. That is a double whammy since in February the center faced a $48,000 loss on Contact, when the Tony award winning musical failed to attract a large-enough audience as part of TPAC's Broadway Series.

tick tick ... BOOM! has also been a bomb in other locations. Upcoming engagement in Washington, D.C., were canceled because of slow ticket sales and the weeklong run in Hershey, Pa., was reduced to weekend performances only.




USO TOURS


Scheduled to entertain the troops are Tom Green, who will be bringing a touch of home to those stationed in the Balkans April 28-May 5. The NFL Players are heading to Japan in May. Howie Long and Terry Bradshaw also have a May 5-13 USO date and Las Vegan Wayne Newton will do his special 4th of July show in Korea and Japan June 30-July 6.




GYPSY

Bernadette Peters as Mama Rose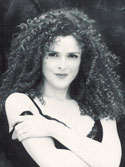 Directed by Same Mendes, starring the talented and delightful two-time Tony award winner Bernadette Peters as Mama Rose, has begun previews at the Shubert Theatre in New York. Nobody asked us, but Broadway To Vegas would given the Mama Rose part to Kathy Bates, who brought zip and snarl to her sensational portrayal of Miss Hannigan in Annie, and cast Bernadette Peters as Louise.

If the most re-worked Vegas show after opening is Celine Dion's A New Day, the New York production apt to go through the most changes from previews to opening is this one.

Suggested by the memoirs of Gypsy Rose Lee, the legendary Broadway musical features book by Arthur Laurents, music by Jule Styne and lyrics by Stephen Sondheim. The production features original choreography by Jerome Robbins and additional choreography by Jerry Mitchell.

Gypsy, produced by Robert Fox, Ron Kastner, Roger Marino, Michael Watt, Harvey Weinstein and WWLC, will officially open Thursday, May 1st.



Tammy Blanchard as Louise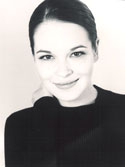 In addition to Bernadette Peters, Gypsy will feature Tammy Blanchard as Louise She is best known for her stand-out Emmy Award-winning performance as young Judy Garland in the ABC two-part miniseries, Me and My Shadows: Life With Judy Garland opposite Judy Davis.

Also featured in the cast as John Dossett (Herbie), Kate Reinders (Dainty June), David Burtka (Tulsa), Heather Tepe (Baby June), Addison Timlin (Baby Louise), Heather Lee (Tessie Tura), Julie Halston (Miss Cratchit/Electra), Kate Buddeke (Mazeppa), Brooks Ashmanskas (Mr. Goldstone/Pastey), Michael McCormick (Uncle Jocko/Cigar), and William Parry (Pop/Mr. Kringelein). Maureen Moore will stand by for Bernadette Peters.

The company also features Matt Bauer (Yonkers), Graham Bowen (Swing), Benjamin Brooks Cohen (Kansas), Macintyre Dixon (Phil/Mr. Weber), Joey Dudding (Farmboy/Georgie), Wally Dunn (Character Man), Brandon Espinoza (Farmboy), Tim Federle (Farmboy/Bougeron-Cochon), Eamon Foley (Newsboy), Jenna Gavigan (Hollywood Blonde), Sarah Jayne Jensen (Hollywood Blonde), Molly Kallins (Balloon Girl), Dontee Kiehn (Hollywood Blonde), Ginifer King (Hollywood Blonde), Julie Martell (Hollywood Blonde), Pamela Remler (Swing), Stephen Scarpulla (Newsboy), Chandra Schwartz (Agnes), Alexandra Stevens (Balloon Girl/Baby June u.s.), Cathy Trien (Maid) and Jordan Viscomi (Farmboy).

The design team features Anthony Ward scenic/costume design, Jules Fisher and Peggy Eisenhauer lighting design and Acme Sound Partners sound design. Hair design is by David Brian Brown. Casting is by Jim Carnahan, C.S.A.

Gypsy, with orchestrations by Sid Ramin and Robert Ginzler and dance arrangements by John Kander, features musical supervision by Patrick Vacariello and musical direction by Marvin Laird.

Produced by David Merrick and Leland Heyward, the original Broadway production of Gypsy, directed and choreographed by Jerome Robbins, opened May 21, 1959 at the Broadway Theatre, starring Ethel Merman in the greatest role of her career. Gypsy played for 702 performances, and was filmed by Warner Brothers in 1962, starring Rosalind Russell as Rose and Natalie Wood as Louise. Gypsy has returned to Broadway in two other productions, both directed by Arthur Laurents, with Tony Award-winning performances by Angela Lansbury (1974) and Tyne Daly (1989).

BEATRICE AT BENEDICT the opera by Berlioz, based on Shakespeare's Much Ado About Nothing, stars Philip Bosco, David Hyde Pierce and Harriet Harris, best known as Dr. Niles Crane and Frasier's bloodthirsty agent, Bebe, making their New York Philharmonic debut in the speaking parts that connect Berlioz's arias and ensembles. Performances are April 9, 10 and 12 at Avery Fisher Hall, NYC.

ABSOLUTELY! (PERHAPS) Martin Sheman's new production of Luigi Pirandello's 78-year old play. Franco Zeiffirelli will direct the production that stars Joan Plowright, Oliver Ford Davies and Liza Tarbuck.

This dreamlike comedy has everybody questioning what is going on as some enigmatic new comers arrive in town: the dark, intense, "Ponza", his shy, rather eccentric mother-in-law "Signora Frola"; and his reclusive young wife. No one understands their bizarre living arrangements. Everyone has a different theory as to the truth - and no one will countenance any other explanation. No one, that is, except for the wry and elegant "Laudisi". He mischievously offers to establish the truth - and takes delight in his neighbors' growing frustration as they watch: "fantasy and reality dancing together, rather gracefully in fact - and suddenly you can't tell the difference between them".

Plowright and Zeffirelli have previously worked together on a number of projects including the seminal production of Saturday, Sunday, Monday (1974) which co-starred Laurence Olivier and Filumena Arturano (1977), for which Plowright won the Society of West End Theatre Best Actress Award, both at the National Theatre. Among their films are Jane Eyre (1994), Tea with Mussolini (1998), which also starred Judi Dench, Maggie Smith and Cher and Callas Forever (2001). Previews begin May 7 with the opening night slated for May 20. Wyndham's Theatre in London.

HOUSE OF YES by Wendy MacLeod. The dark comedy runs in the Annex Theater in Eugene, Oregon April 11 through May 3. The twenty-fourth season at Actors Cabaret of Eugene is supported in part by a grant from the Oregon Arts Commission and the National Endowment for the Arts. It is also made possible in part by a grant from Lane Arts Council with support from City of Eugene Cultural Services.

DISNEY'S BEAUTY AND THE BEAST the Tony Award-winning smash hit musical, is coming to Roanoke. The elaborate Broadway production based on the beloved animated film will come to life on stage at the Roanoke Civic Center Auditorium from Wednesday, April 16 through Sunday, April 20.

DONNA McKECHNIE: INSIDE THE MUSIC with text by Christopher Durang, based on original material by Donna McKechnie. Best known for her Tony Award-winning Best Actress in a Musical performance as Cassie in A Chorus Line this production is based upon the true stories of McKechnie's life.

As a young dancer raised in the Midwest, she literally runs away to New York to chase her dreams of becoming a Broadway performer. Through poignant and funny insights, the show traces the struggles of a young Broadway dancer who chooses to dance to her own beat. With her first big break in the Broadway musical How To Succeed in Business Without Really Trying, she begins her journey, taking her dreams from a vivid fantasy life to a triumphant reality as a Broadway star.

Inside The Music also pays tribute to and celebrates any of the people who helped her career including Gwen Verdon, Bob Fosse, Michael Bennett, Frank Loesser, Leonard Bernstein, Cy Coleman, Fred Astaire and Stephen Sondheim. April 11th at the rpheum Theatre in Phoenix, Arizona.

Prior to the concert, McKechnie will offer a master class at Arizona State University West on April 10, from 3 to 5 PM. Then on Saturday, April 12th the first fully-realized production of this show ever staged opens at the Colony Theatre, Burbank, California continuing through Sunday, May 11th.

ELEGIES: A SONG CYCLE By William Finn. Following nine sold-out performances in March, Lincoln Center Theater has announced the return to the Newhouse Theatre in a LCT Special Event for seven performances only - Monday, April 14 through Saturday April 19.

Elegies is an intimate and joyous celebration of the human spirit. The show features critically acclaimed performances by a stellar ensemble of musical theater artists - Christian Borle, Betty Buckley, Carolee Carmello, Keith Byron Kirk and Michael Rupert - and musical direction by Vadim Feichtner and direction by Graciela Daniele.

THE WOMEN OF RHYME AND SONG a special all-woman edition of Lyrics and Lyricists takes place May 4-5 at the 92nd Street Y in New York City.

Performances celebrating Dorothy Fields, Carolyn Leigh, Marilyn Bergman, Carol Bayer Sager, Edith Piaf and Peggy Lee - great women songwriters who wrote some of our most enduring songs: I'm in the Mood for Love, Witchcraft, he Way We Were, What a Difference a Day Makes, La Vie En Rose, Manana, You Always Hurt the One ou Love, Rockabye Your Baby with a Dixie Melody and Evergreen.

Gracing the stage to perform their own songs as well as material by others; Carol Hall, the Tony award inning composer and lyricists for The Best Little Whorehouse in Texas, and songwriter Julie Gold, hose From a Distance earned her a 1990 Grammy for Best Song of the Year for Bette Midler's recording. Also scheduled to appear are cabaret singer Valerie Lemon, who has worked extensively with Marvin Hamlisch, Carol Woods who has been in the Broadway productions of Follies, and Steppin' Out and L&L veterans Deborah Tranelli and Terri Klausner.

Midge Woolsey, an announcer and producer for public television's Channel13/WNET and classic music host for WQXR-FM, will host.

Kaufmann Concert Hall May 4-5.

DOWN A LONG ROAD written and performed by David Marquis, it is directed by Doug Jackson. Musical direction and accompaniment is by Buddy Mohmed (guitar, bass) Gale Hess (violin) and Kenny Grimes (percussion). The costumes are by Giva Taylor with lighting by Linda Blas' and choreography by Deanna Deck. "Down a Long Road" looks at travels to South Africa, El Salvador, Nicaragua, the Philippines, India, and Pakistan merged with one man's life of passion and conviction. From exotic locales to the family dinner table, the show weaves a tapestry of tales from our global family.

Marquis has toured the country and the world as a peace activist and performer and has concluded that "information separates us, but stories unite us." He is a Lubbock, Texas native whose experiences teaching in Plano and Dallas were the turned into his 1980 play I Am a Teacher, which served as the basis for the "Be a Teacher" campaign, the most successful public service campaign in the history of the Ad Council.

He co-produced the documentary, In Remembrance of Martin, about the life of Dr. Martin Luther King, Jr., which aired on PBS; described at its premier by Coretta Scott King as the best documentary ever produced about her late husband.

Though he's a political progressive, Down a Long Road is designed not to alienate people of other ideologies. "I've always admired people who take a stand, even if they're on the other side from me," "I'll never try to build an agenda " Presented by Long Road Productions, the limited engagement of the new Off Broadway play begins previews at The Lambs Theatre in NYC on April 11, opening on Wednesday, May 14.

THE LOOK OF LOVE The Songs of Burt Bacharach and Hal David, Conceived by David Thompson, Scott Ellis, David Loud, Ann Reinking Music Direction & Arrangements by David Loud Choreography by Ann Reinking Directed by Scott Ellis. The production stars Liz Callaway, Kevin Ceballo, Jonathan Dokuchitz, Eugene Fleming, Capathia Jenkins, Janine LaManna, Shannon Lewis, Rachelle Rak and Desmond Richardson.

For generations of Americans, they play like the soundtrack to our lives. Songs that are sophisticated and stylish, complex, subtle, exhilarating. These ageless and unforgettable melodies and lyrics came from composer Burt Bacharach, who began his career as Vic Damone's piano player and lyricist Hal David, the formidable songwriting team that penned hundreds of America's most popular tunes, including an astonishing 66 top hits.

Now their music is celebrated in The Look of Love, showcasing some thirty songs, ranging from heavyhitter standards to magical hidden gems. Previews began April 4 Opening night May 4 at the Brooks Atkinson Theatre, NYC.


WHO'S WHERE


BALTIMORE SYMPHONY ORCHESTRA WITH BOBBY McFERRIN The program includes Bernstein's Chichester Psalms, Bach's Cantata #80 Ein Feste Burg, Barber's Agnus Dei and Improvisations by Bobby McFerrin. This performance will be held in the Concert Hall of the Kennedy Center for the Performing Arts, Washington, D.C. on April 8

PETER CINCOTTI on stage at the Catalina Bar and Grill, Hollywood. April 8-13

MICHAEL BUBLE appearing at Feinstein's at the Cinegrill inside the Roosevelt Hotel, Hollywood. April 8-12.

HARLEM GLOBETROTTERS entertain Monday, April 7 at Southwest State University in Marshall, Minn. On Tuesday the show is in Wahpeton, North Dakota at the Bilkre Activities Center. Wednesday finds the guys tossing the ball around in Grand Forks, North Dakota at the Ralph Engelstad Arena. On Thursday they are in Fargo, North Dakota at the Fargodome. Friday the fun stops in Bismarck, North Dakota at the Bismarck Civic Center.

ELTON JOHN AND BILLY JOE on stage Sunday, April 6 in Madison, Wisconsin at the Kohl Center. Tuesday the show is in Milwaukee at the Bradley Center. Then they travel to Rosemont, Illinois for shows Thursday and Saturday at the Allstate Arena.

BOB NEWHART getting laughs at the Paramount Theatre in Denver, Colorado April 12.

TIM CONWAY AND HARVEY KORMAN in their Together Again show Thursday at the Spirit Mountain Casino in Grand Ronde, Oregon. On Friday they begin a two nighter at the Silver Legacy Casino in Reno, Nevada. This evening Conway and Korman close out their successful Stardust Hotel, Las Vegas engagement. Last Thursday Conway visited the local CBS affiliate KLAS-TV hilariously "helping" Kevin Janison deliver the weather report.

LOU RAWLS begins a five night stand Wednesday at the Mohegan Sun Casino in Uncasville, Conn.

MARCEL MARCEAU making with the gestures April 8-9 in Denver, Colorado, April 11 in Saratoga, CA, April 13 in San Rafael, CA and April 16 in Albuquerque, NM.

THE FOO FIGHTERS perform April 11 in Oakland, California at the Henry J. Kaiser Arena.

DAVID CASSIDY in the spotlight April 11 at the Canyon Club in Agoura Hills, California. On Saturday he performs at the Cliff Castle Casino in Camp Verde, California.

PAUL ANKA who doesn't know how to put on a bad show, will put on a great one five times this week. On Monday he is at the Van Wezel Performing Arts Hall in Sarasota, Florida. Wednesday finds him at the Count Basie Theatre in Red Bank, New Jersey. Thursday the show is in Purchase, New York at SUNY Purchase Arts Center. Friday, Paul is in the spotlight at the Union County Arts Center in Rahway, New Jersey and on Saturday he's on stage at the Washington Township PAC in Sewell, New Jersey.

LEON RUSSELL AND JOE COCKER performs April 12 in College Station, Texas at the Wolf Pen Creek Amphitheater. British rock singer Cocker and n Russell first teamed in 1970 for Cocker's historic Mad Dogs and Englishmen American tour, which became a best-selling album and film.

ELLEN DeGENERIS telling funny stories April 10 at the Palace Theatre, Columbus, OH. On April 11 the laughs take place at the State Theatre, Minneapolis, MN Saturday finds her at the Chicago Theatre, Chicago, IL.

GEORGE WINSTON opens a three nighter Friday at the Villa Montalvo Center for the Arts in Saratoga, California.

WILLIE NELSON Saturday April 12 at Universal Studios in Orlando, Florida.

MAUREEN McGOVERN April 12-13 at Center Stage Osher Marin JCC in San Rafael, CA.

PRESERVATION HALL JAZZ BAND performing Thursday in Charleston, South Carolina at the Mack Clark Hall Auditorium. On Friday the Grand Opera House in Macon, Georgia will be jumpin' and the action transfers Saturday to the Hodgson Hall in Athens, Georgia.

DAVID SEDARIS in the spotlight Wednesday in Washington, D.C. at Lisner Auditorium.

ARLO GUTHRIE on stage Saturday at the Cooper Union Auditorium in NYC.

THE MANHATTAN TRANSFER on April 12 stop at the Riviera Hotel in Las Vegas as part of their 30th anniversary tour.

BILL COSBY delivering funny stories Saturday in Birmingham, Alabama at the BJCC Concert Hall.

GLEN CAMPBELL performs Saturday at Rock Crusher Canyon in Crystal River, Florida.

GEORGE THOROGOOD AND THE DESTROYERS on stage Thursday at the Fillmore in San Francisco. A two nighter begins Friday in Kelseyville, California at the Konocti Harbor Resort and Saturday.

KEELY SMITH opens a five night engagement on Saturday at the Raymond F. Kravis Center in West Palm Beach, Florida.

BARBARA CARROLL this year's recipient of the Manhattan Association Of Cabarets' (MAC) Lifetime Achievement Award, guests in the studio this evening with David Kenny on his Everything Old is New Again radio show, heard over WBAI 99.5 FM and on the Internet at: http://www.2600.com/offthehook/hot2.ram.

JOHNNY MATHIS singing Monday, April 7, in Dallas, Texas at Meyerson Symphony Center.

YANNI entertaining Thursday in East Rutherford, New Jersey at the Continental Airlines Arena. On Friday he is center stage in Washington, D.C. at the MCI Center. He closes out the week, Saturday, in Philadelphia, Pennsylvania at the First Union Center.


PIFFLE AND PROFUNDITIES


SEBASTIAN BACH FIRED without warning from the national tour of Jesus Christ Superstar. Rumors are swirling about those unspecified reasons. "The producers of the touring company of Jesus Christ Superstar have terminated the services of Sebastian Bach and he will no longer be appearing in the production," a production statement read. Bach had been performing as Jesus with the national tour since November 1. Understudy Raymond Patterson has taken over the lead role. A permanent replacement is being sought.
















Next Column: April 13, 2003
Copyright: April 6, 2003. All Rights Reserved. Reviews, Interviews, Commentary, Original Photographs or graphics from any Broadway To Vegas (TM) columns may not be published, broadcast, rewritten, utilized as leads, or used in any manner without permission, compensation and/or credit.
Link to Main Page
---
Laura Deni


CLICK HERE FOR COMMENT SECTION