! >
Broadway To Vegas
  SHOW REVIEWS     CELEBRITY INTERVIEWS     GOSSIP     NEWS 
| | |
| --- | --- |
| | |
April 5, 1999
By: Laura Deni
CLICK HERE FOR COMMENT SECTION

THE WEIR IS WONDERFUL
The weir means a dam - something constructed to hold back a flow. In the case of playwright Conor McPherson's The Weir, it's an emotional one. When the dam bursts the flood of emotion becomes a web that snares and holds the audience. Many times eagerly anticipated productions can be a let down. In this case one's highest expectations are fulfilled.

Seen in previews The Weir is set in a dismal country bar. The bartender, played to perfection by Brendan Coyle, is both referee and psychiatrist for his customers. The townsmen gather to drink their whiskey and stout and tell their stories. A can-you-top-this evening of ghost stories.

Enter Valerie, ably portrayed by Michelle Fairley. The play pivots. She needs white wine and the ladies' room. Her tales are true and more horrific than any ghost story. As dammed up angst is released, the well crafted, emotional spewing turns into the bonding glue that cements the audience into the emotional center. Theater goers experience - becoming emotionally involved.

This is McPherson's first attempt at writing dialogue, a craft which he has mastered. Directed to a fair-thee-well by Ian Rickson. The entire cast is outstanding; Kieran Ahem, Dermot Crowley, Brendan Coyle, Michelle Fairley and Jim Norton. Kerr Theater, N.Y.C. Already the winner of numerous European theatre awards, this play may be the best new play on Broadway this season. Don't miss.

AGE WORKS TO MCGUIRE'S ADVANTAGE
Singer Phyllis McGuire discovered that being 68 worked to her advantage. Citing "her age" as a factor, the Clark County District Attorney's office dropped a battery charge against a police officer, which stemmed from McGuire being arrested, after she head butted and kicked a police officer - See Broadway To Vegas March 29, 1999.


PHYLLIS MCGUIRE
A CORRECTIONS OFFICER HAD TO HOLD HER HEAD UP.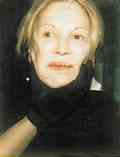 District Attorney Stewart Bell proceeded on an obstructive of justice charge, which is the less serious of the two charges.

At last Thursday's arraignment the lead singer for The McGuire Sisters was not present in Justice of the Peace James Bixler's courtroom, but her attorney, John Moran, Jr., entered a non guilty plea on her behalf. He also announced that a deal had been hammered out between his client and the District Attorney's Office.

In a plea bargaining deal the misdemeanor charges of obstruction of justice will be dropped after McGuire donates $5,000 to the Injured Police Officer's Fund and performs 40 hours of community service.

The singer is expected to appear in court April 13 when the case returns to court for final resolution and then hold a press conference to tell her side of the story.


A PREGNANT GROUPIE
BOBBY VINTON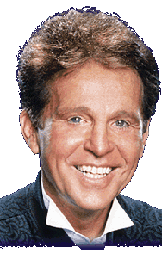 Bobbie Vinton returned to Las Vegas to inaugurate the Riviera Hotel's new convention center, which includes the Royale Pavillion concert venue. That has a theater seating capacity of 3,500 and can accommodate up to 2,800 for banquets.

The "Blue Velvet" singer who once sold more records that Elvis Presley, still has the same loyal following. The 20 and 30 year olds who screamed for his attention 30 years ago are older, but just as devoted.

While his show has changed very little in three decades, Las Vegas has. Today his presentation is more Branson than Vegas. His stage show includes three of his five children. When not starring in such places as Vegas, Atlantic City, or Chicago, he's headlining in his own theater in Branson, which is managed by one of his two sons.

The still boyish looking, personable singer isn't as uptight about his private life as he was in his heyday - possible because now he can admit that he has one.

"We met in high school and got married young," recalled Bobby about his long-suffering wife, Dolly. "Be nice to that lady, she's had five Cesareans," he quipped.



VINTON OWNS HIS OWN THEATER IN BRANSON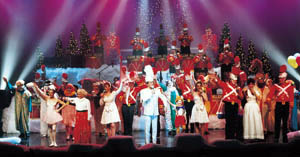 "I couldn't admit that I was married to her - or even knew her," he confessed. "The record company thought my records would sell better if I was single, so we kept her hidden. People would see this pregnant lady with a couple of small kids and ask who she was," admitted the singer. "I acted like I didn't know her."

Almost 30 years ago I asked Vinton about his classification as a sex-symbol and he told me: "I don't know. That's a pretty hard one for me. I guess the best answer would be to ask somebody from the audience who has seen me."

Females not only enjoyed his music but wanted a piece of his body. The fans took a take no prisoners approach towards possessing Vinton. At one point he was covered with scratches. "I got them when I was performing in Baltimore," he explained. "Three hundred girls came up on stage and tried to tear me apart. I don't know why they did that." Possibility because they thought he was single.

Eventually the mother of Vinton's children got a bit fed up with the subterfuge. When Vinton was scheduled to make a South American stop he invited his "hidden" wife to come along. "She asked if I was finally going to admit I was married to her. I promised her I would, so she agreed to come along. When we landed there were huge crowds waiting for me. I couldn't believe all of those girls waiting for me! The officials explained that I was more popular that Elvis or the Beatles. I asked why and they said because they were married and I wasn't. Just as I said that here comes my pregnant wife off the plane. I ignored her and said - Will everybody please let this pregnant lady through! - Somebody asked me who she was and I said I don't know. She's with the band." A pregnant groupie.



Broadway To Vegas is supported through advertising and donations. Priority consideration is given to interview suggestions, news, press releases, etc from paid supporters. However, no paid supporters control, alter, edit, or in any way manipulate the content of this site. Your donation is appreciated. We accept PAYPAL. Thank you for your interest. Laura Deni P.O. Box 60538 Las Vegas, NV 89160


THE AMERICAN THEATRE WING SALUTES

Next Monday, April 12, the American Theatre Wing holds its Annual Honors Luncheon at the Starlight Roof of the Waldorf Astoria.Celebrating Men For All Seasons the event will honor: Ossie Davis, Kevin Kline, Jason Robards, Patrick Stewart and Sam Waterson for their distinguished achievement in the theatre.



OSSIE DAVIS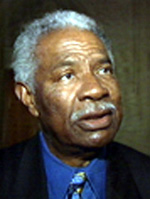 Davis, 81, has indicated that he intends to return to what inspiring him to enter show business in the first place - writing for the theater. "I wanted to write for the theater," he recently told a meeting for the National Association for the Advancement of Colored People, in his hometown on Homerville, Ga. " It was the thing I loved and wanted to do. "

Davis wrote the 1970 Broadway musical Purlie for which he received a Tony nomination. He has also had several off-Broadway plays produced.

Sam Waterson has enjoyed a varied acting career. He co-starred in The Killing Fields, as New York Times reporter Sydney Schanberg. In The Great Gatsby he was the alter ego for Scott Fitzgerald describing the times of Jay Gatsby; the rabbi going blind in Woody Allen's Crimes and Misdemeanors. On stage he's played Hamlet twice, and Prospero, starred in The Doll's House, and The Master Builder on the Hartford Stage. His television credits include Law and Order.



Jason Robards
Jason Robards first appeared on Broadway in 1951 in Stalag 17. In 1956 starred as Hickey in The Iceman Cometh. Ironically, when he was treated for alcoholism the physicians ask him to read something to them from an important role, which might carry a message about him to them. Robards read to them from Iceman about alcoholism.

Patrick Stewart, born in Mirfield, England July 13, 1940, has played roles from Shakespeare to all 35 characters in a version of Dickins' A Christmas Carol on Broadway. But, it was Star Trek that launched the British thespian into a new orbit. A member of the London's Royal Shakespeare Company for several years, one of his proudest moments was when The New York Times reviewed him in The Tempest with no reference to Star Trek. Steward announced that "made me feel like a real actor."

Kevin Kline has wrestled with Hamlet's waffling and pulled off an entire role with a French accent, as the unshaven French scoundrel in the delightful French Kiss. He won Tony Awards for On The Twentieth Century and The Pirates of Penzance. He also carted home an Oscar for A Fish Called Wanda.

This annual star-studded benefit helps to provide funds for the continuation of the Wing's outstanding educational programs. Introduction To Broadway provides thousands of teenagers the experience of live theatre, many for the first time. Theatre In-School program takes theatre professionals into New York City classrooms to discuss their craft. The Hospital Program provides entertainment for hospitals, nursing homes, veteran hospitals and AIDS centers with performances by cast members from New York theatre and cabaret.

The American Theatre Wing, Roy A. Somlyo, President and Isabelle Stevenson chairman, turned 80 last year. This is one of Broadway's longest-running non-profit charities. The Wing is best known as the founder and co-presenter of the Tony Awards.


THE MUSIC GOES ROUND AND ROUND

MYTHS AND HYMNS is Adam Guettel's second album for Nonesuch Records. Myths and Hymns is a song cycle on the subject of faith and longing. Premiered in March 1998 at the Joseph Papp Public Theater/New York Shakespeare Festival under the title Saturn Returns, the work offers up a dazzling array of songs adapted from classic Greek myths and the texts of an early American hymn-book.



ADAM GUETTEL
Photo Credit: Kate Raudenbush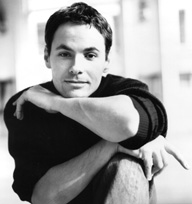 The evolution of Myth and Hymns commenced for Guettel in 1987, when the line "Icarus was not an achiever" started running through his mind. He began writing songs that directly addressed the fates of, among others, Icarus, Pegasus and Sisphyus. Years later when he stumbled upon a 19th century Presbyterian hymnal in a used bookshop, the merging of myth and hymns transpired.

The CD features extraordinary talents; Vivian Cherry, Lawrence Clayton, Lynette DuPre, Annie Golden, Darius de Haas, Jose Llana, Theresa McCarthy, Audra McDonald, Mandy Patinkin, Billy Porter, and Bob Stillman.

"I am fortunate to have on this recording many of the people who helped shape these songs; Audra McDonald and Billy Porter from the first workshop; Lynette DuPre, Terry McCarthy and Mandy Patinkin from the second; and the entire cast from the Public Theater production, which was entitled Saturn Returns referring to Saturn's 29 year cycle around the sun, considered to be a time of reassessment," wrote Guettel.

The CD selections encapsulate the entire emotional spectrum - the heart wrenching How Can I Lose You? to Sisyphus, which tells the story of never ending stumbling blocks. As punishment for betraying Zeus's confidence, Sisyphus was sentenced to roll a boulder up a mountainside over and over - forever. Sisyphus races to the rockpile, needing others beside him to advise and guide him - while missing the whole point.

The gifted Guettel started out as a boy soprano soloist at the Metropolitan Opera and the New York City Opera. He attended Yale University, where his concerto for jazz quartet and orchestra won the Yale Concerto Competition, graduating in 1987. He has composed scores for numerous PBS documentaries, including Anthony Edwards' award-winning Speak Through Walls and CBS TV's two hour J.F.K. documentary, Jack. Guettel received the Stephen Sondheim Award for songwriting distinction from Philadelphia's American Musical Theater Festival in 1990. Audra McDonald has included four of his songs on her recent debut CD Way Back To Paradise.

Myths and Hymns is fascinating.


RABBITS OUT OF HATS
DAVID BLANE intends to be buried alive today - April 5 - for a week without food or water, in a glass coffin at the new Trump Place, N.Y.C. His ABC-TV special Magic Man aired April 14.

LANCE BURTON who appears and disappears nightly at the Monte Carlo Hotel, Las Vegas is searching for an amateur magician ages 8-18 for The young Magicians Showcase, a featured segment on his 4th annual television special, to be filmed the end of this year for airing next year. Interested young magicians who would like to be considered should send Lance a 3 to 5 minute videotape of their act, using stage, parlor or close-up magic. Be sure to include an address and phone number on the video cassette label. Mail to: Lance Burton Productions, Inc., P. O. Box 530395, Henderson, NV 89053-0395.



THE CIVIL WAR is the new Broadway musical composed by Frank Wildhorn and written by Wildhorn, Gregory Boyd, and Jack Murphy.


SCENE FROM THE CIVIL WAR
Photo: Joan Marcus/Carol Rosegg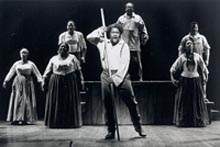 The production is a thematic musical that tells the stories of the real people who went to war for what they believed in.

It is directly inspired by the actual wartime correspondence of soldiers and slaves; generals and Presidents, as well as wives, mothers and brothers.

The Civil War which will have its official Broadway premiere at the newly restored St. James Theatre on April 22, is performed by a 30-member ensemble cast of singers from Broadway, Nashville, and pop/r&b music.

NATASHA RICHARDSON stars in Patrick Marber's drama Closer about love, cybersex, lap dancers and betrayal. Giving notice that she is an actress to be taken seriously is 22 year old Anna Friel, making her Broadway debut. The cast also includes the talents of Rupert Graves, and Ciaran Hinds. Author Marber does double duty as director. Sets by Vicki Mortimer. Music Box Theater, N.Y.C.

THE WHO'S TOMMY is currently on a three month concert version tour with Liza Asher, who won the 1998 MAC Award for Piano Bar Entertainer, singing the roles of The Minister's Wife and Mrs. Simpson. The Who's Tommy, produced by Jeffrey Finn Productions, closed last night at The Bushell Theater in Hartford, CT. They open tomorrow at The Palace Theatre in Stamford, CT with performances through April 11. Boston's Colonial Theatre follows April 13-25 and in Chicago the musical will be performed at the Auditorium Theatre April 27-May 2. Asher has been noticed by the Rosie O'Donnell Show. Slotted for an upcoming Untapped Talent Segment, Asher's newest cabaret act is Me and the Boys and she's recording True Stories with its infectious show-stopper Dance Band on the Titanic, by Henry Chapin.

EAST WEST PLAYERS presents Hanako, by Chungmi Kim, about a hidden war atrocity that leads to the unfolding of an emotional story about the Korean "comfort women." Opens Wednesday, April 7 Los Angeles with performances through April 25.


WHO'S WHERE


TALENT IN THE GENE POOL Keira Naughton, currently starring in Jeff Stanley's Tesla's Letters is the daughter of the delightfully multi-talented James Naughton, who can be enjoyed in his show Street of Dreams at the Promenade Theatre. Hurry - his wonderful show closes this coming Sunday. Proud Papa will head over to the Ensemble Studio Theatre to applaud his daughter. Tesla's Letters opens April 6th as part of First Light, a Festival of New Dramatic Works Exploring the Worlds of Science and Technology. The E.S.T./Sloan Foundation Science & Technology Project is a half million dollar, three year program fostering new theatrical explorations. The project has awarded $50,000 in commissions to playwrights this season. The centerpiece of this inaugural Festival is Tesla's Letters.

WAYNE NEWTON currently starring at the MGM Grand Hotel, Las Vegas through April 14 set to appear with the Nebraska Symphony Orchestra in a one nighter, May 1, at the Orpheum Theater in Omaha. Tickets priced $25 to $75. Admission to a private reception for ticket holders after the event is an extra $5.

TONY DANZA

TONY DANZA

who opens Thursday, April 8, in The Iceman Cometh at the Brooks Atkinson Theatre, NY, brings his tap shoes and sense of humor to Las Vegas for a three-night engagement August 6-8 at the Desert Inn Hotel.


The Iceman Cometh may set some endurance records - the reported running time is almost 4 hours. It didn't take some of the actors that long to learn their lines.

Kevin Spacey, who stars as Hickey, is visiting New York city high schools talking up the production to the students.

THE SAVANNAH SYMPHONY POPS ORCHESTRA concludes its 1998-99 season April 10 under the baton of Skitch Henderson, with special guest artist Lorna Dallas, well-known London stage veteran. She has appeared in Who Could Ask For Anything More, which will be televised by the A&E network later this year. She premiered Ira Gershwin's long-lost song, There Is No Music, at the Royal Albert Hall, London. Her just-released solo album, The Girl I Knew the music of Novello and Kern, has been named Record of the Year by BBC Music Magazine. Concert Tickets for Saturday's Savannah Symphony Pops presentation range from $15-$35.

STEPHANIE POPE has replaced Ute Lemper as Velma Kelly in Chicago at the Mandalay Bay Hotel, Las Vegas. Pope joins Chita Rivera, Ben Vereen, Marcia Lewis, and Ernie Sabella.

MANHATTAN TRANSFER at the House of Blues inside the Mandalay Bay Hotel, Las Vegas April 14. Tickets $27.50 and $37.50.

BARBARA COOK is celebrating her 50th year in show business by performing at the Cafe Carlyle through May 1. The consummate singer has won Grammys, Tonys and Drama Desk Awards for such Broadway hit as The Music Man, Candide, and She Loves Me.


THIS AND THAT



PARIS ISLAND BOOT CAMP is what the executives of the Paris Hotel, set to open in Las Vegas in September, are being forced to attend. The object is to cram French culture and continental manners into their uncouth bodies. We're not sure if they are going to be taught to hate Americans or not. 4,200 people are being hired for the 2,916 room French themed resort. Among the new hires will be a singing bread delivery person who will bicycle through the casino, and a mustachioed elevator operator, who chatters on about what Paris means to him, as he whisks an estimated 3,000 guests a day to the top of the half-scale replica of the Eiffel Tower.

REJECTED BIRTHDAY PRESENT The delightful and talented Shirley Jones celebrated her birthday last week. We wish her much happiness and note that she doesn't look much older than she did when she starred in Oklahoma and Carousel. Shirley is married to the emotional and devoted Marty Ingels. Beloved husband decided he wanted to commemorate his wife's natal day by erecting a statue of her to be placed in a park in Smithton, Pa., which is her hometown. Ingels was told the city fathers couldn't afford to maintain the present. "Our entire city budget is $35,000. I know the car Marty drives in worth more than that," explained Fred Foster, president of the City Council, when he told Marty to take his statue elsewhere. Ingels is miffed.

CADDYSHACK OLYMPICS The movie has now inspired a wacky tournament which begins tomorrow, Tuesday, April 6, in honor of the 20th anniversary of the film. The tournament is sponsored by the PGA and Warner Home Video. Open to only professional golf caddies, the contest involves stunts lifted from Bill Murray's character in the movie. Competitors will hit plastic flowers with a floppy golf club, putt a ball as if they're making a pool shot and hit an oversized beach ball into a kiddie sized swimming pool. The top caddy master wins a pro golf jacket made of Astro Turf.


THAT GREAT JAZZ BAND IN THE SKY


A couple of cool cats have signed on for permanent gigs with That Great Jazz Band In The Sky.

JOE WILLIAMS Jazz legend - and gentleman - died in Las Vegas. Services for the musician's singer will be Wednesday, in Las Vegas, at the First Church of Religious Science. The jazz giant was 80. He met his British born wife, Jillean, in 1957. They have resided in Las Vegas since 1967. A Chair in his honor was named at the Clark County Community College. Williams was scheduled to perform at the annual Joe Williams Scholarship fund- raiser, benefiting the college, which is scheduled to take place on May. 7

THEODORE "TEDDY" MC RAE jazz arranger and composer who worked with jazz greats Sy Oliver and Chick Webb. Mc Rae, who played sax, co-wrote the hits Back Bay Shuffle in 1938 and Traffic Jam in 1939 with band leader Artie Shaw. McRae also co-wrote You Showed Me the Way in 1937 with Ella Fitzgerald, Bud Green and Webb. Early in his career he was musical director for Lionel Hampton. McRae died in New York. He was 91.



Mention BROADWAY TO VEGAS for Special Consideration
Call (800) 942-9027









Next Column: April 12, 1999
Copyright: April 5, 1999. All Rights Reserved. Reviews, Interviews, Commentary, Photographs or graphics from any Broadway To Vegas (TM) columns may not be published, reprinted, broadcast, rewritten, utilized as leads, or used in any manner without permission, compensation and/or credit.
Link to Main Page
---
Laura Deni



For the snail mail address, please E-mail your request.

CLICK HERE FOR COMMENT SECTION