! >
Broadway To Vegas
 
  SHOW REVIEWS CELEBRITY INTERVIEWS GOSSIP NEWS

| | |
| --- | --- |
| | |
WILLIAM INGE FESTIVAL HONORS ARTHUR LAURENTS - - LAUGH FACTORY OPENS IN NEW YORK - - INTIMATE APPAREL - - THE FROGS LEAP TO NEW YORK - - PINK'S COSTUMES & HAIR - - STONES IN HIS POCKETS LAWSUIT PROMPTS JUDGE TO SEE PLAY - - OFFICIAL BLUES BROTHERS REVIVAL - - KING LEAR CAST TALKS - - DONATE . . . Scroll Down


Copyright: April 4, 2004
By: Laura Deni

CLICK HERE FOR COMMENT SECTION
WILLIAM INGE FESTIVAL EXPANDS WITH YEAR AROUND EVENTS - ARTHUR LAURENTS HONORED


Playwright and stage director Arthur Laurents will be honored at the 23rd annual William Inge Theatre Festival, scheduled for April 21-24 in Independence, Kan.

The festival, sponsored by Independence Community College, each year honors a playwright or composer for contributions to American theater. Previous honorees include Edward Albee, Terrence McNally, Neil Simon, Stephen Sondheim, Wendy Wasserstein and August Wilson.

Bruce Peterson, festival associate, spoke with Broadway To Vegas about the festival and how the William Inge Theater Festival has become a year around event.



Arthur Laurents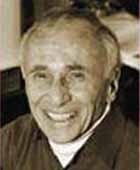 "Arthur Laurents will be here the entire festival," said Peterson referring to the man who began his career in the 1940s as a dramatist but achieved his greatest success writing books for the musicals West Side Story and Gypsy. Laurents also directed the musicals I Can Get It for You Wholesale and La Cage aux Folles.

"He will be giving what is called a Conversation with Arthur Laurents - on the stage and discussing his career. He will also be present at the Saturday evening tribute to him, which will have guest stars performing excerpts from his different shows," said Peterson.

Conceived, written and directed by award-winning filmmaker, Mike Wood, this one-time presentation includes narration, live performances with guest stars, slides, video clips from shows and interviews with the honoree and dozens of their collaborators.

"That will be filmed for the archives, preserved as part of our Inge collection," stated Peterson.

Independence was home to Inge and the author always credited the town with providing inspirational sparks for his dramas Picnic, Dark at the Top of the Stairs and Come Back Little Sheba, as well as his screenplay for the Elia Kazan film Splendor in the Grass.



Glencliff Bed and Breakfast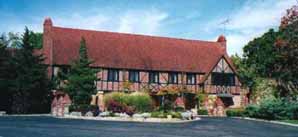 Laurents will be staying in that Splendor in the Grass house.

"We always put up our guests at this lovely bed and breakfast which is the house from Splendor in the Grass," explained Peterson. "Unfortunately, they didn't film that here. They filmed it in Hutchinson, Kansas. But, the big house which was the inspiration for the rich family - a beautiful Tutor style, built in the 1920's - is now a bed and breakfast called Glencliff. It's just gorgeous."

"Part of the festival are tours of Inge's Independence. The tours specifically go to areas which influenced his life," continued Peterson.

"For instance, he mentioned in his books the only Jewish store in town - so the stores he patronized are pointed out."



William Inge sitting on the Broadway set of The Dark At The Top of the Stairs. Photo archives: Inge Center for the Arts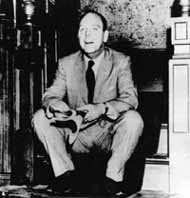 While the Inge Festival draws national attention, Peterson is quick to point out that this a one-weekend event has blossomed into a year long project.

"We just changed our name this year and we are officially announcing it now -The William Inge Center for the Arts, because we do things year around now. It's not just a festival each April."

"We have William Inge's family home. The home that he grew up in is now owned by our Inge Festival Foundation," elaborated Peterson. "We also have Playwright's In Residence. We have acclaimed playwrights here year around and do developmental readings. Each playwright is here for nine weeks."

Currently in residence are playwrights Carson Becker of Chicago and Jeremy Kareken of New York who began their program March 15. While in residence they live in Inge's historic boyhood home.



Peter Ellenstein, Director Inge Center for the Arts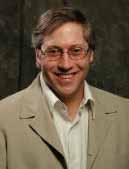 "We have playwrights that teach in our area schools. As far as we know this is the only program in the nation that brings professional, working playwrights into rural high schools," Peterson declared.

"The playwrights teach both at the high school and at ICC, which is another great thing," emphasized Peterson. "I don't think anywhere in the country can a freshman and sophomore in college work with - certainly so intimately - playwrights of this caliber, rather than waiting until grad school."

"We've had our playwright program at two different high schools. We've had it at Independence High and we've had it out at Elk Valley High School, which is about 25 miles due east out of town. A very small, isolated, rural school in the next county over."

The unusual and powerful program has a two fold benefit.

It works socially, building self esteem, as well as an acceptable vehicle for venting frustrations.

"Then there is also academic benefits - just in terms of writing, literature, analysis, discussing themes and character development. So, it's both academic and behavioral-social benefits," Peterson added.

"It's really is wonderful," he reiterated. "It's amazing. We just finished Elk Valley. We were there Jan-March. Each student wrote a minimum of a 10-minute play in two months. They were absolutely thrilled."

"Actors from the colleges and local theaters came in and read the plays. We have a rehearsal and then they read the plays that the kids wrote. That is very important - to have the kids hear performed what they wrote," he emphasized.

"We also bring in guest artists for the readings of the works by the playwrights in residence."

Funding is derived from the Independence Community College which, is where Inge went to school.

"That is where we are located, so they provide significant overhead costs," Peterson explained. "We do get grants from the Kansas Arts Commission and the National Endowment for the Arts. We are the only theater organization in Kansas, at least last year, to get funding from the NEA."

The William Inge Theatre Festival, April 21-24, includes panel discussions, workshops and special events, including:

•Arthur's Turn: A Musical Celebration of the Works of Arthur Laurents, on April 21.

• A reading of a recent Laurents play, Attacks of the Heart, with Turkish-American actress Cigdem Onat, on April 22.

• Presentation of the Otis Guernsey New Voices Playwriting Award, intended to recognize emerging talent, to Mary Portser of Los Angeles on April 23.

• Curtain Up, a multimedia tribute to Laurents featuring live performances and testimonials and culminating with the presentation of the William Inge Award, on April 24.


JAMIE MASADA OPENS NEW YORK LAUGH FACTORY


Comedy impresario Jamie Masada - yes that Jamie Masada - the guy that the rumor mill says has been testifying before the Michael Jackson Grand Jury - is bringing some laughs to The Big Apple. Masada will open another branch of his world famous Laugh Factory which, for two decades has been one of the premier stages for stand-up comedy in Hollywood, to the Times Square venue on Wednesday, April 7th.

Opening night performances by; Damon Wayans, Dave Chappelle, Bob Saget, and Brad Garrett.

Masada, the son of a cantor and entertainer, grew up in Israel and Iran. His father used to take him along to wedding and Bar Mitzvah gigs. Masada's father played accordion while Jamie told jokes.



Jamie Masada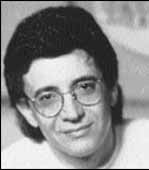 The club's Sunset Boulevard location opened during the comic strike of 1979 when Masada, on borrowed money, acquired a tiny storefront on the famed Sunset Strip.

Since then the Laugh Factory has established itself as the benchmark of comedy venues in the United States, where such stars as Richard Pryor, Rodney Dangerfield, Jerry Seinfeld, Jim Carrey, Damon Wayans, Paul Rodriguez and Arsenio Hall have graced the stage.

Along the way Masada firmly established himself as a well respected do-gooder. Madasa saw to it that The Laugh Factory reached out to the community at large.

For 25 years, the club has earned plaudits from thousands of Hollywood newcomers for serving free Thanksgiving and Christmas dinners along with good spirited comedy performances. The motto "Spending the holidays alone is no laughing matter" has been drawing crowds of actors, writers, comedians, artisans and craftspeople of all kinds, as well as anyone else who needs a good meal and a family to share it with.

Another longtime program associated with the Laugh Factory is the Comedy Camp, where underprivileged inner-city kids are being offered a safe and fun artistic environment learning stand-up comedy.

The camp¹s motto is "An escape for kids who shouldn¹t have to escape."

Since 1984, an entourage of celebrity comedians such as Jim Carrey, Chris Tucker, Damon Wayans, Paul Rodriguez, Bob Saget, and Rodney Dangerfield has helped him mentor and encourage these kids, but most of all provide strong, positive role models for children who too often have none.

Masada intends to continue both traditions with his Big Apple location.



Broadway To Vegas is supported through advertising and donations. Priority consideration is given to interview suggestions, news, press releases, etc from paid supporters. However, no paid supporters control, alter, edit, or in any way manipulate the content of this site. Your donation is appreciated. We accept PAYPAL. Thank you for your interest.


SPREADING THE WORD


A CONVERSATION WITH THE CAST OF KING LEAR: DOMINI BLYTHE, LUCKY PEACOCK AND CLAIRE JULLIEN part of the Lincoln Center Theater's Platform series presents conversations with artists working at LCT before an audience of interested theatergoers. Admission is free and open to all. Domini Blythe, Lucy Peacock and Claire Jullien, portray the daughters of King Lear - respectively Goneril, Regan and Cordelia in King Lear at the Vivian Beaumont Theater. Platforms are held in the lobby of the Vivian Beaumont Theater. April 8.


SWEET CHARITY


THE WAR OF THE MAMA ROSES Hold on to your eggrolls, Mr.Goldstone it's the Ultimate Audition for Gypsy! starring Richard Skipper as Carol, Steven Brinberg as Barbra, Rick Skye as Liza, Quinn Lemley as Rita Hayworth and Janet Fanale as other desperate divas. A benefit for Theater Resources Unlimited. Buffet, drink and Silent Auction. April 17 at Dillions in NYC.


OTHER PEOPLE'S MONEY


STONES IN HIS POCKETS

Marie Jones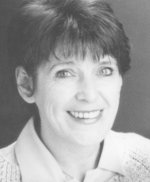 Marie Jones's Olivier award-winning play, which has been translated into 16 languages, has now been translated into a court document.

One of the first things the judge did was to attend the play. We don't know if he was paid or comped.

This bitter legal dispute involves two former friends and business partners - Marie Jones and Pam Brighton, a theatre director based in Belfast, Ireland who seeks credit as the play's joint author.

In London's High Court, Mr. Justice Park heard testimony regarding history of the two women writers who have known each another for more than 20 years. They met through the theatre in 1983 going on to become two of the founders of the Dubbeljoint theatre company in 1991 - the name is a combination of Dublin and Belfast.

The judge was told that Ms. Brighton asserts she is the joint author and owner of the copyright in an earlier version of the play, first produced by Dubbeljoint as part of the West Belfast Festival in 1996.

A subsequent version of the play, written by Ms. Jones, which opened at the Lyric Theatre in Belfast in 1999 reproduced a "substantial" part of the 1996 script, Ms. Brighton claims. She is seeking an injunction that would credit her as a joint author of the play, and is also claiming damages for alleged infringement of copyright. She also seeks an inquiry into an accounting of royalties due.

Currently on tour the play ends its West End run on May 1.

Among those who have already watched the comedy in England are the Prince of Wales and Camilla Parker Bowles, Cherie Blair, Dustin Hoffman, Tom Hanks and Madonna.

Mr. Justice Park said that he hadn't yet seen the show but intended to see it this week. Laughter erupted in the courtroom when Keith Garnett, representing Ms Brighton, joked that if the judge did see the play "one or other of the party's would benefit from your lordship's visit".

A film version, starring Dylan Moran and Conleth Hill, who starred in the play when it premiered in London's West End, goes into production in August.

Jones has garnered numerous theatrical prizes for Stones including an Olivier award for best comedy and a special achievements award from the Outer Critics Circle in New York, while the director, Ian McElhinney, was nominated for a Tony.

The play has just finished its second tour in America, and is touring the United Kingdom for a second time.



THE FROGS is a reason to come to New York this summer. Leap on over to the Vivian Beaumont Theater to enjoy what is promised to be a refreshing new take on a really old, old comedy - a comedy written in 405 B.C. by Aristophanes. Freely adapted by Burt Shevelove. Even more freely adapted by Nathan Lane. Music and Lyrics by Stephen Sondheim. Direction and Choreography by Susan Stroman.

Performances begin June 22 with opening night a month later on July 22 at the Vivian Beaumont Theater in NYC.

The cast of 28 features John Byner, Peter Bartlett, Daniel Davis, Chris Kattan, Nathan Lane, Burke Moses and Michael Siberry.

Stephen Sondheim and Burt Shevelove's adaptation of Aristophanes' The Frogs premiered in 1974 featuring students of the Yale Drama School in a university swimming pool. After appearing in a concert of the rarely performed Sondheim score in 2000, Nathan Lane approached the composer/lyricist with the idea of further adapting Shevelove's adaptation into a full-length work, switching the setting from a swimming pool to the Beaumont stage.

In The Frogs, the Greek god Dionysos - played by Nathan Lane - troubled by the world's ills, embarks on a perilous and frog-infested journey to Hades with his slave Xanthias, played by Chris Kattan, to bring back an extraordinary writer who, by providing words of wit and wisdom, will help save mankind from destruction.

The Frogs is being presented as part of this July's Lincoln Center Festival 2004. The production will have sets by Giles Cadle, costumes by William Ivey Long, lighting by Kenneth Posner and sound by Scott Lenrer.

TRYING by Joanna Glass starring Tony Award winner Fritz Weaver and Kati Brazda. The drama depicting the last year in the life of Francis Biddle, attorney general under President Franklin D. Roosevelt. The piece was inspired by Glass' own experience as Biddle's personal secretary from 1967-68. Sandy Shinner directs.

Weaver, who won a 1970 Tony Award for his performance in Robert Marasco's Child's Play, a play about evil goings-on at a Roman Catholic boys' school, is making his professional Chicago stage debut in Trying.

Through May 2 at Victory Gardens Theater, in Chicago.

THE OFFICIAL BLUES BROTHERS REVIVAL presented by The John Belushi Estate and Dan Aykroyd. American icons Jake and Elwood Blues, also known as "The Blues Brothers," are coming home to stay - back to Sweet Home Chicago in the world premiere musical of The Blues Brothers Revival.

This live stage musical will combine the hits from the original movie as well as the five popular albums put out by John Belushi and Dan Aykroyd. The musical is presented by the John Belushi Estate, Judy Belushi Pisano and Dan Aykroyd.

Producer/director Victor Pisano, who wrote the musical stage play, will direct the performance.

The Blues Brothers Revival is woven around John Belushi's character Jake, who has spent most of the last several years stuck in Purgatory. Elwood and a cast of Gospel characters use whatever musical means possible to get him out and up into the "Kingdom of Heaven." Jake, Elwood and the Cast attempt this musical redemption every performance with the able assistance of the audience. The two Act Musical has a 1970 South Side Chicago set.

The raucous fun will include their encounters with black magic, beautiful blues singers, Chicago cops, as well as an orphanage nun, Mother Immaculata who leads the cast in an Irish step dance. The Band is comprised of street musicians playing classic Blues Brothers songs: Soul Man, She Caught The Katy, Sweet Home Chicago, Shotgun Blues, Rubber Biscuit, Jailhouse Rock to name a few and the show also features the classic hit songs R-E-S-P-E-C-T, Son of a Preacher, Rawhide, Minnie the Moocher and a number of American Gospel classics.

While Dan Aykroyd is checking out possible venues in various cities for a tour, or other mountings of this show, Victor Pisano is down playing the Aykroyd feelers using words like "rumors" and "no plans now." So, if it is a hit in The Windy City expect the production to multiple. Before it hits your town you can see it in Chicago.

Previews begin April 9th. Opens April 20th at the Chicago Center for the Performing Arts.

INTIMATE APPAREL New York Premiere of this work by Lynn Nottage, which garnered her the $10,000 Francesca Primus Prize for this new play. The award is given by the American Theater Critics Association and is for women in all areas of theater.

Directed by Daniel Sullivan, Intimate Apparel takes place at the dawn of the 20th century, when opportunities for African-American women are in short supply. But 35-year-old Esther, played by Tony® and Drama Desk Award winner Viola Davis, has a gift for sewing exquisite lingerie. Her creations are worn by Park Avenue socialites and downtown prostitutes alike, and offer her a rare life of independence. Still, she is lonely and risks it all to wed a Caribbean stranger whom she knows only through a romantic exchange of letters. When she realizes that he may not be the same person who wrote those impassioned thoughts, Esther must answer difficult questions about her own identity, about tradition, and about a woman's place in the world.

Intimate Apparel is being presented in by the Roundabout Theater Company as the inaugural show at its new Off Broadway home on West 46th Street, the Harold and Miriam Steinberg Center for Theater. This new off-Broadway venue has two new theatre spaces featuring the 425-seat Laura Pels Theatre. The Laura Pels Theatre programming is dedicated to new plays by established writers. The second, a 75 seat Black Box Theatre space, will be used for more experimental works as well as workshops and readings. Roundabout's education department will also use the Black Box Theatre for its activities including student productions and professional development workshops.

Intimate Apparel officially opens on April 11 with performances through June 6.

BABY Book by Sybille Pearson. Music by David Shire. Lyrics by Richard Maltby, Jr. Based upon a story developed with Susan Yankowitz. Directed by Mark S. Hoebee.

Starring (in alphabetical order): Carolee Carmello, Chad Kimball, La Chanze, Norm Lewis, Moeisha McGill and Michael Rupert.

A 20th Anniversary production of this musical which garnered 7 Tony Award nominations (including Best Musical, Book and Score) as well as a Grammy Award nomination. This heartwarming tale of three couples in their early 20s to mid 40s reveals the agonizingly funny and ultimately life changing consequences of the universal experiences of parenthood. Opened March 31 at the Paper Mill Playhouse with performances through May 9.

Paper Mill Playhouse was one of the first to begin the regional theatre movement in the United States. It has grown to be one of the most acclaimed non-profit professional theatres in the country. In 1972, Gov. William Cahill proclaimed Paper Mill the "Official State Theatre of New Jersey."

THREE SECONDS IN THE KEY presented by New Georges is a semi-autobiographical comic drama by Deb Margolin based on Margolin's real-life battle with Hodgkin's disease.

A cancer-stricken woman (Mother) and her son (Child) escape the stress of her illness by watching professional basketball on television, borrowing the bodies of these strong healthy men to offset the tentative world of sickness they inhabit. When one of the New York Knicks walks out of the television and into the woman's living room, the comical, dreamlike process of healing begins. By juxtaposing a disease-weakened woman with a powerful athlete, Margolin explores the body in all its beauty, danger, and vulnerability; and by writing a dialogue between a Yiddish-speaking Jew and an African American celebrity, she also investigates important issues of race.

The cast includes; Catherine Curtin, Samuel R. Gates, Malcolm Morano, Ato Essandoh, Avery Glymph, David S. Shaw, Jeffrey Evan Thomas. And, let's not forget those six basketballs. They are provided by Spalding.

April 12-May 8 at New Georges at Baruch Performing Arts Center in NYC.

THE PRODUCERS welcome Brad Oscar and Roger Bart back to the production. Oscar originally played Nazi playwright Franz Liebkind and Bart the flamboyant personal assistant Carmen Ghia when the show opened in April 2001. Oscar replaces Nathan Lane and Roger Bart takes over from Matthew Broderick.They end their encore run after today's (April 4th) performance. Oscar and Bart begin April 6th at the St. James Theatre in NYC.

THE POOL OF BETHESDA By Allan Cubitt, Midwest Premiere directed by Mikhael Tara Garver. The Pool of Bethesda is a poetic, witty and poignant work, combining fantasy with a straightforward look at the choices we make as we live out our lives. When the play opens, Dr. Daniel Pearce, a London surgeon, is living in a sort of comic nightmare, suffering from increasingly disturbing hallucinations. Believing himself to be the Christ in William Hogarth's famous painting, The Pool of Bethesda, he has transported himself to the 18th-century painter's extravagant, erotic, and sometimes violent world.

Best-known for his work in film and television, British writer Allan Cubitt has written for Medics and Prime Suspect 2, starring Helen Mirren. His films include The Hounds of Baskerville and Anna Karenina. When The Pool of Bethesda ran in London, The Guardian called it "An exceptional work, bursting with ideas, spiky dialogue and remarkable images."

24-year-old director Mikhael Tara Garver is the Artistic Director and Co-Founder of Umalleniay Productions. She attended the British American Drama Academy and graduated from Northwestern University. The cast includes: John Zinn as Dr. Daniel Pearce, Danica Ivancevic as Pearce's wife Jane, Amanda Christensen as Pearce's sister Ruth, Jenna Hastings as Pearce's friend Kate, Derek Gaspar as Hogarth and Simon, a hospital orderly,Cassie Wooley as Sally, Paul Joseph as Fancy and Sean Bolger as Figg.

One of Uma's goals is to create a full experience for the audience. To this end, Uma is fully realizing the world of The Pool of Bethesda in Live Bait's studio theatre by building the entire space, including walls, audience seating, and an actual pool. The set serves as an observation room, hospital, boxing ring, and cage. The design team includes: Jeff Award-winner Brian Sidney Bembridge on set and lights, Tatjana Radisic costumes, and Chris Johnson sound.



The Pool of Bethesda by Hogarth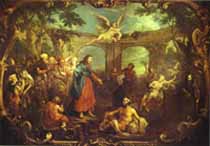 Hogarth's The Pool of Bethesda William Hogarth (1697 – 1764) was a painter and engraver who brilliantly satirized the follies of English manners and customs. He frequently used actors and other personalities - such as England's first Heavyweight Champion Boxer James Figg, who appears in Pearce's delusions - as subjects, thinking of his paintings as scenes.

The Pool of Bethesda, oil on canvas painted in 1736 on the staircase of Saint Bartholomew's Hospital in London, is one of Hogarth's most ambitious and famous paintings. The healing pool of Bethesda is mentioned in the fifth chapter of John in the New Testament of the Bible. The Hebrew word 'Bethesda' comes from 'Chesda,' meaning 'house of mercy'.

Previews begin April 10. Opening April 15 with performances through May 23. Presented by Umalleniay Productions at Live Bait Theatre, in Chicago.


| | | |
| --- | --- | --- |
| | | |
WHO'S WHERE


VERIZON LADIES FIRST TOUR starring Alicia Keys, Beyonce, Missy Elliott and Tamia on stage Monday at the Continental Airlines Arena in East Rutherford, New Jersey. On Wednesday the show is at the MCI Center in Washington, D.C. Friday finds the gals at the Hartford Civic Center in Hartford, CT and on Saturday they are center stage at the Nassau Coliseum in Uniondale, New York.

PINK whose stage performance includes at least 10 costumes changes and three hair colors, will be putting on the show Monday, April 5 at the Budapest Arena in Budapest, Hungary. Then the songbird heads to Germany for shows Wednesday at the Arena in Nuremberg, Thursday at the Olympiahalle in Munich and on Saturday at the Konig-Pilsener Arena in Oberhausen.

DEBORAH VOIGHT soprano performs with Brian Zeger on piano. Carnegie Hall Recital Debut. Wednesday, April 7 Stern Auditorium in NYC.

STEVE ROSS has brought his cabaret act "Rhythm & Romance" to the Stanhope in Manhattan for a run through May 15.

MARIA FRIEDMAN the three-time Olivier Award-winning English entertainer has opened a five-week engagement last Tuesday a the Cafe Carlyle in NYC. Friedman is the performer who will star with Michael Crawford in Andrew Lloyd Webber's musical The Woman in White in London next fall. Her Big Apple gig is called "By Special Arrangement," and includes a few songs from the new musical.

FRANK SINATRA, JR at the Sands Hotel in Atlantic City April 9-11.

MICHAEL BUBLE performs Friday at the Lyric Theatre in Brisbane, Australia.

PAUL ANKA opens a two nighter Friday at the Borgata Hotel in Atlantic City.

PETULA CLARK on stage Monday at the American Music Theatre in Lancaster, PA.

ROD STEWART performs Monday at the ARCO Arena in Sacramento, CA. On Tuesday he can be enjoyed at Centennial Garden in Bakersfield, CA. Thursday he's in the spotlight at the Pepsi Center in Denver and on Saturday the show is at Nokia Live at Grand Prairie, Texas.

MICHAEL FEINSTEIN in a triple program Thursday-Saturday at Jones Hall for the Performance Arts in Houston, Texas.

BOB NEWHART telling funny stories next Sunday, April 11 at the Centennial Concert Hall in Winnipeg, Canada.

KAREN AKERS April 6- May 15 at the Oakroom in NYC.

TOM WOPAT must have bottled energy and we need a dose. Tom is currently on tour in Chicago and on his night off performs his cabaret act. The guy, who received a Tony nomination for his role opposite Bernadette Peters in Annie Get Your Gun, stars in Chicago April 9-11 at the Barbara B. Mann Performing Arts Hall in Fort Myers, FL. On April 12 he brings his cabaret act to the Crest Theatre in Delray Beach, Florida. The next night April 13 he opens in Chicago at the Fisher Theatre in Detroit, Michigan for a run lasting through April 25.

LARRY GATLIN AND THE GATLIN BROTHERS in a two nighter Friday and Saturday at Pacific Symphony in Santa Ana, Calif.




PIFFLE AND PROFUNDITIES


SEE A SHOW AND LOSE WEIGHT If you applaud for a total of 2 minutes during a performance you will have burned approximately 11.5 calories. Sitting through a two-and-a-half hour show will burn up approximately 179 calories. Walking up and down a flight of stairs a couple of times will eat up approximately 35 calories. Amount of calories used in seeing one show; 225.5. If you see one Broadway show a week, in a year you will have burned up 11,726 calories and lost a little over three pounds.
















Next Column: April 11, 2004
Copyright: April 4, 2004. All Rights Reserved. Reviews, Interviews, Commentary, Photographs or Graphics from any Broadway To Vegas (TM) columns may not be published, broadcast, rewritten, utilized as leads, or used in any manner without permission, compensation and/or credit.
Link to Main Page
---
Laura Deni


CLICK HERE FOR COMMENT SECTION