! >
Broadway To Vegas
  SHOW REVIEWS     CELEBRITY INTERVIEWS     GOSSIP     NEWS 
SEVENTY-SIX OVATIONS

Susan Stroman has scored another success with The Music Man which officially opened last Thursday at the Neil Simon Theatre, NYC. Just when we thought nothing could equal Kiss Me Kate along comes The Music Man reestablishing Broadway as a place where one can have a good time with musical theatre.



CRAIG BIERKO as Professor Harold Hill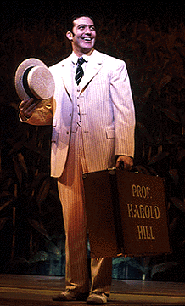 Susan Stroman needs to dust off her mantle to accommodate all of the awards she is about to rake in. We hope Kiss Me Kate and The Music Man tie for every honor about to be bestowed. If you were forced to place a bet, you might go with this production. As with Kiss Me Kate- it's the music!

When it was announced that Craig Bierko was signed to play Harold Hill - people said who and then spewed thoughts his background as an English actor. He's also got a Las Vegas background. He was one of the stars in the movie Fear and Loathing in Las Vegas . He as also professional, easy to work with and didn't cause anybody any problems. No Mandy Patinkin in this guy. As Professor Harold Hill he brings to the role what Meredith Willson must have had in mind when he wrote the part.

The marvelously talented Rebecca Luker serves up to perfection Marian Paroo, the librarian.

The sounds variables in this show are enormous from a real band on stage to the click-clack to train wheels to the tinkling of a piano student and could anyone forget the dominate brass in 76 Trombones. Las Vegas resident Jonathan Deans did a flawless job in making sure the audience can hear without the sound being distorted or blasting one's eardrums. In less capable hands this show could be a sound nightmare.(see Broadway To Vegas columns of June 21, 1999 and June 28, 1999)

That brings us to the underappreciated category of sound engineer. Not one awards group recognizes that sound is important in a production. They all seem to savvy the necessity of good lighting, but somehow sounds elude them. Deaf?

The cast for The Music Man is wonderful. Nobody is leaving the theater muttering how did that person get the job? Singling out a few in no way lessens the importance of the others, rather it's a time and space consideration.

We wondered how Max Casella as Marcellus, the good buddy of Harold Hill, would do in the part Buddy Hackett so cleverly brought to life in the film. Casella makes the role his own. He's experienced at playing best friends - that was his role in the hit Doogie Howser, M.D.

Even during the first season of Doogie Casella was longing for Broadway saying he'd be willing to sweep the stage just to be able to be part of a Broadway show. In this production Casella shows the Broadway hierarchy that what he has wanted - a Broadway career- should be his.

Veteran actors Paul Benedict as Mayor Shinn and Ruth Williamson as his wife are delightful. Thomas Lynch's sets take their cue from composer Meredith Willson's Iowa town that is being preserved as Music Man Square. William Ivey Long's period costumes are glorious and impressive. So is the rest of the cast: Ralph Byers, Michael Leon-Wooley, Jordan Puryear, Martha Hawley, Jack Doyle, Leslie Hendrix, Tracy Nicole Chapman, John Sloman, Blake Hammond, Clyde Alves, Katherine McGrath, Michael Phelan, Kate Levering and Ann Brown.

Book music and lyrics by Meredith Willson with the story by Willson and Frank Lacey. Lighting by Peter Kaczorowski. Musical supervision by David Chase; Orchestrations by Doug Besterman deserve a special mention.

The Music Man is infectious, delightful, a throw back when you went to the theater to have a good time and left with a smile on your face and humming a song.


TRAVOLTA TURNS INTO A MONSTER, AND WANTS TO BE ROSELLI

It's been said that John Travolta is cooler than Bond and lives like Rockefeller. The comeback kid is learning that his power and juice is accomplishing some projects while still not getting him everything he wants.



JOHN TRAVOLTA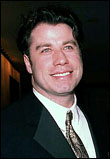 Travolta has picked Las Vegas for the premiere of his latest movie Battlefield Earth the film version of L. Ron Hubbard's sci-fi novel. Travolta has been in Las Vegas touting up the premiere which takes place May 11 at the MGM Grand Hotel. A star studded celebrity party follows at Studio 54, also located inside the hotel. Travolta has invited over 650 of his closest friends to appear including Brad Pitt, Bruce Willis and Nichols Cage.

In the upcoming movie Travolta plays a 9-foot, 543-pound alien intent on destroying Earth. "I have amber eyes and talons for hands, plus this whole apparatus on my head," he explained.

Travolta admits that he used some muscle to get this project accomplished. "It's the pinnacle of using my power for something. We'd been trying to make it for 10 years, but we never got a script that was right. Hubbard had been writing sci-fi, fantasy and pulp since 1937, and it's high time it was done," said Travolta who for 24 years has been a devout follower of the Scientology religion founded by Hubbard. For those who think this movie is the be all and end all get ready for the sequel. "The book is 1,400 pages, and we're doing the first 495 pages, plus a couple of tidbits from the second part. Theoretically, we can get it completed in two films."

One project that Travolta's muscle and influence hasn't helped is his desire to film Standing Room Only a musical that he an his wife Kelly Preston have tried to shoot as recently as last spring. Travolta wants to play lounge singer Jimmy Roselli, a Sinatra contemporary whom Sinatra hated and Roselli credited with destroying his career.

Sinatra and Roselli grew up in the same neighborhood and Frank's mother Dolly always liked Jimmy, a handsome lad who still has a great voice. When Dolly threw a benefit at the Stanley Theater in Jersey City for the St. Joseph's School for the Blind, which raised a then sizeable sum of $30,000 and had everybody who was anybody in attendance including the governor, Dolly asked Roselli to sing. He turned her down. Big mistake. You wanna make Frank mad? That was the way to do it. Frank became so furious at Roselli that he never spoke to him again, although he saw to it that Roselli who was on his way to becoming a superstar got his nova burned out. Roselli who has always been a popular New Jersey singer, never was able to break through that Sinatra built brick wall.

That doesn't mean Roselli silently crept away. He's recorded several albums and has a successful singing career. In fact his following is near cult status. His life story is a fascinating one that Travolta is dying to do. "Maybe we can do it next year," wistfully said Travolta.


APPLAUSE, APPLAUSE


THE BOMB-ITY OF ERRORS the hit off Broadway show produced by Daryl Roth receives the Tisch Award from NYU's Tisch School of the Arts on May 4. The award is for "creative achievement and theatrical ingenuity."



Broadway To Vegas is supported through advertising and donations. Priority consideration is given to interview suggestions, news, press releases, etc from paid supporters. However, no paid supporters control, alter, edit, or in any way manipulate the content of this site. Your donation is appreciated. We accept PAYPAL. Thank you for your interest. Laura Deni P.O. Box 60538 Las Vegas, NV 89160


BIRTHDAY EXTRAVAGANZAS

BREAD AND BREAKFAST BIRTHDAY Hotel mogul Steve Wynn couldn't decide what to get his wife, Elaine, for her 59th birthday, so he bought her the 715 room Desert Inn Hotel. Set him back $175 million. We hope the guy had enough left for a card. The place comes with maid service, so at least the birthday girl doesn't have to clean the place. The gift wrapping includes a 300,000 sq. Ft. casino, 18-hole golf course and an adjacent vacant 32-acre parcel. When asked what he intended to do with the land Wynn quipped he was seeking federal subsidies to split the land in half to raise alfalfa and corn.

STEPHEN SONDHEIM says he's tired of people celebrating his 70th birthday, but being coy won't change the gala plans. The composer will have his natal day celebrated at Avery Fisher Hall in NYC with a concert version of his musical Sweeney Todd starring Patti LuPone as Mrs. Lovett opposite Bryan Terfel. Audra McDonald sings the beggar woman. May 4-6.

JAY LENO made a wish and got it - his star on the Hollywood Walk of Fame. Then the road warrior comedian jetted to Washington, D.C. to add his pity remarks as the opening act for the White House Correspondents Dinner.

CELESTE HOLM celebrated her 81st birthday yesterday. Holm made her Broadway debut at 19, originating the role of Ado Annie - the girl who can't say no - in Rogers and Hammerstein's 1943 production of Oklahoma.


CELESTE HOLM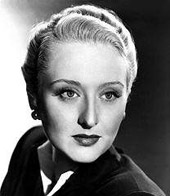 The talented New York City born entertainer has a career that has spanned over 60 years. She began as an understudy to Ophelia in Leslie Howard's Hamlet.

Ironically, her last appearance on Broadway was in Paul Rudnick's comedy I Hate Hamlet

She made her movie debut in 1946 she won a Best Supporting Actress Academy Award the following year for her role as Anne Dettrey in Gentleman's Agreement.

Thus far she's made 22 movies which include High Society and All About Eve We haven't a clue how she spent her birthday. All we know is that we admire her as a person and have enjoyed her in every thing she's ever done and hope all of her birthday wishes come true.


THE MUSIC GOES ROUND AND ROUND

PATTI PAGE introduces her new album at a live concert in Nashville May 7. The singing rage has returned to her country roots blending vocals with Trisha Yearwood, Kathy Mattea, Emmylou Harris, Alison Krauss and Suzy Bogguss on The Brand New Tennessee Waltz, a CD follow up to Page's 1999 Grammy winner, Patti Page at Carnegie Hall.

AFTER THE FAIR the delightful off-Broadway musical is now available as an original cast recording. It's a reminder that Broadway musicals can have music that is lilting, melodic invoking passion, irony, wit, humor and richness. Chamber music given a snap and feel that makes you want to play the CD more than once.

In 1894, renowned British novelist and poet Thomas Hardy put pen to paper and wrote a short story entitled On the Western Circuit. He included this in a volume of stories which he called Life's Little Ironies.

When composers Matthew Ward and Cole discovered the story they were inspired to turn it into the type of musical theatre that would appeal to today's audiences, while thrusting them back to the romance and repression of Victorian England. They succeeded.

After The Fair premiered at the Lyric Stage in Irving, Texas. The production included four characters and the composer at the piano. The production received five Dallas Theatre League Leon Rabi Awards, including one for Best New Play or Musical. The show went on to play at the Apple Tree Theatre in Chicago and the Village Theatre in Seattle.


MAGNA CUM ENTERTAINERS

ARTHUR MILLER will have a 600 seat playhouse at the university of Michigan in Ann Arbor named after him. Miller, who attended the school during the 1930s was a sophomore when he wrote his first play and ran through the streets of Ann Arbor to celebrate. University President Lee Bollinger said naming a theatre for the 64-year-old playwright would remind students "that they might find their talent, whatever it might be." Bollinger indicated that Miller has agreed to accept the honor.

TOM SELLECK

TOM SELLECK

received an honorary doctorate from Pepperdine University last Friday.

Selleck, who attended the University of Southern California, was chosen because of his outstanding character and ethics, the school said.

Selleck is a board member of the nonprofit Michael Josephson Institute of Ethics, which holds training workshops for government and corporate leaders on ethics.

He is also co-founder of the Character Counts Coalition.

JOHN MELLENCAMP will receive an honorary doctorate and give the commencement address at Indian University in Bloomington, Ind. Mellencamp, 48, will receive an honorary doctorate in musical arts at the May 6 ceremony. "He's a part of the IU family. We think this is a very appropriate way to honor him" said university spokesman Christopher Simpson. The rock singer rose to stardom in the 1960s lives in Bloomington with his wife, model Elaine Irwin, and their two sons, Hud and Speck.

SWEET CHARITY

JUVENILE DIABETES FOUNDATION BENEFIT will have Linda Eder performing May 6 at the Westin Galleria Hotel in Houston, TX.


OTHER PEOPLE'S MONEY

FORBES MAGAZINE reports that the charities run by Paul Newman, Elton John, Wolfgang Puck and Stephen King gave away more than 90 percent of their total outlays, keeping overhead in single digits.


CURTAIN DOWN

MISS SAIGON which opened at the Broadway theater in 1991 will close on December 31st. At that time it will have played 4,036 performances, earning the title of second longest run in Broadway history. The New York production has been seen by more than 5.9 million people and grossed $264 million. English actor Jonathan Pryce won a Tony for his role as The Engineer, a Eurasian character. That bit of casting created one of Broadway's greatest controversies when Actors Equity refused to allow Pryce to recreate the role he originated in the London production. Producer Cameron Mackintosh became infuriated and threatened not to bring the show in. Eventually the union was forced to back down.



THE MAN OF LA MANCHA the homage to windmill tilters everywhere is being recreated by the Goodspeed Opera House in East Haddam, CT, where it originated 35 years ago, going on to win four Tony Awards and international acclaim.
Written by Dale Wasserman with music by Mitch Leigh and lyrics by Joe Darion, this power classic - a tribute to Don Quixote's romantic idealism - features the song The Impossible Dream.

This revival is directed by Gerald Gutierrez and stars Shawn Elliott as Cervantes/Don Quixote. Stephen Mo Hanan is Sancho, Nancy Ticotin plays Aldonza/Dulcinea. Other talents in this splendid cast include; Brent Black, Michelle Carr, Michael Cone, Joseph Dellger, Don Mayo, Kristin Zbornik, Lori Alexander, Deborah Crooker, William Thomas Evans, Roy Harcourt, Cristin J. Hubbard, Bill Nolte, Shaun R. Parry, Bobby Pestka, Amy Jo Phillips, David Rosales and Christopher Snow.

Ramon Oller does the choreography with Michael O'Flaherty serving as musical director. Sets by John Lee Beatty, costumes by Catherine Zuber and Fabin Toblini, and lighting by Pat Collins. Do yourself a favor and don't miss this show. Performances to July 1.

THE PLAY'S THE THING starring Hal Linden. Written by Ferenc Molnar, adapted by P. G. Woodhouse. Directed by Everett Chambers. El Portal Center for the Arts, Los Angeles May 8-June 4.

RENT Music Hall, Kansas City, Mo. May 2-7.

PROOF by David Auburn starring Larry Bryggman, Johanna Day, Mary-Louise Parker, Ben Shenkman opens May 2 at The Manhattan Theatre Club, NYC. Daniel Sullivan directs.

MOMMY DEAREST Contemporary comedians Julia Sweeney, Ellen Cleghorne, and Merrill Markoe discuss their relationship with their mothers. This homage to the classic 70s David Susskind show is co-produced by Greg Miller and comedienne Beth Lapides of Un-Cabaret Productions. Hosted by Beth Lapides. Skirball Center, Los Angeles May 4.

THE VAGINA MONOLOGUES has an ever changing cast of top rated actresses. Taking over the production May 2-14 are Mo Gaffney, Marsha Mason and Lynn Whitfield. Westside Theatre, NYC.

THE CIVIL WAR:THE MUSICAL starring John Schneider brings the show to Columbus, Ohio May 2-7.

MARATHON 2000 the 23rd annual festival of new one-act plays May 3 through June 11. The Ensemble Studio Theatre presents three series of new and premiere plays by Billy Aronson, Leslie Ayvazian, Edward Allan Baker, Leslie Caputo, Heather Dundas, Steve Feffer, David Ives, Warren Leight, Romulus Linney, Peter Maloney, Jeff Reich, Will Scheffer and Stuart Spencer. Each series runs for two weeks. The first series which begins May 3 and ends May 14 includes Light Years by Aronson, Twenty Four Years by Ayvazian, Little Airplanes of the Heart by Feffer and Madmen by Linney.

THE BELL ATLANTIC JAZZ FESTIVAL 2000 kicks off May 4th in Washington, D.C.


WHO'S WHERE


KAYE BALLARD the legendary star of stage, screen, television and nightclubs will return to the New York nightclub stage on May 9th at Arci's Place.



KAYE BALLARD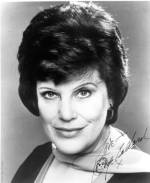 Her show, directed by MAC Award winning director Barry Kleinbort will be entitled Another Final Farewell Appearance and will run through June 3.

Originally discovered by Spike Jones in her native Cleveland, Ohio, Catherine Gloria Balotta started out doing impression of Sophie Tucker, who was instrumental in creating for the Blue Angel nightclub in New York, A Tribute To Fanny Brice, and served an apprenticeship with that zany group Spike Jones and his City Slickers. She made her TV debut in 1952 on The Mel Torme Show, and was a weekly guest for The Perry Como Show for nearly two years.




She launched her theatrical career in the legendary musical The Golden Apple, introducing the song which quickly became a standard, Lazy Afternoon. That landed her on the cover of Life Magazine. She was featured in the touring company of the 1957 Ziegfield Follies, where she replaced Beatrice Lillie. Kaye was the highlight of the off-Broadway show, The Decline and Fall of the Entire World as Seen Through The Eyes of Cole Porter, Revisited because she was the only member of the cast who could remember the title.

In her upcoming Arci's engagement Kaye intends to again remember all of the words during her Another Final Farewell Appearance, which will be a joyous and affectionate amalgam of stories, standards and special material, as well as heartfelt tributes to immortal show biz legends like Mable Mercer and Alice Faye. Don't miss Kaye Ballard at Arci's Place, NYC.

EILEEN FULTON is celebrating her 40th year as Lisa on As The World Turns by performing her nightclub act at Arci's Place, NYC through May 6th. In addition to being the always interesting Lisa on the popular soap, Fulton is an accomplished singer.

DON MC LEAN best known for American Pie, one of the best known rock songs in history performs May 5-6 Frederick Brown Jr. Amphitheater in Peachtree City, GA.

OHIO BALLET performs King of Swing the New York City premiere of Donald Byrd's Ellington Phantasia today at the Brooklyn Center for the Performing Arts.

DIANE VENORA has signed on to play Lady MacBeth in the upcoming revival of Macbeth which will star Kelsey Grammar in the title role.

LANCE BURTON will be performing at the 5,000-seat Tokyo International Forum Hall A at 3p.m. and 7 p.m. daily on May 3, 4 and 5 in Tokyo, This is the first time Lance Burton: Master Magician has performed outside of the United States. He said, "After I won the World Champion of Magicians Award" in Lausanne, Switzerland, the Japanese were the first to invite me to their country for a visit." Burton returns to the Monte Carlo Hotel in Las Vegas on May 9.

TINA TURNER has a schedule that would tire out somebody half her age. May 3rd she's in Sacramento, CA at the ARCO Arena. The following two nights she performs at the Arrowhead Pond in Anaheim. On May 6th she shakes it up in the San Jose Arena in San Jose. She actually takes a night off before returning to the stage May 8 in the Oakland Arena in Oakland. If Tina isn't tired, her road manager must be exhausted.

KENNY ROGERS joins the Omaha Symphony for an 8 p.m. concert May 6 at the Orpheum Theater, Omaha, NE. Rogers has been in Nashville's Quad Studios new album for his Dreamcatcher Record label.

BETTY BUCKLEY at the Poway Center, Poway, CA on May 4. The lady unpacks her bags for a two-night stay May 5-6 at the Cerritos Center for the Performing Arts in Cerritos, CA. Then it's on to the Haugh Performing Arts Center in Glendora, CA on May 7 followed by a performance at Pepperdine University in Malibu on May 8.

MELISSA ERRICO performing in The Songbook Series at Joe's Pub, NYC it's Melissa Errico Sings Randy Newman May 8, 15 and 22.

KANSAS discovered by Don Kirschner in 1972, going on to produce eight gold albums, two multi-platinum albums Leftoverture, Point of No Return, one platinum live album Two for the Show and a million selling gold single Dust In The Wind blows into the Orleans hotel in Las Vegas. It's Phil Ehart on drums, Billy Greer on bass guitar and vocals, Robby Steinhardt, violin and vocals, Steve Walsh, lead vocals and keyboard and Richard Williams, lead and acoustic guitar. Engagement runs May 5-7.

ART SPIEGELMAN the Pulitzer Prize winning cartoonist will be the guest on Theater Talk, hosted by Michael Riedel and Susan Haskins on Thursday May 4, which airs on WNET, New York. It was Spiegelman's illustrated edition of Joseph Moncure March's lost poem, The Wild Party, that inspired two musical versions of the poem this season. The outspoken artist will discuss the poem itself and evaluate how effectively it was adapted by directors, Gabriel Barre and George C. Wolfe of the Manhattan Theatre Club and the Broadway versions, respectively.


THIS AND THAT

LIZA MINNELLI forced to cancel her Minnelli On Minnelli tour due to health problems. She was set to open May 3rd in Chicago. Get well soon.

ANDRE AGASSI AND STEFFI GRAF looking mighty cozy as they enjoyed the fabulous The Three Tenors concert at the Mandalay Bay Events Center in Las Vegas.

SIEGFRIED AND ROY are the subject of E! True Hollywood Story beginning tonight on the E! Entertainment network. The show will chronicle the lives of the guys who have been awarded every magical honor that can be bestowed upon hocus pocus type people. The show will discuss how they met, their careers and their animals including the enormous conservation efforts the performing duo has accomplished in saving endangered species. Shirley MacLaine, Arnold Schwarzenegger, Steve Wynn, Kenneth Feld, Mayor Oscar Goodman, Bernie Yuman are among those helping E! Entertainment document the lives and careers of the legendary illusionists. Additional airing of this program will be shown throughout May.


FINAL OVATION

DAVID MERRICK passed away in London at the age of 88. Merrick was a an inventive and tenacious producer who ruled Broadway producing more than 80 shows. He tended to polarize people - Carol Channing adored him, while Anna Maria Alberghetti so loathed him she hung his picture in her bathroom. No matter one's personal feelings towards the man, he was respect and feared as the man who controlled The Great White Way. He is survived by his wife, Natalie, and two daughters from previous marriages.



Mention BROADWAY TO VEGAS for Special Consideration
Call (800) 942-9027









Next Column: May 7, 2000
Copyright: April 30, 2000. All Rights Reserved. Reviews, Interviews, Commentary, Graphics or Photographs from any Broadway To Vegas (TM) columns may not be published, broadcast, rewritten, utilized as leads, or used in any manner without permission, compensation and/or credit.
Link to Main Page
---

CLICK HERE FOR COMMENT SECTION