! >
Broadway To Vegas
  
  REVIEWS  INTERVIEWS COMMENTARY NEWS

| | |
| --- | --- |
| | |
CLASS ACTION SEXUAL LAWSUIT INSPIRES PLAY - -ROB LOWE THROWN OUT OF SON'S BALL GAME - - CHARLIE SHEEN'S DETROIT SHOW IS A DISASTER - - WILLIAM SHATNER IS DOWN UNDER - - 2011 SONDHEIM AWARD GALA HONORS BERNADETTE PETERS - - KATE MITTLETON'S BEAUTY TRICKS WILL INSPIRE OTHERS - - A SOLD OUT SUPREME COURT MOCK TRIAL - - THE CULT OF BEAUTY: THE AESTHETIC MOVEMENT - - DONATE . . . Scroll Down



NOT SINCE TAILHOOK - CURRENT CLASS ACTION MILITARY RAPE LAWSUIT HAS OFF-BROADWAY PLAY


Twenty years ago there was Tailhook and the location was Las Vegas.

Just the word 'Tailhook' can cause the military to squirm.

During the 35th Annual Tailhook Association Symposium from September 8-12, 1991 at the Las Vegas Hilton Hotel, more than 100 U.S. Navy and United States Marine Corps aviation officers sexually assaulted 87 women, or otherwise engaged in "improper and indecent" conduct at the hotel.

That came to be known as The Tailhook Scandal.

Frontline on PBS reported:

Ultimately the careers of fourteen admirals and almost 300 naval aviators were scuttled or damaged by Tailhook. For example Secretary of the Navy H. Lawrence Garrett III and CNO Admiral Frank Kelso were both at Tailhook '91. Garrett ultimately resigned and Kelso retired early two years after the convention. Vice Admiral Richard Dunleavy, Deputy Chief of Naval Operations for Air Warfare, was demoted to a two-star Admiral (from a three-star Admiral) and retired because of the scandal."

Military critics claimed that the scandal highlighted a hostile attitude in US military culture towards women in the areas of sexual harassment, sexual assault, and equal treatment of women in career advancement and opportunity.

Not much has changed according to a class action lawsuit filed February 15, 2011 as well as Donna Fiumano-Fartley's play A Shot Away: Personal Accounts of Military Sexual Trauma, presented by the Red Fern Theatre Company, which opened March 31 in the LABA Theatre in New York City.

Tina Priest is dead. Is it suicide? Or, is it because, just weeks before, this American soldier reported she had been raped on her Army base in Iraq. Her mother and twin sister are left with many doubts and unanswered questions.

Priest is not alone; six other soldiers recount their experiences as survivors of military sexual trauma. A Shot Away; Personal Accounts of Military Sexual Trauma is a docu-drama directed by Melanie Moyer Williams, about sexual assault in the US military, based entirely on interviews with American soldiers who have been sexually assaulted by their "fellow" soldiers. In their own words, the soldiers explore this ongoing epidemic in our military and examine what can be done to address and prevent instances of sexual assault and rape in the military.

The current lawsuit has 17 plaintiffs - 15 women and two men - who have similar stories of being raped by someone in the military, usually a superior, only to be harassed and discouraged from reporting the crime.

The federal lawsuit, which seeks unspecified monetary damages, charges the Defense Department - and specifically - that current Defense Secretary Robert Gates and former Defense Secretary Donald Rumsfeld are responsible for a military in which rape and sexual assault victims "were openly subjected to retaliation," discouraged from reporting the crimes and "ordered to keep quiet and refrain from telling anyone about the criminal acts."

Keith Rohman of Public Interest Investigations, a Los Angeles-based firm that helped prepare the case, told the press that getting a day in court before a federal judge so the victims can tell their stories is a key goal.

Pentagon press secretary Geoff Morrell said sexual assault is not just a military problem.

"Sexual assault is a wider societal problem and Secretary Gates has been working with the service chiefs to make sure the U.S. military is doing all it can to prevent and respond to it," Morrell said in a statement. "That means providing more money, personnel, training and expertise, including reaching out to other large institutions such as universities to learn best practices. This is now a command priority, but we clearly still have more work to do in order to ensure all of our service members are safe from abuse."

The lawsuit cited the Pentagon's own statistics that reported 3,230 rapes and other sexual assaults in 2009. Because the military acknowledges that 80 percent of victims don't report the crime, the real number may be more than 16,000.

After the lawsuit was filed several of the plaintiffs held a press conference.

Former Army Sgt. Myla Haider says she was raped in 2002 by a senior Army Criminal Investigative Division agent while stationed in Yongsan, Korea, in a unit that investigated, among other things, rape and sexual assault. Haider said she did not report the crime, although she confided to other agents, because her experience led her to believe the rapist would not be prosecuted.



Panayiota Bertzikis. Courtesy photo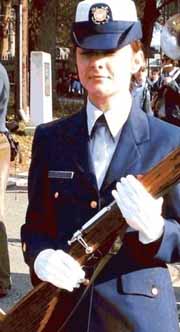 Former Marine Cpl. Sarah Albertson charges she was raped in 2006 by another Marine but was advised by her command that she and the Marine could both be charged with inappropriate behavior in the barracks because they were drinking. She says she also was admonished to respect her accused rapist because he outranked her.

Kori Cioca, 25, who served in the Coast Guard claims she was raped in 2005 by a Coast Guard superior - something that falls outside of the Defense Department's jurisdiction, although the Coast Guard uses a similar judicial system.

Cioca of Wilmington, Ohio, said she was threatened with court-martial for lying if she brought rape charges against the superior, who she said pulled her into his stateroom and raped her. She said her superior ultimately was forced out of the service for allegedly having inappropriate relationships with other service members.

"Rape, sexual assault and sexual harassment are a plague upon the United States military," said Anuradha Bhagwati, a former Marine Corps officer who is executive director of the nonprofit advocacy group Service Women's Action Network.

"As a Marine commander, I witnessed my own senior officers violate sexual harassment and sexual assault policies, shirk their responsibilities to their own troops and lie to families by ignoring abuse, transfer sexual predators out of their units instead of prosecuting them, promote sexual predators during ongoing investigations and accuse highly decorated enlisted service members of lying about their abuse simply because they were women," she said.

Panayiota Bertzikis, 29, of Somerville, Mass who was sexually assaulted while serving in the Coast Guard, founded the Military Rape Crisis Center. Bertzikis was awarded the Unsung Heroines of Massachusetts award by the Massachusetts Commission on the Status of Women in May 2010.

During the ceremony at the State House in Boston, State Senator Pet Jehlen presented Bertzikis with the award, which is given to women who don't often make the news, but make a difference in their community, she said.

"Everyone can contribute to their community," Jehlen said in a press release. "Panayiota is a great example of one person who saw the need for something and used all of her ingenuity, resourcefulness and intelligence to fill it."

Bertzikis was discharged from the United States Coast Guard following a sexual assault by a fellow shipmate. Despite reporting the assault and receiving a confession from the perpetrator, she was deemed ineligible for worldwide deployment according to Coast Guard regulations, Jehlen's office wrote in the release.

After relocating to Somerville, Bertzikis founded the Military Rape Crisis Center, a forum for victims of sexual abuse to talk about their experiences in a safe environment and receive free legal advice and counseling.

"We at the Military Rape Crisis Center, as witnesses and survivors of Military Sexual Trauma, believe that A Shot Away: Personal Accounts of Military Sexual Trauma will play a part in changing military culture, preventing future instances of sexual assault and improving the way the military responds to the reported cases." -- Panayiota Bertzikis,

Quotes from American soldiers who have been sexually assaulted by their "fellow" soldiers, which are incorporated into A Shot Away: Personal Accounts of Military Sexual Trauma include:

"I thought they were going to kill me - that they were going to cut my throat and leave me there."

"How can I protect my own country when I can't even protect myself?"

"They told me I had no constitutional rights. That the constitution didn't apply to me because I was in the military."

April is Sexual Assault Awareness Month.

A Shot Away: Personal Accounts of Military Sexual Trauma, presented by the Red Fern Theatre Company, has performances at the LABA Theatre in New York City.



Broadway To Vegas is supported through advertising and donations. Priority consideration is given to interview suggestions, news, press releases, etc from paid supporters. However, no paid supporters control, alter, edit, or in any way manipulate the content of this site. Your donation is appreciated. We accept PAYPAL. Thank you for your interest.



ART AND ABOUT


THE CULT OF BEAUTY: THE AESTHETIC MOVEMENT 1860-1900

Portrait of Mrs. Luke lonides, William Blake Richmond, England, early 20th century. Museum no. E.1062-2003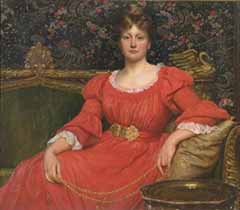 This is the first major exhibition to comprehensively explore Aestheticism, an extraordinary artistic movement of 1860-1900, which sought to escape the ugliness and materialism of the Victorian era by creating a new kind of art and beauty.

The well spring of the 'new art' movements of the late 19th century, Aestheticism is now acknowledged for its revolutionary re-negotiation of the relationships between the artist and society, between the 'fine' and design arts, as well as between art and ethics and art and criticism. Aesthetic sensibilities produced some of the most sophisticated and sensuously beautiful artworks of the Western tradition.

Featuring superb artworks from the traditional high art of painting, to fashionable trends in architecture, interior design, domestic furnishings, art photography and new modes of dress, this exhibition traces Aestheticism's evolution from the artistic concerns of a small circle of avant-garde artists and authors to a broad cultural phenomenon.

The exhibition features paintings, furniture, ceramics, metalwork, wallpapers, photographs and costumes, as well as architectural and interior designs. Included are major paintings by Whistler, Rossetti, Leighton, and Burne-Jones. Architecture and interior design are represented by the works of Edward Godwin, George Aitchison, Philip Webb and Thomas Jeckyll, among others. Art furnishings designed by these and others, including William Morris, Christopher Dresser, Bruce Talbert, Henry Batley, and Walter Crane showcase not only the designers and manufacturers they worked for, but also new retailers, such as Liberty's.

Opened yesterday and remains on display through July 17, 2011 at the Victoria & Albert Museum in London.

THE PORTLAND MUSEUM OF ART

Three of the 11 panels created by artist Judy Taylor. Panel photographs from The Maine Democratic Party website, which has posted every one of the mural's 11 panels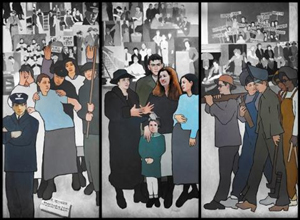 will host a public forum entitled Whose Art Is It? on Friday, April 8, to facilitate a round-table discussion about public ownership of public art and the controversial removal of The Maine Labor Mural Cycle from Maine's Department of Labor.

As reported by the media, The Maine Labor Mural Cycle, an 11-panel, 36-foot-wide mural, was created by Tremont, Maine artist Judy Taylor, and depicts scenes from Maine's labor history - such as the 1937 shoe mill strike in Lewiston-Auburn and Rosie the Riveter at Bath Iron Works.

The mural was installed in 2008 in the lobby of Maine's Department of Labor building in Augusta. It was removed during the weekend of March 26, 2011. The mural's removal has angered many labor and arts groups. Don Tuski, president of the Maine College of Art, published an open letter that called the mural's removal "an act of censorship."

Artist Judy Taylor issued a long statement, part of which states: "Like many of the people of Maine, I want to see the mural displayed publicly as it was originally intended. I want people to see it and connect to Maine's labor history. The purpose of the mural is historical, the artistic intent to honor. It belongs to the people of Maine and needs to be accessible to them."

Adrienne Bennett, a spokeswoman for Gov. LePage, stated that several unnamed business owners complained to the Department of Labor and the governor's office that they felt the mural is inappropriate for the setting because, in their opinion, it takes the union side in the ongoing struggle between management and labor.

Participants in the Portland Museum of Art panel discussion will include: Mark Bessire, Director of the Portland Museum of Art; Sharon Corwin, Director and Chief Curator of the Colby College Museum of Art; Christina Bechstein, Sculpture Professor and Director of Public Engagement at Maine College of Art; and Chris O'Neil, Government Relations Consultant for the Portland Community Chamber. Invitations were extended to Governor Paul LePage, who is unable to attend and to artist Judy Taylor, who has respectfully declined. This free event is co-sponsored by the Portland Museum of Art, Colby, Bates, and Bowdoin college art museums, and the Maine College of Art.

FACE TO FACE WITH MARILYN

Marilyn Monroe impersonator Suzie Kennedy with collector David Gainsborough Roberts at the Members Preview. Photo: American Museum.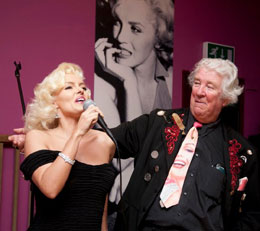 World-famous look-alike and tribute artist to Marilyn Monroe Suzie Kennedy arrived in style for the official opening of the exhibition Marilyn – Hollywood Icon at the American Museum in Britain in Bath.

Traveling in a 1961 Chrysler Plymouth Fury convertible from the Atwell-Wilson Motor Museum, Wiltshire, she was one of the guests joining the Museum in its 50th anniversary celebrations.

She also met David Gainsborough Roberts, the collector from Jersey who has so generously loaned the screen goddess's original gowns and outfits, photographs and posters, as well as personal items, for this show which is on view to the public until October 30, 2011.

Roberts is also the collector who recently purchased Kate Middleton's see-through dress. ( See Broadway To Vegas column of March 27, 2011 )

As well as this major loan exhibition, the Museum marks its 50th anniversary in 2011 with a gallery trail, three publications, and the opening of two new facilities: the Folk Art Gallery and The Coach House.


CHARLIE SHEEN'S SHOW IS AN OPENING NIGHT DISASTER
The opening act bombs. The audience boos. Sheen tells the crowd he alreads has their money and the audience starts to leave early.

Well, what did you expect?

The Charlie Sheen tour has arrived in Detroit.

The day actually started out peaceful before disintegrating.

The troubled plagued star arrived in Detroit on Saturday morning, kicking off his 20-city warlock tour in Motor City. While some hotels are saying the bad boy isn't welcome, Sheen found accommodations at the Townsend Hotel in Motor City. He arrived on time at the Fox Theatre, accompanied by his goddesses.

Broadway To Vegas sent a spy who said that Sheen was casually dressed, looked awake and determined; raised a beverage cup in greeting the small number of fans, or the curious, who were lined up outside the 4700 seat theater. A lot of people were wearing tiger print clothing. Women who decide to struggle into leopard spotted tights should buy a full length mirror.

Like a major rock star, merchandise sales are important and the price points are the same. Programs cost $20 T-shirts were priced at $30. A Sheen baseball jersey goes for $120. In a city where residents complain about a lack of jobs, there seemed to be an abundance of discretionary income for souvenirs. Somewhere a T-shirt manufacturer is rejoicing.

A full 20 minutes before the show was scheduled to start Sheen was backstage ready to ramble, rumble, and ruminate. The show began no more than 10 minutes late. That was the problem - the show began.

A poor soul who had dreams of becoming a stand-up comedian - who should never have walked out on that stage - has a lot to tell a therapist.



Charlie Sheen didn't grab the tiger by the tail. Detroit show is a disaster.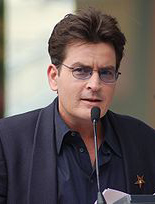 Sheen actually walked out on stage in the middle of the opening act and begged the audience to give him a change - the one adult, professional action that Sheen demonstrated. The standing, chanting, warlock blood-loving crowd wanted none of it.

Twice in Las Vegas I've seen comedians leave the stage in disgrace. Both events were decades ago. Both were opening nights and the rooms were full. One was at Caesars Palace. The opening act completed his set, but there was total silence from the audience. When the guy's manager and some hotel officials attempted to start applause, somebody yelled 'shut up.' The other time was at the Tropicana where the audience response was so bad that the would-be joke teller raced backstage and began crying so hard that medics were called. The young kid actually had a good act, but his material was so New York City specific that, unless you lived within a certain mile, you had no idea what he was talking about.

Now the Charlie Sheen show.

The comedian was booed off the stage. There was security, it wasn't a lynch mob, but the poor guy with the bad material was forced off the stage. The lights went out and, after the comic was safely away from the audience, the lights came up.

With the staging consisting of a presidential-style podium with a sign behind him that reads Warlock States of Sheen, the fired bad boy of Two-And-A-Half Men was the leader they had come to see.

Not a polite audience. The gave off vibes that they weren't even his television fans. They wanted fire and a public melt-down. Maybe they were hoping he'd be hauled away in a butterfly net. The same rowdy crowd that was glued to Sheen's video rants. That's what they came to hear.

Minutes passed and the show resumeed with two women, who won a local contest, coming on stage to sing The National Anthem.

The warlock arrived. Sheen was almost impossible to understand and frequently didn't make sense. The audience booed. There were a lot of film clips.

The audience booed. Sheen reminded them that he already had their money.

People start to walk out.

The best part of the show for anybody not on drugs was guitarist Rob Patterson.

Our deadline arrived and Sheen had already announced that he is "a leaky bag of mayhem."

Agreed.

UPDATE: EVENING April 3, 2011 You've got to give Charlie Sheen credit for determination - and understanding the consequences of putting on a bad show. After his disastrous Detroit appearance, the troubled performer stayed up all night - not getting bombed with drugs, alcohol and women - but totally re-doing his bomb of a stage show. Sheen arrived on time, greeted with applause as he handed out free t-shirts to fans before entering the 3,600 seat Chicago Theater. Tickets that were priced at $145 had dropped to $9. Sheen Detroit tickets and memorabilia could turn into collector's items. No opening act comedian. Sheen takes control of his own show and opens by reading a nasty poem about Detroit. He acting more like a focused Warlock.


SWEET CHARITY


NEW YORK, NU YORK!

Tony Roberts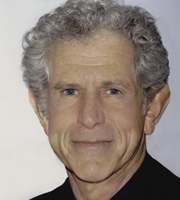 Penny Fuller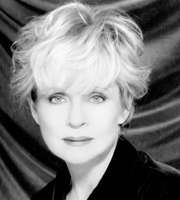 Northwestern University's celebration of their Broadway alumni in a performance, on April 4 at the Hudson Theatre in Manhattan.

The university in Evanston, IL, is famous for its many Broadway and Hollywood stars. The concert performance will feature Tony Roberts, Penny Fuller, Ana Gasteyer, Craig Bierko, Jenny Powers, Stephanie D'Abruzzo and Clinton Kelly.

Other performers include Broadway's Jim Weitzer, Adam Kantor, Morgan Karr, Willis White, Alan Schmuckler, and international opera star Nancy Gustafson.

The program will also feature the work of alumni Sheldon Harnick, Larry Grossman, Jeff Blumenkrantz, Marcy Heisler, Tom Mizer, Curtis Moore, Mark S. Hoebee, Jenny Powers and Alan Schmuckler.

The Alumni Artistic Team includes: the arts and creative writing organization Story Pirates; Video Consultant - Raymond J. Lee; LA Video Co-Producers Lisa Lapan and Blake Silver; Production Coordinator - Stephanie Sherline; Sound Designer - Jason Crystal; Choreographer - Nancy Renee Braun; Writer - Craig Shemin; Assistant Producer - Kaitlin Fine; Music Director - Greg Brown; Producer - Erica Lynn Schwartz; Director - Kenneth Ferrone.

JAMES TAYLOR AT CARNEGIE HALL one of several galas celebrating the 120th anniversary of Carnegie Hall takes place Tuesday, April 12, 2011 in Carnegie Hall.

James Taylor hosts this exclusive, one-night-only event that celebrates all 12 decades by highlighting many of the extraordinary events that have taken place on the legendary Carnegie Hall stage.

In addition to Taylor, special guest artists include; Barbara Cook, Steve Martin, Bette Midler, Sting and members of the Tanglewood Festival Chorus.

The Honorary Chair is Caroline Kennedy. The Honorary Artist Committee is composed of; Emanuel Ax, Calista Flockhart, Harrison Ford, Yo-Yo Ma, Kelly Preston, Tavis Smiley, Regina Spektor, John Travolta and Jay Z.

The Gala Chairs are Clarissa and Edgar Bronfman, Jr.

Guests are encouraged to wear "festive attire." Gala ticket buyers can enjoy a pre-concert reception at Carnegie Hall or a post-concert after-party at The Museum of Modern Art with James Taylor and other special guests.

SIGNATURE THEATRE 2011 SONDHEIM AWARD GALA HONORING BERNADETTE PETERS

Bernadette Peters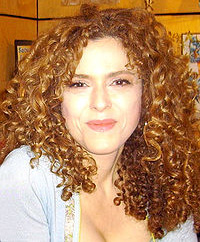 takes place April 11 at The Embassy of Italy in Washington, DC.

Gala Chairs are Ted and Mary Jo Shen.

The black-tie evening of cocktails, dinner and tribute will present the 2011 Sondheim Award to an artist whose résumé includes Broadway productions of Gypsy, A Little Night Music, Into the Woods and Sunday in the Park with George - Bernadette Peters.

Signature Theatre's Sondheim Award Gala supports the artistic, education and community outreach programs for the Tony Award-winning Signature Theatre.

The Honorary Host Committee includes:

His Excellency Gary Doer and Ms. Ginny Devine, The Honorable James Moran and LuAnn Bennett, His Excellency Giulio Terzi and Ms. Antonella Cinque, Stephen Sondheim, The Honorable Jim Webb and Mrs. Webb.


THE FUTURE PRINCESS CATHERINE WILL HAVE HER OWN BEAUTY TIPS
Catherine Middleton arriving at Belfast City Hall during a one-day visit to Northern Ireland with Prince William, March 8, 2011. Photo by Press Association/The Royal Monarchy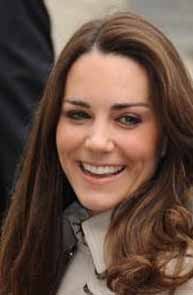 Kate Middleton, soon to become Princess Catherine Elizabeth, is beautiful. That doesn't mean she won't have to develop some new beauty routines, because her lifestyle is about to change - just as all women's lifestyles change through marriage, motherhood, work, location and age.

Those who have met Queen Elizabeth II remark about her skin - it's beautiful, glowing, translucent, awesome.

Yet, she's out in the bad London weather, daily wears make-up, has a hectic and stressful schedule and her family's personal life can caused her anguish - all of which put their marks on the skin.

Broadway To Vegas looked around for royal tips on skin care - some of which are excellent and some have thankfully been buried with the monarch.

When Queen Elizabeth I ruled sixteenth-century England, she used white lead paint - a mixture of vinegar and white lead - to whiten her face and keep her complexion looking youthful.

Even though it contained arsenic and damaged the skin eventually, the facial was very popular among high society ladies.



Queen Elizabeth I preferred the lead paint look. Portrait by Darnley.
In the 14th Century another Queen Elizabeth, this one from Hungary and the sister of Casimir the Great of Poland, made what became known as Hungary Water, a tonic which was made from rosemary oil. As the story goes, an old hermit had given her the recipe, which she guarded for her entire life. She distilled the oil herself and washed her face with the tonic and drank a few spoonfuls of it every day. After carrying out this daily ritual for many years, it seemed that the Queen had barely aged, as her skin still had such a soft and youthful appearance that the King of Poland, who was 25-years-old, proposed marriage to her when she was close to 70.

There is also some possibility that the water is really associated with her daughter-in-law, Elizabeth, Queen of Hungary, wife and widow of Louis the Great.

Rosemary, which is a member of the mint family, has been used both medicinally and cosmetically for thousands of years. In various civilizations, rosemary was associated with the mind and its ability to strengthen the memory and boost mental power. Then it was proclaimed that when applied to the hair as a lotion, rosemary could treat dandruff, promote hair growth, keep hair healthy-looking and shiny and produce highlights in dark hair. It is also touted as having the ability to revitalize tired and dull skin.

Skin products are on the market today which claim to have been derived from the original Hungary Water recipe.

Cyclax Ltd who produces a line of skin care, sun care and personal care item was granted the Royal Warrant by Her Majesty Queen Elizabeth II. That generally means some member of the royal family uses the product.

For the wedding of William's parents, Diana's favorite make-up artist Barbara Daly, who has her own product line, came to Clarence House on July 29, 1981 with a large suitcase full of make-up, powder and rouge.

She applied just a little color on Lady Di's face, and waterproof mascara.

Her biographers have printed that Princess Diana also liked Clinique and Body Shop products.

Make-up artist Julia Biddlecomb, known as Julia B, did the Duchess of Cornwall's make-up for her wedding in April 2005. She will also do Camilla's make-for Kate and William's wedding.

She is a big fan of having bridal trial make-up sessions where photographs are taken in both natural and artificial light.

According to research done by British historian Pauline Weston, to prepare for the coronation of Queen Elizabeth II there were "trial and error make-up experiments on a model of similar looks and coloring as the Queen. These experiments eventually produced a make-up that would look equally well under the bright yellow lighting of the television arc lamps in the Abbey, as in the rose-tinted lighting of the State Coach. The make-up also had to look just as suitable with the crimson robe the Queen was to wear on her way to the Abbey and look equally good with the purple velvet robe she would be wearing on the return journey."

No word as to whether any wedding make-up rehearsals are planned for Kate.



Richard Ward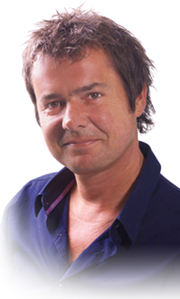 For years the man who keeps Kate's locks looking royally glorious has been Richard Ward, who began blow drying and cutting those tresses in 2005. His Metrospa salon keeps her eyebrows in shape. Ward expert Tipa Kaewhin provides those fit-to-be princess toes and fingers their pedicures and manicures - not a French manicure, but rather one with either clear or pale pink polish - better to show off that ring.

"Our relationship with [Kate] has been built on discretion and trust," the salon said in a statement after the engagement. "Richard and his team intend to maintain this relationship whilst respecting Kate's on-going privacy."

Dr. Didier Fillion is reportedly the dentist who keeps Kate's teeth looking white and bright.

In 2006 make-up artist Komal Singh represented by the high-end fashion agency Untitled Management announced they had taken Kate on as a client. Reportedly, Singh encouraging Kate to wear more makeup, teaching her to apply cheekbone-defining bronzers, charcoal to grey eye liner for smokey eyes and to use gloss on her lips.

Of course, the best way to make a girl's skin glow is to be in love.


SPREADING THE WORD


WILLIAM SHATNER

William Shatner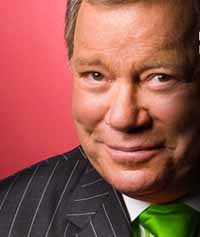 is on a Down Under tour with his one man show Kirk, Crane & Beyond which invites people to: "Join the man himself for one, mad, glorious evening, packed with anecdotes, lessons learned and pearls of wisdom. With his wry sense of humor, this Actor, Producer, Director, Musician and Celebrity Pitchman will take you on an outrageously entertaining journey through Captain Kirk, Denny Crane, starring in the second only Esperanto movie ever made (for good reason) and auctioning his kidney stone."

Each evening of the tour Shatner will choose questions tweeted in during that day and answer them in front of his live Australian audience. "The uniqueness of having new series of questions should yield some humorous and thought provoking responses as only William Shatner can do," is the promise.

Although Shatner, who turned 80 last month, can no longer fit into his Star Trek costume, he is riding success with his latest American TV sitcom S###, My Father Says. And he is hoping to release the album he is working on - entitled Seeking Major Tom - later this year. He describes it as "part-heavy metal, part-rock opera collection of songs about David Bowie's fictional character Major Tom, reflecting on his mortality while lost in space."

Shatner and his wife Elizabeth came to Australia for a Star Trek convention at the University of NSW yesterday. He signed autographs for Treky fans alongside the latest captain in the long-running franchise, former Quantum Leap star Scott Bakula.

Shatner's one-man show takes place Tuesday April 5, at the State Theatre in Sydney. On Friday April 8, the show is at The Civic in Auckland, New Zealand. Next Sunday, April 10, he brings his banter to Melbourne, Australia and on Monday April 11, he closes out his tour in Brisbane, Australia

EVERYTHING'S COMING UP MOSES written by Rachel Shukert and directed by Michael Schiralli.

A Broadway-style tribute to the Exodus. This musical retelling of the Jews' flight from Egypt is seen through the larger-than-life journey of Moses, the original pushy stage mother. Through an irresistible blend of theatrical razzle-dazzle, old-fashioned show biz moxie and soon-to-be classic show tune spoofs, Moses tirelessly shepherds the Children of Israel to the Promised Land - whether they like it or not.

Starring Seth Rudetsky as Moses, Bob Morris as God and Tony winner Matt Cavenaugh as Pharaoh, plus Dan Fishback and Rachel Shukert.

Wednesday, April 13, at the 92YTribeca in NYC.

AMERICAN LEGENDS SERIES presented by The Edgerton Center for the Performing Arts at Sacred Heart University continues its American Legends Series with the actress, singer and dancer Debbie Reynolds on Sunday, April 10. This special presentation is in support of the new Theatre Arts Program at Sacred Heart University.

Debbie Reynolds who celebrated her 79th birthday on April 1, will take the stage to candidly reminisce about her career in film, on stage and television in an 'Actors Studio-style' presentation hosted by Jerry Goehring, Executive Director of The Edgerton Center.

In addition, the evening will include selected clips from her film, television and Vegas-style shows. Miss Reynolds will also participate in a Q&A with members of the audience. Don't be surprised if she shares some memories about the late Elizabeth Taylor.

The Edgerton Center in Fairfield, Connecticut.

LIGHT FALLING a benefit reading of Teresa Deevy's one-act play, which was her last ever to be produced. Never published, the play will be seen for the first time in 50 years, using a typescript rescued from the Deevy family home in Ireland last spring by director Jonathan Bank.

Light Falling is the story of a great love endangered by carelessness. Charles Keating, Shawn Fagan, Ellen Adair, Brian Keane and Letitia Lange will star in this one night only event on Monday April 11, at the Players Club in New York City.

Proceeds from the 2011 benefit will support the Teresa Deevy Project, a two-year celebration of "one of the most undeservedly neglected and significant playwrights of the 20th Century" (The Irish Times.) Deevy's brilliance was obscured until the Mint's acclaimed production of Wife to James Whelan last fall.

STAGED READING In Mustafa's Garden by Jan Buckaloo. Starring Kathleen Chalfant and Sloane Shelton.

Jan Buckaloo's play is set in Istanbul in March 2003, the eve of the American and coalition forces invasion of Iraq, brings unlikely strangers together in a strange and dangerous world.

A free event presented by Tuesday April 12 by The Naked Stage at Guild Hall in East Hampton, NY.

LYRICS & LYRICISTS DOWNTOWN: DAVID YAZBEK a one-night-only performance and conversation features Yazbek and singers Sean Altman and Mylinda Hull with Marco Paguia serving as musical director/pianist, Brian Hamm (bass) and Dean Sharenow (drums).

Additional special guest performers include Tony Award-winning singer Laura Benanti, who garnered raves for her role in Yazbek's Women on the Verge of a Nervous Breakdown, and The Full Monty's John Ellison Conlee along with multiple Tony Award nominee Patrick Wilson. The evening is moderated by Broadway director Jack O'Brien.

Monday, April 11, at the 92YTribeca in New York City.

ROB LOWE

Actor Rob Lowe (C) pose with his sons John Owen Lowe (L) and Matthew Edward Lowe (R) backstage during the 2009 ESPY. Publicity Photo by Kevork Djansezian/Getty Images North America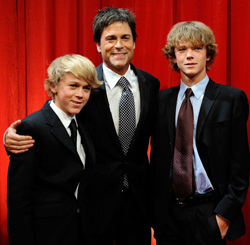 a passionate parent - needs ball game anger management classes.

This past week-end he was bounced from his son's ballgame.

The actor posted on his Twitter page:

"Just got tossed from my son's high school baseball game. Terrible umpire. Missed calls all day. I let him know it and out I went."

"After I got ejected our team exploded for 5 runs."

Lowe is the excitable sports father to 17-year old Matthew and 15-year old John.

In 2009 Lowe took both his sons to the 17th Annual ESPY Awards and the prime time Emmy Awards both events held at the Nokia Theatre in Los Angeles.

Lowe has written his autobiography Stories I Only Tell My Friends and is on the May cover of Vanity Fair. which hits the stands April 5, and will guest on Oprah the last week of April.


2011 ANNUAL MOCK TRIAL - THE ROBERT CHILTERN AFFAIR
A Mock Trial on a high level.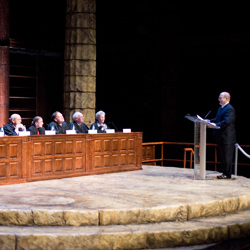 A highlight of the Washington DC social season is the Annual Mock Trial presented by the Shakespeare Theatre Company starring the Supreme Court.

This year's case in The Robert Chiltern Affair, inspired by the Shakespeare Theatre Company production of Oscar Wilde's An Ideal Husband.

Mrs. Laura Cheveley has been prosecuted and convicted of violating the federal blackmail statutes for threatening to expose the reason behind Representative Robert Chiltern's financial and political success. Outraged, Mrs. Cheveley is challenging the statute as unconstitutional. She asserts that she was merely acting in the interests of civic integrity and beneficial social policy.

A special session of the Supreme Court convening at Sidney Harman Hall will hear her case.

Justice Ruth Bader Ginsburg, presiding
Justice Samuel Alito
Justice Sonia Sotomayor
Judge Merrick Garland
Judge Douglas Ginsburg
Judge Brett Kavanaugh
Judge David Tatel

Counsel for the United States
Irvin Nathan, Esq., Acting Attorney General for the District of Columbia.

Counsel for Mrs. Laura Cheveley
Beth Wilkinson, Esq., Paul, Weiss, Rifkind, Wharton & Garrison LLP

Special guest speaker is Kenji Yoshino, Chief Justice Earl Warren Professor of Constitutional Law, NYU School of Law Author, A Thousand Times More Fair: What Shakespeare's Plays Teach Us About Justice.

An exclusive dinner with the participants precedes the trial. The sold out event takes place Monday, April 11, 2011 at Sidney Harman Hall, Washington, DC.



OTHER PEOPLE'S MONEY


A LOVE LETTER

John Keats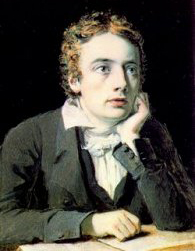 written by poet John Keats was gaveled down by Bonhams Auction House to the City of London Corporation for a record $154,000.

Keats poured out his heart in the letter to Fanny Brawne in 1820 - a year before he died, aged 25, from tuberculosis. Brawne lived next door to Keats at Wentworth Place, Hampstead, north London, but their love was never consummated because of the poet's contagious illness.

'My dearest Fanny,

The power or your benediction is of not so weak a nature as to pass from the ring in four and twenty hours - it is like a sacred Chalice once consecrated and ever consecrate. I shall Kiss your name and mine where your Lips have been - Lips! why should a poor prisoner as I am talk about such things. Thank God, though I hold them the dearest pleasures in the universe, I have a consolation independent of them in the certainty of your affection. I could write a song in the style of Tom Moores Pathetic about Memory if that would be any relief to me. No. It would not. I will be as obstinate as a Robin, I will not sing in a cage. Health is my expected heaven and you are the Houri - this word I believe is both singular and plural - if only plural, never mind - you are a thousand of them



Fanny Brawne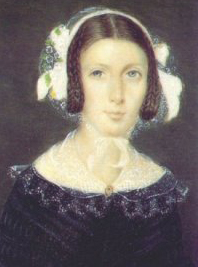 Ever yours affectionately
my dearest.
J.K.'

Brawne's letters to Keats were buried with the poet after he died in a room near the Spanish Steps in Rome.

It is said that when she learned of Keats's death, Fanny Brawne obsessed over his letters in her room. She wrote that she 'had not got over it [his death] and never shall' and she continued to wear mourning for several years. She never took off the ring Keats had given her - not even after she married Louis Lindo [Lindon] in 1833.

On March 2, 1885, thirty-five of Keats's love letters to Fanny Brawne were sold at auction in London by her son Herbert Lindon and were bought by Sir Charles Dilke. Oscar Wilde even composed a poem on the sale.

Bonhams said the sale set a world record for a document by the poet.

THROUGH WORLD MONUMENTS FUND (WMF) The Paul Mellon Estate has announced a pledge of $250,000 towards the restoration of the State Music Room at Stowe House, the magnificent Grade I listed Neo-Classical palace set in 400 acres of landscaped park in Buckinghamshire, England. The funding means that the work will begin this year and should be completed by 2012-13. Completion of the State Music Room will allow the core of historic spaces at Stowe to be presented as they were at the turn of the 19th century.

BROADWAY SHOWS AT OR OVER CAPACITY for the week of March 21-27 included How To Succeed In Business, Sister Act, The Book of Mormon, War Horse and Wicked.


STORK STOP


ELIZABETH BANKS AND HUSBAND MAX HANDELMAN received a stork stop in the form of a boy, whom they named Felix. The little bundle was born through a gestational surrogate.

It's the first child for the 30 Rock actress. In August 2005, at the Williamstown Theatre Festival, Banks starred in William Inge's Bus Stop as Cherie, the sexy, blond, aspiring nightclub singer. New daddy is a sportswriter and producer.

The couple met on her first day at college, September 6, 1992, and have been together ever since.






LEGACY OF LIGHT by Karen Zacarias, who is the playwright in residence at Arena Stage, teaches playwriting at Georgetown University and is the founding artistic director of Washington, D.C.'s Young Playwrights' Theatre.

Directed by Bart DeLorenzo.

Billed as an empowering, heart warming and humorous look at the challenges facing women as they strive to lead lives that are emotionally, intellectually and spiritually fulfilling. The play travels through time contrasting two female scientists in their forties - an 18th century French countess Emilie du Châtelet, who living in the age of Enlightenment, races to complete her research - which will pave the way for Einstein's Theory of Relativity - before her child is born. The other, living in the present and unable to conceive, arranges for a surrogate to carry her child. Their legacies collide in this comedy about the search for self-discovery, knowledge and love.

Starring Michelle Duffy, Cerris Morgan-Moyer, Clancy O'Connor, Amelia Pedlow, Lenny Von Dohlen, Peter Michael Valley.

The design team includes: Takashi Kata (Scenic Design), David Kay Mickelsen (Costume Design), Matthew Richards (Lighting Design), James C. Swonger (Sound Design), and Tiffany Goff (Music Arranger). Fight choreography by Ron Wilson, stage manager Lisa J. Snodgrass, dramaturg Cyrus O. Taylor.

April 8-May 1 at the Cleveland Playhouse.

LAUCHIE, LIZA & RORY by Sheldon Currie. Directed by Mary-Colin Chisholm.

Featuring Natasha MacLellan and Christian Murray.

"I guess death is a lot like rum, the truth comes out in it."

Set in a 1940's coal mining town in Cape Breton, Lauchie MacDonald lives a humdrum existence but his world soon turns upside down when the vivacious Liza dances into his life. The courtship is sealed with a big win at bingo, until Lauchie's daredevil twin brother, Rory bursts back onto the scene. A wry spinster, a sonorous priest, a reformed party girl, and a cantankerous Cape Breton matriarch, are all witnesses to a twenty-year interrupted love story. Billed as a heartwarming comedy of misguided loyalty and unspoken emotion.

Stephen Osler- Set Designer. Leigh Ann Vardy - Lighting Designer. Ian Pygott - Props. Christian Murray - Sound Designer. Ingrid Risk - Stage Manager.

An NAC English Theatre presentation of the Mulgrave Road Theatre (Guysborough, NS) production in association with Frankie Productions (Halifax, NS). Part of the English Theatre Series April 5-16 Canada's National Arts Centre Ottawa, Ontario, Canada.

WATER FALLING DOWN by Mark Swivel, with Andrea Moor in her Queensland Theatre Company directorial debut. Based on Swivel's own life experiences, it explores the love between father and son as deeply as it does a love of words, and the fear of losing them.

Starring Ron Haddrick and Andrew Buchanan.

Dad is in his seventies, gripped by grief for his recently-lost wife and slowly sliding into aphasia, an affliction which causes him to lose the connection between words and their meanings. His son, in his forties, is divorced, disaffected, and unable to relate to his own teenage boy.

The two lost souls escape their troubled lives to tour Europe, a place brimming with memories of their dear departed wife and mother. Among the landmarks of the old world and the reminders of times gone by, they'll find a way of reconnecting with each other as the role of parent and caregiver is inevitably handed down.

April 4 to May 7, 2011 at the Cremorne Theatre, QPAC, South Bank, Brisbane, Australia.

BY THE WAY, MEET VERA STARK a new comedy by the Pulitzer-Prize winning playwright Lynn Nottage. Directed by Jo Bonney.

Starring Stephanie J. Block, Daniel Breaker, David Garrison, Kimberly Hebert Gregory, Kevin Isola, Tony nominee Sanaa Lathan and Tony Award winner Karen Olivo.

Nottage draws upon the screwball films of the 1930's to take a funny and irreverent look at racial stereotypes in Hollywood.

A seventy year journey through the life of Vera Stark, a headstrong African-American maid and budding actress, and her tangled relationship with her boss, a white Hollywood star desperately grasping to hold on to her career. When circumstances collide and both women land roles in the same Southern epic, the story behind the cameras leaves Vera with a surprising and controversial legacy scholars will debate for years to come.

Performances begin April 6 at the Second Stage Theatre in New York City.

A MINISTER'S WIFE book by Austin Pendleton. Music by Joshua Schmidt. Lyrics by Jan Levy Tranen. Based on the play Candida by George Bernard Shaw. Conceived and Directed by Michael Halberstam who staged the Chicago production at his Writers' Theater in Glencoe.

Starring Liz Baltes, Kate Fry, Drew Gehling, Marc Kudisch and Bobby Steggert.

A Minister's Wife is set in London in the swirl of a love triangle among energetic, admired Socialist clergyman, Reverend James Morell, his strong-willed and beautiful wife, Candida, and an idealistic young poet, Eugene Marchbanks, who, infatuated with Candida, aims to win her love.

Marc Kudisch plays Morell. Bobby Steggert is Marchbanks. Kate Fry, who played Candida to great acclaim in the original Chicago production in 2009, repeats her role here. Also in the cast are Liz Baltes and Drew Gehling.

Previews begin Thursday, April 7 At the Mitzi E. Newhouse Theater, NYC.

CHICAGO welcomes Christie Brinkley to the Broadway cast on April 8. Originally scheduled to make her Broadway debut in the role of Roxie Hart on April 4, the short delay was due to Brinkley recovering from a muscle injury, which caused her to miss three days of rehearsals. Brinkley will be appearing as Roxie for 11 weeks at the Ambassador Theatre in New York City.

NO EXIT by Jean-Paul Sartre. Adapted from the French by Paul Bowles. Performed in concert with The Valet by Jonathon Young. Conceived and directed by Kim Collier.

Collier, who recently received the prestigious Siminovitch Prize, Canada's largest theater award, explains the impulses behind her vision for Sartre's oft-visited play: "In this new vision for No Exit, the sense of entrapment and alienation is more complete and palpable. By creating a theatrical space around the hotel room that traditionally defined the perimeter, we are 'widening the frame' on Sartre's play. This gives us a platform to continue our investigations of the intersection of live theater and film, and to investigate how a silent, physical narrative can reframe an existing, well-known piece."

Electric Company Theatre, a leading force in Canada's flourishing experimental theater scene, has made a name for itself since 1996 for pieces that are rich in spectacle and adventurous in form. As in No Exit, the audience is at the center of the company's creative process, and the act of watching usually becomes a theme of their work. In this production of No Exit, the Valet ushers each of the three visitors into a bunker onstage, where they are locked in with multiple cameras that feed their actions to three oversized screens. The audience experiences their interactions close-up and in real time, while the Valet's outside world creates an illuminating juxtaposition and framework for the action captured on film.

The original cast of this new interpretation of No Exit will be performing at A.C.T. for the U.S. premiere: Lucia Frangione as Estelle; Laara Sadiq as Inez; Andy Thompson, who is the founding artistic and managing director of The Virtual Stage and designed the video projections, as Cradeau; and Jonathon Young as the Valet.

The creative team, also from the premiere production and the Canadian tour, include sound designer Brian Linds, costume designer Kirsten McGhie, scenic designer Jay Gower Taylor, and lighting designer John Webber.

A.C.T. will offer numerous InterACT events - many of which are offered free of charge - in association with No Exit that will give patrons opportunities to get closer to the action while making a whole night out of their evening at the theater.

April 7-May 1, 2011 at the American Conservatory Theatre in San Francisco.


WHO'S WHERE


TIM ALLEN brings his comedy patter to the Venetian Hotel in Las Vegas April 8-9.

ERIC CLAPTON AND WYNTON MARSALIS perform a two night gig at the Rose Theater in NYC on April 8-9.

KEITH URBAN is down under with performances Friday, April 8, at the Entertainment Centre in Hindmarsh, Australia. On Saturday the show is at the Rod Laver Arena in Melbourne.

ADELE entertains Tuesday, April 5, at the Cirque Royal in Brussels, Belgium. On Thursday the show is at the Burgerhaus in Cologne, Germany. Friday finds her at the Paradiso in Amsterdam, Netherlands.

JOSHUA BELL entertains at the Concert Hall in Warsaw, Poland on April 5. On April 6 he's on stage at the International Performing Arts Centre in Moscow. On April 8 the show is at the Grand Hall in St. Petersburg, Russia.

PINK MARTINI in a two night stand April 8-9 at Orchestra Hall in Minneapolis.

SUE MATSUKI, GRETCHEN RINEHAGEN & RICHARD SKIPPER with Tracy Stark on piano. Multi-MAC award winner and the 1st Julie Wilson Award Winner, Sue Matsuki is bringing a few of her very dearest and oh so talented friends to New Hope, PA to Bob Egan's night club. Gretchen Rinehagen is the triple crown winner of the 2009 Bistro, Nightlife and MAC Awards and multi-award winner Richard Skipper, fresh from his Off-Broadway run, will be performing as Richard in this show and not as his alter ego Carol Channing. Bob Egan's New Hope on April 9 in New Hope, PA.

ALVIN AILEY AMERICAN DANCE THEATER celebrates the 50th anniversary of the creation of Ailey's classic Revelations with performances Tuesday and Wednesday at the Mondavi Center, UC Davis, CA.

GARTH BROOKS performs at the Wynn Hotel in Las Vegas April 8-9.


FINAL OVATION


FARLEY GRANGER died March 27, 2011 at his home in New York City of natural causes. He was 84.

The actor who rose to fame in the movies starring in Alfred Hitchcock films got his start on stage in a little California community theater where he was seen by a movie talent scout.

His Broadway appearances were checkered. In 1955, Granger studied with Bob Fosse, Gloria Vanderbilt, James Kirkwood and Tom Tryon in an acting class taught by Sandy Meisner at the Neighborhood Playhouse. During this period he made his Broadway debut in The Carefree Tree, a play with music based on an old Chinese legend. The cast included Janice Rule as Granger's love interest and Alvin Aliley, Frances Sternhagen, Jerry Stiller and Sada Thompson in supporting roles. The play closed after only 24 performances.

In 1959, Granger returned to Broadway as Fitzwilliam Darcy in First Impressions, a musical adaptation of Pride and Prejudice but the musical closed in less than three months. Later that year, he was cast in The Warm Peninsula, a play by Joe Masteroff. Co-starring Julie Harris, June Havoc and Larry Hagman, it closed after only 86 performances.

Despite his three unsuccessful Broadway experiences, Granger continued to focus on theater in the early 1960s. He accepted an invitation from Eva Le Gallienne to join her National Repertory Theatre.

Granger finally achieved some success on Broadway in The Seagull, The Crucile, The Glass Menagerie and Deathtrap. He starred opposite Barbara Cook in a revival of The King and I at the off-Broadway New York City Center, and in 1979 he was cast in the Roundabout Theatre Company production of A Month in the Country. In 1986 he won the Obie Award for his performance in the Lanford Wilson play Talley & Son.

JOHN SCOULLAR composer, lyricist, playwright and performer, died from skin cancer on March 25. He was 61.

With Rick Cummins, Scoullar wrote the musical and dramatic adaptations of Antoine St. Exupery's The Little Prince. a production of which is slated to open the New Victory Theater's fall season in October

With playwright Joseph Kavanagh he wrote Old Fashion Bargain Days, Canticle at Hartman Conservatory Theatre, the musicals The Legend of Finn McCool and Hello, Dears, in which he starred in at the Players Theatre. He was choreographer of Playwrights Horizons' Leander Stillwell; he appeared in Off-Broadway presentations of God Bless You, Mr. Rosewater, The Crazy Locomotive and The Hot L Baltimore.

Scoullar made his Broadway debut as assistant stage manager of Over Here, a musical that starred the Andrew Sisters. He was also in the original Broadway production of King of Hearts.

He is survived by his son, Nick, daughter-in-law Faryl, his partner Bradshaw Smith. Donations can be made in his name to his favorite charity Broadway Cares Equity Fights AIDS.

BROADWAY THEATRES DIMMED LIGHTS in memory of Pulitzer Prize-winning playwright Lanford Wilson who passed away on March 24th at age 73. The marquees of Broadway theatres in New York went dark in his memory on Wednesday, March 30, 2011 at exactly 8:00pm for one minute.

Paul Libin, Chairman of The Broadway League and Executive Vice President of Jujamcyn Theaters, commented, "Prolific playwright Lanford Wilson's notable contributions to the American theatre will live on through his words, his characters, and his lyrical vision. Whether his productions were first mounted off off Broadway, off Broadway, or on Broadway, his voice resonated with audiences nationwide and laid the foundation for magical and profound theatrical experiences. Our thoughts are with everyone whose lives he touched."








Next Column: April 10, 2011
Copyright: April 3, 2011. All Rights Reserved. Reviews, Interviews, Commentary, Photographs or Graphics from any Broadway To Vegas (TM) columns may not be published, broadcast, rewritten, utilized as leads, or used in any manner without permission, compensation and/or credit.
Link to Main Page
---
Laura Deni



For the snail mail address, please E-mail your request.
CLICK HERE FOR COMMENT SECTION