! >
Broadway To Vegas
  
  REVIEWS INTERVIEWS COMMENTARY NEWS

| | |
| --- | --- |
| | |
HARRY POTTER AND THE CURSED CHILD BROADWAY REVIEW - - ROYAL OPERA HOUSE LIVE STREAMING OF MACBETH REVIEW - - TOM HANKS TO MAKE LOS ANGELES STAGE DEBUT - - CELEBRATING LIBBEY GLASS 1818-2018 - - HEADLINE MAKING BABIES - - NEW ORLEANS JAZZ AND HERITAGE FESTIVAL - - LYNN AHRENS: A LYRIC LIFE - - KENNEDY CENTER 2018 SPRING GALA - - DONATE . . . Scroll Down





Copyright: April 29, 2018
By: Laura Deni
CLICK HERE FOR COMMENT SECTION


TWO TOTALLY DIFFERENT PRODUCTIONS HAVE WITCHCRAFT AS A KEY INGREDIENT


This week Broadway To Vegas reviews two elaborate, excellent production - each with witchcraft as the central component. Each production is spectacular - and the story lines couldn't be father apart.


HARRY POTTER AND THE CURSED CHILD IS MAGICAL
The vaulted Gothic set is watched over by a stupendous clock. Production photo by Manuel Harlan.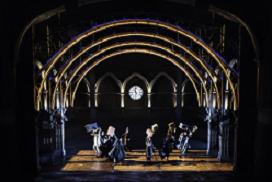 You aren't tapped on the head with a wand, but you are instructed to - Keep The Secrets.

You are also put under a spell.

What can be disclosed is that it's magical, mystical, mysterious, marvelous, memorable, magnificent and not to be missed.

While some currently popular Broadway shows are aims towards the tweens or teens, Harry Potter is generational. This is a two part show which you not only could sit through more than once, it's a show you will want to see more than once. Five hours flies by as if you're in a time machine. Harry Potter has conjured up a hit.

If you have to save a year to afford a ticket, start putting change into the piggy bank. The show is going to be around for a record setting period of time, and this is one production that is worth the price of a ticket. So, think ahead and make plans.

You aren't really going to the theater. You're going to Hogwarts. Sure, once upon a time it was merely the barn of the Lyric, but then magic happened, including moving the entrance to a different block. The sculpture of a giant black raven's wing hangs over the theater marquee, and the iconic image of a boy crouched in a winged nest is perched on the roof.

Inside, the walls are now painted "raven plume." The elegant midnight-blue carpet is emblazoned with the Hogwarts' crest. Ravens lurk or watch over from the ceiling. There are phoenix sconces and dragon light fixtures.



Suitcases turn into benches (as well as other objects) in the clever use of props in Harry Potter. Production photo by Manuel Harlan.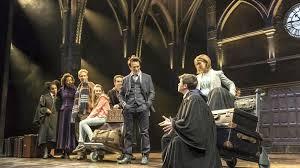 The vaulted central hall of Harry Potter's alma mater, Hogwarts School of Witchcraft and Wizardry is transformed into a variety of sets, through the use of luggage, moving staircases and - magic. A formidable timepiece keeps watch.

Inside the Lyric, it's as though the Kingdom of Hogwarts has been perfectly placed with a theatre. While the plot isn't to be discussed - other aspects can be mentioned. Supporting the production are illusions and magic by Jamie Harrison and special effects by Jeremy Chernick. Without their contributions there isn't a production.

There is also a great plot which transfers on stage to exceptional storytelling. It isn't easy to time bend - transport action from here to there and everywhere. It's not easy to effectively capture sensitive generational differences and adolescent growing pains into something more than trite. With a book by Jack Thorne, based on a story by Thorne, John Tiffany, and original series author J.K. Rowling, Harry Potter respects the emotions and problems, elevates this type of writing and captures and keeps the audience's attention.

Flawless direction by John Tiffany and the same can be said for movement direction by Steven Hoggett.

People always wonder about being able to go back and correct a mistake. If that happened, would other - perhaps more serious problems - take place? Are children always doomed to repeat the mistakes of their parents?

To find out, go see the two part show 'cause Wizards rock.



Wands and capes are put to use. Production photo by Manuel Harlan.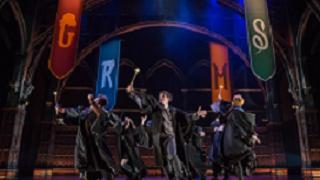 I didn't have the opportunity to read any of the books and only was able to view half of one movie. That doesn't matter. This isn't a show for only fan club members. Nor do you need extensive knowledge about the previous plots. Unless you've been living in a different universe, you're going to have a smidgen of Hogwart knowledge.

Besides, the Playbill offers a detailed recap starting with the beginning and continuing with a breakdown of each of the seven novels. There is also a vocabulary definition list - Muggle, Mudblood, Quidditch, Hogwarts, etc. There is also a spoiler alert that advises not to look at the cast list if you don't wish to know all the characters in the show.

This story in the Harry Potter saga takes place 19 years after the events of Harry Potter and the Deathly Hallows. Harry, now a father of three and employee of the Ministry of Magic must grapple both with his past, and with his youngest son, Albus Severus Potter, who has begun his first year at Hogwarts School of Witchcraft and Wizardry and struggles with the weight of his family legacy.

Jamie Parker and Noma Dumezweni, who won Olivier Awards for their performances as Harry Potter and Hermione Granger, respectively, reprise their roles. Rounding out the trio is Paul Thornley as Ron Weasley.

Also crossing the pond are Poppy Miller as Ginny Potter, Sam Clemmett as Albus Potter, Alex Price as the moody Draco Malfoy, and the scene stealing Anthony Boyle as Scorpius Malfoy.

Joining them are David Abeles, Brian Abraham, Shirine Babb, Jess Barbagallo, Olivia Bond, Stephen Bradbury, Lauren Nicole Cipoletti, Will Coombs, Joshua De Jesus, Jessie Fisher, Richard Gallagher, Susan Heyward, Geraldine Hughes, Edward James Hyland, Byron Jennings, Katie Kreisler, Joey LaBrasca, Andrew Long, Landon Maas, Kathryn Meisle, Angela Reed, Dave Register, Adeola Role, James Romney, Nathan Salstone, Malika Samuel, Alanna Saunders, Brooklyn Shuck, David St. Louis, Stuart Ward, Madeline Weinstein, Alex Weisman, and Benjamin Wheelwright playing a variety of characters.

The charming and enthralling play with music features Grammy winner Imogen Heap's broody score, including the previously written and well known Hide and Seek, released in 2005 and used in a 2009 video, now used in the Harry Potter Edge of the Forbidden Forest scene. Known for moody and propulsive scores, Heap is a strong advocate of the inclusion of electronic music. She was in New York for the Harry Potter opening and has now returned to London.

Harry Potter opens at King's Cross station in London where parents are sending their offspring off to school. A mature Harry Potter (played by Jamie Parker) who is now an overworked employee at the Ministry of Magic run by his old school mate, Hermione Granger (the outstanding Norma Dumezweni). Along with his wife, Ginny (Poppy Miller) Harry and Ginny are waving goodbye to their son, Albus (a charming performance from Sam Clemmett) as he departs to attend his father's old haunt, Hogwarts. Albus isn't all that thrilled at the prospect of having his father's reputation thrown up to him. After all, his father became "the most famous wizard in the whole world."

Kids of superstars don't have it easy.



A grown up Harry Potter played by Jamie Parker can't resist giving his son advice. Production photo by Manuel Harlan.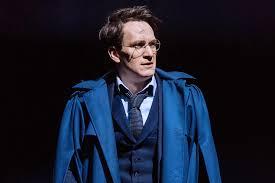 Despite the pressure already on his son, Harry can't resist giving him some advice. He instructs Albus to look for a brick wall and then run straight towards it: "Don't stop and don't be scared you'll crash into it; that's very important."

Hermione and her jokester husband, Ron Weasley (the over-the-top Paul Thornley) are there, too, with their daughter, Rose (Susan Heyward).

They all travel with luggage. The ancient suitcases have a variety of functions, including a time when the suitcases serve as tombstones. In addition to luggage, the students are also burdened with their own personal baggage.

Hogwarts Headmistress Minerva McGonagall (a fabulous Geraldine Hughes) is both sugar and vinegar.

Love the way movement direction by Steven Hoggett has the travelers march across the stage in formation bordering on actual dance moves which help to advance the story line.

Once on board the passengers mingle. Albus meets Scorpius Malfoy (that over-the-top Anthony Boyle), son of Harry Potter's archenemy, Draco Malfoy ( an excellent Alex Price). Will they also become enemies - or become friends? You need to see the show.

There is chemistry between not just the cast members, but a mutually beneficial relationship with the creatives. There is an ease, lack of performance tension that makes the production a beautifully flowing, artistic creation.

The lighting by Neil Austin is spectacular with exception use of spot lights, lightning streams of flame; and when the stage shimmers the effect is - magical. Austin's use of the clock's face to flood, shine and stream light is awesome.



Pictures talk - in this case to Hermione Granger (Noma Dumezweni), who's the head of magic at Hogwarts. Production photo by Manuel Harlan.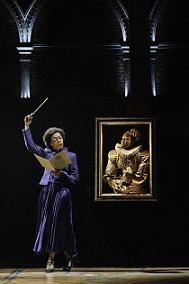 The mystical touches are hilarious. For one thing, the talking portraits. There's a wonderful scene in which that long-deceased wizard, Albus Dumbledore (Edward James Hyland) leans out of his own portrait and speak to Harry. "I am paint and memory."

Mobile staircases play a central role. There is also a hoot of a bookcase set in the Hogwarts' library that keep swallowing and spitting out readers.

Genius set designer Christine Jones combines ribbed girders with Gothic ornate wooden walls. There is disappearing scenery and walls which turn into trees. The floating tableaus are spectacular. And, of course, those moving staircases.

Outrageous kudos to costumer Katrina Lindsay who has the expected swirling black cloaks and conical hats of the witches and wizards which are eerie and wonderful. So are the shrouds. So are the wands. And so are the outfits which start out as one thing and turn into another.

In this production video designer Finn Ross and Ash Woodward demonstrate why they are almost controlling the marketplace. Sound design by Gareth Fry is surround sound. There can't possibly be a "dead" seat in the place.

Okay, Broadway To Vegas has been good and not divulged the plot or too much information about the characters. We will emphasize that Harry Potter is not overblown or an expensive version of an indoor theme park show. Harry Potter is magical class. It's well designed, developed and executed. The story line has depth and character development in present is each and every one of the 40 member cast.

As one might expect, merchandising this show is a well executed example of commercialization. Those who collect pin badges will be overjoyed.

As a sign of the times, people must now pass through doorway metal detectors. Patrons are advised to arrive an hour early, although. the line moves at a rapid rate. That could slow down in winter when everyone wears coats. Just hang out and enjoy the Harry Potter lobby.


ROYAL OPERA HOUSE LIVE STREAMING OF MACBETH IS FORMIDABLE
Željko Lucic as Macbeth and Anna Netrebko as Lady Macbeth. Photo: ROH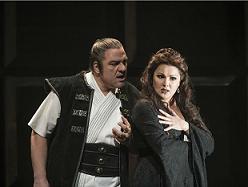 The Royal Opera House production of Macbeth is to be seen - and you can - thanks to live streaming on Panther Secure Streaming.

The warrior Macbeth fights on the side of the King of Scotland – but when a coven of witches prophesy that he shall become king himself, a ruthless ambition drives Macbeth and his wife to horrific acts. Verdi's life-long love affair with Shakespeare's works began with Macbeth, an opera sung in Italian.

My ability to understand Italian is limited to communicating with baristas at Starbuck's. Unable to understand a word of Francesco Maria Piave's libretto didn't diminish my enjoyment of the production.

This streaming marks the first time I'd experience Macbeth as an opera and I was blown away by Paule Constable's lighting, Anthony Ward's sets and costumes - and that smoky, dramatic, powerhouse voice of soprano Anna Netrebko as Lady Macbeth.

Anna Netrebko is the same Anna Netrebko who is getting rave reviews for her current role debut as Tosca - her first performance of the part ever, on any stage. which took place on Saturday, April 21, 2018, at the Metropolitan Opera in New York City. She'll be singing the title role through May 12, 2018.

If you can see her in person at the Met, do so. In any event, at your pleasure, watch the live stream of Macbeth.

Hosts for the live stream events are all knowledgeable and seems to have interesting lives of their own. Mabeth's live stream opens with host Clemency Burton-Hill, an English actress, novelist, violinist, journalist and radio presenter on BBC Radio 3. In 2008 Burton-Hill married James Roscoe, who was appointed Director for Communications and Stakeholders at the Department for Exiting the European Union in September 2017. Prior to that he was Director for Communication at the Cabinet Office. James was previously Communications Secretary to HM The Queen in the Royal Household from 2013 to 2017 and was Chief Press Officer in the Prime Minister's Office for PM's Blair and Brown from 2006 to 2009.



Macbeth performs as red turbaned witches surround him. Photo: ROH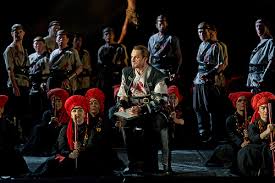 The couple moved to New York where Roscoe whose home department is the Foreign and Commonwealth Office was posted to the UK Mission to the UN (2009-2012), working on sanctions, counter-terrorism and counter-proliferation issues. During that period Clemency commuted to London once a week to host R3's weekend breakfast program and Culture Show broadcasts.

When Roscoe's UN assignment ended the couple returned to London. According to an announcement by BBC Radio 3 on Twitter in March 2014, Burton-Hill gave birth to a son, "accompanied by Bach's The Well-Tempered Clavier."

As the Macbeth host she explains that viewers will be seeing toil and travails; murder and mayhem. She introduces historian and writer Flora Willson and they discuss Shakespeare as some of the cast pass in the background. Also offering comments about Macbeth are conductor Sir Antonio Pappano, director Phyllida Lloyd and the two principles - the title role sung by Željko Lucic and Lady Macbeth brought to life by Anna Netrebko.

During the intermission Creative Director Sarah Crabtree is interviewed. Conductoe Pappano again offers some thoughts, including playing the piano and singing some operatic sections.

You need to know the plot which is one of ruthless politics, Macbeth and Lady Macbeth scheme to ensure their place on the throne. Macbeth and Banquo, the leaders of the Scottish army, encounter a group of witches who prophesize that Macbeth will be King, and that Banquo will be the father of kings. Childless, Macbeth is perturbed by the prophecy and becomes completely absorbed by his evil thoughts and plots of murder, while his wife is ruthless and stops at nothing to achieve their goals. After they kill the King, Macbeth and his wife are overcome by fear, paranoia, and rage, but they continue to kill everyone in their way to maintain their place on the throne. Ultimately, it becomes their undoing.

One of the wonderful aspects of live streaming is that you watch the best of a performance - camera angles, close ups, the scenery, costumes, lighting and staging - are captured in perfect camera work and direction.

The production is wicked and haunting. That coven of witches is front and center. Dressed in flowing brownish/black gowns with necklaces swaying with every footstep. Each wears an authoritarian red turban. Each carries a stick. No matter whether the sticks are for discipline or wands for spellbinding the witches are formidable. With choreography by Michael Keegan-Dolan, when they move their sticks in a circular motion, as if conjuring up a spell, it's wicked.

They control - everything. They are prophetic. They are evil.



Macbeth is a powerful and dynamic presentation. Photo: ROH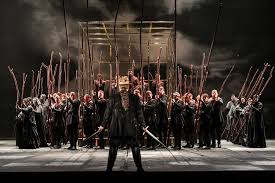 Groups of witches gather in an area beside a battlefield. The victorious generals Macbeth and Banco enter. The witches hail Macbeth as the future king hereafter and forever. At that moment Lucic as Macbeth seems more tired than heroic. His shirt is bloodstained. His voice doesn't yet project the sinister actions which will develop. He still has his integrity. He writes a letter to his wife.

Suddenly we are in Lady Macbeth's bedchamber. Dark, eerie. Browish/black with occasional costume focal points coming from grey, white, red or gold - or a stream of light through an open door. The witches, who have diabolic humor, serve as messengers taking Macbeth's letter to his wife. Lady Macbeth reads the letter which details the encounter with the witches. She likes the idea of her husband being king and becomes determined to propel Macbeth to the throne - no matter what it takes.

Lady Macbeth's high velocity vocals at this point are powerful but not operatic beautiful, which is by design. As the Opera House points out: "Verdi did not want the soprano playing Lady Macbeth to make a particularly beautiful sound. He wanted her to sing with a tone that could be 'hard, stifled, and dark' with 'something devilish' in the vocal quality. This was one of the first occasions in the history of opera when a singer was instructed to make such a sound in the service of the drama; when potent characterization was given primacy."

When she is advised by the witches that King Duncan will stay in the castle that night; she is determined to see him killed. The witches continue to plot, stew and brew.



Lady Macbbeht looks on as a witch cast a spell. Photo: ROH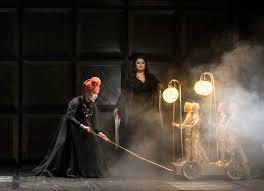 The use of fog and smoke is exceptional.

Italian bass-baritone Ildebrando D'Arcangelo makes for an eloquent Banquo. The scene in which he is killed is moving.

In Macbeth Verdi explores the dysfunctional marriage of a middle-aged couple, and the corrupting effect of power. Macbeths' childlessness is the dark core which lurks as the catalyst for their terrible deeds.

Emotionally Macbeth and his wife are the walking wounded whose inability to produce a child silently seethes inside them, taunting and reminding them that they are thus - inferior. Their anger and resentment bubbles under and then boils over, creating toxic resentment and the need to lash out and flaunt power.

Remember that the witches had predicted that Banquo would be the "father of kings" - meaning he had to go.

The appearance of the ghost of Banquo in Act II launches a turning point. When Lucic performs Sangue a Me, you hear a growing strength as the man changes. There is still underlying shadow of tenderness, but authority and evil has begun to infiltrate and take control over his mind and body.

The witches deliver a baby, holding it aloft with it's umbilical cord still attached. Lightening flashes and the baby is now a living boy, wearing a crown. In another scene the Macbeths are in bed as the witches keep bringing them children - the children they never had - the children that perhaps are born of Banquo.

Two children arrive to play. Both Macbeth and Lady Macbeth grab a child and throw the child to the floor. The scene is chilling. The Macbeths' inability to have children becomes more apparent as the reasons behind their failings and obsessions.



Opulence in abundance. Lady Macbeth enjoying her power. Photo: ROH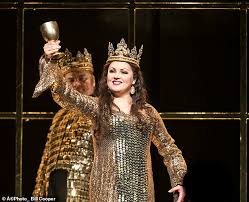 Told in flashback, the wedding scene is over-the-top gilded. The horses are gold. Lady Macbeth floats on her own arrogance. Their raiments are elaborate gold robes. They toast each other with gold goblets. At times the scenery can appear as a gold cage as if to warn that one's own evil deeds can become a prison.

This version of Macbeth is the 1865 Paris version, which is dramatically more powerful, and closer in atmosphere to Shakespeare's original play.

In this version Verdi stressed the importance of the characters, stating that the most prominent roles were those of Macbeth, Lady Macbeth and the witches' chorus, and that Macduff only 'becomes a Hero' at the end of the opera.

Staging and directing is impeccable. Pin lights on a face or on hands of some of the witches on stage, rather than Macbeth singing is effective. Movement direction is simply brilliant. One scene has the large cast, gowned in black. They are motionless, except for the well placed, occasional motion of a hand, a face, a shoulder. Incredibly powerful.

Netrebko performance of the iconic and amazing Sleepwalking Scene is chilling. In a long white nightgown, she picks up a doll, at first cradling it and then throwing it away. She washes her hands in a gigantic cauldron, unable to cleanse herself from her past - or the future. Her eyes are vacant and her face distraught. Her rendition of the aria La luce langue mesmerizing and fearless - also sensitive with sections sounding as though she is in anguish. Her vocal process - superb.

This was a pivotal scene for Verdi. He was obsessed that the actress playing Lady Macbeth captured the physical mannerisms of sleepwalking. He requested that the star "imitate those who talk in their sleep, uttering words while hardly moving their lips, leaving the rest of the face immobile, including the eyes. It was enough to drive one crazy"

Verdi would be overjoyed at Netrebko's harrowing and haunting performance of Lady Macbeth's spiraling into mental decay.

Netrebko made her Royal Opera House debut 18 years ago and has indicated that, over the years, her voice has darkened and deepened. Her ability to play the demanding role of Lady Macbeth is stunning - and scary.

Under the director of Sir Antonio Pappano the orchestra is pivotal in mood predicting and then providing the musical base for the tension. Even a clarinet is featured in the tense overture and frequently the brass and woodwind are featured. The tremendous Royal Opera Chorus sings to perfection.



The cage fight scene leading to Macbeth's death. Photo: ROH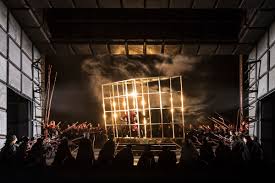 As for the diminished roles of the secondary players in this version, Azerbaijan dramatic tenor Yusif Eyvazov (who in real life married Netrebko in 2015) is an excellent Macduff. Specializing in verismo, he has sung for companies including Paris Opéra, and makes his Royal Opera debut in this production. Eyvazov delivers his renditions with intensity, skill and timbre.

Bass-baritone Ildebrando D'Arcangelo as Banquo, has a rich sounding voice. In American he's sung at both the Met in New York and Chicago's Lyric Opera.

Lucic singing Pieta, rispetto, amore is truly remorseful.

In the end Lady Macbeth commits suicide and Macbeth is dethroned. The fight scene in the gilded cage which moves around resembles a cage fight - which it is.

Fabulous voices - great acting - magnificent musical arrangements and execution - dramatic movement, lighting, scenery and costumes. It will help if you either know Italian or understand this particular version of Versi's Macbeth. However, even if you don't understand a word of Italian - as in moi - you'll still enjoy the performance.

Performers include Banquo performed by Ildebrando D'Arcangelo - Macduff is Yusif Eyvazov - Lady-in-waiting played by Francesca Chiejina - Malcolm is played by Konu Kim - Doctor is played by Simon Shibambu. - Servant is Jonathan Fisher. - Assassin is Olle Zetterström - Apparition is John Morrissey - The Chorus is the Royal Opera Chorus with Sergey Levitin as the Concert Master. The Orchestra is that of the Orchestra of the Royal Opera House.

Other creatives include: Paule Constable - Technical: Stefanie Cliffe - company manager: Stage manager Simon Catchpole; Casting by Peter Katona.






Broadway To Vegas is supported through advertising and donations. Priority consideration is given to interview suggestions, news, press releases, etc from paid supporters. However, no paid supporters control, alter, edit, or in any way manipulate the content of this site. Your donation is appreciated. We accept PAYPAL. Thank you for your interest.



E-Book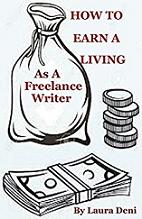 Soft back Book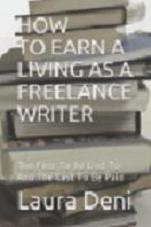 This is not your typical, totally boring textbook.

In the pages of How To Earn A Living As A Freelance Writer (the first to be lied to and the last to be paid) you'll find sex, celebrities, violence, threats, unethical editors, scummy managers and lawyers, treacherous press agents, sex discrimination; as well as a how-to for earning money by writing down words.





ART AND ABOUT


CELEBRATING LIBBEY GLASS 1818-2018

Plate, Portraits, Magazine Cover: Toledo Museum of Art Archives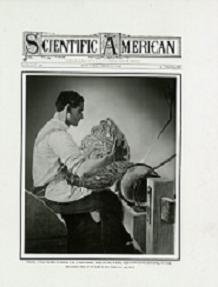 200 years of excellence in glassmaking is celebrated by the Toledo Museum of Art (TMA) which has organized this exhibition which features more than 175 outstanding examples of glass from TMA's renowned collection as well as objects and materials from the Libbey Inc. archives, including pressed glass tableware, Amberina art glass, Libbey's world-renowned "brilliant" cut glass (including TMA's glorious Libbey Punch Bowl), mid-century modern barware and examples of more recent "premium give-away" glasses for companies.

"As founders of the Toledo Museum of Art, the Libbey family was instrumental to the advancement of arts education and art appreciation in this region," said Brian Kennedy, TMA's Edward Drummond and Florence Scott Libbey director. "It is our honor to recognize the Libbey legacy of innovative glass design, practices and production and to celebrate the Museum's longstanding commitment to the medium through collections development, exhibition, research and programming."

Celebrating Libbey Glass will be on view exclusively at TMA beginning May 4, 2018.





SWEET CHARITY


KENNEDY CENTER 2018 SPRING GALA An Evening with Mavis Staples and Special Guests takes place May 6, 2018 at the Kennedy Center in Washington, DC.

Alison Krauss will join 2016 Kennedy Center Honoree Mavis Staples for a not-to-be-missed performance at the 2018 Spring Gala. From cocktails on the river to the elegant dinner to the amazing show with Mavis and her favorite collaborators, this year's Gala promises to be truly spectacular

The Spring Gala will feature the third annual presentation of the Kennedy Center Award for the Human Spirit, recognizing two awardees who have had an enduring impact on the advancement of arts and culture: a Citizen Artist for his or her creative use of the arts and arts education to advance and enrich community life at the local, state, or national level; and a Distinguished Philanthropist for his or her commitment to personal advocacy and philanthropy in the performing arts. Honored will be the accomplishments of Citizen Artist Gary Sinise and Distinguished Philanthropists Eli and Edythe Broad.

The Event Chairs are Frances and Craig Lindner.

New this year, Gala table sponsors will receive an exclusive benefit to attend the July 25 performance of Hamilton and the post-show dance party.

The Gala begins with cocktails overlooking the Potomac River followed by an elegant dinner. Mavis' one-night-only performance will be in the Concert Hall, and Gala attendees will be invited to dance the night away along with the cast at the 'Til Midnight Party after the show.

The Spring Gala provides critical funding to support the Kennedy Center's many artistic performances, local and national arts education initiatives, and outreach activities available throughout the year to patrons, students, and families across the country.




E-Book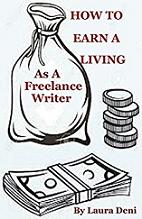 Soft back Book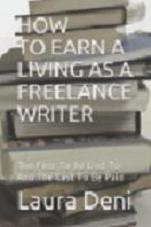 This is not your typical, totally boring textbook.

In the pages of How To Earn A Living As A Freelance Writer (the first to be lied to and the last to be paid) you'll find sex, celebrities, violence, threats, unethical editors, scummy managers and lawyers, treacherous press agents, sex discrimination; as well as a how-to for earning money by writing down words.





SPREADING THE WORD


NEW ORLEANS JAZZ AND HERITAGE FESTIVAL or as the locals call it, Jazz Fest, is the celebration of the unique culture and heritage of New Orleans and Louisiana.

Yesterday, Saturday, April 27, Jazz Fest saluted Fats Domino with a jazz funeral in his honor led by the Tornado Brass Band and the Family Ties, Divine Ladies and Dumaine Street Gang social aid and pleasure clubs.

The procession concluded with a ceremony at the Ancestors memorial grounds at the back of the Congo Square Stage field. A new Domino totem joined those depicting Allen Toussaint, Pete Fountain, Buckwheat Zydeco, Bo Dollis and others.

In the afternoon Bonnie Raitt, Jon Batiste, Irma Thomas, Deacon John, Davell Crawford and Al "Lil Fats" Jackson took turns singing Domino's songs, backed by members of his band.

Additionally, Domino is the subject of this year's Jazz Fest commemorative poster created by artist Terrance Osborne.

Last night Rod Sewart headlined stepping in for Aretha Franklin who was unable to perform.

With 12 stages of soul-stirring music - jazz, gospel, Cajun, zydeco, blues, R&B, rock, funk, African, Latin, Caribbean, folk, and much more - the New Orleans Jazz & Heritage Festival is a singular celebration.

A few if the artists scheduled to perform include: Aerosmith, Sting, Jimmy Buffett and his Acoustic Airmen, Jack White, Beck, Lionel Richie, David Byrne, Anita Baker, LL Cool J feat. DJ Z-Trip, Bonnie Raitt, Sheryl Crow, Trombone Shorty & Orleans Avenue, Steve Miller Band, Smokey Robinson, Lyle Lovett and His Large Band, Aaron Neville, George Benson, Jon Batiste with The Dap-Kings, Buddy Guy, Old Crow Medicine Show, Blind Boys of Alabama, John Mayall, Preservation Hall Jazz Band, Savion Glover, Leslie Odom Jr., Charles Lloyd & the Marvels with special guest Lucinda Williams, Doug Kershaw & Friends, Lena Prima and her Tribute to Louis Prima,

In a sign of the times, officials announced that metal detectors will be in use at entrances to the Fair Grounds, in addition to manual bag searches.

The festival began on Friday April 27 and runs through May 6, 2018. in New Orleans.

LYNN AHRENS: A LYRIC LIFE will be presented May 5-7 at 92Y in New York City.

92nd Street Y's 48th season of Lyrics & Lyricists continues with a close-up and personal look at Lynn Ahrens' extraordinary body of work. Ahrens, who will serve as host at each performance, earned the "triple crown" of Broadway awards - Tony, Drama Desk and Outer Critics Circle, and she received two Grammy nominations for the score of Ragtime.

For the animated film Anastasia, she was nominated for two Academy Awards and two Golden Globes. Ahrens is currently represented on Broadway by two hit shows - the revival of Once On This Island, for which she wrote both book and lyrics, and the stage adaptation of Anastasia - in a season which also marks the 35th anniversary of her collaboration with composer Stephen Flaherty.

Under the direction of Jason Danieley, currently starring in Pretty Woman in Chicago, the event will celebrate Ahrens in song, and she'll share stories about her work, and about being a lyricist in a world where few women have thrived.

Mary-Mitchell Campbell serves as Music Director. The vocalists are Nikki Renée Daniels, David Harris, Margo Seibert, Brandon Uranowitz and Alton Fitzgerald White.

Audiences will hear songs including Back to Before, Waiting for Life, Journey to the Past, and Make Them Hear You. They'll also hear such indelible jingles as What Would You Do for a Klondike Bar, as Ahrens talks about her first job, in advertising, and its role in shaping her as a lyricist.

ACADEMY AWARD WINNER TOM HANKS will make his Los Angeles stage debut as Sir John Falstaff in the Shakespeare Center of Los Angeles' new production of Henry IV reopening at the Japanese Garden of the West Los Angeles VA Campus from June 5 through July 1, and he's in good company. Joining the Oscar winner are Harry Groener as Northumberland, Hamish Linklater as Hal and Joe Morton as Henry IV. Others in the cast include Anthony Mark Barrow, Raffi Barsoumian, Josh Clark, Harry Groener, Hamish Linklater, Joe Morton, Rondi Reed, Emily Swallow, Geoffrey Wade, and Time Winters.

Tony Award-winner Daniel Sullivan has been tapped to direct.

Twenty-four performances of Henry IV produced by the Shakespeare Center of LA (SCLA) will be staged in the VA's outdoor venue Japanese Garden.

Due to a variety of legal complications there has been a four year hiatus of Shakespeare production at that location.

Shakespeare returning to the campus of the West Los Angeles VA is being celebrated. The SCLA has recently signed a 5-year agreement to stage productions in the VA's Japanese Garden.

In a release founder and Artistic Director Ben Donenberg stated: "This is the first time Tom Hanks will appear in a fully staged theatrical production in the city of Los Angeles."

Regarding the production Donenberg continued: "We're hiring and training 40 veterans to work on this production alongside consummate theater professionals." They will also receive mentoring from seven SCLA Veteran Leadership Team members. Veterans will also be employed to build the stage and seating for the intimate outdoor show.

"Partnerships like this one are vital to bringing the vision for this campus to life and to transform it into a vibrant, welcoming, veteran-centric community," VA Greater Los Angeles Healthcare System director Ann Brown said in a statement.

The Shakespeare Center provided 2,000 tickets to the military and veteran community free of charge. Remaining tickets for the show became available to the general public on April 27.

BARRY MANILOW the ageless Barry Manilow has been signed by the Westgate (at one time known as the Las Vegas Hilton) to stage numerous 3-day week-end shows beginning May 24 -26 followed by a June 14-16 gig. He'll celebrate his 75th birthday on June 17, 2018.

SUNDAY, APRIL 29 is International Dance Day, National Candied Orange Peel Day and No Pants Day. Be careful with that one. On Saturday, May 5, it's World Naked Gardening Day. If you haven't been arrested then you can celebrate next Sunday, May 6 with International No Diet Day. If you are in the slammer, you'll eat what they give you.



E-Book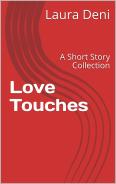 Soft back Book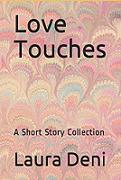 STORK REPORT


HAMISH REX a show stopping scene stealer born April 26, 2017 in London to actor Tim Howar and his wife Jodie Oliver, who celebrated her birthday on April 25. Entering the world with the chutzpah of a showman, 7-pound, 2-ounce Hamish decided to put his mother into labor while his father was on stage starring as Freddie Trumper in the first performance of the West End revival of Chess.

At the end of the first act Howar raced to the hospital and his understand Cellen Chugg Jones took over the second act. It is reported that the production had also considered having director Laurence Connor go on with a script in hand, but Jones was willing to go on off-book, despite having rehearsed only the first two scenes with the cast.

Director Connor came on stage announcing that Tim Howar had left the theatre as his wife was giving birth and understudy Cellen Chubb Jones would take over without any rehearsal.

Jones finished the show to a standing ovation and "a massive cheer" at the curtain call,

Show off Hamish, born at 5:49 a.m. is "all health and happy," and has taken over the star slot at his parents' home, while Howar will return to the production.

Hamish is the first baby for Oliver and Howar, who has been lead singer of Mike And The Mechanics since they regrouped in 2010. He has two daughters from his first marriage to actress Ruthie Henshall.

The musical by Abba stars Björn Ulvaeus and Benny Andersson, with Tim Rice will officially open May 1 at the London Coliseum, where it is scheduled to play through June 2, 2018. In addition to Howar the musical co-stars Michael Ball, Alexandra Burke, and Cassidy Janson.

LOUIE (pronounced 'Lou-ee' not 'Lew-is') ARTHUR CHARLES third child born to Prince William and Duchess Kate made his entry on April 23, 2018 at 11:01 a.m. in the Lindo Wing of St. Mary's Hospital in London.

5th in line to the throne, he is being given pointers on how to manipulate his parents by big brother Prince George and big sister Princess Charlotte.



RACHEL BURNS 17, a graduating senior at the Etobicoke School of the Arts in Toronto, has received more than $2 million in scholarship offers from the Milwaukee Institute of Art and Design, the San Francisco Art Institute, the School of the Art Institute of Chicago and the School of Visual Arts in New York, as first reported in the Globe And Mail.

The largest scholarship award was $146,000 from the Milwaukee Institute of Art and Design. Burns hasn't yet decided which school she will attend. She works in photography, drawing, painting, video and sculpture.

Last Saturday she opened an exhibition at the General Hardware Contemporary in Toronto believed to be the first time a Canadian high-school student has had a solo exhibition at a commercial art gallery. Canadian Art Magazine rated the exhibition as a "must see."

The Etobicoke School of the Arts, in Toronto's west end, is Canada's oldest free-standing arts-focused school.

THE 33rd ANNUAL LUCILLE LORTEL AWARDS takes place Sunday, May 6, 2018 at the NYU Skirball Center with Laura Benanti and Jason Jones co-hosting.

The ceremony celebrates the best of Off Broadway. This year, they will also honor Eve Ensler with a Lifetime Achievement Award, WP Theater with Outstanding Body of Work, and the late Michael Friedman, who'll be posthumously inducted into the Playwrights' Sidewalk.

Congratulations to all of the winners.



THE LONGEST MINUTE written by Robert Kronk and Nadine McDonald-Dowd.

Directed by Bridget Boyleen.

One Football Club, One Family, and One Unforgettable NRL Grand Final.

"Where were you the night of the 2015 NRL Grand Final? The night when long-time underdogs the North Queensland Cowboys won in an all-QLD nail-biter that changed the game, and the state, forever. For one family of Cowboys diehards, their whole lives have led up to this moment.

"Jess was born on the night of the North Queensland Cowboys' first game in Townsville. Daughter of Foley Shield legend Frank 'Black Flash' Wright, she grew up as a footy fanatic with big dreams, silky skills and boundless ambition to play. But as a girl in a male-dominated sport, she faces more than her fair share of knockbacks, just like the luckless Cowboys. Despite their relentless string of losses, Jess still dares to believe in her team, and herself."

Cast Includes Jeremy Ambrum, Louise Brehmer, Lafe Charlton, Chenoa Deemal, Mark Sheppard, David Terry.

Designers Simona Cosentini, Simone Tesorieri. LX Designer Jason Glenwright.

Queensland Theatre joins forces with debase productions and JUTE Theatre Company in Cairns to bring this iconically Queensland story to audiences across the state. May 2-12 at Cairns, Centre of Contemporary Arts. May 7-19 Townsville, Dancenorth. June 18 in Rockhampton, Australia.

SPAMALOT written by Python legend Eric Idle alongside John Du Prez.

Directed by Daniel Buckroyd.

Funnier than the black death! Lovingly ripped-off from the hugely successful 1975 film Monty Python and the Holy Grail, this spammier-than-ever production is a riotous comedy full of misfit knights, killer rabbits, dancing nuns and ferocious Frenchmen. Join King Arthur as he travels with his hapless Knights of the Round Table on a divine mission to locate the illusive Holy Grail – with uproarious consequences.

With comic tunes including Brave Sir Robin, We're Knights of the Round Table and perennial favorite Always Look on the Bright Side of Life, audiences are sure to be dancing down the aisles. Don't be a knight who says 'no' … Grab your coconuts and gallop down to a venue near you.

Featuring a cast from Selladoor Productions and Mercury Theatre Colchester, England: Bob Harms as King Arthur. Sarah Harlington as Lady of the Lake. Rhys Owen as Patsy. Norton James as Sir Galahad. Johnathan Tweedie as Sir Lancelot. Mark Akinfolarin as Sir Bedevere. Stephen Arden as Sir Robin. Matthew Pennington as Prince Herbert. Ensemble members Shane McDaid, Gleanne Purcell Brown, and Grace Eccle with understudies Joel Benedict and Ryan Limb.

The creatives are: Ashley Nottingham Choreographer - David W Kidd Lighting Designer - Christopher Bogg Sound Designer - Andrew Waddell Associate Sound Designer - Mark Crossland Musical Supervisor - Carlton Edwards Co-Musical Supervisor - Dean McDermott Musical Director - Victoria Roe Casting Director.

Spamalot is back in this brand-new production with performances May 2-5 at Dubai Opera in Dubai, UAE. The next stop is in Doncaster, England at the Cast Theatre May 8-12, 2018.

EFFIGIES OF WICKEDNESS (SONGS BANNED BY THE NAZIS) developed from an idea by Peter Brathwaite.

Directed by Gate Theatre Artistic Director, Ellen McDougall.

A Gate Theatre groundbreaking collaboration with English National Opera, in a cabaret of riotous, witty, and shockingly prophetic songs banned by the Nazis in the 1930s.

Featuring Lucy McCormick, Peter Brathwaite, Le Gateau Chocolat and Katie Bray.

As the Nazis identified difference as something to be afraid of, the Weimar cabaret scene danced on with songs that celebrated it. With artists from Brecht and Weill to Schoenberg, this subversive underground scene was bursting at the seams with brilliant, visionary voices.

No surprise then, that they were censored, exiled, and incarcerated shortly after as 'degenerates'. And their songs have been all but lost since. Until now.

All songs will be sung in English.

May 3 - June 9, 2018 at The Gate in London.


WHO'S WHERE




U2 begin their current tour Wednesday, May 2, 2018 at the BOK Center in Tulsa, OK. On Friday they perform at the Scottrade Center in St. Louis, MO.

PATTI LuPONE the two-time Tony Award winner brings her Don't Monkey with Broadway show to State Theatre of New Jersey in Brunswick, NY on Sunday, May 6, 2018.

GORDON LIGHTFOOT who has recorded 20 albums and has five Grammy nominations brings his The Legend Lives On tour to Scottsdale Arts in Scottsdale, Arizona on Thursday, May 3, 2018.

JUSTIN TIMBERLAKE performs Saturday, May 5, at the BOK Center in Tulsa, OK.

ED SHEERAN opens a three night stand on Friday, May 4 at the Páirc Uí Chaoimh in Cork, Ireland.

LYNYRD SKYNYRD,/font> on May 4 begins his current, and what he says is his last tour, to the Coral Sky Amphitheater in West Palm Beach, FL On May 5 the the show is at the MidFlorida Credit Union Amphitheatre in Tampa, FL.

ETHAN BORTNICK the17-year-old who has a talent for timeless music brings his talents to the Music Hall Center for the Performing Arts, Detroit, Michigan on Saturday, May 5, 2018.


FINAL OVATION


CHARLES NEVILLE the Neville Brothers saxophonist died Thursday, April 26, 2018 in Massachusetts of pancreatic cancer. He was 79.

Neville became an accomplished reed player by his teens, when he left high school to play music professionally. His early career included stints on the road with Gene Franklin and the Houserockers, and later Johnny Ace, Big Maybelle, Little Walter and Larry Williams, as well as a place in the house band of the legendary Dew Drop Inn in New Orleans in the 1950s.

He is survived by his wife Kristin Neville, daughter Charmaine Neville, sons Talyn Neville and Khalif Neville; sister Athelgra Neville Gabriel, and brothers Art, Cyril and Aaron.

Neil Portnow President/CEO of the Recording Academy issued the following statement: "Grammy winner Charles Neville, with the Neville Brothers, created some of the most renowned R&B and soul music to emerge from New Orleans in the 1970s and beyond. Charles' smooth yet powerful saxophone style was prevalent on the ensemble's hit tracks, including Fire On The Mountain and Yellow Moon, among others. The Neville Brothers earned three Grammy nominations between 1989 and 1999, with the well-known recording Healing Chant earning a Grammy Award in the Best Pop Instrumental Performance category for 1989. Prior to finding success with the Neville Brothers, Charles toured with many respected R&B artists such as Johnny Ace, B.B. King, and Jimmy Reed. His dedication to the music community of New Orleans will continue to be recognized by fans and peers for years to come. Our condolences go out to his family and friends during this difficult time."

LARRY HARVEY co-founder of the Burning Man festival, died Saturday, April 28, 2018 in a San Francisco hospital. On April 4 he had suffered a massive stroke in his San Francisco home. He was 70.

Along with Jerry James he launched the Burning Man festival on Baker Beach in San Francisco in 1986. The 2018 event is scheduled to take place in Nevada's Black Rock Desert in August.

He is survived by his son Tristan Harvey, his brother Stewart Harvey, his nephew Bryan Harvey, "and a global community of devoted Burning Man participants inspired by his vision to build a more creative, cooperative, and generous world," according to the Burning Man Organization.

"At the request of friends of Burning Man, Burning Man Project has established the Larry Harvey Art and Philosophy Fund to support art projects, philosophical endeavors, and other work that reflects Larry's passion for the playful and the profound."






E-Book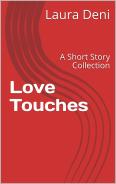 Soft back Book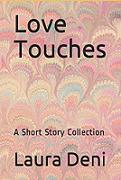 Next Column: May 6, 2018
Copyright: April 29, 2018 All Rights Reserved. Reviews, Interviews, Commentary, Photographs or Graphics from any Broadway To Vegas (TM) columns may not be published, broadcast, rewritten, utilized as leads, or used in any manner without permission, compensation and/or credit.
Link to Main Page
---
Laura Deni



For the snail mail address, please E-mail your request.
CLICK HERE FOR COMMENT SECTION